PC cleaner is a utility that helps declutter and enhances the performance, thereby increasing your productivity. Manual cleaning takes a lot of time, and we recommend using pc speed booster. We have tested and curated this list for the best free and paid pc cleaner and optimization software for Windows. These optimizers include the best cleaning features alongside the security and privacy tools to keep your data and device safe.
Top Software Reviews
Rating
1.

Advanced System Optimizer

2.

Advanced PC Cleanup

3.

iolo System Mechanic

4.

Restoro

5.

Advanced SystemCare

6.

Piriform CCleaner

7.

WinOptimizer

8.

Norton Utilities

9.

AVG PC TuneUp

10.

Razor Cortex
What Is A PC Optimization Software?
A PC optimization software helps accelerate your PC's performance, for doing that, it takes care of many factors that otherwise are nearly impossible to look into. Let's take an example of one of the best PC cleaning software to get behind the concept of Advanced System Optimizer.
Broadly Advanced System Optimizer contains tools that remove junk and fragments out of the computer and encompass disks. The junk items include cache files, log files, temp files, unwanted programs. Furthermore, there are dedicated optimizers or task-specific optimizers which make the PC ready to handle intensive tasks such as gaming or updating drivers
Next, the best cleaners and optimizers also optimize your PC so that it can handle security issues. For instance, the suite of tools includes file shredders, system, and privacy protectors that remove online and offline identity traces from the computer.
Last but not least, the best cleanup tools also take care of those aspects which are critical for Windows 10 functionality, such as fixing registry issues by helping get rid of outdated registry items.
Why Do We Need A PC Cleaner And Optimizer?
With so many tasks at hand, what if you were left to juggle the issues on your computer? What if you were left to look for causes that are making your PC slow? You will be left overwhelmed. The PC booster software helps you not get overwhelmed by taking several maintenance tasks into your own hands.
You might wonder why you would need a PC cleaner or optimizer when there are integrated tools in Windows 10 PC for the same. Still, when the junk in the form of temporary files, cache files, and log files goes unnoticed. Also, Windows 10 optimization software keeps you updated on what applications you need to remove or update to stay out of harm's way.
Several other factors, such as fixing registries, can hamper your PC's functionality if not dealt with on time.
List Best Free & Paid PC Cleaner Software for Windows
1. Advanced System Optimizer
Price: $49.95
Compatibility – Windows 11/10/8.1/8/7/Vista and XP (both 32 bit and 64 bit)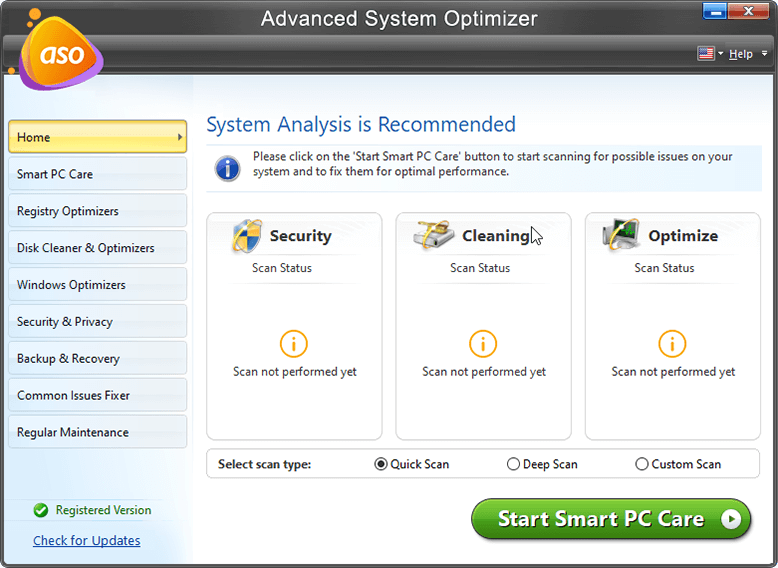 Advanced System Optimizer, one of the best applications to optimize Windows 11, 10. At the outset, this has an excellent pc optimization toolkit which helps in cleaning obsolete files and junk from your system. However,  that's not the only thing that this best maintenance software for Windows does. It has several useful modules that help in enhancing the performance and security of your system.
It's the best PC optimization software which is a one-stop windows computer cleaning and optimizing software. It helps free up memory storage, keeps track of malicious elements, updates drivers, and even acts as a powerful file shredder. Advanced System Optimizer is great tool when it comes to enhancing your gaming experience. It also has a dedicated module that provides you with a sandbox mode to play your games without any distractions.
Pros:
Easy to use simplistic interface
Modules for cleaning and optimizing PC
Detect and remove privacy traces
Facility to fix common PC issues with one-click
Easily fix disk fragments
Facility to backup important files
Integrated driver updater
Registry cleaner and optimizer
Cons:
Free trial is only available for 24 hours
Verdict – This is the best bet for you when it comes to cleaning the system entirely and providing safety to it.
2. Advanced PC Cleanup
Price: $39.95
Compatibility – Windows 11, 10, 8.1, 8 and 7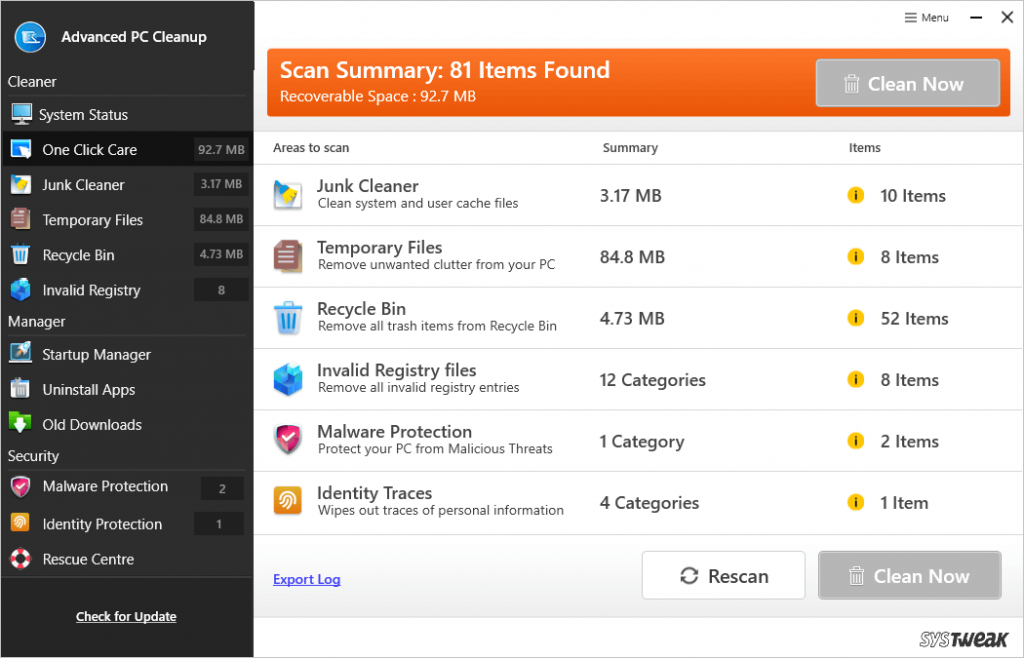 If you want a simple solution to your computer performance and speed issues, get Advanced PC Cleanup. This software comes with efficient tools to cover up the most important sectors of PC cleaning and optimizing. First, it will run a comprehensive scan for the computer. Then it will show the scan results which will include the junk, invalid registry entries,  malware, and identity traces. You can clear them all and protect your PC from performing sluggishly in one click.
Additionally, it comes with a Startup Manager where you can manage the startup programs. The old downloads which are sitting there in the computer for no reason can be removed quickly using Advanced PC Cleanup. It also helps you clean out the unwanted applications quickly using the Uninstall Apps module. As all of these result in poor performance and make your PC slow
Pros:
Cleans junk, temp files
One-click solution
Includes Startup Manager
Uninstalls Applications
Cons:
Premium features will require a full version
A few rival software do a slightly better job
Verdict – Advanced PC Cleanup can be used to clean your computer and protect it from malware. up all the unwanted junk, invalid registry, and redundant applications from the PC
3. Iolo System Mechanic
Price: $49.94
Compatibility – Windows 11/10/8.1/8/7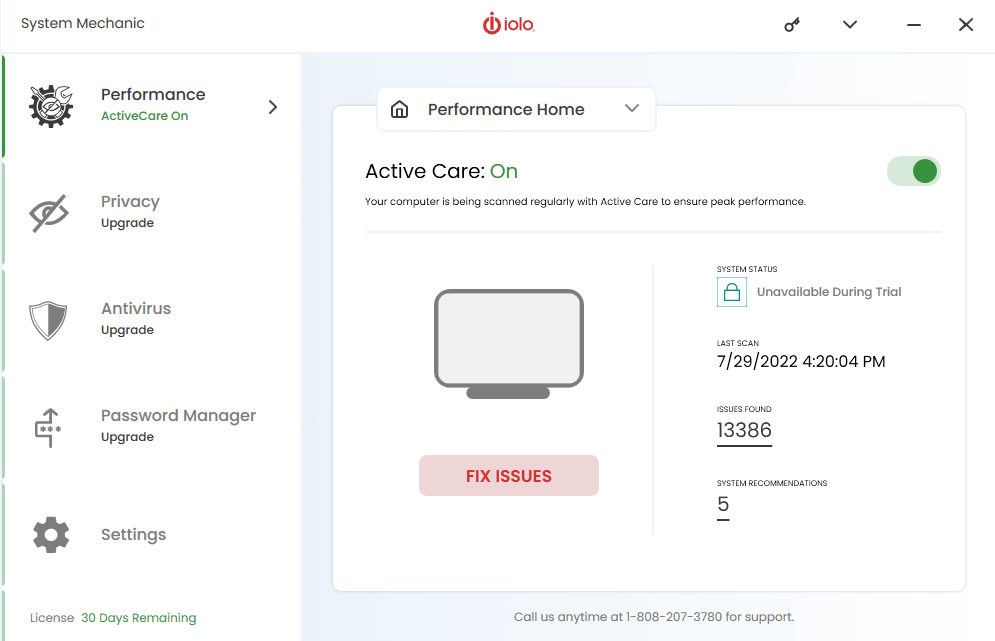 Iolo System Mechanic is one of the best PC optimizers. The simple reason is that this best cleaner for Windows 10 has everything that can help tune up your computer in the best possible manner. To up your computer's performance game, it tweaks RAM and CPU in real-time, defrags the hard drive, deletes junk files, and performs various other tasks. It includes a password manager, Privacy guardian, and System Shield to secure your device.
Several tools have added that automatically look for the issue and then tackle it. For instance, it removes useless junk files from your PC, which are making it slow. It will remove the system hogging applications and open router ports to improve connectivity for home devices. It also senses all the activities of the computer and automatically cleans and frees trapped memory on the drive.

Pros:
Easy to use, modern interface
Functionality to enhance internet speed
Safely resolves registry issues
Malware removal
Password management tools
Cons:
Enhanced features available in the paid versions only
It can prove to be pricier for some
Verdict – It restores the power, speed, and performance of your computer with the latest technology.
4. Restoro
Price: $27
Compatibility – Windows 10/8.1/8/7/Vista/XP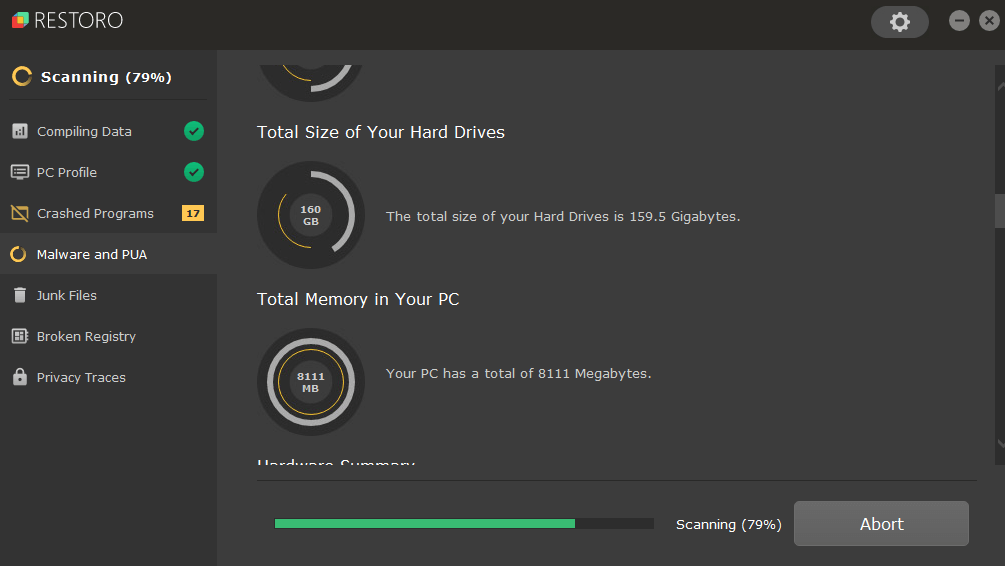 As a PC tuneup software, Restoro has all the tools to maintain your PC. It can run a stability test and also show you the system's diagnosis and hardware. It runs a real-time detection and finds all the threatening and malicious apps. It can restore the peak performance of your computer with its robust features.
Like many other best PC cleaners, it cleans and optimizes outdated registry entries. It will quickly repair and restore the DLL files for your computer, which can save you from unprompted crashes. It is also a great tool to help resolve the blue screen errors on Windows PC.

Pros:
PC optimization and malware removal
Automatic PC diagnosis
Removes redundant junk such as temporary folders.
Registry repair and fixing common
computer issues
Gives you a picture of which hardware components may need to be replaced
Cons:
On a pricier-end and to resolve an issue you need to signup for a premium subscription
Lacks customization and customer support
Verdict – Comes equipped with lots of PC maintenance tools and fixes system errors.
5. IObit Advanced SystemCare
Price: $16.77
Compatibility – Windows 11/Win10/Win8/Win7/Vista/XP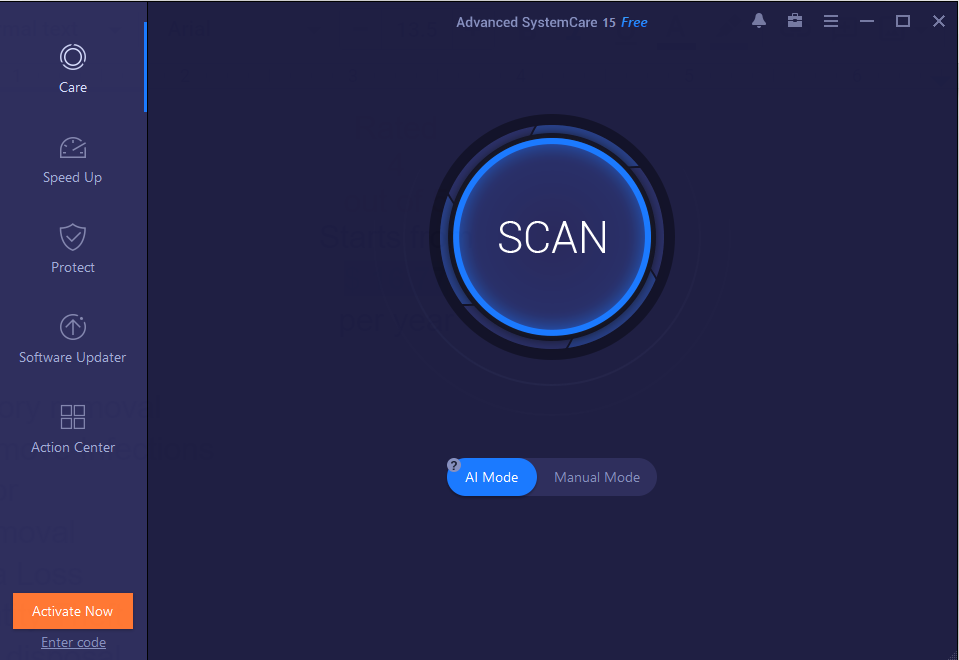 IObit Advanced SystemCare 15 is an easy-to-use temp file cleaner that thoroughly removes junk files responsible for slowing down your PC. It is armed with a one-click AI mode that easily extracts out 26 different kinds of junk files, temporary files, log files, cache files, etc.
As a junk cleaner for Windows, it also eliminates privacy traces from applications and browsers and sorts of startup items to boost its performance. In fact, by doing so, it increases the boot time of your computer by almost 50%. The best PC optimization software also ensures that all the programs are updated to reduce security patches and other vulnerabilities.

Pros:
Simple and easy to understand interface
Preview that lets you dive straight into the containing folder
Real-time tuneup is available.
Update software present on your computer
Includes 30+ troubleshooters
You can delete, move and exclude folders from scanning
Have an option to scan rotated images as well
Cons:
Scanning speed could have been better
The application hasn't been updated in a while
Can't select individual files
Verdict – Uses AI to clean up the PC and comprises of very useful privacy features
6. Piriform CCleaner
Price: $24.95
Compatibility – Windows 10/8/7 (both 32 bit and 64 bit)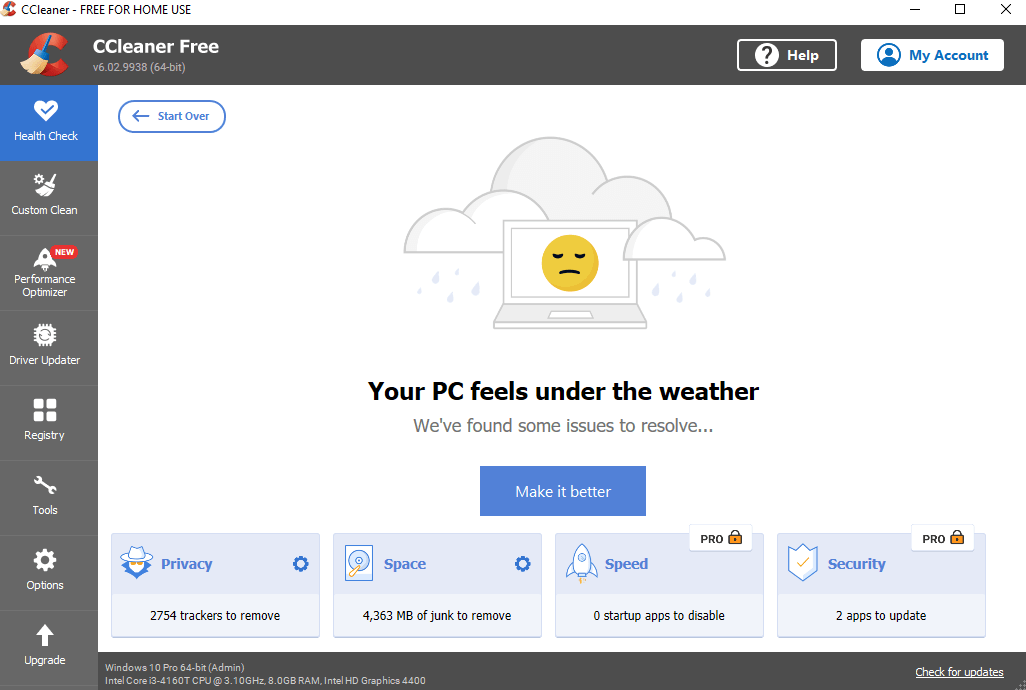 Piriform CCleaner is one of the best PC utilities that help in system maintenance in many ways. This is one of the best Tuneup software for storage management of your computer. At the same time helping you preserve your online identity by intelligently cleaning internet cookies and history. The interface is fairly simple and easy to understand.
With this memory optimizer for Windows 10, you would be able to update all those outdated applications, which might put your security at risk. And, not just that, it even makes it simple to manage startup items and get rid of unwanted programs that can slow down your computer. One of the best aspects of this free cleanup software is that it makes cleaning registries very simple and hassle-free. As the unwanted clutter can put your computer's functionality in jeopardy.
Pros:
Simplistic and easy to use interface
Light file size
Installation takes place pretty quickly
The tool regularly updates itself
Fix problematic registries and even create a backup before making any changes
You can schedule CCleaner to clean your PC automatically.
Keeps you aware of cookies that you might not want to delete
Cons:
The regular installer may bundle another software.
No explicit option for malware cleaning
Verdict- Cleans up and analyzes PC for system issues with its several modules
7. Ashampoo WinOptimizer
Price: $49.99
Compatibility – Windows 11/10/8/7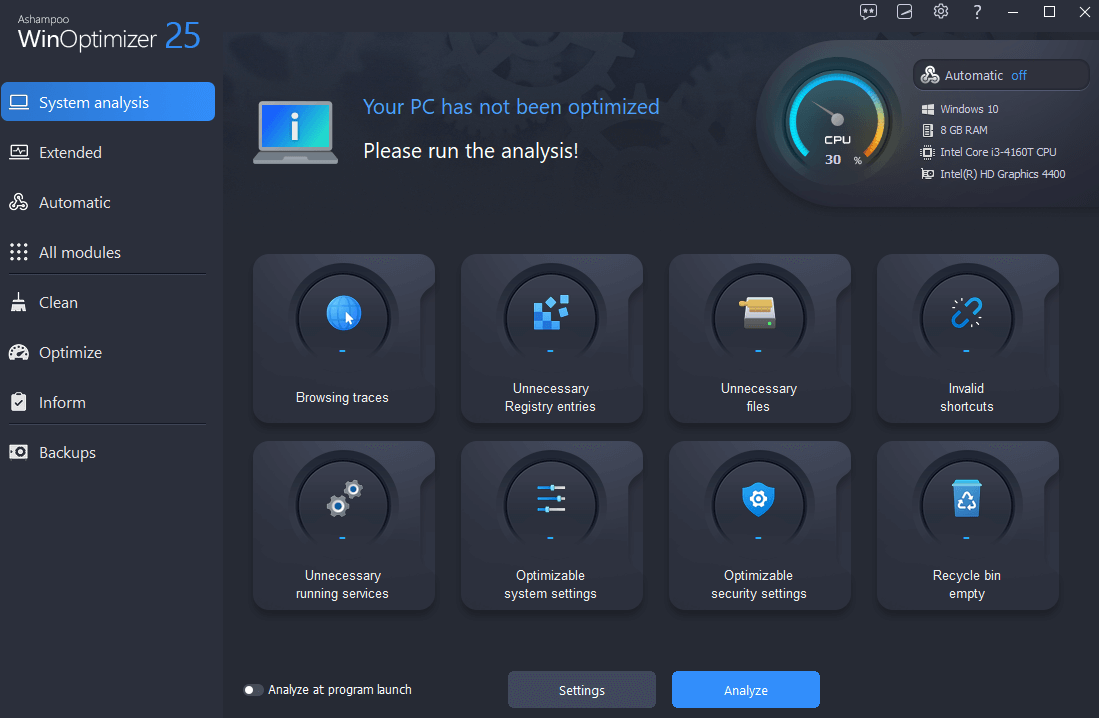 Looking for one of the best free system cleaners and have kept your options open, you might want to give WinOptimizer a chance. By just merely looking at the interface, you'll be motivated to clean your PC because it's that simple to use. This best pc cleaner 2023 targets unnecessary processes and services, one of the root causes of a sluggish computer. A system cleaner tool to comprehensively analyze the disk space, system, HDD performance, and processor, thereby assigning benchmarks based on that.
When you assign a processor, you will know exactly where your system might be going wrong. Again, WinOptimizer Pro is one of those memory optimizers and cleaners for Windows 10, which cements your privacy on all fronts. For instance, it tackles notorious Windows telemetry and even helps in completely shredding files to obtain no data
Pros:
One click optimization
Great tool to backup and deal with registries
Renders snappier performance when using resource hogging applications
Faster boot time
Cons:
Premium features will require full version
A few rival software do a slightly better job
Verdict – It will help you speed up your computer and manage the startup programs.
8. Norton Utilities Premium
Price: $39.99
Compatibility – Windows 11/10/8.1/8/7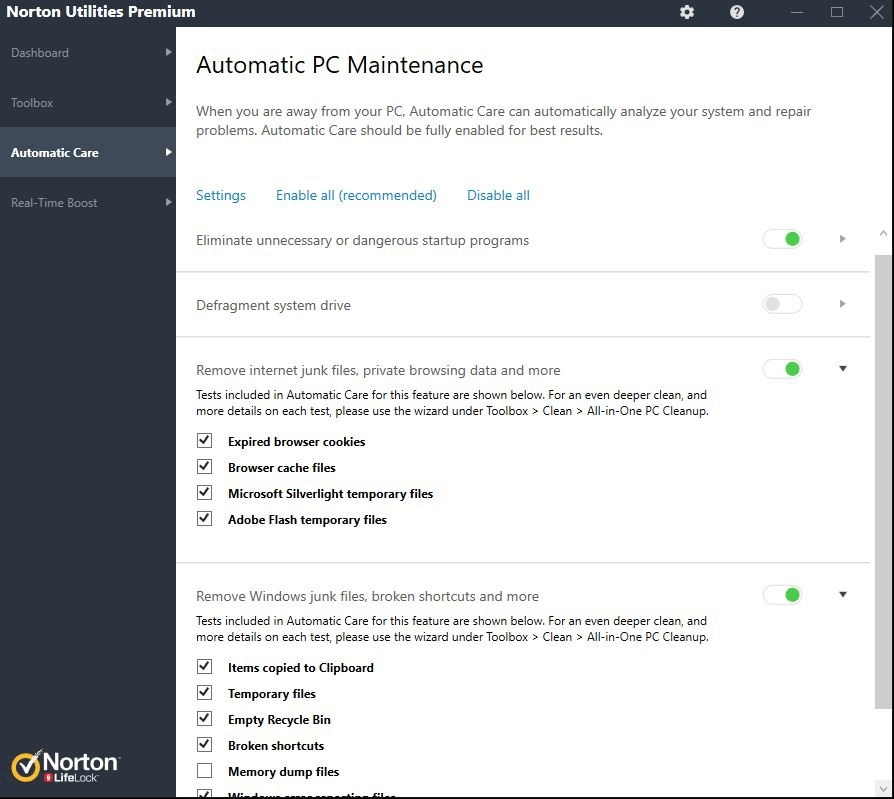 A sluggish PC is any user's pet peeve; stuffed memory, bad processing power, and stuffed hard drive are the factors. That's where a tool like Norton Utilities comes into play. Not only does it free up space on your PC, but it even fixes common issues that users otherwise find hard to tackle.
So what exactly does Norton Utility premium do to optimize your PC?  It removes all those startup items which are responsible for deteriorating your computer's speed. This is the best computer cleanup software as it gives you much faster access to all the applications. As mentioned before, fixing some of the common issues helps prevent unwanted crashes and slowdowns. It is one of that PC booster software that helps erase all digital footprints online and offline.
It shreds all browser traces, which can otherwise open you to several attacks. And, you don't have to constantly keep an eye on the tool as Norton Utilities Premium even works while your PC is idle
Pros:
Enhances system's performance and speed
It has an easy to use interface
Monitors your system in real-time
Comprehensively shreds personal documents and also prevents others from accessing them
Helps erase browser file downloads
Cons:
You may find some community-based features lacking
Some Windows 10 specific features are lacking
Verdict – It has some great features for privacy and security along with cleanup tools
9. AVG Tuneup
Price: $49.99
Compatibility – Windows 11/10/8/7/Vista and XP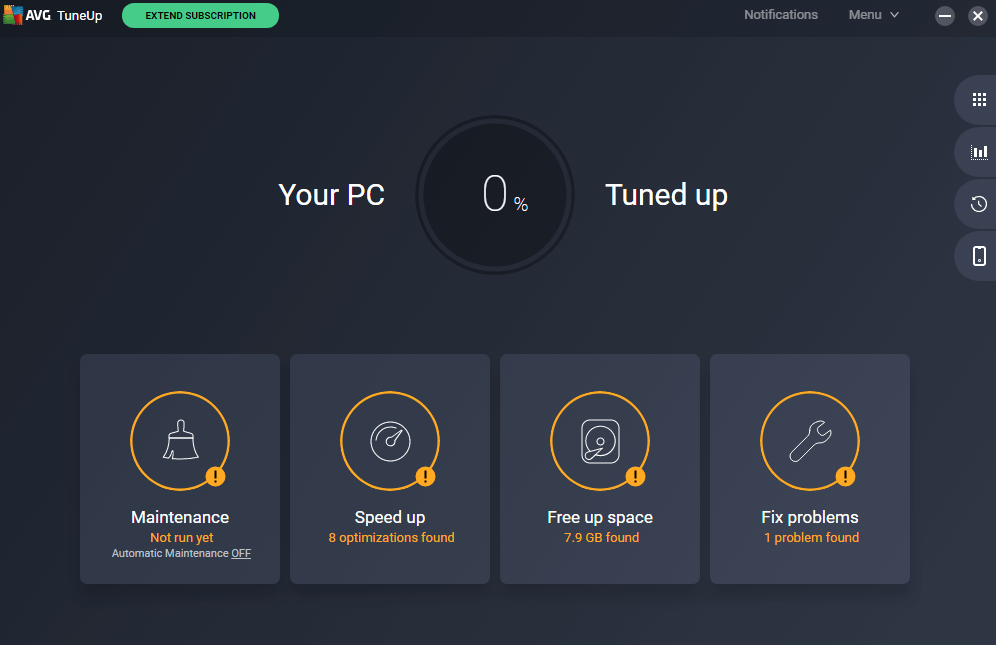 As the name suggests, AVG Tuneup is a dedicated PC tuneup software that comes packed with tools that can extend the life of your old PC. Although it comes with a price tag of $ 69.99, for some time, you can get it for $ 34.99. It comes with a patented sleep mode, which puts the CPU and memory to sleep when not in use
As a free PC optimizer, you can take the aid of its system-maintenance tools and have a look at all the issues present in your system. However, to resolve them, you will have to purchase the premium version.
But, mark our words, you won't regret the investment. It automatically traces cache files, programming leftovers, and cookies. And, also avoids crashes and errors by mixing registries automatically. Apart from that, it even removes unnecessary programs and bloatware from your system as well.
Pros:
Easy and simplistic interface
Automatic maintenance
Automatic program updater
Improves startup time
Sleep mode puts unused programs to sleep
Browser cleaner removes online traces
Cons:
Third-party programs may be affected at times
Support available only in English
Verdict – Removes the unwanted programs along with associated files and clean up the computer quickly
10. Razer Cortex
Price: $0
Compatibility – Windows 11/10/8/7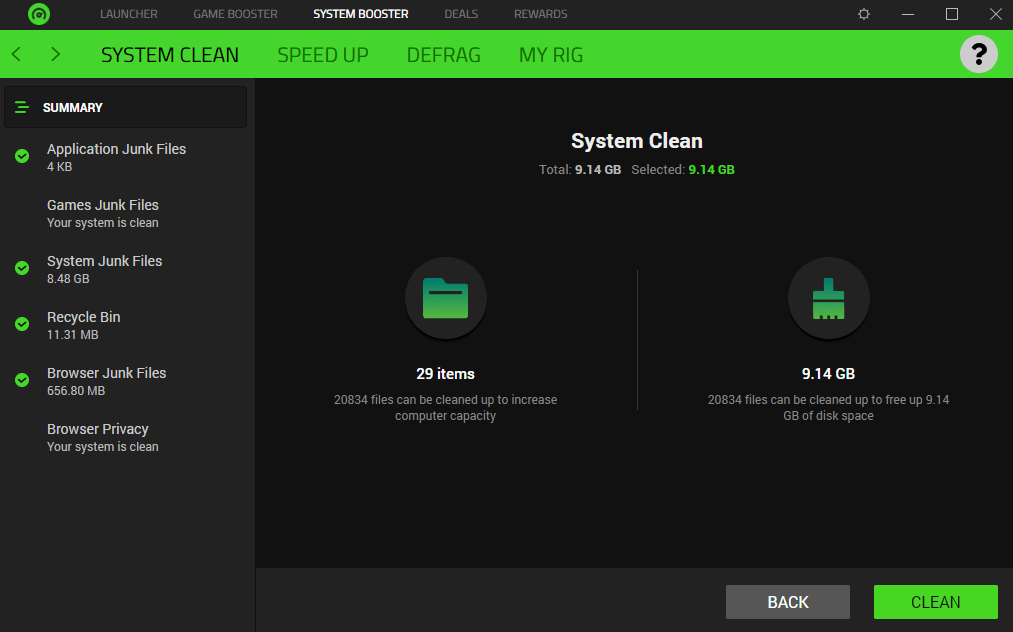 We won't say that it is a dedicated Windows PC optimizer but comes with great optimization tools. Standing true to its name, Razer Cortex is a razor-sharp Windows optimization utility specialist in getting your PC game ready. As a game booster, it optimizes your computer for higher frame rates and even decreases its load times. And, that's not the only thing it does; it also cleans junk files in your computer and manages spaces on your hard disk as well.
Verdict – Along with the game optimizer it comes with free cleanup software tools
Frequently Asked Questions
Q1. What Is The Best PC Cleaner And Optimizer? 
The best PC cleaning software is the one that can clean up junk and remove unwanted files from the system. Advanced System Optimizer improves the performance of the computer significantly which results in speeding up the functionality.
Q2. Which Is The Best Software For Cleaning And Optimizing Windows PC?
Advanced System Optimizer is the best cleaner and optimizer for Windows PC. It comes with a ram cleaner, driver updater, privacy protector, registry optimizer, disk defragmentation tools which helps the operating system in performing at its best.
Q3. Is There A Free PC Cleaner?
Yes, many options are available, and you select one of the best free PC cleaners from the list. CCleaner is one of the popular choices while getting a paid version with more features.
Q4. Do PC Optimizers Work?
When you select one of the best PC utilities, you are bound to see the changes in your system's performance. The PC booster tools make your work easy by cleaning up the junk and freeing up space on the storage disk.
Q5. What Is Better Than A Ccleaner?
Advanced System Optimizer is better than the CCleaner as it provides numerous useful tools to optimize your computer. This tool helps in memory management, game optimization, encrypting files, and making files unretrievable, making it the best computer cleaner
Q6. How Can I Optimize My Computer Performance?    
There are several steps required in optimizing your computer. Removing unnecessary files and software, disk defragmentation, and optimizing computers for gaming and startup program management. This task can be achieved in less time, using one of the best PC cleaner software.
Q7. Do windows 10 come up with a cleaner by default?
Yes, you can clean Windows with the help of Storage Sense. It can clear the temporary files, unused files, and applications by turning on these settings.
Conclusion
Amongst hundreds and thousands of PC cleaners (paid and free) out there, you need to grab the best software to optimize your PC, and with that intent, we have listed some of the best pc cleaner available. Again, we'd like to reinstate that certain maintenance tasks on your PC should be left to specialist tools. So, do check out the chart for the best Windows optimizers above.
Do let us know in the comments section which of the above cleanup and optimization tools you would prefer and what you liked best about them.
For more such reviews on Windows software, keep visiting Top10PCSoftware. Also, follow us on the social media platforms for the latest updates for Windows software. We are on Twitter, Facebook, Pinterest, and Flipboard.