If you want an in-depth cleaning of your computer so that it can again run like new, you should give MacPaw's CleanMyPC a try. It doesn't just help your computer get rid of junk files but it even helps optimize settings that can significantly improve the performance of your computer. In this comprehensive review of CleanMyPC, we'll measure the ins and outs of this popular Windows 10 cleaner.
Introduction Of CleanMyPC
You have been dealing with a sluggish PC and now you are wondering what settings should I optimize and what files should I delete to clean my computer. Such questions are daunting and practically almost impossible to deal with manually. That's where you need a computer cleanup tool like CleanMyPC. It takes care of your PC by –
Helping you remove all kinds of junk files
Getting rid of unwanted space-hogging extensions (browser-wise)
Removing several privacy traces
Zeroing down on applications that taking the most space on your computer
Systematically tweaking settings that will further help boost the performance of your PC
We'll closely look at several facets of this PC cleaner software in greater detail.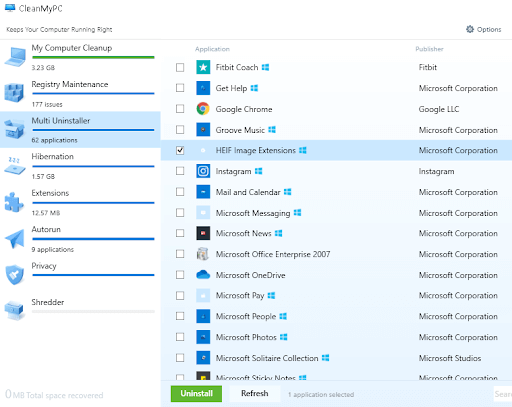 If you are on a hunt for one of the best PC Cleaner and optimization software, MacPaw's CleanMyPC might just be your final destination.
A Brief Overview – CleanMyPC
Cleaning your PC is not just confined to getting rid of a few junk files. Several things need to be taken care of – unwanted startup items, unnecessary applications, outdated or corrupt registries, fragments in the disk, so on and so forth.
To boost your PC's performance, CleanMyPC comes with several modules. So how exactly does this computer cleanup utility tackle the various issues? We will discuss all such features later in this blog.
While we will discuss the features in-depth, you can however have a glance at what comes with this Windows PC cleaner and what doesn't.
Starts from
$
39.95
per year
Detect & Remove Infections
Unused applications and unnecessary software
Automatic Cleaning and updation
System slowdown prevention
Hardware Requirements
Windows version supported: Windows 10/ Windows 8.1/ Windows 8/ Windows 7
Disk space: 40 MB free disk space
Pros:
Easy to use, intuitive, and attractive interface
Cleans all kinds of junk files
File shredder
Removal of privacy traces
Handles outdated registries well
Uninstall unwanted applications
Cons:
No backup facility
Cant fix disk fragments
A little costly
How To Use CleanMyPC Tuneup Utility
Using CleanMyPC is very simple. Here is how you can use it –
You can even choose your desired language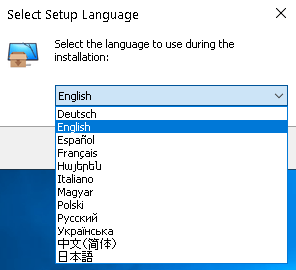 You can begin with the My Computer Cleanup module and click on the Scan button from the right-hand side of the screen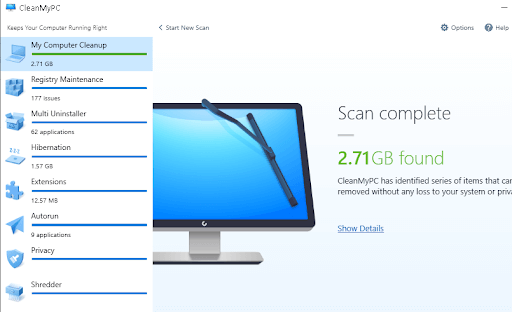 Likewise, you can click on each of the modules present on the left-hand side of the screen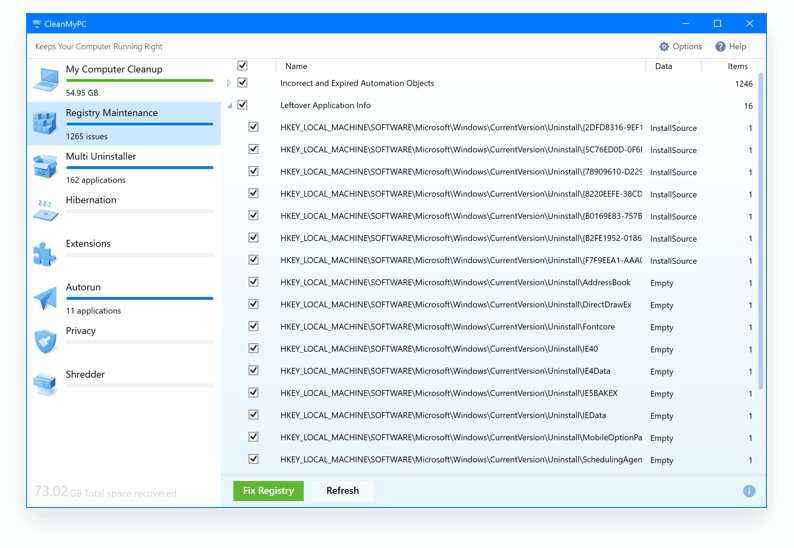 When you download CleanMyPC, the first thing that you interact with is the interface. This tuneup utility has a pretty decent interface and it won't take much time for you to get familiar with the buttons, modules, and overall functionality. All its 8 modules are neatly defined on the left-hand pane. And, when you click on each of the modules, the results get enlisted on the right-hand side on which you can further perform actions by the way of checking boxes and further clicking on options that appear on the bottom.
The Highlights:
Decent interface
Modules neatly placed on the left-hand pane
Each module or button is clearly defined
Actionable items appear when you click on modules
With each module, you know in real-time, how many items are being dealt with or how much storage space is being saved
MacPaw's CleanMyPC for Windows 10 is just as powerful and as feature-loaded as its Mac counterpart. As a computer cleanup tool it exhibits the following features:
1. Cleans All Kinds of Junk :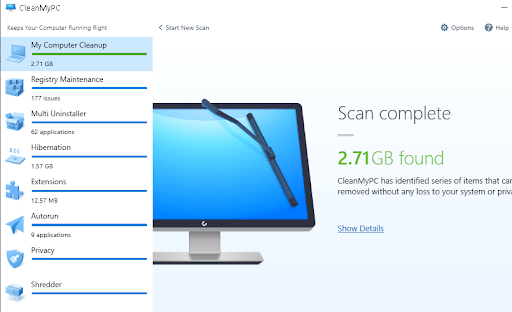 CleanMyPC intelligently scans your computer for junk files like log files, cache files, and other unnecessary files and cleans them.
As you can see from the screenshot, almost 2.7 GB worth of space can be freed once the system is freed of junk files.
2. Multi-Uninstaller: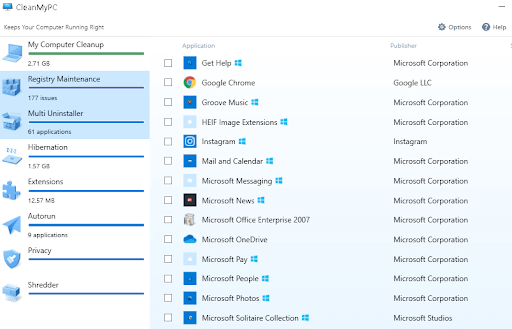 This is one of the best features of CleanMyPC. Oftentimes, even after removing an application completely from our computer, its remnants still hog on a lot of space. As a Windows PC cleaner removes entire applications and even removes unnecessary items such as toolbars and cache files
3. Easy Registry Maintenance: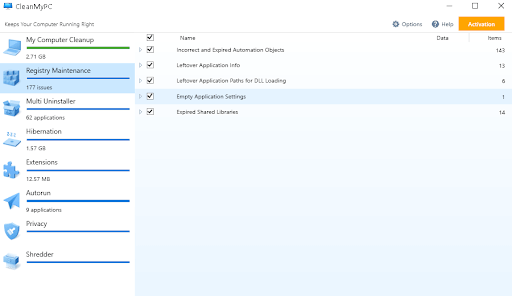 Outdated registries can gravely affect the functionality of your computer. As a part of computer cleanup, CleanMyPC doubles up as a registry cleaner and looks for outdated entries and cleans them, thereby boosting your PC's performance.
In our scan, it found 177 issues which included the following items –
Incorrect and expired automation objects
Expired shared libraries
Leftover application paths for DLL loading
Leftover application information
Empty application settings
4. Startup Items Sorted: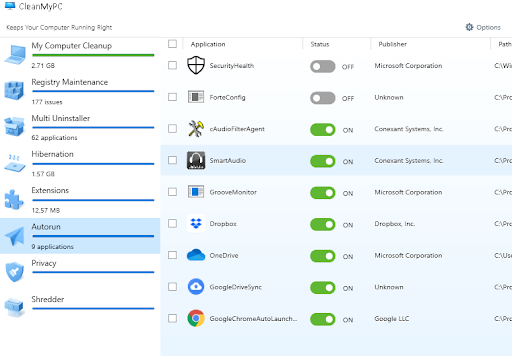 Startup or autorun items are a bane of your computer's existence. To boost performance and speed up PC, CleanMyPC helps sort these items by letting you disable them in a single click. And, the best part you won't even have to tweak important settings which can otherwise put your computer in jeopardy.
5. Hibernation: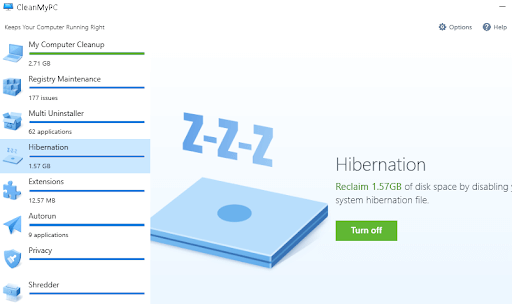 Even if you are not aware of this file or never use it, it still consumes a lot of your disk space. It compresses content from Windows memory when your PC goes to sleep. CleanMyPC makes it easy to disable this file and claim tons of space as can be seen in the screenshot below.
6. Cut Down On Unwanted Extensions: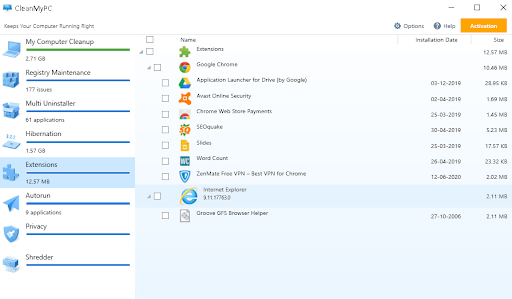 With this module, you can gain complete control of the extensions you are using. The best part is that it lists down all the extensions in your computer browser-wise and lets you know how much space is being occupied by each of the browser extensions.
7. Privacy: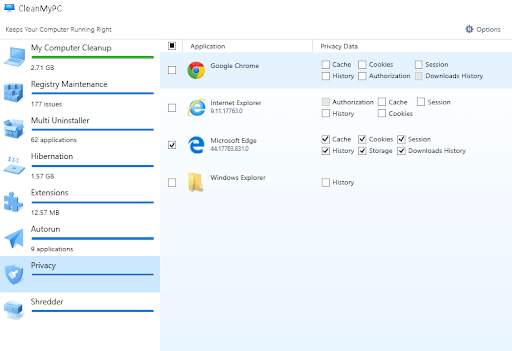 If there is any data in your computer that can put your identity at stake, the privacy module will help you remove that. The identity traces include cache, cookies, session history, storage history, download history, and several more items. The privacy module gives you complete control over each of these items as you can see in the screenshot.
8. File Shredder: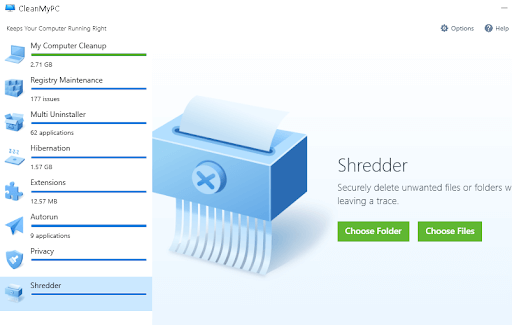 When deleting a file or folder, you might be sure that you have gotten rid of all the contents. But, oftentimes, this doesn't happen and remnants still stay. These can especially be dangerous if they get into the hands of a miscreant who has advanced computer knowledge. The File Shredder module completely deletes a file or folder leaving behind no trace.
And, the process is very simple. To delete an unwanted file or folder –
You can either click on Choose Folder and select the contents or
Click on Choose Files and then select individual files for removal
When it comes to updates, CleanMyPC is swift to grab updates which further adds to its credibility. Normally, you won't even have to worry about updating CleanMyPC because it grabs any new updates that come its way. It then prompts you to install this update along with informing you what the update has stored in.
Still, if you missed the update, you can manually fetch them by following the below-mentioned steps –
Click on Options at the upper right corner of the screen
Move to the Updates tab
Once there, click on Check now.
That's it! If a new version is available, you will be informed.
When you download CleanMyPC free, you can clean up to 500 MB worth of files for free after which you have to sign up for the premium version. Plus, there are several other features that you can only enjoy once you have purchased the premium version, for instance, with the free version you can clean up to 50 items in your registry.
The annual charges are slightly on the higher side as compared to some other PC Tuneup software but, its results do justify the price. These are the annual charges –
With 8 modules in place, you might be wondering how much time does this PC cleaner take to scan the various junk files, outdated registry items, uninstall unwanted applications and startup items, and many others? The fact is MacPaw's CleanMyPC is as fast in scanning items it is in removing them. In a matter of a few minutes, it can scan for items, and then you can resolve a particular issue quickly. For example, in a matter of a few minutes, CleanMyPC was able to find out 177 issues in the Registry Maintenance module
Despite being a great Windows PC cleaner, what would you do if you get stuck with an option? Or, if you want to extend your license to other computers? Or, you have some other query? Who would you reach out to? MacPaw supports its customers from all sides and here's how –
Contact us: Here you can submit your query via email and even attach a screenshot of your issue.
Knowledgebase: You can refer to a wide range of topics and find answers to your questions
License Manager: You can manage your licenses, reset them or even get another copy
The only thing that could have been better is if MacPaw had also provided phone support as well.
Frequently Asked Questions
Q1. What is CleanMyPC?
CleanMyPC as the name suggests is a tuneup utility that helps get back your computer in top shape by cleaning all kinds of junk files, uninstalling redundant applications and extensions, and also helping you tweak settings that can further boost your PC's performance.
Q2. Is CleanMyPC Free?
Yes, you can download the free version of CleanMyPC, however, the free trial will let you clean up 500 MB worth of junk and fix 50 registry items. After the trial version is over, you can opt for the premium version that starts at US$ 39.95
Q3. Is CleanMyPC Safe?
At its core, yes, It is safe to use. Even if you have antivirus software or antimalware software, It shouldn't clash with them. Though, when using the Registry Maintenance module or even File Shredder, we recommend you take a backup first because CleanMyPC does not have that option.
Q4. Who built CleanMyPC?
CleanMyPC comes from the developers of CleanMyMac X i.e. MacPaw who are also the makers of some of the best software such as Setapp, CleanMyDrive2, ClearVPN, The Unarchiver, and many other spectacular products.
Q5. Do You Need CleanMyPC?
Whether installing CleanMyPC or not is completely at your discretion. But, we can safely put that this Windows 10 cleanup utility can become potent ammunition in your arsenal of PC maintenance tools. You can always put it head to head with other PC cleanup software and see how well it helps tune up your computer for maximum performance.
Wrapping Up
If the task of cleaning up the computer from inside is giving you nightmares, you should give this tool a try. You can initially download CleanMyPC free and after you are completely satisfied and have seen improvement in your PC's performance, you can always purchase a premium version to unleash the absolute power of this wonderful PC cleaning utility. Do let us know if the tool has stood up to your expectations in the comments section below.
CleanMyPC – Top 5 Alternatives You Can Consider
Provider
$ Per Year
Top Features