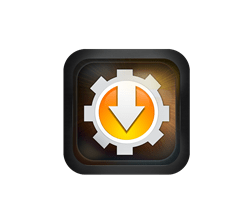 Advanced Driver Updater
Advanced Driver Updater: Complete Review For Updating Drivers On Windows
Advanced Driver Updater is one of the best driver updaters for Windows. It will solve your system errors quickly and keep all the devices running in good shape by updating drivers constantly. This auto driver updater comes with all the important features you need to keep your system running smoothly. In this Advanced Driver Updater Review, we will tell you all about the best driver updater for Windows 10
Brief Introduction to Advanced Driver Updater
Everyone must get one of the best driver updaters for their computers. They are an important tool to keep your devices easily communicating with the operating system. If a device driver is corrupted or incompatible with your Windows PC, your computer might not work properly. The driver updater makes sure that your computer will operate at its best performance.
Advanced Driver Updater will rescue you from all the worrying of getting updates from the manufacturer's websites. This has a large database with the latest device drivers. You can run a scan and it will automatically update all the outdated drivers on your computer. 
Reasons to Choose Advanced Driver Updater
Driver updater for PC will usually help you get the updates on device drivers manually. Advanced Driver Updater is an auto driver updater that functions on regular automatic scans. Advanced Driver Updater comes with a few features that will make you like it even more. Check out the latest updates of drivers and install them on your computer easily using them.
Intuitive interface
Safe tool
Update device drivers
Large database
Automatic scan
Easy navigation
Take Driver Backup
Rollback drivers from backup
Schedule scans
Shows Status of drivers
Ignore the list
Fix system errors
Regular updates
Low CPU resources
Runs in the background
Scan Types
Automatic Scan
Manual Scan
Updates
Outdated Drivers
Programs
Scheduled Scan
Schedule Daily
Schedule Monthly
Schedule Weekly
Customer Support
Email Support
Phone Support
Technical Specifications-
Current Version- 4.5.1086.18003
System Requirements-
Operating System – Windows 10/8.1/8/7 (both 32 bit and 64 bit)
Processor- 400MHz or higher.
RAM- 256 MB or more
Disk Storage space- 2MB
How To Install Advanced Driver Updater
Advanced Driver Updater can be used on Windows once you download and install it. Here are the simple steps to assist you in the installation.
Step 1: Download Advanced Driver Updater from the download button given below-
Or you can also visit the official website to download the executable file.
Double click on the setup file and give system permissions to the application to make required changes.
Step 2: Click on the Next button to initiate the installation process.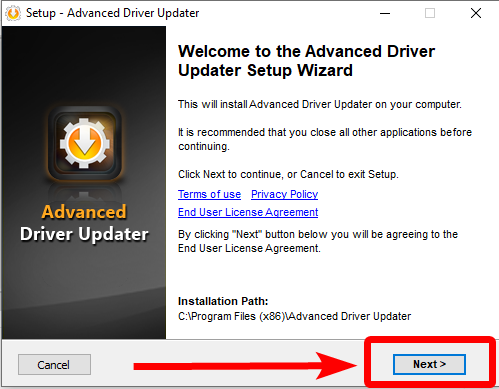 The installation will take place and you can see that it will quickly show you the next screen.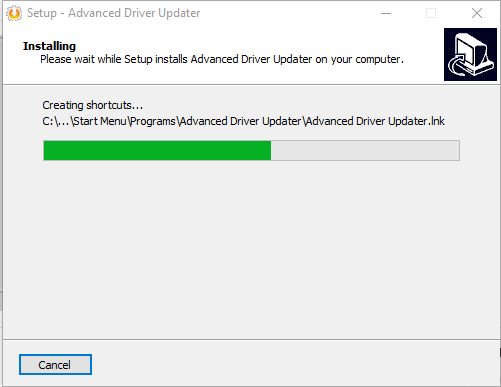 Step 3: Now, click on the Finish button to complete the installation process.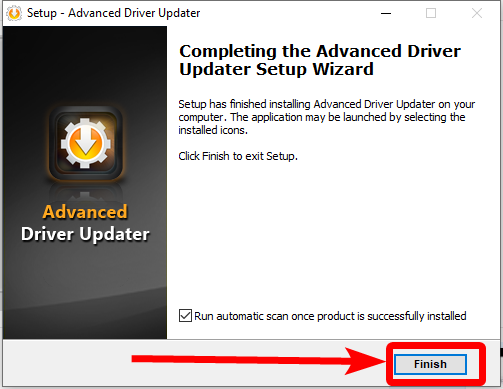 Now Advanced Driver Updater is ready to be used on your computer.
How To Use Advanced Driver Updater?
Follow the easy steps to learn how to use Advanced Driver Update on your computer –
Step 1: Download and install the auto driver updater on your computer from the download button given below.
Step 2: Launch Advanced Driver Updater. Click on Start Scan Now.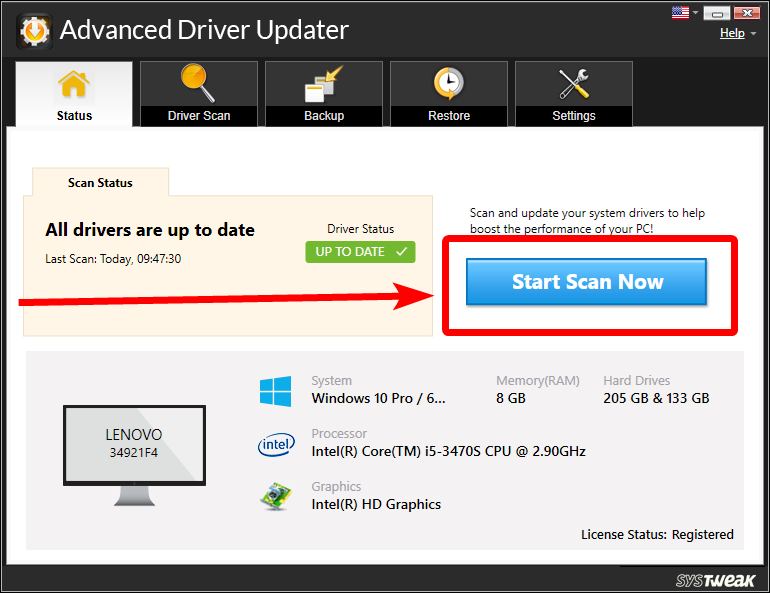 Step 3: The scan will take a few moments to a few minutes to show you the status.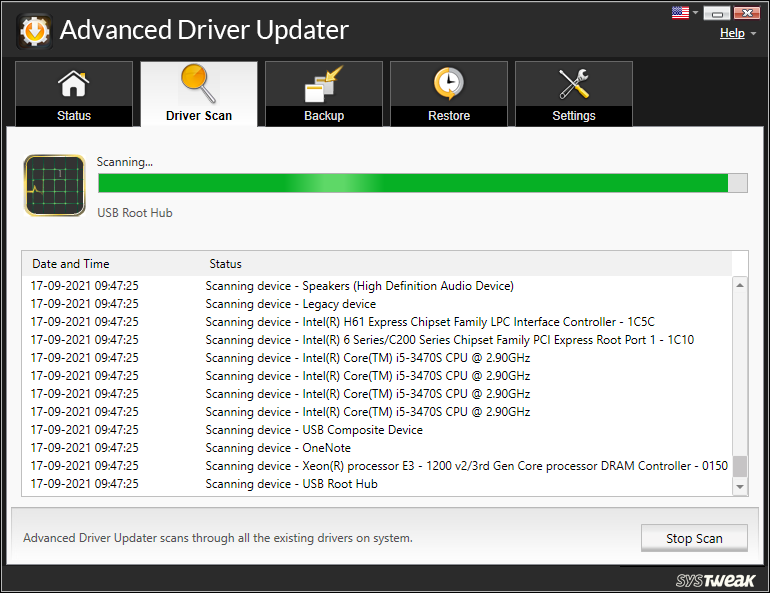 Step 4: Checkmark the box in front of Driver Details to mark all in the list. Click on the Update All button to get the updates for all device drivers in the list at once.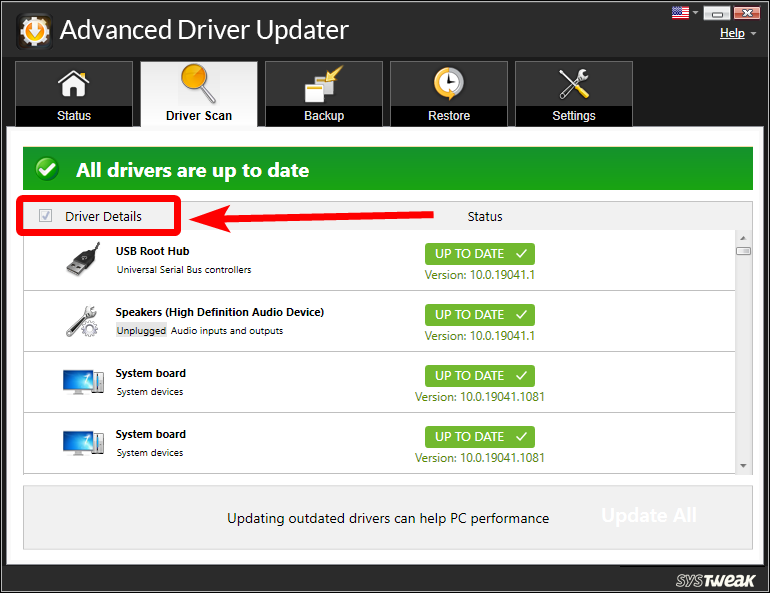 Or in the free trial version, click on the Update for each driver individually.
Step 5: To apply the changes, restart the computer.
Advanced Driver Updater comes with a very intuitive interface and you can expect the users to navigate easily. This is a combination of a simple toolbar that shows all features on the top bar. Along with the Status, Driver Scan, Backup, Restore, and Settings. The Help button is also placed visibly clear on the Top-right corner to find you Help, Submit feedback, Check for updates, Select Language and read more in the About section
1. Automatic Scan-
Advanced Driver Updater runs a scan regularly and prompts you to update the outdated drivers. It will run an automatic scan and keep your computer free from errors associated with device drivers. The automatic updates are the plus point for a tool and this is what makes this the best driver updater.
2. Schedule Scan-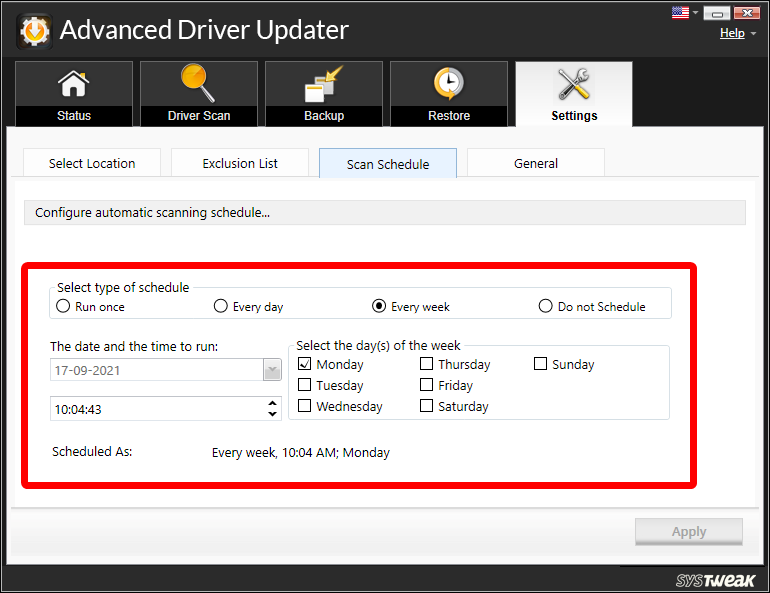 To help you, even more, Advanced Driver Updater gives options to schedule the scan. You will get the option of setting a time, date, or day for the scheduled scan for drivers. The scheduled scan can be set daily, weekly, or monthly.
3. Backup-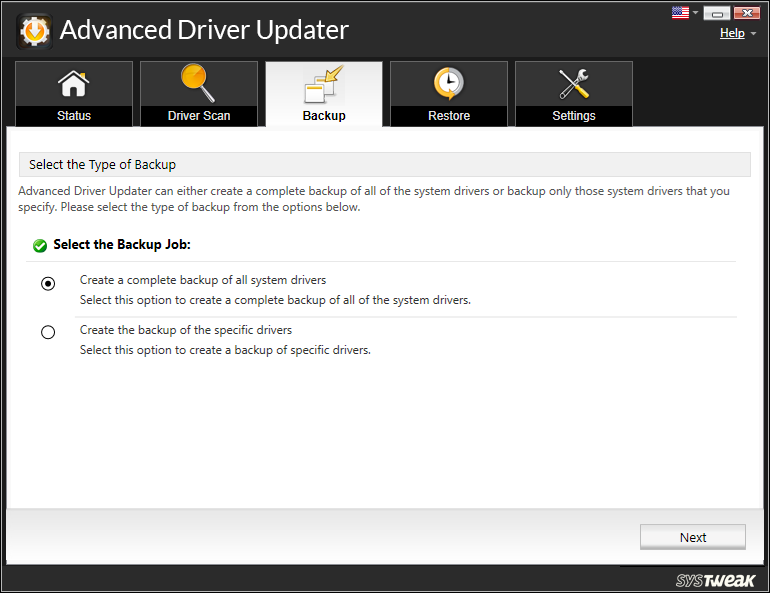 Taking a backup of drivers is a very important part of driver updates. Advanced Driver updater makes sure of this feature as in an unlikely situation you might need to use a backup of the drivers' updaters. You can easily store the backup file in the desired location on your computer.
4. Restore-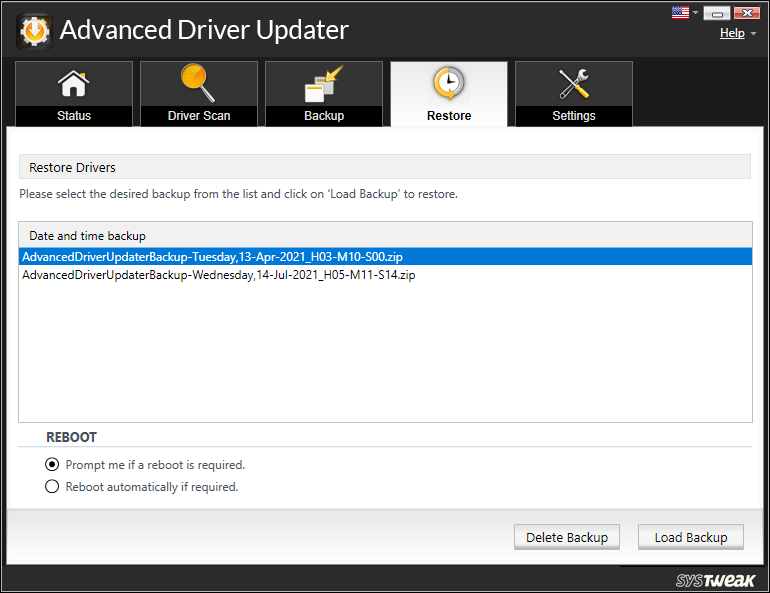 To complete the backup functionality, Restore is the other half of the feature to be used with backup. As drivers tend to work with the operating system, they need to be in sync with the version. At times, the version does not match and in that case, a recently updated driver will hinder the operation of the device. With Advanced Driver Updater, you can restore the previous version from the backup stored on the device. 
5. Multiple Language Support –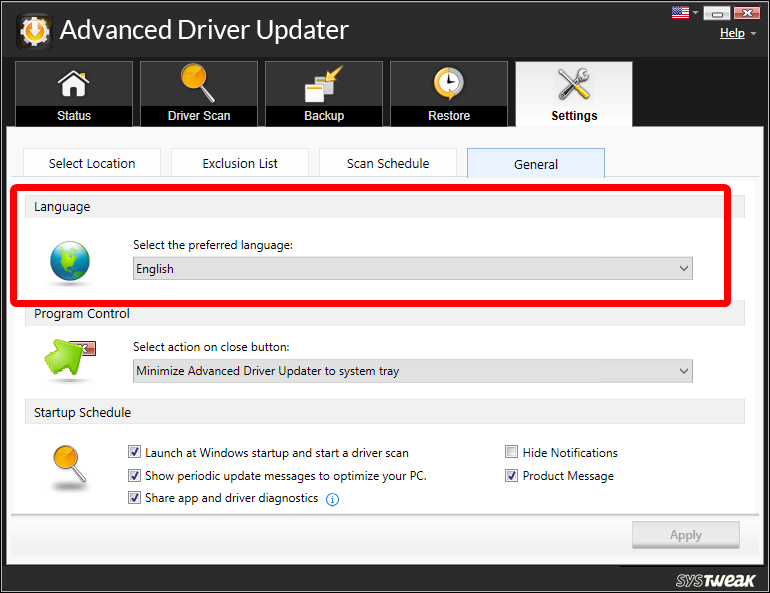 Advanced Driver Updater is available in 14 languages – English, Danish, Netherlands Dutch, French, German, Italian, Japanese, Norwegian, Portuguese, Spanish, Swedish, Finnish, Russian, and Chinese Simplified. The language button is intuitively placed to help you change it quickly.    
6. Ignore List –
The exclusion list of device drivers is a must as it gives you the freedom to keep a few from getting updated. You can find this feature in the Settings< Exclusion List. Add the device drivers to the list and avoid them getting updated with the Advanced Driver Updater.
Advanced Driver Updater periodically updates itself and shows you notifications. You can also check the status of new updates within the tool. Go to Help drop-down menu> Check for Updates. The driver updater for Windows 10 is equipped with a large database of device drivers and it is also updated frequently
It will quickly install on your computer and run an initial scan to find out the current state of all device drivers present on it. This will also show you the automatic updates in a few minutes. Although the time depends on the number of drivers needing to be updated and it can vary from machine to machine. Advanced Driver Updater is a fast tool overall and fixes in minutes
Advanced Driver Updater works well with customer support as it provides you with email support and a feedback form in the tool.
Email support for Advanced Driver Updater
Additionally, you can write the feedback with a brief description from the tool – Help Dropdown Menu > Submit Feedback.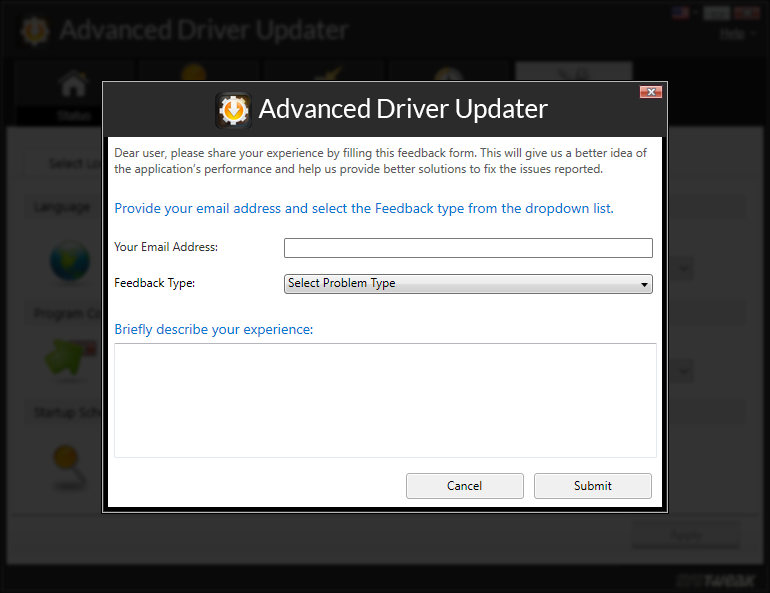 Go to the help page from the tool, in case of any queries. Go to the top-right corner and check for the Help with a drop-down menu and click on it and select Help. It will direct you to the official support page which will solve your queries with the frequently asked questions and answers.
Frequently Asked Questions –
Q1. Is Advanced Driver Updater safe?
Yes, Advanced Driver Updater is a safe option as it comes with regular updates. It is a popular choice of driver updating tool for Windows PC and comes from a family of a trusted software provider – Systweak Software.
Q2. Which is the best driver updater free?
Advanced Driver Updater can be deemed as one of the best driver updaters for Windows 10. This will provide you with the services even after you have passed the free trial period. With the freeware, you can update each driver manually using Advanced Driver updater,
Q3. What is a driver update and do I need it?
Driver updates help the devices on your computer to keep functioning in sync with the operating system. Without a proper driver update, the device will fail to communicate with Windows. This will result in frequent errors which can hinder your daily work on PC.
Q4.What happens if I don't update my graphics driver?
If you do not update your graphics card driver, it will show system errors. You might not be able to play a certain file, the display can show flickering, and many more similar issues can come up. Keeping the drivers updated will help you in increasing your performance with your computer.
Verdict –
Advanced Driver updater is one of the driver updating solutions, you will need on your computer as a must-have tool. It comprises all the necessary tools which are required on a driver updater. The auto driver updater will help you get updated device drivers on your computer quickly. The schedule option will secure the choice of running a scan at the desired time. The backup and restore features will make sure to have a rollback option for drivers for better compatibility.
Overall, we would like to recommend the Advanced Driver Updater to all for its ease of use. We hope this Advanced Driver Updater review will help you in finding out all about the best driver updater software. We look forward to your comments to know more about your opinion on this blog post. For more such reviews on Windows software, keep visiting Top10PCSoftware.