Remo Recover Windows
Remo Recover for Windows 11
Are you facing the frustrating situation of losing critical office documents and media files due to a system crash on your Windows PC? Have you accidentally deleted important files and now regret not being able to recover them? Don't worry anymore! Take a chance with Remo Recover, and you will be able to find your precious files in no time!
Data loss is unpredictable. You might not even realize and lose data due to several conditions such as system crash, wrong OS installation, human error, virus attack, and the list goes on. At this point, a tool like Remo Recover can help you restore lost, deleted and missing files. Since it scours every nook and cranny of your computer to scan for data, the chances of recovering all the files becomes high. It can even help you recover data from lost partitions and external devices like USB drives and SD cards as well.
While Remo Recover is one of the best data recovery software available, you can also check out our post where we have discussed some other great data recovery utilities for Windows.
Why Choose Remo Recover For Windows?
Let's have a look at some of the reasons why you should employ a tool like Remo recover to recover lost data on Windows –
It comes with a strong data recovery algorithm to recover data from a variety of data loss situations unless a formatting technique like low level formatting is done.
Competitive scanning speed. In most cases, you can recover several GBs of data in a matter of few minutes.
You can track the scan progress in real-time using the Dynamic Recovery View.
Preview data before recovering it.
Save a scan session, load it and save yourself the grind of rescanning.
Filter and categorise files based on file types and file systems.
Technical Specifications
Windows Compatibility – Windows 11/10/8/7, Windows Server 2019/2016/2012
Supported File System – FAT16, FAT32, exFAT, NTFS and NTFS5
Hard Disk Space Required – 100 MB minimum and enough free space to recover files
RAM Required – 2 GB minimum. 4GB recommended
CPU – Intel or AMD class processor with a minimum of 1.2 GHz or higher
How To Use Remo Recover on Your Windows PC?
To get started with Remo Recover on your Windows 11/10 PC, follow the steps mentioned below –
Step 1 – Download, install and run Remo Recover software on your Windows computer.
Step 2 – Select a Drive/ Partition or Location from where you want to recover data.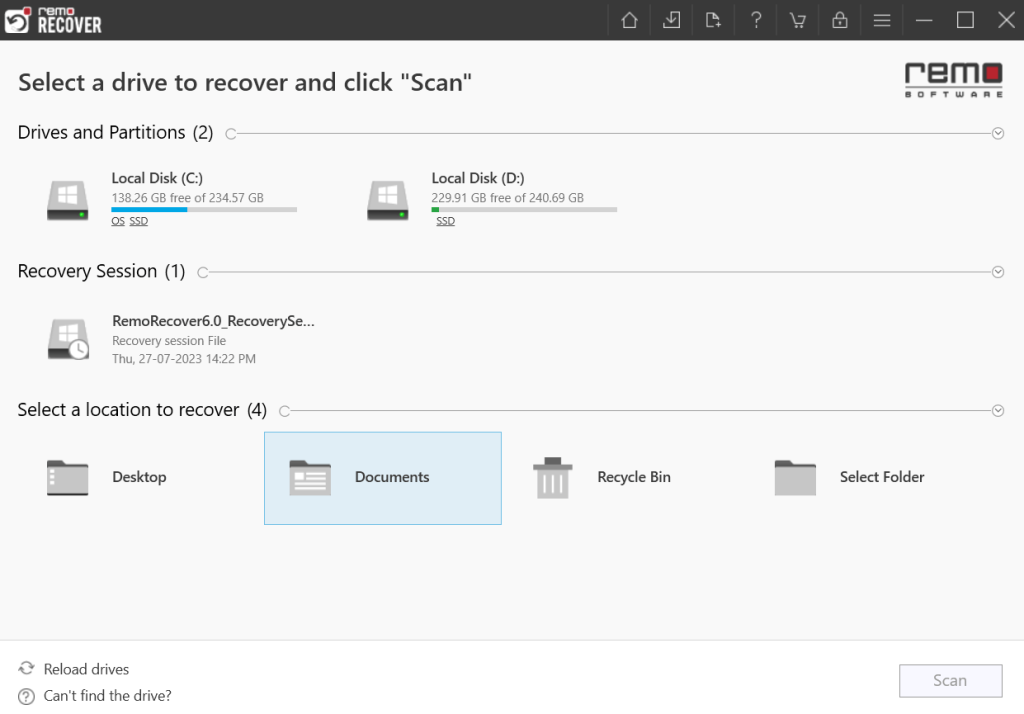 Step 3 – Click on the Scan button from the bottom-right corner of the interface and wait for the scan to complete. Click on OK once the Quick Scan is complete and once the software prompts to run the Deep Scan.
Step 4 – To keep track of the files found, click on the Dynamic Recovery View.
Step 5 – Select the file or folder that wish to recover by clicking on the checkbox next to it.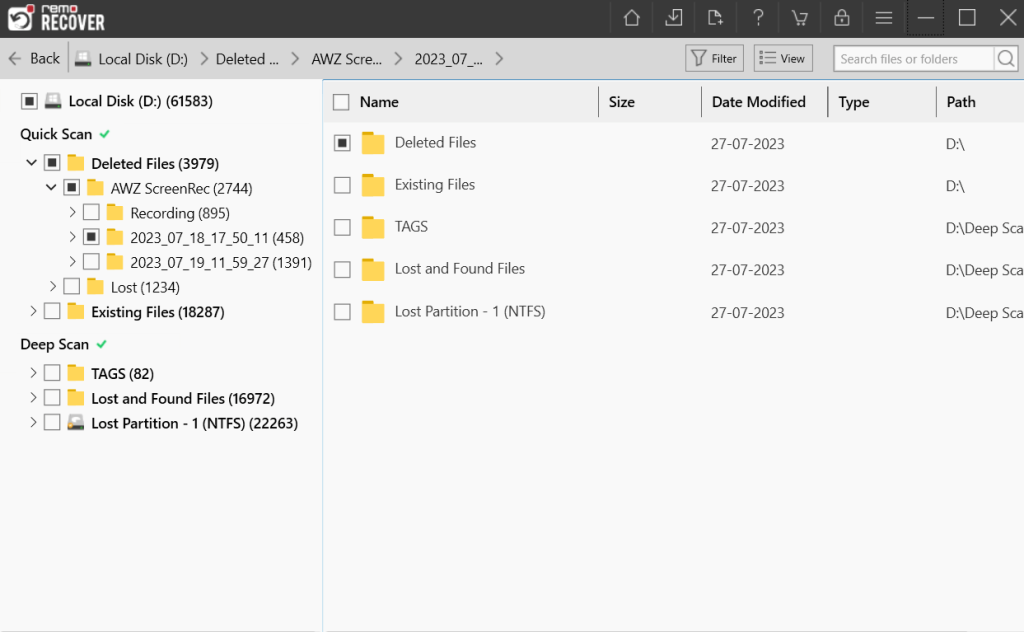 Step 6 – Click on the Recover button at the bottom right corner of the interface.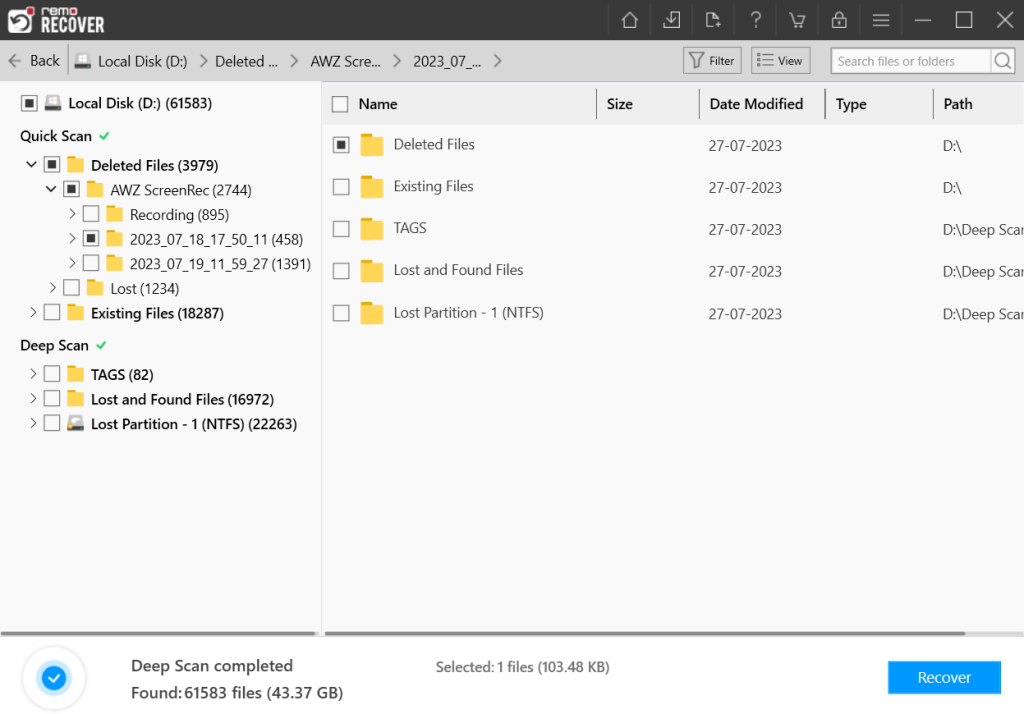 Please Note
It is highly recommended that we select a new location to restore a lost file. Make sure you restore the files at a place other than the one from where the file was lost originally.
 Step 7 – To open a previously scanned result, click on the Open recovery session from the top and select a previously saved scan result to load it.  
Interface
85% – Very Good
Remo Recover for Windows has an easy-to-use and easy-to-understand interface. To begin with, you can snap the interface using Windows + arrow keys as you would do with other windows. This way you can multitask with the data recovery tool while working with other tasks.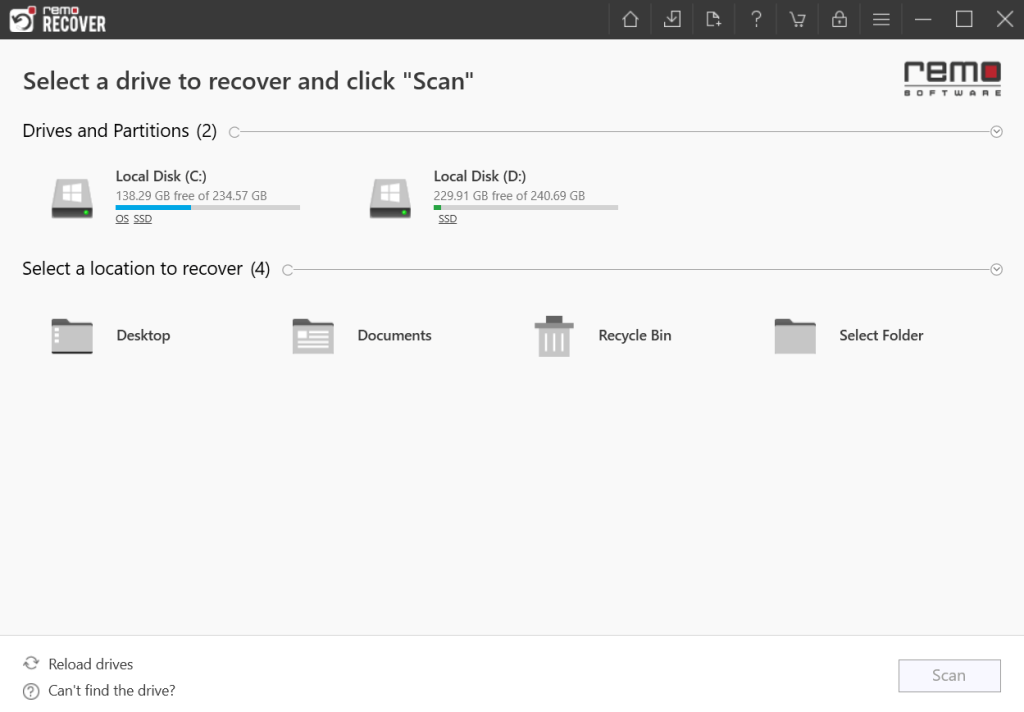 Once you have installed and launched the data recovery utility, the home screen shows the drives and partitions, and, individual locations that you can select for recovering items. At the bottom, you have options to Reload drives if you are unable to find a location. At the top, you have the buttons for home, accessing file types, help, etc. This is the place from where you can open a previous scan history instead of conducting a fresh scan.

Not many data recovery tools show the files scanned in Deep and Quick Scan modes. This is an aspect that we found interesting in Remo Recover. During the scan, the interface clearly shows you the progress of your scan as well. It shows you things like time elapsed, files found, % of scan progress, etc.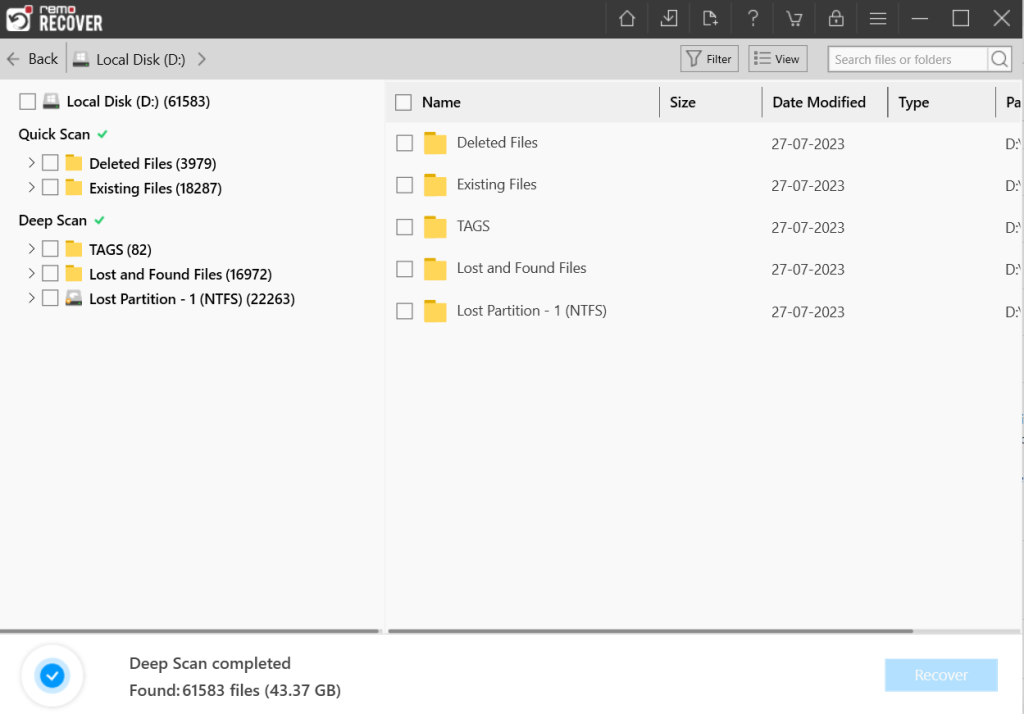 Once the scan is over or even when you have clicked on the  Dynamic Recovery View, you have multiple options to change the view of the interface at your convenience. You can choose from Details, Large Icons, or Preview Pane.
Features
85% – Very Good
1. Quick and Deep Scan Modes To Recover Data
Remo Recover for Windows has two scan modes – Quick and Deep Scan. To recover files in a faster time period, you can take the help of the Quick Scan mode. However, to conduct sector-wide scanning and dive deeper into the storage mediums, you can take the help of Deep Scan mode.
2. Recover Data from All Data Loss Situations
The data recovery software can recover data from all data loss situations. For example, you can recover data lost because of accidental formatting, accidental deletion, system crash, virus attack, data lost while reinstalling the operating system, or any other situation.
3. Recover Data Across Several File Types
Remo recovery software can easily identify the file type you have lost, thanks to its ability to recover over 500 file types across formats like videos, photos, audio files, documents, and much more. Additionally, it also gives you the option to select the location from where you want to recover data. You can retrieve lost files from your desktop, Recycle Bin, documents, or choose a specific folder, in case you know exactly where you lost data.
4. Preview Files Before Recovering Them
Once the lost files are identified, you needn't directly recover them. You can always preview files provided they are previewable. When you are sure of the files that you wish to recover, you can go ahead and click on the recover button. One aspect of Remo Recovery for Windows, that we particularly liked is that you can click on the Dynamic Recovery View and see the files being recovered in real-time.
5. Save Recovery Session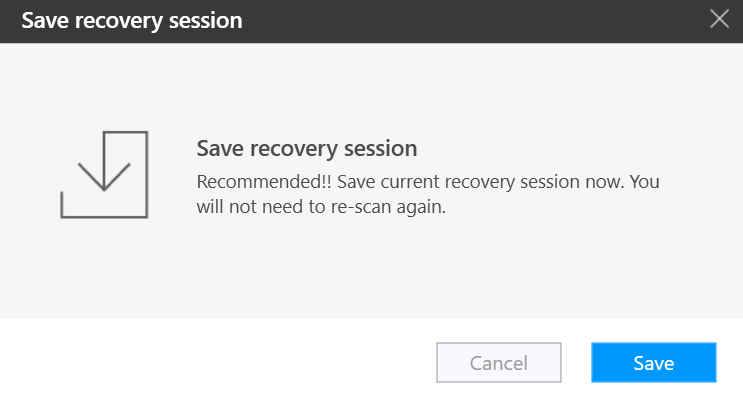 Remo Recovery for Windows PC lets you save your current recovery session. This way you won't have to conduct a rescan, instead you can instantly open a previous scan history and resume from where you left off.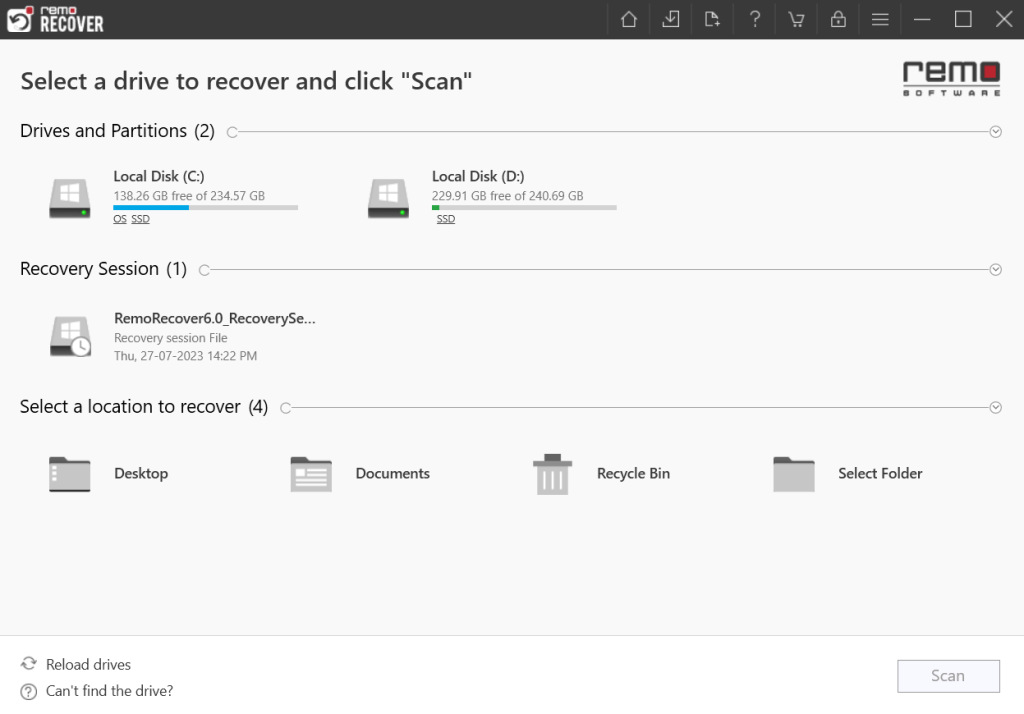 6. Several Filter Options To Filter Files
After the scan is complete and the files are enlisted, you can use several filters to focus on the files you want to recover. You can filter files based on file type – images, documents, audio files, video files, emails, and others.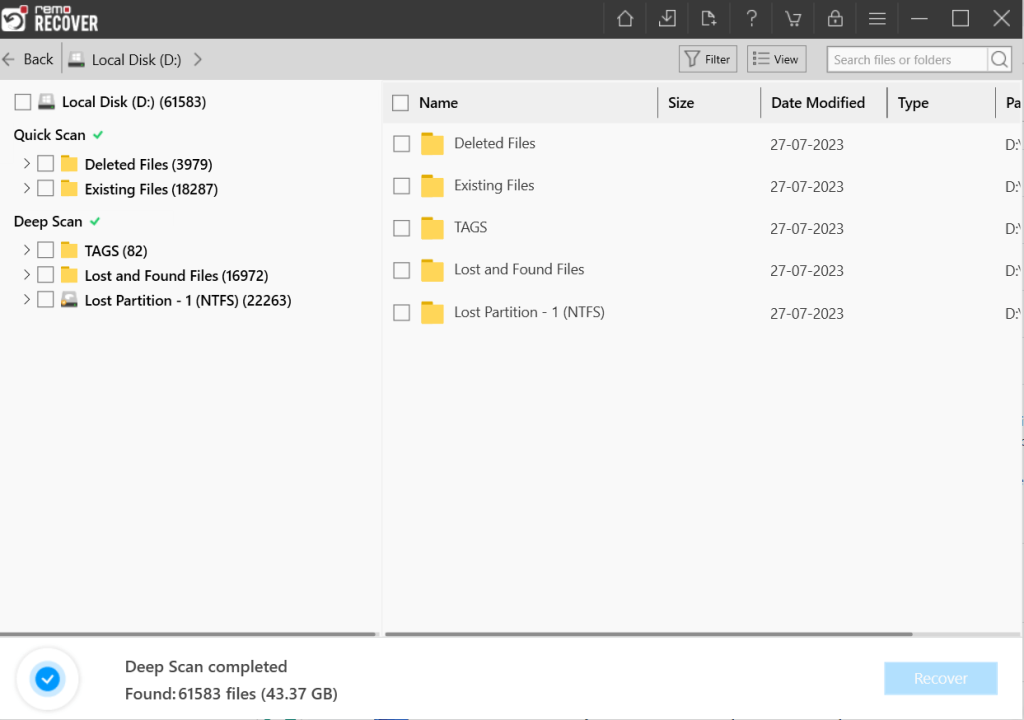 Or, you can even bring into force Advanced Filter where you can filter files by status, type, modification date, and file size.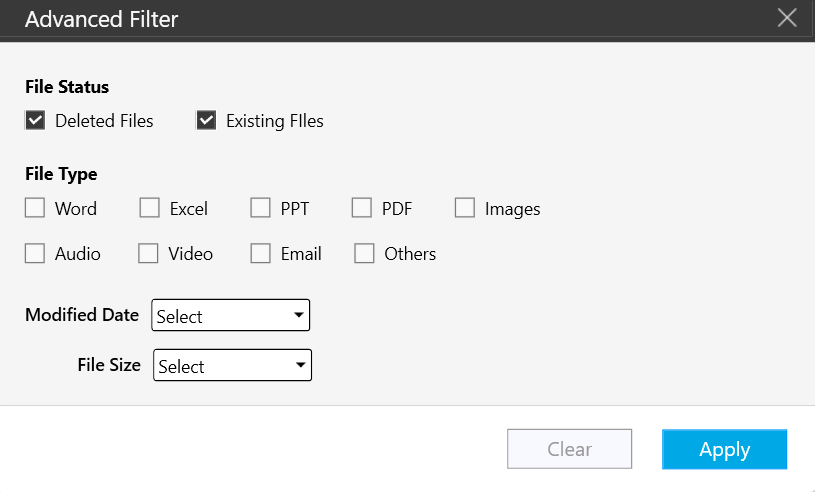 7. Search Files Directly
If you know the name of the file or folder, needn't go through the grind of filtering files, instead, you can directly write the name of the file or folder in the search bar at the top right-hand side corner of the interface.

8. Multiple File System Supported
Remo data recovery software is designed to work with all major file systems and storage devices (both external and internal). It can recover accidentally lost data from file systems like NTFS, NTFS5, FAT 16 and 32, exFAT, etc.

Developers regularly release updates through which they ensure that new features are released and bugs and vulnerabilities if any are patched timely. To manually fetch an update, click on the the three horizontal lines (hamburger icon) at the top right-hand side corner of the interface and click on Update.
Remo Recover for Windows is available in two variants – Free and Paid.
With free edition you can save up to 1 GB of recovered data. The free edition gives you a fair idea on the recovery chances and if you are satisfied, you can purchase the premium variant. You can purchase the monthly license for $69.97.
There are two other premium variants as well – license for 6 months that is priced at $79.97 and a lifetime license, priced at $199.97.
There is no doubt that Remo Recover is a speedy recovery software. In our use when we ran a scan on our Windows PC to restore some lost files, the Quick Scan got over in less than a minute. Whereas the Deep Scan showed that it will recover files in over 1 hour and 30 minutes but scanned the entire D:/ drive for lost files in around 7 minutes.
If you are new to the software, you might occasionally run into issues or have queries related to the various functions. In that case, you can reach out to the prompt customer support team via various channels. You can either raise a ticket mentioning your issues in a predefined form and later come back and check your complaint status.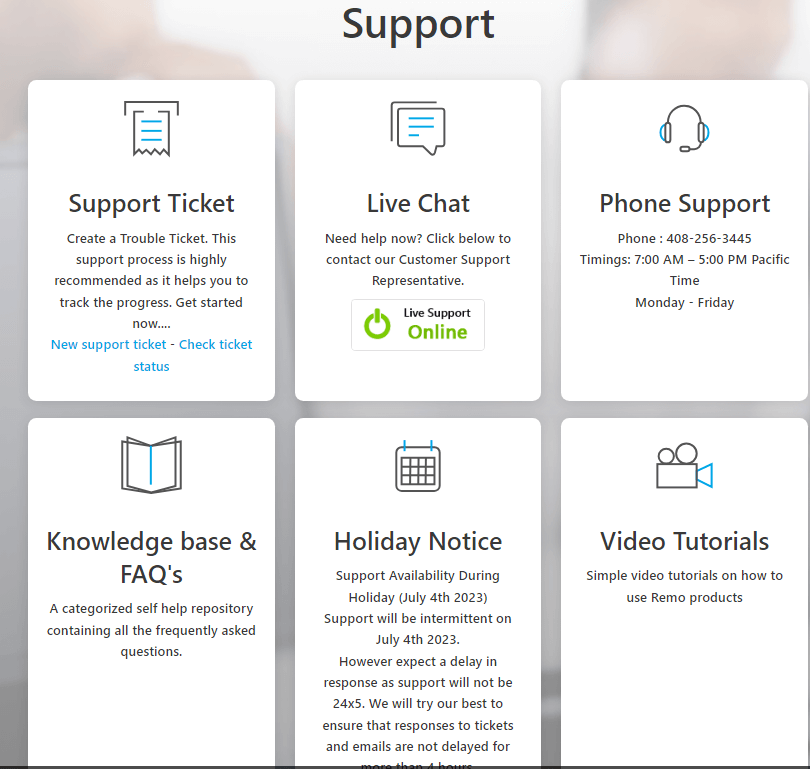 You can also conduct a live chat with a customer support executive who will help you fix your issue. Remo Software also has a dedicated phone support which is active from Mon-Fri from 7 AM to 5 PM (Pacific Time).
Recover Data Effortlessly On Windows PC With Remo Recover
With a reliable data recovery software like Remo Recover you can steer clear of data-related mishaps. It has an easy to use interface and features to effortlessly  recover data without any issues. If you are in a situation where you have lost data on your PC and are looking for a software to restore data, you can give Remo Recover a try. If you found the software effective, share this post with someone who is in a similar situation. For more such content, keep reading Top10PCSoftware.
You can also find us on Facebook,  Flipboard and Pinterest.
Frequently Asked Questions
Q1. Is Remo Recover a good program?
Yes, in our personal use we found that Remo Recover is a decent utility with which you can recover permanently lost files quickly.
Q2. Is Remo Recover free?
Remo Recover for Windows is available in two variants – Free and Paid. With free edition you can save up to 1 GB of recovered data. With the free edition you can have a fair idea on the recovery chances and if you are satisfied, you can purchase the premium variant. We have already discussed the pricing in the above post.
Q3. Does data recovery really work?
Yes, data recovery really works. Most data recovery software come with advanced data recovery algorithms. Provided you save the recovered data at a location other than from where it is lost, your chances of recovering lost data will be high.