Duplicate Files Fixer is a one-stop-shop that doesn't just help you get rid of duplicate images but duplicate files as well. It uses a sophisticated algorithm to get rid of duplicates which is why it is not just a duplicate file finder but also one of the best duplicate photo finders as well. Here is a detailed review of Duplicate Files Fixer in which we'll have a detailed view of its features, pros, and cons and how it works.
Duplicate Files Fixer – Introduction
Duplicate Files Fixer for PC is an exceptional application that helps find duplicates on your computer with the utmost ease. Immaterial of the file name and format, you can find duplicate images. This means that even if you have changed the file name or image format, the tool will still be able to find duplicates. To be sure that you have selected the right files, you can even preview them before taking any further action.
The application is compatible with Windows version 10/8.1/8/7. Apart from working as a duplicate image finder for Windows, Duplicate Files Fixer also helps find all kinds of files including audio files, documents, and even video files.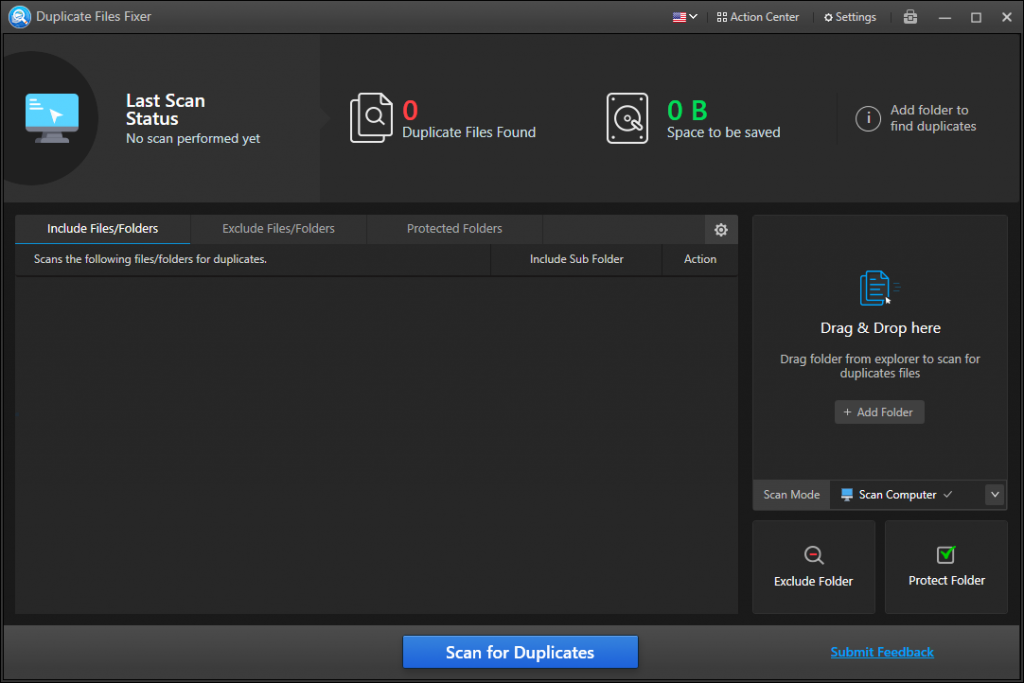 Duplicate Files Fixer recently got a new feature with its latest update. It can now scan Google Drive and Dropbox as well on your Windows PC. You are only required to pick either of the computers, Dropbox and Google Drive to scan for duplicate files.
Apart from finding duplicate files, Duplicate Files Fixer also tells how much storage space you will recover after you have deleted a certain amount of files. It has an easy to use simple interface and a fast scanning speed as well.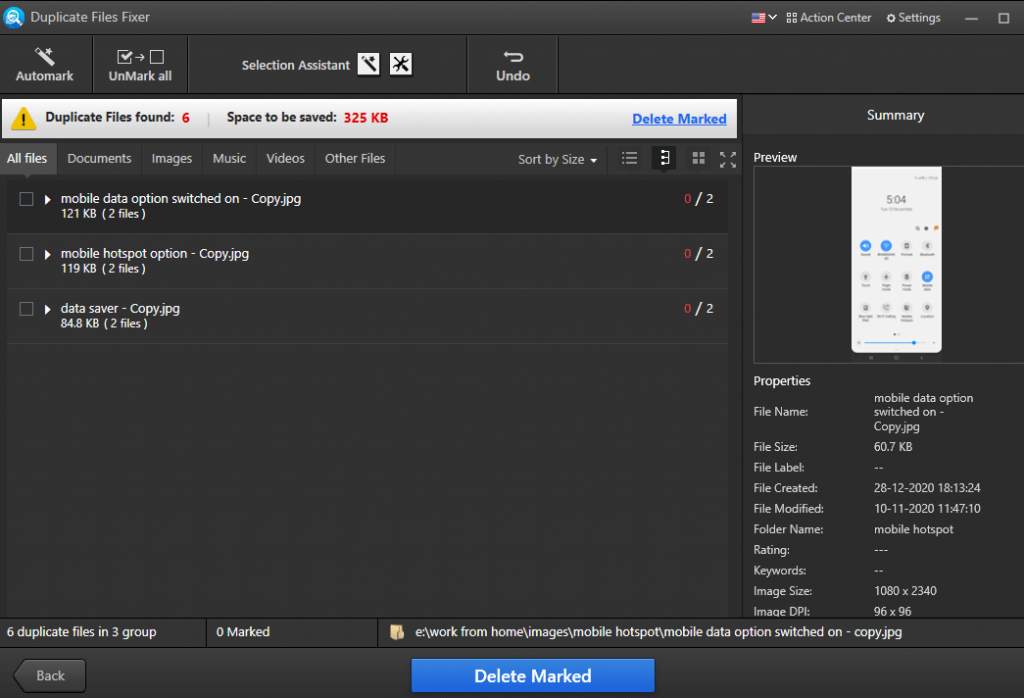 Duplicate Files Fixer – A Brief Overview
Duplicate Files Fixer uses advanced algorithms to get rid of duplicate files and photos. The preview pane lets you have a look at the details so that you don't accidentally remove an important file. You can view details such as Image size, DPI, Bit Depth, and several other details.
The application is capable of dealing with images of all static photo formats and is thereby an apt tool for both personal as well as professional users. The dashboard is highly customizable. For instance, you can sort images based on their size or even view them as a table or a group as well.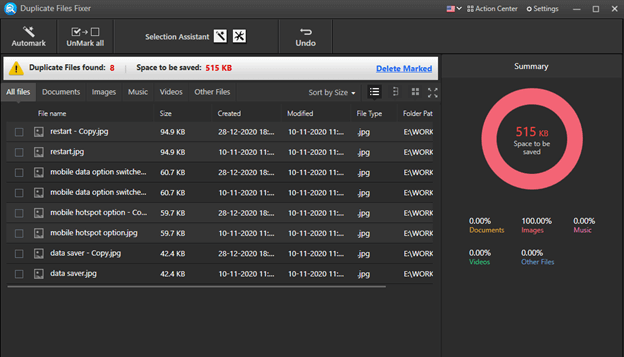 Starts from
$
39.95
per year
Change Auto Marking Selection Priorities
All file formats supported
Software & Hardware Requirements
To use Duplicate Files Fixer, here are some prerequisites as far as software and hardware requirements are concerned –
Latest Version: 1.2.0.12122
Operating System: Windows 10, Windows 8.1, Windows 8, Windows 7, Windows Vista, Windows XP (both 32 and 64 bit)
Memory: To install Duplicate Files Fixer, you need minimum storage of 1 GBProcessor: x86, x64
Pros:
Fast scanning speed
Auto marking functionality
Change selection assistant priorities
Scan Google Drive & Dropbox
The preview feature allows you to see images before deleting them
Duplicate images are scanned despite their format
Scans external devices like external hard disks and pen drives
Cons:
The free version allows you to remove just 15 files
Top 5 Alternatives Of Duplicate Files Fixer
Provider
$ Per Year
Top Features
Duplicate Files Fixer has a straightforward and simple interface. You won't have any issues in getting a hang of its functionalities. On the top, you can see your scan history (the last time you had performed a scan), the number of duplicates you have found, and the amount of space you were able to save thereof.
Begin with adding the folders to the tool by Drag & Drop method or Add folder button. Then you select the Scan mode which is Scan computer in case you are scanning files on the PC. Otherwise, select Scan Dropbox or Scan Google Drive for scanning their content. Once you made your decision you can click on the Scan for Duplicates button placed at the bottom.
Duplicate Files Fixer broadly has 2 screens, one where you can add and even exclude files and folders. And, then subsequently, you can scan for duplicate images from amongst the select files or folders. The next screen is where the actual action takes place.
Here you can select the images that you want to delete. To be more precise with your selection, you can use the Automark or change Selection Assistant priorities. On the right-hand pane, you have the preview option which initially shows you how much space you will be able to recover after you have deleted the selected files and once you have selected a file, the preview of the same appears.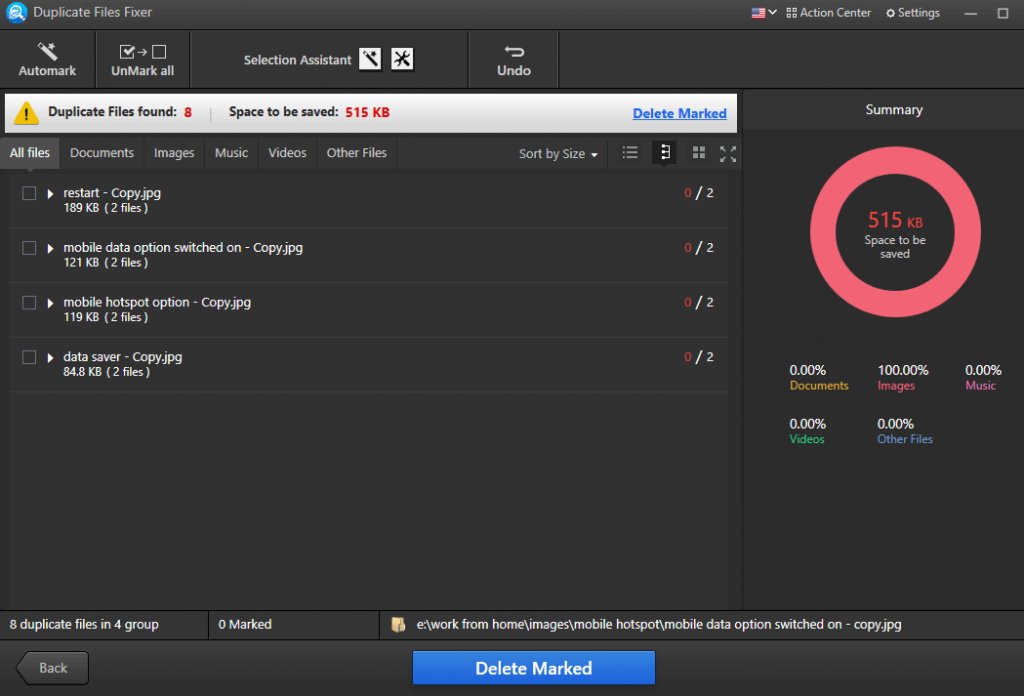 Finally, once you are satisfied, you can click on the delete marked button at the bottom.
Duplicate Files Fixer is a feature-rich application that makes it simple to find and get rid of duplicates from your computer. It offers myriad features, precisely what you would expect from a duplicate photo finder. Let's have a look at its spectacular features –
When you download the Duplicate Files Fixer app, the first thing you can be sure of is accuracy. It doesn't matter if you have changed the file format of images, the Duplicate Files Fixer will be able to find not just similar but even identical images as well.
Instead of manually selecting files, you can even opt for auto marking functionality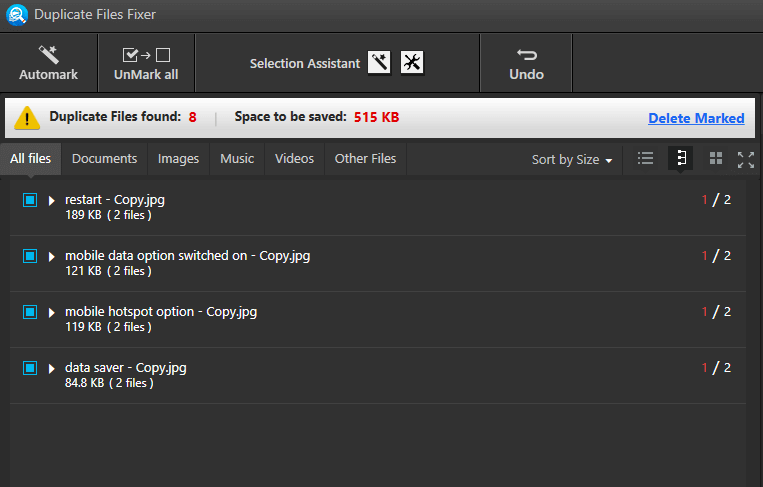 External devices can also be scanned
If you think that apart from your Windows PC, even your external hard disks and pen drives have duplicate images, you can even scan them for duplicates.
In several instances, you can customize the settings as per your needs. For example, you can exclude files and folders from scanning or assign the minimum and maximum file size limit.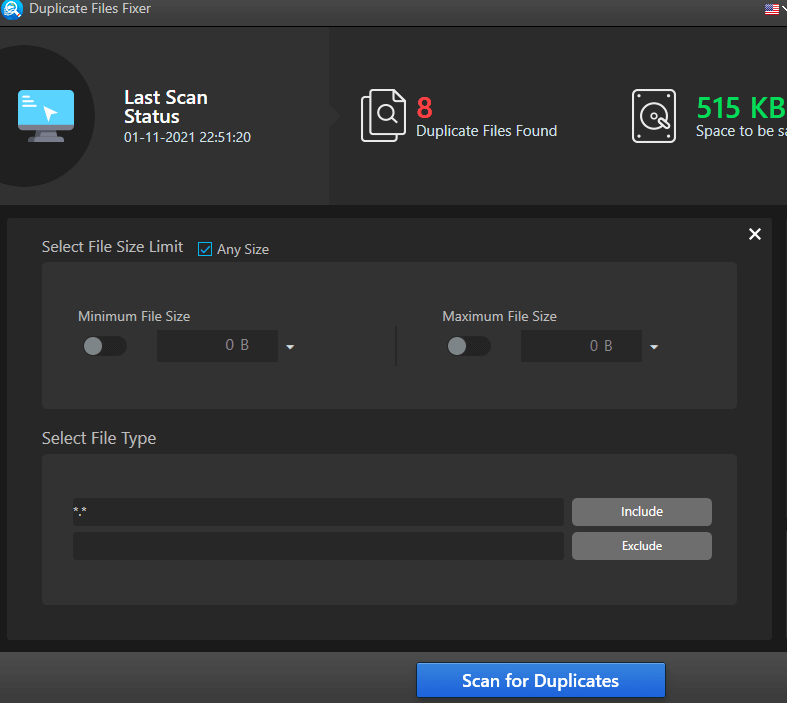 Include and exclude folders
Choosing to add or exclude images is completely at your discretion. This means if you have added a particular folder in the Exclude files/ Folders section, it will be exempted from the scan.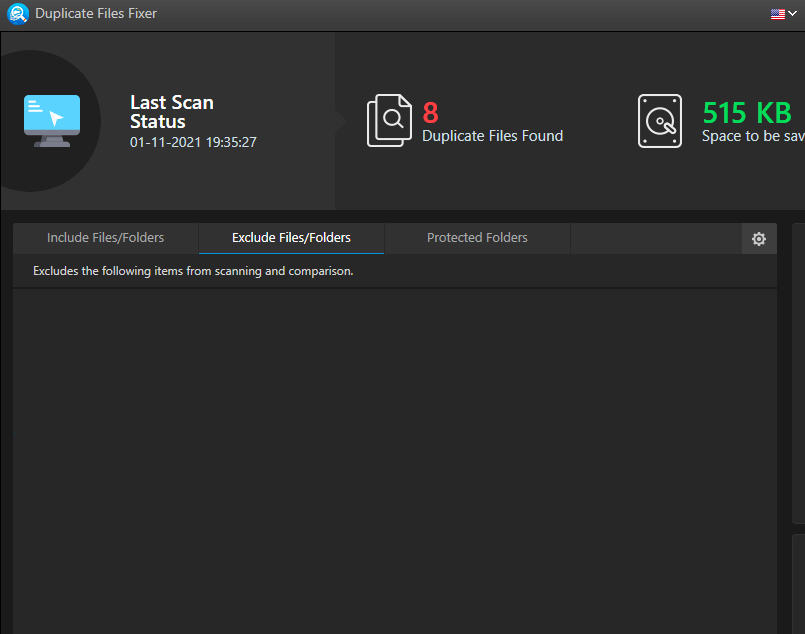 Backup
Duplicate Files Fixer prepares you for the worst as well. You can create a backup of your photos before deleting them.
Updates help patch bugs that may not just ruin the functionality of software but even expose it to too many security potholes which may put a user's data in jeopardy. Needless to say, how important updates in the software are.
With Duplicate Files Fixer, the company ensures that updates frequently roll out to its users so that they can use the software seamlessly. Even though Duplicate Files Fixer auto-updates itself regularly, a user can manually check for updates too. For doing that, a user can click on the cog icon present at the top right-hand side and then further click on Check for updates.
As a free duplicate file fixer for PC, Duplicate Files Fixer lets you remove 15 duplicates files for free. With the free version, you can check the scanning speed and other features. And, once you are satisfied and after you have exhausted the free limit, you can opt for the premium version, and trust us you won't be disappointed.
You can purchase the license for the premium version for US$ 39.95. At this price, you don't just get Duplicate Files Fixer but even the award-winning Systweak PhotoStudio v2.1 at no added cost.
The company also offers a 100% risk-free 60 days money-back guarantee in which if you are not satisfied with the software, you can contact the company and it will refund your purchase.

Speed is an essential factor of an application. In case of a duplicate photo finder, the application should be able to scan and sieve out duplicate photos from the computer in no time at all. Duplicate Files Fixer does the job of finding duplicate photos very quickly. In a matter of a few seconds or minutes, it presents in front of you all the duplicate images.
And, it doesn't end there, by using Auto-marking capabilities and with the help of other filters, you can zero down on the right duplicate images and remove them immediately, thereby freeing up tons and tons of space on your computer.
If a software poses any issues, a user can count on the support team and without a spec of doubt, Duplicate Files Fixer has one of the best customer services. They put their best foot out to help you resolve the issue.
You can reach them via email – support@systweak.com and info@systweak.com
Frequently Asked Questions – Things You Might Want To Know
Q1. Why do I need a Duplicate Photo Fixer?
We frequently use computers as a storage medium to store photos. Over some time, our computer's storage gets accumulated with duplicates which if not removed, can take up a lot of space. And, since manually getting rid of duplicates is next to impossible, a third-party duplicate photo finder can help us find duplicate images with the utmost ease.
Q2. Is Duplicate Files Fixer safe to use?
Yes, absolutely. Duplicate Files Fixer has been built by some of the most experienced developers and has been certified by AppEsteem. Also, Duplicate Files Fixer gives you the option to take backup of your photos before you delete them.
Q3. How can I remove Duplicate photos on my computer using Duplicate File Fixer?
To clean duplicate photos using Duplicate Files Finder, all you have to do is, drag and drop files from your files explorer (the location where you have placed your photos) into Duplicate Files Finder and then click on Scan for duplicates. You can then either manually select duplicate images or click on Auto-mark. Once you are sure of the images you want to delete, you can click on the Delete Marked button.
Q4. Is Duplicate Files Fixer free?
The free version allows you to delete 15 files after which you need to purchase the premium version which would cost you US$ 39.95.
The Final Verdict
At the price offered, Duplicate Files Fixer is a decent application when it comes to removing images. It has a decent interface, great features, offers regular updates, and to top it all it has decent customer service as well. Do give it a try and let us know in the comments section if it has been able to stand up to your expectations.