EaseUS Mobisaver
The Truth About EaseUS MobiSaver: Read This Review Before You Download It
Lost precious files from your Android device and have lost the hope of getting them back as well. Here we have reviewed EaseUs MobiSaver which is regarded as one of the best utilities to get back deleted photos, videos, docs, songs & other multimedia files on your Android smartphone.
In today's digital age, data loss can be disastrous and it goes without saying that there's a high probability of losing files. Whether you have accidentally deleted, or encountered a device failure, or a software glitch, losing data is beyond anyone's control. As a prudent user, you can keep a data recovery utility handy.
For instance, EaseUS Mobisaver for Windows is a versatile data recovery software designed to help users retrieve lost data from their Android devices. In this comprehensive review, we will examine its interface, speed, updates, pricing, and customer support to determine if it's a reliable solution for Android data recovery.
Words of Wisdom: As soon as you find that you have lost data from your Android device, we urge you to stop using your device immediately. And, you can later bring EaseUS MobiSaver for Android into force. This will increase your chances of getting back lost or deleted files.
Technical Specifications
Windows compatibility: Windows 11/10/8.1/8/7
RAM: 1 GB recommended.
Processor: 1GHz or more
File size: 21.7 MB approx.
Pros and Cons
Recover data from all kinds of data loss situations.
Retrieve all kinds of files, contacts, documents, audio, video files, and others.
Lost files are filtered for better identification.
Preview files before recovering them.
Export contacts in VCF, HTML, or CSV format for later reference or usage.
Forming a connection between the PC and smartphone takes a little longer than some of the other competitors.
Requires rooting of Android device.
How To Use EaseUS MobiSaver for Android
Step 1: Download EaseUS Mobisaver and run the installation file.
Step 2: Enable USB Debugging. For this follow the steps mentioned below –
Go to Settings on your phone.
Scroll down and tap on About phone.
Tap on Software information.
Locate the Build number and tap on it multiple times till you are asked to either draw your pattern or enter your password.
Once you have done that you will have enabled the Developer options. Go back to Settings, scroll down, and tap on Developer options.
Again scroll down and toggle on the USB debugging switch under Debugging and tap on OK.
Again tap on Allow when the Allow USB debugging prompt appears.
It is important to note that the step mentioned above are more or less the same across all Android devices. However, you may notice minor differences in the options based on your device.
Step 3: Connect your Android smartphone to your PC or laptop with the help of a USB cable.
Please wait while EaseUS MobiSaver for PC connects to your phone. This may take some time.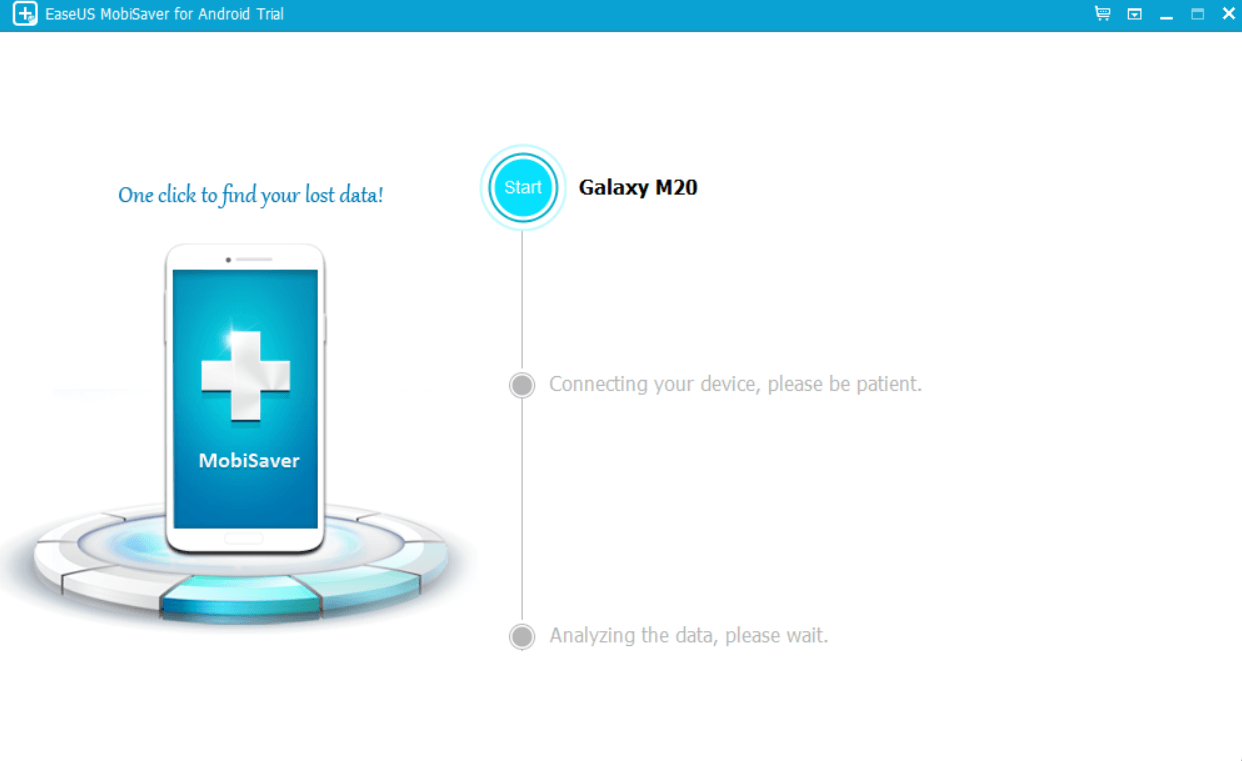 Step 4: Root your device first to find and recover lost data on your Android device. At this step, we highly recommend our users to take a backup of the existing files on your Android device so that if something goes wrong, you can have access to your files back.
We also recommend that if you don't know how to root an Android device, seek assistance.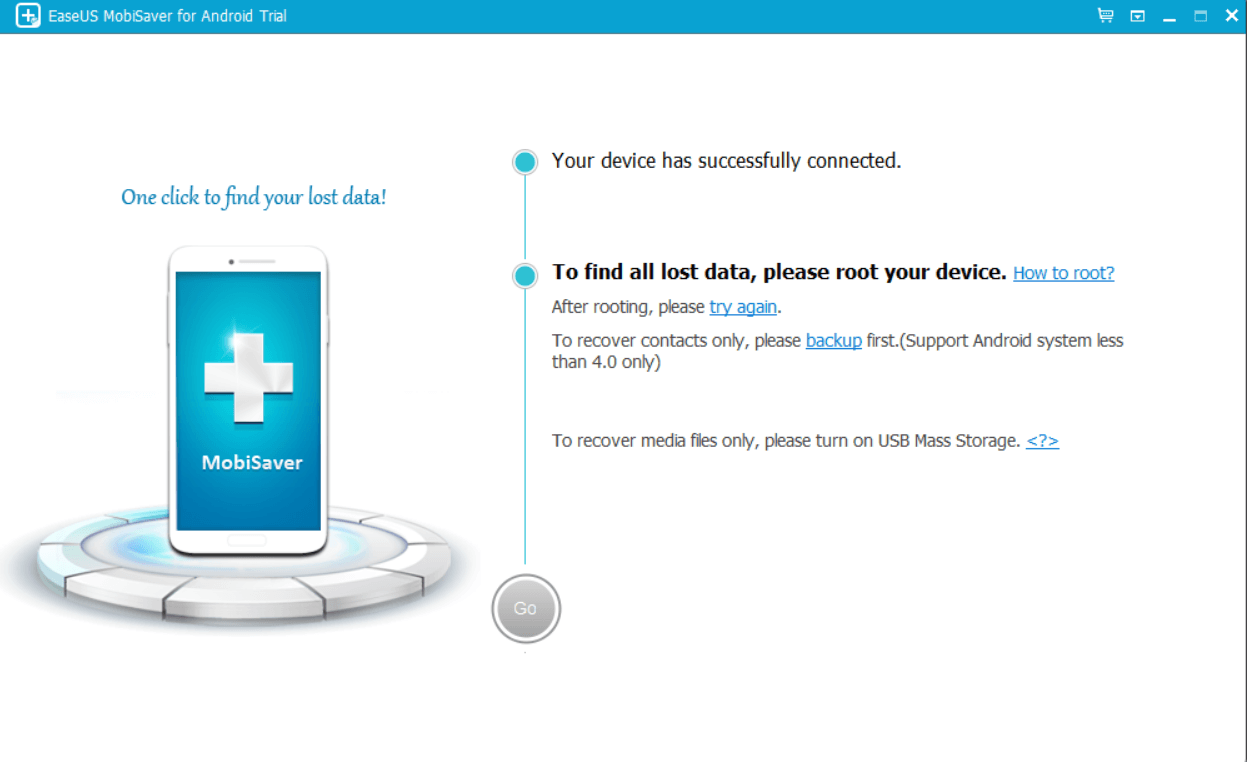 Step 5: Choose the data that you want to recover. For that, click on the data type from the left-hand pane, and then, from the right-hand side, select the files you wish to recover.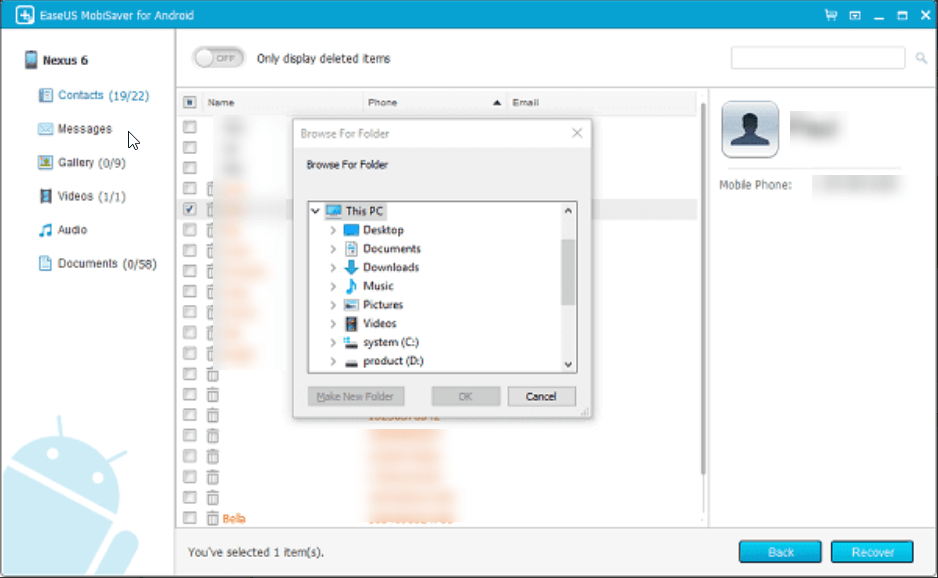 Step 6: You can also toggle on the Only display deleted items switch so that you can directly identify and retrieve deleted files only.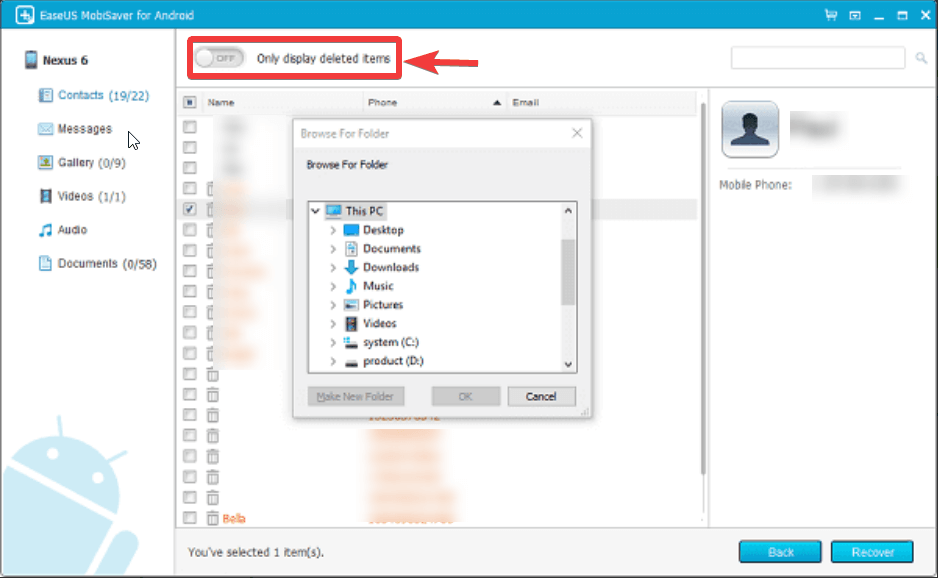 Step 7: Once you have identified the files that you want to recover, click on the Recover button from the bottom right-hand side of the interface.
Step 8: Save the files to a folder on your computer. You can also export recovered contacts in multiple formats like HTML, CSV, and VCF.
One of the highs of EaseUS MobiSaver is its interface that guides you through every step of recovering accidentally deleted or lost data from your Android device. The home screen that appears right after you have installed the Android data recovery software, prompts you to first connect your device to your PC. Here you can also see the next steps that will appear once you have connected your device.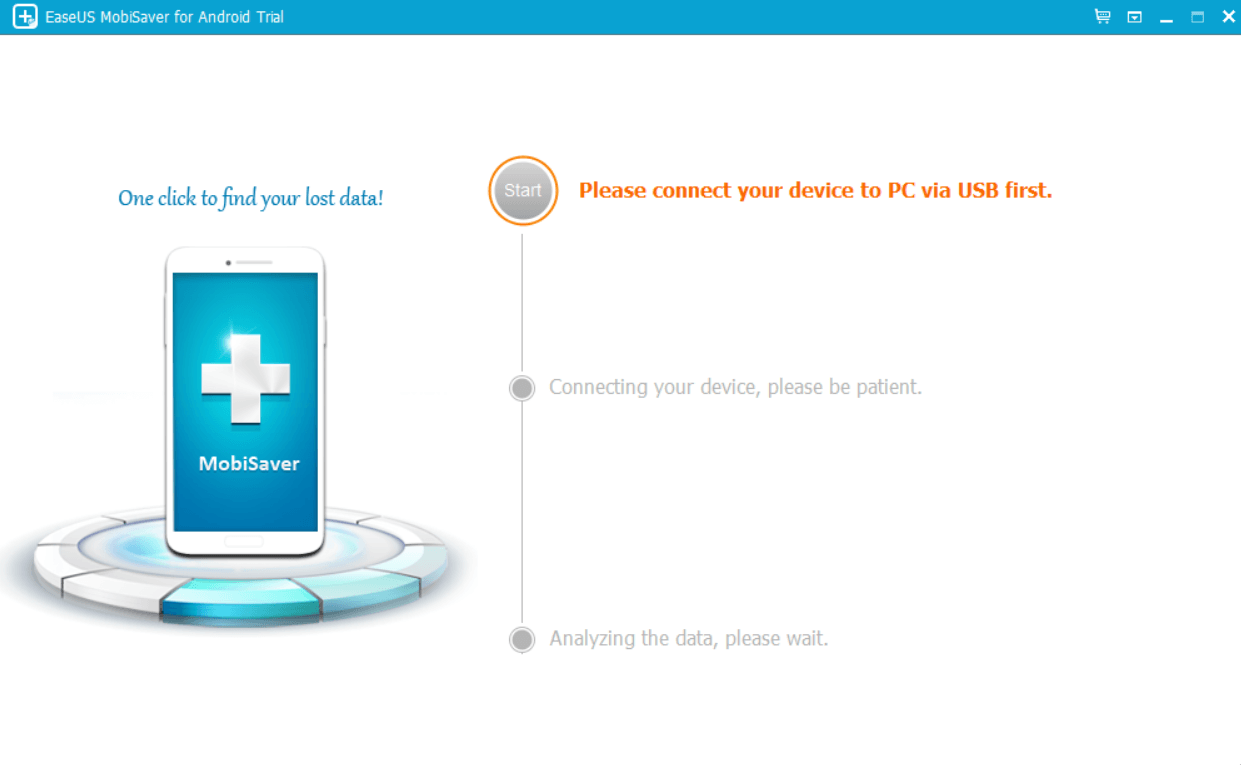 Once you have connected your device to your PC via a USB cable, the name of your Android smartphone will flash as shown in the screenshot below. Also, the Start option will blink prompting you to click on it.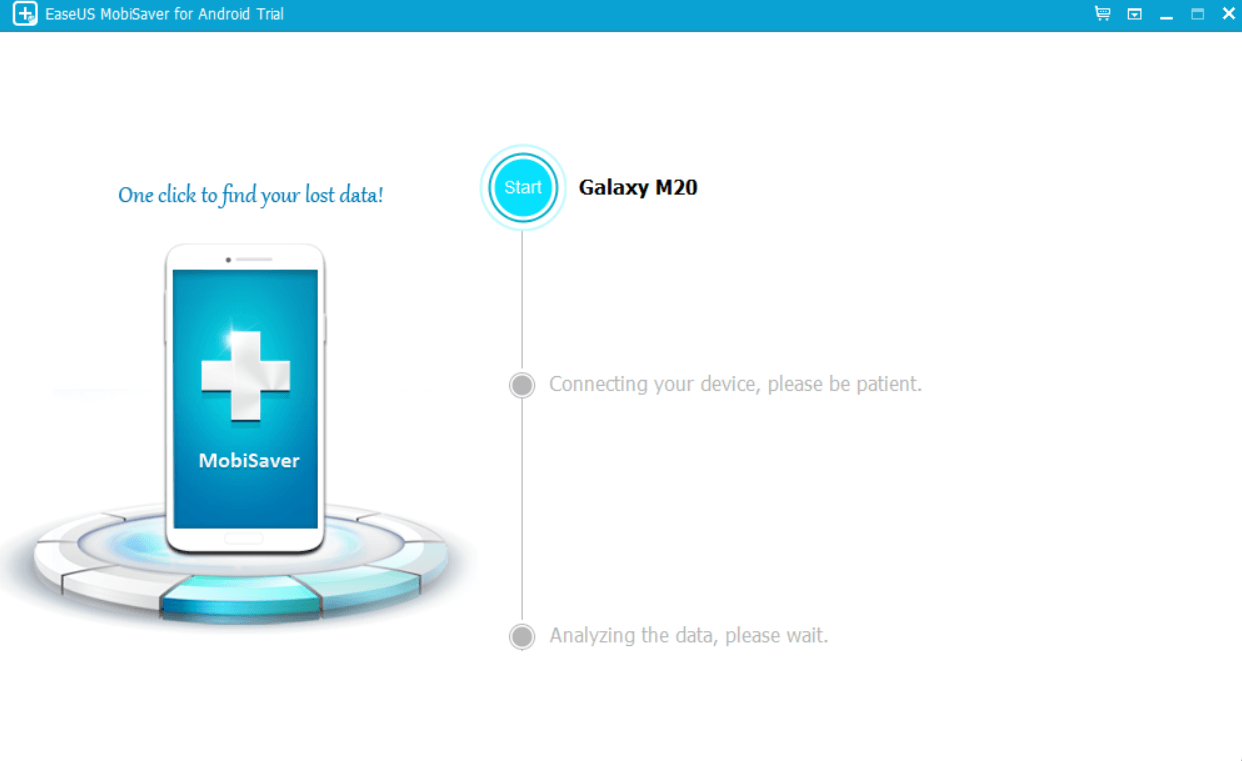 Next, you will be asked to perform USB debugging and rooting. While we have enlisted steps with which you can perform USB debugging on your device, you can seek assistance/ refer to several guides that can take you through the process of rooting.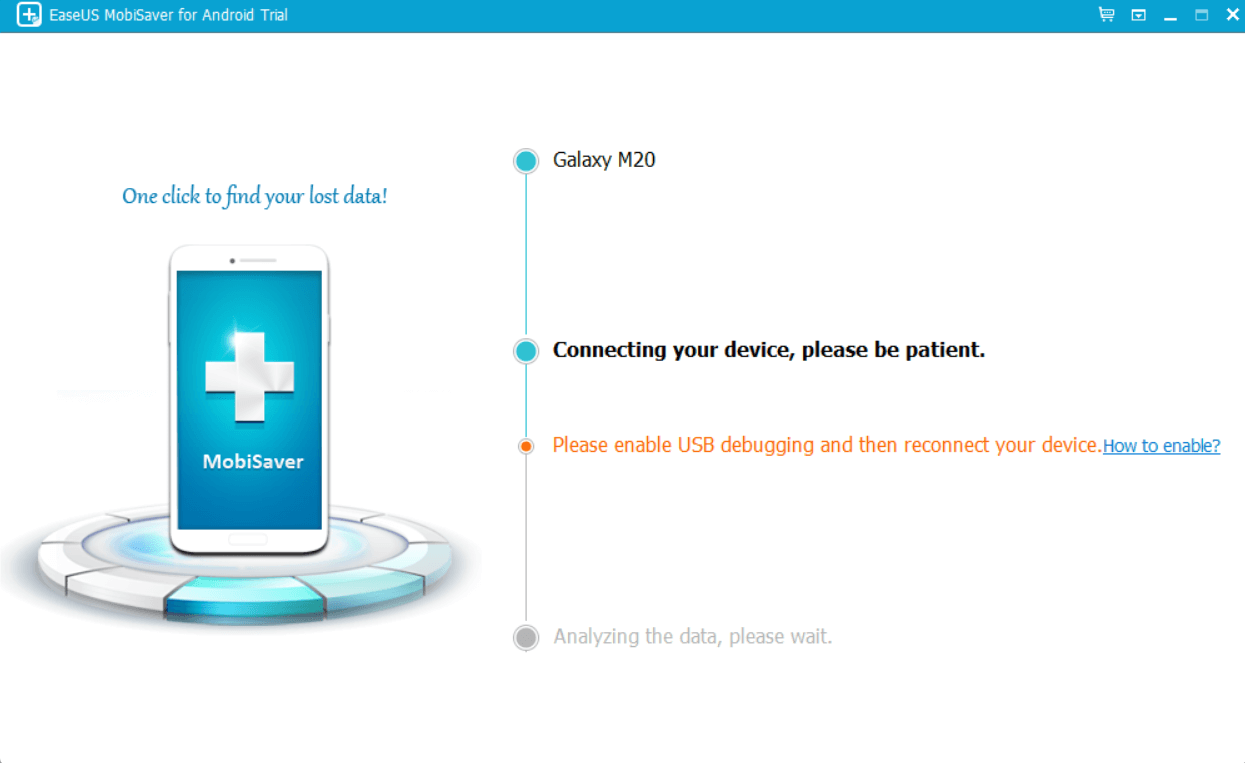 After you are done with USB debugging and rooting your Android smartphone, the next screen is divided into three parts. The first column shows you the type of files – contacts, messages, galleries, videos, audio, and documents. You can also heck the live count of recovered files categorized by file type. At the same time, you can also keep track of scanning progress on the top of the interface. When you click on each of these file types, you can see the retrievable contents in the second column. The red files are those that were deleted and that you can restore.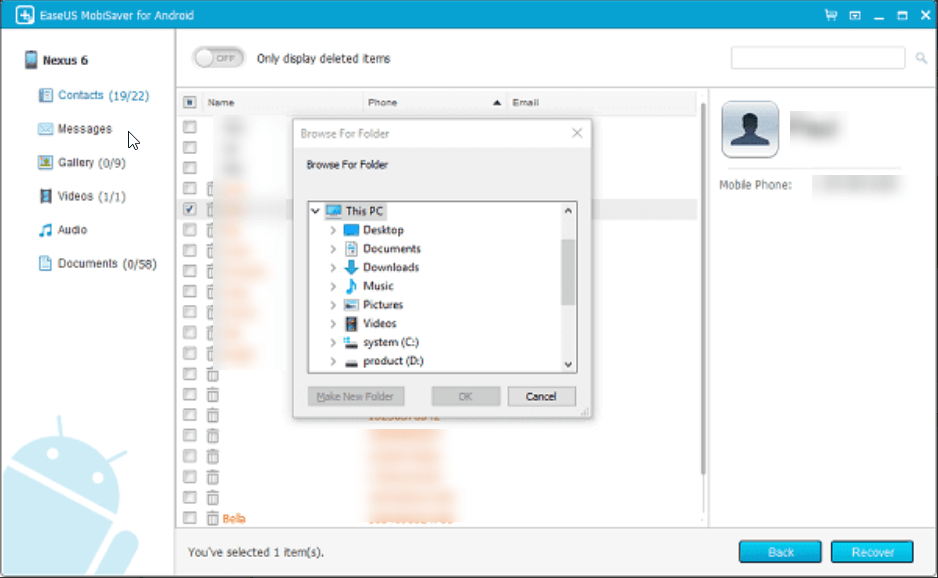 The last and third column helps you preview files before you choose to retrieve them,
1. Recover All Kinds of Data
EaseUS MobiSaver helps you scan and recover all kinds of lost data regardless of the file format. You can recover documents, audio files, messages, contacts, videos, voice memos, and other files across all file formats.
2. Recover Files From A Variety of Data Loss Situations
No matterwhy you lost your data on your Android device in the first place, EaseUS MobiSaver helps you recover deleted data. Whether you have lost data because of human error, improper handling, rooting, virus attack, or for some other reason, you will most likely be able to retrieve your lost data back, without putting in much efforts.
3. Export Files in Various Formats
In case of lost contacts, once you have recovered them, you can export them in various formats such as VCF or HTML. You can later use this as a backup or for printing or for other references.
4. Filter Files For Ease Of Recovery
Once EaseUS MobiSaver for PC scans your device for lost files it displays them in different categories, based on different file formats such as contacts, messages, gallery, videos, audio, and documents. You can click on each of these categories and then further review and mark the contents before recovering them.
5. Preview Files Before Recovering Them
EaseUS MobiSaver lets you know beforehand if a file is recoverable. Not just that once you have found recoverable files, you can preview the contents well in advance and then choose which files you want to recover.
Software updates play a crucial role in maintaining functionality, compatibility, and security. EaseUS MobiSaver releases regular updates. Developers not only introduce new features but also address any known issues or vulnerabilities. These updates can be conveniently downloaded and installed within the application itself, ensuring that users always have access to the latest version of EaseUS Mobisaver for Windows.
To fetch an update, click on the dropdown next to the minimize button and then, click on Check for updates.

The trial version i.e. EaseUS MobiSaver free allows you only preview data. To recover data you can purchase the full version. EaseUS MobiSaver full comes in three variants –
| | |
| --- | --- |
| Name of The Variant | Price (The Prices May Vary) |
| MobiSaver for Android | $19.95 |
| Data Recovery Wizard Pro | $69.95 |
| Both MobiSaver for Android + Data Recovery Wizard Pro | $89.90 |
As we mentioned in the beginning EaseUS MobiSaver for Android does take some time to scan and identify lost files. In our case, it was able to find out 1 GB worth of deleted files in 6-7 minutes. The time may vary from device to device. We can safely put that even though the identification and recovery speed might not be the best but it is decent enough.
EaseUS offers great customer support across all its products and EaseUS MobiSaver for Android is no different. You can visit their support-center page and seek assistance for license retrieval or reset, or, learn more about other products.
You can also chat with customer support representatives who are prompt and knowledgeable and can guide you on various functions of the software.
Recover Lost Files on Android Before It's Too Late
Barring the need to root your device, EaseUS MobiSaver is a decent Android data recovery program that offers a high accuracy rate when it comes to recovering files across all major file formats. It is also compatible with all major Android models, so there is a high chance that if you have lost or deleted files from your Android device, you will be able to recover data. Do give this tool a try and let us know your take. Also, share this post with someone who might have lost important official documents or precious memories and is looking for a solution to get them back.
For more such content – Software reviews and listicles, keep reading Top10PCSoftware. You can also reach out to us on Facebook, Pinterest, and Instagram. 
Frequently Asked Questions –
Q1. What is EaseUS Mobisaver?
EaseUS Mobisaver for PC is a data recovery utility that can help you recover accidentally lost or deleted data from your Android device. It is capable of handling all data loss situations such as accidental deletion, ROM flashing, rooting error, system crash, etc.
Q2. Is EaseUS Mobisaver for Android safe to recover data from Android device?
For the most part, yes, it is. After installing the utility, it wasn't flagged off as a malicious threat by any of the Antivirus tools. However, the utility asks you to root your device in order to scan for lost or deleted data. 
Q3. Is EaseUS MobiSaver really free?
EaseUS MobiSaver for Android offers a free trial version where it lets you scan data. However, if you intend to retrieve lost data, you will have to purchase a premium version.