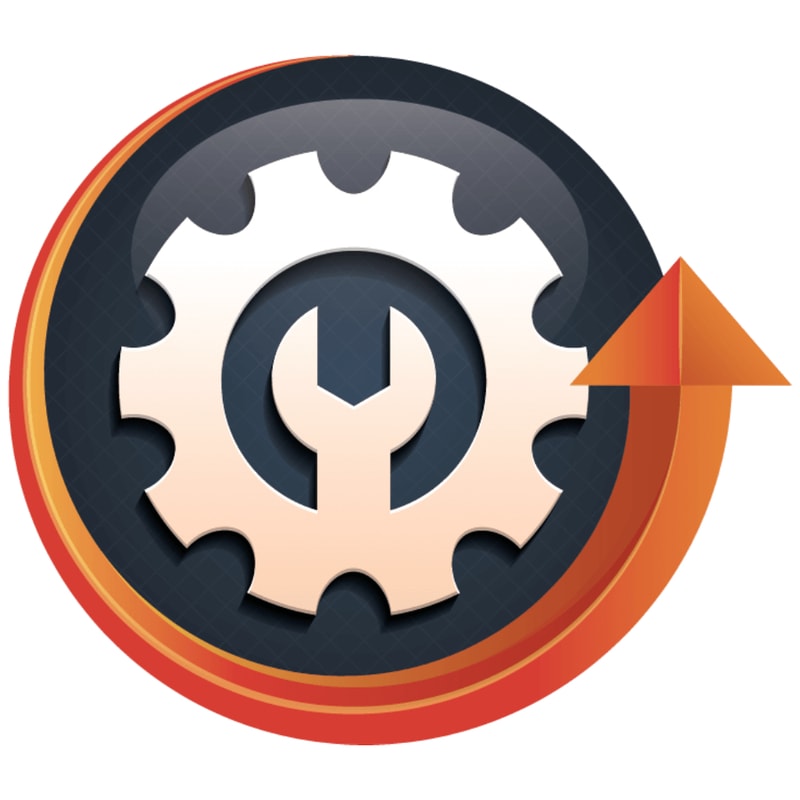 Smart Driver Care
Smart Driver Care Review: Best Driver Updater for Windows 10
Smart Driver Care is a wonderful device driver updater for Windows PC. It will not only provide a simple way to update the outdated drivers on your computer but also install updates for programs. This can be used to take a backup of drivers and comes with a restore option to roll back drivers. It runs a comprehensive scan on your computer and shows you the list of all outdated drivers and programs. You can easily update them using the one-click Update All button. Read the blog to find out all about the best driver update tool in this Smart Driver Care review.
What is Smart Driver Care?
Smart Driver Care is one of the best driver updater software for Windows. It works as a classic tool to help you scan the system for outdated drivers along with the programs. Smart Driver Care is one of the must-have tools for your Windows PC. It can not only update the device drivers on the system and free it from system crashes, malfunctioning devices, and more.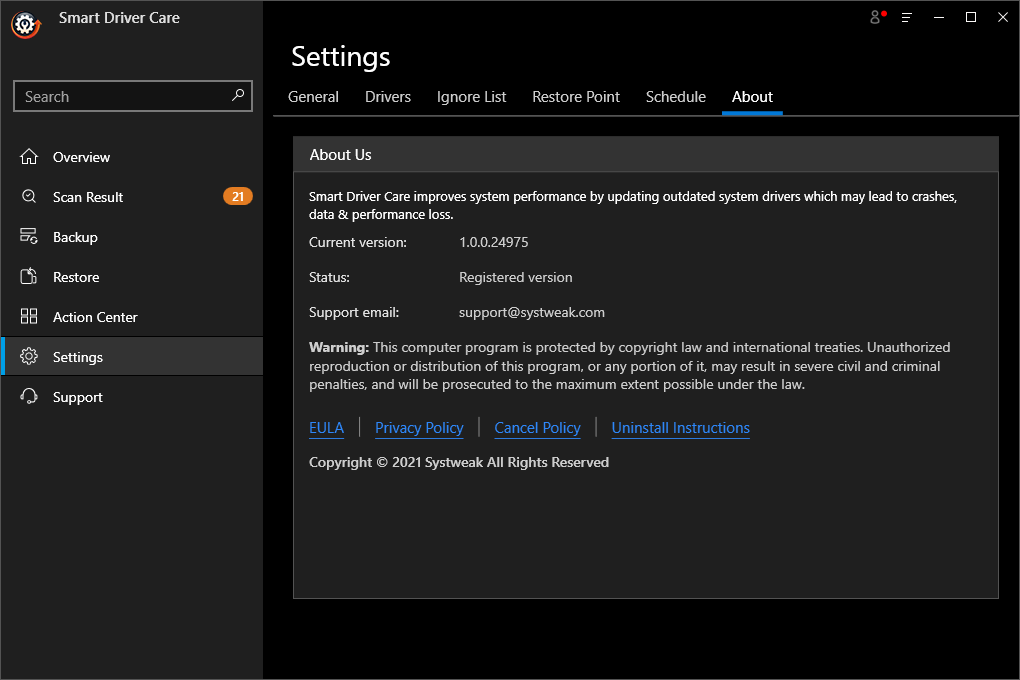 It is an easy fix for your system errors as you continue to get the updated device drivers installed on your device. The scheduling also helps you in running an automatic scan without the need for you to remember to take care of your PC.
Why Choose Smart Driver Care?
There are plenty of reasons why you should choose Smart Driver Care. We have listed out the best of them for you here so you get the gist of everything you need to know about Smart Driver Care before downloading it.
Updates device drivers
Large drivers database
Automatic scan
Easy to use
Backup Drivers
Reliststore drivers
Scheduled scans
Lists out outdated drivers
Exclusion list
Fixes system errors
Scan Types
Automatic Scan
Manual Scan
Updates
Outdated Drivers
Programs
Scheduled Scan
Schedule Daily
Schedule Monthly
Schedule Weekly
Customer Support
Email Support
Phone Support
Technical Specifications:
Current Version- 1.0.0.24975
It includes- Updating PC applications
System Requirements-
Operating System – Windows 10/8.1/8/7 (both 32 bit and 64 bit)
Processor- 400MHz or higher.
RAM- 256 MB or more
Disk Storage Space- 2MB
How To Install Smart Driver Care?
The process of installing Smart Driver Care is super easy. Follow these steps to get Smart Driver Care running on your computer.
Step 1: Download Smart Driver Care from the download button given below-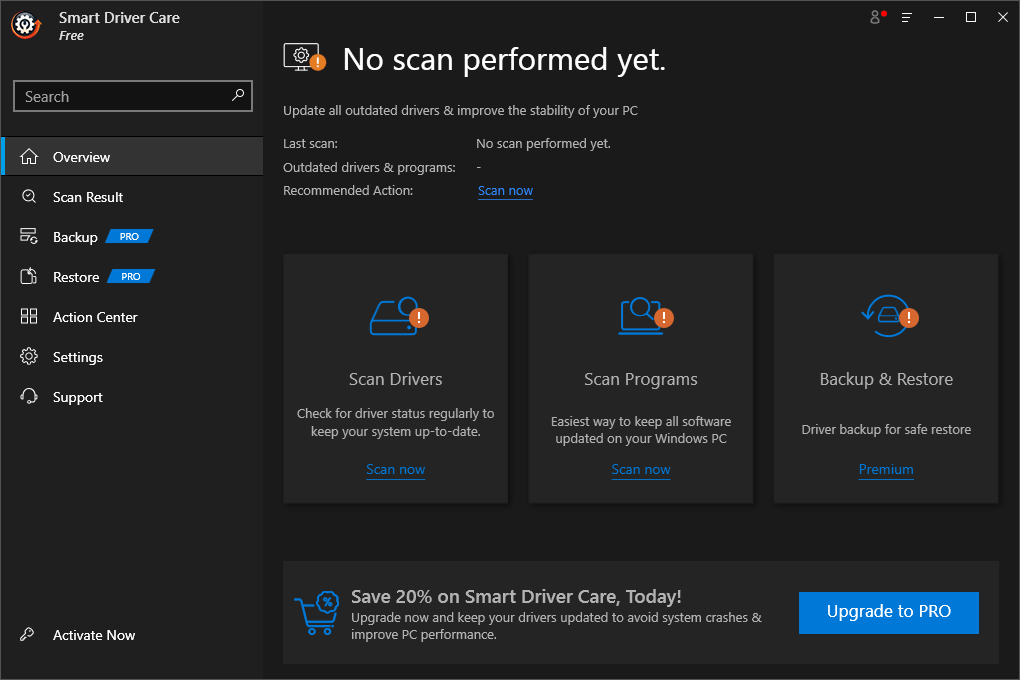 Or visit the official website and get the executable setup file for Smart Driver Care – https://www.smartdrivercare.com
Step 2: Double click on the setup file to run it.
Step 3: A Setup Tab will open with a Welcome message on it, click on the Next button.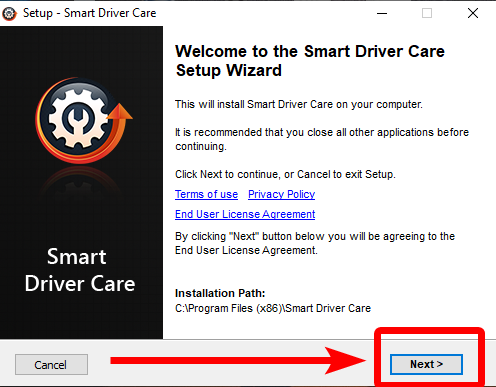 Step 4: The installation process will begin and you can see the progress even though it takes a few seconds.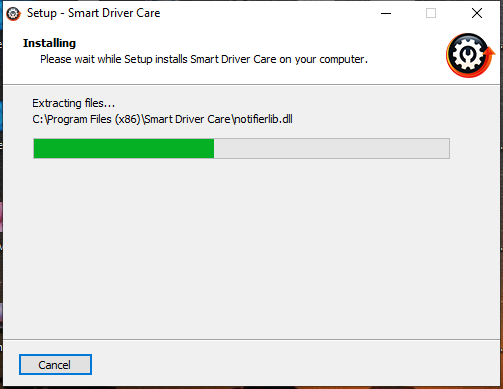 Step 5: Now, as the Installation is complete, the window will ask you to click on the Finish button to finish the process.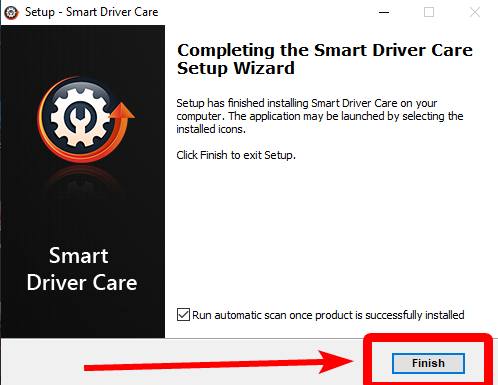 As default the 'Run automatic scan once the product is successfully installed' is checked. It will help you to scan the system right after this step. If you do not wish for this, uncheck the box.  This is how Smart Driver Care is successfully installed on your computer
How To Use Smart Driver Care?
Using Smart Driver Care is also as easy as its installation process. All you need to do is follow a few simple steps and after a few clicks, you will have updated device drivers installed on your computer. Make sure you give it the necessary system permissions on the prompt messages to run properly.
Step 1: Launch the application.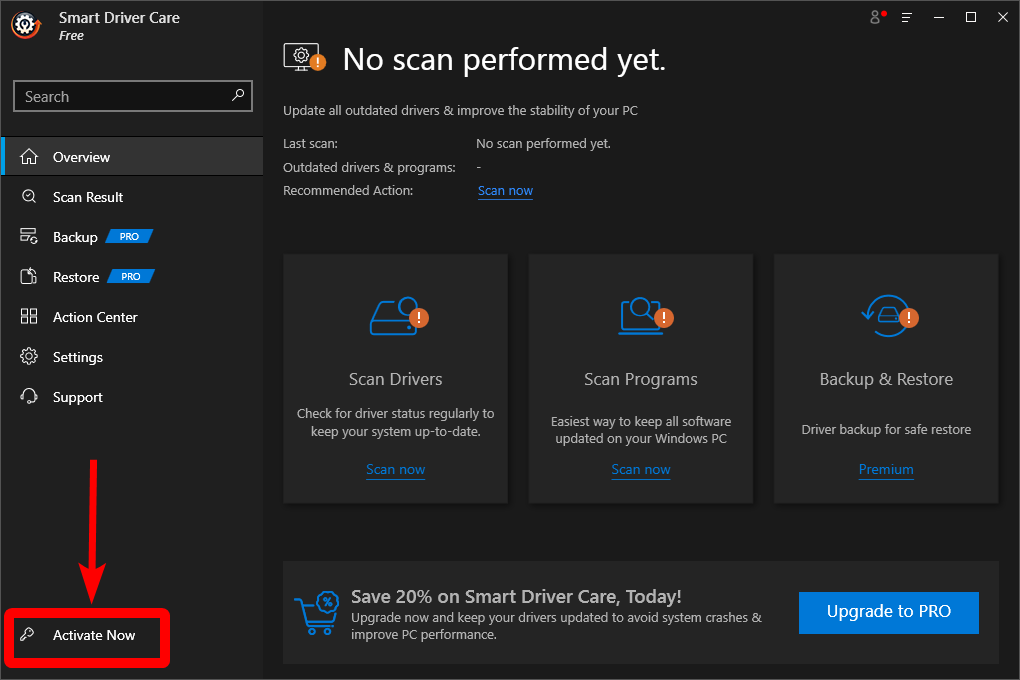 The screen shows No Scans performed yet.
Step 2: Click on Activate Now to register yourself to get a key for using the benefits of the Pro version.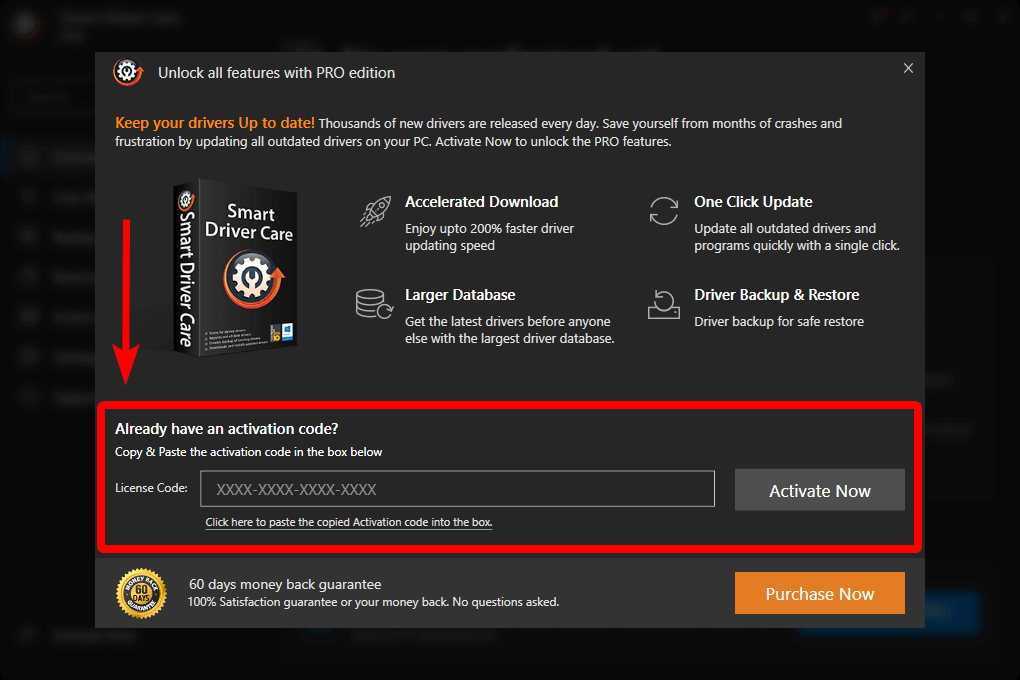 Step 3: Click on Scan Now.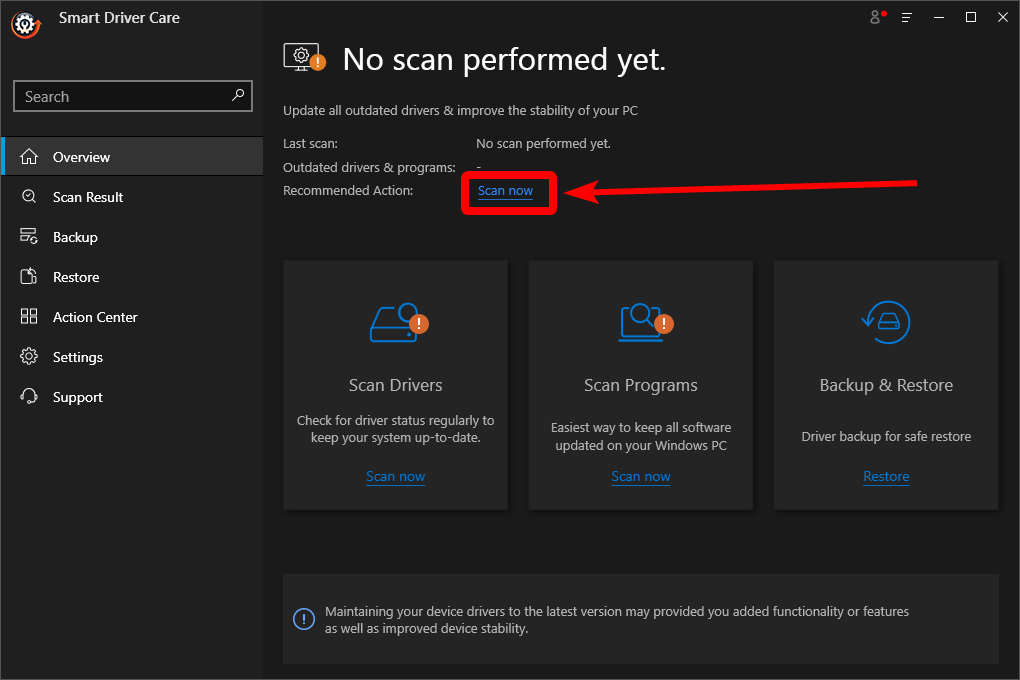 Step 4: Smart Driver Care will carefully scan your system for any outdated device drivers and programs.
Step 5: A list will be displayed for all the outdated device drivers and programs on your computer.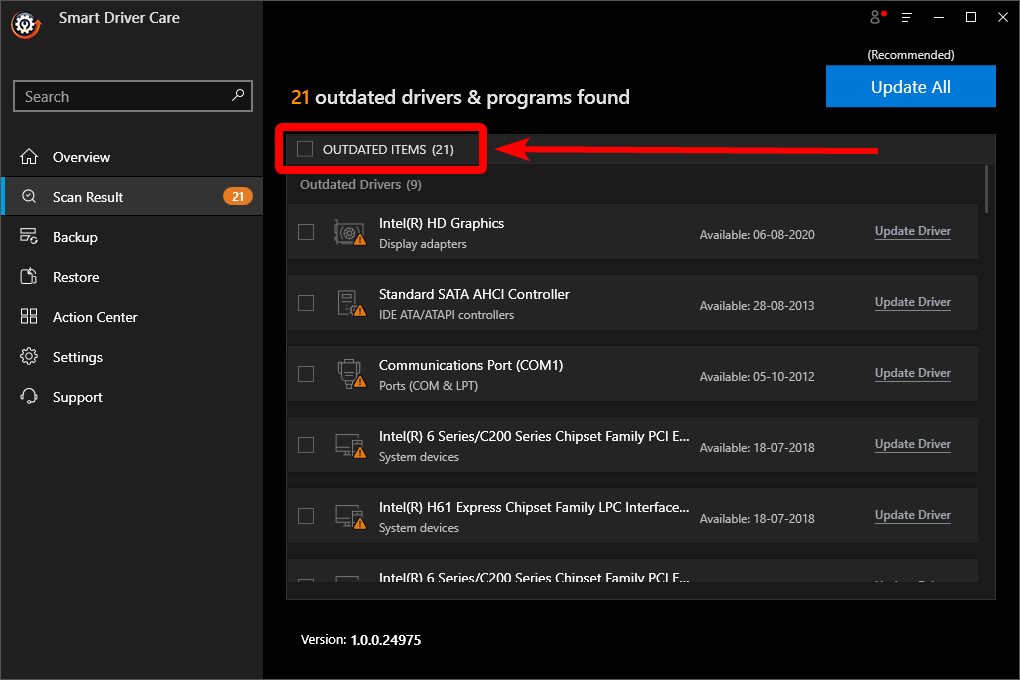 Step 6: By default, the Outdated Items are checked and all you are required to do is click on the Update All button.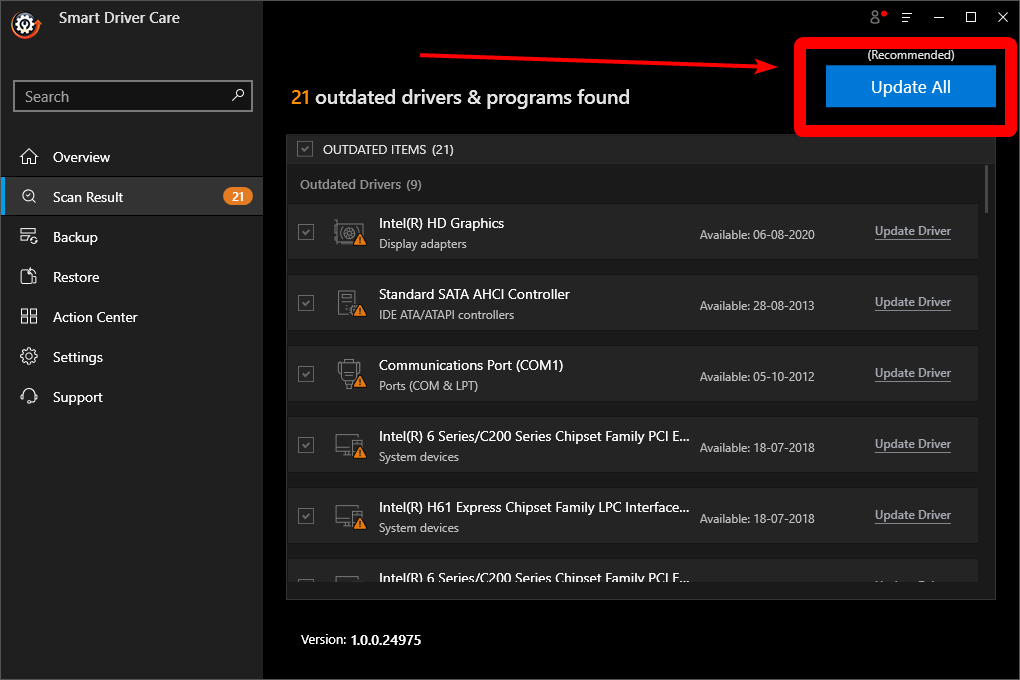 In a few minutes, you will get a notification that all your drivers have been updated. Restart your computer to apply the changes.
Note: While using the trial version of Smart Driver Care you cannot use the Update All button as this feature is available only in the registered version. However, using the trial version you can update only a limited number of drivers
Smart Driver Care has a comparatively attractive interface with multiple color themes to choose from. Not only is it easy to navigate but also marks each module boldly for you to visit. Choosing a theme from Light, Dark and Blue is a good number of options. You get to choose from the two languages – English and Japanese
1. Auto Scan at Launch –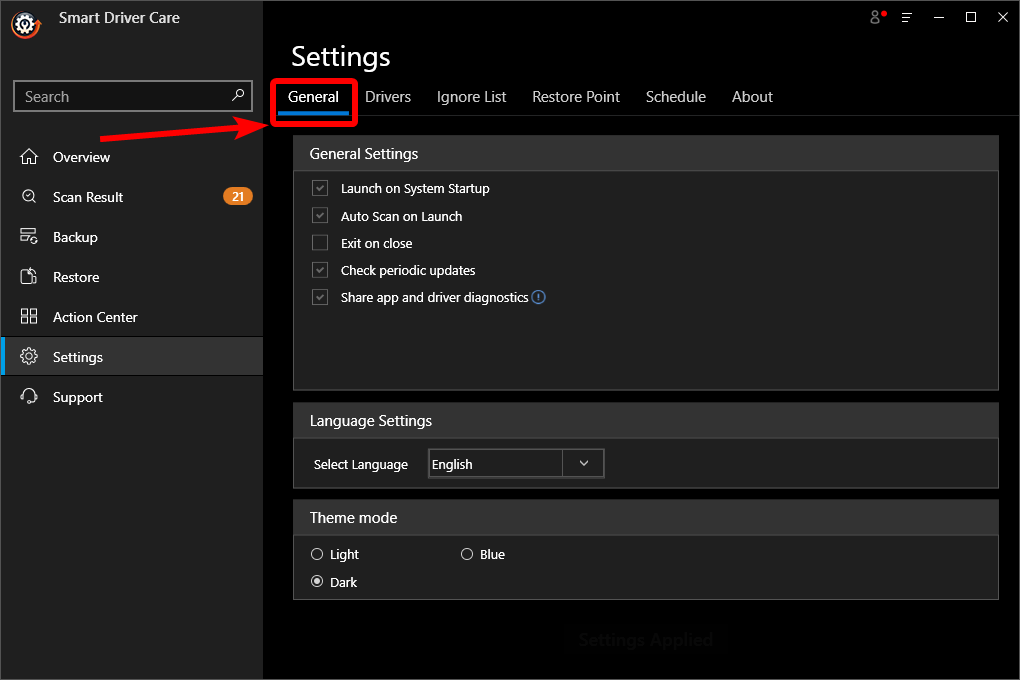 The Settings is placed clearly in the right top bar for you to open up many options to personalize the tool. The General Settings to help you with Auto scan on launch, launch at the boot time. By default, these settings are turned on so it will be helpful as Smart Driver Care will start scanning once you run the application on your computer. Along with it, the driver updater is also capable of scanning for periodic updates for the device drivers.
The Settings for Drivers will have an assigned location set on default for the downloads, backup, and restore. However, you can also change it by browsing the desired location.
2. Schedule Scan –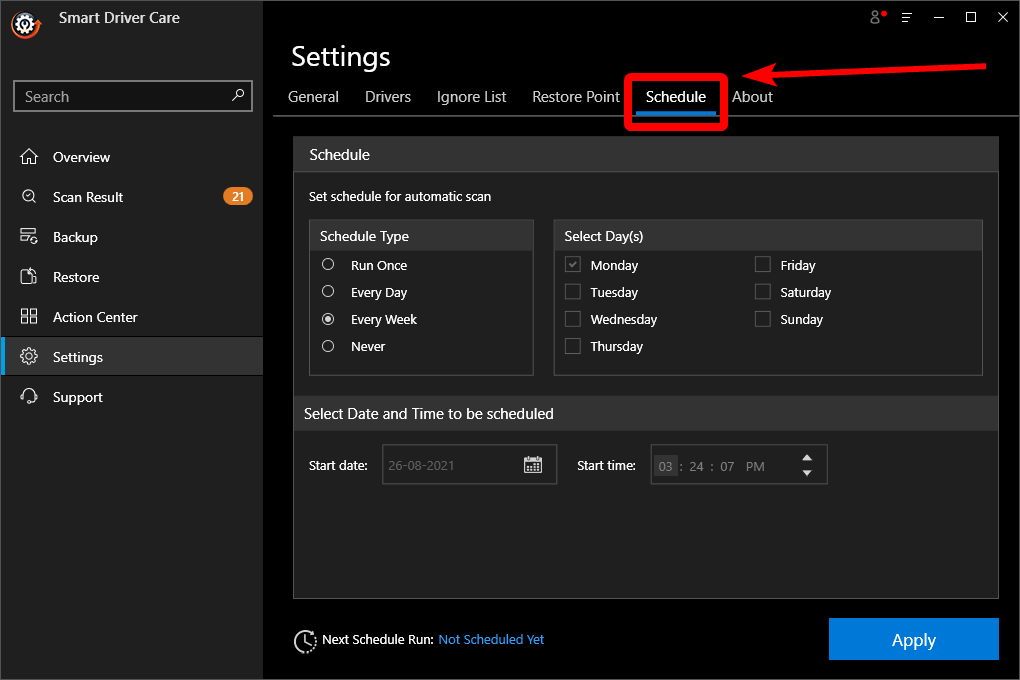 To schedule a scan, you can simply click on the Settings and go to the Schedule tab. Here you can set the schedule for automatic scan by picking a schedule type and day, date, and time. Once done, don't forget to click on Apply to save the changes.
3. Ignore List –
The exclusion list of device drivers which you would not want to be updated can be added to the Ignore list. As sometimes, it is favorable for your operating system to have device drivers at the same version. If updated, it might not be compatible with the current Windows version and the device might malfunction. Therefore, with the help of this feature, these device drivers will be further protected from getting updated and help you from any trouble.
4. Backup Drivers –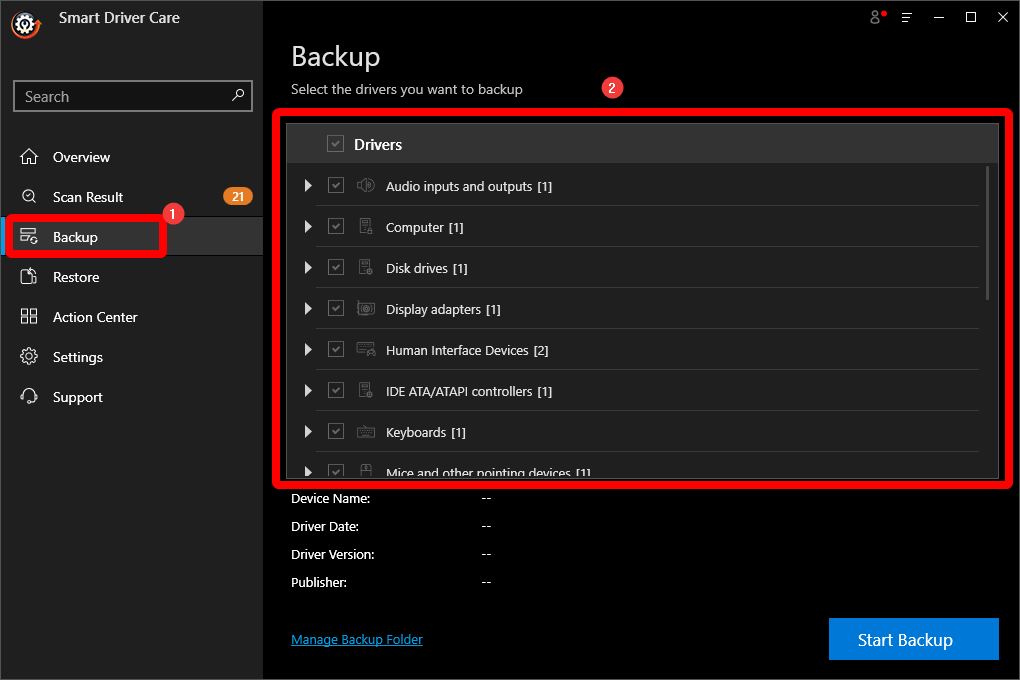 Backing up device drivers is an important feature that is included in Smart Driver Care. As it will allow you to take a backup of the device drivers on your computer and save it for further usage. Go to Backup from the left pane, select the drivers for the backup from the list of all device drivers and take a backup quickly.
5. Restore Drivers –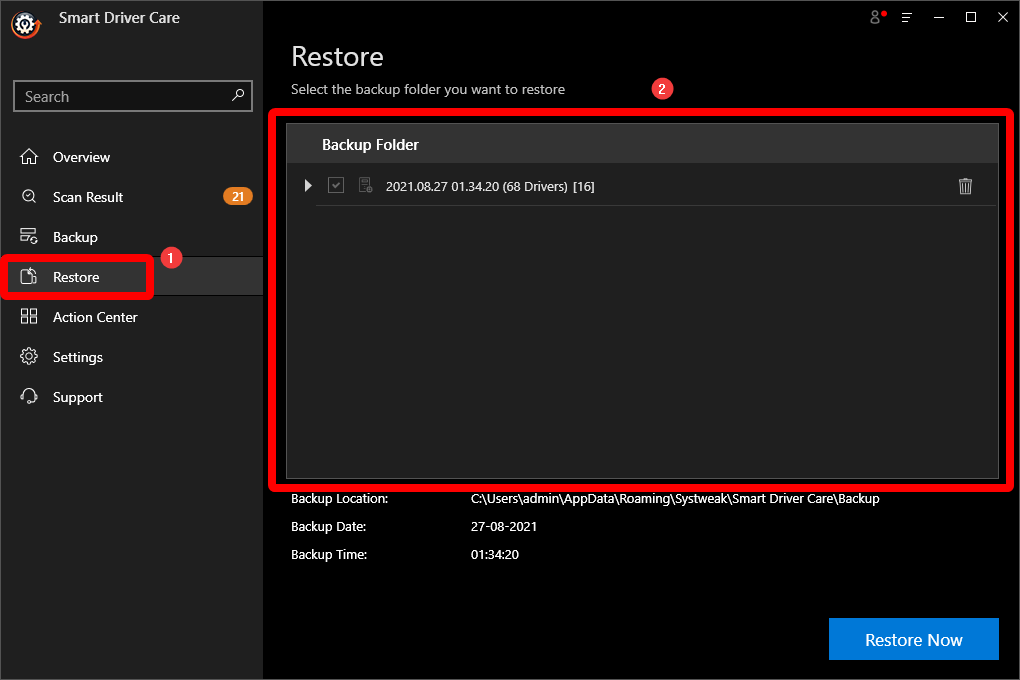 Since the backup is available in the same tool, the restore option which is another important feature is also provided. While driver updaters fail, Smart Driver Care has both the option for backup & Restore device drivers. Under the Restore tab, you will find the backed up file and you can select it and click on the Restore Now button to roll back drivers on your system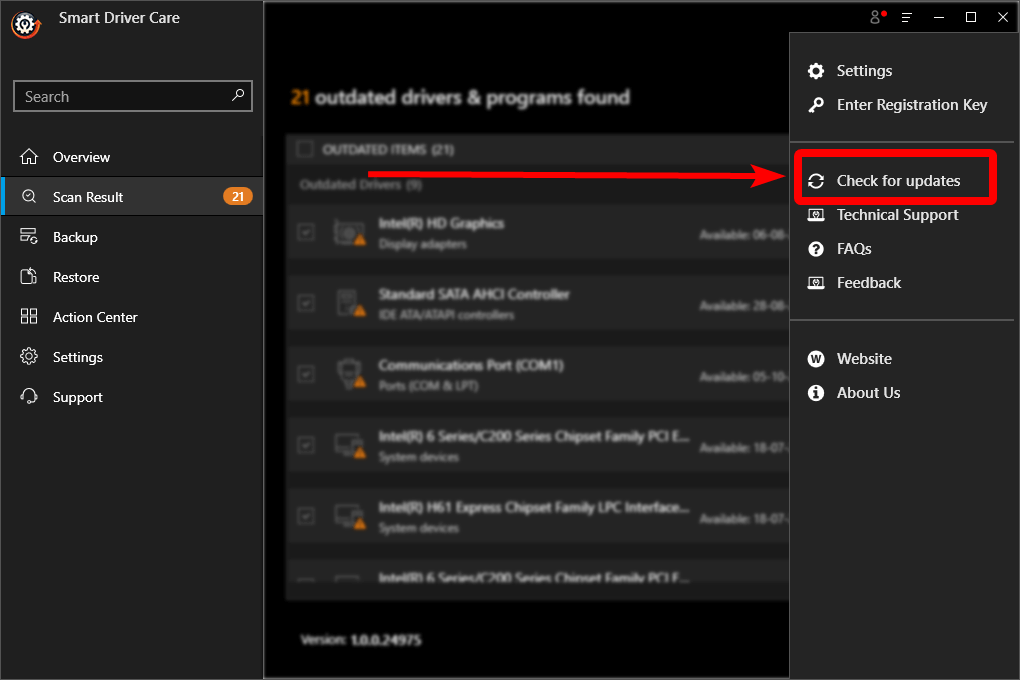 Smart Driver Care updates the software regularly and shows you the message in a notification as soon as the update is available. Smart Driver Care has the feature of updating the software manually. Go to the Settings, click on the Check for updates option. It will inform you whether any update has been released or not. This is useful as sometimes when the notification for a new update pops up, we ignore it and can forget about it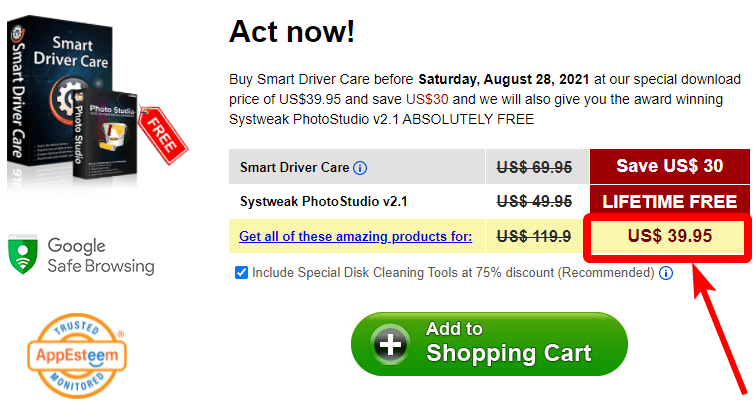 Smart Driver Care is available for free to download, and it can run the scan for your system. It even lists out all the outdated items on your computer. This is a huge plus point for you to be able to judge a product at first glance at no cost.
The limitations of the free version are as it can only update a limited number of drivers. It also requires the user to update each driver individually.
In the Smart Driver Care Pro version, you get the complete deal as you can effectively save your time by updating all drivers at once. 
Talking about the speed of Smart Driver Care, it is very important to note the scan and download speed. Starting from the installation process, it takes a few seconds to download, install and launch the program. The system scan often takes a few moments to present you with a list of outdated drivers and programs. Updating drivers also take up a good amount of time depending on the number. The speed of Smart Driver Care is commensurate with the number of device drivers installed at this time.
Customer Support for Smart Driver Care related queries is available by email support. The email address is mentioned below –
You can also find this information on Smart Driver Care itself. On the left pane, it's listed at the bottom with the name Support. You can also submit feedback with the option to enter your email address and the problem associated with it. This clarifies the mode of communication with the support team.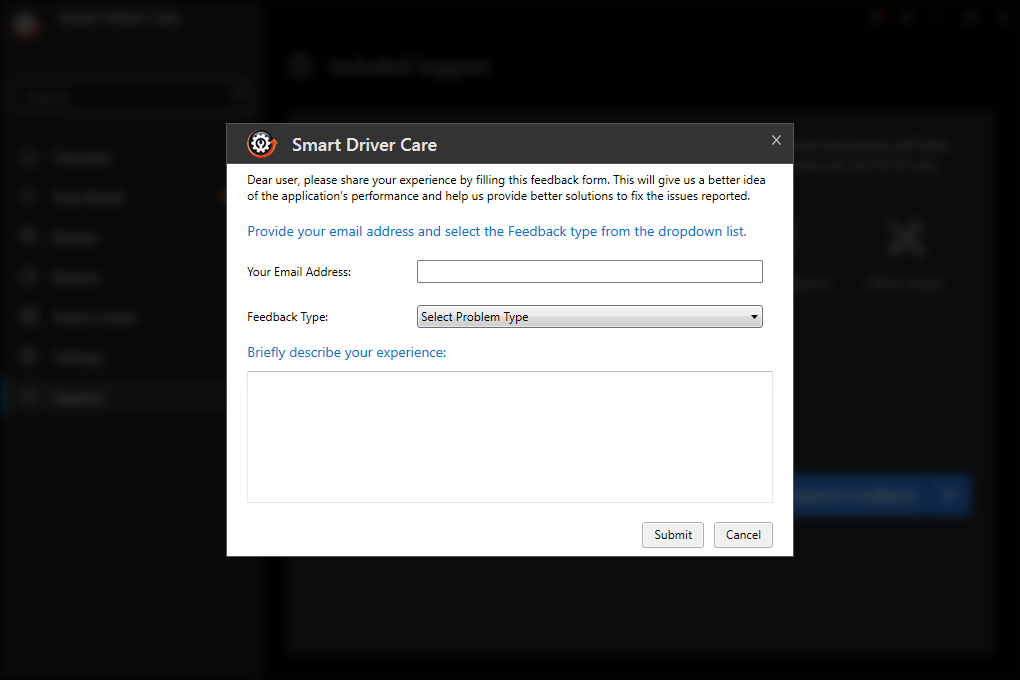 Frequently Asked Questions:
Q1. Is Smart driver care safe?
Yes, Smart Driver Care is completely safe. You can easily use this driver updating software on your computer. It will solve your problem in minutes by running a scan of the computer. Smart Driver Care is a safe and reliable software as it will get the trusted updates for the device drivers.
Q2. Are driver updaters worth it?
Yes, the driver updater will help you get the automatic updates of your devices. It also saves you time and effort by providing all the updates themselves. Otherwise, the user has to look for each driver update manually and install it from the manufacturer's website.
Q3. How do you update drivers?
To update drivers, you can either use the Windows in-built Device Manager and search for the original drivers for each device. Alternatively, the easiest way to update drivers is to run a driver updater such as Smart Driver Care. It can help you update all the device drivers at once saving you time and effort.
Verdict
Smart Driver Care is a selection of the best features for a driver updater for Windows. This tool has it all, be it speed, reliability, modules needed for a good driver manager software. Smart Driver Care can be your best option for updating drivers on your computer. It has the backup & restore option in case you will require rollback drivers when not compatible with the Windows version. The scheduled automatic updates for you do not have to worry about running the scan periodically. The ignore list protects certain drivers from being updated. And of course, the attractive user interface has it all placed in the visibility to make it accessible. We hope the Smart Driver Care review helped you out in learning all about the software. We look forward to your comments to know more about your opinion on this blog post. For more such reviews on Windows software, keep visiting Top10PCSoftware.