iMyFone D-back Android Data Recovery
iMyFone D-Back Android Data Recovery Review for Windows PC
Is there a way I can recover lost data from my Android device? I accidentally deleted some very important work files and need them pronto! Here we have reviewed iMyFone D-Back that can prove to be a life savior in such circumstances.
You might lose important data on your Android device due to system crash, accidental deletion, broken screen, forgotten password, virus attack, just to name a few. That said, it is not impossible to get back the accidentally gone data. A data recovery tool can help you restore data no matter what the data loss situation is. Here we are going to review iMyFone D-Back, which is one of the most popular data recovery utilities for Android.
What Is iMyFone D-Back for Android?
iMyFone D-Back is one of the best Android data recovery software. It helps recover accidentally lost data that you might not be able to recover otherwise. When it comes to identifying lost files and recovering them, in most cases, iMyFone D-Back delivers 100% deep scanning and a 99% recovery rate, thanks to its advanced algorithm.
Here are some other great Android data recovery programs for Windows PC.
Why Use An Android Data Recovery Software Like iMyFone D-Back?
Unbeknownst to you, your Android smartphone might be subjected to instances wherein you might accidentally lose confidential or even important data. As someone who is aware of such circumstances, a tool like iMyFone D-Back can help you out. Here is a list of such circumstances –
Deleting data accidentally and permanently.
Unexpected system crash or malfunction.
Data lost during factory resetting, only to later realize that you weren't supposed to delete it.
SD card got corrupted.
Mistakenly dropped your smartphone and broke its screen.
Forgotten screen lock passcode and now wish to retrieve data from a locked phone.
Data lost during ROM flashing or rooting devices.
System Requirements
Windows Compatibility – Windows 11/10/8.1/8/7
CPU/ Processor Requirements – 1 GHz (32 or 64 bit) or above
RAM required – 256 MB minimum; 1024 MB recommended.
File Size – 16 MB
Hard Disk Space Needed – 200 MB minimum recommended
Support For – 6000+ Android phones and tablets from brands such as Xiaomi, Samsung, OPPO, Huawei, Google Pixel, etc
Pros and Cons
High recovery rate.
No rooting is required to recover lost data on Android smartphones.
"Quick Scan" and "Full Scan" mode of scanning.
You can recover data from Google Drive.
Recover all kinds of data – all major kinds of files, call logs, calendars, contacts, and many others.
You can recover data from a broken smartphone.
Recover WhatsApp data.
Couldn't save scanned results.
How To Use iMyFone D-Back Android Data Recovery Software?
Step 1 – Connect your Android smartphone to your computer using a USB cable.
Step 2 – After you have connected your phone to your computer, select Transferring files or MTP or PTP mode. Once you have done that, click on the checkbox under Change the USB configuration to MTP or PTP mode.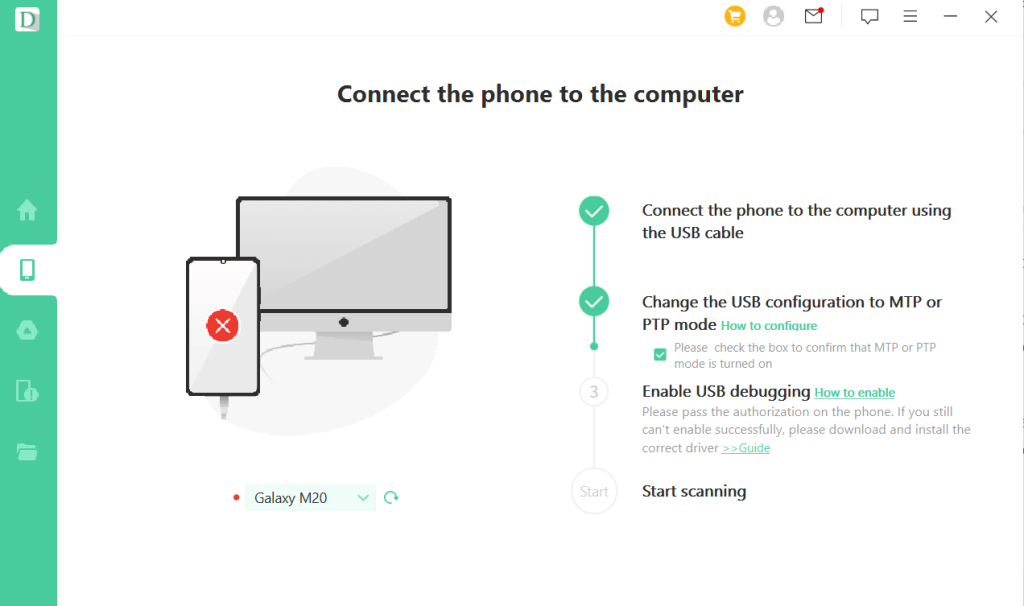 Step 3 – Enable USB Debugging. For that follow the steps below –
Go to Settings. Scroll down and tap on About phone.
On the next screen, tap on Software information.
Tap on the Build number several times and furnish your pattern or password.
Go back to the main Settings screen, scroll down and tap on the Developer options (Which should be enabled by now.)
Scroll down till you see USB Debugging and toggle on the switch next to it.
Tap on Allow when the Allow USB debugging prompt appears.
Please note: Once you have enabled USB Debugging, some apps such as banking applications may stop functioning on your device. To make them work again, it is advisable that you disable this mode.
Step 4 – Tap on Start.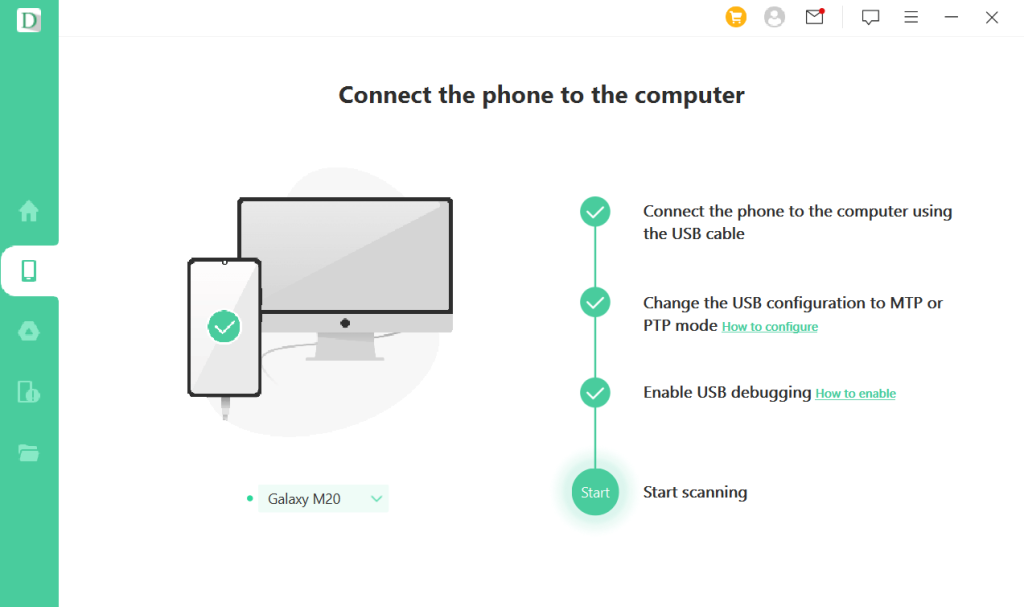 Step 5 – Choose the mode of scan. While the Quick Scan doesn't require much and works the moment you click on it. The Deep Scan Mode requires you to download D-Back for Android app. For this, you have to grant permission.
Step 6 –  Select the files that you want to recover.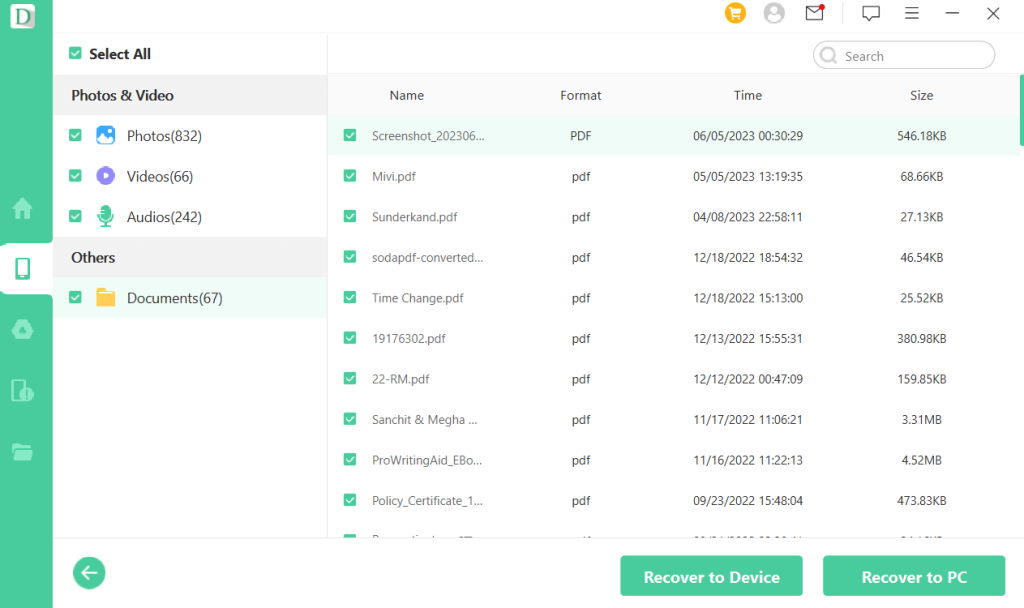 Step 7 – You can recover the files to a location on your computer by clicking on Recover to PC, or directly on your Android device by clicking on Recover to Device.
Step 8 – You can also type the name of the file in the search bar and select and recover it provided you know the name of the file.
After you have installed iMyFone D-Back for Android on your computer, this is the first screen or the home screen that you will interact with.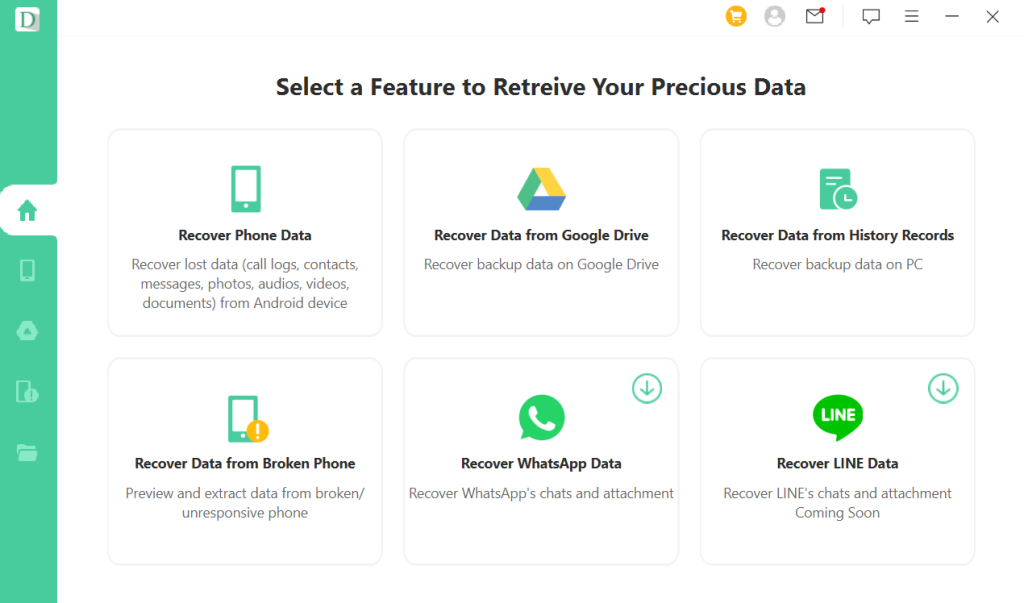 The left-hand pane icons signify the 4 options that you can see on the right side of your home screen. These include Recover Phone Data, Recover Data from Google Drive, Recover Data from Broken Phone, and Recover Data from History Records.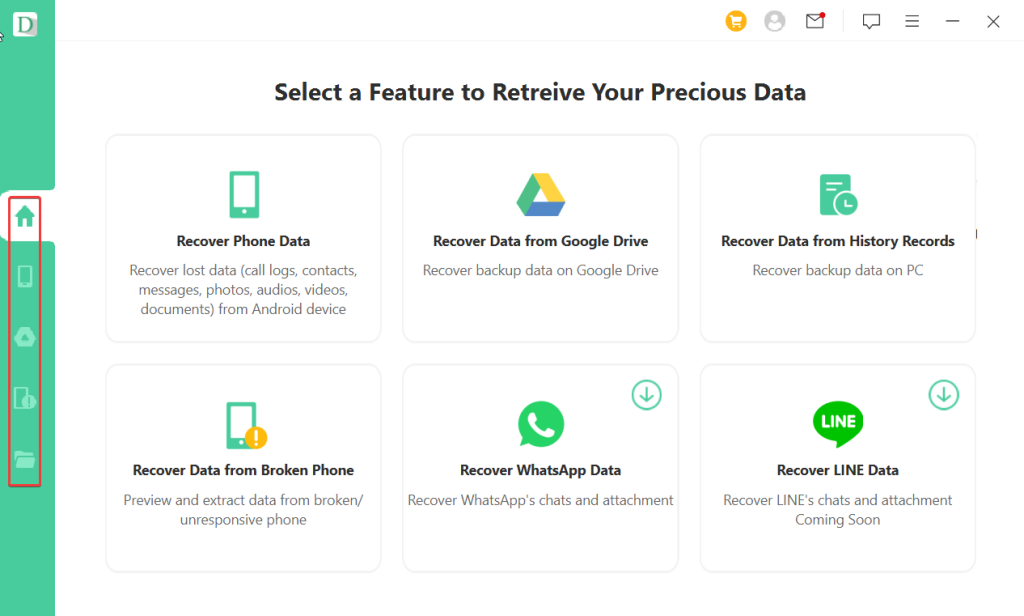 The interface also includes steps with the help of which you can connect your smartphone to the software. If you are a beginner, you can click on the second option (the mobile icon just under the home screen) and you will be taken to the steps with the help of which you can enable USB debugging and establish a connection between the software and your smartphone. What we liked is the fact that it explains every step in greater detail.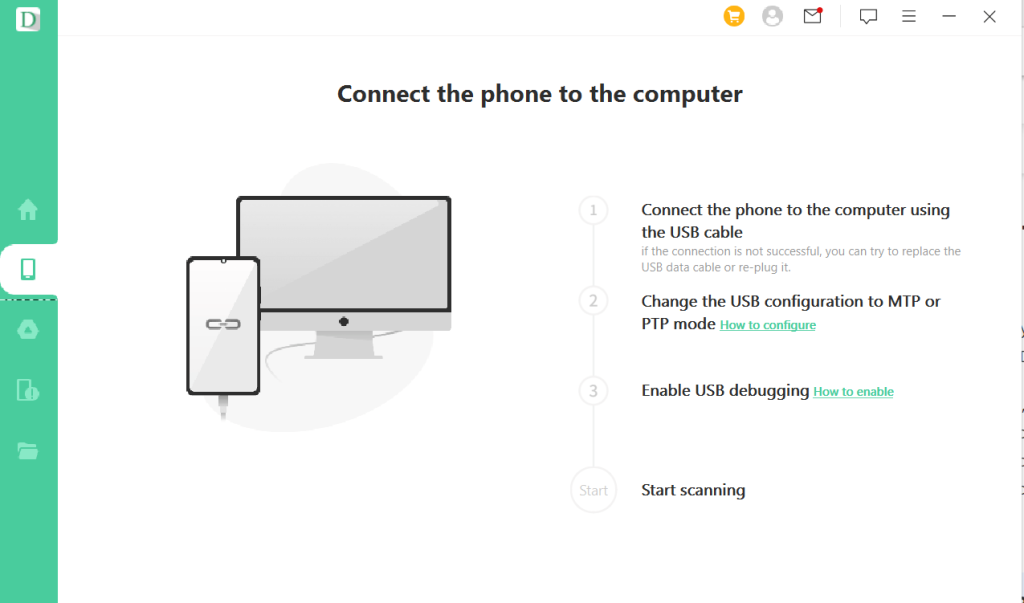 Recover Data from History Records shows you your previous scanned results. You can always refer to these for faster recovery as you can tap into particular scan results and retrieve data.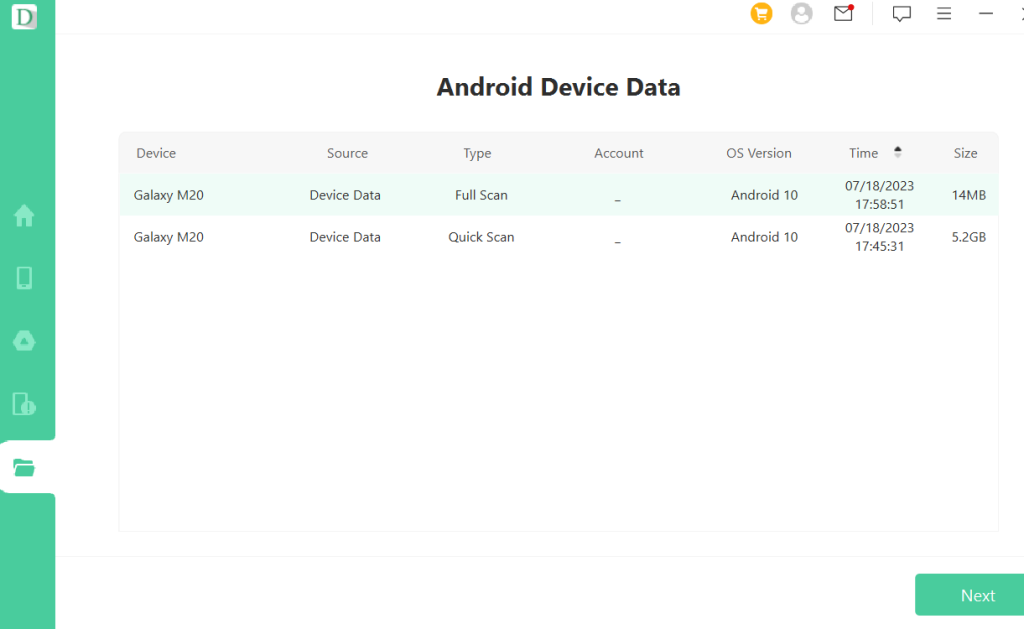 Features
90% – Excellent
1. Recover Lost Data Without Rooting Your Device
There are many Android data recovery tools that can retrieve lost Android data but for that they need to root your device. For someone, who is not well-versed with the process, rooting the device is not advisable. iMyFone D-Back helps recover lost data from your Android device without rooting it.
It can help you get back lost data from both internal as well as external locations. This means you can also recover data from your SD card as well.
2. Multiple Scan Modes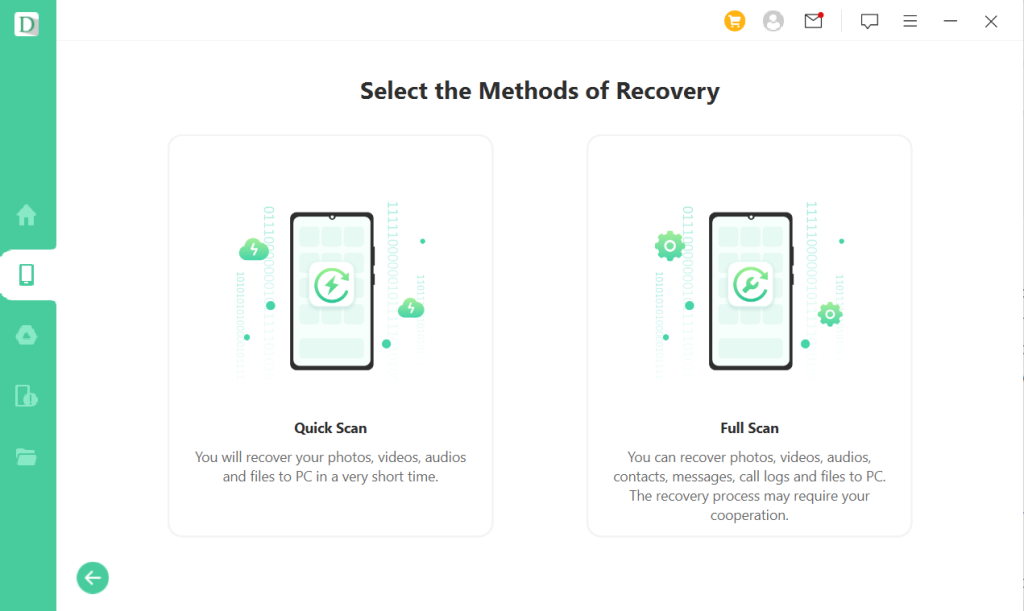 iMyFone D-Back offers two scan methods for recovering data – Quick Scan mode and the Full Scan mode. The Quick Scan mode is faster and recovers photos, audio files and videos in a shorter span of time. Whereas the Full scan mode is a more time-consuming process as it scans every corner of your device to recover videos, photos, audios, messages, contacts, call logs and all other kinds of files.
3. Restore All File Types
You might be wondering, what kind of files can it retrieve? The iMyFone Android data recovery tool is capable of recovering over 11 file types. These include contacts, gallery photos, call logs, videos, audio files, Wi-Fi passwords and calendars. It also lets you recover WhatsApp chats and attachments.
4. Selectively Extract Data from Google Drive Backup
Talking of file types, with  iMyFone D-Back Android data recovery you can recover backup data on your Google Drive. To do that you will have to sign in to your Google Drive account. Once you have done that, you can further select the type of data you wish to recover.
5. Recover Data from your Broken Android Smartphone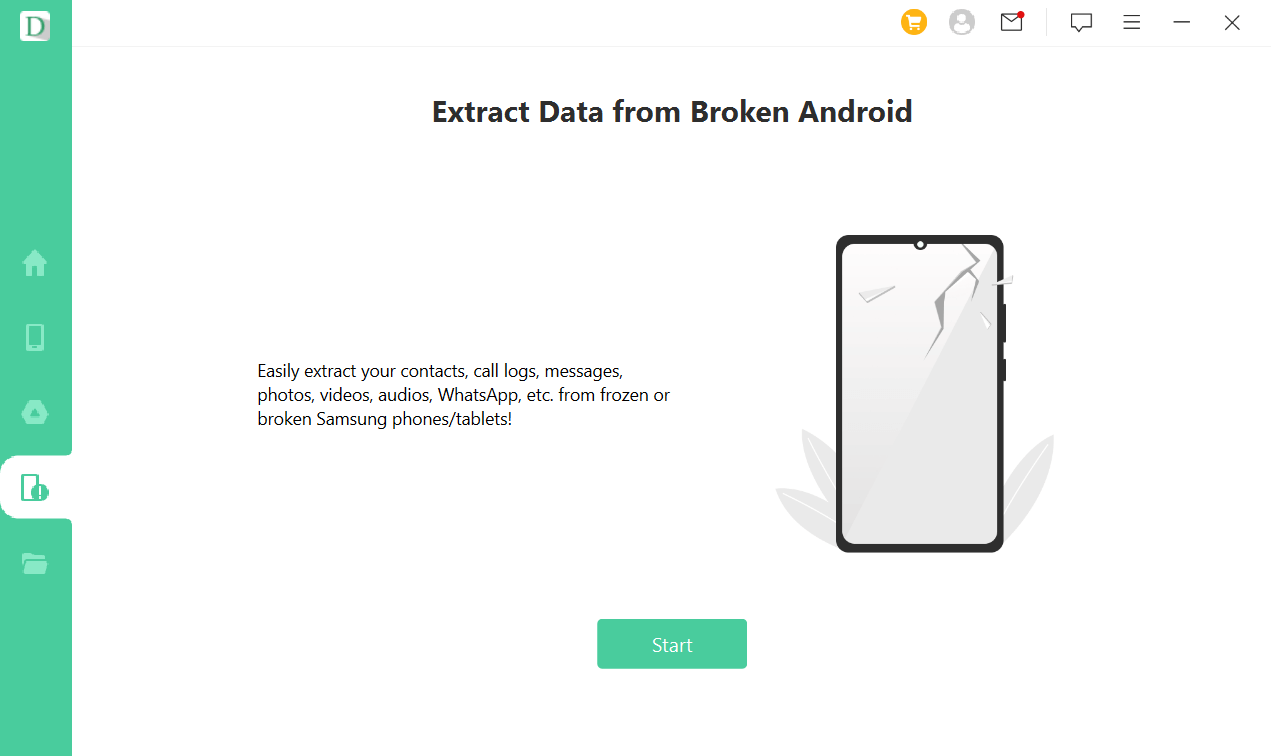 You may lose important data if you have accidentally broken your smartphone because of accidental drops, excessive pressure, water damage, rough handling, manufacturing defects or for any other reason. It could also be that your phone is frozen and is refusing to boot up. iMyFone D-Back for Android keeps your hopes high in this scenario. You can easily extract your call logs, contacts, messages, videos, photos, audio files, WhatsApp chats and all the other files and folders.
6. Start and Stop The Scan
Even though it is recommended that you do not terminate the scanning process, till it is complete, you can always click on the stop button and terminate the scanning.
There is no doubt that iMyFone D-Back is a powerful data recovery tool but there haven't been any major updates especially if you compare with competitors like Tenorshare UltData for Android.
In case you manually want to check for any recent updates, you can click on the three horizontal lines from the right-hand side of the interface and click on Check for Updates.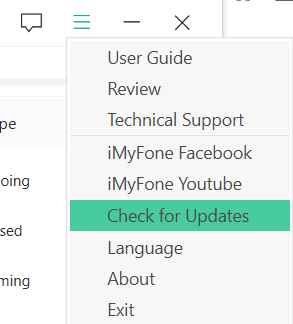 With the free trial version of iMyFone D-Back for Android you can scan and preview data. While the free trial version opens your doors to some great features,  the iMyFone D-Back Android full version offers some even greater features. Below is a screenshot that demonstrate the differences between the free trial and full version –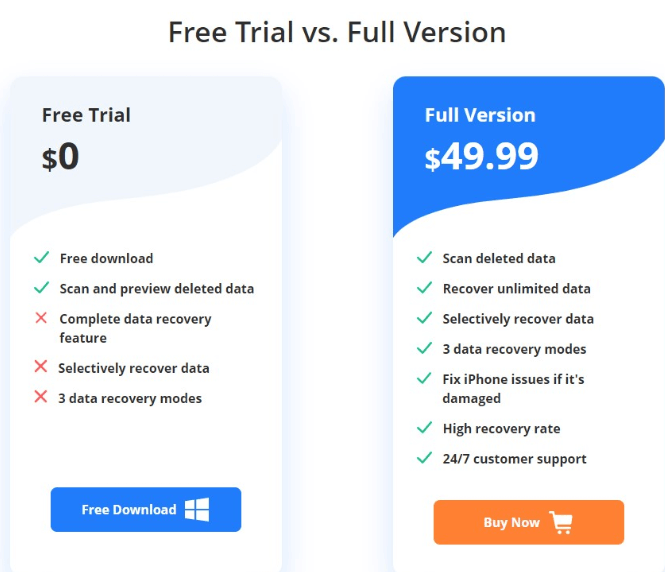 iMyfone D-Back offers plans for both individuals as well as businesses. You can head to this page for more information on the pricing plans.
The scan may take time depending on the scan mode you have chosen – The Quick Scan or The Full Scan. In our test, the Quick Scan took over 4 minutes and found 832 photos, 66 videos, 242 audio files and 67 documents. The Full Scan, on the other hand, took several minutes. It took nearly 10-12 minutes just to scan 25.42% of the Android device. During this time, it was able to scan 2000 call history items and 2966 contacts.
There are multiple ways you can seek assistance from the customer support team of iMyFone in case you are stuck with D-Back for Android. First, you can visit the Customer Support page and fill out the form, mentioning your issues. Meanwhile you can also refer to frequently asked questions or refer to a variety of how-to guides.
Were You Able To Get Back Your Lost Data?
We hope that iMyFone D-Back for Android has helped you restore your deleted data. If it has, share your experience in the comments section below. If you already have a favorite, do let us know how iMyFone D-back for Android fairs up against your tool? For more such content – Software reviews and listicles, keep reading Top10PCSoftware.
You can also reach out to us on Facebook, Flipboard and Pinterest.
Frequently Asked Questions –
Q1. Is D-Back for Android free?
iMyFone D-Back helps you scan and preview data with its free trial version. To retrieve data and get access to some more advanced features, you can purchase the premium version.
Q2. How do I use D-back on Android?
To use iMyFone D-Back on Android, connect your smartphone or tablet to your computer, enable USB Debugging as shown above. Once you have done that, select the type of data that you want to recover. Once the scanning is complete depending on what mode of scan you have chosen, you can further restore data.
Q3. Is iMyFone D-back safe to use?
Yes, it is. After installing, it wasn't flagged off as a malware by any Antivirus tools.
Q4. Can we recover deleted data from Android?
You can easily recover deleted files from Android using data recovery software like iMyFone D-back for Android. As advice it is recommended that the moment you come across a scenario where you have lost data, you should stop using the device for better chances of data recovery.