Paragon Backup and Recovery
Paragon Backup & Recovery Review for Windows PC
Haven't yet backed up your PC using a tool like Paragon Backup & Recovery? You are missing out on a great strategy that could save your precious data in time of a mishap like a computer crash, malware attack, or any other such unwanted occurrence. In this review we have  not just shed light on its various features but over the course of this post, you'll also understand how one such tool can be a lifesaver for your computer and the data that resides inside.
Our digital landscape comprises data that is invaluable. This means any harm to it could cause serious damage. Knowing that mishaps are inevitable, a prudent step is to create a timely backup of existing data so that in an emergency, you can restore important files. When it comes to creating backups Paragon Backup & Recovery is hailed as one of the popular choices.
In this review, we'll discuss the various aspects of Paragon & Backup software (free and paid) for Windows PC and find out if it is worth installing and investing in or not.
Why Choose Paragon Backup & Recovery as a Backup Software for Your Windows PC ?
Here are some reasons why you may want to consider opting for Paragon free backup software –
Automatically schedule backup.
Functionality to compress and split backup.
Restore individual files and folders from a backup (also known as File-level restore).
Encrypt backup using a password to prevent it from unauthorized access.
Backup and restore virtual machine data.
Create bootable media to restore the computer in the event it doesn't boot up.
Want to consider some other backup options, you can check out some alternatives to Paragon Backup & Recovery as well.
Technical Specifications
Current Version – 9.3
Windows Compatibility – Windows 11/10/8.1/8/7
RAM – 1 GB minimum recommended
CPU – Intel Pentium or equivalent that has a minimum 1000 Mhz processor clock speed
SVGA Video Adapter – Required
Hard Disk Space Recommended – minimum 250 MB
Opened ports in Firewall- Inbound and outbound 80, 443.
For WinPE-based Recovery – A CD or flash drive with sufficient storage space
How To Backup Data Using Paragon Backup & Recovery?
Step 1 – Download, install and run Paragon Backup & Recovery on your Windows PC.
Step 2 – From the left-hand pane, click on Backup & Recovery as shown in the screenshot below.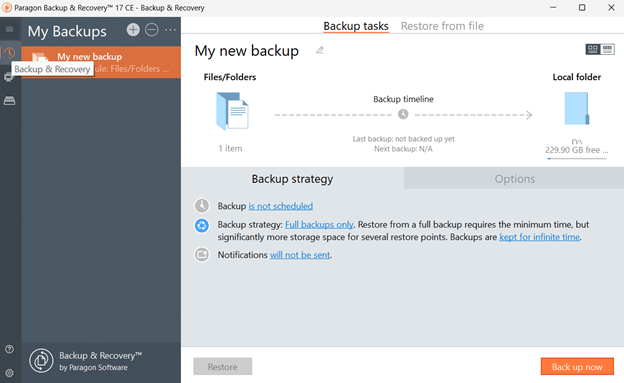 Step 3 – Click on the + sign next to My Backups heading that stands for Add new backup.
Step 4 – Select the backup Source and Destination. Choose the files, folders or whatever it is that you want to backup. You can even rename the backup by clicking on the pencil icon.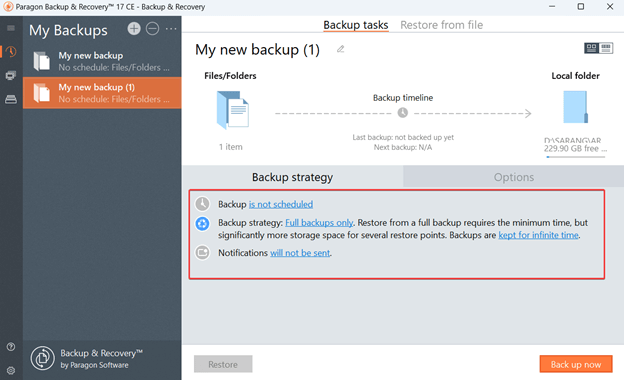 Step 5 – Now, you can schedule your backup, choose a backup strategy and  other settings as per your requirements by clicking on each of the sections as shown in the screenshot.
Step 6 – Once you have done that, click on Back up now from the bottom right-hand corner of the interface.
Interface
85% – Very Good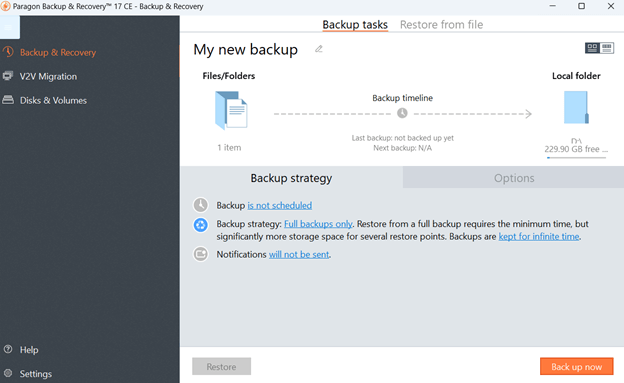 The interface of Paragon Backup & Recovery for Windows is straightforward and makes it easy to create backup jobs. It guides you through every process. While many options are accessible, there are some which are not available in the community edition (the free version of Paragon Backup & Recovery).
If you see the farthest left, there is a navigation pane signified by three horizontal lines (the hamburger icon). You can click on it and the options that will expand include –  Backup & Recovery, V2V Migration (not available in the free version), and the last option is where you can access the disks and volumes on your computer. When you click on each of these options, the subsequent options appear on the right. At the bottom, you have Settings and Help.
Coming to the main part of the interface which is the Backup & Recovery. It is divided into two parts – the Backup and the restoration (named Restore from file). Here you can also keep track of any prior backups. From here you can choose a backup schedule, backup strategy, choose backup container type, compress and split backup, and do other things that we have discussed in the features section.
Features
80% – Good
1. Create a Backup Schedule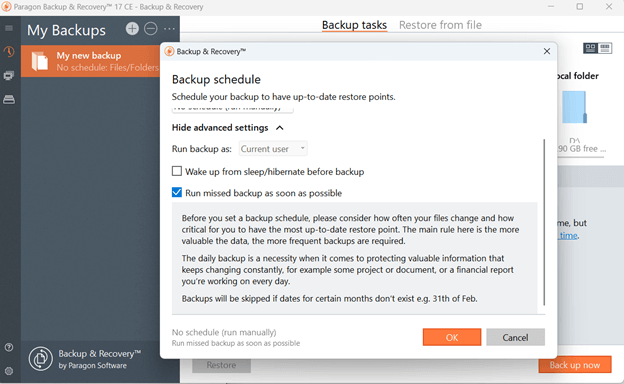 Paragon Backup and Recovery lets you set automatic backups. You can back up your data at a specified time and day. With this feature, you will no longer have to worry about manually backing up. You can choose to schedule backup daily, weekly, monthly, or based on an event.
2. Choose a Backup Strategy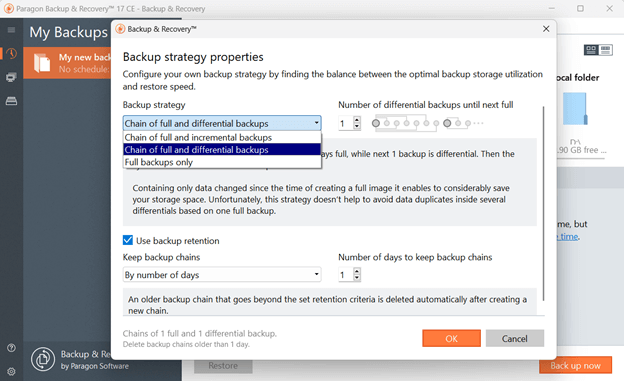 Knowing the fact that a backup strategy is important, Paragon Backup Software lets you choose the type of backup – Full, Incremental, Differential, or a combination of these. Here it is important that you configure a backup strategy by striking a balance between optimal backup storage utilization and restore speed.
As you can see in the screenshot above, here you can also choose to retain a backup for a specific period of time before the backup is deleted or overwritten. This can be helpful in managing storage space, and compliance requirements and you can even access any historical data for recovery purposes.
3. Adjust Backup Scenarios
Paragon Backup free helps define new strategies for your backup tasks. You can create custom backup parameters where you can set frequency/schedule, backup type, create a scenario-based backup and choose whether or not you want to retain a backup you have created.
4. Various Backup Containers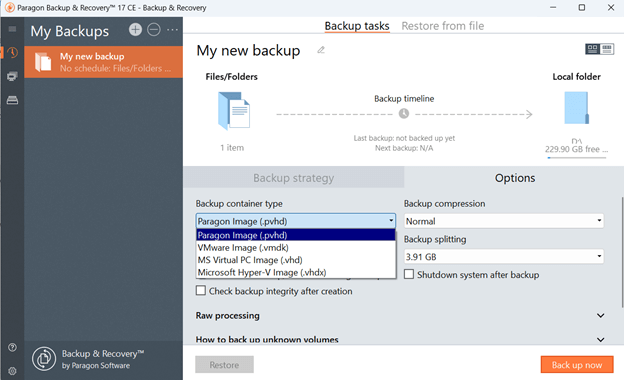 To make it easier to manage and transport the backup data, Paragon Backup & Recovery software offers four different types of backup containers that are discussed below –
It is a proprietary virtual hard disk that is used by Paragon Backup & Recovery that is used to store backups. With it, you can store entire hard drives, files and folders, virtual machines, and even individual partitions.
Let's say you want to test out a new application or operating system without affecting your main computer. The VMware image holds an entire virtual computer's data provided you have VMware.
MS Virtual PC Image (.vhd)
Paragon Backup & Recovery also supports MS Virtual PC Image (.vhd) which is a good choice for backups of Microsoft Virtual PC virtual machines.
Microsoft Hyper-V Image (.vhdx)
As the name suggests, this container is used by Paragon Backup & Recovery to store the backups of Hyper-V virtual machines
5. Encrypt Backup Using A Password
To prevent any unauthorized access to the backups you have created, you can password-protect them using Paragon Backup Software's encryption feature. After you have done that, only those who have the password will be able to access the backup.
It is advisable that if your data is critical, you apply a password from the very start as the password and encryption algorithm becomes valid for the restore points you will create in the future. Up until that point, existing backup images will be unprotected.
6. Create Versions of Backup
With Paragon Backup and Recovery, you can save backups in multiple versions. This feature can be useful if the need arises to restore data to a previous point in time. This is how it works – Every time you run a backup, Paragon will create a new backup file. It will also not delete the old backup files. This way you can always go back to a previous version of the backup.
When Can This Feature Be Useful
When there is a computer crash.
If your computer is infected with malware. In this situation, we recommend you use an Antivirus that can help stop the malware before it causes more destruction to your data.
You have mistakenly deleted a file or folder.
In case your aim is to keep track of changes in the backup.
7. Recovery In WinPE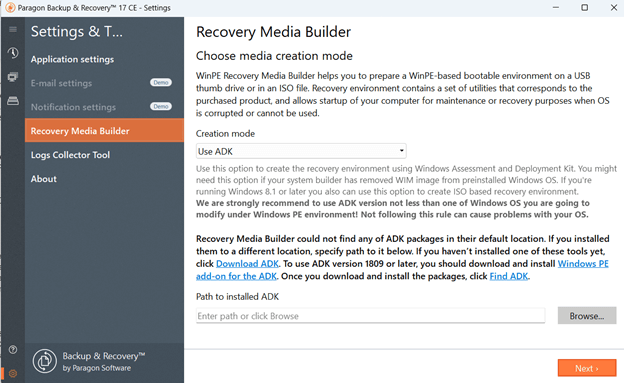 Assuming that you have landed in a situation where your PC is not starting properly or worse your operating system is corrupted. In such scenarios, Paragon Backup & Recovery lets you restore your computer using bootable media.
To create bootable media you can use a USB drive or CD. Once you have created the bootable you can boot your PC from it.
With regular updates in Paragon Backup & Recovery, users can rest assured of bug fixes and performance improvements. For instance, with recent updates, support for Windows 11 was added. Also, issues that caused the software to crash were fixed and the backup engine was made better because of which it has now become much faster and more efficient.
Pricing
85% – Very Good
Paragon Backup & Recovery comes in two variants – The Community edition and the paid variant i.e. Hard Disk Manager for Business. The Community edition is the free version of Paragon Backup & Recovery which is where you can use many of the backup features for free like the ones mentioned above.
As for the paid variant, Hard Disk Manager for Business, you can try this version free of cost for 30 days after which you can opt for one of the variants mentioned below –
Paragon Backup & Restore is a decent performer and doesn't slow down your computer much. In our personal use, we tried to back up a 1TB hard drive with all its files, folders, and applications.
The whole backup process took nearly 3 hours to complete which is a decent speed if not the best. Next, it was time to restore some of the files, folders, and applications. The restoration process was also satisfactory and took a few minutes to restore files.
We carried out the test backup and restore on a computer with the following specs –
Processor – Intel Core i5-8400
Storage – 1TB
RAM – 16 GB
We used an external hard drive that we connected to the above PC. It had a storage of 4TB.
At any point in time, if you are stuck with functionality or have any other doubts regarding the product, you can reach out to the customer support team via this support page. Here you can find multiple ways in which you can get your queries resolved, you can go through the various help articles that can help you with the various features of the tool. You can go through the product manuals and even if after these references, you are unable to get your queries resolved, you can raise a support ticket and briefly explain your doubts to the support team.
Is Paragon Backup & Restore Your Perfect Backup Solution
With features like flexible backup strategies, automated backup features, secure encryption, and various others, Paragon Backup & Recovery comes across as a powerful backup software for Windows. And, what adds to its goodness is the fact that many of its features are free which makes it one of the affordable options for someone who is starting out with their backup journey.
Do give this backup software a shot and let us know how your experience has been in the comments section below. For more such content, keep reading Top10PCSoftware. You can also find us on Facebook, Flipboard, and Pinterest.
Frequently Asked Questions
Q1. Is Paragon Backup and Recovery free?
Yes, Paragon Backup & Recovery is free. It offers the majority of backup functions even in its free version. In fact, you can utilize features like automated backups, backup compression and encryption, splitting backup and many others.
Q2. How much is Paragon Backup and Recovery?
Paragon's paid Backup and Recovery variant i.e. the pricing for Paragon's Hard Disk Manager starts at $79.95.
Q3. What is Paragon Backup and Recovery?
Paragon Backup & Recovery is a backup software program that can be used to protect your data from loss or corruption. It can backup your entire computer or just selected files and folders. It also supports compression and encryption.