When it comes to safeguarding your computer, good antivirus software is a must-have, no matter what operating system you are running. By now, you've probably heard of countless Internet Security Programs like T9 Antivirus, Systweak Antivirus, Kaspersky Total Security, or Bitdefender that help users to protect systems from invading forces and harmful threats while keeping their precious data safe. Keep reading to know their pros, cons, price, compatibility & more!
Top Software Reviews
Rating
1.

T9 Antivirus

2.

Systweak Antivirus

3.

Kaspersky Total Security

4.

Bitdefender Internet Security

5.

Avira Free Antivirus

6.

AVG Ultimate Antivirus

7.

Panda Free Antivirus

8.

Avast Free Antivirus

9.

Comodo Free Antivirus

10.

360 Total Security
What Is Antivirus Software?
Antivirus solutions are dedicated programs designed to detect, eliminate and prevent malicious content like viruses, worms, trojan horses, rootkits, spyware, keyloggers, and other online/offline threats that may harm your computer. Using a reliable computer security program, you can certainly de-clutter cached threats, safeguard your important files/folders from corruption and lessen the threat of your online identity from being hacked. Since the market has tons of options when it comes to protecting your PC from unwanted threats, we suggest using any of the 10 Best Antivirus For Windows 10, 8, 7 discussed below!
Factors To Choose The Best Antivirus Software
Before choosing the Best Antivirus Program for Windows make sure it meets the following criteria:
Should not consume your system resources heavily.
Strong detection rates to protect systems against both known & unknown threats.
Should incorporate multiple layers of protection into its defense system.
Must be effective against preventing phishing attempts.
Should be highly efficient when it comes to detecting zero-day threats.
A good PC security software is one that frequently updates its malware definition. 
Apart from necessary tools, it should offer additional perks like VPN, Password manager, Parental Control features, and more.
How Does Antivirus Work?
An Antivirus Program works by scanning the incoming files/codes that are passed via your network traffic. Providers that build computer protection tools compile an extensive list of the latest and existing viruses, malicious codes & more which makes the tool more advanced so that it can accurately detect, flag, and remove suspicious patterns that may harm your system. 
In the end, the budget factor should not be neglected. Choose an affordable solution that is equipped with all the essential tools required for safeguarding your computer as a whole!
List of 10 Best Paid & Free Antivirus Software For Windows 10 (2023)
1. T9 Antivirus
Compatibility: Windows 11, 10, 8.1, 8, and 7 SP1+
Latest Version: 1.0.1001.1541
Max Devices Supported: 10 (with Family License Pack)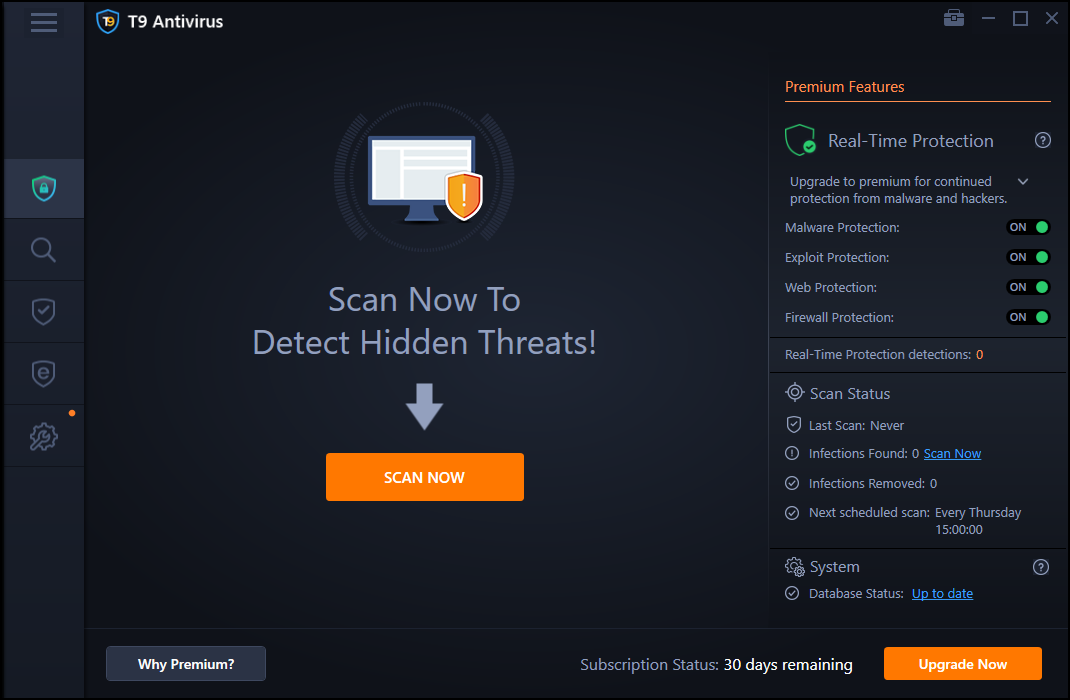 T9 Antivirus is one of the best lightweight antivirus software for Windows PC. It comes as an application which is small in file size and still manages to include all of the tools to protect your PC from threats. It has an exploit protection feature to safeguard your computer from cyber threats. Malware Protection feature helps to detect malware on your computer and quarantine them before harming your device. The real time protection will always keep an eye on the activities on your PC and scan it for any malicious elements.
T9 Antivirus also comes with a Startup Manager which will help you in removing the unwanted and malicious applications from the Start up program list. USB drives are also monitored when mounted on your computer to save it from any viruses. Additional tools such as PC optimizer will clean your PC of junk files, Software Updater will show programs will available updates and You can also enjoy a 30 days trial period before making a purchase for the full version.
Pros:
Multiple types of scanning modes.
Exploit & Web protection warns of any dangerous threats.
Real- time protection will keep you updated.
Removes the malicious programs from the startup.
Optimize PC and update all programs present on PC
Cons:
Limited features in the free trial
2. Systweak Antivirus – Robust Scanning Engine
Compatibility: Windows 10, 8.1, 8, and 7 SP1+
Latest Version: 1.0.1000.11255
Max Devices Supported: 10 (with Family License Pack)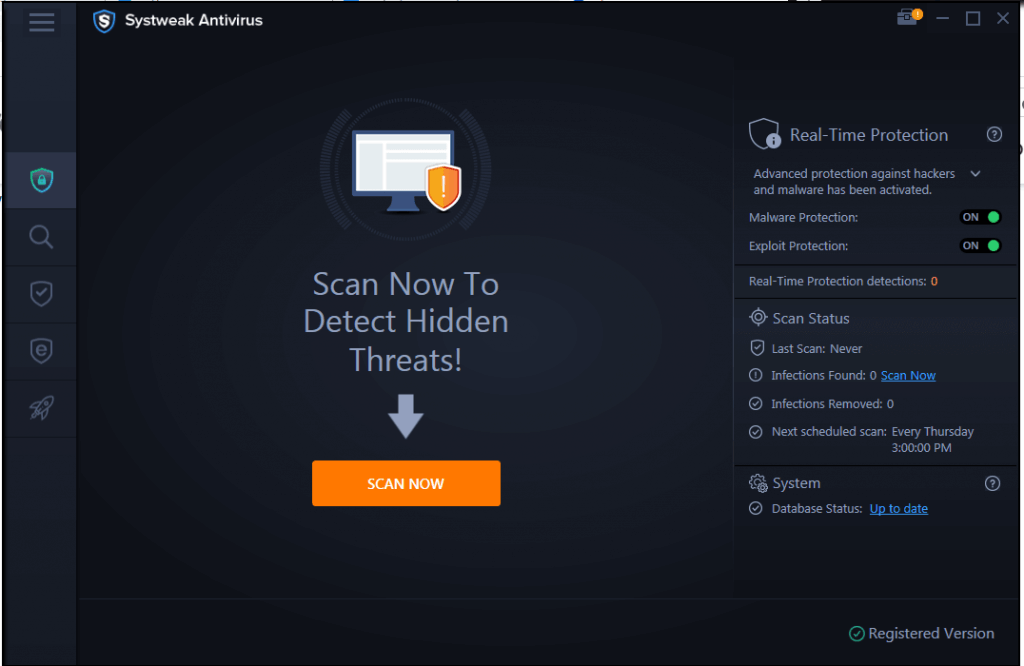 Systweak Antivirus is minimalistic antivirus software for PC that has a clear and straightforward user interface with excellent virus detection rates. While testing the Internet Security Solution for several weeks, we were pretty impressed with its fastest scanning engine and real-time protection capability.
Systweak Antivirus is capable of detecting and blocking zero-day malware files, all thanks to their advanced heuristics and machine learning techniques. It offers three scanning modes: Quick Scan, Deep Scan, and Custom Scan that provides ultimate protection against new & existing threats
Pros:
Neat and user-friendly
The database definitions get updated regularly.
Inbuilt AD Blocker to stop ads while browsing.
Lightweight antivirus that consumes fewer
Excellent 'Exploit & Malware' protection.
Cons:
Compatibility is limited to Windows OS only.
3. Kaspersky Total Security – A Feature-Packed Security Software
Compatibility: Windows 10, 8, 7 (Both 3-bit & 64-bit)
Latest Version: 21.3.10.391
Max Devices Supported: 5 Devices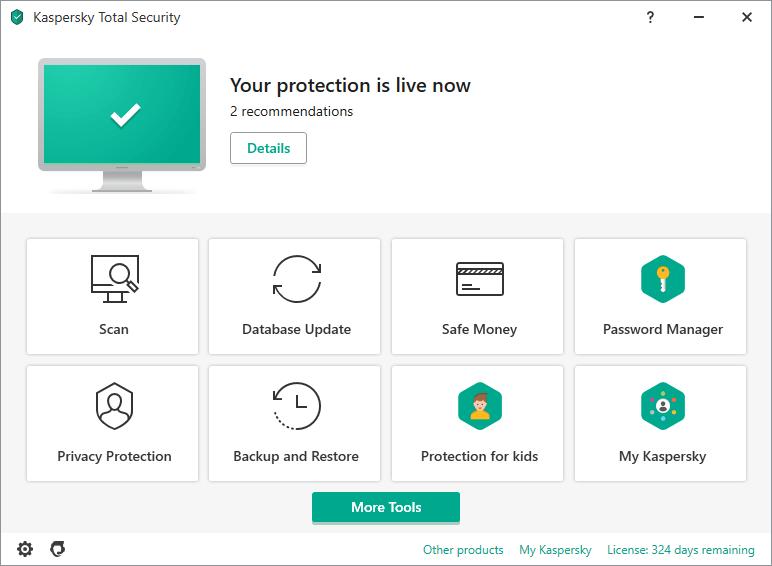 If you are seeking the best lightweight antivirus software for Windows PC, choose none other than Kaspersky Total Security that can serve the purpose. It's an award-winning antivirus for Windows, packed with top-notch features to identify and eliminate malicious codes, crypt lockers, and other threats along with securely backing up your data.
Additionally, the tool offers bank-grade encryption to safeguard processes during Net banking. Its real-time scanning and email-scanning mode can successfully detect all kinds of malware & phishing attempts. 
Pros:
Award-Winning Antivirus for Windows 10 PC
Easy-to-use and lightweight
Premium Password Management tool
Includes VPN as well
Tons of privacy-protection tools
Cons:
The Mac suite has limited features as compared to Windows.
A little bit expensive as compared to other Kaspersky products
4. Bitdefender Internet Security – Complete Suite of Comprehensive Cybersecurity Solutions
Compatibility: Windows 10, 8, 7 (For both 32-bit & 64-bit)
Latest Version: 25.0.21.78
Max Devices Supported: 10 Devices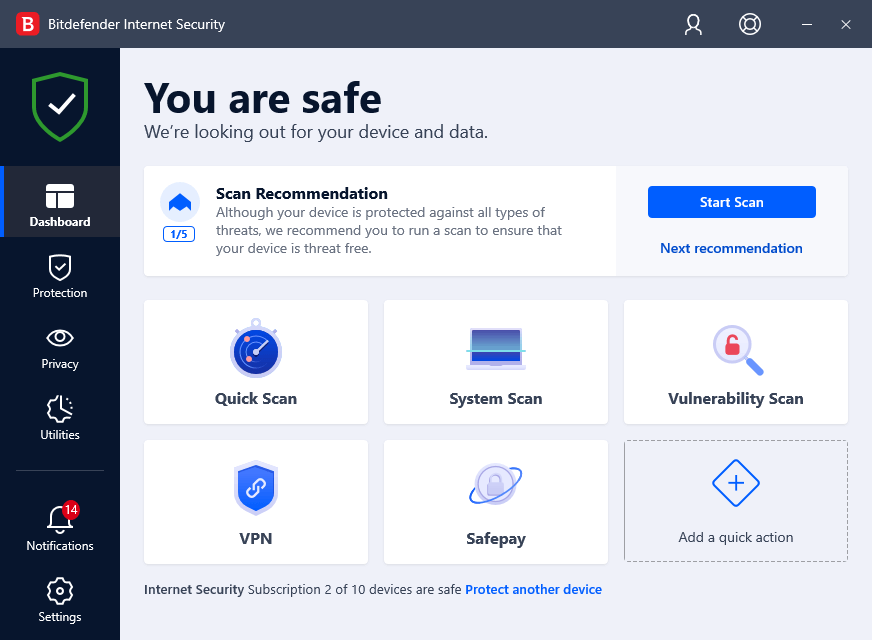 Get the unmatched feeling of security with Bitdefender, the best antivirus for Windows 10 in the market right now. The application works brilliantly when it comes to providing top-notch protection against the newest & existing viruses, malware & other online threats. It offers a perfect blend of optimization & security features such as system cleaning, ransomware protection, VPN, parental controls, webcam protection, password management, and more.
Additionally, the company offers a 30-days money-back guarantee, so that you can utilize the product first before investing in it.
Pros:
Bitdefender is very easy to install.
Best Firewall security.
The triple shield protection of Bitdefender is the best.
Accurate malware detection.
Secure system mode for every situation
Cons:
High price rate
Continually ask to upgrade your plans
5. Avira Free Antivirus – Best Lightweight Antivirus For Novice Users
Compatibility: Windows 10, 8 7 (Both 32-bit & 64-bit)
Latest Version: 1.1.50.19711
Max Devices Supported: Unlimited (Free version)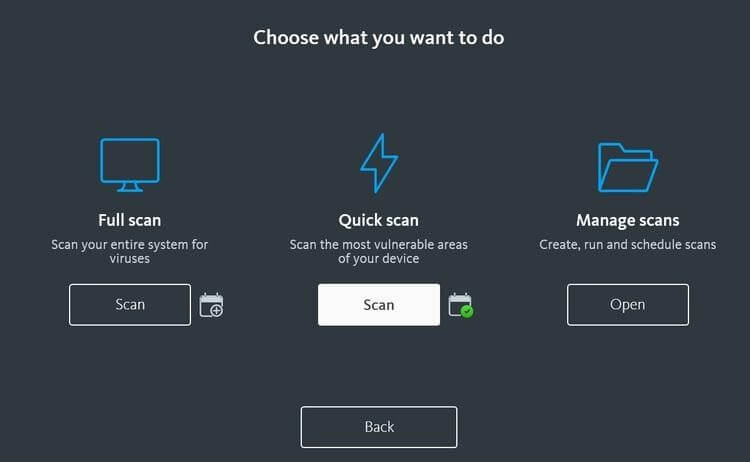 Avira Antivirus is a powerful & lightweight antivirus for Windows 10 that boasts over 500 million users worldwide. The application has bagged a gold status from Anti-Malware Test Lab for Virus & Rootkit Detection. Plus, it has even grabbed the first position in the Real-World Protection Test by AV-Comparatives also. Talking about the significant feature set, Avira offers a brilliant Antivirus Scanner, tools for Real-time protection, Web protection, Email protection, Ransomware protection, and a dedicated Software updater to install the latest versions.
Pros:
Real-time protection against all types of online threats.
Basic Password Manager.
Prevents Windows apps from sharing your data.
Selection of free-tune-up tools available.
Cons:
Its premium versions are competitively priced
6. AVG Ultimate Antivirus – Perfect Blend of Privacy, Optimization & Security
Compatibility: Windows 10, 8 7 (Both 32-bit & 64-bit)
Latest Version: 2020 20.10 Build 3157
Max Devices Supported: 10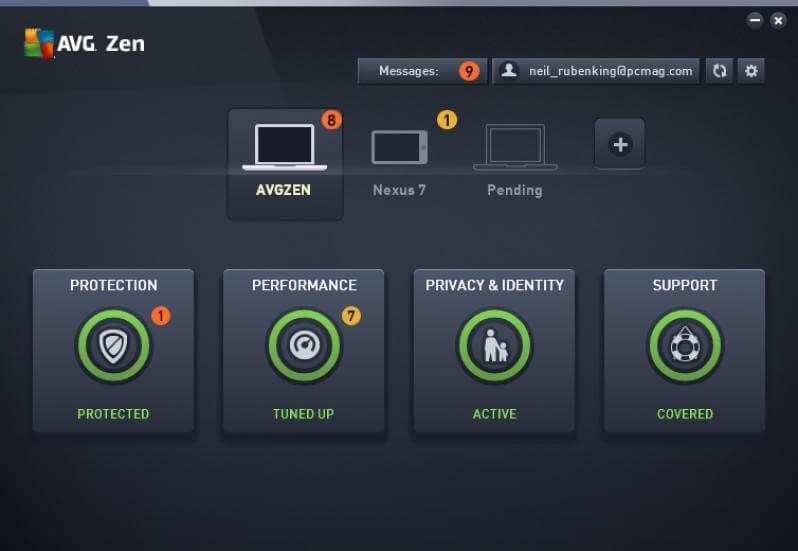 AVG Ultimate is much more than just a basic virus protection software for Windows PC. The utility offers a perfect blend of privacy, tune-up, and antivirus features to protect computers. With AVG Ultimate you can enjoy features like VPN service, Driver updater, Tuneup, and a secure Internet browser to securely surf the web.
In addition to this, you can take advantage of a multitude of protection tools like a personal firewall, webcam monitoring, and more. Install AVG Ultimate to enjoy the perfect integration of performance, protection & privacy, all wrapped up in one package!
Pros:
Protects all your devices with a single license.
Gives you complete tune-up functionalities.
Automatically send additional updates.
Flexible storage for sensitive data.
Excellent performance on Windows OS
Cons:
Limited features for macOS
7. Panda Free Antivirus – Handy & Approachable Antivirus Solution That Uses Cloud Assistance
Compatibility: Windows 10, 8, 7, Vista (Both 3-bit & 64-bit)
Latest Version: 20.02.01
Max Devices Supported: Unlimited (Free version)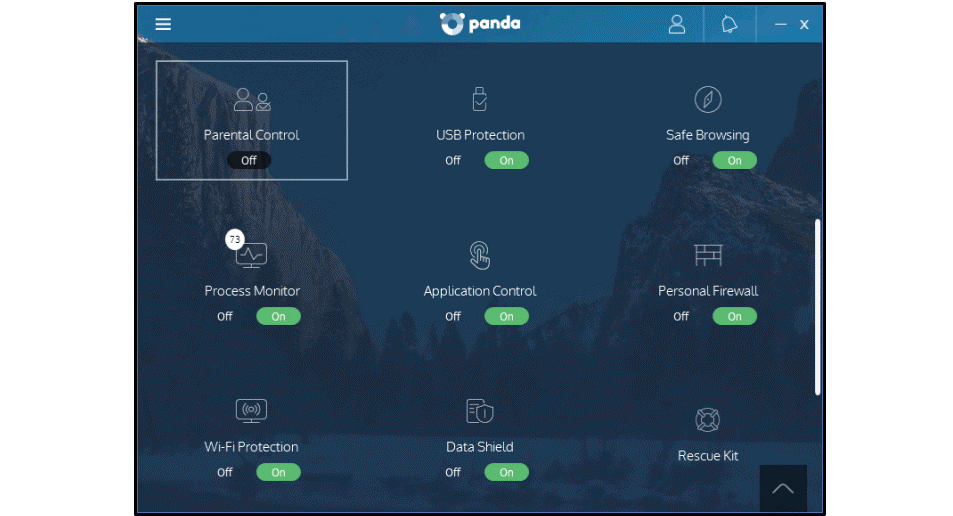 Panda Security is free lightweight antivirus software for Windows 10. Unlike other computer protection programs, the bulk of work is done on the cloud, hence, no system resources or memory is consumed while giving top-notch protection to your device. The application comes with frequent automatic updates performed quietly in the background. So, you can stay assured that no latest threat can harm your system. It even offers the option to run a scheduled virus protection scan to safeguard the computer.
Pros:
Intelligent Security Solution uses Big Data & ML.
Protect your system against popular malware attacks.
Offers you a detailed analysis and status reports.
Low impact on the system.
Simple & appealing free antivirus software
Cons:
No ransomware protection.
24*7 support available for Premium users only
8. Avast Free Antivirus – The Most Attractive User-Interface
Compatibility: Windows 10, 8, 7 (Both 3-bit & 64-bit)
Latest Version: 21.5.2470
Max Devices Supported: Unlimited (Free version)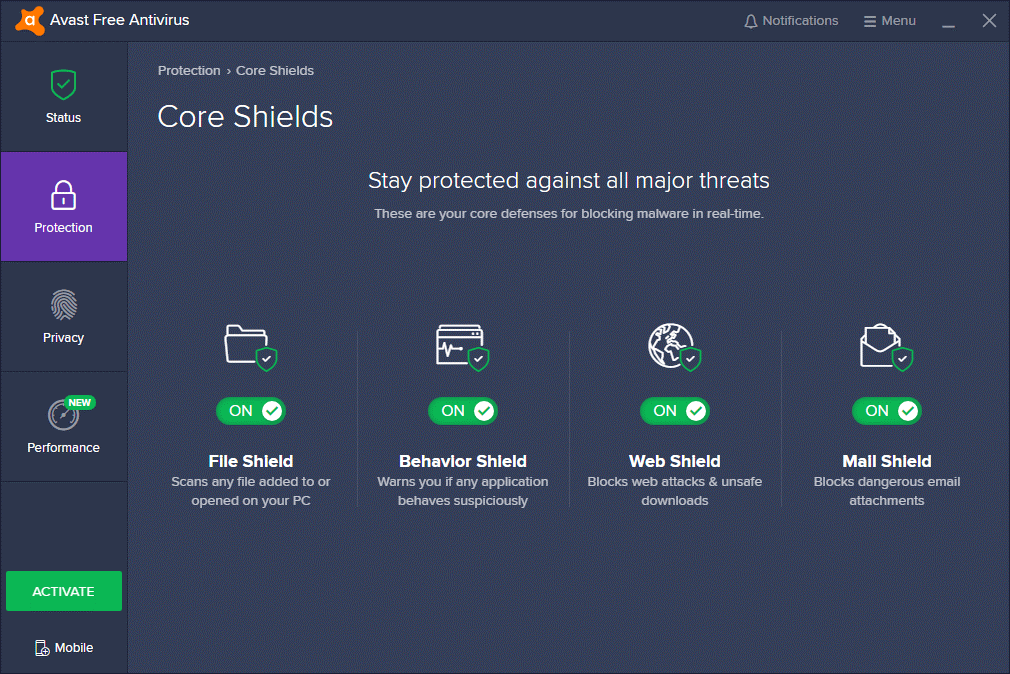 Avast is another lightweight antivirus for Windows 10 and other versions that offer an extensive set of privacy and protection tools to safeguard your PC against common & latest cyber threats. It consumes the lowest system resources and memory while watching your device constantly to detect suspicious behavior. Although Avast offers plenty of benefits when it comes to providing top-notch real-time protection, it has been accused of collecting and selling user data for profit, on the darker side.
Try this best total security software for Windows today & do not forget to share your experience with us!
Pros:
Modern and attractive interface.
Various scan modes with user-defined settings.
The security tools include browser protection.
Lightweight Antivirus for Windows 10, uses the fewest
Avast Virus Definition is always up-to-date
Cons:
The boot-time scan can be very slow
9. Comodo Free Antivirus – Claims To Be The Best & Cheapest Antivirus Protection
Compatibility: Windows 10, 8, 7, Vista & XP (32-bit & 64-bit)
Latest Version: 12.2.2.8012
Max Devices Supported: Unlimited (Free version)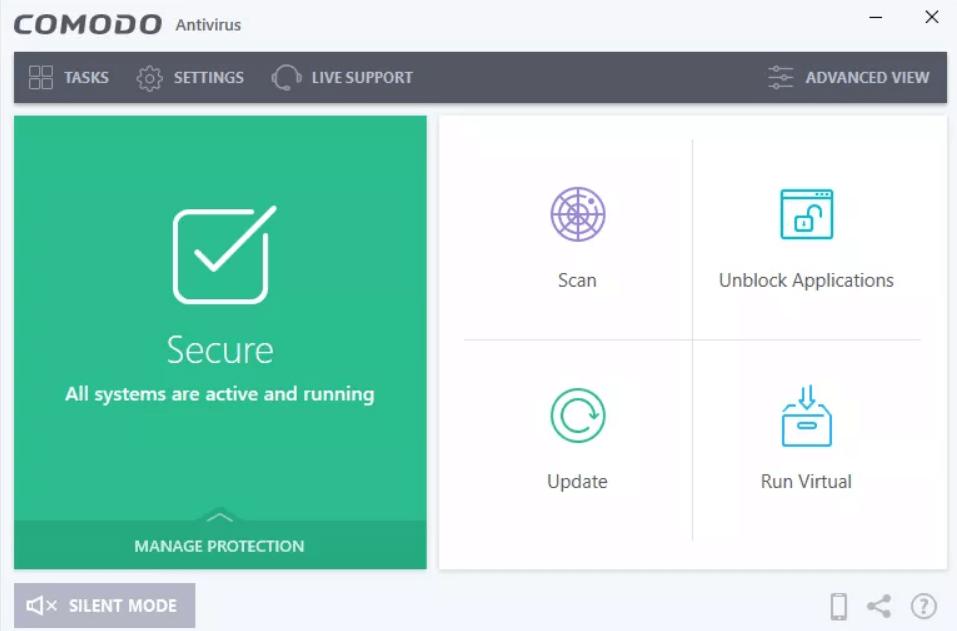 Comodo Antivirus has been around for over a decade now and still considered the best lightweight Internet security software for Windows PC. The application's strength lies in its easy-to-use dashboard, which makes the user's experience hassle-free. This top antivirus for PC brings a complete range of detection engines for viruses, spyware, adware, rootkits, zero-day threats, and other malicious content.
Every time the system launches, Comodo scans the PC's memory without taking a lot of resources. Additionally, you can have full control over scheduling scans for the best protection!
Pros:
The user interface is easy to follow.
Allows you to scan the entire drive or critical areas.
Uses least system resources.
Spyware Scanning cleans malware infections in PC registry & disk.
Dedicated Game Mode to suppress operations that could interfere.
Cons:
Lacks proper third-party test results
10. 360 Total Security – Features An Antivirus Scanner, Cleanup Tool & Startup Booster
Compatibility: Windows 10, 8, 7, Vista & XP (32-bit & 64-bit)
Latest Version: 10.8.0.1342
Max Devices Supported: Up to 3 Devices
360 Total Security is the best antivirus software for Windows 10 that consumes the lowest system resources. With this computer protection program, you get several scanning modes, multiple speedup and cleanup features, webcam protection, a sandbox, a keylogger blocker, and whatnot. It's a brilliant option for users searching for an all-in-one product to clean, optimize, and protect Windows PCs & laptops without putting in much effort. Based on reliability and trustworthiness, 360 Total Security is considered the best antivirus for Laptop (Windows 10).
Pros:
Allows you to choose between full, quick, and custom scanning.
Displays a detailed list with all the detected threats.
Improve the boot speed and disable unnecessary startup items.
Different protection modes: Performance/Balanced/Security/Custom.
Cons:
Many utilities require upgrades.
No test scores from independent labs
Frequently Asked Questions: About Best Computer Protection
Q1. Do you need Antivirus Software?
Yes, even though Windows comes with a built-in Defender to safeguard your PC from potential threats, it is certainly not enough to fight against the newest online/offline threats.
Q2. Which is the best free antivirus of 2023?
Panda Free Antivirus is a top-notch security solution available to use for Windows PC at the moment.
Q3. How much does Antivirus Software cost?
Depending on the feature set, the pricing may vary from $20 to $100 & more.
Q4. Is it worth paying for Antivirus Software?
Well, if you wish for reliable protection and enjoy additional privacy features on your device, it is worth it to invest in reputable antivirus software for gaming, browsing & other needs.
Q5. Difference between Antivirus and Anti-Malware?
The basic difference is: Antivirus deals with established threats such as viruses, worms, rootkits, trojan horse, and more, while Anti-Malware focuses on polymorphic malware and malware delivered by zero-day exploits and so on.
Q6. Does Antivirus software remove viruses?
Absolutely! A reputable computer protection utility will allow you to perform in-depth scanning and hold the capability to spot and eradicate over 95% of known viruses and infections. But users need to invest in the Best Paid & Free AntiVirus For PC among the glut of options available in the market! 
Conclusion: Which Is The Best Lightweight Antivirus For Windows 10?
Well, all these top antiviruses for PC have something great to offer, ranging from the easy-to-navigate dashboard, ransomware protection, real-time threat detection, or performance-enhancing tools. Moreover, all these computer protection software are lightweight and don't clog unnecessary system resources or RAM.
If you ask for our recommendation, we suggest using T9 Antivirus, since it comes with a robust scanning engine that ensures that no malicious content is left behind that can harm your system. It even proffers a dedicated Web Protection that keeps your browsing experience secure and smoother. Plus, the pricing models are comparatively affordable than other Virus Protection Software mentioned here!
We look forward to your comments to know more about your opinion on this blog post. Also, if you liked this, we recommend you check out the best PC Cleaners to free the storage space on your PC. For more such reviews on Windows software, keep visiting Top10PCSoftware. Also, follow us on social media platforms for the latest updates for Windows software. We are on Twitter, Facebook, Pinterest, and Flipboard.
Latest Posts