A computer is your go-to place for storing hundreds, thousands, or even more photos. But if you find yourself being overwhelmed with the same or similar copies of photos, use a software to find duplicate photos
What Is Duplicate Photo Finder for Windows 10?
Over some time, when you have accumulated several hundred and thousands of images on your computer. It might be tough for you to get rid of some of them, especially if they are eating away your computer's storage space. To save your time and get this task in a jiffy, a duplicate photo finder can be of immense help. A program to find duplicate photos will make it easier for you to sort your images on your computer.
As the name suggests, the purpose of a similar photo finder is to find duplicate photos on your Windows 10 computer or laptop. And, it is a tool that every PC user must-have.
The best duplicate photo remover uses algorithms with the help of which they scan and delete exact and similar pictures thereby freeing up precious storage. The various duplicate picture finder applications utilize different methods of scanning to find duplicates
While there are many free apps to find duplicate photos, you might have to invest in their premium version to get add-on facilities.
Causes Of Duplicate Images And Why Do We Need A Duplicate Picture Finder
Often, we have identical copies of the same images which slowly take up a huge space on your computer. There are various reasons why duplicate images might appear. Sometimes, in the wake of getting that perfect shot, you take several images, only to stuff your computer space with several hundreds and thousands of duplicate images.
You might have stored images from various messaging platforms (WhatsApp, Facebook, Instagram, Twitter, etc). Or, use your computer's memory via SD cards, smartphones, pen drives, and external hard drives.
There are also times when you store the same copy of an image and just rename it. Sometimes we have a low resolution or compressed version of the same images, which causes duplicates to appear. Now all of this can be removed using a duplicate picture remover.
Now, if you are thinking of getting rid of all these images, you are surely in for trouble. That's because humanly thinking of cleaning up storage space by manually picking duplicate images is next to impossible. That's where a duplicate photo finder can make the tasks of finding and deleting duplicate images easy for you.
What To Expect From Duplicate Photo Finder Software?
The duplicate photo remover is capable of removing identical copies of look-alike images that consume a large part of your memory. Whether paid or free, the best duplicate photo cleaner has an efficient algorithm that scans for duplicate images and then allows you to filter images using several matching criteria. Now, the interface is yet another facet that can't be ignored when it comes to the best duplicate photo finder. Here we have enlisted the best similar photo finder based on the simplistic interface that these applications offer.
Best Duplicate Photo Finder Software For Windows In 2022
Provider
$ Per Year
Top Features
1. Duplicate Photos Fixer Pro (Editor's Choice)
Price– $29.95
Latest version – 1.1.1086.119909
Compatibility– 10/8.1/8/7/Vista/XP (Both 32 & 64 Bit)
If your storage space is stuffed with duplicate images, Duplicate Photos Fixer Pro is the best duplicate photo finder to rely on. Duplicate Photos Fixer helps you to quickly find and remove duplicate images. It also helps you remove exact-looking and similar duplicates as well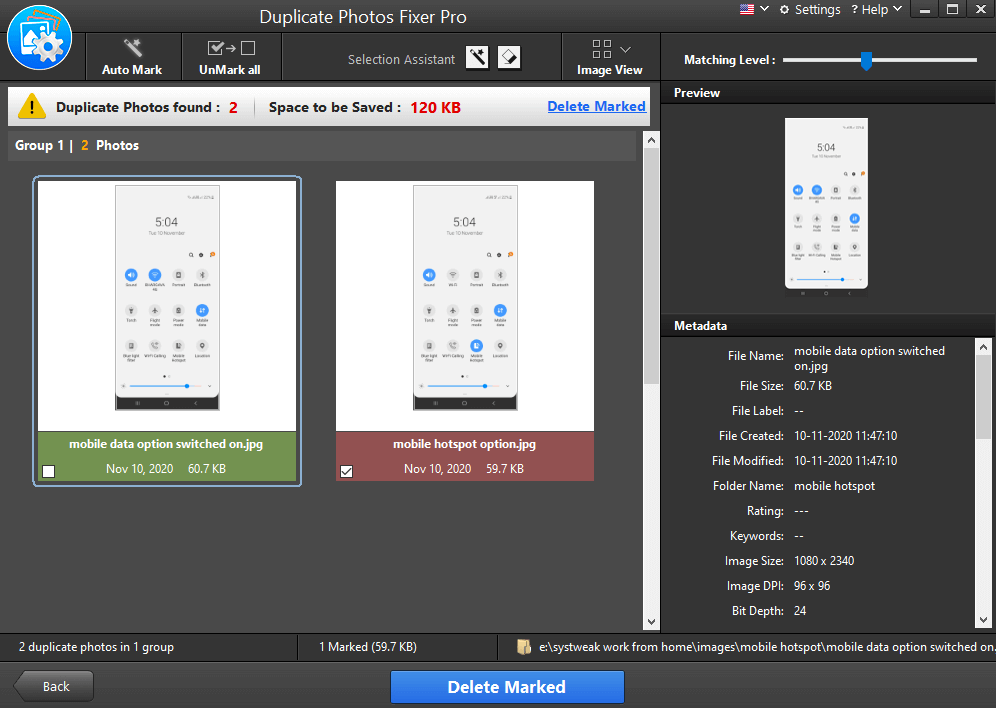 Apart from an easy to use interface, Duplicate Photos Fixer Pro has an effective algorithm. After you have installed Duplicate Photos Fixer Pro, you can add folders containing duplicate images. Then once you click on Scan for Duplicates, you can even filter images based on matching level or time interval. You can even choose to auto mark images if you don't have the time to go with other filters.
The program to find duplicate photos will sieve out duplicate images in a matter of a few seconds. Get to know more about this fantastic product and see it in action, download it
Pros:
Easy to use, simplistic interface
Drag and drop files and folders directly into the application
Fast scanning
You can scan both exact and similar looking images
Powerful comparison filters
Auto marking functionality. You can even change automarking priorities
Preview images before deleting them
Cons:
Not many except you get to clean 15 duplicates with a free version
2. Ashisoft Duplicate Photo Finder
Price: US $35.40
Latest version – 1.6.0.0
Compatibility– Windows 10, 8, 7, Vista, and XP
Ashisoft duplicate photo finder is one of the best ways to find duplicates. It weeds any chances of deleting the right images by letting you preview images before taking any action. It has an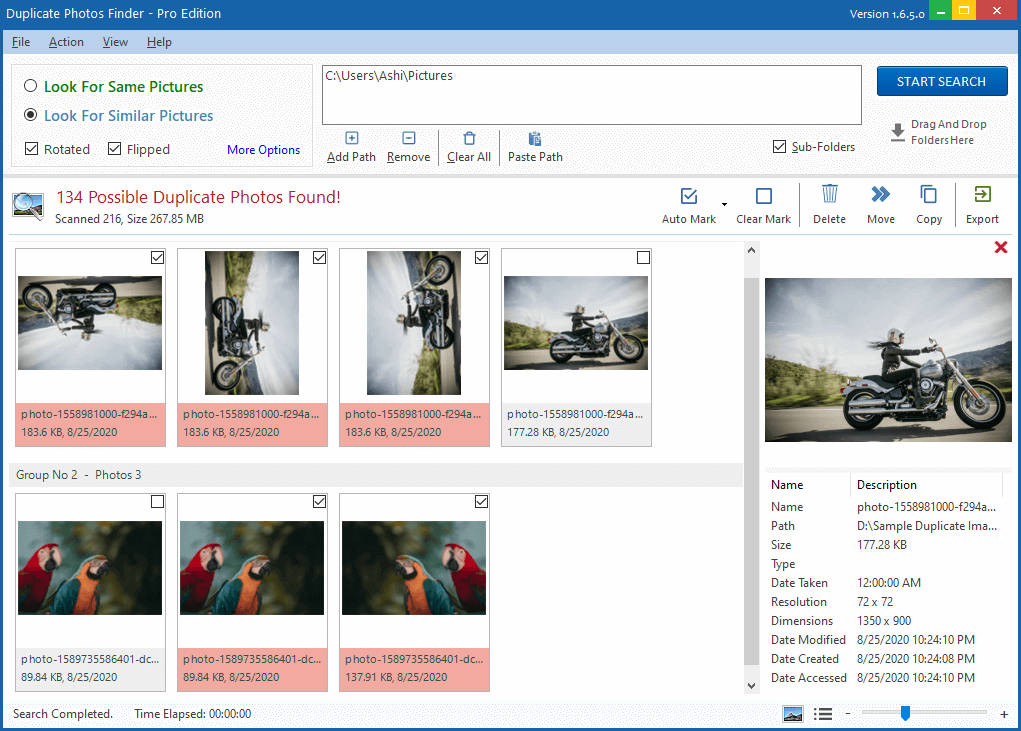 intelligent selection assistant that helps you mark files by drives, dates, folders, groups, and much more.
It supports 60+ photo formats like JPG, GIF, RAW, PNG, HEIC/ HEIF and can weed out rotated photos, similar photos, and even flipped photos. Not just that, it can discern the same images that have different file names.
It supports all Windows versions (Windows 10/8.1/8/7) and you can even exclude folders from scanning. To find more and install Ashisoft Duplicate Photo Finder, click on the link mentioned.
Pros:
Simplistic interface
You can drag and drop folders as well as add paths
Scans both same and identical images
View images before deleting them
Availability of several filters
Cons:
Not a con but you will have to click Paste Path option in case you want to paste the copied path
Can't drag and drop individual files
Subfolders are sometimes not accurately scanned
3. Duplicate Files Fixer
Price: US $39.95
Latest version – 1.2.0.12122
Compatibility– Windows 10, 8.1, 8, 7, Vista
Duplicate Files Fixer is one of the best duplicate photo removers. It doesn't just help you scan and delete identical copies of photos but even videos, audio files, text files, and other files as well. With this duplicate image finder for Windows, the scope of errors is the bare minimum since you can preview your images before deleting them.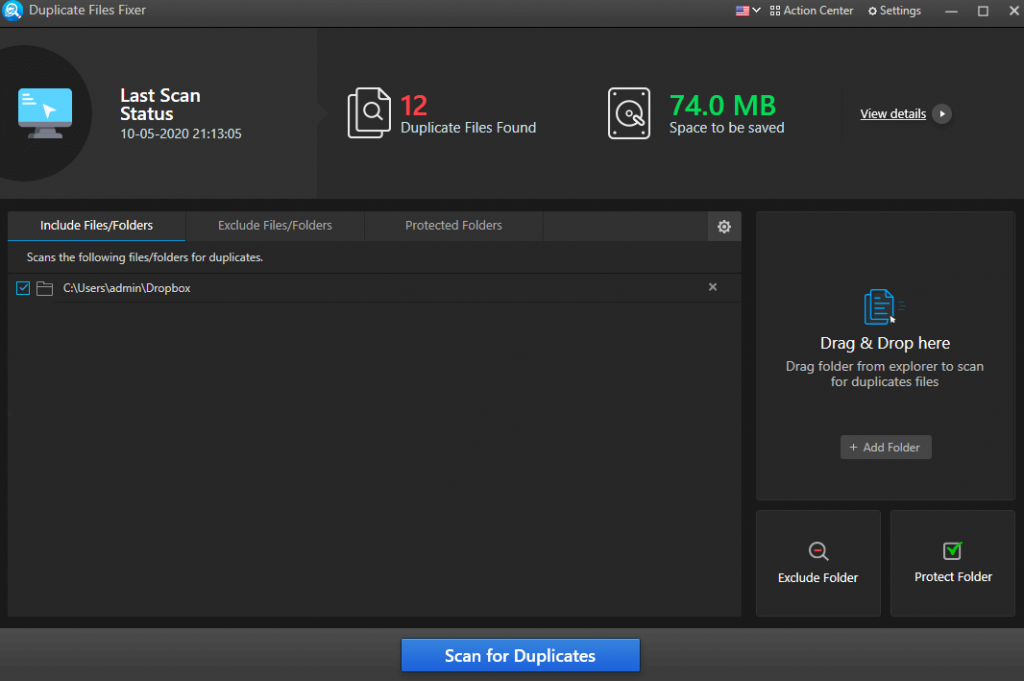 It is also one of the easiest apps to delete duplicate photos. All you have to do is drag and drop image files or folders into the software and then click on Scan for Duplicates. There is also an auto-marking capability that helps you select the right images. Another great aspect of this application is that it tells you exactly how much storage you have freed after deleting duplicates from your computer.
And why use the application to free the internal storage of your computer? You can even free up space on your external drive as well. Dive in and install Duplicate Files Fixer and find duplicate photos
Pros:
Fast scanning speed
Auto marking functionality
Change selection assistant priorities
Scan Google Drive & Dropbox
The preview feature allows you to see images before deleting them
Duplicate images are scanned despite their format
Scans external devices like external hard disks and pen drives
Cons:
The free version allows you to remove just 15 files
4. Awesome Duplicate Photo Finder
Price– Free
Latest version – 1.2
Compatibility– Windows 10, 8, 7
Another best free duplicate picture cleaner that can help you find and get rid of duplicate images on your computer in just a couple of mouse clicks is Awesome Duplicate Photo Finder. This tool supports all major image file formats like GIF, TIFF, BMP, JPG, and PNG.
Awesome Duplicate Photo Finder is one of the best free applications to find duplicate photos and weighs just 1 MB. On top of that, it has a very minimalistic interface and can be understood quite easily
To scan images you can either drag and drop images from your Windows Explorer into the application's window or hit the + sign. Then, click on the Start Search button and in a matter of minutes, you will be able to find duplicate images with ease. Find Awesome Duplicate Photo Finder here
Pros:
100% free and clean
Finds all the duplicates from the system
Lightweight
Support portable storage devices
Free from malicious files
Finds images that are undergone resizing or color change
Available for Mac and Windows
User-friendly interface
Strong search mechanism
Add multiple folders
Drag and drop feature
Supports storage devices
Cons:
Take a little bit extra time for scanning
Supports limited image types
Do not batch duplicate images
No help menu
Does not reflect the location of files
No advanced configuration options
No multi-selection option
5. VisiPics
Price– Free
Latest version – 1.31
Compatibility– Windows 10, 8, 7
VisiPics is the ultimate duplicate photo finder which not just finds duplicate images but even catches hold identical and similar looking images as well. It even differentiates images based on orientations and sizes. Unlike many of its counterparts, VisiPics is a tiny application that takes just 2.10 MB. And, despite being one of the best duplicate photo finders, it is available free of cost.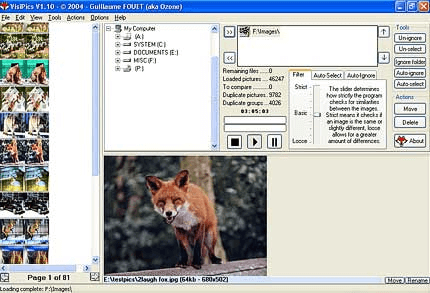 Despite being a free duplicate photo finder, VisiPics is packed with several features. To name a few, it comes with a loader through which you can load pictures of a particular size, there is an array of filters using which you can differentiate images on how identical or similar they are. You can even search for images that are compressed or that have low resolution.
It also lets you exclude folders or images which you don't want to be scanned. To install VisiPics click on this link.
Pros:
Simple and easy to understand interface
Preview that lets you dive straight into the containing folder
Auto-marking capability
Hover mouse on a group of images and find duplicates
Powerful filters to select duplicate images
You can delete, move and exclude folders from scanning
Have an option to scan rotated images as well
Cons:
Dated interface
Scanning speed could have been better
The application hasn't been updated in a while
Can't select individual files
6. Picture Echo
Price: Starts at the US $39.97
Latest version – 4.0
Compatibility– Windows 10, 8.1, 8, 7, Vista, and XP
How do you humanly get rid of images that are strikingly similar in resemblance? Picture Echo is probably the answer you are looking for. It helps you compare all kinds of images irrespective of their location, format or other criteria in a matter of a few minutes or even seconds.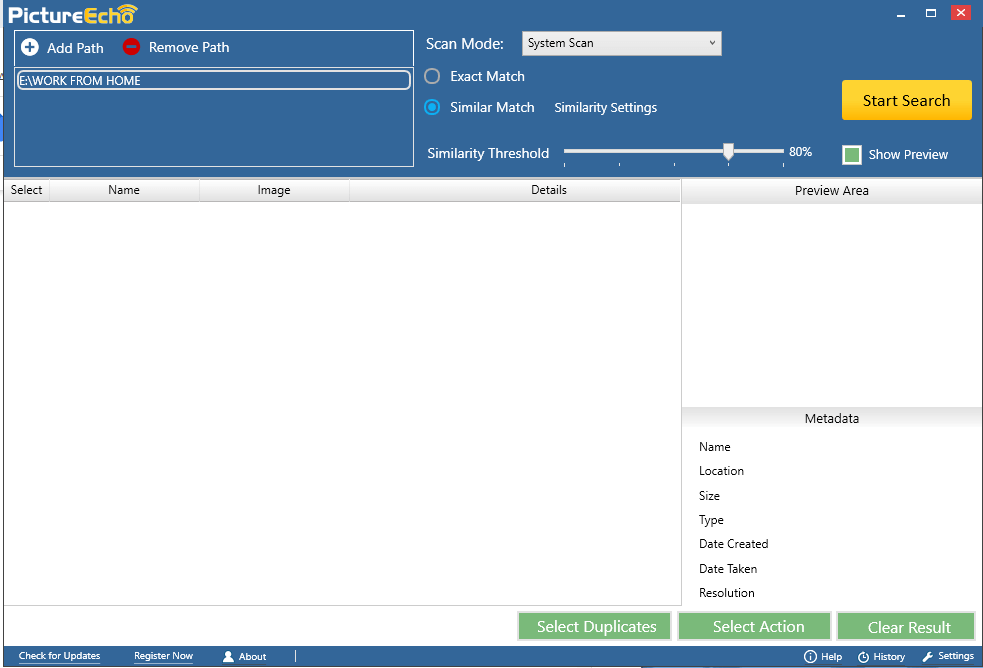 Despite being light on your computer's resources, it uses effective ways to find duplicate photos on your computer. After you download PictureEcho, you can add a path of hard drives, folders, or even external drives to scan similar images. Then, select the matching criteria (using the Similarity setting).
Now, there are four levels of similarity settings according to which users can select images. You can also include extensions and exclude folders as well. To know more about Picture Echo and install the application, click here.
Pros:
Easy to use interface
Identify exact and similar duplicates with the help of matching criteria
Adobe Lightroom Classic and CC compatibility
You can even search for duplicate photos in your cloud storage account
Exclude folders from the scan
Cons:
Lesser number of image formats supported in comparison to other duplicate picture finders
No drag and drop functionality
7. Remo Duplicate Photo Remover
Price: US $19.97
Latest version – Not found
Compatibility-Windows 10, 8.1, 8, 7, Vista, XP, Server 2003, Server 2008 & Server 2012
Another duplicate image finder that can help you wipe tons of duplicates from your Windows PC is Remo Duplicate Photo Remover.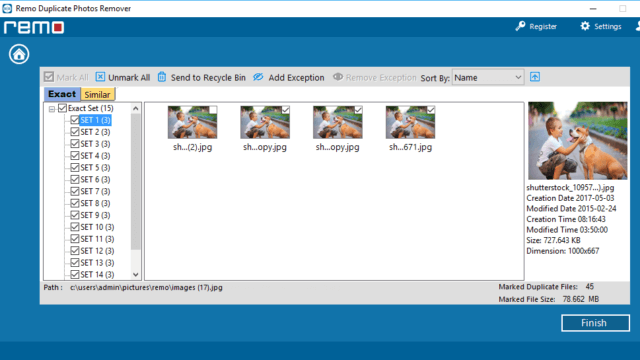 Remo Duplicate Photo Remover makes it possible to get rid of unwanted duplicate files in merely four simple steps. After launching the application click on the select folder/ drive option. Then, choose a drive from which you want to get rid of duplicate photos. You can now choose similar-looking images and hit the start scan button.
Here you can either select and delete all the images or you can individually pick up individual images and delete them. Tap on this link and download the application
Pros:
Can remove thousands of duplicate images.
Preview before deleting pictures.
Scan drives and folders separately.
Exact copies or similar-looking images options.
8. Fast Duplicate File Finder
Price: US $39.95
Compatibility– Windows 2000 /NT/XP/Vista/7/8/8.1/10 (Both 32 Bit & 64 Bit OS)
Price– Pro for $39.95, the freeware also available
No matter what location on your computer has duplicate images on it – a specific folder or an entire network, Fast Duplicate File Finder is determined to find duplicate photos. The software will even be able to find duplicates even if the files are named distinctly. It takes into account all major image file formats and also the intrinsic file data which many duplicate file finders tend to ignore.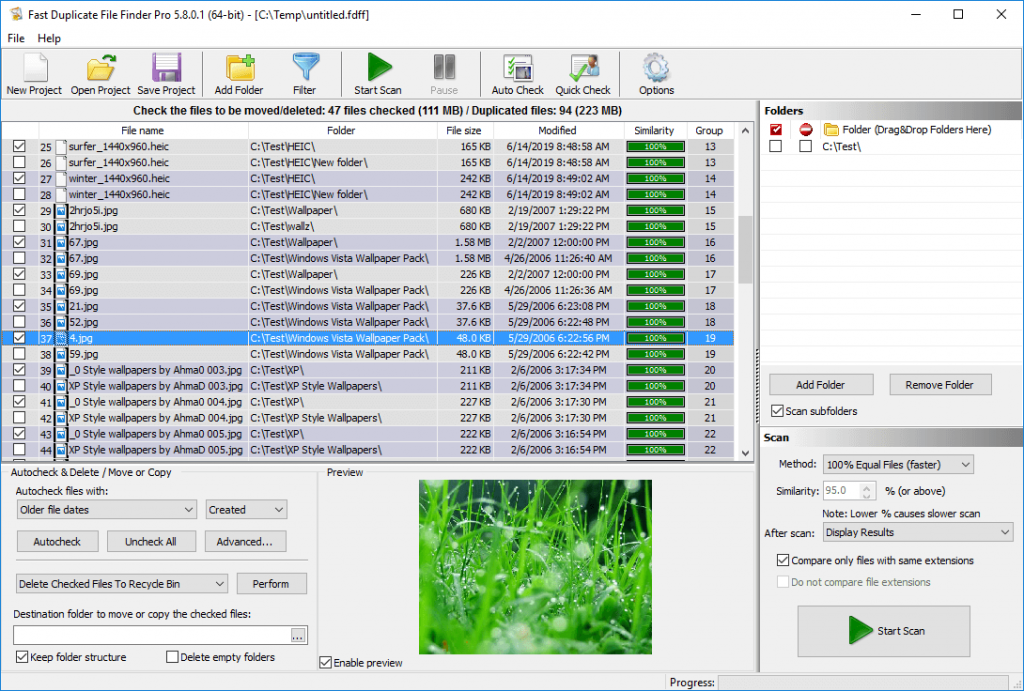 As one of the best free duplicate photo cleaners it helps find exact duplicates, lets you preview files before deleting, rename files from the results itself and use auto-check functionality. But to find similar images, to export results in CSV and XML format, disable folders for self-scan and many other features, you will have to register for the paid version.
To know more about this wonderful application and download it, click here.
Pros:
Customizable filters.
Content-based scan for photos.
Move duplicates directly to Trash or another location.
Preview images before marking
Cons:
Limited features in freeware
9. Duplicate Photo Cleaner
Price: Starts at USD39.95
Latest version – 5.21.0.1278
Compatibility– Windows 10, 8, 7
Duplicate Photo Cleaner is another duplicate image finder that lets you organize and get rid of duplicate images. It also lets you swiftly get rid of low-resolution images so that you can select the best ones. It is a great tool for all levels of photographers whether they are professional or amateur.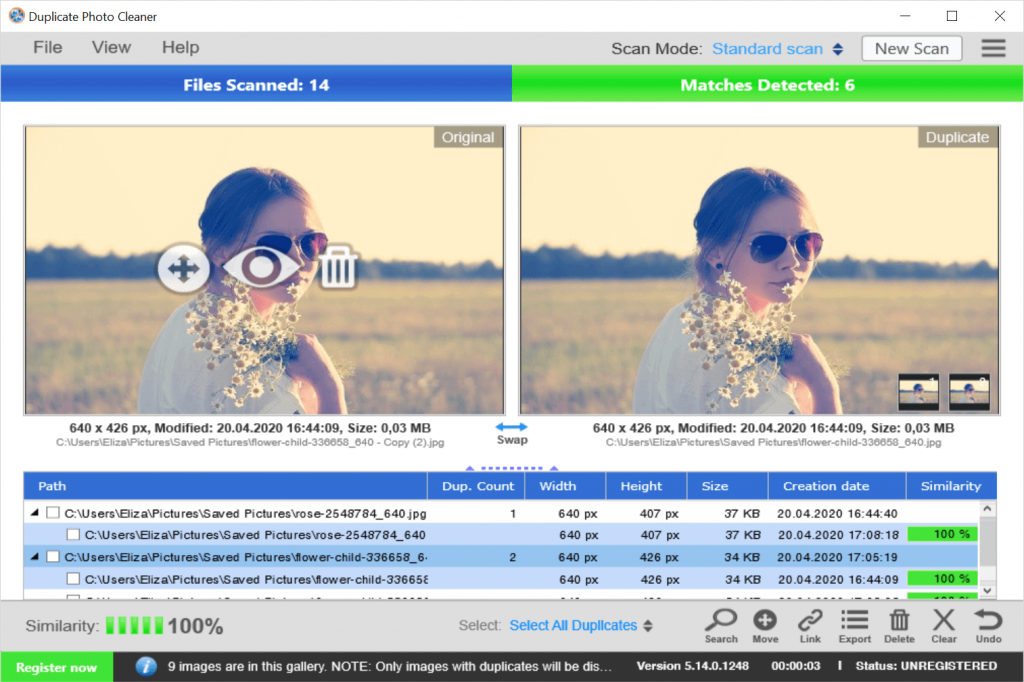 It compares photos based on contents apart from file size and file name and then picks out duplicate images. The similarity threshold is customizable and you can adjust it according to your needs.
To find duplicates, you can drag and drop folders in the scanning area, the application will then analyze the images and bring out the duplicates which you can then choose to either keep or delete. Go ahead and install this wonderful duplicate picture finder.
Pros:
Good scanning speed.
Choice to move duplicates.
Select scanning similarity level.
Ignore list
Cons:
Scanning a full PC shows issues
10. Wise Duplicate Finder
Price: US $ 19.95
Latest version – 1.3.9.53
Compatibility– Windows XP or Later. (Both 32 Bit & 64 Bit)
Wise Duplicate Finder is a simple, no-sense duplicate file finder that also doubles up as a duplicate photo finder. It scans your computer's disk for duplicate images and several other kinds of files and then it helps you delete them.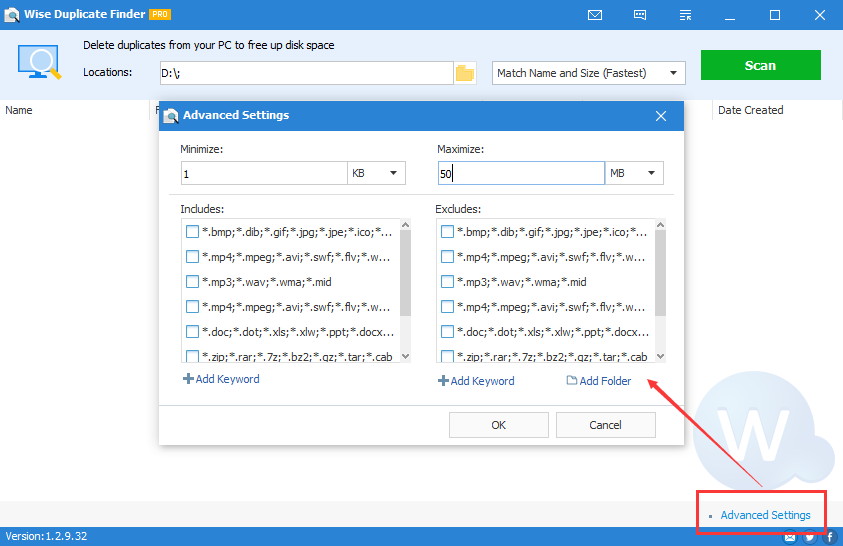 The best part is that Wise Duplicate Finder lets you create a backup and further enables you to restore old backup, in case you delete the wrong images. You can even define scanning rules and compare partial matches, exact matches or simply compare file size and name.
For more info visit this page.
Pros:
Take a backup of the files.
Undo feature for deleted files.
Manual and automatic marking available.
Find empty files.
Deletes audio, video, documents
Frequently Asked Questions
Q1. What Is The Best Duplicate Photo Remover?
Software to find duplicate photos can be termed as the best duplicate photo remover when it gives the best results for scans and removes them instantly. Duplicate Photos Fixer Pro also gives you multiple user selection criteria to sort the duplicate images. The options such as the exclusion list and the auto mark make it one of the best tools to delete duplicate photos
Q2. What Makes A Software The Best Duplicate Photo Finder For Windows 10?
Duplicate Photos Fixer Pro is one of the best duplicate photo finders for Windows 10 as it comes equipped with user-friendly features. It gives you an option to protect folders whose content is scanned but not deleted. It is highly recommended for its 'Tips section' which makes it easy for the user to navigate through the application
Q3. Is There A Free Duplicate Photo Finder?
Yes, there are many similar image finders available for Windows. You can check out Duplicate Photos Fixer Pro which gives you a free scanning option and also lets you clear a few images. This is a way how you get to see the functionality of the application and further pay to remove all the duplicate photos
Q4. Is Photos Duplicate Cleaner Safe?
Yes, apps to delete duplicate photos from your computer are safe as long as they are legit. You can check out the list of the image duplicate finder in this blog post to select one for your system.
Q5. Which Is The Best Tool To Automatically Identify And Delete Duplicate Photos?
If you are looking for the best tool to automatically identify and delete duplicate photos, we recommend using Duplicate Photos fixer Pro. It is one software that is equipped with powerful tools to scan and detect duplicate photos. The Auto-mark option also makes it quick and easy to remove unwanted duplicate photos.
Q6. How Can I Delete Duplicate Photos From PC?
Since the manual way to find out and delete duplicate photos from your computer is a tedious task, it is best to get the software to do so. One of the best duplicate photo finder software from this list will help you achieve free storage space on the hard disk.
Conclusion
We hope this list of best duplicate photo finder tools 2022 helps you in sorting your photos on Windows PC. Choosing one of the applications which match your usage will help you find duplicate pictures on your computer. These duplicate finding tools will provide you with an instant solution for freeing up space. It also lets you make photo organization easy as you choose which photos to get rid of. We would like to hear your suggestions in the comments section about the software to find duplicate photos