Ashisoft Duplicate Photo Finder is one of the best duplicate image finders that helps you eliminate duplicate photos from your computer and sort your photo gallery that gets cluttered with duplicate photos over some time. It utilizes intelligent and effective algorithms to get rid of duplicate photos. Here is an in-depth review of Duplicate Photo Finder.
An Introduction Of Ashisoft Duplicate Photo Finder
Duplicate photos are a bane of having a computer. Over some time, when we store hundreds or thousands or even photos, we even accumulate duplicate photos in the process. Not to mention, these duplicate images take up a lot of space on our computer.
It is almost next to impossible to find duplicate images and get rid of them manually. This is when we need a tool like Ashisoft Duplicate Photo Finder that can help us get rid of duplicate, similar-looking, and identical photos quickly.
Ashisoft Duplicate Photo Finder is compatible with Windows 10/8.1/8/7/Vista/XP (Both 32 and 64-bit variants). The best part about this duplicate picture finder is that it can find similarities between images even if they are edited, rotated, or flipped. Duplicate Photo Finder has both free and paid variants. And, even as a free duplicate photo finder, the tool doesn't compromise on the algorithm.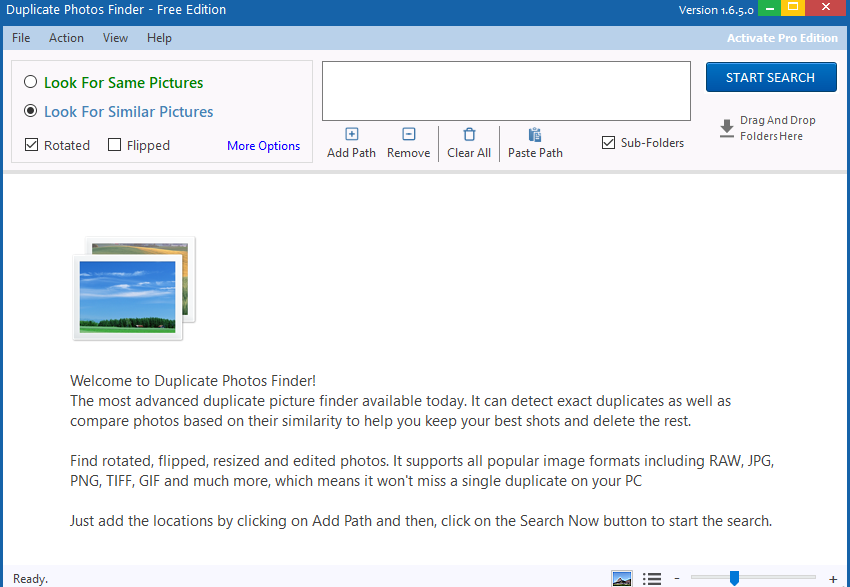 The application is constantly upgraded, has customizable settings, and has an easy to use interface.
To use duplicate photo remover, you can simply drag and drop folders or add or remove the path and click on Start Search. It will then scan your computer (or your desired folder) for duplicates. The application supports all major file formats such as JPEG, TIFF, PNG, RAW, and others.
We'll discuss the functionality of this duplicate in detail, later in the blog.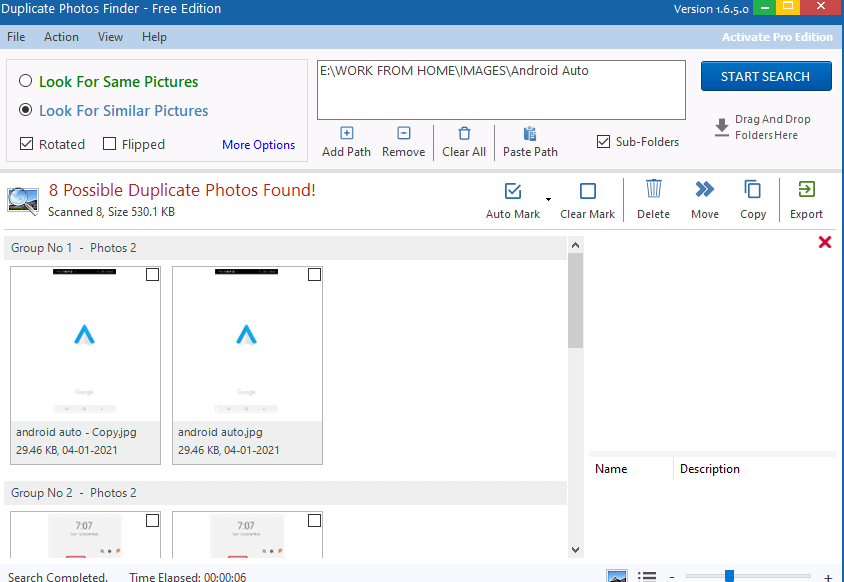 Ashisoft Duplicate Photo Finder: A Brief Overview
Starts from
$
49.95
per year
Change Auto Marking Selection Priorities
All file formats supported
Apart from that, you can always visit the frequently asked questions sections that may be able to resolve queries.
How To Use Ashisoft Duplicate Photo Fixer
Using Ashisoft Duplicate Photo Fixer for finding duplicate images is very easy. Here is how you can find and delete duplicate photos using the Duplicate Photo Fixer:
Download and install Ashisoft Duplicate Photo Fixer.
Run the wizard and launch the product.
You can either drag and drop folders into the search area or add a folder.
Once you have done that, click on the Start Search button.
You will then be taken to the next screen where you can auto mark images, preview them, or delete them.
Pros:
Simplistic interface
You can drag and drop folders as well as add paths
Scans both same and identical images
View images before deleting them
Availability of several filters
Cons:
Not a con but you will have to click Paste Path option in case you want to paste the copied path
Can't drag and drop individual files
Subfolders are sometimes not accurately scanned
Top 5 Alternatives Of Ashisoft Duplicate Photo Finder
Provider
$ Per Year
Top Features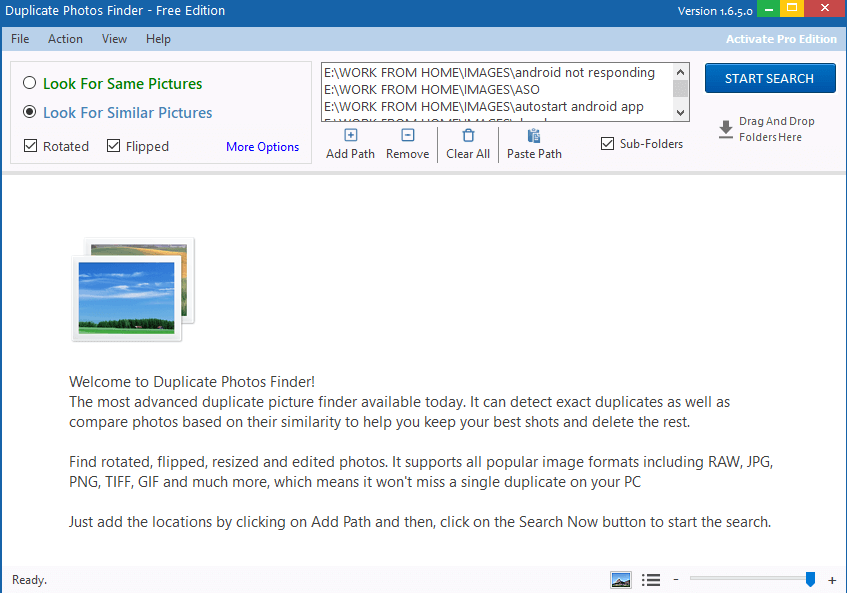 The interface is the first thing that meets the eye and it won't be wrong to say a user must work around and get a hang of the application and its encompassing modules. In that respect, Ashisoft is certainly one of the best duplicate photo finders around.
No matter what your level of expertise is, you will not find it hard to get a grasp of the interface. In fact, in most cases, you will be able to get accustomed to it at the very first glance. On the top, you have the option to choose the same or similar images, add/ exclude path, paste path, and clear existing selection.
Although every time you wish to create a new search, you have to click on file > New search or you can press Ctrl + N. The same option should have been present on the home screen itself.
After you have entered the path or dragged or dropped a folder and have hit the Start Search button, you can Auto Mark images, Delete/ Move or Copy images or even Export them. You can also zoom in or zoom out using the slider present at the bottom right of the screen. Not just that, if you even see other details such as name, path, size, type, etc.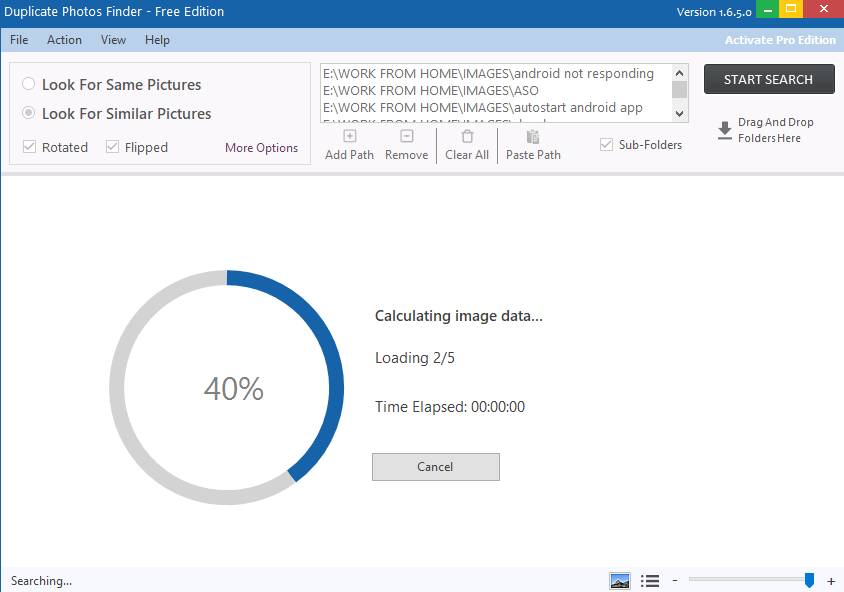 Ashisoft Duplicate Finder is a feature-rich image duplicate finder which arms you with all the modules that help you eliminate similar and duplicate files with ease. Let's discuss what these features are.
Scans flipped/ rotated/ edited images
To begin with, no matter even if you have performed edits on an image or have rotated it, Duplicate Photo Finder will be able to identify them with the utmost ease.
Supports all major file formats:
Duplicate Photo Finder supports all major file formats like JPEG, PNG, JPg, GIF, WebP, HEIC/ HEIF, and photos from all major camera brands. This means it is next to impossible for a duplicate image to get away from scrutiny.
In case, there are several folders and you are apprehensive about deleting an important folder, this duplicate photo finder for Windows 10 lets you exclude files and folders from the scan.
You can Auto Mark images based on name, size, date and location, and even text pattern.
The integrated image viewer lets you see the images side by side so that you are sure of the scanned results and don't accidentally get rid of the right image.
Some features are available only when you sign up for the premium version. These include:
You can export scan results for future reference
Copy/ Move/ Delete files from wthtin the interface
If you want to delete images or copy or move images, you will have to purchase the premium version, the pricing for the same is mentioned above.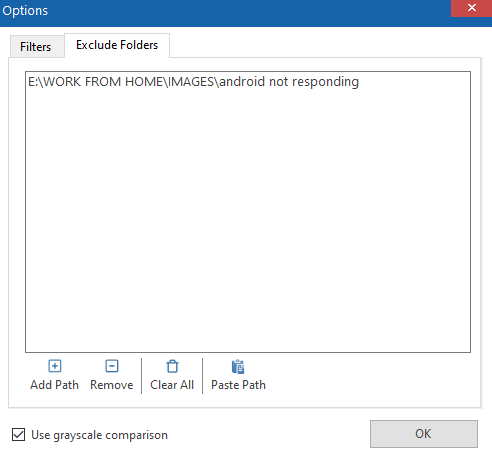 Updates are extremely crucial for an application. It is the updates that make sure that no vulnerabilities of security patches hit the application which can further put your confidential data at stake. If the application is updated on time, it also ensures smooth and quick functionality for a long period of time.
Ashisoft makes sure that Duplicate Photo Finder gets updated regularly and only the latest version reaches the users. With each new version, it removes any bugs and also removes any outdated modules.
If you want to get your hands on the updated version, all you have to do is click on help and then click on click on Check for Update. If there is an update pending, the application will notify you.

The license for Ashisoft Duplicate Photo Finder is available for 1, 3, and 5 PCs. You can pay a one-time cost and use the application forever. At the same price, you will get all the major updates and premium customer support.
Here's is a summary of the price plans at which Duplicate Photo Finder is offered –
You can frequently avail of heavy discounts that can go as high as 50%. There are also bundle offers where you can get hands-on with other wonderful products of Ashisoft such as Duplicate File Finder, Duplicate Outlook Finder, Duplicate iTunes Finder, and Print Directory Names at heavy discounts.
Speed is yet another factor when it comes to finding duplicate photos. And, as far as speed is concerned, Ashisoft Duplicate Photo Finder does not disappoint you. We won't say that it has the best speed whether in terms of scanning or deleting but it does the job pretty swiftly.
What adds to its speed and precision are the sets of filters that it provides where you can auto mark images based on file size, name, location, date, and text.
Ashisoft values its customer. A user who, at any point in time, faces issues with Duplicate Photo Finder can get problems resolved in many ways.
You can submit your issue/ query in the form of a message or online chat. You can also raise a complaint ticket from within the interface by clicking on help and then further clicking on the Create Support Ticket option after which you will be able to submit a form where you can address your issue.
The Final Verdict
All in all Ashisoft Duplicate Photo Finder is a fantastic tool for finding and deleting similar and same looking pictures and decluttering tons and tons of storage space. It has a decent interface that is easy to use. The automarking facility, the ability to even find duplicates even when images are flipped or rotate and several other features make it stand with some of the best duplicate photo finders available in the market. Do give it a try and let us know what is your opinion about this tool.