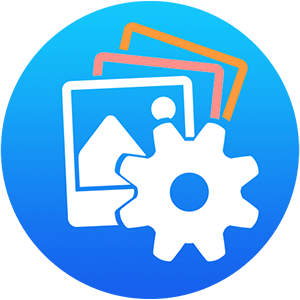 Duplicate Photos Fixer Pro
Review: Duplicate Photos Fixer Pro For Windows
Duplicate Photos Fixer Pro is the ultimate tool that can help you get rid of duplicate photos from your computer. It doesn't just scan your computer for exact copies but even similar pictures as well. It also supports external storage devices as well. This means you can declutter both your computer as well as external devices as well. The latest update makes it easy to find duplicate photos in Google drive as well. So, you can use a duplicate image finder to remove duplicate photos from Google Drive too.
An Introduction Of Duplicate Photos Fixer Pro
Here's an in-depth review of Duplicate Photos Fixer Pro which will help you see the application inside out.
A powerful duplicate photo finder,  Duplicate Photos Fixer Pro for Windows is one tool that can help you get rid of duplicate images in a snap. It thereby helps you sort your photo gallery and frees up tons of storage space on your computer. On the face of it, it has a simple interface but at the back, it runs a potent and intelligent algorithm that is inclusive of effective categorization and scanning methods. Another great aspect of this tool is that it supports external devices as well. 
The reason to call it the best duplicate photo finder is the reason it can also scan cloud storage – Google Drive & Dropbox and delete duplicate photos. Latest updates have added new scan criterions – Include Rotated Images & Include Flipped Images. This will let you include the rotated and/or flipped images while searching for scan making it convenient for users.
The Duplicate Photos Fixer Pro is compatible with Windows 11/10/8.1/8/7/Vista/XP (Both 32 and 64 bit).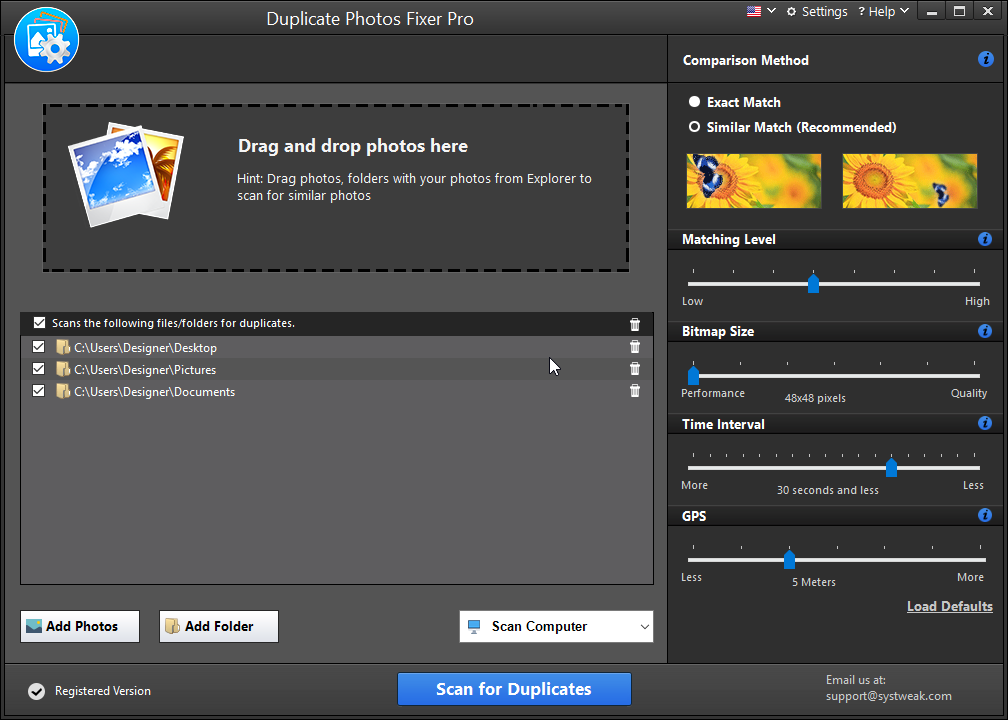 The process of finding duplicates using the Duplicate Photos Fixer Pro is very easy and fast. You can start by adding a folder or photos directly into the application from the computer or Google Drive or Dropbox. Then, you can choose the comparison methods and select aspects such as matching level, time interval, bitmap size, GPS, and then click the "Scan for Duplicates" option. It is as simple as that. Not sure of what images to choose, you can take the help of Auto-Mark functionality.
Also Read: Best Duplicate Photo Finder And Remover For Windows
Duplicate Photos Fixer Pro: A Brief Overview
Comparison Methods
Bitmap Size
Exact Match
GPS
Matching Level
Time Interval
Grouping Results
Automark
Change Auto Marking Selection Priorities
Clear Cache
Exclude Folders
Unmark All
Preview
Detailed view
Image view
Metadata
Others
All file formats supported
Duplicate Photos Fixer Pro for Windows has a very simplistic interface. Even a beginner who is using the application for the first time will be able to get accustomed to the functions fast. The homepage itself is quite self-explanatory and tells you exactly what needs to be done.  Here you can select folders that you want to include in the scan. The comparison methods are clearly outlined based on which you can compare the duplicates. The bottom button shows you the option to Scan Computer or Scan Google Drive or Scan Dropbox.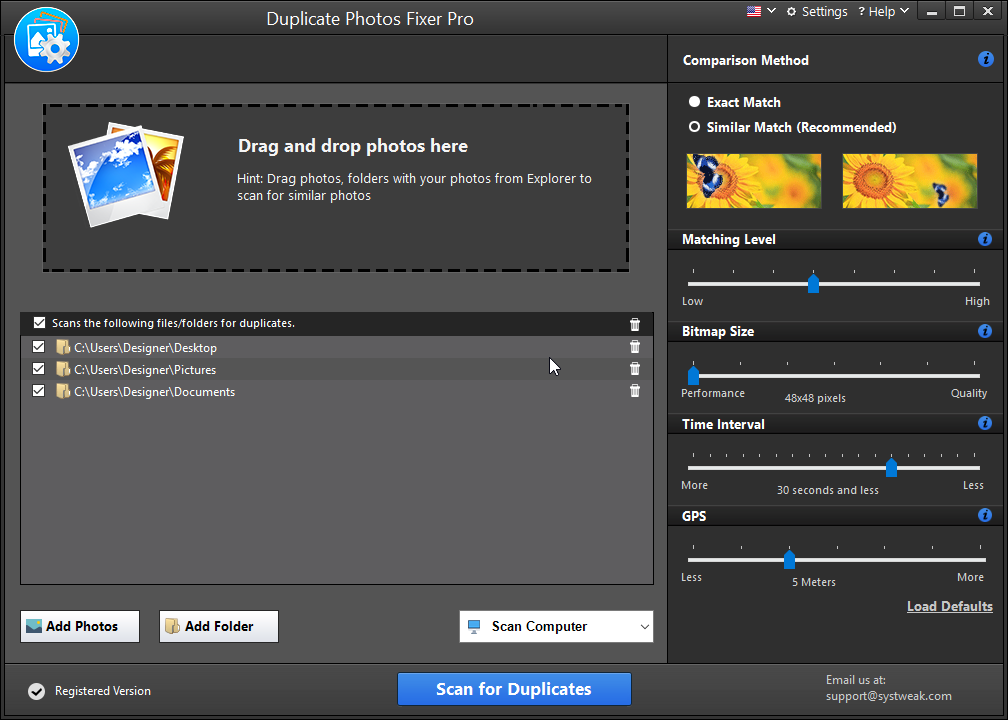 Once you have selected the folder and have clicked on Scan for duplicates, you are taken to the next screen, where you can preview the results, check the metadata, change the preview, access auto-marking capabilities and selection assistant. On the top, you can also see how much space you can restore after the duplicate photos are removed.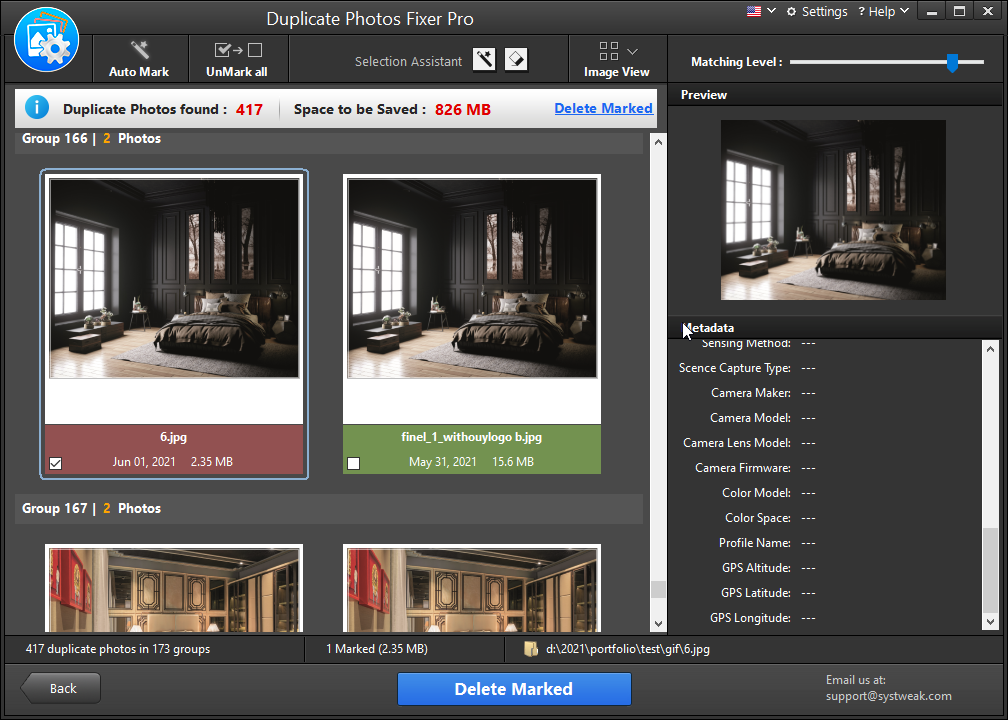 There is no doubt that Duplicate Photos Fixer Pro is a feature-rich application. It is armed with all the features which will make it easy for you to find and remove duplicate and similar looking images easily. After using its features, you can sort your photo gallery as well as free up an enormous amount of storage space. Let's dig into the host of features that Duplicate Photos Fixer Pro offers –
1. All Kinds Of Duplicates Are Scanned
Duplicates Photos Fixer lets you find and remove batches of duplicate photos. And, we are not just talking about exact duplicates but even similar-looking duplicates here. Wondering how?
After having selected the folder or individual images, you can compare images based on matching level, bitmap size, the time interval (when the images were snapped), or even GPS. Now comes the interesting part, on the next window, all the images are enlisted in groups which makes it further simple for you to take the action i.e. delete duplicates.
And, while this decision can still be a little intimidating, the auto-mark functionality makes the task simple for you by removing the chances of erroneously removing the wrong duplicates. It doesn't just stop here, you even have the luxury to change the auto marking priorities.
Next, you can also change the view of the dashboard. You can also check the metadata of every image on the right-hand side. You can have a glance at aspects such as folder name, keywords, image size, editing software, exposure, etc.
2. Supports Internal and External Storage Device
Duplicate and identical images are not just located in the various drives on your computer but even on your external hard disk as well. Duplicate Photos Fixer scans all kinds of external and internal storage devices and helps you find and remove duplicate images.
3. Scan Cloud Storage
With the latest addition to the Duplicate Photos Fixer Pro in version 1.3.1086.367, it can scan Dropbox for duplicate images. Dedicate Scan options can find duplicate photos in Google Drive & Dropbox.
Now, you can simply add the folder to the tool after signing into your Gmail or Dropbox account. The scan will run on the selected cloud storage and delete duplicate photos from the folders. This process does not require you to download the images on your computer and saves time and space.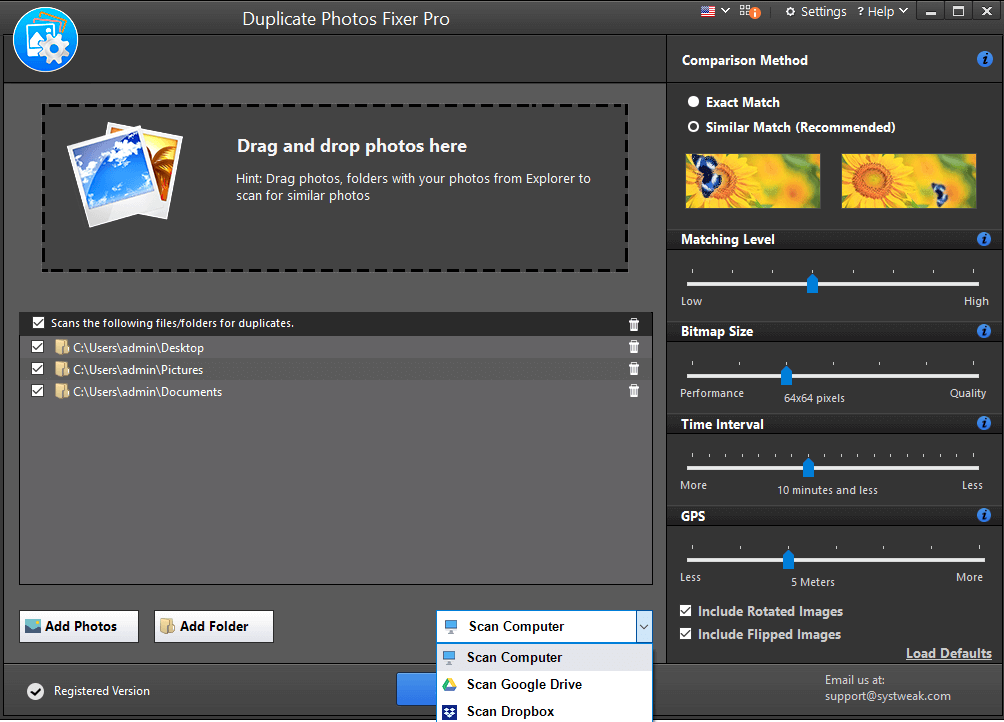 With the latest addition to the Duplicate Photos Fixer Pro, the Scan Google Drive feature can find duplicate photos in Google Drive. Now, you can simply add the folder to the tool after signing into your Gmail account. The scan will run on Google Drive and delete duplicate photos from the selected folder.
3. Easy Process
Open the application and then select folder/s. You can even choose individual files as well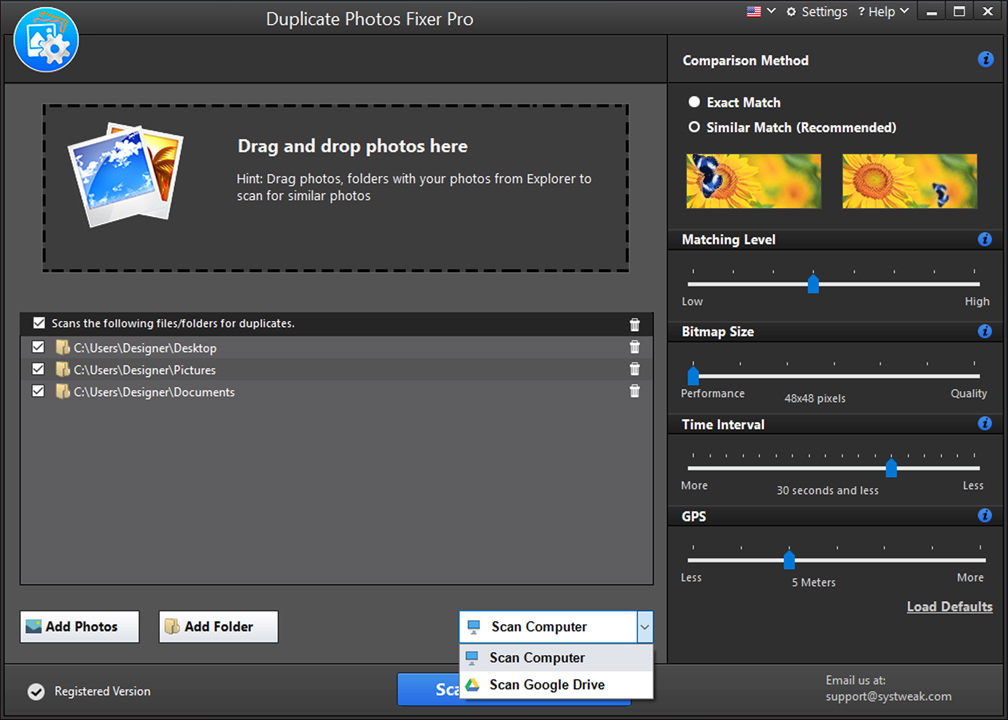 2. Tweak the comparison methods on the right-hand side as per your needs
3. Click on Scan for Duplicates and wait for the scan to complete.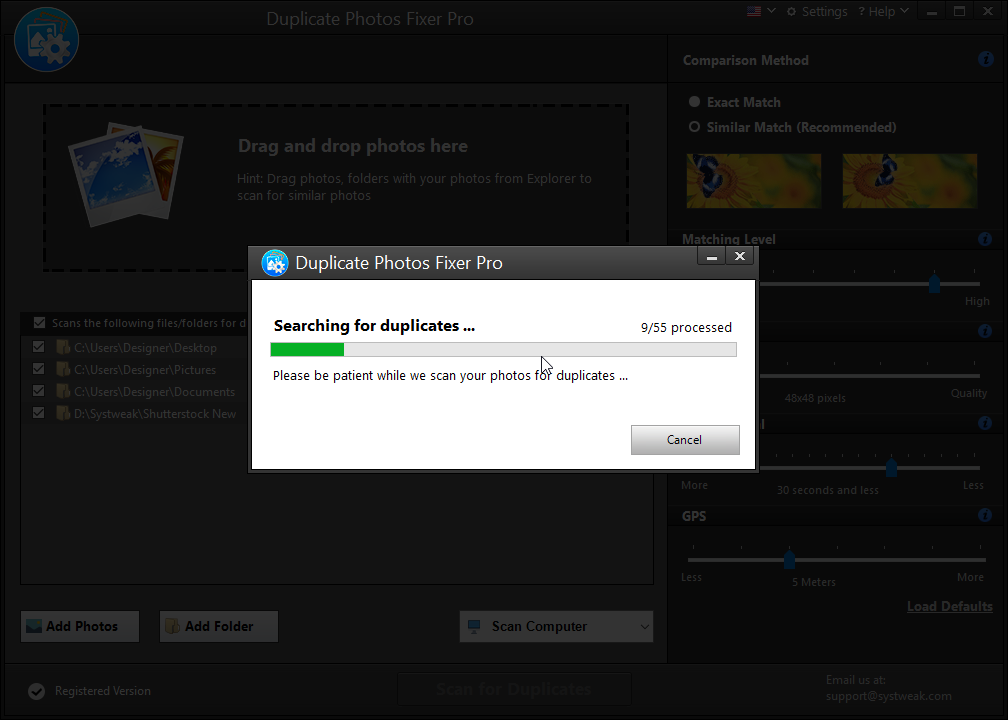 4. You can select images manually or better click on Auto Mark.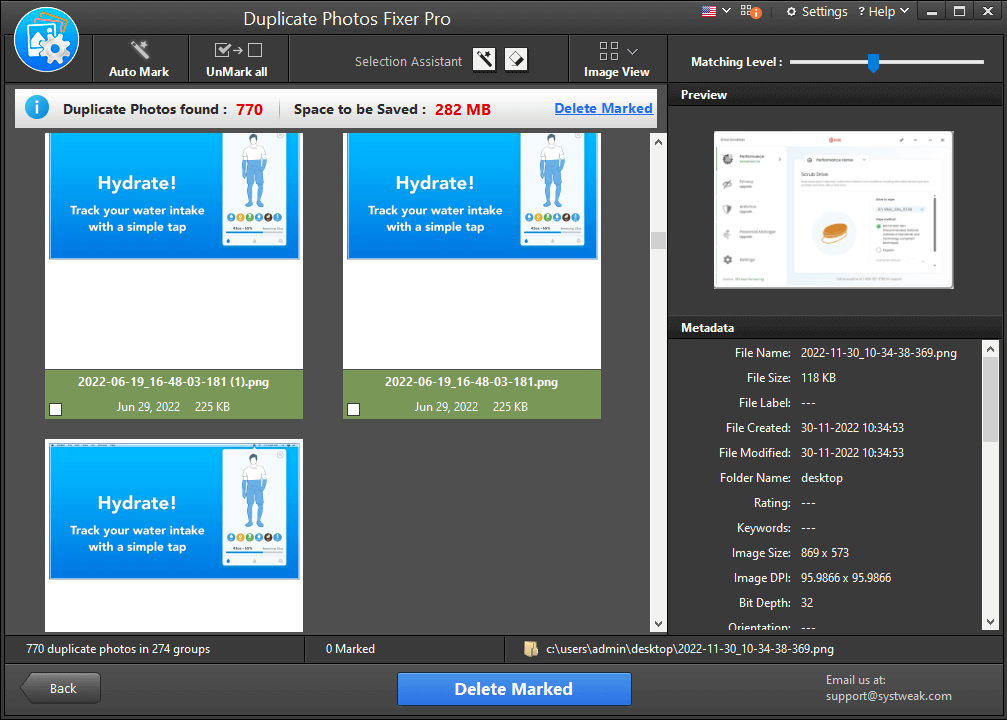 5. Once sure of the results, click on Delete Marked.
4. Multilingual Support
The application supports 13 other languages apart from English.
Updates are very important for an application. Not only these ensure that the application is packed with all the new improved features but you can rest assured that you won't have to face any bugs or vulnerabilities. Needless to say, if an application is not upgraded, you will soon start to witness crashes or the application itself behaving in a way it shouldn't.
Duplicate Photos Fixer Pro is a tool that keeps abreast of all the latest updates as soon as they arrive. So much so, that if the company sniffs any bugs or any new updates, it promptly acts upon them. It, in fact, goes hand-in-hand with the updates arising in your Windows operating system.
To receive updates from time to time, go to the settings (cog icon) present at the top right side of the screen. Under General, make sure that the Show periodic update message checkbox is ticked.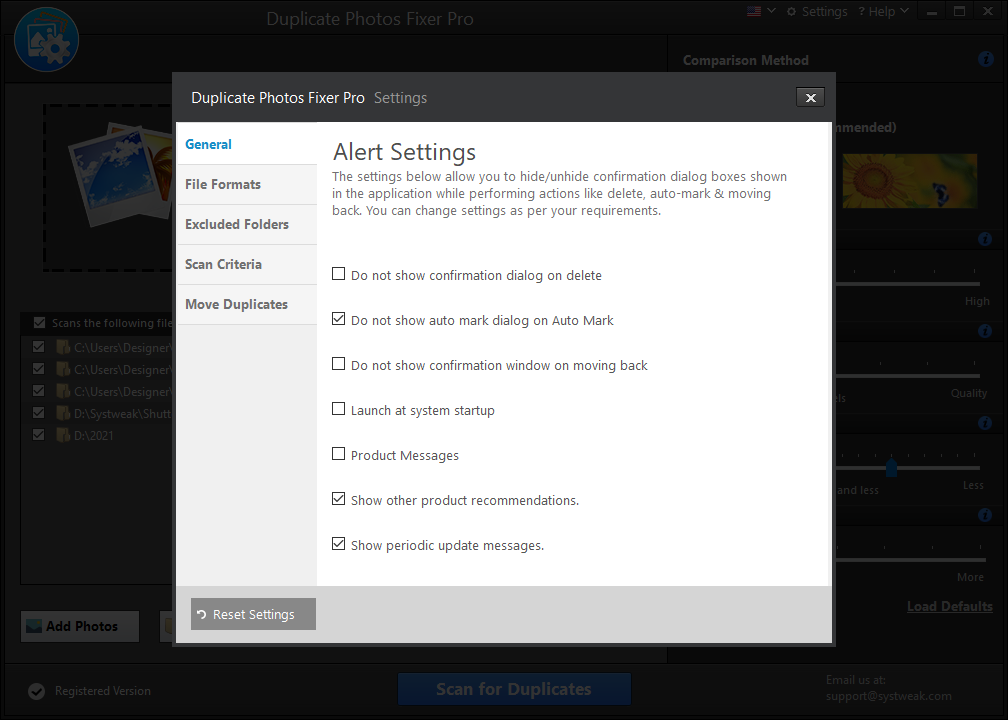 The tool will constantly keep you updated on any latest developments as notifications for updates appear timely.
One of the most important aspects of any application is its price. It all boils down to whether the application is worth the price, isn't it? With Duplicate Photos Fixer's free version, you can clean up to 15 duplicates after which you can opt to buy the premium or the paid version.
As for the paid version, it is reasonably priced and is worth every penny spent. You can purchase the Duplicates Photos Fixer Pro at USD 39.95 which is at par or in fact better than most competitors in the market especially looking at the host of features this tool offers. More than 10 million users are already satisfied and happy with the results.
As already mentioned, the company offers both free and paid versions of Duplicate Photos Fixer Pro. As of now, you can bag heavy discounts on the paid version and include special disk cleaning tools and Systweak Photo Studio with the package.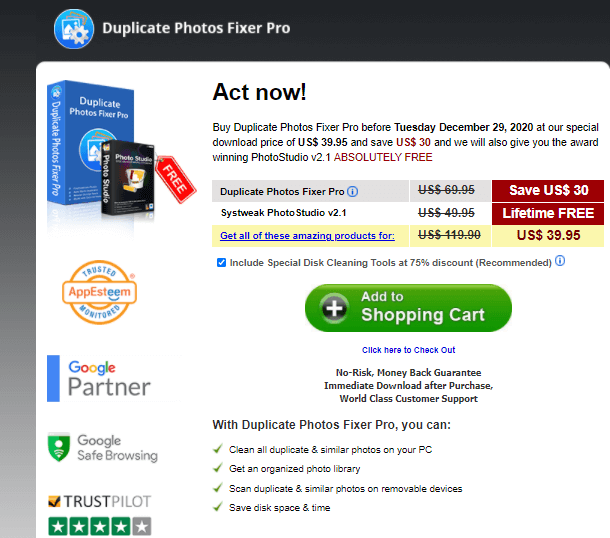 The company also offers a 100% no-risk money-back guarantee in case the application doesn't meet your expectations. The company takes the feedback very seriously and incorporates it to make the end product better than ever.
Apart from accuracy in finding identical and similar images, there is one more factor that is of utmost importance for a duplicate photo finder and that is speed. After all, why would you opt for a duplicate picture finder? Surely because it lets you remove clutter and saves you from manually sieving out duplicates.
With Duplicate Photos Fixer, you won't have to spend hours finding and removing duplicates. Thanks to the filters and matching criteria, you will be able to look for duplicate and similar images from a bunch of hundred photos varying in resolution, in a matter of seconds.
When stuck with something in the application, keeping stuck and not being able to scan for duplicate images is probably the last thing you want. To get you out of that situation, Duplicate Photos Fixer Pro from Systweak offers fantastic customer support. The moment you are stuck you can head to the support page which has all the frequently faced customer queries
You can reach customer support in multiple ways. You can click on the Help dropdown in the application and then again click on the Help option after which you will be taken to the support page. Or, you can directly click on this support link
In most cases, you will be able to solve your issues here. Still not found the answer to your problems, you can then shoot your queries via email at support@systweak.com. You can be sure of a prompt reply. 
Top 5 Duplicate Photo Finder Alternative Tool
The Final Verdict
After having gone through this Duplicate Photos Fixer Pro review, do give this tool a spin. Be it the price point, features, speed, occurrence of updates, customer support, or anything else for that matter, the Duplicate Photos Fixer Pro doesn't disappoint you. Do let us know how you like the product and the review in the comments section below.
Frequently Asked Questions
Q1. Is Duplicate Photos Fixer Pro free?
No, but you can get a free version of the Duplicate Photos Fixer Pro for Windows 11, and other versions. It can be used to scan duplicates in Windows PC but there will be a limited number of duplicates removed from the tool.
Q2. How much does a Duplicate Photos Fixer Pro cost?
To clean duplicate photos from the computer or to declutter cloud storage and delete duplicates from your cloud storage, you can purchase Duplicate Photos Fixer Pro at $39.95 for a year.
Q3. Is Duplicate Photos Fixer Pro safe?
Yes,Duplicate Photos Fixer Pro is a safe and trustworthy duplicate photo cleaner for Windows. It can delete similar photos and exact duplicates from your internal and external storage devices as well as Google Drive & Dropbox.
Q4. How do you use Duplicate Photos Fixer Pro?
Download and install Duplicate Photos Fixer Pro on your computer. Register and then add the folders with the duplicated images to the tool. Start the scan and automark the scan results to automatically select all of the copies. Click on Delete Marked to remove all of the unwanted duplicate images.