Tenorshare UltData for Android
Tenorshare UltData for Android Review for Windows 11 – Retrieve Your Precious Data Instantly
Losing precious files – images, documents, audio, etc from your Android device can be disastrous. With time in hand and the right tool like Tenorshare UltData for Android, you can retrieve deleted data. In this review, we will find out how effective this data recovery program is.
Android is the ultimate work-from-anywhere device.  With just a few taps, you can access your documents, photos, audio, video files, .apk files, and more. Android is an ideal storage medium for on-the-go productivity. But, it goes without saying that it is also vulnerable to data loss.
A program like Tenorshare UltData keeps you prepared for all data loss situations such as accidental formatting or deleting data, OS crash, and even worst situations such as water damage or a broken screen. It helps recover lost documents, photos, contacts, and even chats from popular messenger platforms, and that too without rooting your phone.
It supports over 6000 Android phones and tablets. As far as the Android versions are concerned it supports restoring data from Android smartphones running versions 5 and above.
Why Would You Use Tenorshare UltData for Android
Data loss is an inevitable situation. You only know how important your files are when you lose them. Knowing the fact that we use Android phones to store precious data and probability of losing data, a utility like Tenorshare UltData for Android comes as the ultimate resuce.
It scans a variety of locations on your Android device such as the internal and external memory, WhatsApp and WeChat data, and even Google Drive. With this utility, you can recover all kinds of data across a wide range of file formats.
If you think you may have lost data, stop using your device immediately. This would increase your chances of recovering data.
It stands in line with competitors like FonePaw Android Data Recovery, iMobie PhoneRescue, Wondershare Dr.Fone and many others.
Technical Specifications
Current Version: 6.8.5
Windows OS Compatibility – Windows 11/10/8.1/8/7 (32 and 64-bit)
RAM – 256 MB, 1028 MB recommended
CPU – 1 GHz and above.
Hard Disk – 200 MB or free space is required.
Supports the latest version (Android 13)
Recover all kinds of files – documents, photos, audio, video files, and more.
No rooting is required to recover data.
Tackles all data loss situations.
Recover data from Google Drive.
Some larger files may take a few hours to scan.
Can't save existing scan session, at least in the free version because of which you may have to start over the next time.
Some features are available only in the premium version.
How To Use Tenorshare UltData for Android
Step 1: Download, run, and install Tenorshare UltData for Android on your Windows PC and click on Start.
Step 2: Connect your Android device to your computer with the help of a USB cable.
Step 3: Enable USB Debugging on your Android device. For this follow these steps on your Android smartphone –
1. Go to Settings
2. Scroll down and tap on About phone.
3. Tap on Software information.
4. Locate the Build number and tap on it a certain number of times after which the Developer options will be enabled.
5. Go back to Settings, scroll down, and tap on Developer options.
6. Scroll down slowly till you find USB debugging and toggle on the switch next to it.
7. Tap on OK when Allow USB debugging prompt appears.
Tap on the Allow radio button when another Allow USB Debugging with RSA key fingerprint for your computer appears.
Please note: After you have restored deleted data, it is recommended that you toggle off the USB debugging option or Developer options. It is crucial,  else you might face hiccups to use certain apps (for example, internet banking apps) on your Android device.
Step 4: Choose from where you want to recover lost data. For the purpose of this post, we'll choose to Recover Lost Data.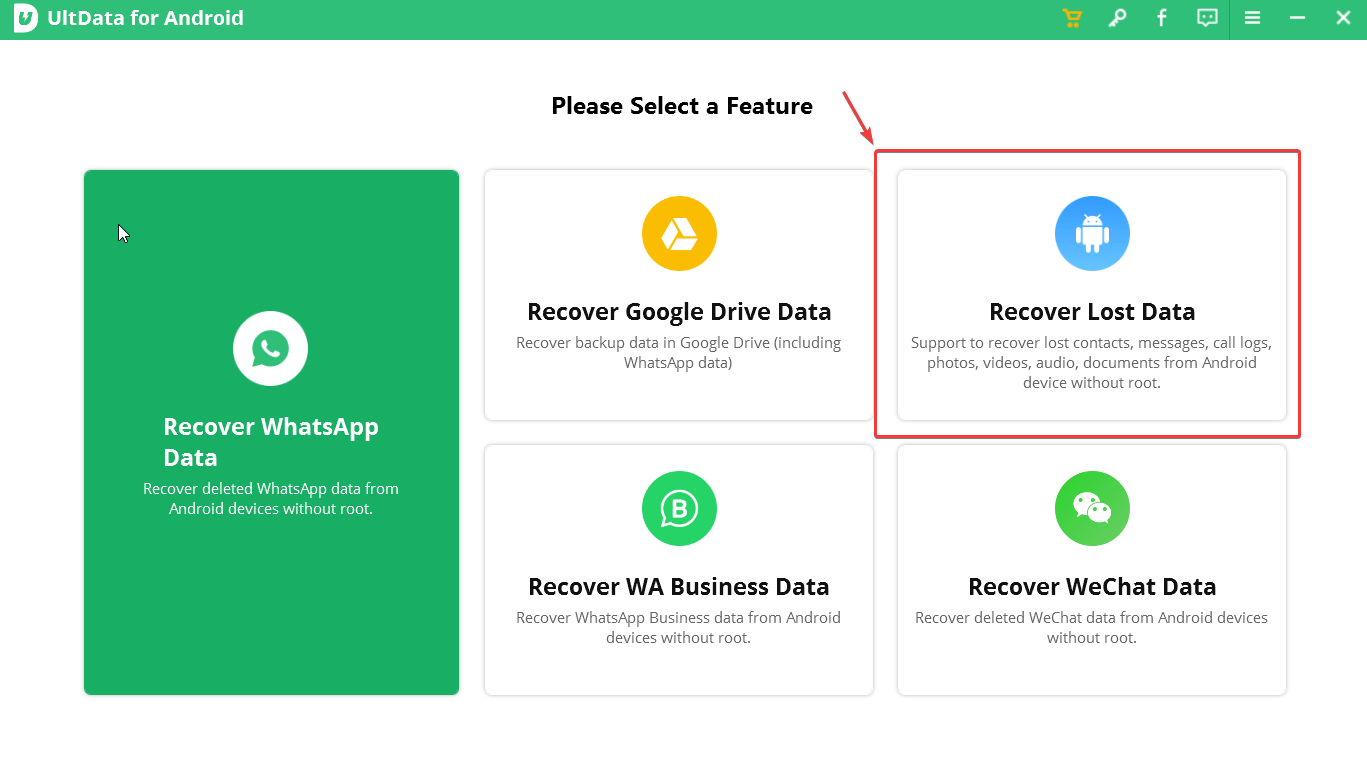 Step 5: Select the type of data you want to recover and click on Start. Wait for the scan to complete.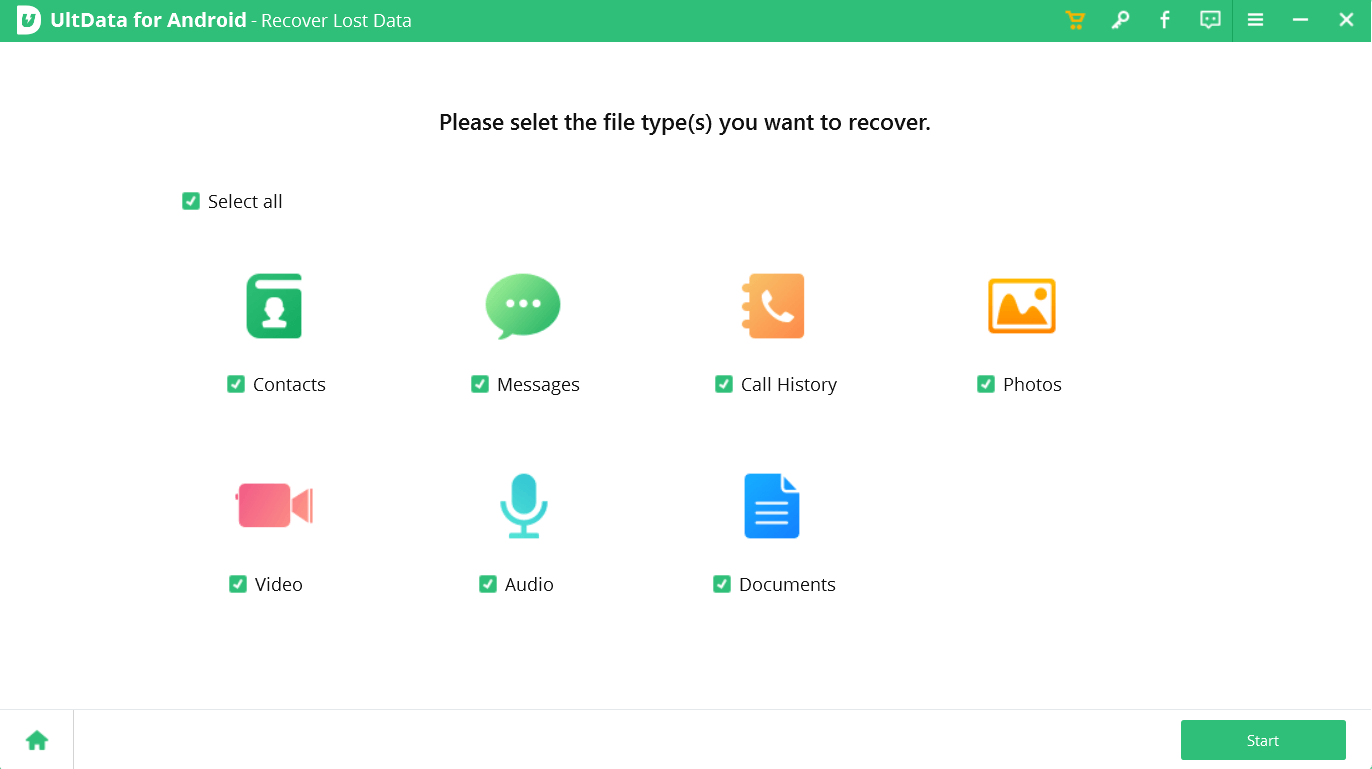 Step 6: On your Android device click on Allow on a few prompts to give the required permissions.
Step 7: Once you have found the data that you want to recover, click on the checkbox next to it and from the right-hand side, select where you would like to recover the data, to your device or on a location on your PC.
After you have installed Tenorshare UltData for Android, here is what the main interface of this data recovery tool looks like. It enlists options to recover a variety of data from your Android device,from platforms like WhatsApp (personal and business), WeChat and Google Drive backup. Some of these can be accessed once you have subscribed to the premium variant, as we have discussed here.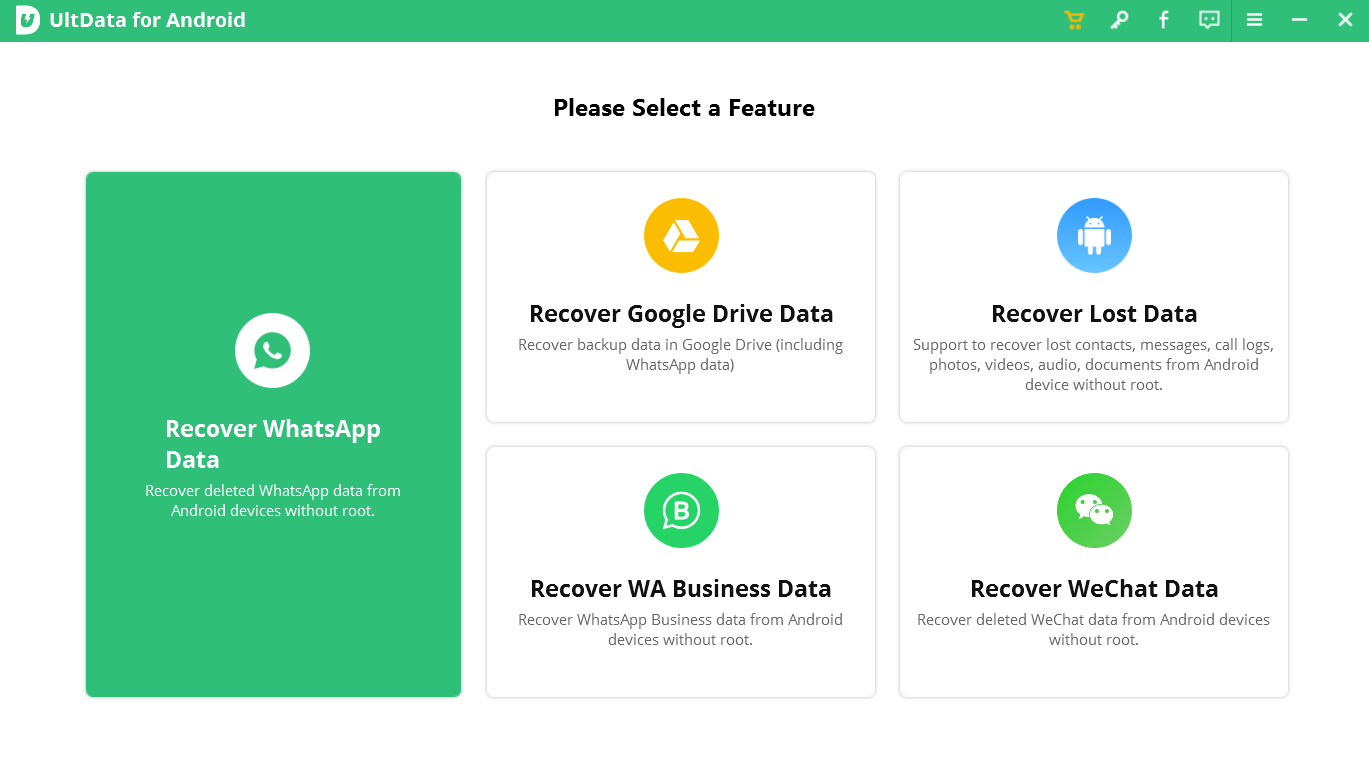 Clicking on each of these options, you will be taken to the next screen where you can take further actions. For example, when you click on the Recover Lost Data feature, you will be first asked to enable the USB debugging feature as shown above. Once you have done that, the next screen lets you select the type of data that you want to recover. At any point, if you want to go back to the home screen, you can click on the home screen button located at the bottom left corner of the interface.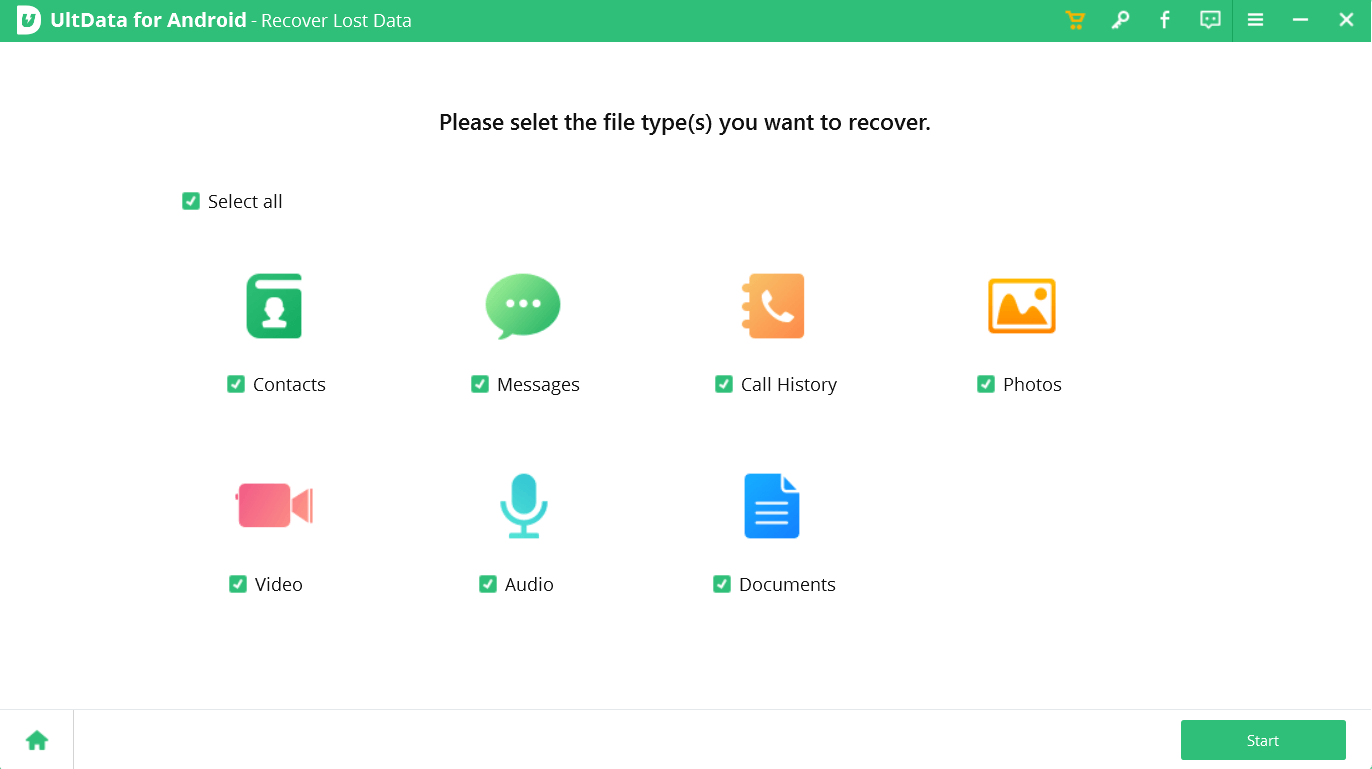 As you can understand from the screenshot above, you can select multiple data types – you can choose to select all or, leave the ones that you don't want to recover. After you have clicked on the Start button,you can see the amount of time left for the scan to get completed.
Once the scan is done, you can select the data type that you want to recover from the left-hand pane and preview the results on the right. Want to jump to the deleted data? From the right-hand side, you can click on the dropdown as shown in the screenshot and select the deleted data that you want to recover.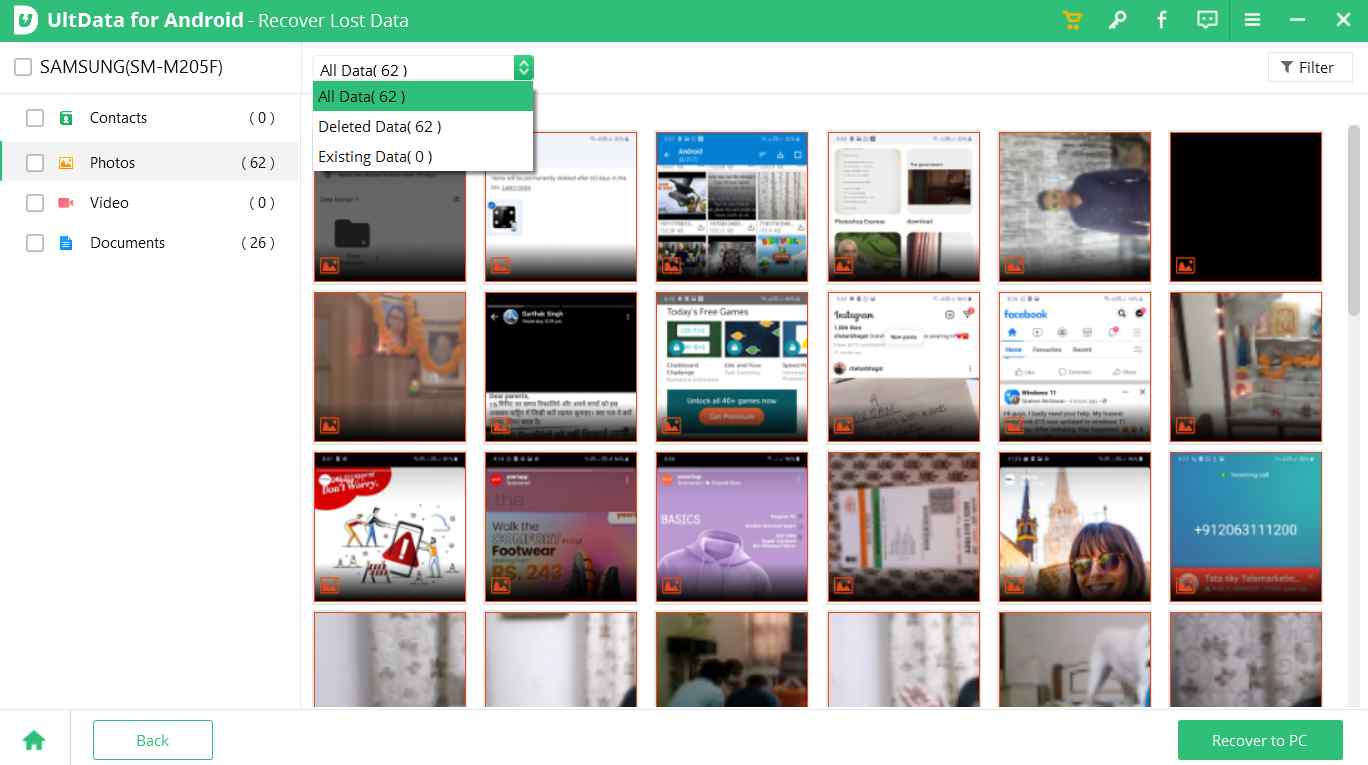 UltData Android data recovery program also offers a variety of filters so that you can narrow-down on the exact data that you want to recover instead of going through all scanned results.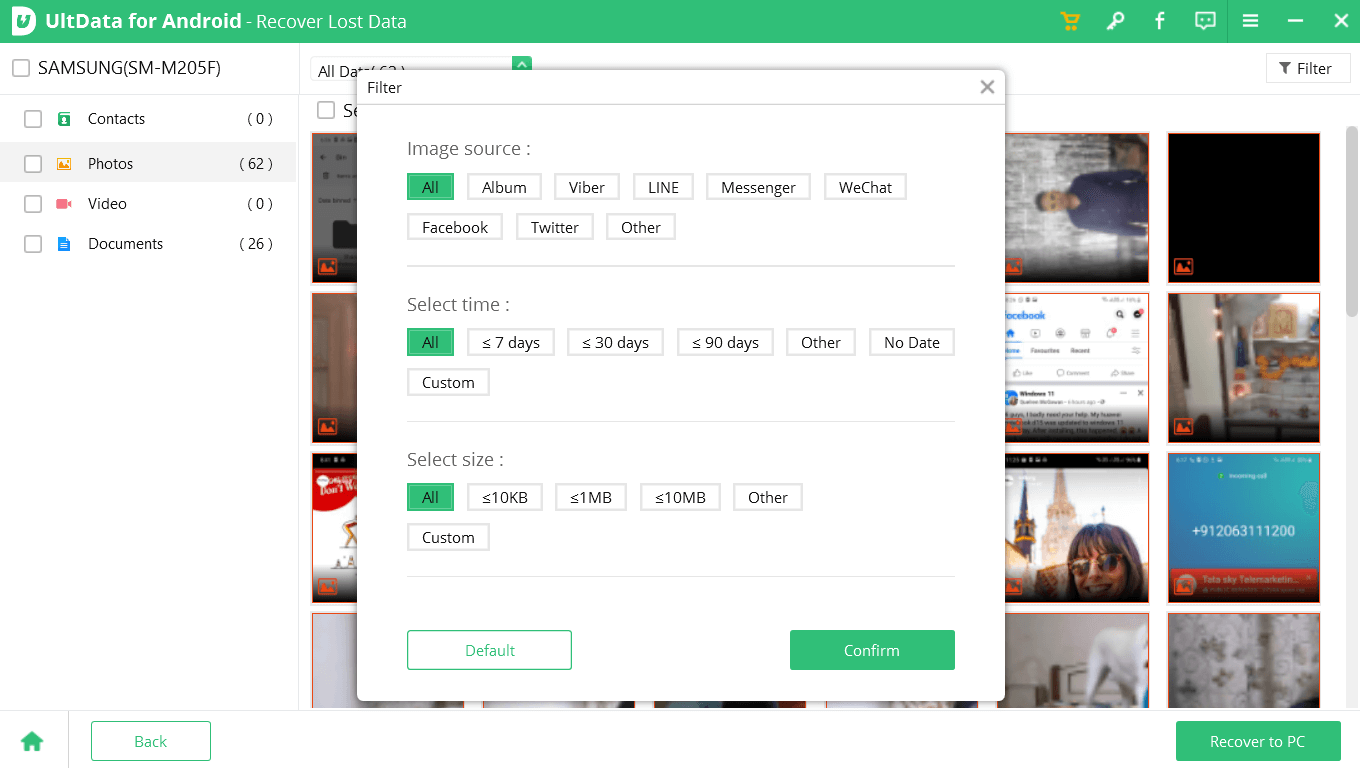 What we liked here is the fact that at every step, UltData for Android walkthrough the  next steps that you need to take. For someone who is new to the software, this aspect can be quite helpful.
1. No Rooting Required
If you are not well-versed with the rooting process, you might end up giving root access to malware or hamper device's overall functionality. It is mostly not advisable to root Android. Unlike some other data recovery tools which require you to root your Android device, Tenorshare UltData for Android helps recover data without rooting your Android smartphone.
2. Recover Lost Data Across All Major File Formats
The data recovery software lets you recover deleted or lost messages, contacts, call logs, videos, photos, video, documents, archives and more on your Android device.
3. Restore Backup Data in Google Drive
With Tenorshare UltData for Android, you can recover backup data from Google Drive as well. For example, many of us have backup of our WhatsApp chats on Google Drive. So, in case you have accidentally deleted your chats from Google Drive and even from trash, you can recover those using UltData for Android.
4. Can Tackle All Data Loss Scenarios
Regardless of the reason you have lost crucial data on your Android smartphone, Tenorshare UltData for Android is capable of retrieving data from all data loss situations. This includes accidentally deleting files, OS crash/ update, formatting, and even from extreme conditions such as water damage or broken screen.
5. Retrieve Chats From WhatsApp and WeChat
Although this data recovery process requires a premium version, with Tenorshare UltData on your Windows PC, you can recover deleted WhatsApp and WeChat data (from Xiaomi and Huawei phones). This includes messages, photos, contacts & other multimedia files etc
The developers of Tenorshare UltData for Android regularly roll out new features to enhance user experience and increase its efficacy. Also, their developers ensure that potential bugs are resolved promptly. To check for updates, click on the hamburger icon (three horizontal lines) from the top right-hand corner and click on Check for Update.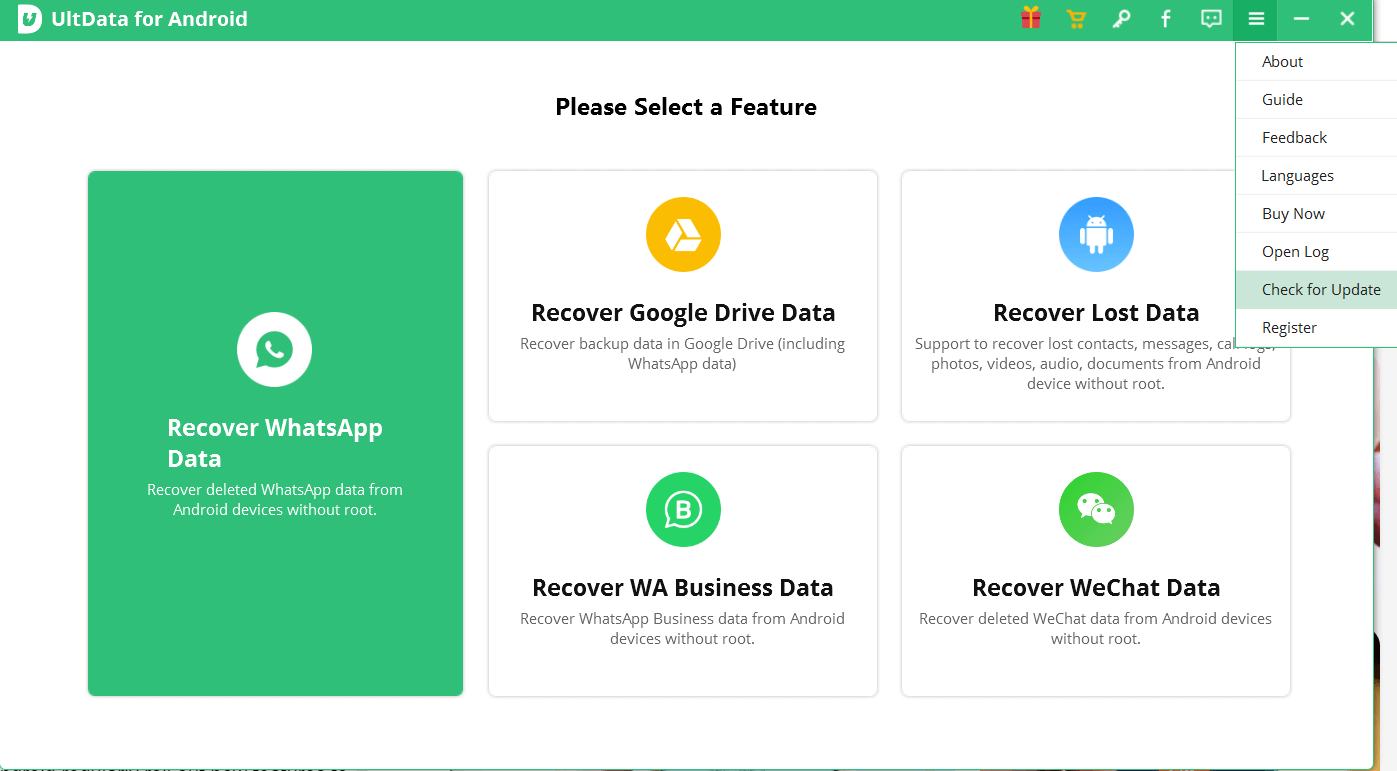 Tenorshare UltData for Android is available in broadly two paid variants – Individuals and Businesses. The free variant allows you to scan lost data but to retrieve it you will have to sign up for one of these variants.
Here is a breakdown of pricing for each of these variants. To gain a brief overview of what you can expect from each of the enlisted variants, you can check out its pricing page.
Individuals
1 month
$35.95
Yearly license
$39.95
Lifetime License
$49.95
Business (billed annually)
Yearly license (10 devices, 1 PC)
$52.95
Yearly license (15 devices, 1 PC)
$69.95
Yearly license (Unlimited devices, 1 PC)
$399
The speed of Tenorshare depends on the number of files you are scanning in one go. During our tests, we selected all the file types to scan for lost data on our Android device.
The scanning took nearly as long to scan for lost data which is a decent speed. If you scan heavy videos, photos, or other large documents, it might take a little longer to scan data. In our test, we didn't face any significant issues or bugs and the software worked smoothly.
There are multiple ways you can reach out to the support team in case you have issues related to the functionality of the software. You can either click on the feedback button and then further fill and submit a form stating your queries. It is recommended that if possible, attach screenshots of the issues faced.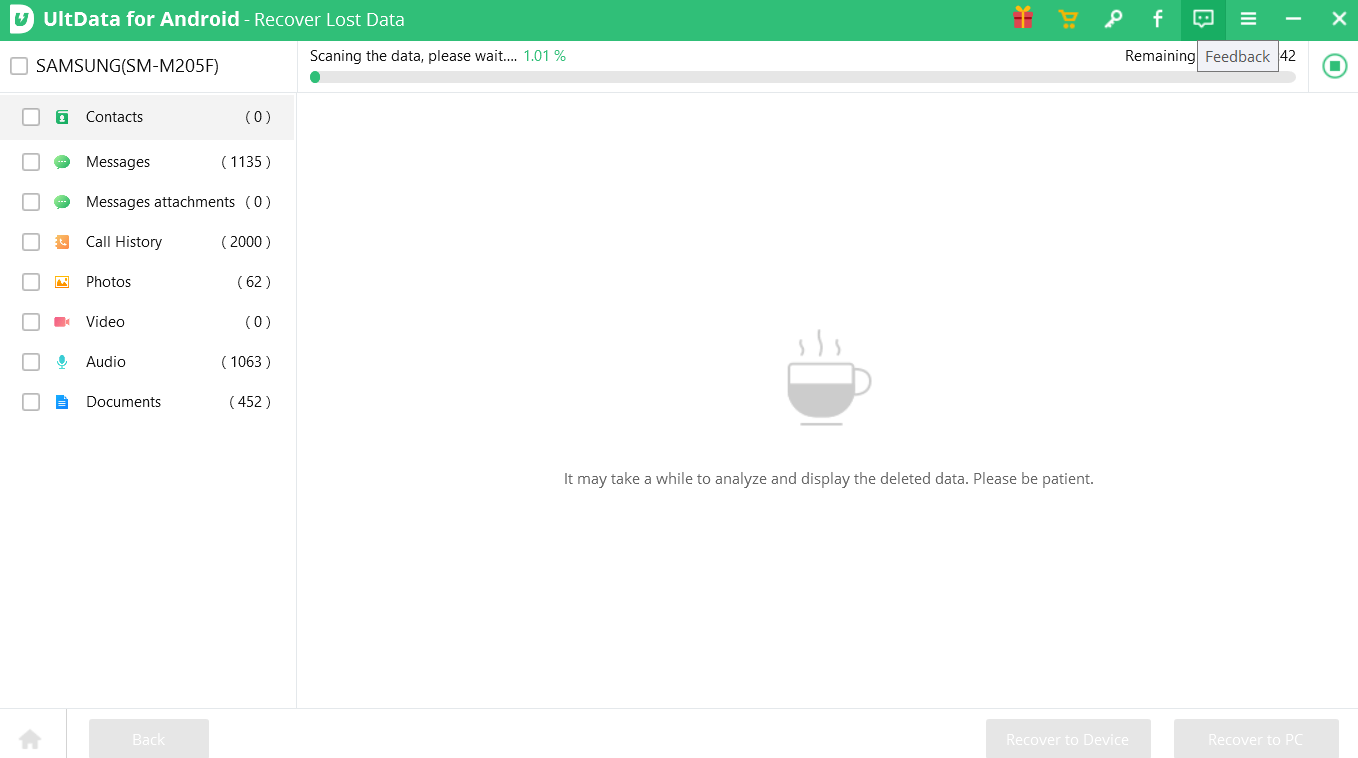 Next, you can reach out to the support staff via their support page and then you can either refer to a guide on how to solve a particular issue or get in touch with an executive via an online form.
It's Never Too Late To Get Your Data Back
Tenorshare UltData for Android is a great tool to have by your side if, time and again you run into a situation where you loose data from your Android device. Already, given it a try, do share your experience with us in the comments section below. For more such content – Software listicles and reviews, keep reading Top10PCSoftware.
You can also reach out to us Facebook, Flipboard, and Pinterest.
Frequently Asked Questions –
Q1. How to use UltData for Android for free?
The free version lets you scan for lost data, but to retrieve the deleted data or to use features like Recover WhatsApp Business Data or WeChat Data, you will have to sign up for one of the premium variants as discussed in the post.
Q2. How do I recover deleted files on Android?
While it is always advisable to back up data on your Android smartphone from time to time. If you haven't done that, you can rely on a tool like Tenorshare UltData for Android for recovering lost files on your Android smartphone.
Q3. Is it safe to use UltData for Android?
In our personal use, UltData for Android wasn't flagged off as a malware. However, we recommend that you have an Antivirus tool handy.
Q4. Is it possible to do Android data recovery without root?
A recovery tool like UltData for Android from Tenorshare lets you restore lost data on your Android device and eliminates the need to root your smartphone.