Duplicate photos are a bane of your computer's existence and to solve that you can take the aid of a third-party utility. Talking of which, PictureEcho for Windows is an easy-to-use duplicate image detector and remover which can help you get rid of hundred and thousands of duplicate images in no time at all. There's a lot more that we'll cover in this comprehensive PictureEcho review.
Introduction: PictureEcho Duplicate Photo Finder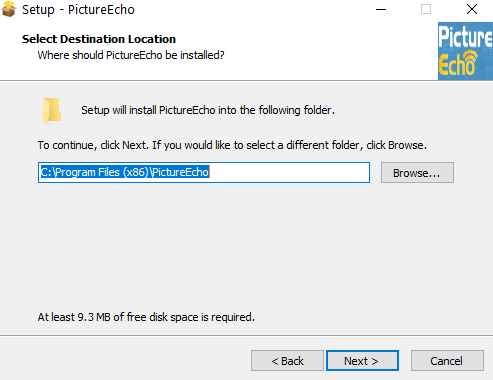 Why would you need a duplicate picture finder like PictureEcho? You use your computer as one of the most common storage mediums for storing pictures. Needless to say, that over some time, accumulating duplicate images is inevitable. Same copies of similar images can arise when you transfer images from one device to your computer, use editing software or simply copy images from one drive to another. You might not even realize but these duplicates take up a lot of space on your computer. And, if you try to manually deal with these images, not only will you have to spend hours but you might also end up removing the original images.
That's where a powerful third-party utility like PictureEcho can prove to be a lifesaver. You should most certainly download PictureEcho if there are exact and similar duplicates. This powerful and efficient tool also filters out images where minor edits have been made or images that have been slightly rotated.
A Brief Overview Of PictureEcho Duplicate Photo Remover
PictureEcho is a duplicate photo finder for Windows which is considered to be one of the best duplicate image detectors that can efficiently find and remove similar images from your computer. The company boasts that this duplicate image finder uses human-like artful intelligence to analyze similar pictures. Something that we'll go deep inside in this PictureEcho review.
Just to give you a glimpse, it is loaded with a variety of scan modes, has intelligent filters in place that can help you discern duplicate photos. And, to make sure that you don't delete a photo mistakenly, it has a preview pane that doesn't just let the image per se but even its metadata.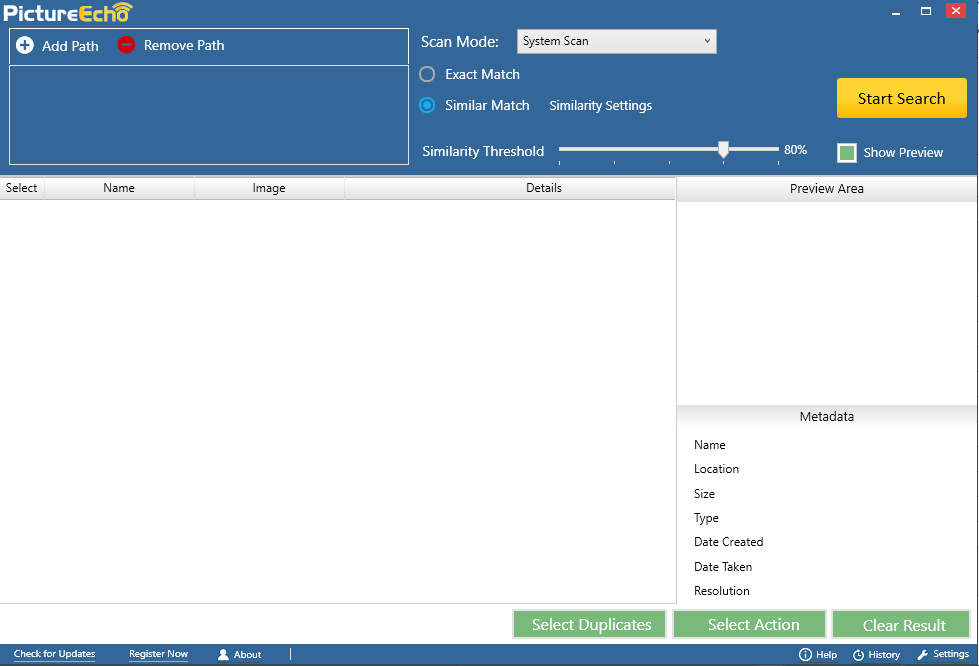 Starts from
$
39.97
per year
Change Auto Marking Selection Priorities
All file formats supported
Software & Hardware Requirements
Here are the minimum software and hardware prerequisites for having PictureEcho on your Windows 10 PC –
Operating System: Windows 10, Windows 8.1, Windows 8, Windows 7
Disk Space: To install PictureEcho you should have at least 20 MB free of disk space
RAM: 1 GB
CPU: 400 MHz or higher
Pros:
Easy to use interface
Identify exact and similar duplicates with the help of matching criteria
Adobe Lightroom Classic and CC compatibility
You can even search for duplicate photos in your cloud storage account
Exclude folders from the scan
Cons:
Lesser number of image formats supported in comparison to other duplicate picture finders
No drag and drop functionality
Top Alternatives Of PictureEcho Duplicate Photo Finder
Provider
$ Per Year
Top Features
1
Duplicate Photos Fixer Pro

$

39.95

Fast scanning engine
Works for similar and identical images
Auto-marking functionality
Accurate comparison methods
Image preview
Folder and file drag and drop facility
2
Ashisoft Duplicate Photo Finder

$

49.95

Customizable filters
Scan and delete identical and same images
Preview photos before deleting them
Add path or paste path for scan
Scan folders and individual files
3
Awesome Duplicate Photo Finder

$

0.00

Strong search mechanism
Scan and delete identical and same images
Drag and drop feature
Free from malicious files
100% free and clean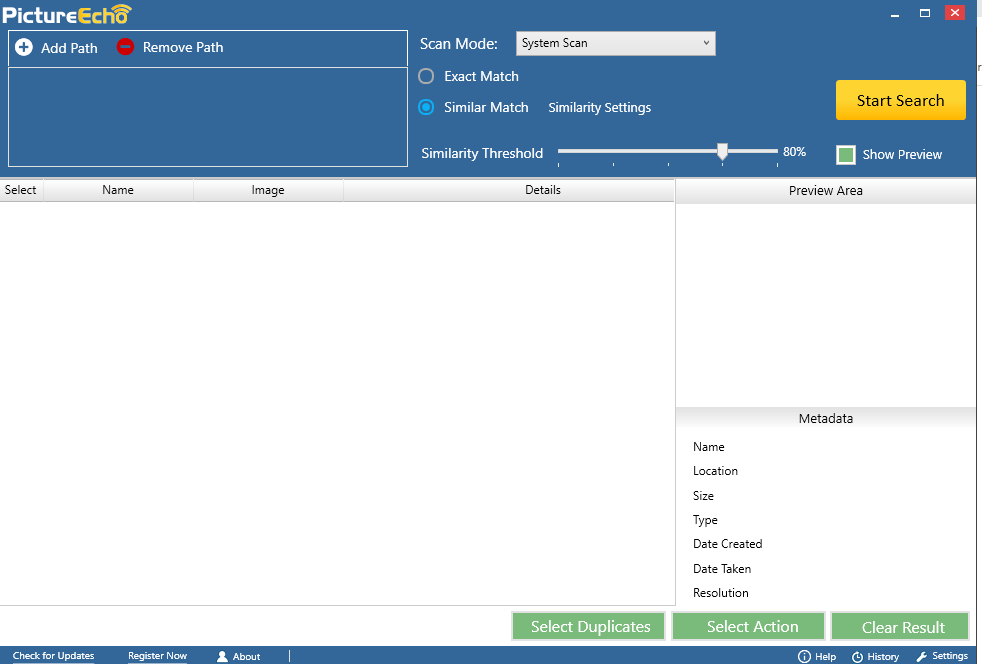 PictureEcho has a decent, user-friendly, and simplistic interface, to begin with, which has become a crucial aspect of all the best duplicate photo finders. All the options in PictureEcho are mentioned and even a beginner user won't have any difficulties in navigating. For instance, one of the best facets of the interface is that it has a single-window. That means a user can perform all the functions such as scan files, apply filters, and preview them all in one place.
PictureEcho is a feature-rich software. It comes packed with features like –
Automatically select duplicate photos – based on size, history, location, and resolution
Image preview – the preview area of PictureEcho further consists of two parts. In the preview area, you can see the image. And, in the Metadata section, you can have a look at details such as name, size, location, creation date, and resolution
Scan Mode: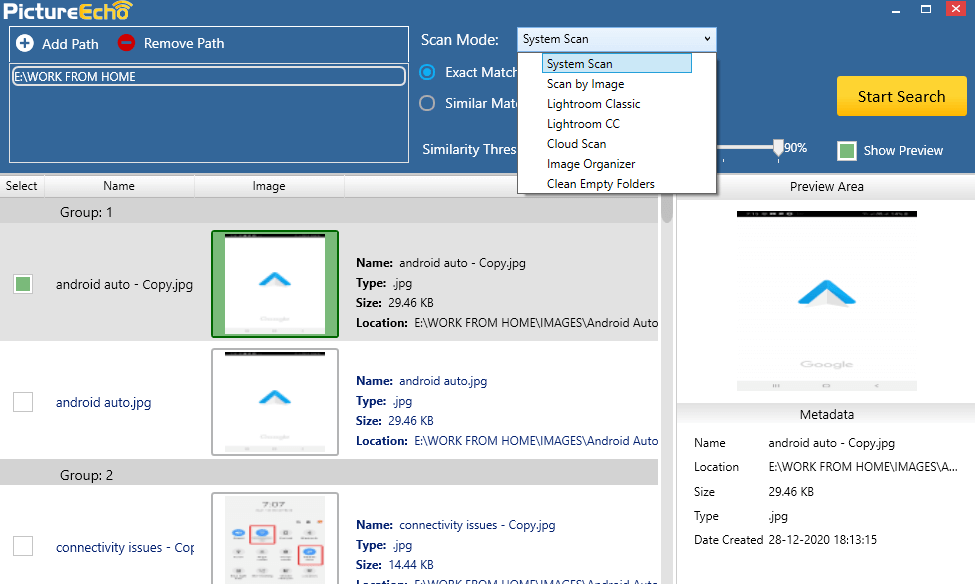 System Scan: Here you can scan your complete computer for duplicate photos. Once you click on the Start Search button, PictureEcho will check every nook and cranny of your computer for duplicates.
Scan by image: Sometimes, you just might want to test two random images, whether or not they are duplicates. This functionality does just that. You can put two or more individual files and check them for duplicates.
Lightroom integration: Whether you use Lightroom Classic or CC, you can eliminate duplicates from both using PictureEcho. As the name suggests, this feature scans Adobe Lightroom images duplicates.
Cloud Scan: You can scan your cloud storage platform (e.g. Dropbox, GoogleDrive, OneDrive, etc) for duplicate images.
Image organizer: This lets you organize pictures into folders and then you can sort them by folders or by month, date, and year.
Match: PictureEcho alike the best photo duplicate photo remover apps let you select images based on their match. This feature can help you if e.g.
You have made slight edits to the image, say, in case you just cropped an image to remove a small blemish
Snapped two similar images at a different time or different locations
Have mistakenly converted the file format.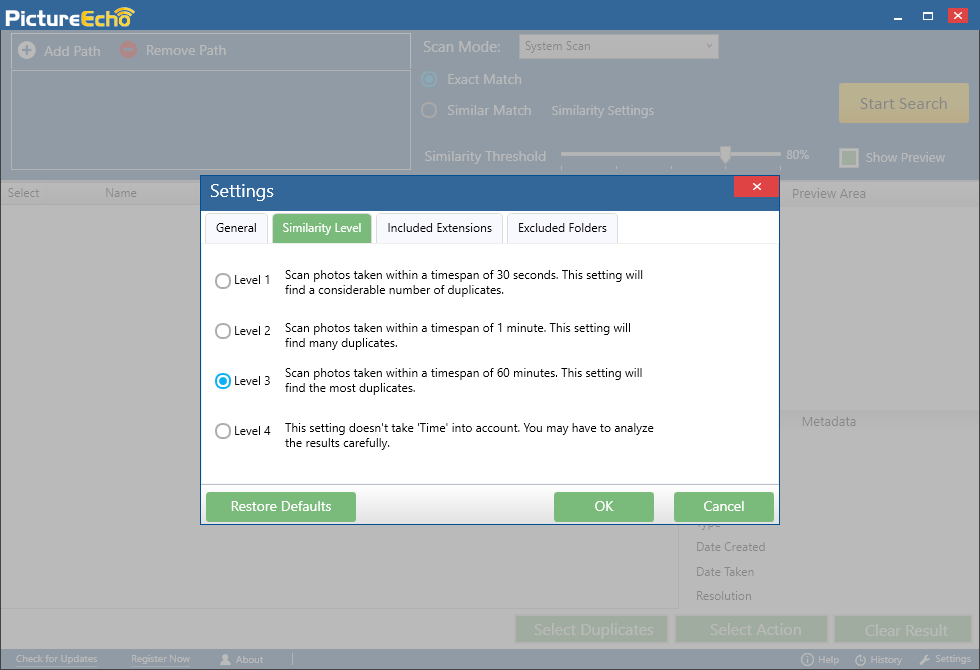 Move files from within the application: You can move the files to a different folder, right from within the application.
Clear results and clear history: There are two ways you can completely wash off your activity logs. You can click on the Clear Result section or click on the History section and then choose Clear History.
Now we have addressed the instances, you might be wondering how PictureEcho for Windows deals with such situations. Either you can scan images based on Exact Match or choose Similar match and filter out images based on time, extension, or as per folder.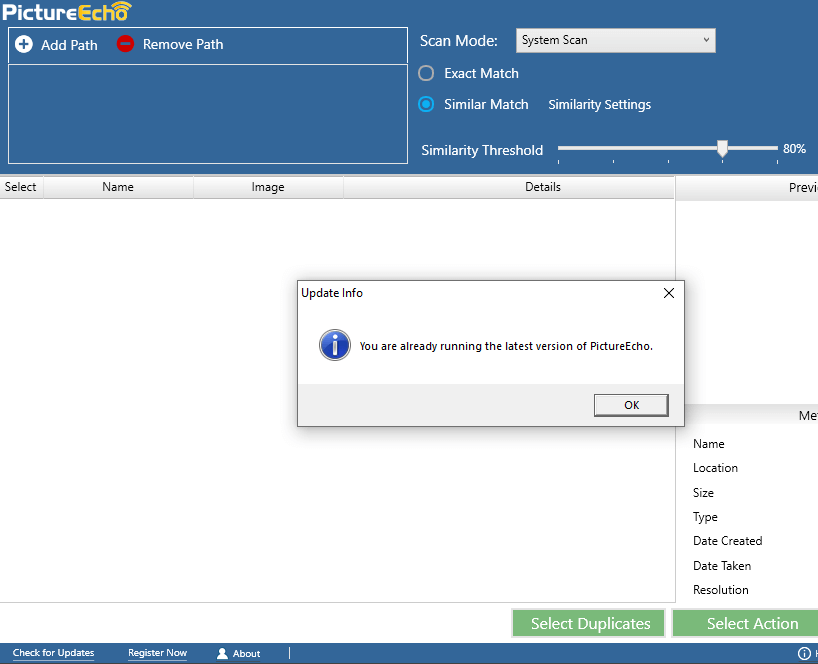 Updates are crucial for every software. If you are getting frequent updates on your applications, you can rest assured that you are using a safe application. That's because an updated software keeps patches and vulnerabilities at bay. And, PictureEcho too doesn't disappoint as far as rolling out updates is concerned. It often looks for updates and prompts you whenever an update is available. You can also opt to manually update the application by clicking on the Check for updates option at the bottom left of the screen. It is recommended that you have an active internet connection so that you don't miss updates.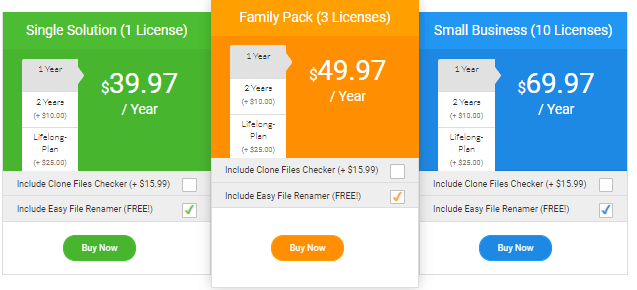 PictureEcho comes in two variants namely free and premium. The premium version further has three variants based on the number of licenses you want to attain. For 1 license, you will have to pay US$ 39.97 per year. You can even opt for 3 or 10 licenses (in case you have a small business). These variants would cost you US$ 49.97 and US$ 69.97 respectively. The best part is all versions come with Easy File Renamer for no added extra cost and the company offers you a 60 days money-back guarantee as well.
Speed is an essential aspect of a duplicate photo finder application. The application must be able to detect similar and exact duplicates in a matter of seconds. PictureEcho for Windows does exactly that. Something that we'd like to emphasize is the fact, that it is not just the speed that matters, but it is also about how accurately the application can find duplicates.
Now, we conducted a random test on 90 files. We deployed both exact and similar match criteria. When the similar match criteria were selected, PictureEcho was comparatively much faster in finding duplicates than it did when Similar Match criteria were selected. In either case, the results were accurate and fast.
In case, you have doubts about functionality or complaints regarding the application, customer support is your first point of contact. There are several ways through which you can expect the company to address your issue – email, live chat, and telephonic conversation is some of the routes.
How To Use PictureEcho?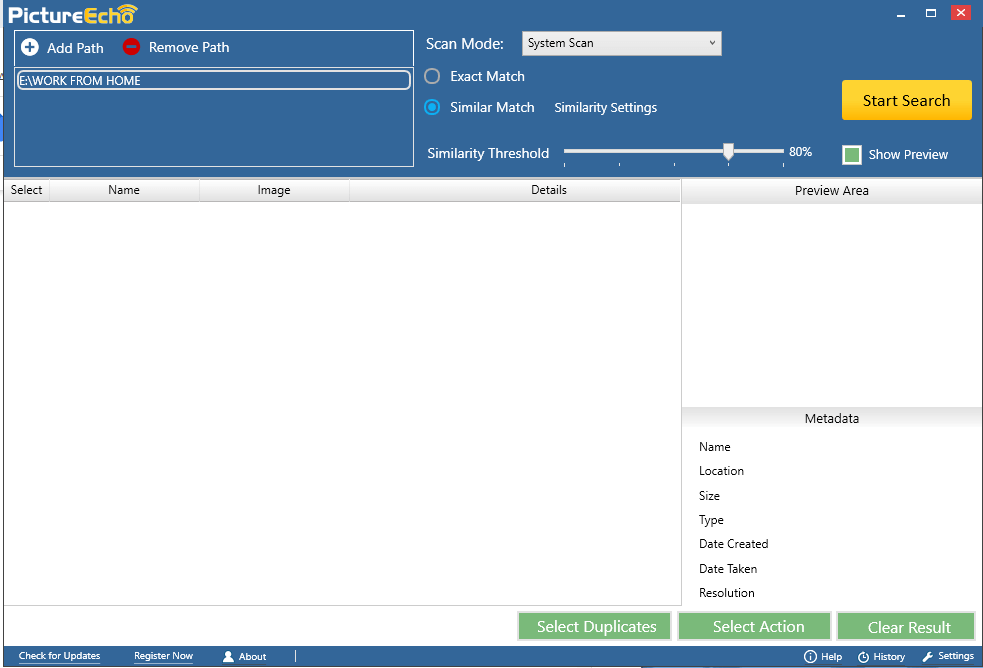 PictureEcho, though simple to use, offers you a lot of scopes to play around with its options. Here, we'll outline the basic steps which will help you get started with PictureEcho.
1. Download and install PictureEcho
2. Click on Add Path after which you can choose a location from which you can add a folder containing duplicate images. In case you want to get rid of a path, click on the Remove Path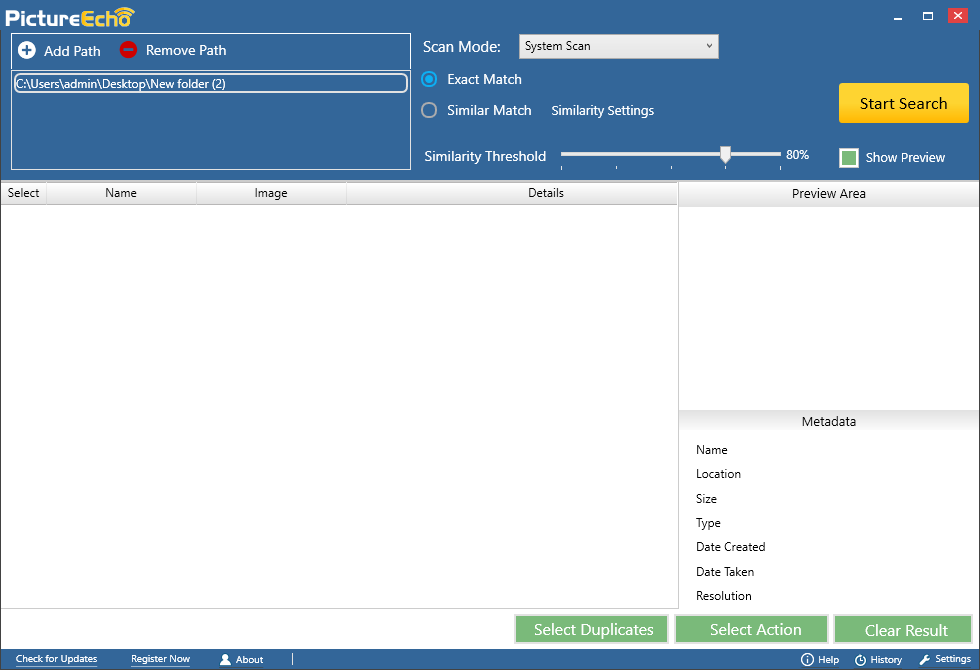 3. Select the matching criteria i.e. Exact Match or Similar Match and Similarity Threshold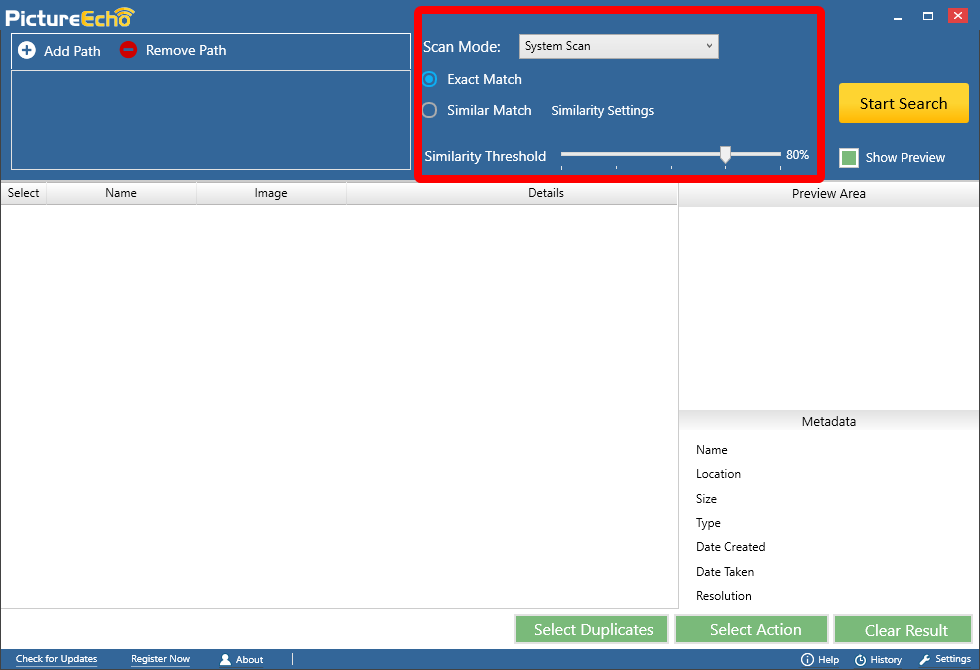 4. Click on Start Search. You can choose from a variety of scan modes. For instance, you scan the complete hard drive, a cloud storage account, Lightroom account, etc
5. After you see the duplicate images on your screen, head to the bottom of the screen where you will see three options-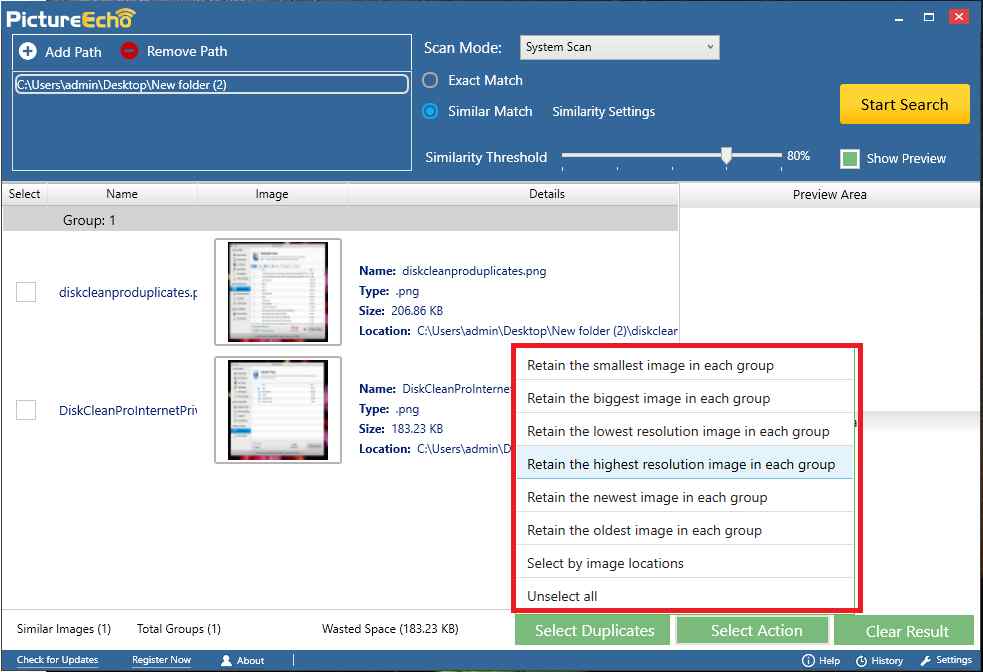 (i) Select Duplicates: Here you can retain images, select images by location, or unselect images
(ii) Select Action: Using this option, you can either permanently delete files or relocate them to some other location on your computer
(iii) Clear Results: This option clears your scan area except for the path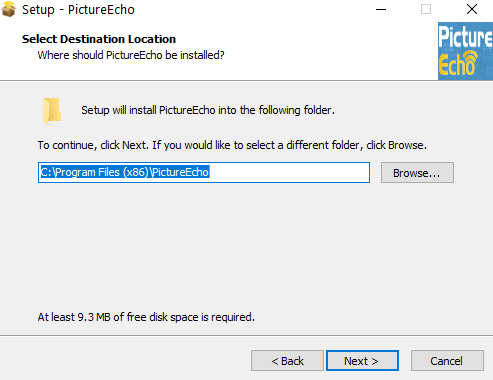 Frequently Asked Questions: PictureEcho
Q1. What is PictureEcho?
PictureEcho is one of the best duplicate image detectors and cleaners that lets you get rid of similar and identical duplicates in no time at all. It exercises human-like intelligence to filter out duplicates from your storage space, thanks to the presence of smart filters.
Q2. What is the difference between similar and exact matches?
Images are a complicated bunch. While there might be some images in your storage that would look the same, yet, there could be duplicates pertaining to images taken at different times, at different locations. Also, there could be duplicate images of different formats, for example, two duplicate images – one with .png format whereas the other with .jpg format. PictureEcho has filters in place to identify images with such complexities as well.
Q3. Is PictureEcho safe to use?
When you download PictureEcho you can rest assured that none of your images will ever go out of the interface. Once, you exit the program, your entire history, the images are washed from the application and no trace is left behind.
Q4. Which is the best duplicate photo finder
There are several image duplicate finders available. However, as you can see from our review PictureEcho certainly cuts and is one of the best duplicate finders as it finds duplicate photos and helps remove them with complete accuracy.
Q5. How to get rid of duplicates in Windows using PictureEcho?
Using PictureEcho on Windows is simple. After you have downloaded the application, all you have to do is select the Scan Mode at the right side of the dashboard. Then you can either choose a path, a folder, or individual images. You can even tweak the matching criteria and even exclude folders from the scan.
Wrapping Up
It won't be wrong to say that PictureEcho is for everyone who has to deal with duplicate photos. Be it amateur and professional photographers, general users, and designers. After all, it has a very simple interface and yet a very intelligent and powerful algorithm. Let not your wonderful memories be the reason for clutter. Before investing in the premium version, you can always use the free variant.