Duplicate photos are inevitable but, you cannot just let them sit on your Windows 10 PC and clutter your storage. That's where a duplicate photo finder and remover like VisiPics can come to your rescue. The application will help you scan duplicate images and get rid of them in no time at all. Here is our in-depth review of VisiPics for Windows in which we'll delve deeper into its features, performance, and several other such aspects.
Introduction – VisiPics for Windows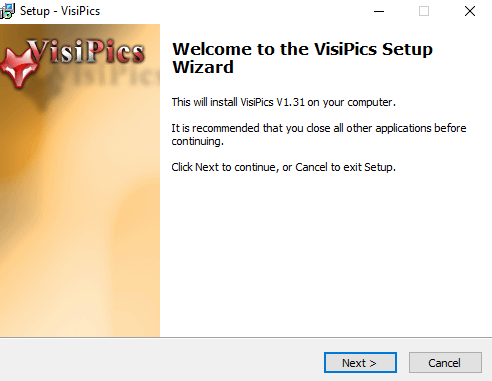 VisiPics is a great tool to delete duplicate photos. It is a simple to use application that helps you free up storage on your computer by removing identical and similar pictures. The interface is quite simple. Having said that, looks can be deceiving as VisiPics surprisingly has many features that can help you chuck duplicate photos out of your computer in no time at all.
To begin with, it has different image comparison filters that instantly finds differences between even close pairs of images. It supports all major image file formats such as JPEG, GIF, PNG, BMP, TIFF, and many others. The best part about this duplicate photo finder is that it is free of cost.
Read the complete VisiPics review from start to end to get an inside-out view of what this duplicate photo finder is all about and why it is one of the best duplicate photo finder for Windows 10.
A Brief Overview: VisiPics Duplicate Photo Finder
VisiPics for Windows is a duplicate photo finder for Windows 10 that uses advanced algorithms to get rid of all types of duplicate images. After all, duplicate images are not just the ones that look the same. Sometimes when you snap images one after the other or make edits to them, you start to have a build-up of identical images that are the same but have been rotated or images where you have made only minute edits, etc. It is under these circumstances, that the chances of deleting the right image increases.
For instance, maybe you have cropped an image a tad bit to remove a small glitch, but, if the duplicate image is not identified correctly, you might just end up deleting the edited image. Or, maybe you had compressed an image and want to get rid of the larger file, again, in that case, you'll want to be sure that you have identified the right duplicate image for removal.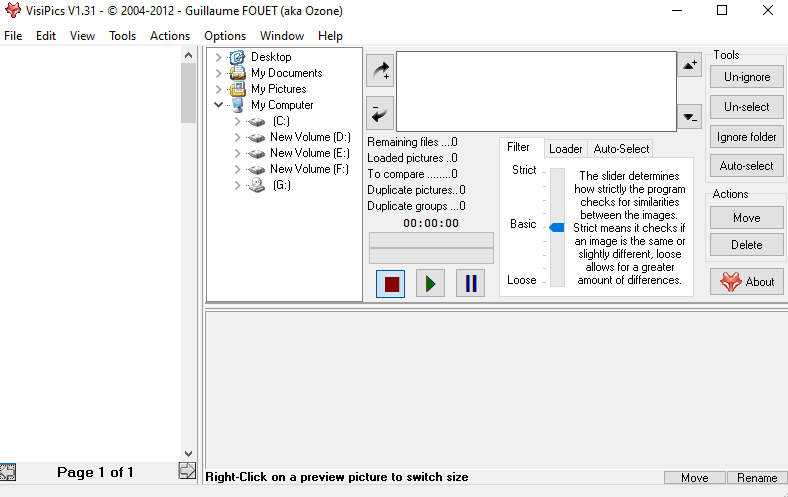 VisiPics takes into account all these factors. It is loaded with features with the help of which you can identify and remove images even if they have been rotated or slightly edited. Moreover, VisiPics supports a vast array of image formats which makes the task of deleting duplicate images even more precise, accurate, and fast.
Change Auto Marking Selection Priorities
All file formats supported
Software & Hardware Requirements
Here are some minimum software and hardware requirements that would ensure that VisiPics works smoothly on your computer –
Operating System: Windows 10, Windows 8.1, Windows 8, Windows 7, Windows XP, Windows 2003, Windows 2000
File Size: 2.10 MB
RAM: 512 MB RAM
Processor: 2GHZ Dual-core processor
Pros:
Simple and easy to understand interface
Preview that lets you dive straight into the containing folder
Auto-marking capability
Hover mouse on a group of images and find duplicates
Powerful filters to select duplicate images
You can delete, move and exclude folders from scanning
Have an option to scan rotated images as well
Cons:
Dated interface
Scanning speed could have been better
The application hasn't been updated in a while
Can't select individual files
Top Alternatives Of VisiPics Duplicate Photo Removal
Provider
$ Per Year
Top Features
1
Duplicate Photos Fixer Pro

$

39.95

Fast scanning engine
Works for similar and identical images
Auto-marking functionality
Accurate comparison methods
Image preview
Folder and file drag and drop facility
2
Ashisoft Duplicate Photo Finder

$

49.95

Customizable filters
Scan and delete identical and same images
Preview photos before deleting them
Add path or paste path for scan
Scan folders and individual files
3
Awesome Duplicate Photo Finder

$

0.00

Strong search mechanism
Scan and delete identical and same images
Drag and drop feature
Free from malicious files
100% free and clean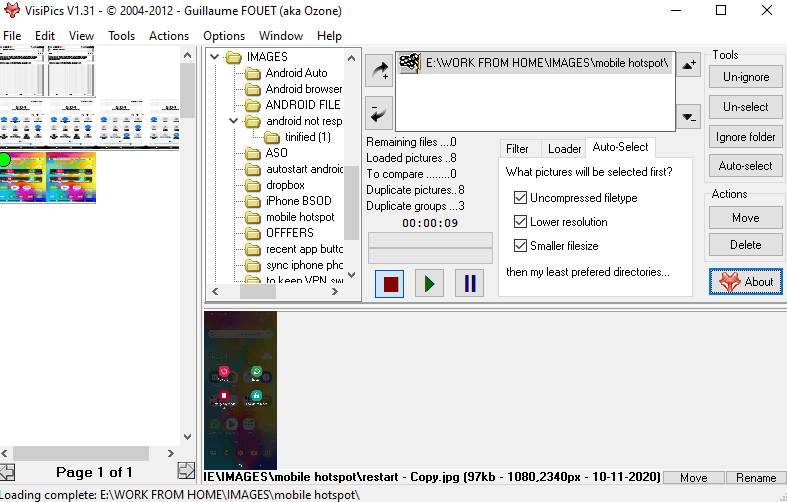 An application's interface should not just be flashy or swarmed with options, something that can overwhelm a user. That's exactly where VisiPics for Windows scores big time. It has a very simple interface. Let's put it this way, you will find everything under one roof or in software terms in one window.
VisiPics is a duplicate photo finder for Windows 10 that clearly defines what each of the options is meant to do. Starting from the left, you have the preview pane where you can see and analyze the files before you delete duplicate photos. Towards the middle, you have a section where you can add or remove the desired folder, apply filters, and in the right, you can take actions to delete and even move files.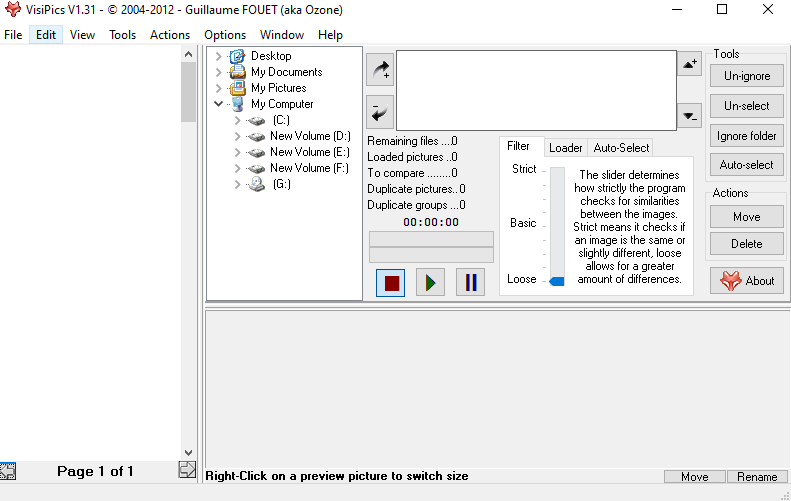 Let's have a look at some of the core features of VisiPics and see why it is preferred by users and professionals across the globe –
Lightweight Duplicate Photo Finder Software
Unlike many other Duplicate Photo Finder software, VisiPics for Windows is very light and doesn't put much pressure on your computer's resources. It just takes 2.10 MB of space on your computer and installs instantly.
Supports All major Image File Formats
It uses ImageMagick libraries to load pictures and supports all major image file formats such as JPEG, PNG, GIF, BMP, TIFF, TARGA, and many others. ImageMagick is an app that is renowned to deal with popular image formats. This implies that no matter what images you scan, VisiPics will be able to identify duplicates.
Sometimes two images are so identical, that it is next to impossible to find which is the right one. VisiPics lets you select the strictness level where the application would look for the smallest of the differences. There are three kinds of filters namely – Strict, Basic, and Loose.
This option lets you choose the size of the images so that even if a folder has larger sized images, you will only be picking up the images of the desired size
The Auto-Select feature lets you select pictures based on smaller file size, lower resolution, and uncompressed file type.
While all duplicate photo fixers let you delete images but there are only a few that let you move images right from within the dashboard and VisiPics is one of them.
Select Duplicates From Hidden Folders
Duplicate images might not just be there in the folders in front of you. Maybe you had hidden folders with tons of duplicate images. VisiPics even traces such folders and scans them for duplicate images.
You even have the option to scan for images that have been rotated.
Like most duplicate photo finders for Windows 10 VisiPics allows you to preview images before taking any action. However, there is one more thing that VisiPics offers but not even some of the best duplicate photo finder software and that is you can double click on the image in the preview section and head straight to the containing folder.
Updates are a crucial aspect of any software. Developers update software so that any bugs and vulnerabilities can be patched. Updates are one area where VisiPics is visibly lacking. Something quite evident from its dated interface and slightly slower scanning speed when compared to many other duplicate photo finder software. Despite having not been updated in quite a long time, you won't be disappointed with the performance.
No one denies a free application. And with VisiPics for Windows, you can lay your complete trust as it is indeed one of the best duplicate photo finders that you will find. It won't be wrong to say that if you are a beginner at using duplicate photo finder software, VisiPics can prove to be a great training ground and you won't even have to spend a single penny. However, we strictly recommend that you download VisiPics from trusted sources only to avoid getting attacked by malware and viruses.
For a duplicate photo finder, speed is a very crucial aspect. You cannot just sit and wait for hours to scan for duplicate images. It doesn't matter whether you are scanning hundreds or even thousands of images, the application should be able to identify the right duplicates in a matter of seconds or a few minutes at max.
We conducted a random test and scanned approximately 150 images, including duplicates and VisiPics was able to find duplicates in approximately 10 seconds. We won't say that it is the best scanning speed and result but considering the price (which is free), it still competes well with some of the best duplicate photo finder software.
All in all, VisiPics does a pretty decent and swift job in extracting duplicate images. You can increase the speed by choosing the right filters.
VisiPics has a dedicated help guide that guides you on various aspects such as the system requirements you need to have, interface, features and even if then you get stuck, you can personally email the developer.
Something's that immensely commendable about VisiPics is the knowledge base that it provides. On its support page you will find everything that will help you deal with any and every issue deftly, no matter how basic or advance a feature is.
How To Use VisiPics On Windows ?
The below-mentioned steps will help you get started with the application. You are always free to play around with the options and modules of the application. Here is how to use VisiPics to your maximum advantage and sieve out duplicate images:
Download and install VisiPics
Select the location (folder or folders) for duplicate images

Apply filters (something that we will talk about later in this interview) for more accurate results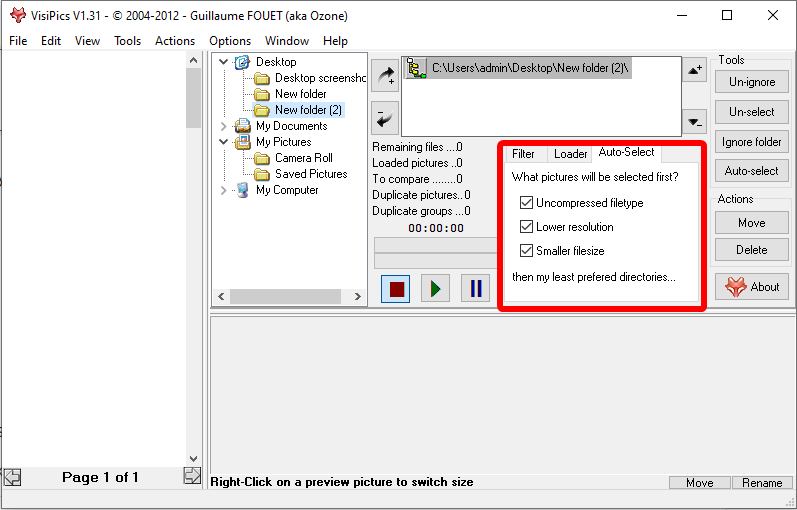 Click on the Add button (Right arrow with a + sign)
Click on the Start to find duplicate pictures button signified by the play button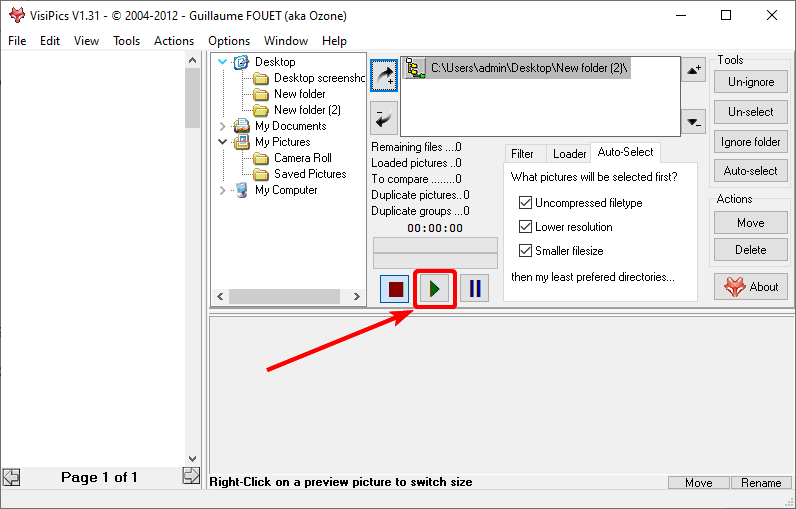 You can even pause the comparator or Stop all work
In no time, will you be presented with duplicates?
You can hover over your mouse on the duplicates and as you go and as you find duplicates, you can click on the Delete button at the farthest right-hand side
Now that you know how to use VisiPics, let's have a cursory look at some of its features.
Frequently Asked Questions
Q.1. What is VisiPics for Windows?
VisiPics is a small sized and yet one of the best apps to delete duplicate photos on a Windows PC or laptop. It helps you find duplicate images across several file formats with the help of its filters. You can even find duplicate images even if you have made small modifications or edits to your images.
Q.2. Is VisiPics Safe To Use?
Since VisiPics is free to download and use, it may raise eyebrows for the simple fact that it might be too good to be true. Let's clear the air – it is indeed safe to use. Firstly, VisiPics has been in existence eversince 2007 and has been used by both professional and non-professional users across the globe. You can download VisiPics from websites that have stringent measures to check an application for hidden viruses or malware. We have mentioned one of them above as well.
Q.3. How To Use VisiPics To Delete Duplicate Photos?
To use VisiPics on Windows –
Download and install the application
Once installed, you can either add a folder by clicking on the File tab on the top and then selecting Add folder or you can directly select the folder from the folder hierarchy that you can see in the middle of the screen
You can play around with the filters and reach the exactness of the comparison
Next, click the play button for the scan to take place
In the preview section on the left-hand side hover your mouse over a group of images and on the right-hand side, you will be able to see the duplicates.
You can delete a duplicate by clicking on Delete button
Q.4. Which Is The Best Free Duplicate Photo Finder?
The answer to this question is quite subjective. Knowing that there are several best free duplicate photo finders out there, you might have your preferences. However, you might land up downloading a corrupt application which might pose as a legit free duplicate photo fixer but it could be a virus. So, you can give VisiPics a try, which is 100% safe to use and download.
Final Verdict
VisiPics is a simple looking Duplicate Photo Finder packed with features that will help you get rid of duplicates in no time at all. It is a great tool for all level of users – whether you are a seasoned photographer, a tech enthusiast or a user who is dealing with a stuffed storage space. Do give this duplicate photo finder for Windows a try and let us know in the comments section if it has stood up to your expectations. If you liked this VisiPics review, do give it a thumbs up and share it with your friends.