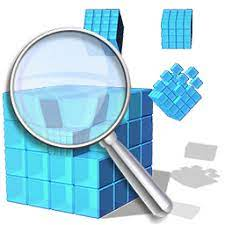 Auslogics Registry Cleaner
The Truth About Auslogics Registry Cleaner: An Honest Review
Are you facing slow PC performance issues, frequent  system crashes or recurring application-related errors? These issues may be caused by   invalid, redundant or corrupt registry items on your computer. Manually deleting such items can further put your computer at risk. Hence, you can take the help of a third-party tool like Auslogics Registry Cleaner which is regarded as one of the best registry cleaners for Windows PCs. Let's learn all about this popular tool in detail! .
Navigating the complexities of Windows registry items can be challenging  for average Windows users. That being said, when the need arises, even an average user need to access and modify the  registry items. To avoid the risk of inadvertently  deleting crucial registry items, one can even take help of a specialized utility like Auslogics Registry Cleaner. Wondering why?
Firstly, such tools have an easy-to-understand interface. Additionally, most of the registry scanning tasks are executed automatically, requiring  minimal user intervention.
In this Auslogics Registry Cleaner Review, we will discuss the various features of this registry cleaning utility as well as talk about its other notable aspects. You can also check out our post where we have enlisted some of the best registry cleaners for Windows.
What Is Auslogics Registry Cleaner?
It is a simple and effective registry cleaning utility for Windows. Moreover, it also acts as a registry optimizer that is capable of cleaning invalid registry entries, defragmenting Windows registry, and fixing Windows registry errors.
It scans your Windows registry for unused entries and errors and then prompts you to clean them. It doesn't require you to have any advanced technical knowledge. Another great aspect of Auslogics Registry Cleaner is that it can also repair corrupt registry items.
System Requirements
Windows compatibility – Windows 11/10/8.1/8/7 (both 32 and 64-bit)
Current Version – 0.0.4
Hard disk space recommended – 57 MB and above
Recommended screen resolution – 1000 X 675 or higher
RAM – 256 MB
How To Use Auslogics Registry Cleaner
Here is how you can clean the registry on your Windows computer using Auslogics Registry Cleaner –
Step 1 – Download Auslogics Registry Cleaner and run the installation file.
Step 2 – After the utility is installed, click on the Clean Registry option from the left-hand pane.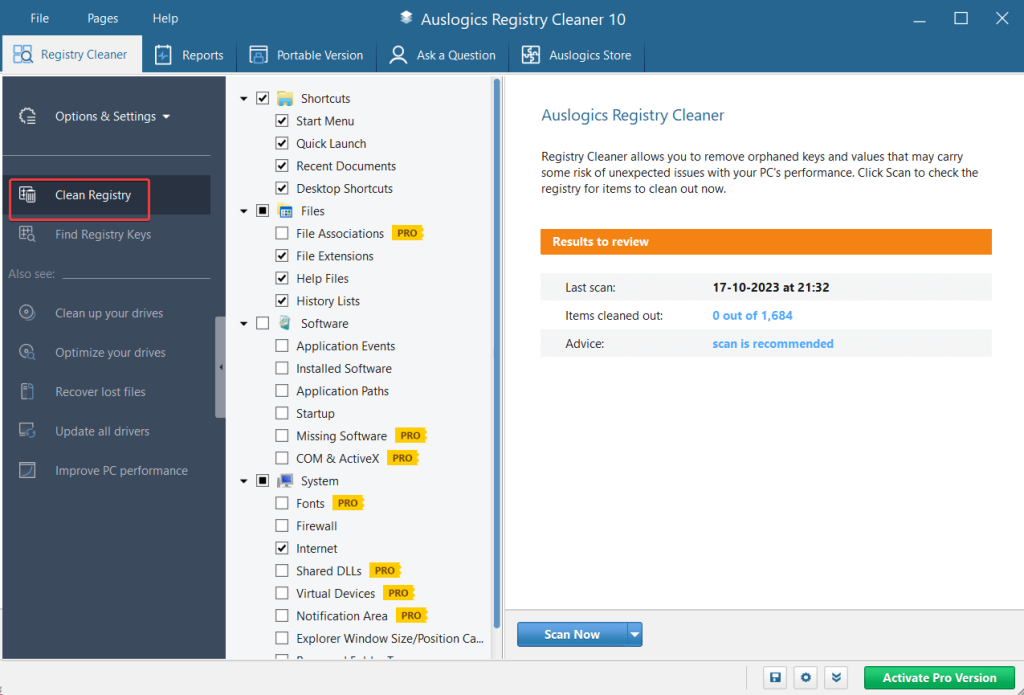 Step 3 – Check the boxes for the types of registries you wish to scan.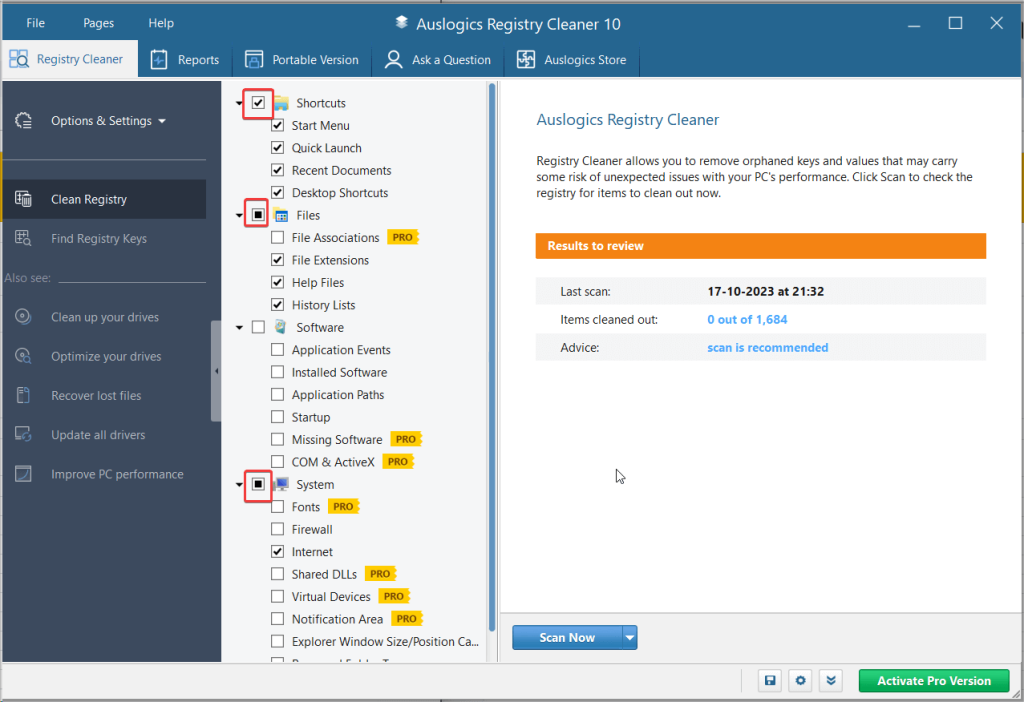 Step 4 – From the right-hand side you can either scan items and manually decide to take actions or you can click on the Scan and Resolve dropdown to fix registry issues.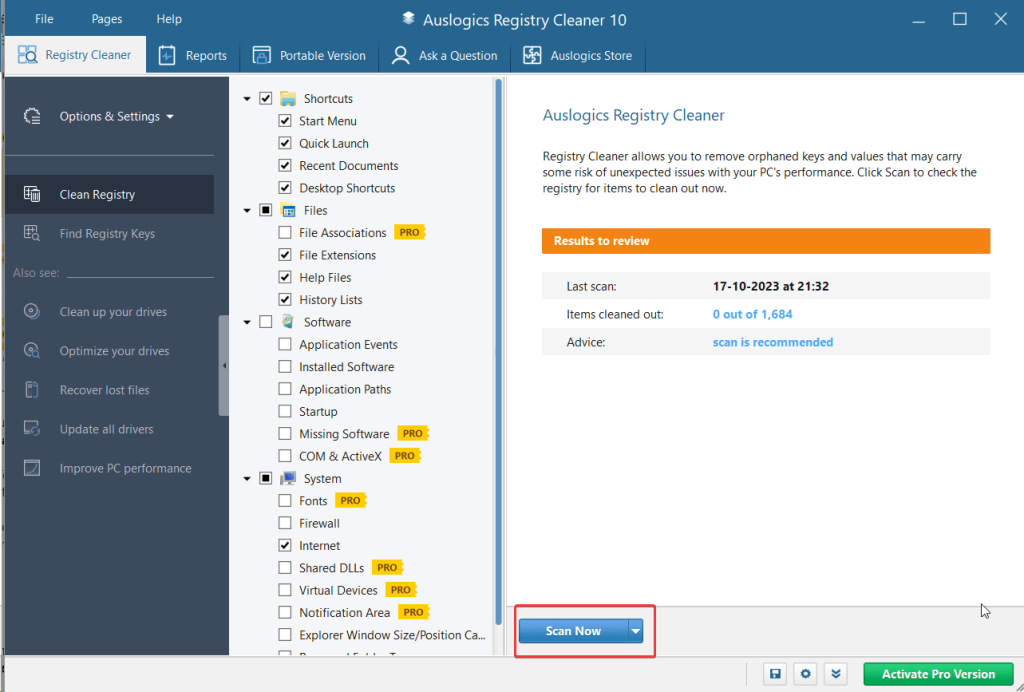 Step 5 – Once the registry items are found, click on the Resolve button, assuming  you didn't choose the Scan and Resolve option from the dropdown.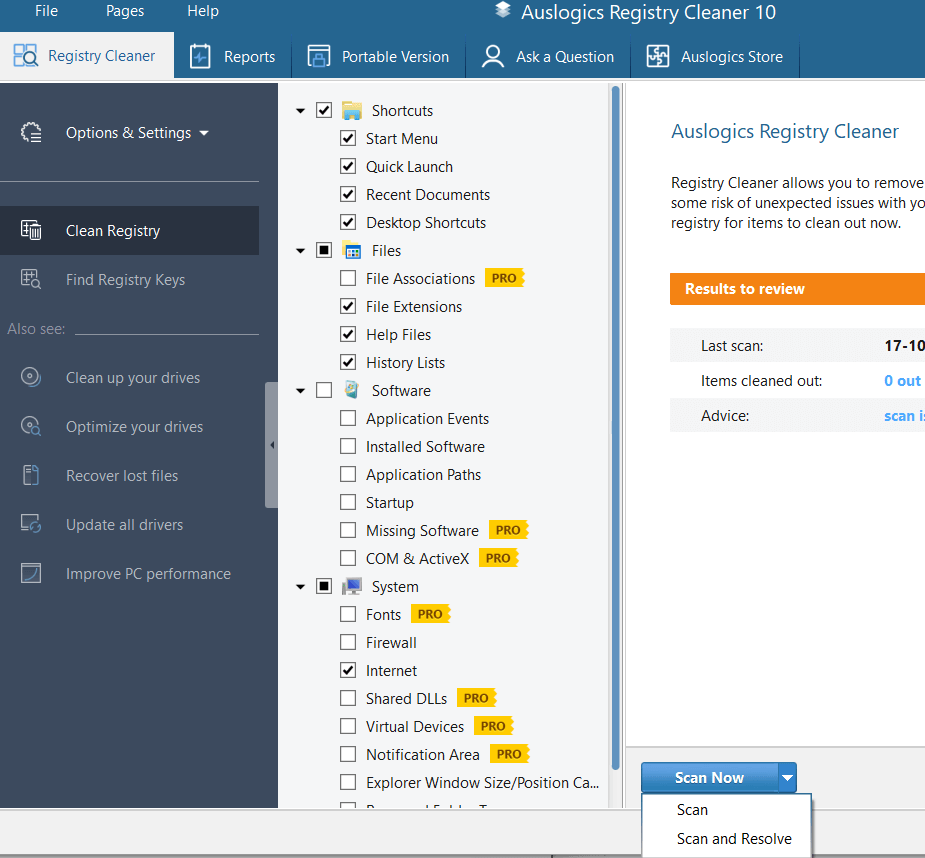 Step 6 – We also urge you to take a backup of registries. This can be helpful if the changes appearing after registry cleaning are not what you expected.
Interface
Auslogics Registry Cleaner 10 has an easy-to-understand and intuitive interface. The topmost section has the File, Pages, and Help menus.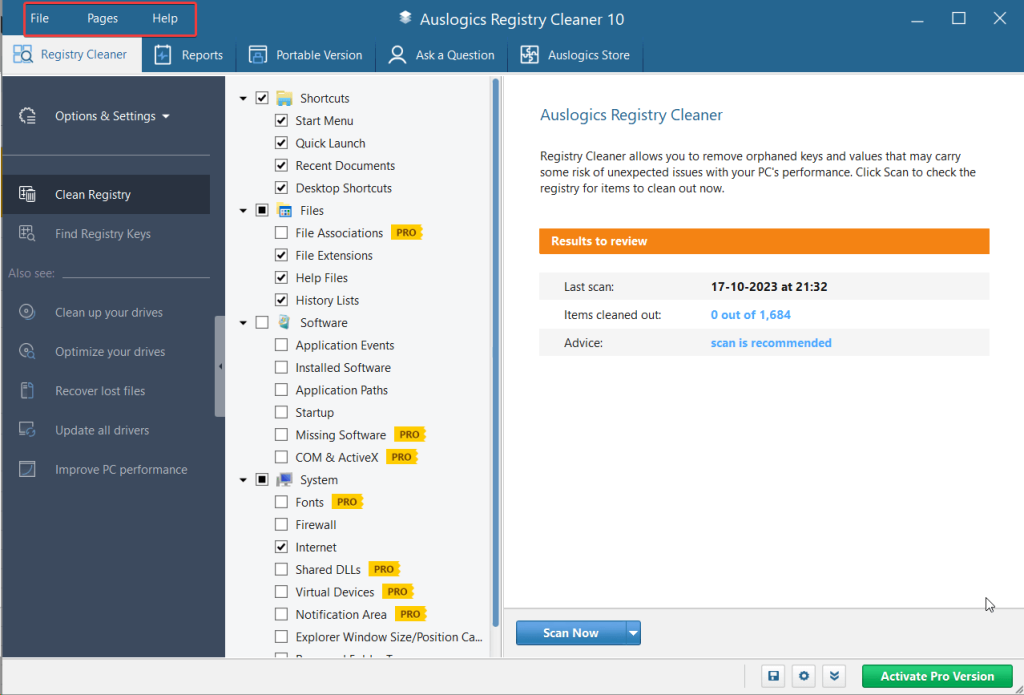 The File menu provides  options for running applications, opening the Control Panel, checking for updates, and customizing settings. The Pages menu enlists options that you will see just below the menu bar.
Just under the menu bar, you can see a collapsable pane. The first option is the Registry Cleaner, which is the primary tool for registry cleaning and optimization.Within the Options & Settings submenu, you have four options – Check Safe Only which scans and checks for those registry items that are safe to be resolved.
Then, it enlists the Scan and Scan and Resolve options that we'll discuss  below. Additionally, you can find the Back Up Changes options as well.
Below that, you have the Clean Registry and Find Registry Keys options. The Clean Registry lets you scan and clean the various different kinds of registry items and the Find Registry Keys option lets you find registry keys containing keywords or strings of keywords.
Under the two main registry cleaning options, you can find the other products that Auslogics has to offer.
1. Get Rid Of Registry Keys That May Pose Issues
Auslogics Registry Cleaner lets you remove unwanted keys and values that may pose a risk of causing unexpected issues and thereby hamper your computer's performance. And, it doesn't need to be a manual process, Auslogics Registry Cleaner scans for such registry items automatically.
2. Backup Registry
The backup feature of Auslogics Registry Cleaner lets you create a backup of existing registries before making any changes. In the event that something goes wrong after the changes are made, you can always revert to a previous state when everything was working fine. This means you can restore a previously backed registry. If you think that the backups might be taking up storage space, you remove backups that are older than a particular timeframe.
3. Remove Registry Keys of Uninstalled Applications
For various reasons, you might want to uninstall an application completely. A simple uninstall might not thoroughly remove all its components. A third-party uninstaller helps ensure that applications are removed entirely. Still, there are some poorly coded applications that still leave registry keys, and further cause issues. Auslogics Registry Cleaner helps you find such redundant registry keys in a matter of minutes.
4. Search and Cleanup
The free version of Auslogics Registry Cleaner offers a "Search and Cleanup" feature where you can find registry keys and parameters based on the string of keywords you provide. Here it is important to be cautious of the registry entries that you intend to delete. Be absolutely sure about the registry entry you want to delete.
5. Create A Portable Version
Let's assume you want to use Auslogics Registry Cleaner on a computer other than yours that's facing registry issues. You don't have to reinstall the software,you can simply use the Auslogics Registry Cleaner's portable version. This means you can directly carry the .exe file of Auslogics Registry Cleaner and use it on the intended computer.
6. Exclude Registries From Scanning
To avoid accidentally deleting crucial registry items, you can include them in the "Registry ignore list". These items will then be skipped during the scanning process.
Updates are released in Auslogics Registry Cleaner from time to time. Through these updates, developers ensure that bugs, if any, are resolved and features are rolled out regularly. Ever since its initial release various updates have been released in order to make the registry cleaner better. The program installer and internal libraries have improved. Effort has been made to make the utility more stable and reliable. With the recent updates, Auslogics Registry Cleaner is now compatible with the latest versions of Windows 11 and much more.
Auslogics Registry Cleaner is available as a free-to-use software where you can try out its various features. However, if you wish to use some of the advanced features such as cleaning up registry entries belonging to device drivers, codec, or components of ActiveX files, you will have to invest in a premium version. The pricing for the premium variants starts at $29.95.
Talking of the main operation, which is scanning and fixing registry items, in our personal use, the basic registry scan took less than a minute and the issues were fixed in almost the same time frame. We also created a System Restore Point in under 2 minutes.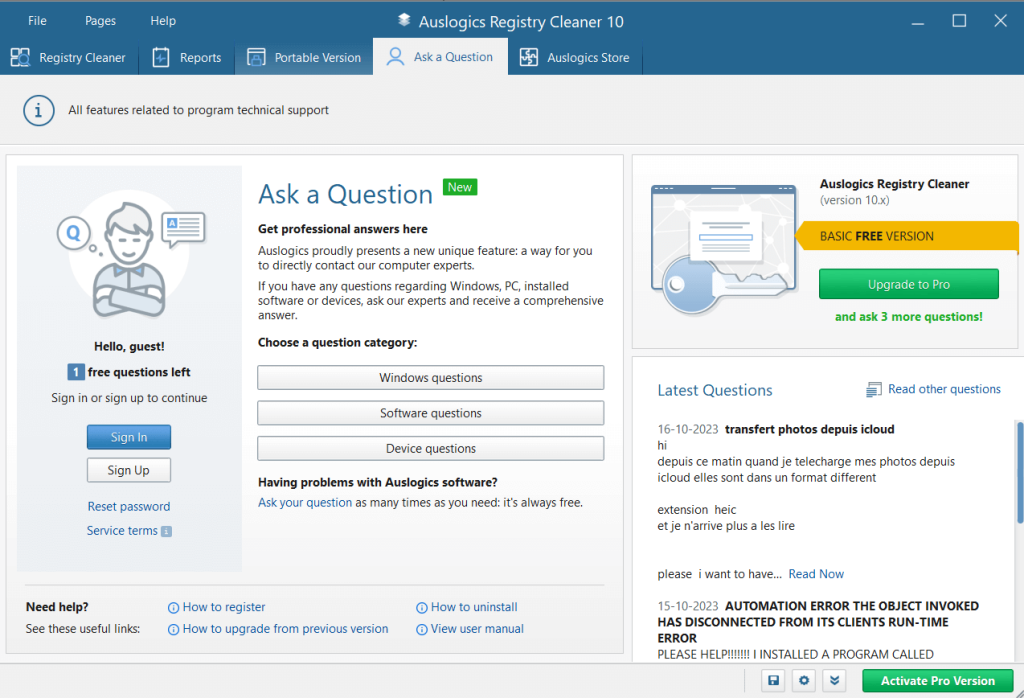 In case of any doubts, whether they are related to the functionality of the software or license issues, you can easily contact the  customer support team through various channels. The interface itself offers various ways through which you can reach out to the customer support team.
For instance, you can click on the Ask a Question option from the interface, where you can ask questions pertaining to issues you are facing with Auslogics Registry Cleaner or regarding issues on your Windows PC. The free version of Auslogics Registry Cleaner restricts you to 1 question whereas you can increase this number by signing up for a premium version.
Next, you can click on the help menu and select an option to reach out to the customer support team.
Say Goodbye To Registry Errors With Auslogics Registry Cleaner
Let's face it Windows registries are best left untouched. But, if an issue arises that requires you to get rid of unwanted registry items, we recommend downloading a tool like Auslogics Registry Cleaner that easily lets you get rid of only those registry items that are harmful. If you have used this tool and have benefitted from it, do share your experience in the comments section below. For more such content, keep reading Top10PCSoftware.
You can also reach out to us on Facebook,  Flipboard and Pinterest.
Frequently Asked Questions
Q1. Is Auslogics Registry Cleaner good?
Auslogics Registry Cleaner is a reputable tool known for efficiently cleaning and optimizing the Windows registry. Its user-friendly interface and reliable performance make it a good choice for users seeking to enhance their system's stability.
Q2. Do registry cleaners actually work?
Yes, registry cleaners can be effective in improving system performance by removing obsolete or invalid entries from the Windows registry. They help streamline the registry, potentially reducing errors and enhancing overall computer functionality.
Q3. Is Auslogics Registry Cleaner free?
Yes, Auslogics Registry Cleaner offers a free version that provides essential registry cleaning features. Users can choose to upgrade to the Pro version for additional features and advance functionalities.
Q4. Is it safe to use a registry cleaner?
When used correctly and with reputable software like Auslogics Registry Cleaner, registry cleaning is generally safe. However, caution is advised, as improper use or using unreliable tools may lead to unintended consequences. Users should follow guidelines and create backups before making changes.