Windows Registry is a database of several settings on your Windows PC. It can be helpful in running applications and various other inbuilt commands. Invalid Registry entries can create a lot of problems in your computer. To keep your registry entries optimized, use Registry cleaners for your computers. They can automatically clean the unwanted registry entries and free the system from any unwanted errors.
What Is Registry Cleaner?
A PC Registry Cleaner Software is a dedicated tool designed for identifying and eliminating invalid references in the Windows registry. These references no longer exist on your PC and it includes out-of-date DLL files, uninstalled programs, fonts, shortcuts, and other system information. Over time, Windows Registry becomes large and cluttered because of the accumulation of such redundant data, hence causing the computer to slow down and exhibit a variety of errors. Manual cleanup of invalid registry entries, broken/missing references is certainly an impractical job, as there are numerous entries & locating the problematic ones can be a tricky business.
Hence, the need for automation becomes apparent. Fortunately, the market has tons of Registry Edit Software that can help you ease the entire task of scanning, finding, cleaning & repairing Windows Registry
List of Best Registry Cleaners For Windows 11, 10 In 2022
Provider
$ Per Year
Top Features
1. Advanced System Optimizer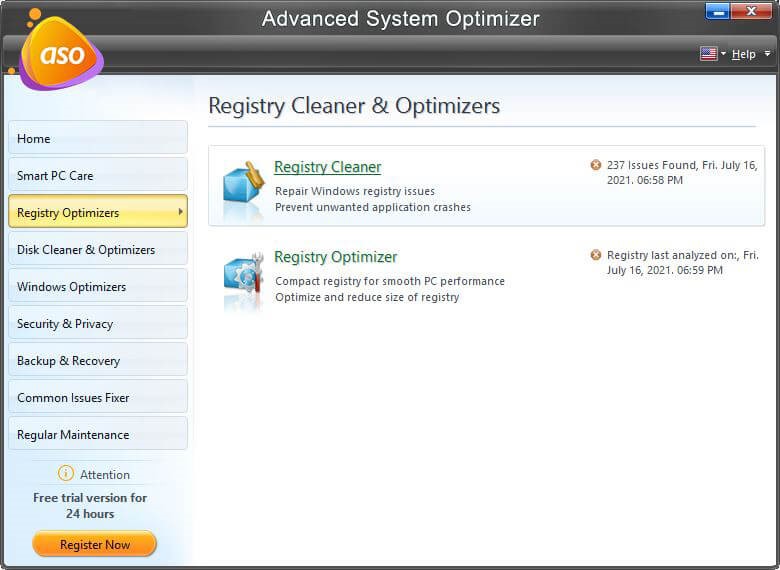 If you are looking for a powerful registry cleaner and optimization software, that's easy to use and packed with tons of tools to clean & tune up performance, Advanced System Optimizer should be your best choice. The application not only features an advanced registry cleaning module but also provides different tools to free up disk space, clean duplicates, defrag a hard drive, remove malicious traces, and more. The application even offers a decent free trial that allows users to test the product before they invest in the paid license.
Pros:
Easy to use simplistic interface
Modules for cleaning and optimizing PC
Game optimizer

Updates drivers

Detect and remove privacy traces
Facility to fix common PC issues with one-click
Easily fix disk fragments
Facility to backup important files
Integrated driver updater
Registry cleaner and optimizer
2. Advanced PC Cleanup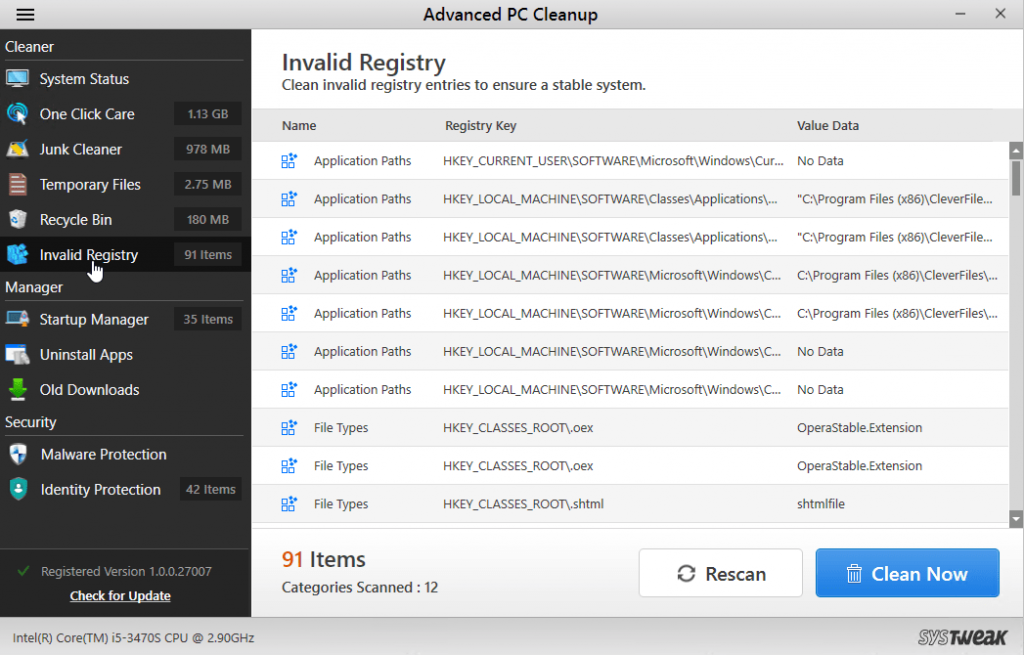 Next on our list of Top 10 Registry Repairing Tools is Advanced PC Cleanup. The application is designed and developed by Systweak Software and comes with a dedicated module to effectively run a scan and clean invalid registry entries. You will notice a significant performance boost after each scan. Advanced PC Cleanup also allows users to manage startup items, uninstall useless programs & safeguard their PC from malware.
Pros:
Cleans junk, temp files
One-click solution
Includes Startup Manager
Uninstalls Applications
Cons:
Premium features will require a full version
A few rival software do a slightly better job
3. CCleaner Professional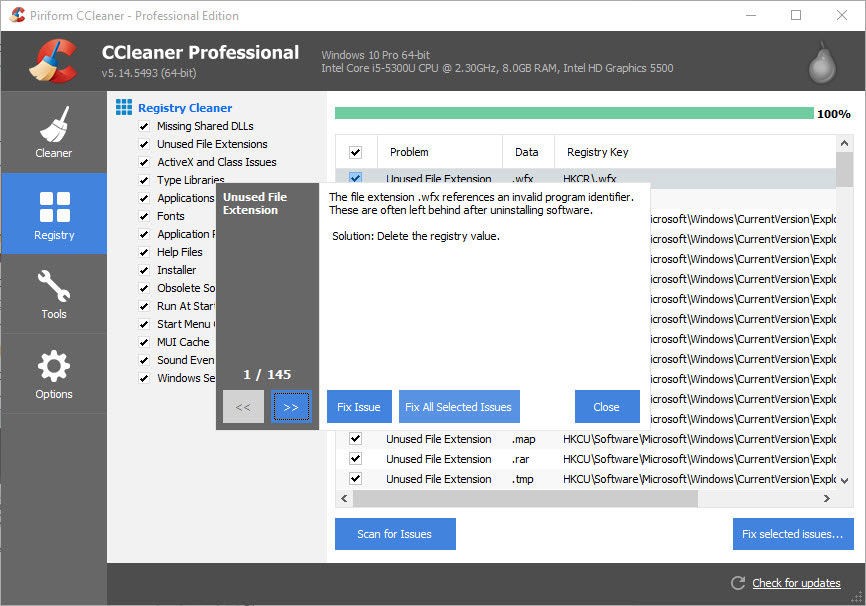 CCleaner Professional is one of the most popular registry repair software, used by millions of users worldwide. The application has probably one of the most comprehensive registry cleaners you will find. It is quite handy to use and list all the registry-specific issues in no time. Additionally, the software provides the ability to backup and restore the registry without any hassles. So, in any mishap, you can easily get to the previous version.
Pros:
Simplistic and easy to use interface
Light file size
Installation takes place pretty quickly
The tool regularly updates itself
Fix problematic registries and even create a backup before making any changes
You can schedule CCleaner to clean your PC automatically.
Keeps you aware of cookies that you might not want to delete
Cons:
The regular installer may bundle another software.
No explicit option for malware cleaning
4. Iolo System Mechanic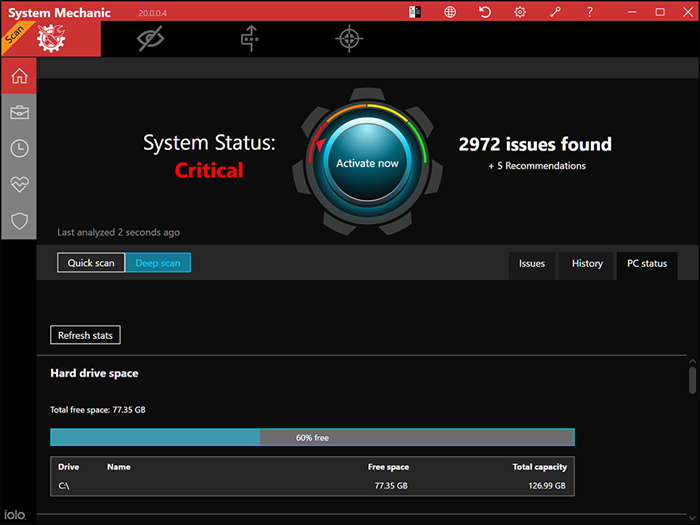 If you are looking for robust software that can help you fix broken registry entries in a couple of clicks, then choose none other than Iolo System Mechanic. The applications offer a comprehensive set of tools that allows users to declutter hard drives, defragment drives & memory. It is one of the best Windows registry cleaner tools that can help you fix frustrating errors, crashes, and frequent freezes.
Pros:
Easy to use, modern interface
In-depth one-click scan even in the free version
Functionality to enhance internet speed
Safely resolves registry issues and even backs it up
Malware removal
Swift and prompt customer support
Cons:
Enhanced features available in the paid versions only
Options could have been better marked
It can prove to be pricier for some
5. Restoro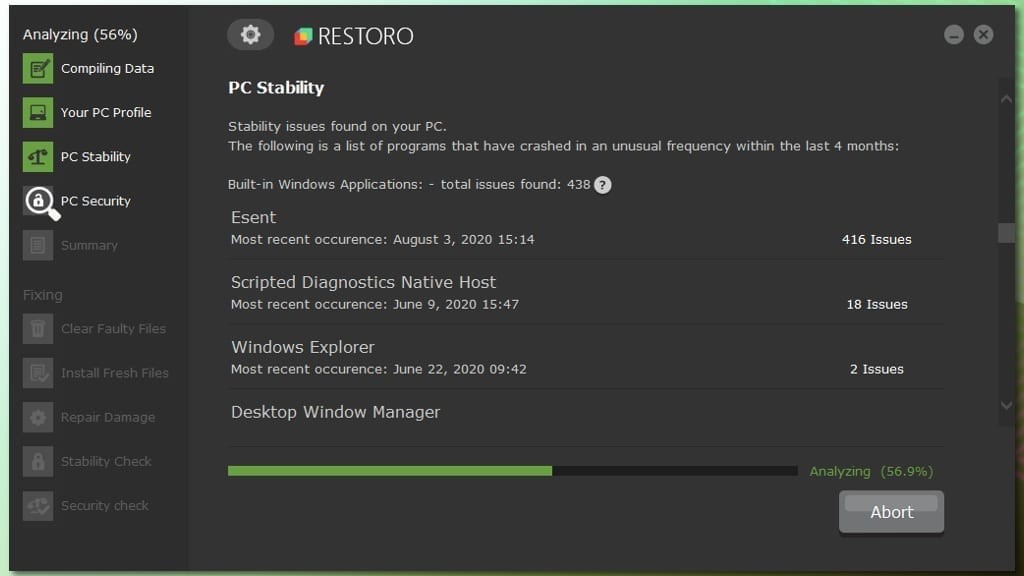 Talking about the best registry cleaners for Windows 11 and other OS versions and not mentioning Restoro is certainly not possible. The application not only repairs the damage caused by invalid and faulty registries and files. Additionally, Restoro comes with a suitable system and crash analysis feature that informs users about the CPU temperature, hardware details, and other general stats associated with your PC.
Pros:
It can easily and quickly recognize any Windows errors.
Restoro will also get rid of malware and viruses for you.
This registry cleaner app will refresh your system constantly.
Fastest scanning process, maintaining system stability
Cons:
Receives irregular updates
6. Auslogics Registry Cleaner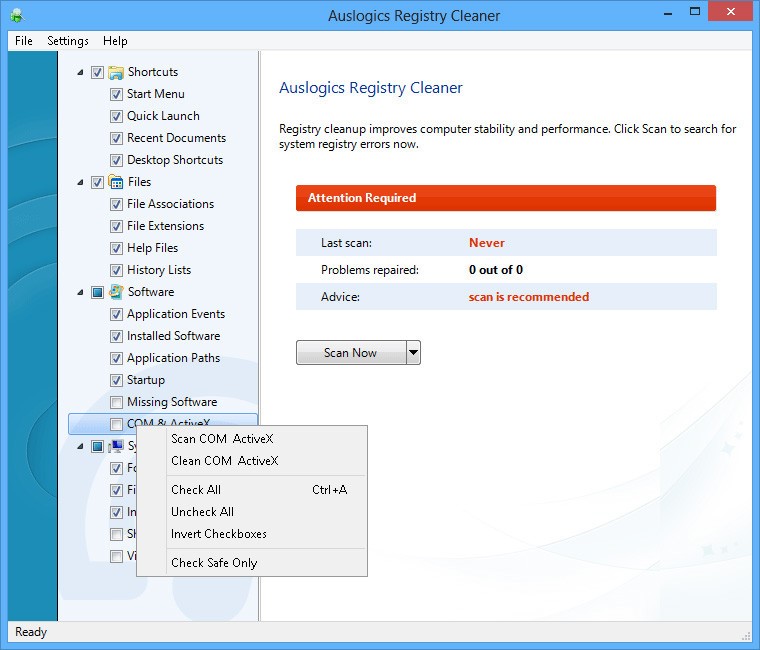 Auslogics Registry Cleaner is another great Windows 11,10 registry optimizer you can start using right away. The application is easy to use and features all the essential tools needed for fixing registry issues and optimizing overall system performance. It comes with the Automatic Registry Backup option so that you can undo the process anytime you want. You just need to access the Rescue Center which lists all the registry backups which are created before cleaning.
Pros:
A detailed report page of problems detected & fixed.
Comes with a portable registry cleaner version.
Provides the ability to pause & continue later options.
Highly  compatible with all the popular Windows versions
Cons:
May install additional programs during setup
7. Wise Registry Cleaner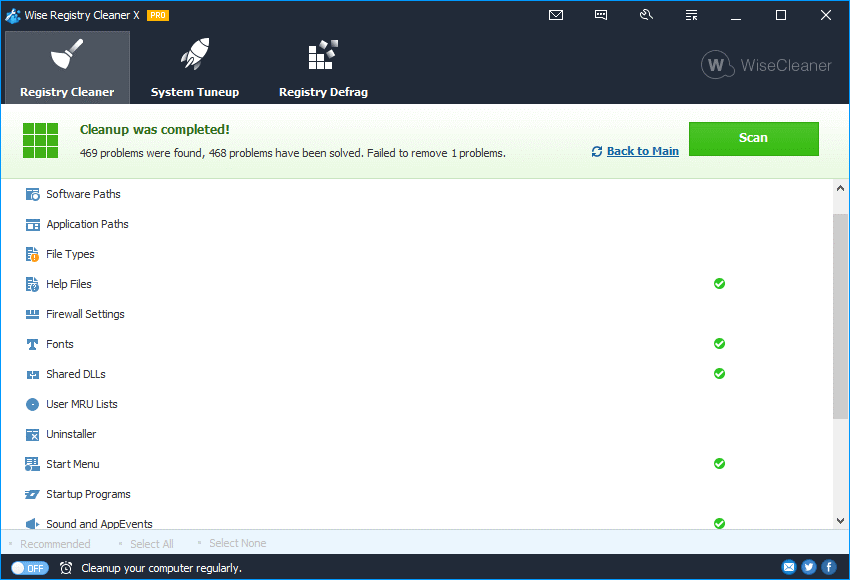 Here comes another free registry cleaner and optimizer for Windows 11, 10, and other OS versions. The software holds the potential to eliminate registry junks, repair unnecessary Windows registry errors, and help to defrag Windows without any hiccups. Using this good registry cleaner for Windows 10, you can easily achieve peak performance in no time. From the Settings menu, you can also create a 'Clean with 1-Click' icon & put it on your desktop.
Pros:
Lightweight registry edit software.
Easily find errors & residual items in the Registry.
Supports the full registry backup feature.
Allows users to create a system restore point
Cons:
Limited functionalities are unlocked in the free version
8. IObit Advanced SystemCare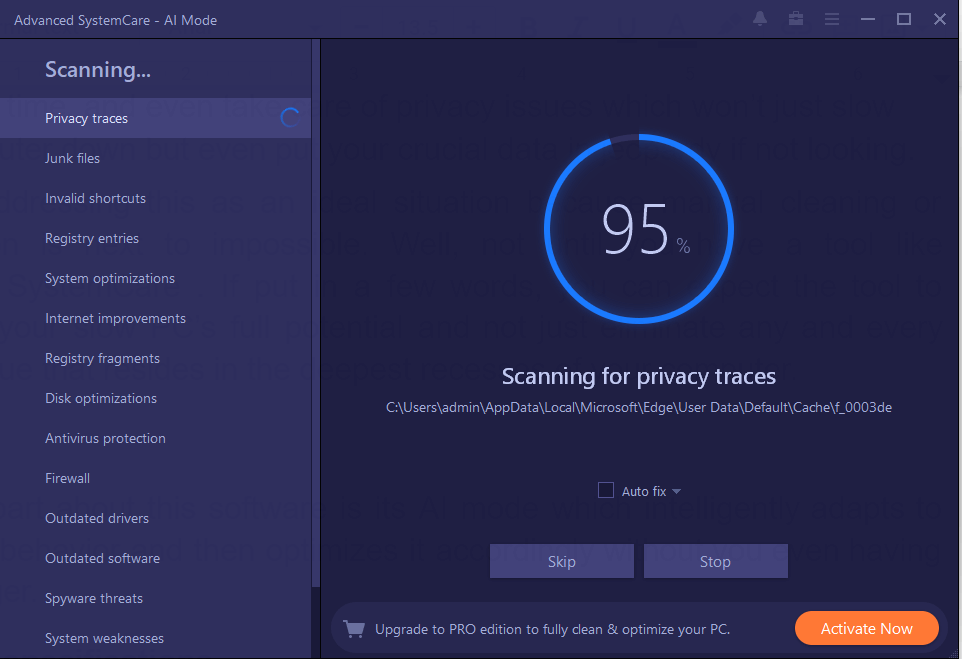 Claims to be one of the easiest to use Windows Registry Cleaners, and we certainly can't deny the fact. Advanced SystemCare features an attractive user interface and provides a wide array of tools that not only cleans your PC but also makes it run faster than ever before. The computer registry tool is undoubtedly an impeccable choice for both beginners and advanced users, all thanks to the robust set of optimization tools it offers.
Pros:
Simple and easy to understand interface
Preview that lets you dive straight into the containing folder
Real-time tuneup is available.
Update software present on your computer
Includes 30+ troubleshooters
You can delete, move and exclude folders from scanning
Have an option to scan rotated images as well
Cons:
Scanning speed could have been better
The application hasn't been updated in a while
Can't select individual files
9. Glarysoft Registry Repair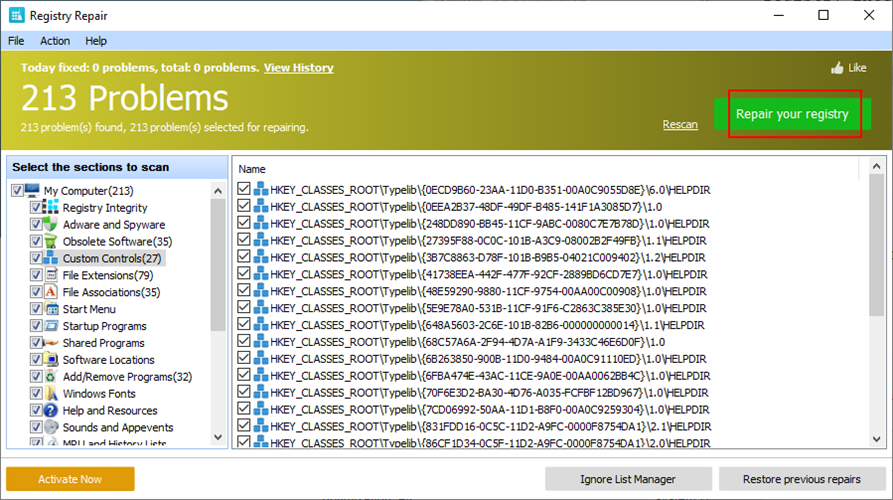 Registry Repair by Glarysoft is a simple and free registry cleaner for Windows 11, 10, and other versions. The application is known in the market for resolving a variety of errors and issues related to adware, spyware, outdated software, registry integrity, and so on. It features a one-click tool that looks over each issue in a comprehensive way. Additionally, it comes with the ability to add, exclude and delete registry entries or simply ignore them from future scans. This certainly makes it one of the best registry cleaners for Windows 11.
Pros:
Backups are created automatically before you can make any changes.
Significantly optimize your PC and improve overall performance.
It's safe from malware, as proved by VirusTotal Report.
It supports both 32-bit and 64-bit architecture types
Cons:
It has no portable version
10. JetClean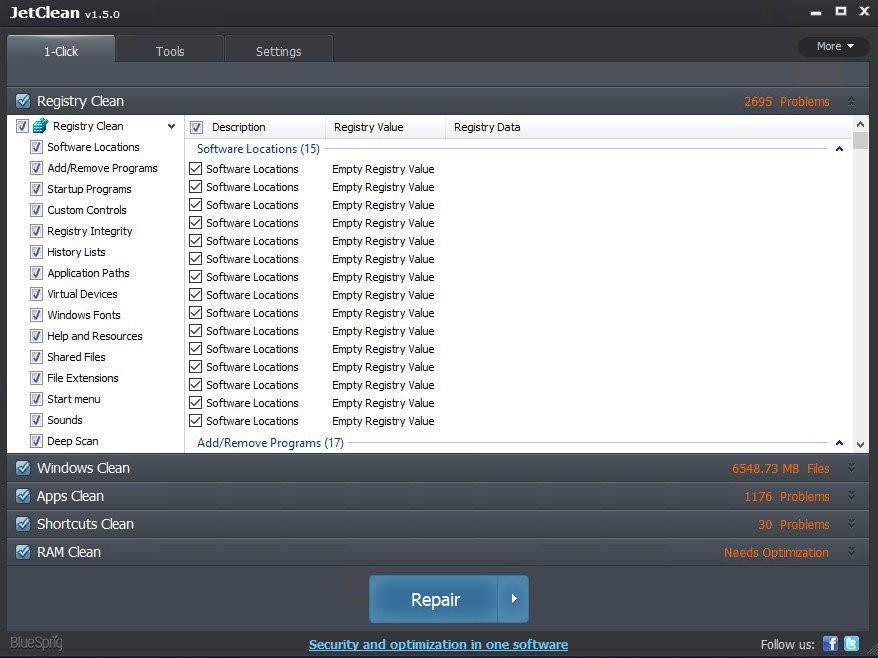 Last but not least in consideration, JetClean is a good registry cleaner for Windows 10 and other OS versions that you can try using in 2022. The application is a lightweight and reliable choice to tune up Windows performance in a few clicks. It thoroughly cleans unwanted junk files and repairs unneeded registry items to improve speed and performance. Additionally, using this registry repair software, you can easily shut down programs that may slow down your computer.
Pros:
Supports One-click clean & tune-up.
Swiftly cleans junk files, temp files & DNS cache.
Significantly reduces system errors & crashes.
Ensures faster PC startup & program launch
Frequently Asked Questions:
Q1. Do registry cleaners work?
Of course! Using dedicated computer registry cleaner tools like Advanced System Optimizer are designed for identifying and eliminating invalid references in the Windows registry. These references no longer exist on your PC and it includes out-of-date DLL files, uninstalled programs, fonts, shortcuts, and other system information.
Q2. Are registry cleaners safe?
Yes! Using a good registry cleaner for Windows 11 helps users to protect the entire repository of your computer that stores system information, settings, and other relevant information associated with programs & hardware from corruption or infection.
Q3. Which is the best free registry cleaner?
IObit Advanced SystemCare is probably one of the best programs to perform registry clean-up in no time. The application features an attractive user interface and provides a wide array of tools that not only clean your PC but also make it run faster than ever before.
Q4. Does Windows 11 need a registry cleaner?
Yes! If you want to perform proper computer maintenance, then it is important to keep your Windows 11 registry free from junk and other unwanted residues. These nifty registry cleaners for Windows 11 and other OS versions ensure that your device remains cleaned and optimized which is often overlooked during manual process.
Q5. Do registry errors slow down computers?
Of course! When your Windows Registry gets full of junk files and corrupted/damaged entries, your PC may witness a variety of errors and there's a significant dip in the overall performance as well. Hence, you must rely on a good registry cleaner for Windows 11/10 and other OS versions.
Conclusion
If you want to keep your PC working smoothly without any errors and glitches, then consider using Advanced System Optimizer for the purpose. The application is known for providing quick and hassle-free registry scanning. It even includes a wide range of cleaning, optimization, and security tools to ensure your computer remains in good shape and optimized for enhanced speed and overall performance. If you try using this registry cleaner for Windows then do let us know your opinions in the comments section below!