Advanced System Optimizer for Windows is one of the most powerful and the best PC cleaner and optimization software. It takes care of your computer's cleaning and optimization needs. Not just that, it even helps strengthen your PC's security by helping you get rid of malicious files before they cause further damage to your computer. Here's an in-depth review of Advanced System Optimizer.
Advanced System Optimizer: Introduction
Advanced System Optimizer is a PC cleaning tool that you should have in your PC if you are tired of a slow-performing PC. It employs several modules that are capable of tracking all those factors which are making your PC slow or hampering its performance. And, even after being armed with an extensive array of features, it is simple and easy to use.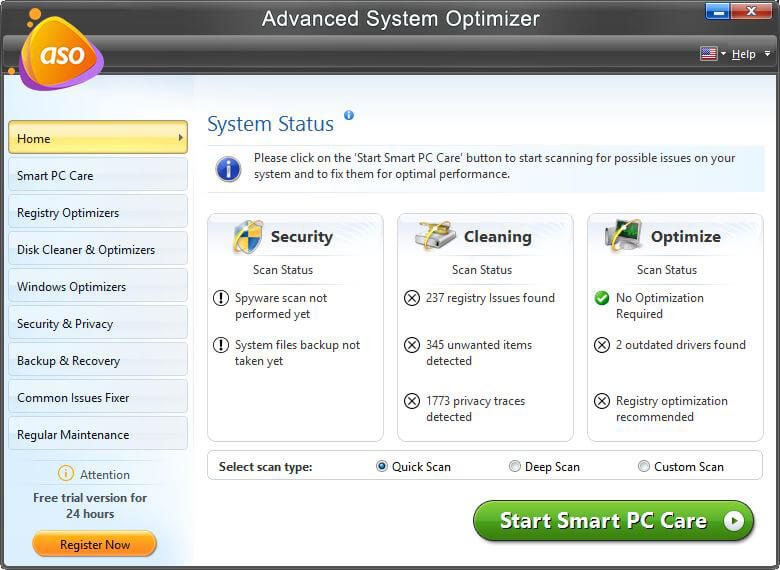 The Advanced System Optimizer is compatible with Windows 10/8.1/8/7/Vista and XP. This PC boosting software is constantly upgraded and renewed with even more powerful features.
To begin with, you can use the Smart PC Care module and with a single-click find and clean registry issues, privacy traces, disk fragments, and even update outdated drivers. You can also choose from three scanning modes, namely Quick, Deep, and Custom
Also Read: Best Free & Paid PC Cleaner And Optimization Software
Advanced System Optimizer: A Brief Overview
Starts from
$
49.95
per year
Detect & Remove Infections
Unused applications and unnecessary software
Automatic Cleaning and updation
System slowdown prevention
Pros:
Easy to use simplistic interface
Modules for cleaning and optimizing PC
Game optimizer

Updates drivers

Detect and remove privacy traces
Facility to fix common PC issues with one-click
Easily fix disk fragments
Facility to backup important files
Integrated driver updater
Registry cleaner and optimizer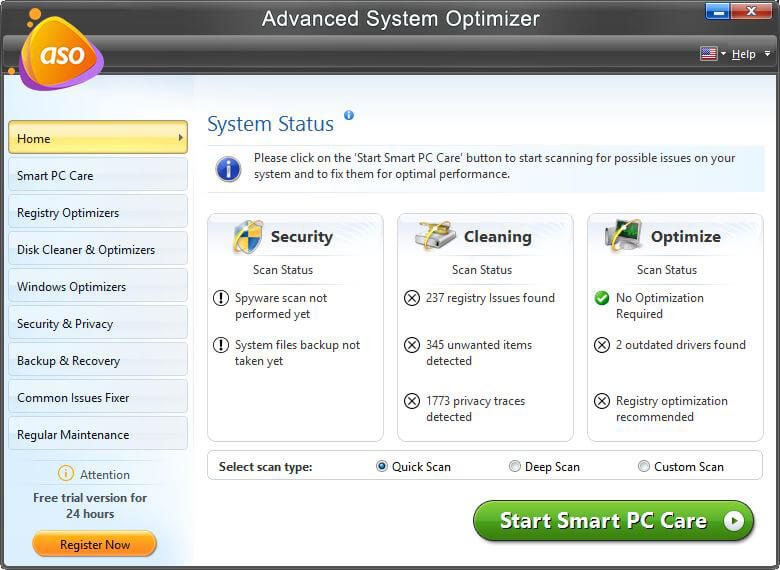 The interface is neat, clean, and simple. Each feature is placed in a manner that the user knows what the component is meant to do. Although, there might be few instances where the user might get a little overwhelmed.
Having said that, each feature is backed by a demo that tells the user how a particular feature can be used. Also, in case you need any help in terms of making a purchase, entering the license key, or anything else, you always access the help feature for the same.
The features of Advanced System Optimizer are strategically placed so that the optimization and cleanup needs of your Windows 10 PC can be taken care of. The best part is that each of these features has its customizable settings where you can schedule scans, create backups, and modify other settings as per your requirements.
We shall try and unearth what goes beneath each of these features –
Disk Cleaner & Optimizer
The cleaning module strategically cleans the junk files from your PC's hard drive, thereby boosting PC speed, response, and load time.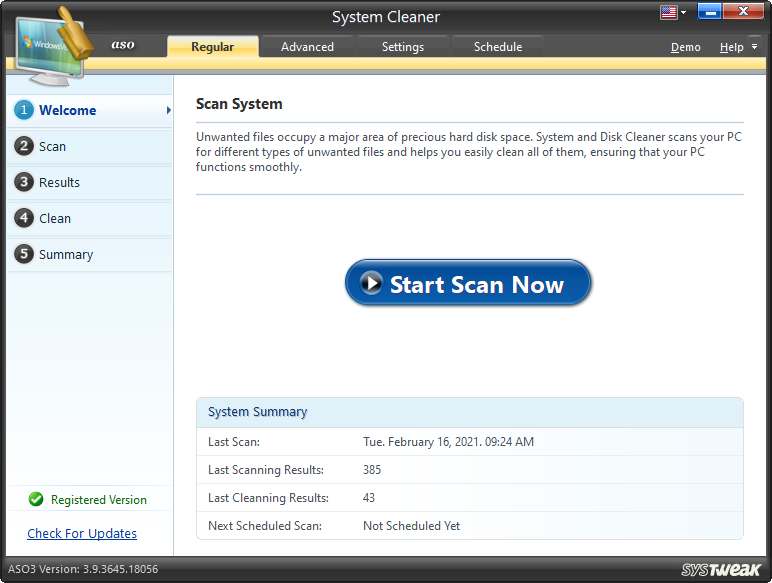 The system cleaner checks the system for all the unwanted files that are just eating away your precious storage space and hampering the functionality of your PC. More specifically, it checks all the drives and registries for unwanted temporary files and gives you the details as well.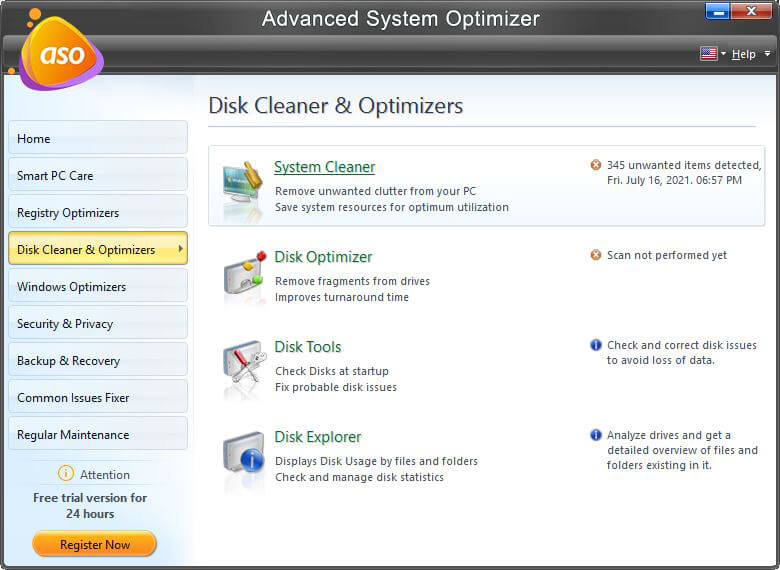 Disk optimizer analyzes the hard disk and tells you exactly how much of it is free, used, fragmented, or optimized.
Here you can check the file system and drives for any issues. Now, this section enlists all the drives and lets you perform analysis so that you can know which are the files and sectors that are creating issues. It also tells you in detail about all the hard disk devices.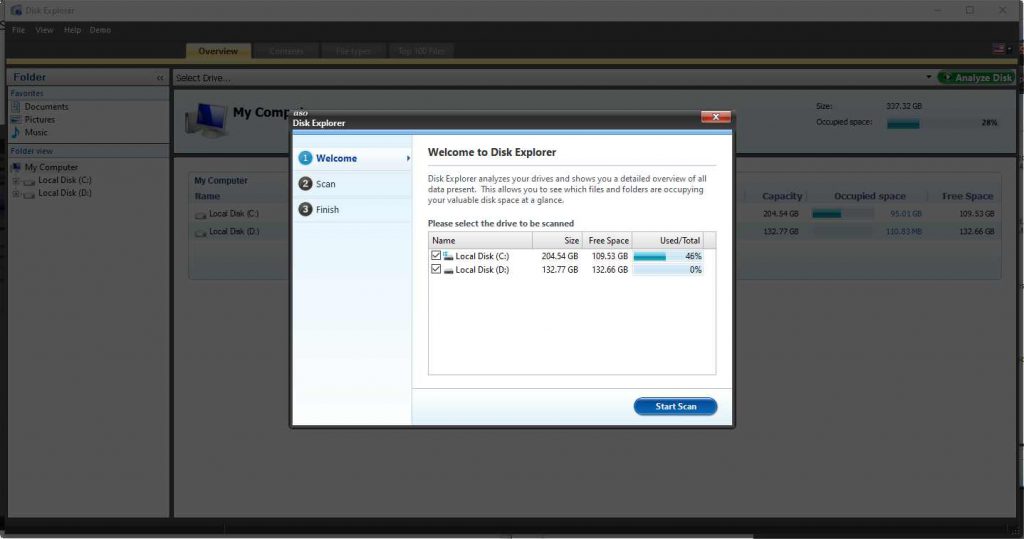 In simple terms, disk explorer tells about what percent of space is acquired by each of the drives present on your PC.
System Security & Privacy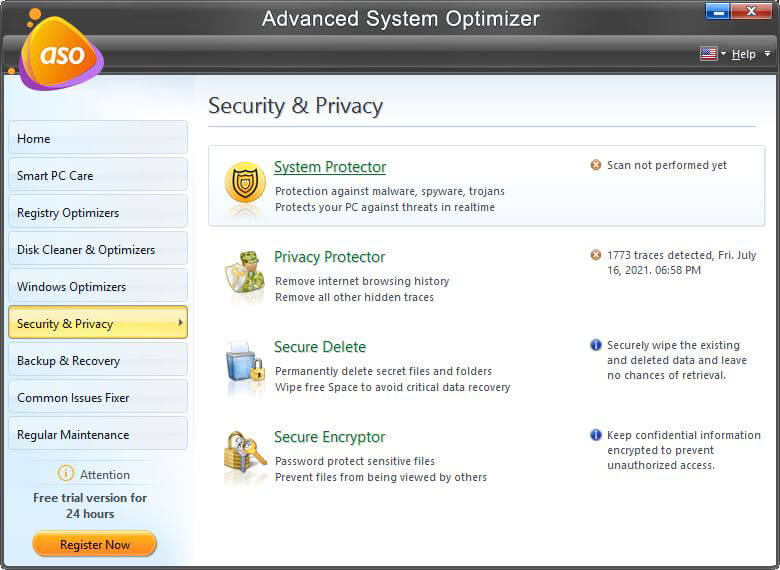 As a part of system optimization, the software must also remove any security threats before they disrupt your system's data. The security threats that Advanced System Optimizer removes include malware, Trojans, and spyware. To tackle such threats, the module is further armed with the following tools.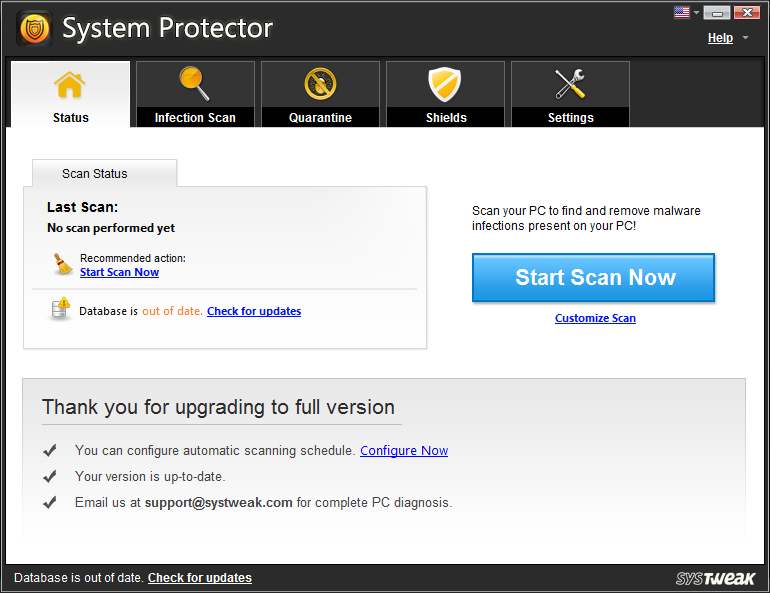 The system protector deeply and comprehensively scans all files and folders, system's memory, internet cookies, and registry for malware, trojans, spyware, and other infections and then gives you recommendations on what actions can be taken. It also looks for any invalid administrative settings that you might need to tweak to preserve security.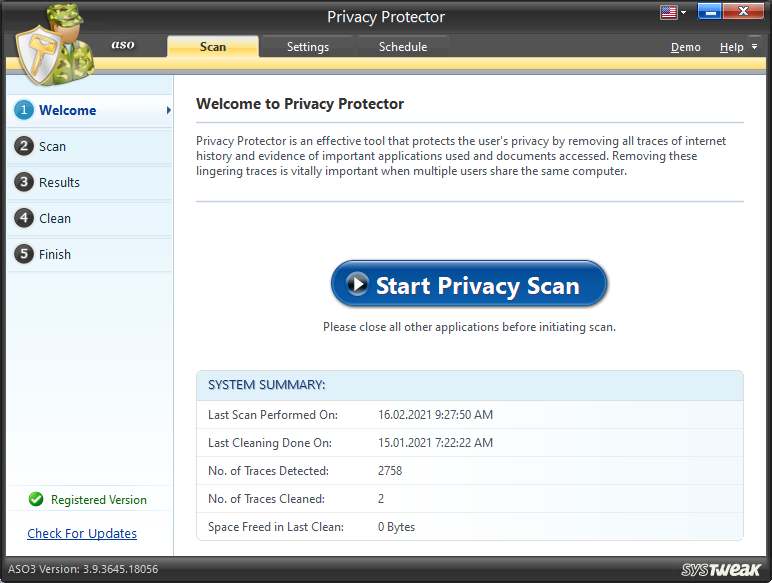 After you have accessed files and documents on your PC or after you have browsed the internet, Windows keeps track of all the traces, which is good. But, this can also be a doorway to a lot of sensitive information which can easily go into the wrong hands, especially if multiple users are sharing the same computer. Privacy protector enlists all these traces and helps you get rid of these all in one click.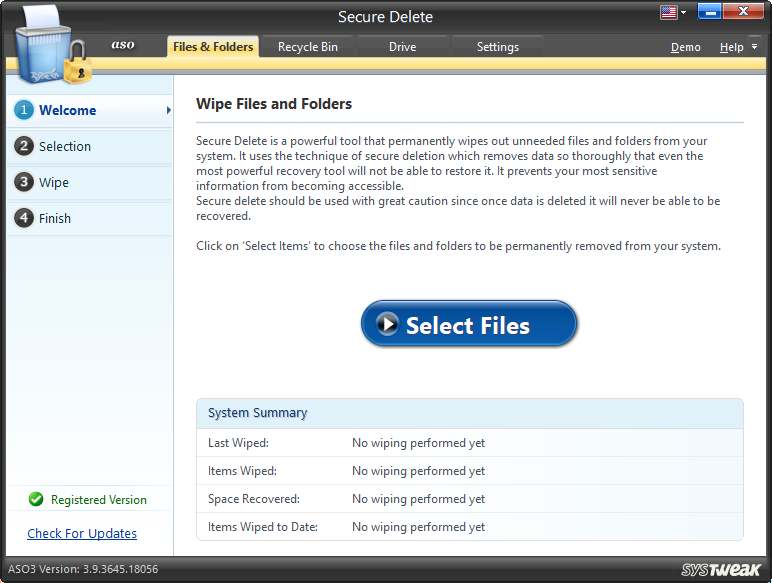 Even after you have deleted files, folders, and documents from your system, there are chances that they are not entirely deleted and can be recovered, but after you have used the 'secure delete function, there is no chance that even the most powerful tool will be able to recover them.
Now, here you have the option to add files and folders from the desired location on your computer and click the 'Remove' button. That's it! They'll be gone forever.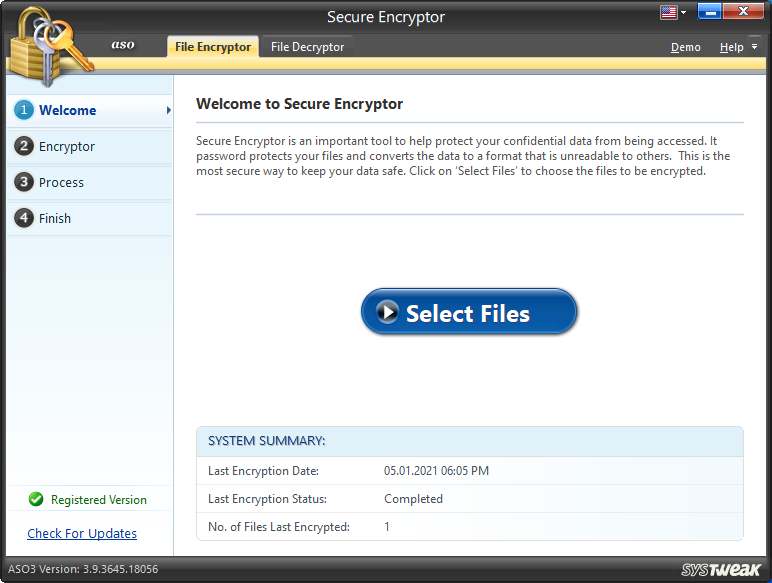 An encryptor and decryptor embedded in a PC optimization is a great add on and something that cements your PC security to the core. Here you can individually select files or select multiple folders and encrypt or decrypt them.
Windows Optimizers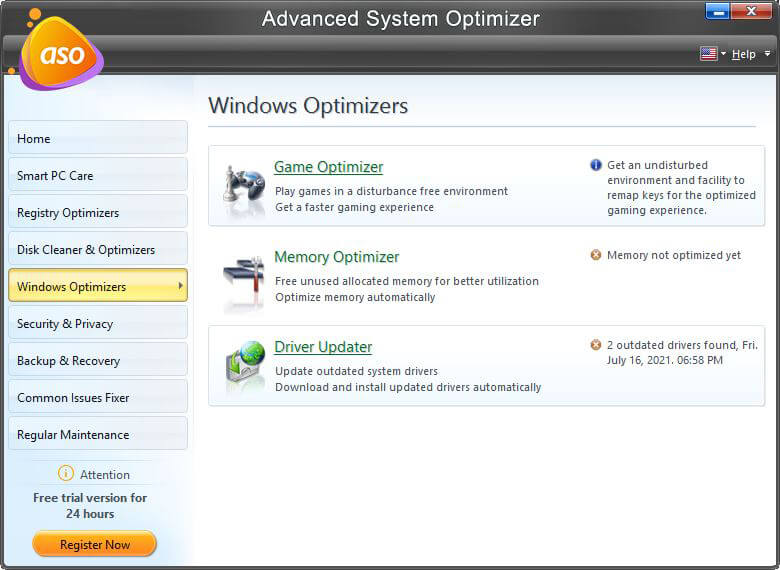 We need a fast responding computer, especially when we are performing heavy tasks such as playing games. But let's face it, there could be times when it might not be simply because memory is not well allocated, the space on the hard drive is compromised, or a driver is outdated. And, Advanced System Optimizer has strategies in place to resolve such issues.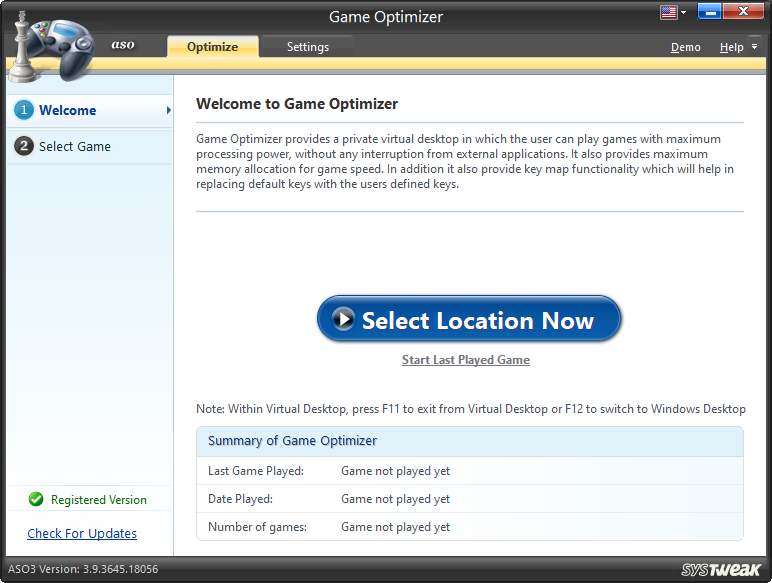 First, let's see how ASO provides for a great gaming experience. It provides you with a virtual desktop that bars any interruption from external applications and at the same time provides maximum processing power. Additionally, it allocates memory for game speed and replaces default keys with user-defined keys.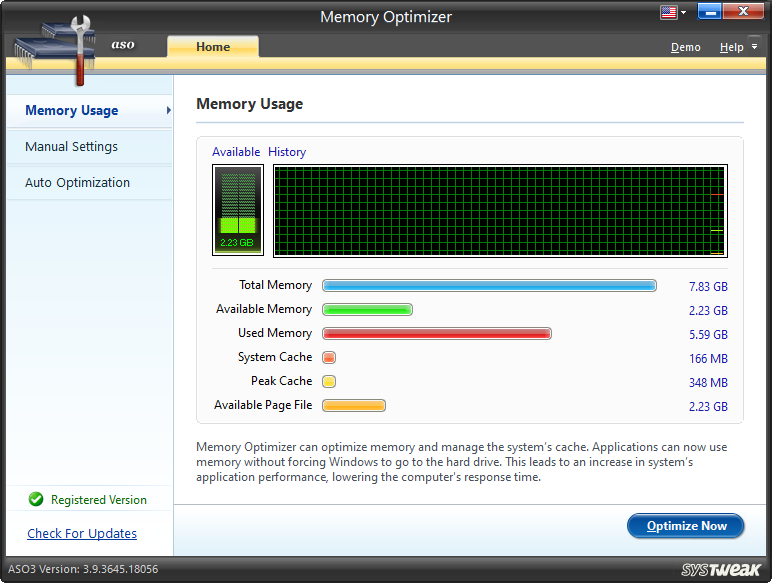 With just a mere click your system's cache gets managed and applications are stopped from putting hands in the hard drive.
One of the optimization needs of a PC is that all the system drivers of the PC need to be updated. But, there are two things – first, it's manually impossible to keep a track of outdated drivers, and second, even if you find outdated drivers, searching for the compatible ones is again a difficulty. That's where the 'driver updater function' can and will prove to be helpful. It'll keep you updated on all the drivers which are outdated and instead help you install the latest drivers with just one click.
The best part is, it even creates a backup of existing drivers in case the new driver proves to be incompatible. Moreover, you can even restore an old driver in a similar situation
Backup And Recovery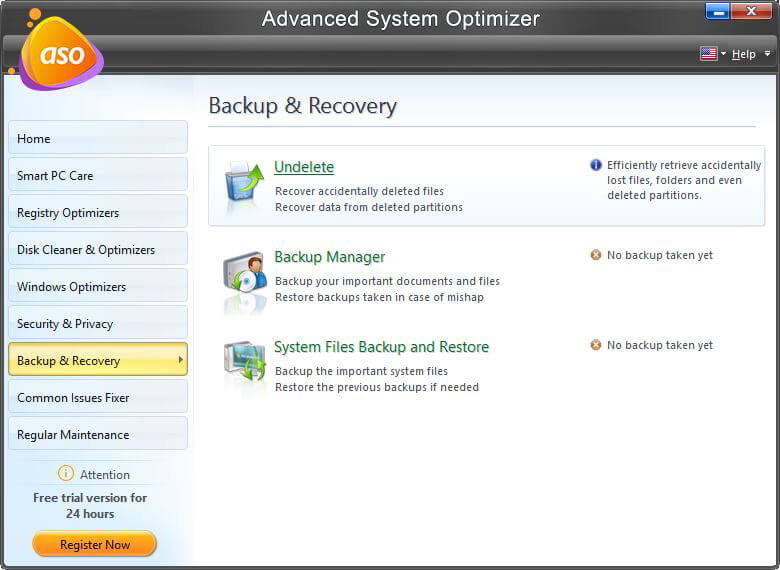 Despite all the great modules, every software has to have a backup plan in place, and Advanced System Optimizer has a strong one there.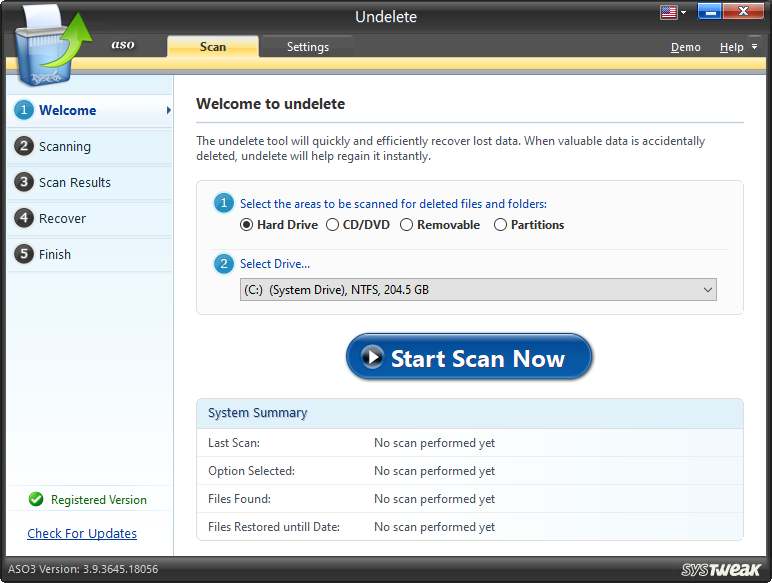 If you have mistakenly deleted an important file or folder from any of the locations on your PC or even from an external drive, you can easily retrieve it back.
Here you can create new backups of desired files, folders, settings, and emails and send them to any remote or local system. That's not just it; you can even choose to restore and manage old backups. Plus, you can even choose to schedule backups at a desired time. This scheduling can be applied to chosen files and folders.
System Files Backup and Restore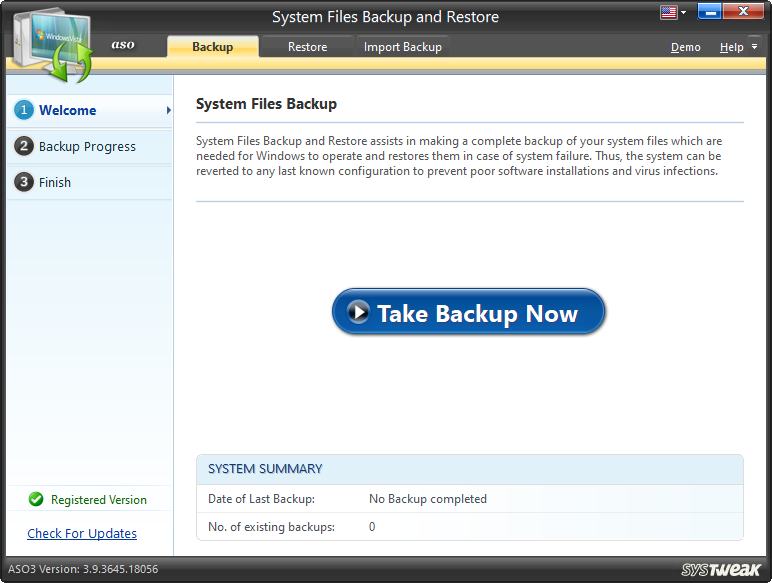 You never know when a mishap might make your PC crash. If you haven't been ready, you will lose all your system files and settings, which you won't be able to recover later. However much you want, creating backups is not an easy job. But, for Advanced System Optimizer, this is a piece of cake. When you click the 'Take Backup Now' option all your system files, and configuration is backed up and you can restore these when you are again setting up your new system. Needn't worry about poor software installations or virus infections.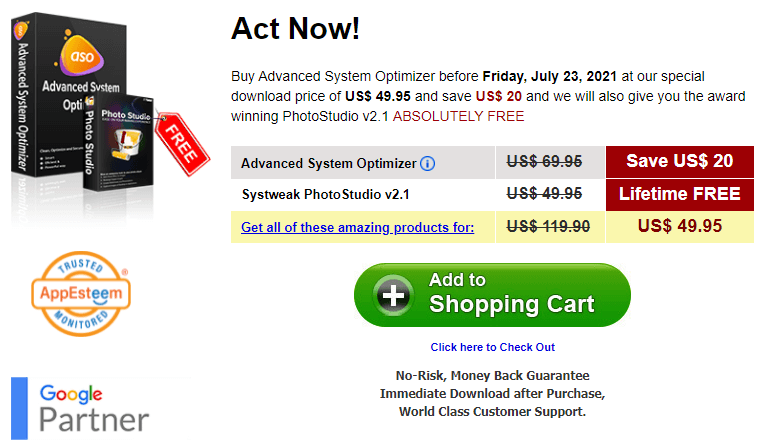 With the features listed above, Advanced System Optimizer is a secure and affordable option as it comes equipped with powerful modules. All in one solution for a Windows PC, this PC optimization tool is undoubtedly one of the best PC optimizations tools available. To all those who are willing to try it out first, Advanced System Optimizer also gives you an option for that. Download the latest version which will work for the next 24 hours and you can try out the modules on your computer. It will help you get a better understanding of the tool and thus you can make a good decision.
This is an aspect of the tool that we thought could have been a little better. It does take some time to give back results. But overall the functionality and other aspects make up for the speed.
In terms of support, Advanced System Optimizer's customer service does a good job. In case of doubts or issues with the product itself, you can reach out using various ways. You can email your issues/ queries, contact the dedicated customer support team via chat or telephone and you can rest assured of prompt replies on all the aforementioned fronts. Plus, there is a tremendous amount of exhaustive material on the website which covers all the issues.
Top 5 Advanced System Optimizer Alternatives
Provider
$ Per Year
Top Features
The Final Verdict
Leaving aside the speed, which shouldn't be a major issue, all in all, Advanced System Optimizer takes a 360° perspective on all optimization needs. Be it, cleaning the system or strengthening its security; Advanced system Optimizer has the right tools and strategies in place. Plus, it also keeps room for backup to deal with all kinds of situations.