Looking for a PC Optimization software, Piriform CCleaner can be your best bet. It specializes in PC maintenance as well as PC security while at the same time freeing up precious storage space. It has been tested on several reliable third-party platforms, which shows that it not only helps recover space but even frees up RAM as well as enhances the speed of your PC.
Piriform CCleaner – Introduction
Piriform CCleaner for Windows is a professional PC optimization and maintenance tool. First, the CCleaner comes from Piriform, the brand that has already carved a niche in PC Optimization tools, not just for computers but also for phones. CCleaner is fully compatible with all the latest versions of Windows, which include Windows 10/8.1/8/7 (both 32-bit and 64-bit). This implies that you will not have any issues using the tool on any Windows version.
It offers one-click automatic cleaning with the help of which even beginner users won't have any issues in optimizing their computer in a short frame of time.Now, when we say automatic cleaning, here is what we are talking about, CCleaner lets you schedule cleaning tasks, so you don't have to worry about keeping a check constantly.
It has a simplistic, self-explanatory, and easy to use interface where you know exactly what each option will do. The free version offers you standard cleaning and privacy protection. However, for more comprehensive and other features such as software updater, priority customer support, and the ability to stay away from running out of space, you will have to opt for the software's premium version.
Piriform CCleaner: A Brief Overview
Starts from
$
24.95
per year
Detect & Remove Infections
Unused applications and unnecessary software
Automatic Cleaning and updation
System slowdown prevention
Pros:
Simplistic and easy to use interface
Light file size
Installation takes place pretty quickly
The tool regularly updates itself
Fix problematic registries and even create a backup before making any changes
You can schedule CCleaner to clean your PC automatically.
Keeps you aware of cookies that you might not want to delete
Cons:
The regular installer may bundle another software.
No explicit option for malware cleaning
Top 5 Alternative of Piriform CCleaner Software
Provider
$ Per Year
Top Features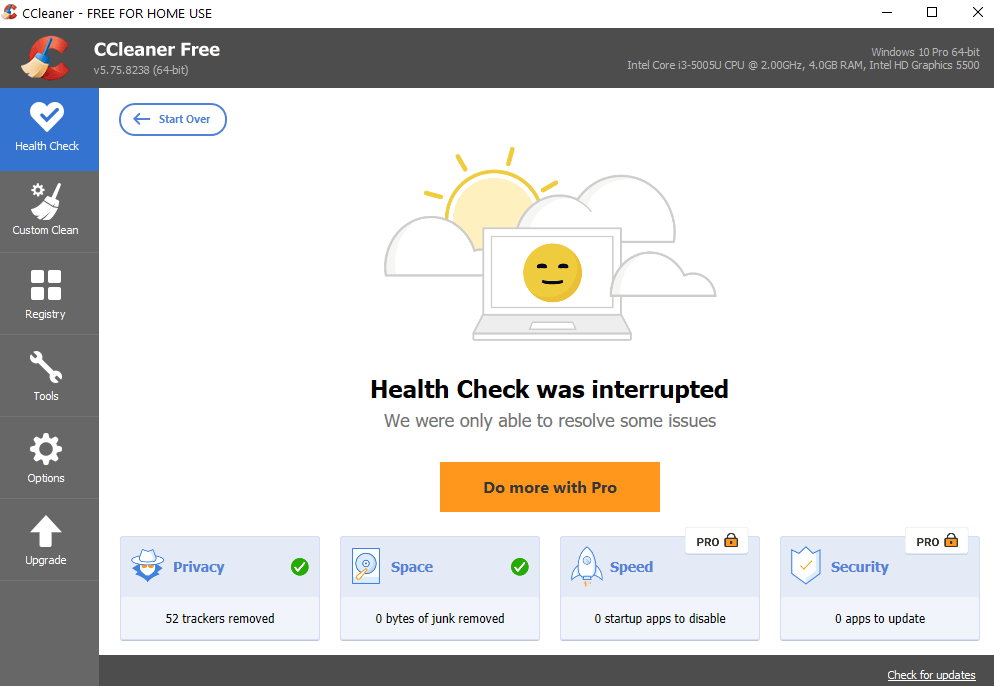 The interface is one of the various highs of Piriform CCleaner. The moment you look at the interface, you know exactly what to. There are a few options. On the left-hand pane, namely Health Check, Custom Clean, Registry, Tools, Options, and then last but not least, you have the option to sign-up for the premium version. This means you won't have to spend much time getting around the software.
Don't just go by the number of options on the pane; all of them are enough to optimize your PC. However, the "Tools" and "Options" could have been presented more intuitively as they contain some of the critical tools to optimize and clean your computer. Another significant aspect of CCleaner is that it tells you about the core specs of your computer. The specs can be seen at the top right corner of the screen.
Let's discuss the features of Piriform CCleaner in greater detail. Through these features, we will be able to understand better how CCleaner cements the optimization, security, and cleaning needs of your computer –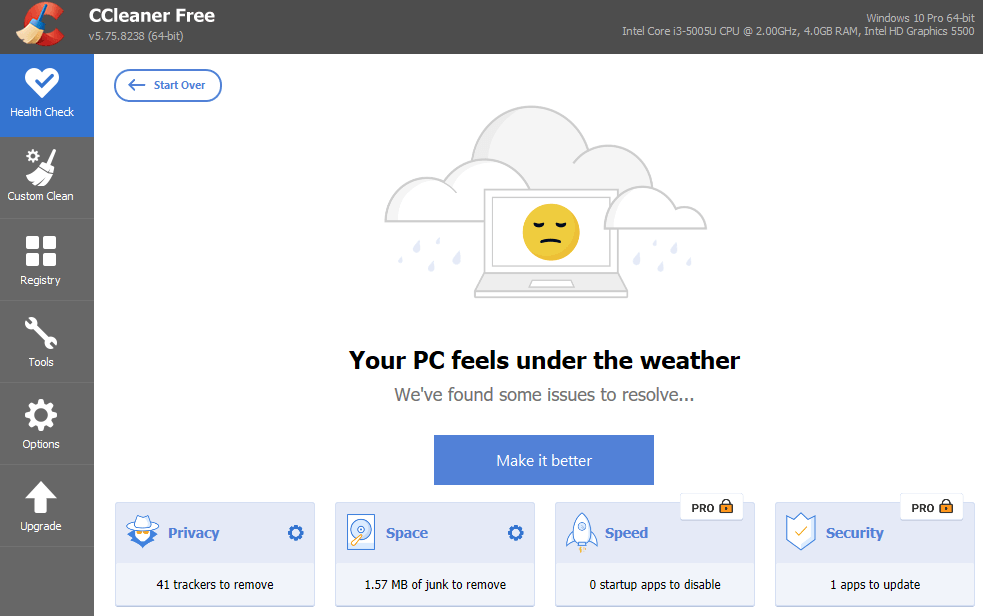 As the name suggests, this module broadly tells you about how healthy your system is running. With this module, you can update apps and get rid of any security potholes. It also prevents you from being tracked by advertisers and websites and helps you regain more space by getting rid of unwanted junk. You can tap on all these aspects by clicking on the options appearing at the bottom of the Health Check" screen, as shown in the screenshot above.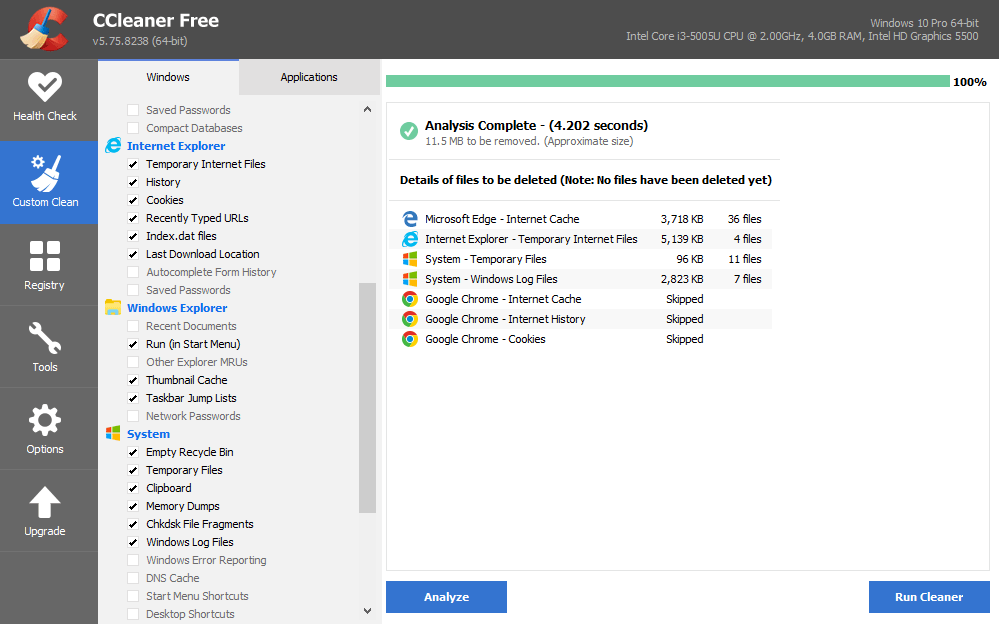 As the name suggests, you can choose what you want to clean in terms of junk that's present online and offline with the help of this module. It helps you eliminate online browser junk such as internet cache, cookies, download history, etc. In terms of offline junk, it enables you to empty the recycle bin, taskbar jump lists, Chkdsk File Fragments, etc.
Once you have selected the online and offline items, you can then click on the "Analyze" button, after which within a few seconds, you'll have a list of junk items that you can delete by clicking on the "Run Cleaner" option as can be in the screenshot above.
Now, this is one area that you, as a user, might be afraid even to touch. But, the fact is erroneous and invalid registry items can deteriorate your system's performance. CCleaner is a PC optimization tool that is exceptional in this department. It safely lets you fix erroneous registry items.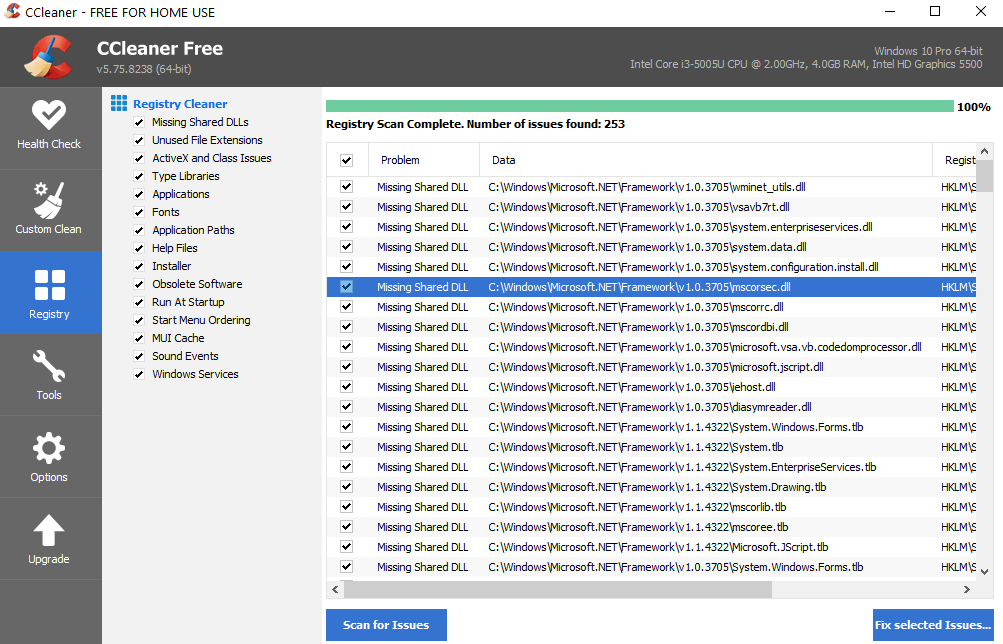 It meticulously lists out all the Registry items to choose from. Once you click on the "Scan for Issue," it brings out only the problematic registries. Even before you click on the "Fix selected Issues" button, it prompts you to take a backup of registries or exclude certain registries.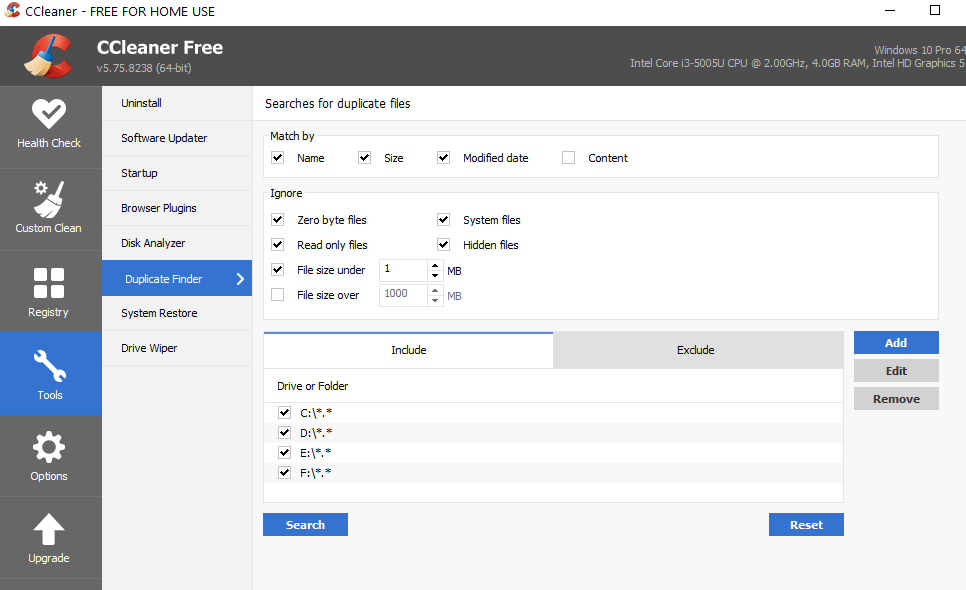 This module is further divided into 8 submodules. Let's begin with the "Uninstaller." Don't just go by the name. This sub-module doesn't just let you uninstall an application but even repair, rename, or delete the application as well. CCleaner comes with an inbuilt software updater, which enables you to update all the outdated software applications.
Next, it helps you enable/disable/delete startup items that take up considerable space on your computer and even increase boot time. The tools module also helps you see all your browser plugins at a glance, something that can be beneficial when you immediately want to get rid of an erroneous or malicious browser plugin fast. Don't know what's taking up so much space on your disk? You can ask the next sub-module, which is the "Disk Analyzer." Once you are sure of an item, you can delete it, and even if you are unsure, you can check the containing folder. One of the best aspects of "Tools" is that it lets you get rid of duplicates. You can add a drive and filter files based on name, size, modified date, and even content.
Last but not least, Piriform CCleaner lets you customize settings. You can customize the home screen, choose websites whose cookies you want to keep, and even include or exclude files and folders from scan.
The "options" section lets you schedule cleaning, i.e., you can select the desired date/month or even time when you want the cleaning to take place automatically. You can even opt for Smart Cleaning, which lets you enable automatic browser cleaning and tells you when to clean junk files. However, you will have to opt for the paid version for the same.
Next, you can choose the users who can manage CCleaner (premium version) and select whether or not you want CCleaner to notify you of updates.
One of the differentiation points between good and not so good software is that the good software frequently updates itself. And, with Piriform CCleaner, this holds true. Piriform CCleaner constantly upgrades itself it a new and improved build.
The team at Piriform constantly works to remove any bugs and glitches with every passing update so that the best results can be achieved.
You can manually check for updates by clicking at the bottom right corner of the screen. When you click on the "Check for updates," it lets you know whether or not you are running the latest version of the software within a few seconds.
If you put Piriform CCleaner head to head against several other PC optimization software, you will find that it is one of the less priced software around.
CCleaner Free
CCleaner Professional

For a limited time, you can get this for $ 19.95 per year. With this version, you get every feature that the free version offers, plus features like a software updater, the ability to not run out of storage space, swift product upgrades, priority customer support, and a lot more

CCleaner Professional Bundle ( 3 PC's/ year)

The CCleaner professional bundle gives you the goodness of CCleaner Professional for three PCs. for a limited time, you can get it for $ 29.95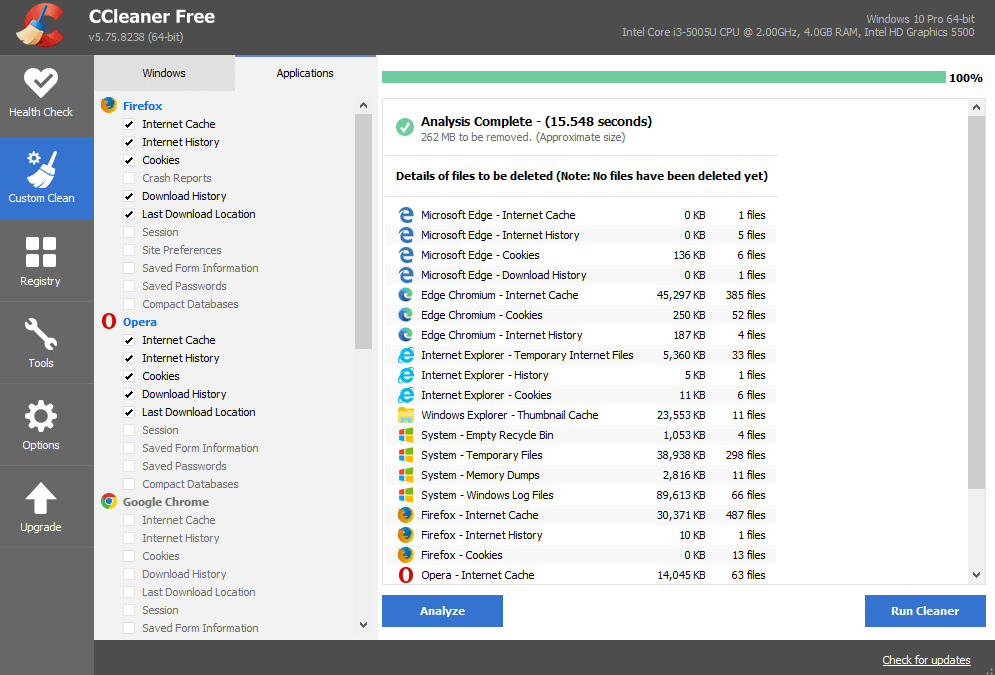 Speed is a crucial aspect of PC optimization software. It has to find (scan for issues) fast, and the same should also be the speed when it comes to fixing or even removing these issues. On that front, Piriform CCleaner does a decent job. Even if it takes some time on certain aspects, it does that because it wants you to be sure that you don't get rid of something which otherwise might be crucial for your PC.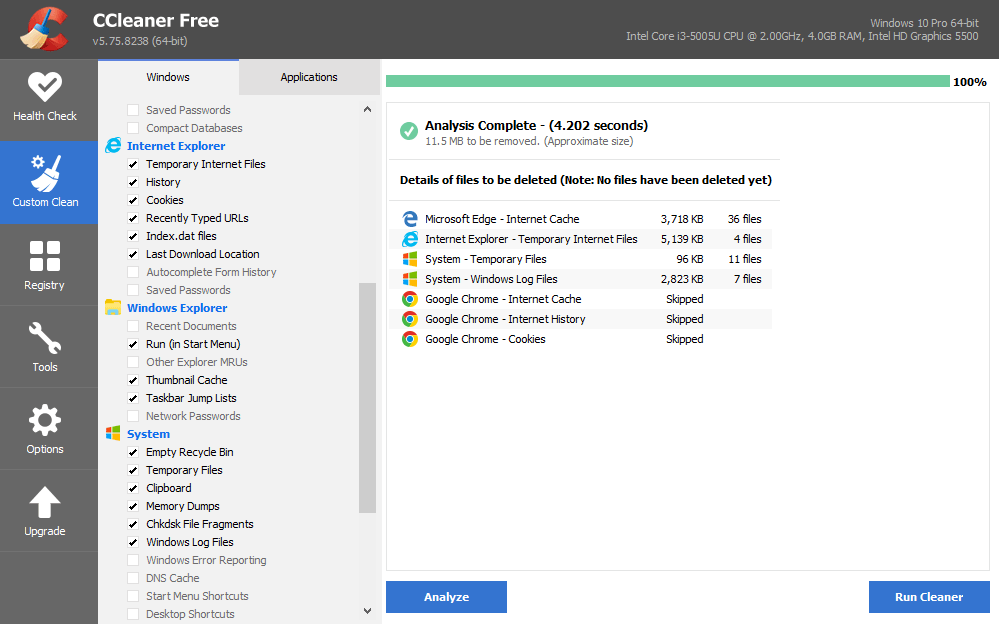 On two random speed tests, here are the results. CCleaner was able to scan approximately 262 MB worth of cache, cookies, history, and other items, the "Custom Cleaner" took nearly 106 seconds. The next test was conducted to fix registry issues. For fixing 11-15 registry issues, it took approximately 20 seconds. CCleaner did halt in between, but that was just to prompt to take a backup of registries.
The Final Verdict
A PC Optimization software is a must for dealing with junk, security issues, and several other issues you can't tackle with. Piriform CCleaner is a reliable and great PC Optimization tool that you can invest in to optimize and clean your PC smartly. It offers a decent amount of effective features at a price lower than many PC optimization tools out there.