Systweak Antivirus
Systweak Antivirus Review: Best Malware Protector for Windows
If you are looking for a top antivirus for Windows 10, read this article on Systweak Antivirus review. It is an efficient tool which can easily detect viruses, malware and ransomware on your computer. It provides you with real time protection for your device and shields you from threats
What is Systweak Antivirus?
Systweak Antivirus is a renowned name among the Best antivirus for Windows. It is trusted and award winning software which will work 24X7 to protect your device. It will run a Real-time protection to detect the problem right away and stop it from infecting your system. Dedicated tools such as Malware Protection and Exploit Protection work to safeguard your computer from zero day threats, Trojans, PUPs and adware. Additionally, it will declutter your Startup items to help you ensure the safety from unwanted programs.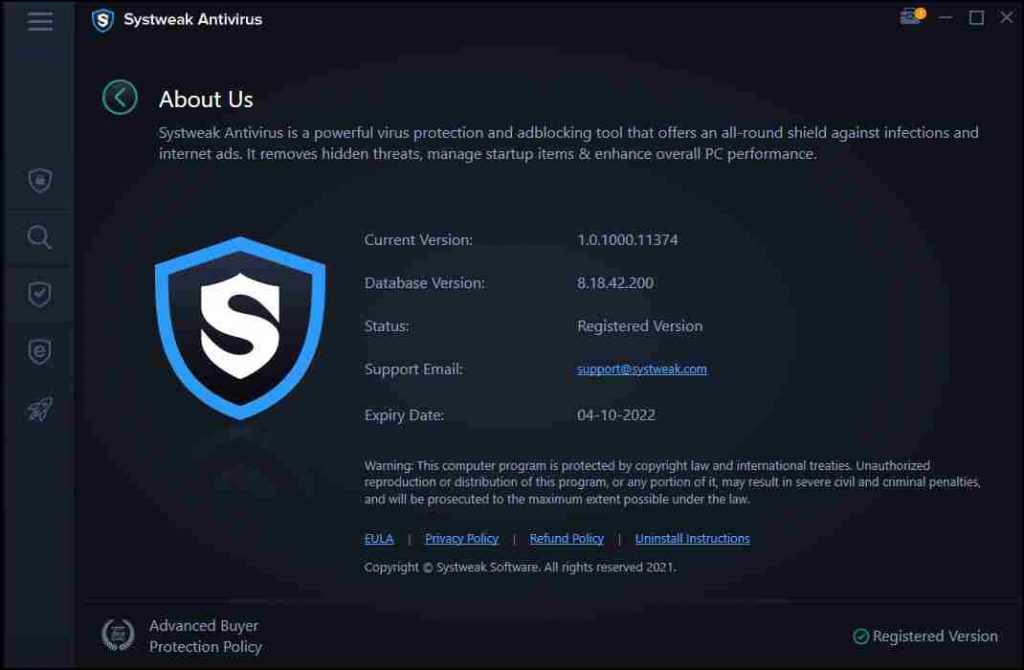 Why Choose Systweak Antivirus?
Systweak Antivirus will protect your devices like a shield and it offers 24X7 real time protection. Other than being a trusted and recognized antivirus software, it possesses more security features such as –
Advanced security features
Real-time protection
Exploit protection
Malware protection
Regular updates
USB Stick protection
Latest computer virus database
Cleans unwanted Startup items
60 days money back guarantee
Free trial available
Different plans for multiple devices
Scan Types
Custom Scan
Deep Scan
Quick Scan
OS Type
Android
iOS
Linux
macOS
Windows
Support
Email
Forum
Live Chat
Phone
Technical Specifications
Latest Version – 1.0.1000.11374
New Additions – Updated Database.
Database Version – 8.18.42.200
System Requirements
Windows Compatibility – Windows 10, 8.1, 8 and 7 SP1+
How To Install Systweak Antivirus?
To install Systweak Antivirus, follow the steps given below –
Step 1: Let's begin with downloading the tool from the website or the download button given below –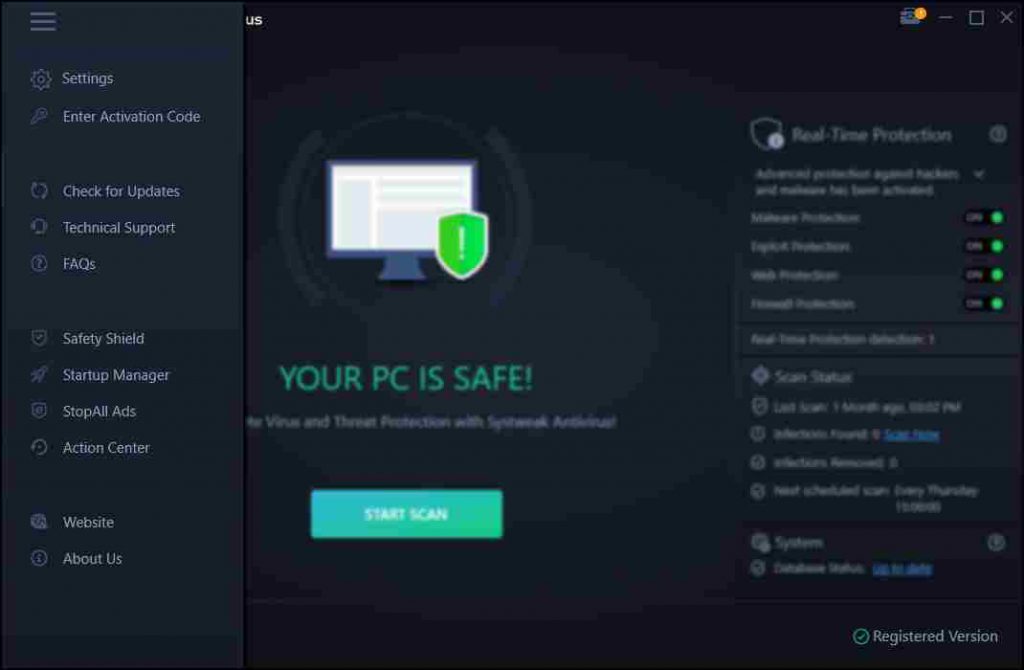 Step 2: Run the setup file and then give the system necessary permissions to make changes. Click on the Install button shown in the Setup tab.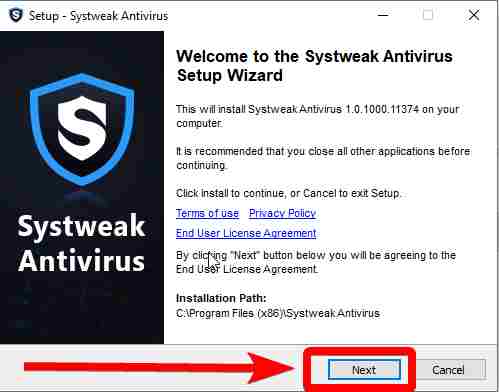 Step 3: Installation will take a few moments to complete.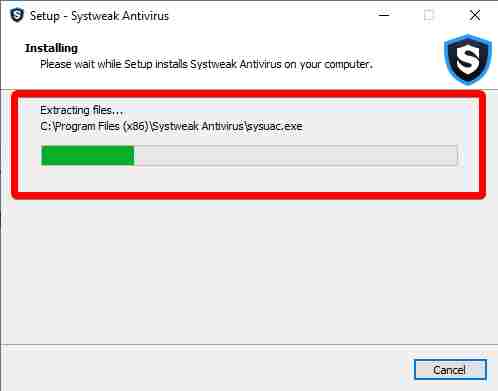 Step 4: Click On Finish button to complete the installation. Note, the box for Launch once the application is installed is checked by default for your convenience. If you want otherwise, please unmark it.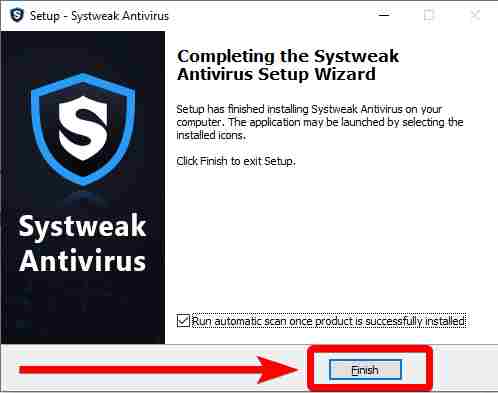 How Does Systweak Antivirus work?
Systweak Antivirus is one of the best free antivirus for Windows 10 laptops if you are an individual looking for a trial before purchasing. You can go to the official website and download the Free Trial for your Windows PC. Once you run it, you can enjoy the feature of scanning your computer for any potential threats. You might not be able to enjoy the full features of this top antivirus for PC though. Therefore, we recommend using the paid version.
To register go to the Menu Bar and click on Enter Activation Code and register yourself with the key given in the mail when you purchase.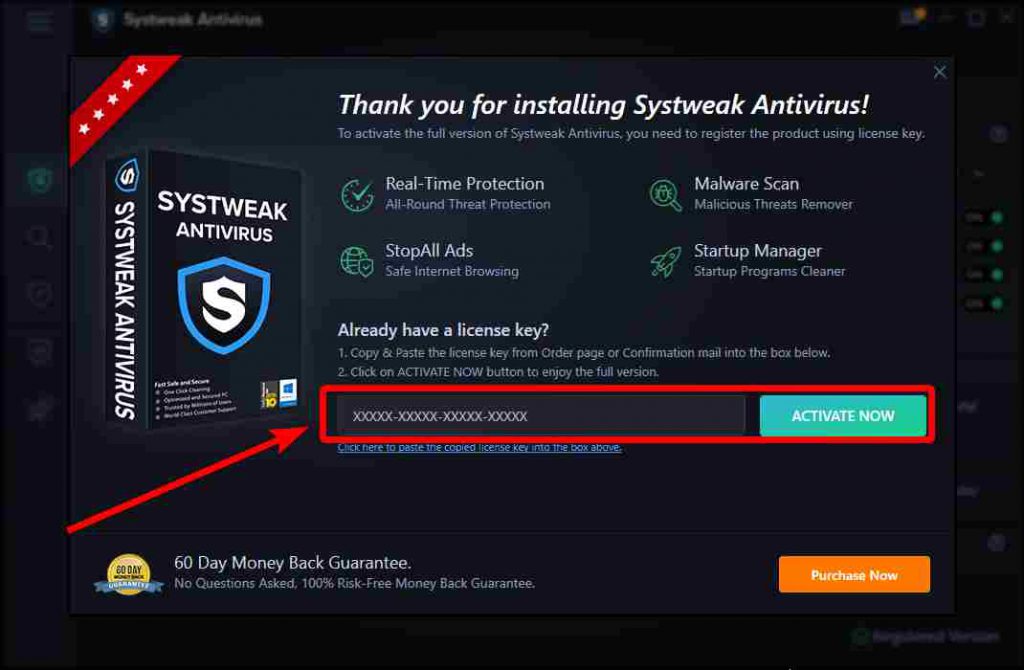 Now follow the instructions to scan your computer for any hidden viruses, malware and ransomware.
Step 1: Click on the Scan icon on the left panel to select among the scan types – Quick, Deep and Custom.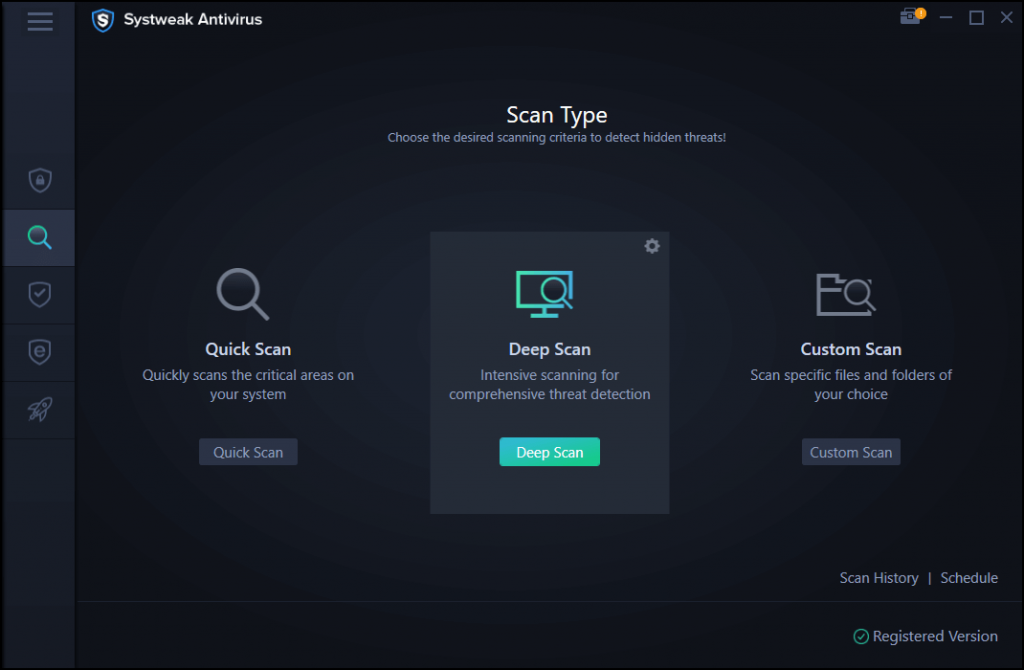 Now click on the Start Scan button.
Step 2: The scan will take a few minutes or depending on the scan type. Systweak Antivirus will thoroughly check the computer for any hidden traces of malware, viruses and ransomware.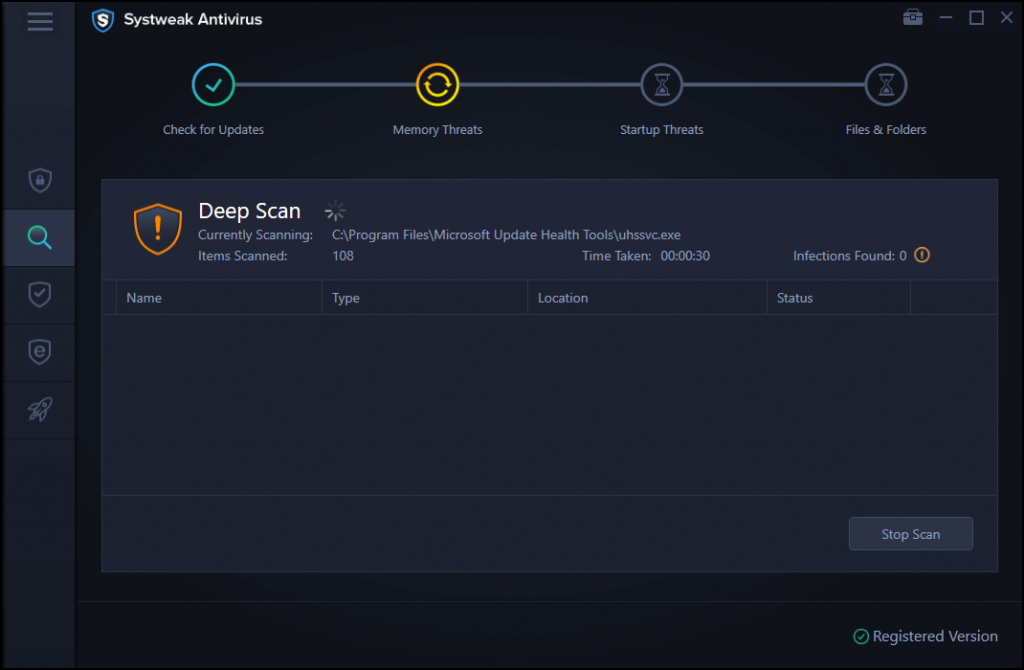 Step 3: The scan results will show you the summary and remove the potentially dangerous files found on your computer.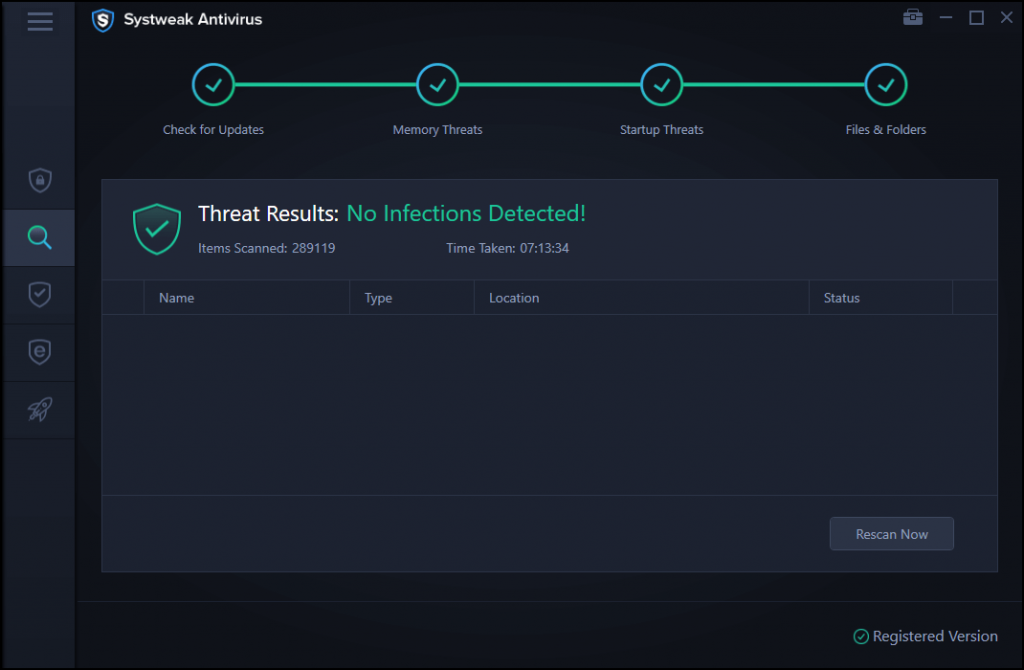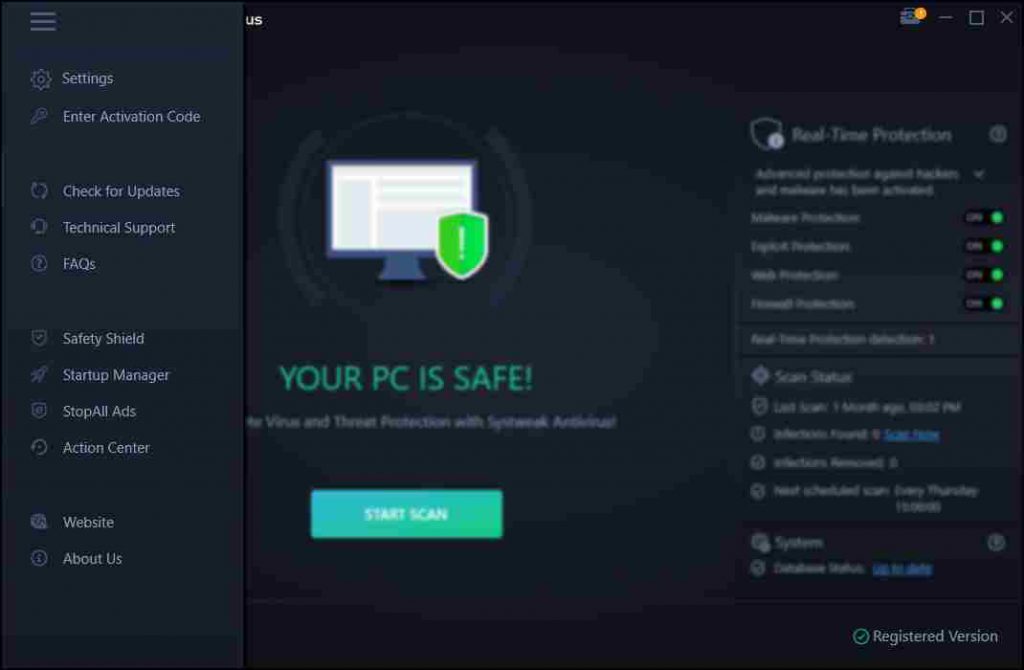 Systweak Antivirus has a very neat interface. You do not have to worry about navigating as it will easily show you the scan in the home screen. Everything else is also placed neatly on the right side of the screen to turn on and off with the toggle buttons. The Menu bar is placed on the top- left corner of the screen. The Settings, Registration, Updates, Action Centre, Safety Shield, Startup Manager, StopAll Ads, Website and Technical Support can be found here. You can easily navigate through the tool to find out more about it with the FAQs or the official website.
1. Exploit & Malware Protection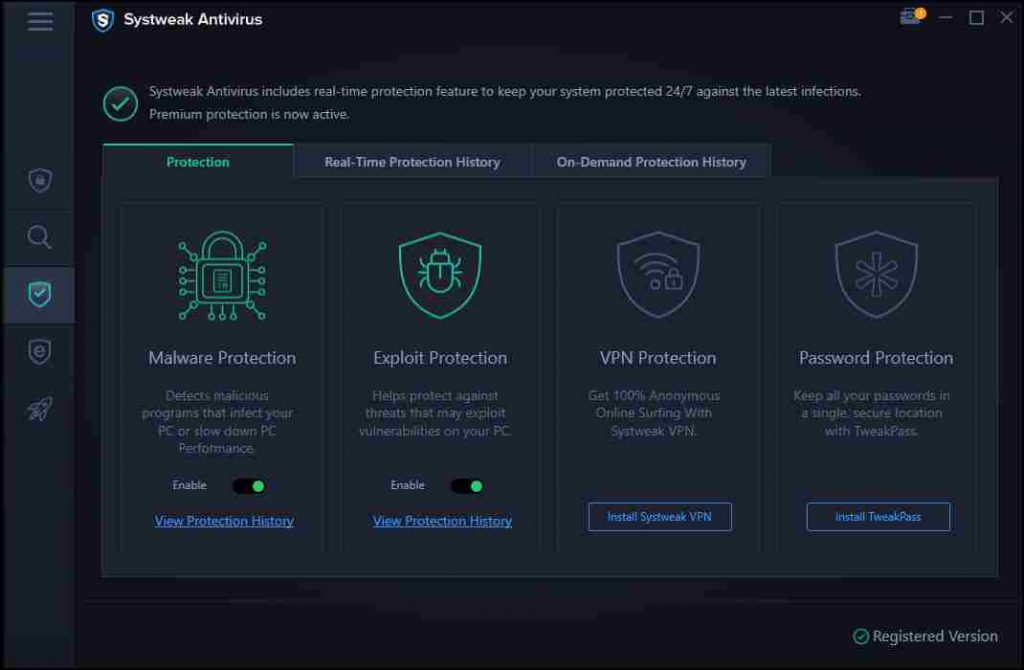 Trojan, PUPs, adware, malware, viruses, zero day threats are detected as early as possible before they can harm the computer.  The latest computer virus is detected by this top antivirus for Windows and quickly removed to protect your computer.
2. Real – Time Protection
The real time protection will be to detect the real time threat and protect your computer from adware, virus, malware and neutralize them. It will run the scan in the background without hampering the work.
3. Startup Manager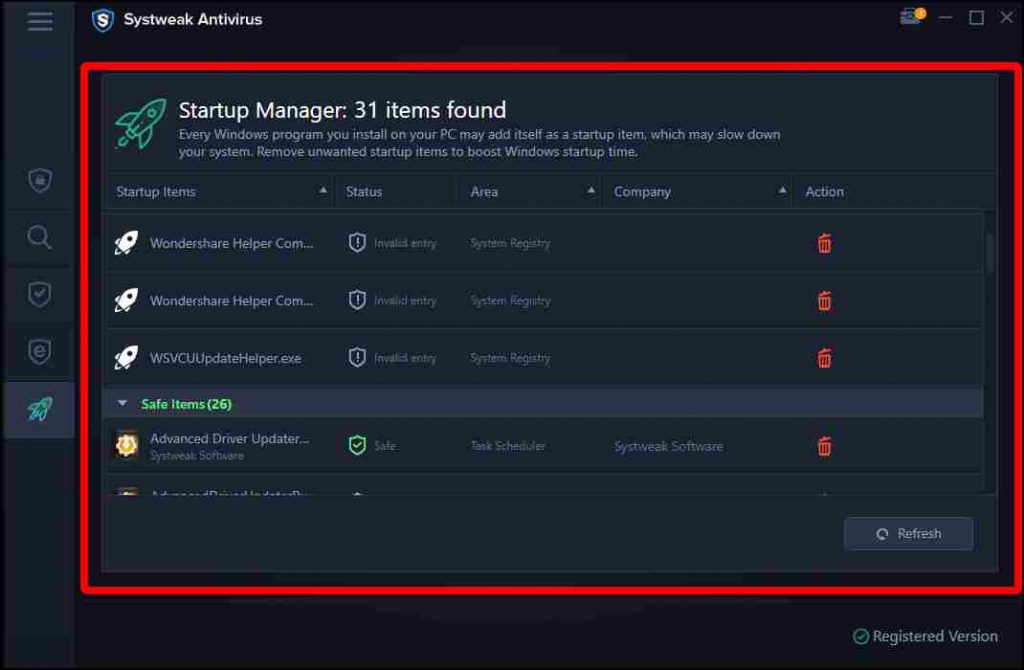 Startup programs can become a real threat if not managed properly. A lot of viruses can cause system error and make your computer slow. Systweak Antivirus also works on its behalf to help you remove the unwanted Startup programs from the list.
4. USB Protection
This feature also depicts that the Systweak Antivirus is truly the best antivirus program for PC. It works best to detect corrupted USB and save your system from viruses.
5. Performance Optimization
If you have a virus free computer, your performance will improve gradually. The productivity depends on the system performance and Systweak Antivirus will ensure this for your PC.
6. Safe Web Browsing
The safety of web browsing is also ensured with the additional tools of Systweak Antivirus.  You can get the StopAll Ads extension for Chrome, Firefox and Opera.
7. Schedule Scan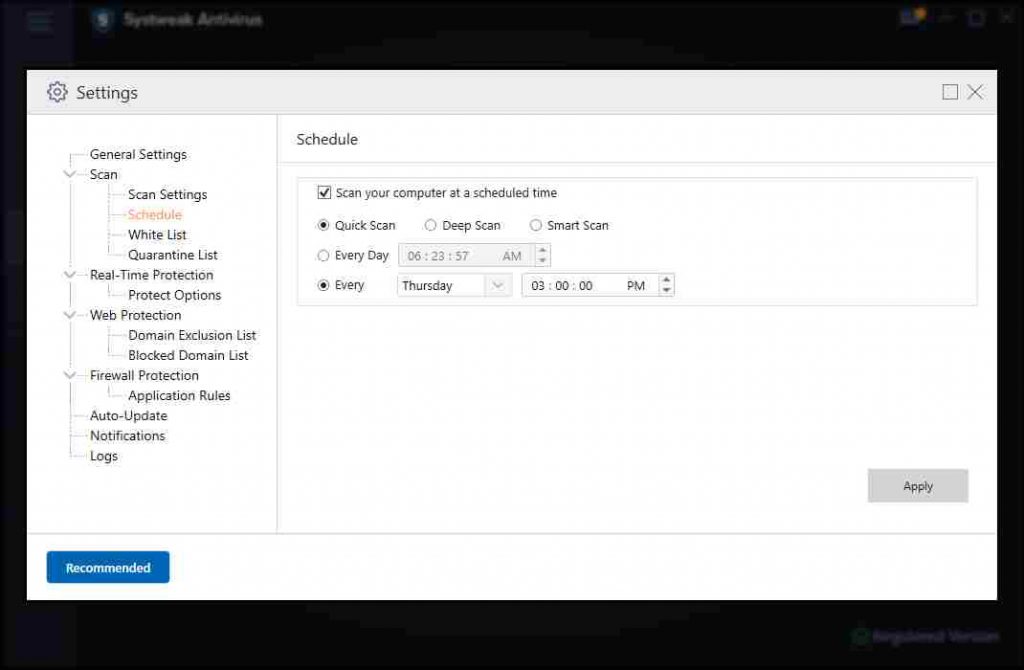 Go to the Schedule Scan option from the Settings>Scan>Schedule. Here fill in the checkbox for the Scan your computer at a scheduled time. Then mark from one Quick, Deep and Smart Scan. Next, select the time, day, every day and click on Apply. This feature helps you to stay worry free as it will keep you scan
A good antivirus can be detected with this one feature – updates. If you are getting regular updates for the software, it means that the developers are regularly working on making it the best Antivirus software for Windows. The database for any antivirus software is another major factor in deciding whether it will be a good antivirus or not. With Systweak Antivirus, you will get regular updates for the Database which includes the latest updates on the latest computer virus. This makes it easier to detect the latest computer virus on your system.
It shows you notifications for updates and also lets you check for updates on the tool. Go to the Menu bar on the Top-left and click on it and go to Check for updates.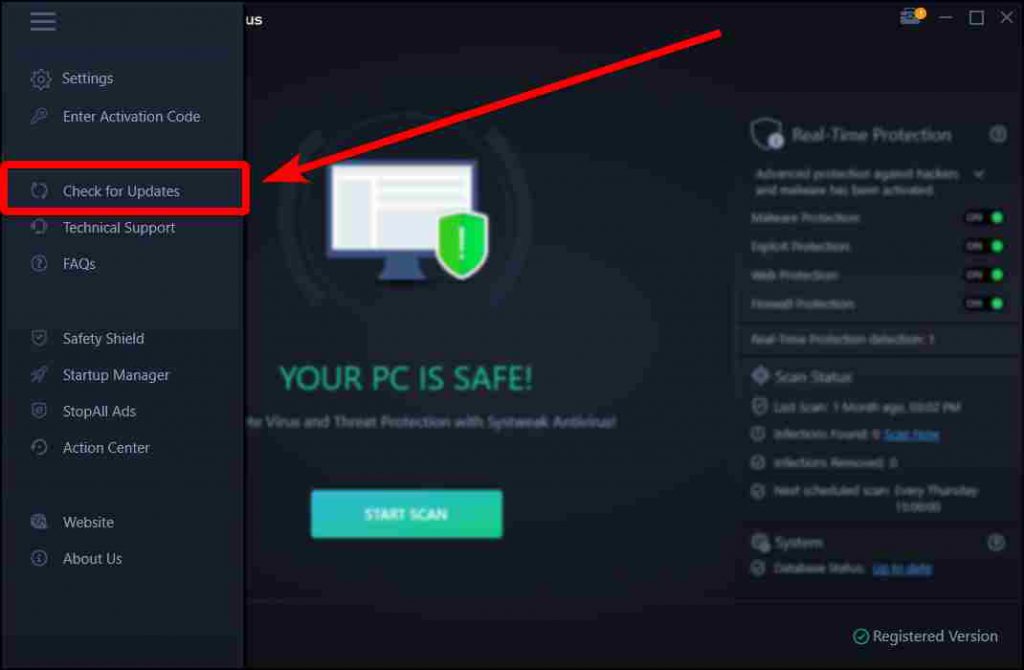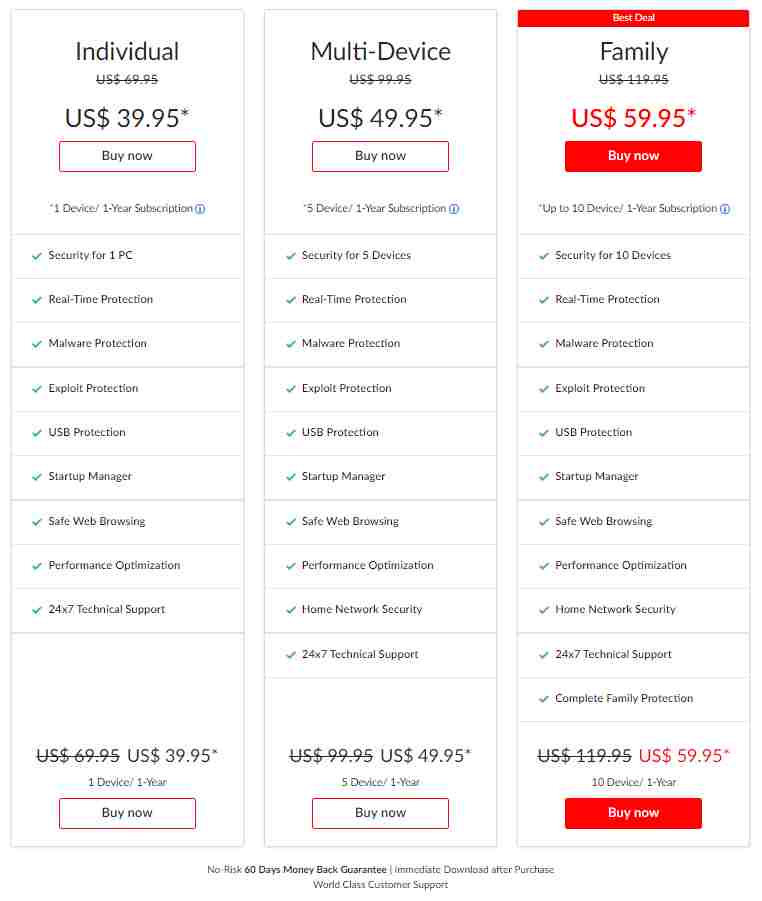 Systweak Antivirus (Individual)

1 device, 1 year subscription

Systweak Antivirus (Multi-Device)

Upto 5 devices, 1 year subscription, With Home network security

Systweak Antivirus (Family)

Upto 10 devices, 1 year subscription, With Home network security
Systweak Antivirus comes with a variety of features and is very genuinely priced. There are different packages for you to choose from – Individual, Multi-Device and Family. The individual is a good package if you are only looking to secure one PC at a time at $39.95. Multi-device will cover your 5 PCs at a rate of $49.95. The Family package is the most affordable antivirus deal to be used by 10 devices for only $59.95.
One of the factors to judge for the best antivirus for PC is the speed. Talking about the Systweak Antivirus, you can rely on its good speed as it quickly runs the periodic scan and shows results. The deep scan and custom scan will take as much time as the data on your computer. As compared to the Norton Antivirus, Systweak Antivirus also runs at a very good speed.
Customer Support –
Systweak Antivirus is good with technical support as it will give you much information on its official website https://antivirus.systweak.com/
Along with the product features, you can also check the frequently asked questions and answers. Systweak Antivirus it's official website's Contact page – https://antivirus.systweak.com/contact-us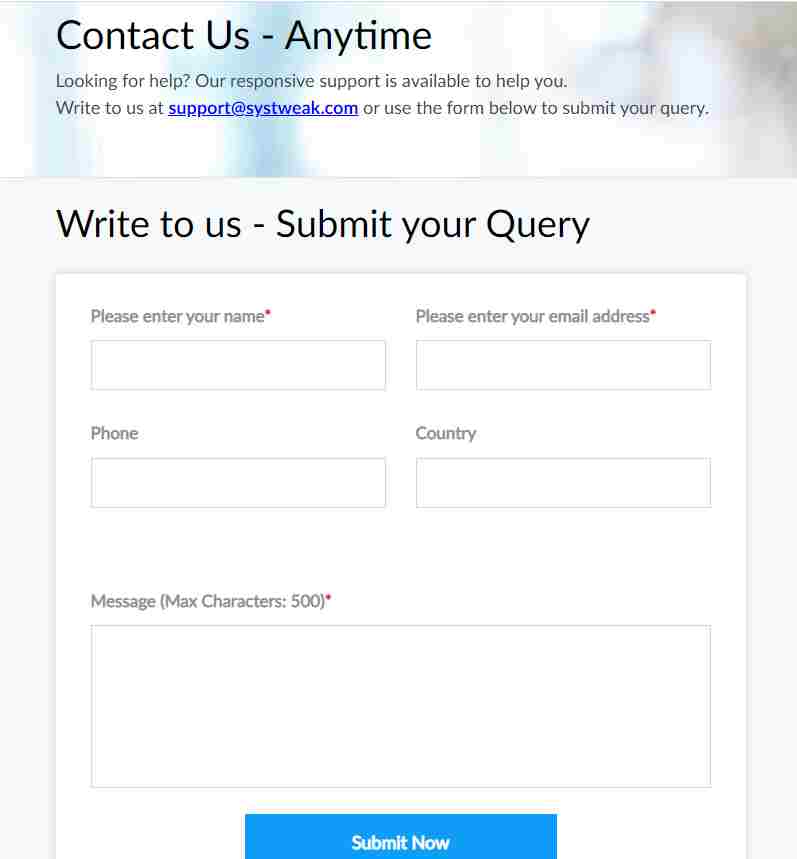 Email support available on – support@systweak.com
You can get more information on upcoming offers and deals on the official webpage.
Frequently Asked Questions –
Q1. What is the best free antivirus download?
Systweak Antivirus is the best antivirus to download on your Windows PC. This consists of advanced security tools to protect your computer from viruses. It can easily detect viruses, malware and ransomware on your computer and remove them quickly in order to keep you safe from any harm.
Q2. Is Systweak Antivirus safe?
Yes, Systweak Antivirus is safe to download. It comes from a trusted brand name Systweak Software and provides customer support along with it. This includes real time protection and also keeps updating its database for the latest computer viruses.
Q3. Is a free antivirus good enough?
No, mostly the free antivirus will only provide you with limited opportunity to secure your system from threats. It also does not assure you of the latest database with no regular updates.
Verdict –
It also offers a free trial to the users for them to test out the product. It can easily be regarded as one of the best screen recording software for Windows PCs. It consists of all the features needed for the best antivirus software. It can protect your computer from dangerous viruses and keeps you safe. The exploit and malware protection will help you detect the latest computer virus. It also easily manages your Startup programs so that none of the programs hamper the performance on your computer.
We hope this Systweak Antivirus review will help you to understand why we recommend it as the best antivirus for PC. We look forward to your comments to know more about your opinion on this blog post. For more such reviews on Windows software, keep visiting Top10PCSoftware and also follow us on Twitter and Facebook for regular updates.