McAfee LiveSafe
McAfee LiveSafe Review for Windows 11/10 – Can It Elevate Your Windows Security?
Ever thought that among the many dangers online, one threat could target your PC, causing disruptions, data theft or worse even put your personal identity in grave jeopardy? To help you steer clear of such fear, you can count on a tool like McAfee LiveSafe Antivirus for Windows. But, how powerful is it? Let's find out in this McAfee LiveSafe Review. 
In this digital age, where malicious threats are evolving by every single day and hackers are leaving no stone unturned to make your computer and its data their prey, having an Antivirus is a vital addition to your Windows 11/10 PC security arsenal. Here we are going to review McAfee LiveSafe Antivirus which is often regarded as one of the most robust and efficient Antivirus tools. Looking for alternatives? Here are some options you can consider.
What is McAfee Antivirus and Why Consider It?
McAfee is all-in-one malware protection solution designed to protect your privacy and identity online. It shields your PC from harmful viruses, malware, and threats lurking online. It provides an all-around protection from viruses. It comes with real-time scanning which when turned on continuously scans your PC for any threats anytime you use a file.
What adds to its credibility is the fact that LiveSafe's database of malicious threats is updated every 15 minutes. Hence, even the most recent threats won't be able to cause any harm to your device
Even though primarily an Antivirus, McAfee LifeSave Antivirus comes with a host of other useful tools such as a password manager and VPN. However, if you are looking for dedicated options for either, you can check out our carefully curated list of VPNs and password managers for Windows PC.
How To Use McAfee LiveSafe?
Here's how you can get started with McAfee LiveSafe –
Step 1 – Download, install, and run McAfee LiveSafe on your Windows 11/10 PC.
Step 2 – Click on Antivirus from the home interface as shown in the screenshot below.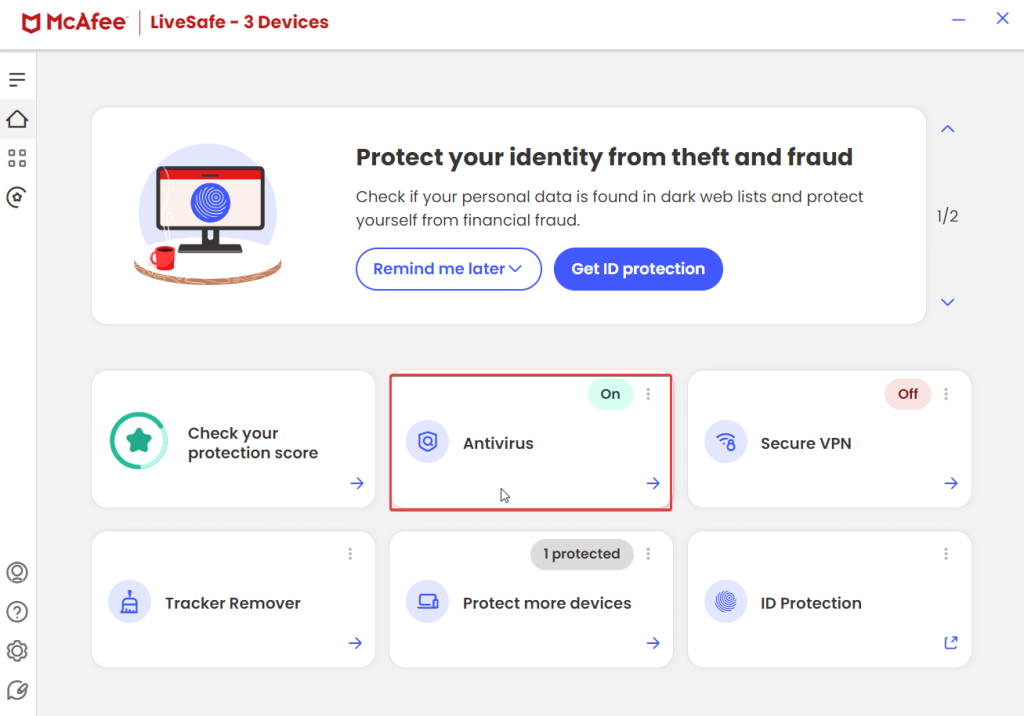 Step 3 – Click on the Run a scan button to initiate a scan in order to identify any malicious threats on your PC. This scan mostly takes somewhere between 5-10 minutes.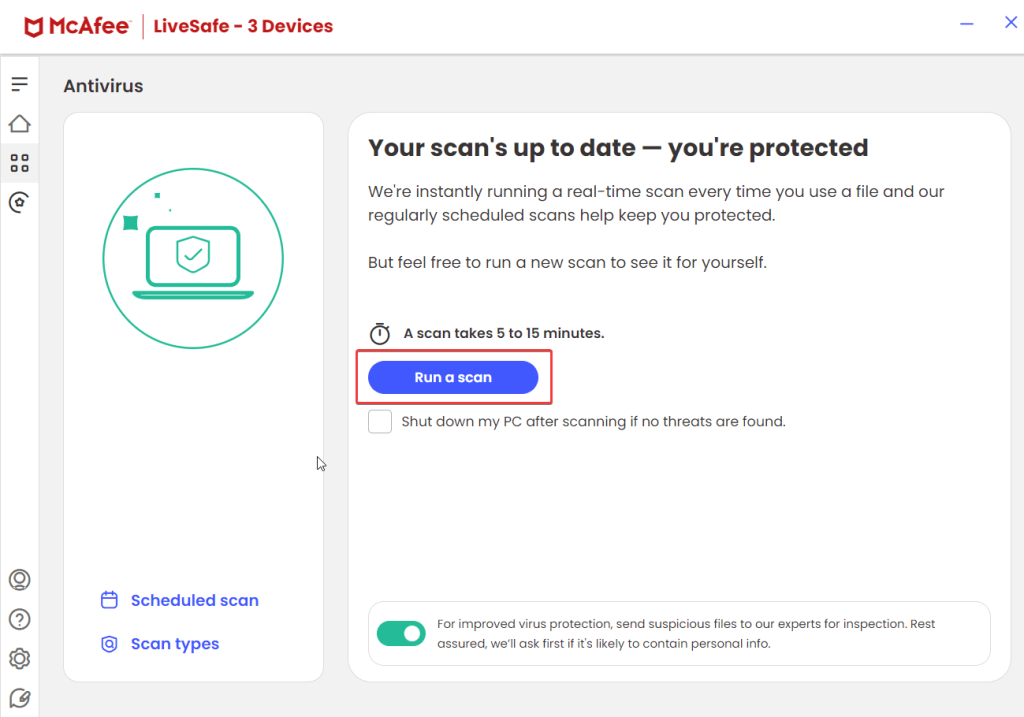 Step 4 – If you wish to conduct a Quick scan or Deep scan, you can click on the Scan types. You can also choose to automate scanning by clicking on the Schedule scan button and scheduling scans at your desired time.
Step 5 – To go back and access other options, click on the home button.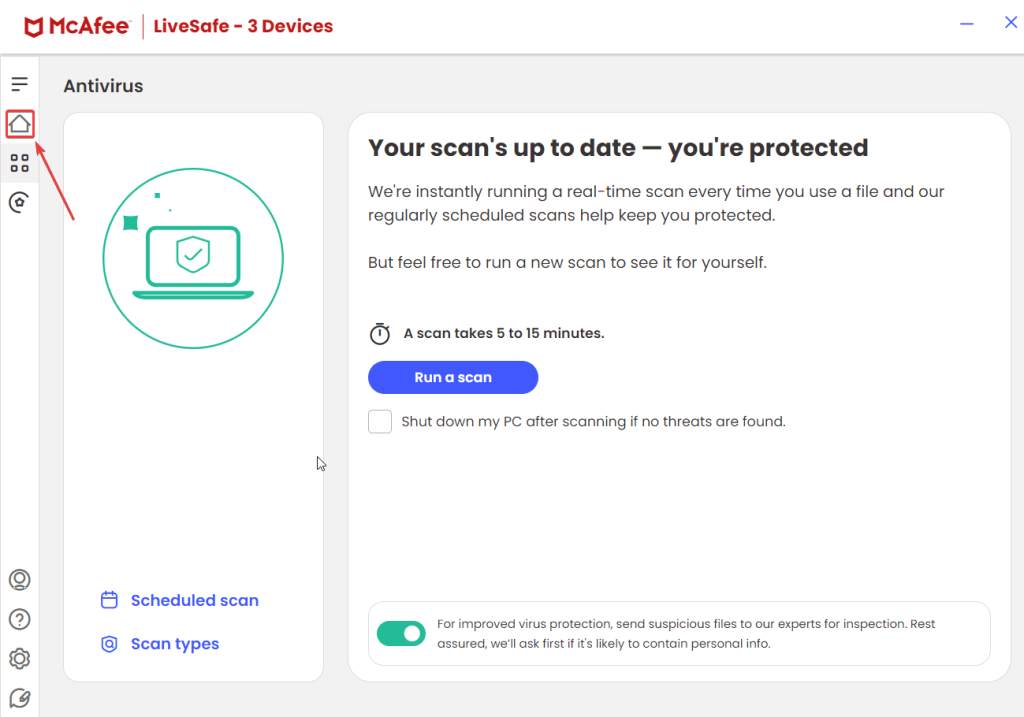 When you first open McAfee LiveSafe Antivirus, below is the kind of interface you'll come across. Although it lets you manage multiple devices,for the purpose of this post, we'll analyze the interface on a Windows PC.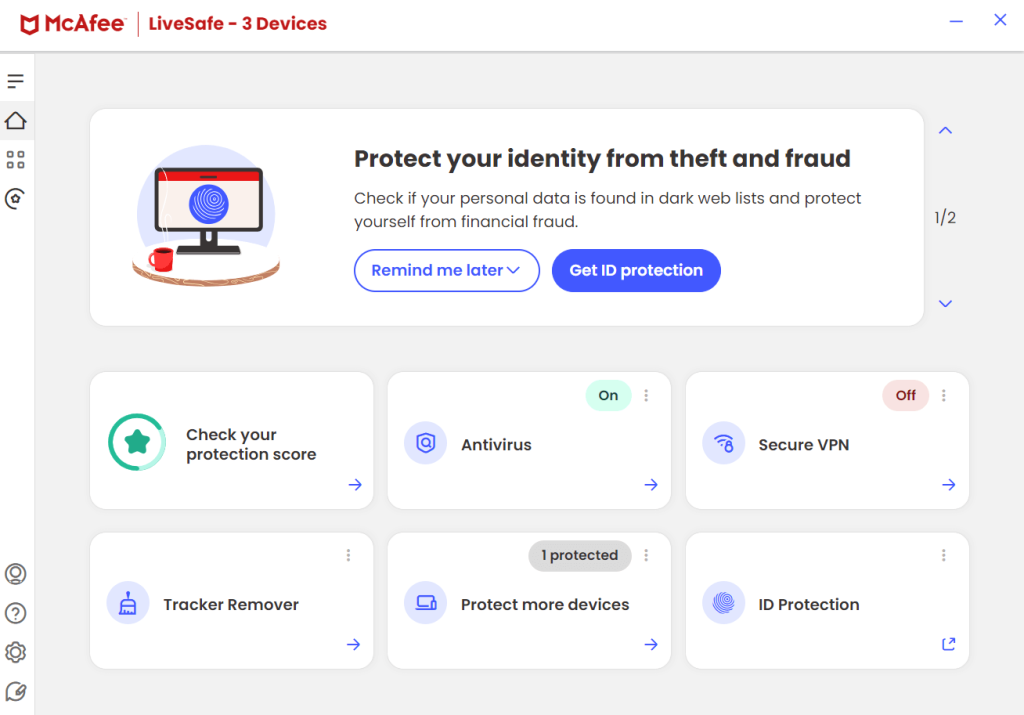 The left-hand pane accommodates options to run scans, schedule scan, choose a mode of scan, enable real-time scanning, advanced firewall, know your protection score across the web, gather help and support from the customer support team, and many others.
The important part of the interface, i.e. the center enlists six options – Check your protection score, Antivirus, Secure VPN, Tracker Remover, Protect more devices, and ID Protection. You can click on each of these options and further, follow the on-screen instructions to intensify your protection on your device or on the web.
One of the things that we liked about McAfee LiveSafe is that it tells you exactly what an option does. This can be great for someone who has just installed the Antivirus and is understanding the various features.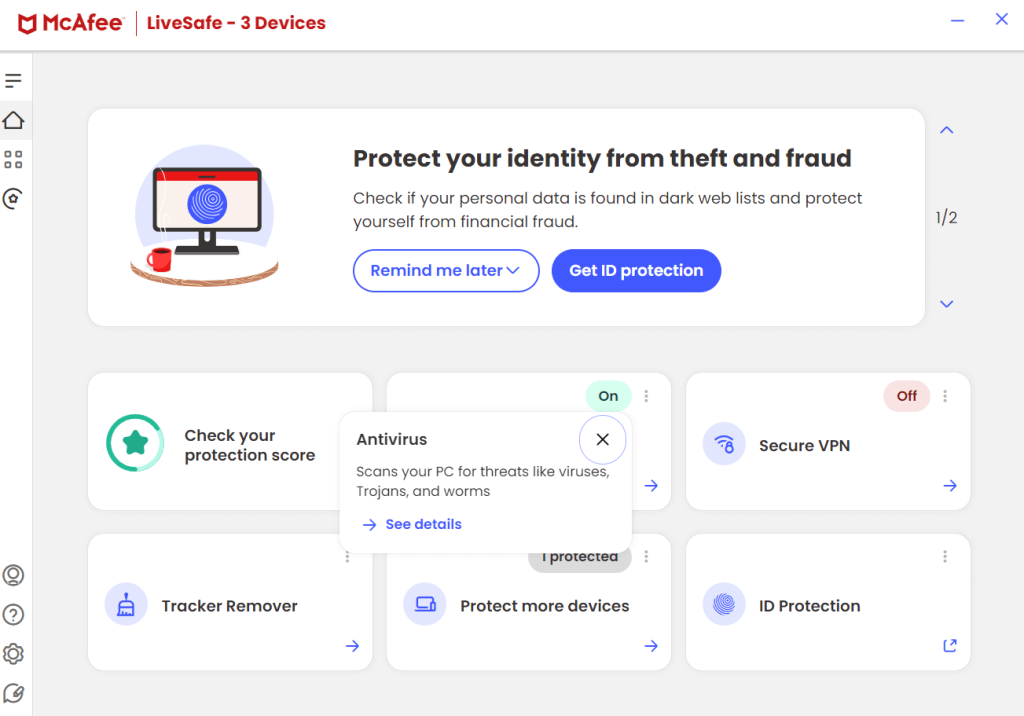 On the top of the interface, you get notifications on the necessary actions that you should advisably take to protect your device and your data.
– Multiple Scanning Modes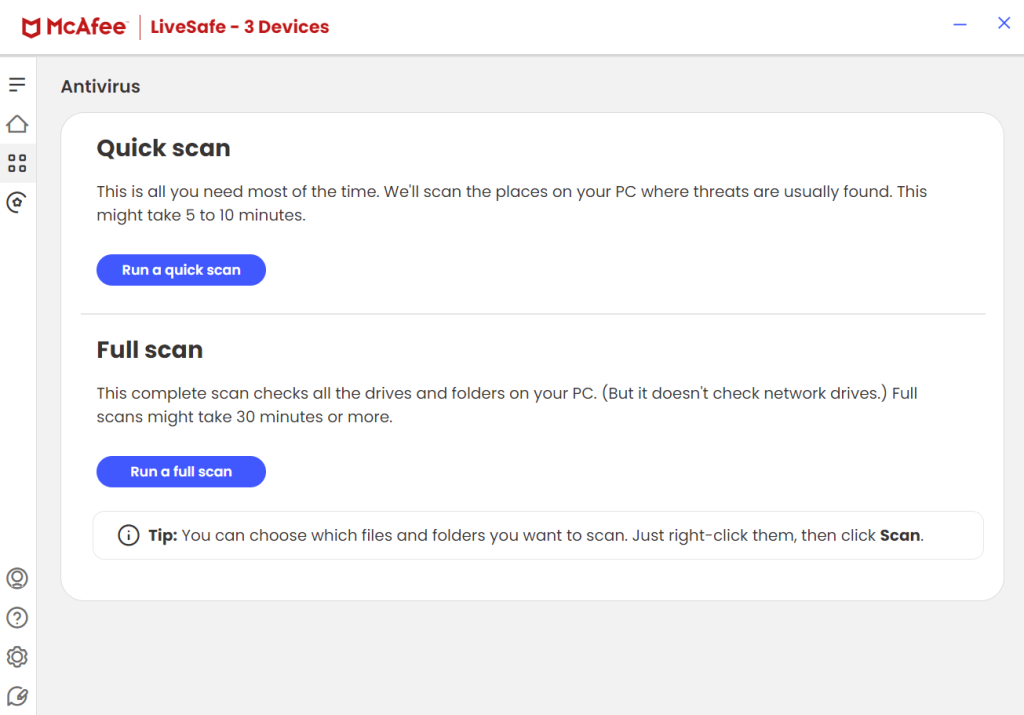 McAfee Antivirus comes with two scanning modes – Quick and Deep Scan. The Quick scan takes a few minutes (mostly 5-10 minutes) to conduct a scan. In this scan, McAfee LiveSafe will scour the most common areas of your computer where threats can commonly occur.
However, if you want to conduct a more thorough scan where you suspect almost all types of malicious threats that might have crept inside one of your drives or folders,you can opt for the Deep Scan. This takes more time (approximately 30 minutes or sometimes more).
McAfee LiveSafe Antivirus also gives you the facility to choose the exact files and folders that you want to scan for malicious threats. To do that, head to your File Explorer. Go to the location or file that you suspect, right-click on it, and click on the Scan button as shown in the screenshot below.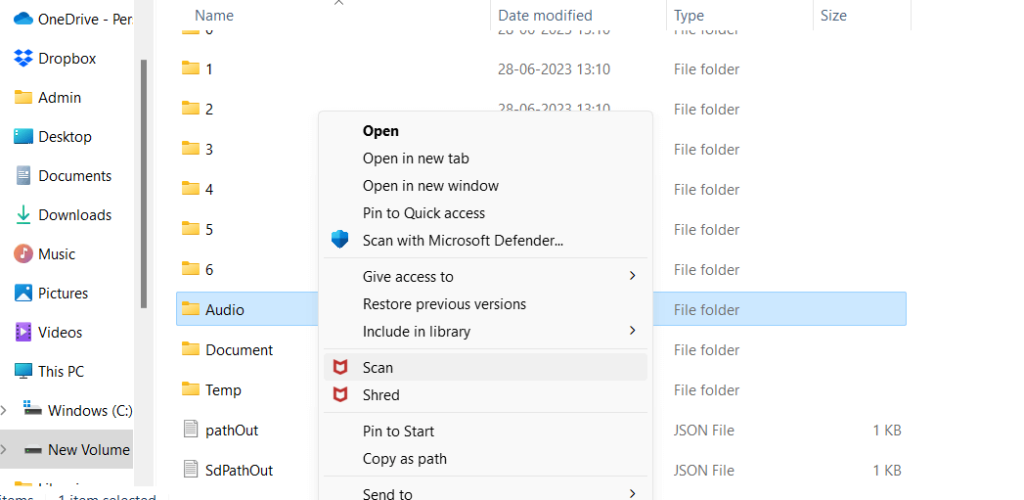 – Schedule Scans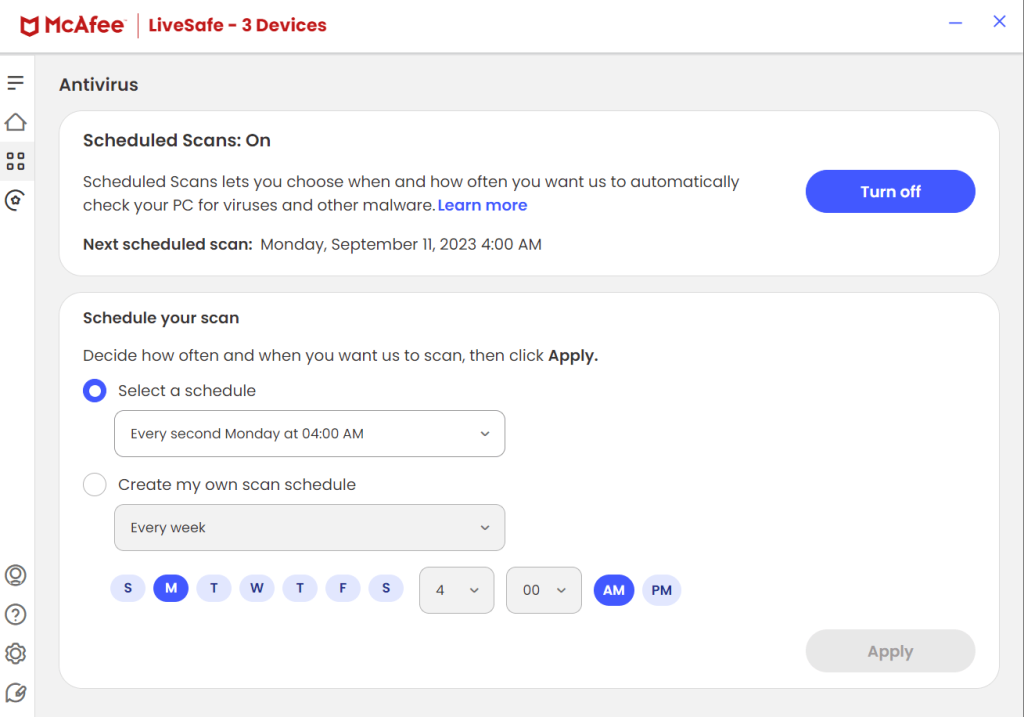 This feature of McAfee lets you choose the day and time at which you want to conduct a scan. At your desired schedule, McAfee will check your computer for viruses and other malicious threats. Quite like other features, the schedule feature is customizable. Here you can either select a predefined schedule or create a custom schedule as shown in the screenshot below.
– Quarantine Suspicious Items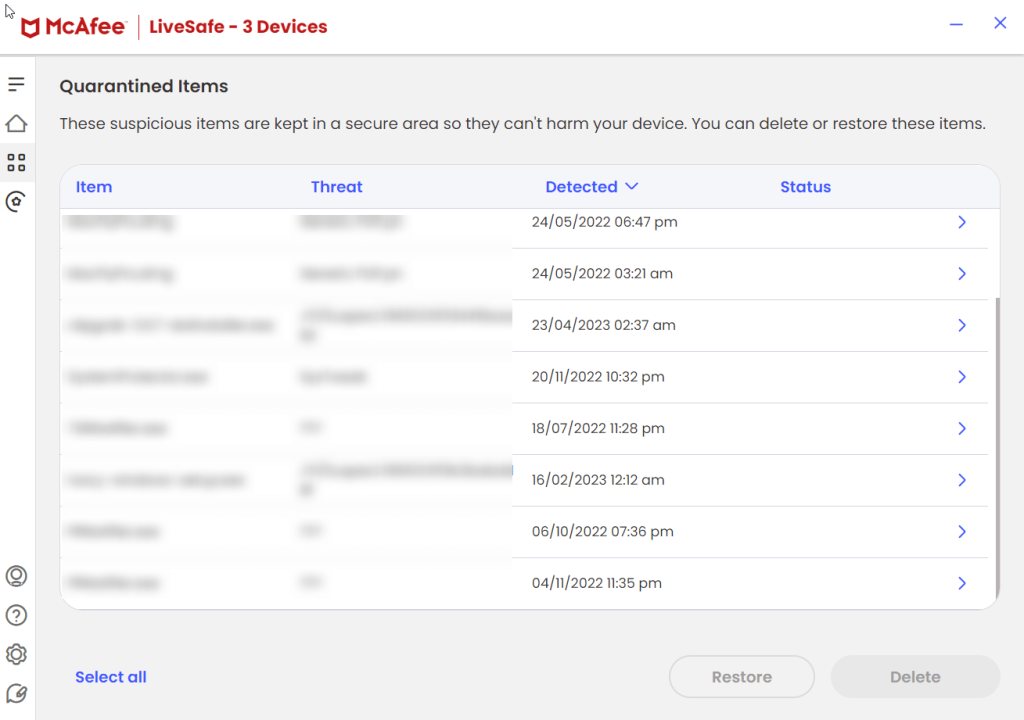 One of the highlights of McAfee LiveSafe Antivirus is that it quarantines items that it considers suspicious. The items are kept in a secure area so that they can cause no harm to your Windows PC. Another aspect of this isyou can choose the items that you wish to keep or remove. Here you can either delete individual items or choose multiple items at once and delete them. You can also filter items and view their details in order to make a wise decision especially if you intend to restore an item.
– Check How Protected Are You On The Web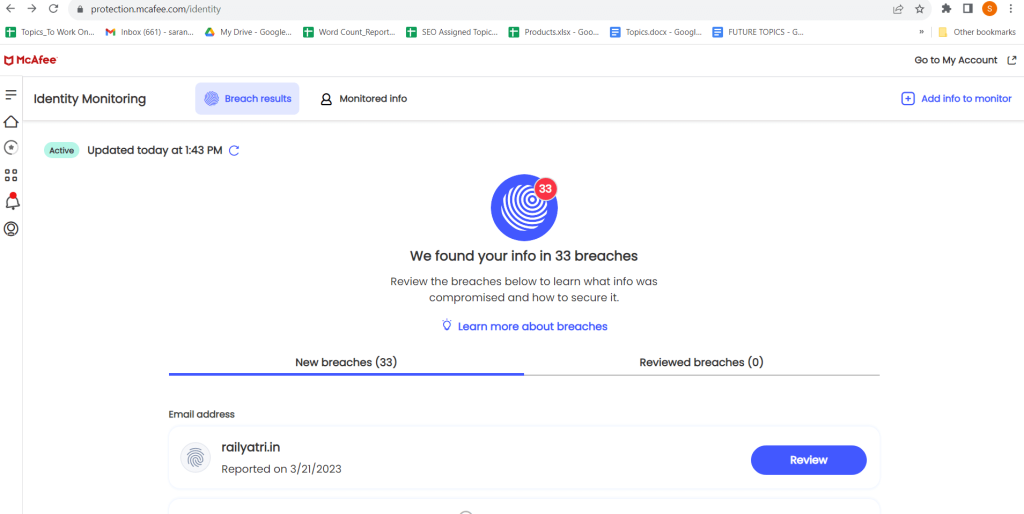 Since you often frequently share  information on the web, you never know when it might get leaked. McAfee LiveSafe has measures in place to keep you aware of such happenings. It checks if your personal information such as passwords or credit card details has leaked on the web or not.
To check this you can head to McAfee Protection Center right from the interface. After this, you can furnish your email ID and McAfee will tell you if your email address, personal information, or any such data is compromised or not.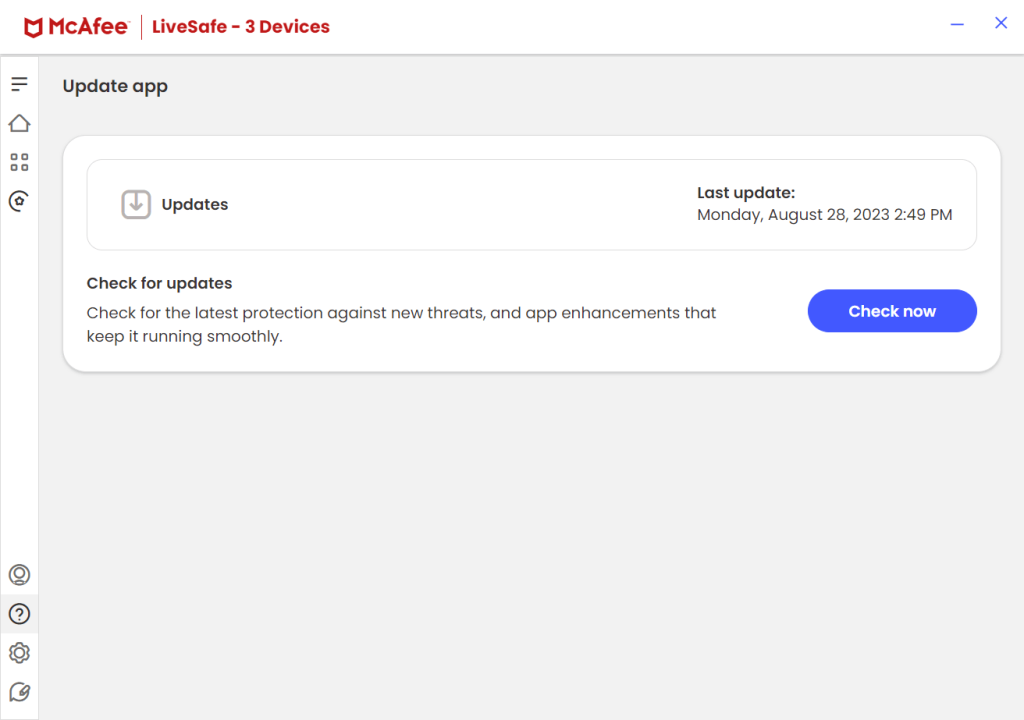 McAfee LiveSafe is configured to receive automatic updates. Every day the software ensures that it fetches virus signature updates as and when they are available. You can also manually check for updates by clicking on the? icon and then click on the Update app.
You can try McAfee Antivirus software free for 30 days. During this period you can test out all the features of this security tool. After the 30-day free trial period, you can choose from premium plans which can broadly be divided into Individual and Family plans. The basic yearly subscription for 1 year starts at $29.99. For more information about the pricing, please visit this link.
We have already discussed above  that various modes of scan take different amounts of time. A simple Quick scan takes anywhere between 5 to 15 minutes. In our case, it took a little over 10 minutes during which it flagged off a few malicious files and even quarantined them along with some PUPs and others.
The full scan is a more comprehensive scan and in our case, it took about an hour to complete. The time taken by both scans may differ from PC to PC.
McAfee has prompt and decent customer service. In case you have issues related to the functionality of the Antivirus or have license-related issues, there are multiple channels through which you can get in touch with the customer support team.
First, you can click on the last option of the left-hand pane of the interface and choose from one of the three options. The first two options are feedback centric, whereas the last option helps you get in touch with an executive who would further help resolve your issues.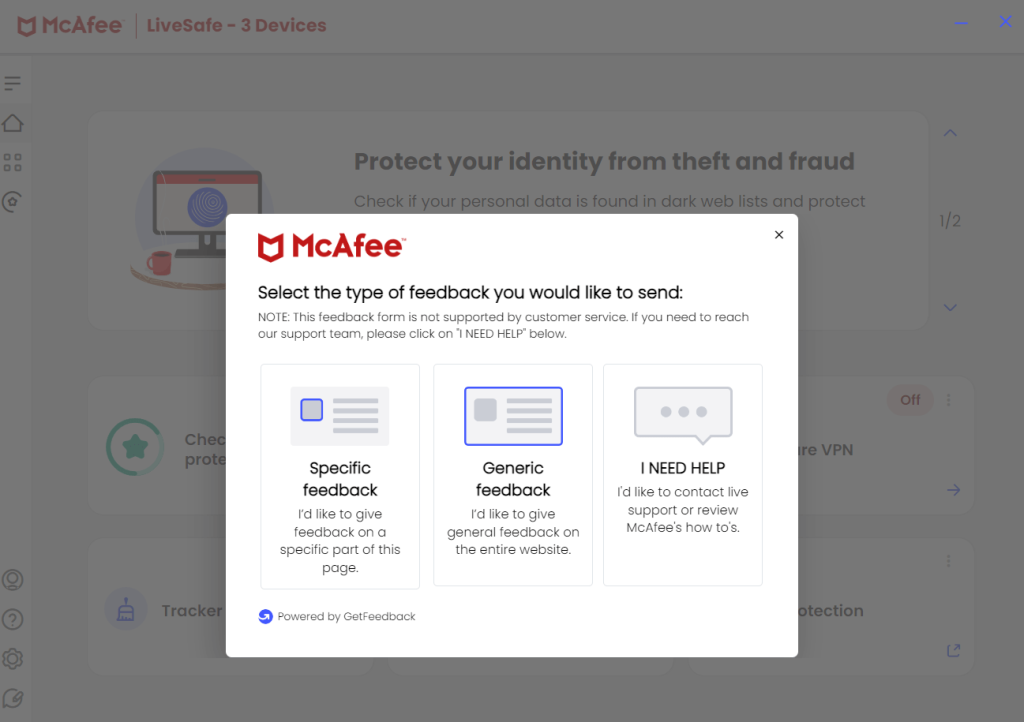 By clicking on I Need Help, you can further select an option based on your issue. For example, you can seek assistance on a technical issue, request a refund, or gather information about your personal account. You can also reach out to customer service by clicking on this link. One of the highlights here is that McAfee's chat service is available 24/7.
Experience Unmatched Peace and Security With McAfee LiveSafe
McAfee LiveSafe is a robust antivirus tool that can serve as a digital security companion for your Windows PC. It can help secure the data on your computer while keeping you notified if your personal information is involved in a data breach online. Its real-time defenses and many other features outshine many of its competitors.
If you liked this review, do give us a shoutout in the comments section below. We'd also like to know which is your favorite Antivirus tool. For more such content, keep reading Top10PCSoftware.
Frequently Asked Questions
Q1. Is McAfee still a good antivirus?
Yes, McAfee is a good antivirus that offers real-time and effective protection against various threats including phishing, malware, and identity theft.
Q2. What is the disadvantage of McAfee antivirus?
One of the drawbacks of McAfee Antivirus is that at times it can impact system performance which may in turn slow down your computer.
Q3. Which is better Norton or McAfee? 
Both Norton and McAfee are well-regarded antivirus options, offering strong security features. The choice between them often comes down to personal preference and system compatibility, so it's wise to consider your specific needs and system requirements before deciding.