From food apps to banking sites, almost everything you do on the web requires a login. Remembering all of them is certainly a daunting task unless it's your kid's or spouse's birth date. That's exactly where Password Managers help! These tools provide the safest way to keep track of your credentials. In this article, we'll review some of the Best Password Manager Apps to use in 2023 that will safeguard your sensitive information.
What Is A Password Manager?
A Password Manager is a dedicated program or web service that allows users to store passwords and other sensitive information like debit/credit card numbers, bank account details, identification documents, and more in a secure digital vault. It helps users to create strong and unique passwords for their online accounts and lets them auto-fill them as and when required. All your confidential information is safeguarded with a Master Password, which is accessible only to you.
1. TweakPass Password Manager
Compatibility: Windows, Android, iOS, Chrome, Firefox, Opera & Microsoft Edge
Price: $39.95/Year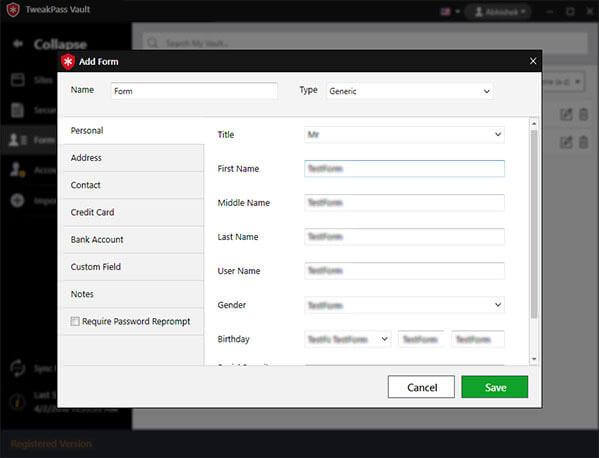 TweakPass Password Manager, designed and distributed by Tweaking Technologies is a top-notch password management software designed with advanced mechanisms to ensure complete digital safety. It uses military-grade encryption (256-bit AES) to safeguard your passwords and sensitive data like social security numbers, license keys, login IDs, credit card information & more.
Pros:
Easy to use & intuitive interface.
Encrypted secure vault.
Autofill the right credentials every time.
Seamless data syncing across all your devices.
Import & save all your credentials from different browsers.
Generate complex and strong passwords for all your accounts.
Cross-platform support
Cons:
No support for languages other than English
2. Dashlane
Compatibility: Windows, Mac, iOS, Android, Chrome, Firefox, and Safari
Price: Starter plan starts at $20/Month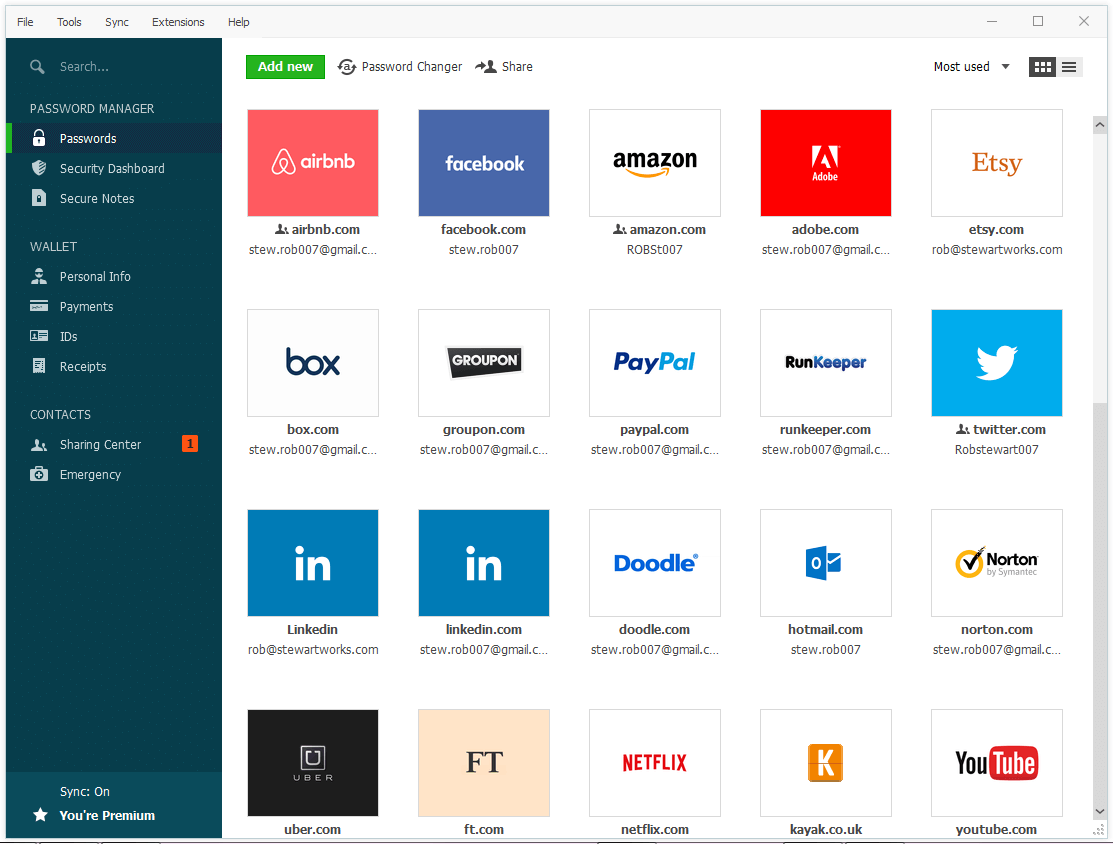 Dashlane is one of the safest password manager apps, designed for individuals, businesses, and families. It stores and protects all your passwords using top-notch AES encryption and biometric authentication methods. Similar to TweakPass Password Manager, it also follows a zero-trust architecture approach. This means all your saved information can be accessed by you and nobody else without the master password.
Pros:
Password Generator.
Dark web monitoring.
2-factor authentication (2FA).
Built-in VPN protection.
Automatic form filling
Extensive security features.
Option to update hundreds of passwords instantly
Cons:
Limited functionality in the Free plan.
Not ideal for pages with multiple logins
Slightly expensive than other password manager apps
3. 1Password
Compatibility: Windows, Mac, Android, iOS, Linux, Chrome, Firefox, Edge & Brave
Price: $2.99/Month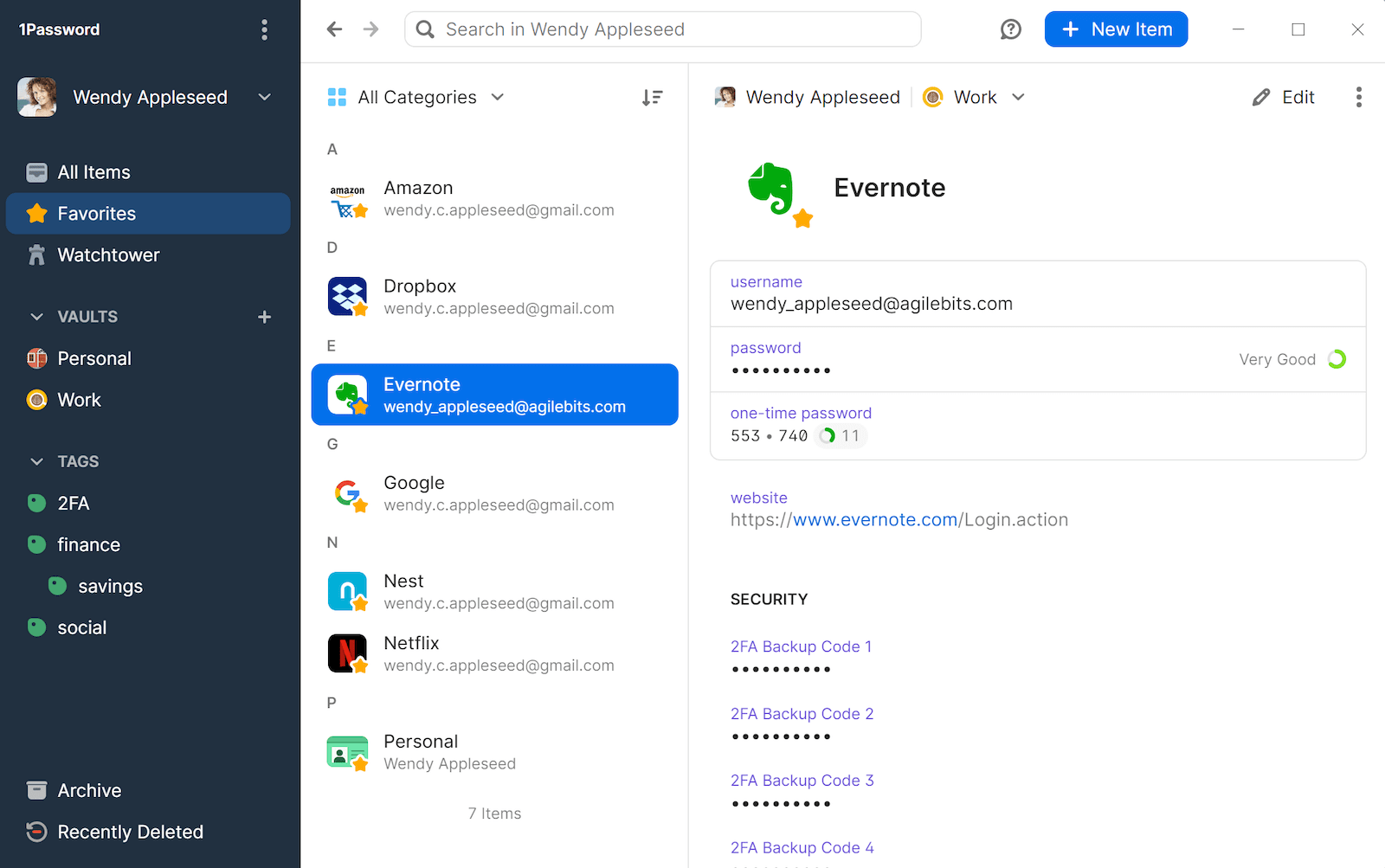 1Password is one of the best password keeper and manager tools for Windows and other popular operating systems. You can create, edit, add and organize your information in the software. You can personalize different items with your multiple icons. It also lets you fill in passwords, credit cards, and addresses directly in your favorite browser. Additionally, it supports two-factor authentication and allows you to share passwords securely.
Pros:
Auto fill capability

Secure password sharing even if the intended person doesn't have 1Password

Ready to use templates to store passwords and other credentials

Browser extension available 

Strong password generator
Cons:
Form filling could have been better
4. Keeper
Compatibility: Windows, Mac, Android, iOS, Chrome, Safari, Firefox, Edge, Opera and Brave
Price: $2.91/Month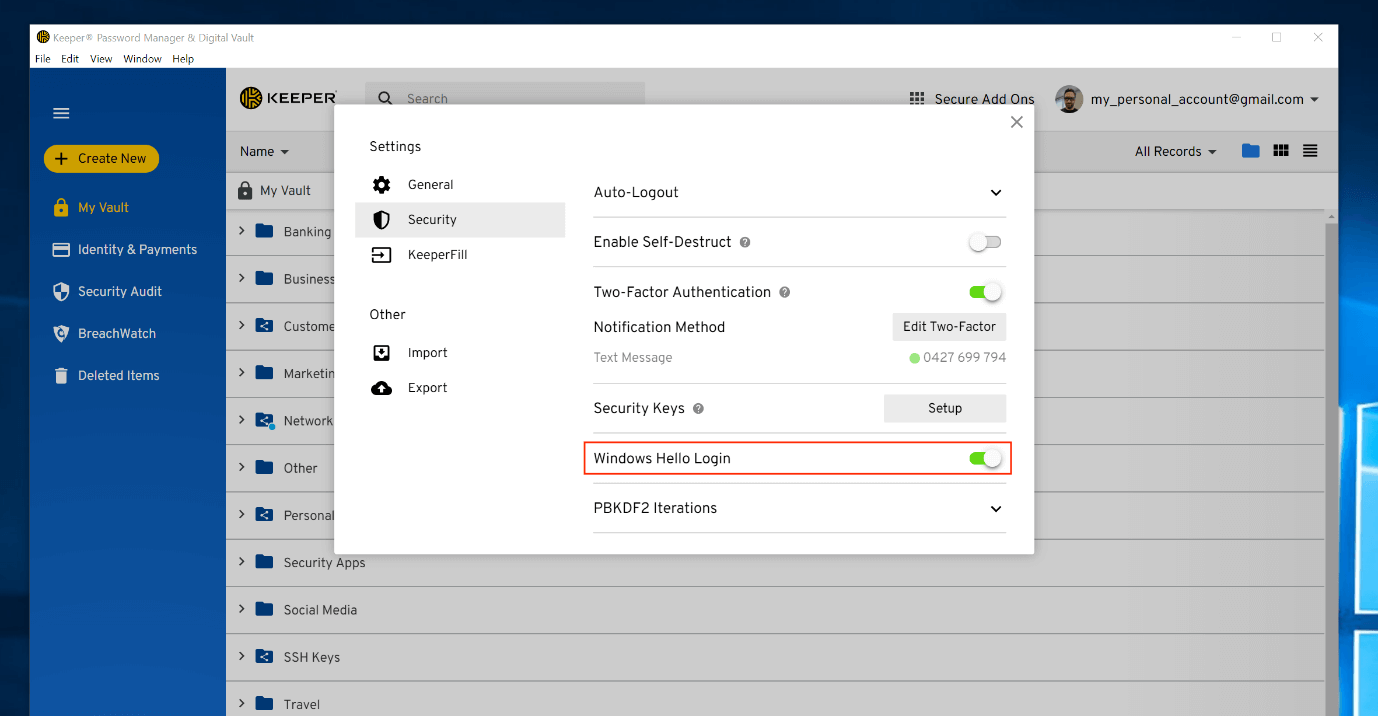 Keeper is an easy-to-use and the most secure password manager that helps you generate and store credentials for all your accounts. The application uses AES-256 encryption to keep your passwords and data protected in a secure vault. What users loved the most about this app for passwords is Self-Destruct, which lets you erase all locally-stored passwords at once. It is built on zero-trust security architecture.
Pros:
Let's you store & organize your data in subfolders.
Dark Web monitoring, notifies you if your data is breached.
Sync and manage your data, on all of your devices.
Deleted password recovery.
Export credentials from other password managers into Keeper.
A separate messaging app is available for PC, mobile & tablet
Cons:
Some features are available for an extra cost.
Slow customer support response times.
Some users have reported buggy form-filling experiences
5. NordPass
Compatibility: Windows, Mac, Linux, Chrome, Opera, Edge & Chromium-based browsers.
Price: $4.99 per month
NordPass is a well-balanced and safest password manager that brings a perfect blend of features and good security options at a keen price. It supports the XChaCha20 encryption method to store and safeguard unlimited passwords. With its secure digital vault, you can easily access your information and passwords via Windows, Mac, Linux, iOS, Android & browser apps.
Pros:
Interface is smooth and elegant.
Multiple Web form filling capability.
Data breach scanner.
Provides password health report.
Solid password generator.
Securely share any of the items you've stored in your vault
Cons:
Poor tech support.
Pricier than other apps for passwords
6. Bitwarden
Compatibility: Windows, Mac, iOS, Android, Chrome OS, Linux, etc
Price: $10/year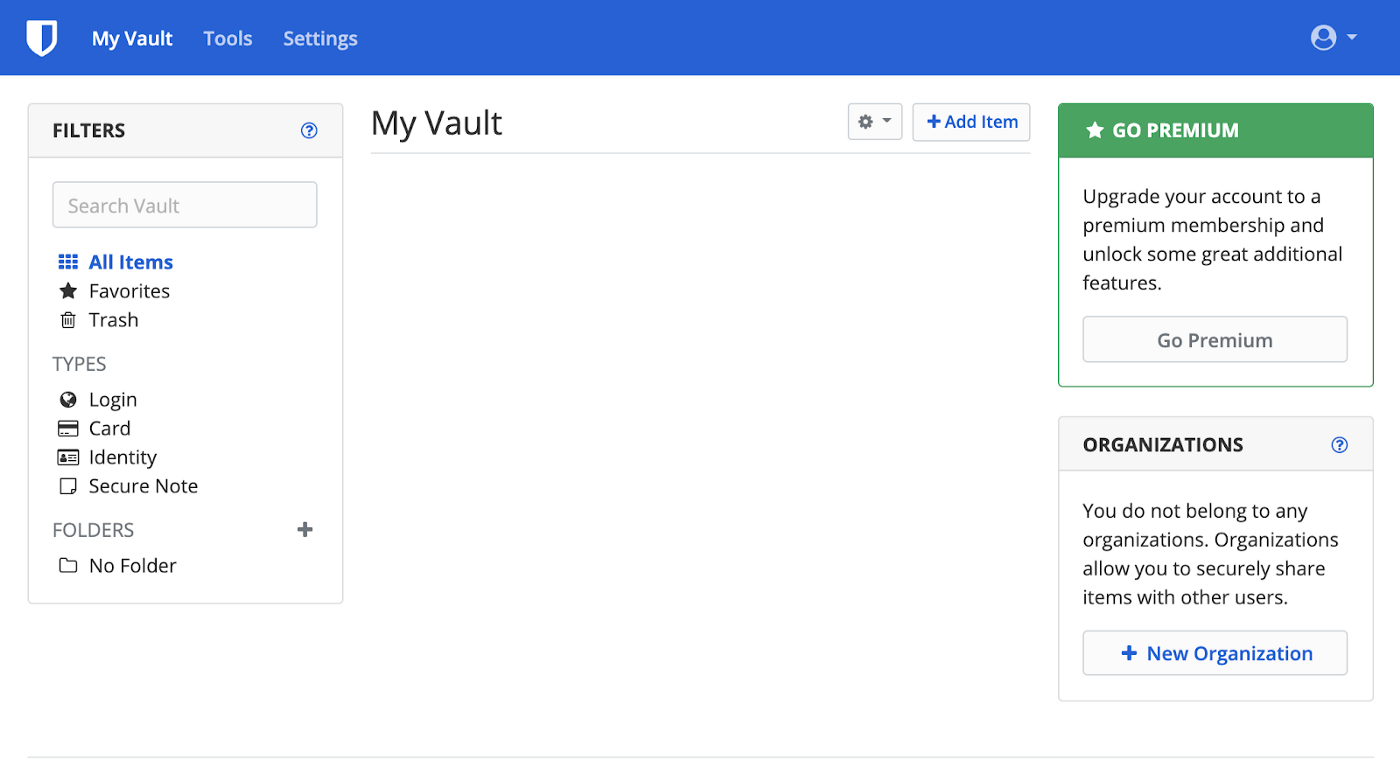 Bitwarden is an open-source and one of the best password management software for Windows and other OSes. The program provides the easiest way to secure all your passwords and sensitive information. Similar to other password keepers, it uses industry-leading security – strong AES-256 encryption, 2FA, and zero-knowledge architecture to manage, generate, sync, and share your passwords from one place.
Pros:
Uses multiple two-factor authentications.
Password auditing & breach monitoring.
Simple & easy-to-use password generator.
Emergency password access feature for friends & family.
Unlimited password storage across unlimited devices.
Encrypted sharing for text and files.
Local data storage (Self-hosting)
Cons:
Auto filling doesn't always work seamlessly.
UI needs to be improved
7. Kaspersky Password Manager
Compatibility: Windows, Mac, Android, iOS, Chrome, Edge, Brave etc.
Price: $14.99/Year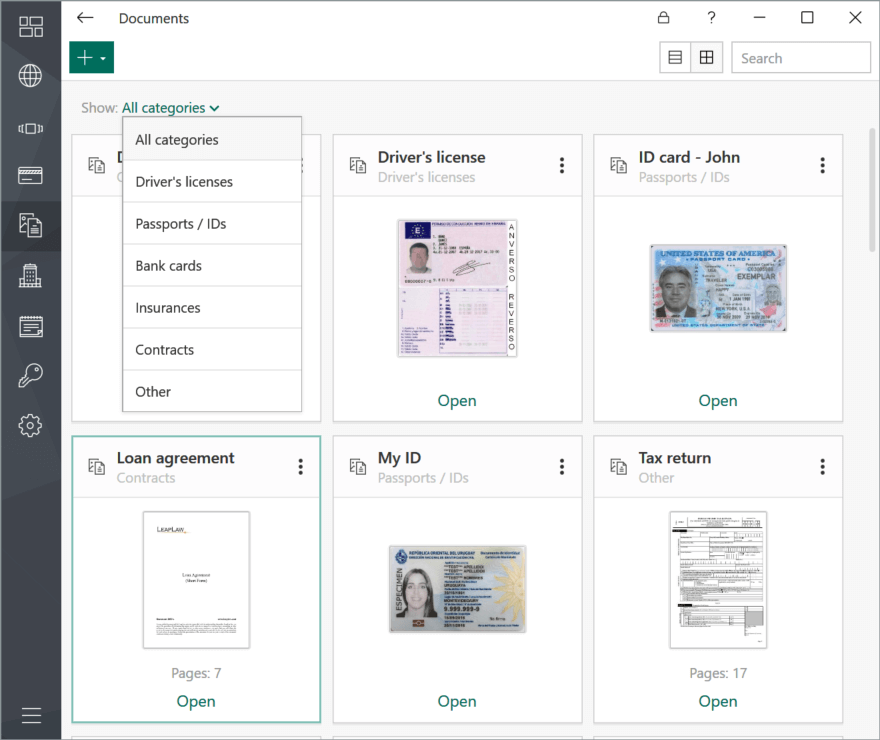 Kaspersky offers one of the best password vaults to use in 2023. It lets users keep their passwords and documents in a secure private vault, which can be easily accessible from all devices. Kaspersky's password manager makes the import process faster and more convenient than its counterparts. It lets you transfer previously saved logins and passwords in a few clicks from your favorite web browsers and other password managers.
Pros:
Supports two-factor authentication.
Fill web forms automatically.
Password strength checker.
Good syncing capabilities.
Operates on a zero-knowledge principle.
Autofill information in offline mode as well
Cons:
No 2FA.
No password sharing.
Limited support for browser extensions
8. RoboForm
Compatibility: Windows, Mac, iOS, Android, Chrome, Opera, MS Edge, etc.
Price: $1.99 per month, billed annually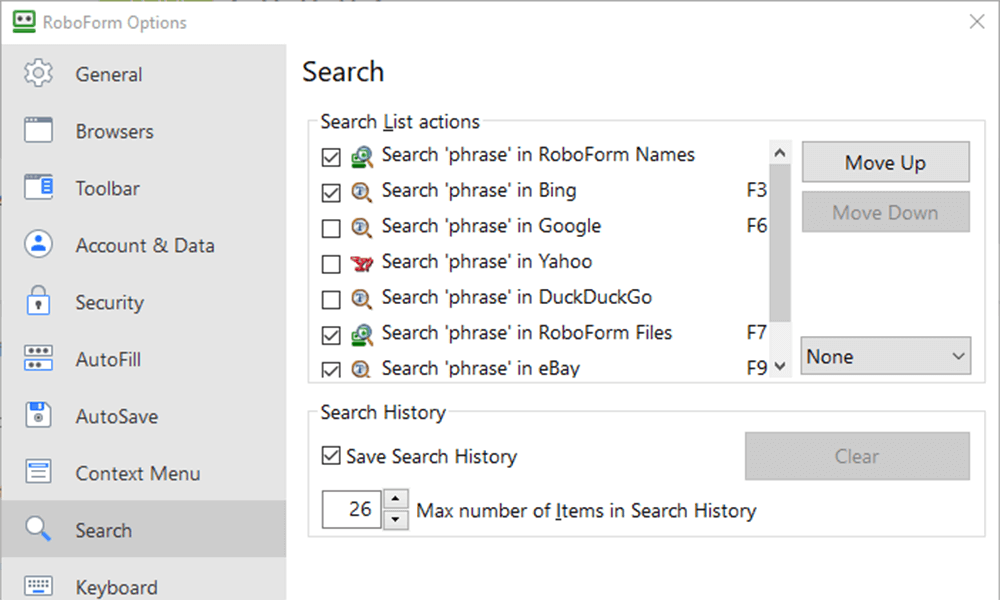 If you're looking for a budget-friendly & safest password manager program to use in 2023, choose RoboForm. It provides dozens of reliable features that you can expect from high-quality password management software. This includes an encrypted digital vault, password generator, emergency access, secure sharing, bookmark storage, automatic form filling, etc. To protect your data, RoboForm uses AES-256-bit encryption with PBKDF2 SHA-256.
Pros:
Manage unlimited logins from one place.
Effective AutoFill feature to fill long web forms.
Create stronger passwords.
Share Login information with other RoboForm users.
Cloud syncing works efficiently
Well-designed mobile apps.
Dark web monitoring
Cons:
Live chat is only for premium users
9. LogMeOnce
Compatibility: It doesn't have a dedicated app, but can be used on Windows, Mac & Linux.
Price: $2.50/monthly
LogMeOnce is a versatile option for anyone who needs the best password manager in 2023. It offers an impressive range of advanced abilities, like QR code logins, facial recognition, a centralized admin panel, unlimited device access, and secure sharing tools. Unlike other best password managers for Windows, LogMeOnce can also encrypt your data to protect it in cloud solutions like Dropbox, iCloud, etc.
Pros:
10 GB of free encrypted storage.
Enjoy anti-hacking tools on more devices.
Ability to schedule logins for a future date.
Customizable dashboard.
30-day money-back guarantee.
Dark web monitoring.
Leaked password monitoring
10. KeepSolid Passwarden
Compatibility: Windows, Mac, Android, iOS, Chrome, Firefox, and Edge.
Price: $3.33/month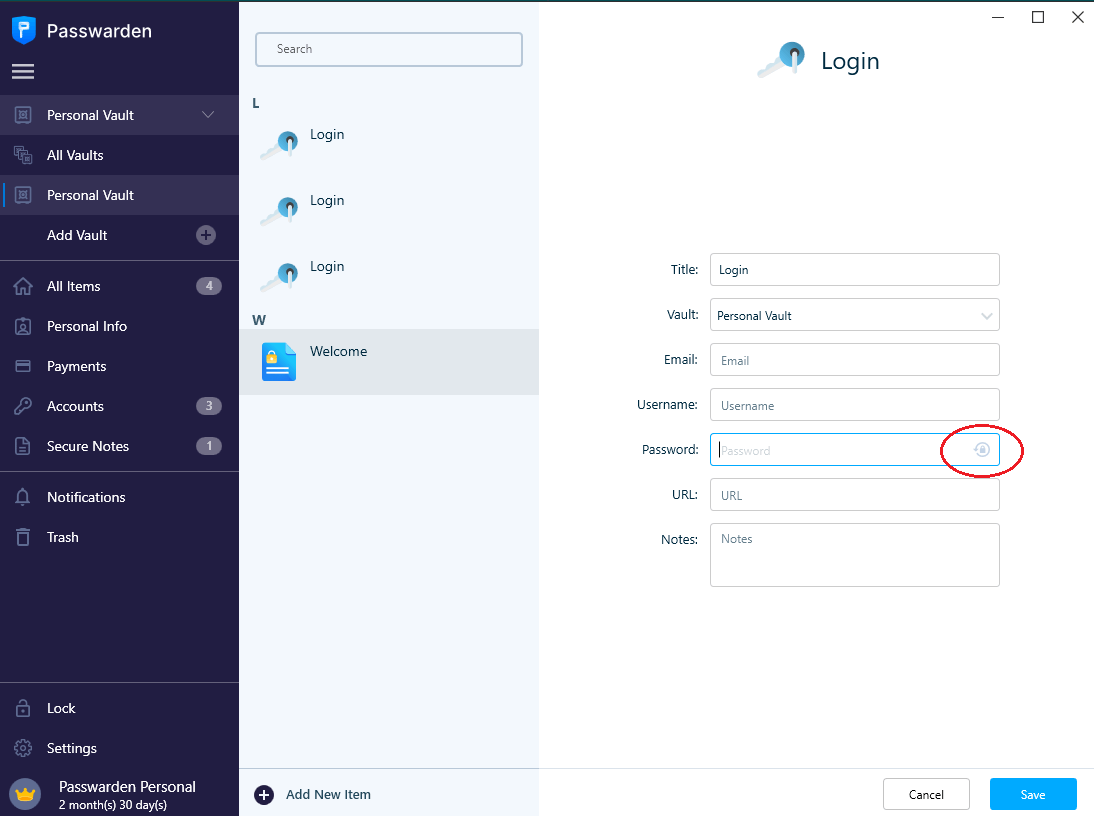 A suitable password manager utility for small businesses and families. Working in both online and offline mode, Passwarden supports 256-bit AES and EC p-384 encryption and works flawlessly on an unlimited number of devices. You can easily check the strength of your passwords and verify whether you're using the same password for different online accounts. It also helps users to keep up with potential data breaches and compromised accounts.
Pros:
Create unique & complex passwords.
Easily import/export passwords.
Autofill credentials on various platforms.
Effortless way to share passwords.
Sync across multiple devices.
A VPN (for an extra charge).
Duress mode to hide personal information with an extra security key
Cons:
No single sign-on.
Limited importing options from other sources
Frequently Asked Questions
Q1. What is the strongest password manager?
TweakPass Password Manager is one of the safest password management tools that uses military-grade encryption (256-bit AES) to safeguard your passwords and sensitive data like social security numbers, license keys, login IDs, credit card information & more.
Q2. Does Windows have a password manager?
Yes! Windows 11/10 comes with an in-built tool to manage your passwords. It's known as Credential Manager, which lets users view and delete save login information for different websites, connected applications, and even networks.
Q3. Are password managers ever hacked?
To be honest, Password managers can be hacked if your device gets infected with malware or virus. In such scenarios, an attacker could get access to your passwords and other stored sensitive information.
Q4. Is it worth paying for a password manager?
Absolutely! Password Managers help to keep a track of your passwords without having to memorize them. Some of the best password vaults even offer the ability to generate complex passwords for different websites and let you auto-fill saved information on online portals.
Wrapping Up: The Best Password Manager For Windows 2023
According to experts, over 81% of data breaches are due to weak password usage and security. That's why using Password Management Software for PCs and Smartphones stands out as one of the best solutions to create hard-to-break passwords. It also lets you automatically log in to multiple online accounts securely, without having to remember any password. To make things easier, we've reviewed the list of the 10 most secure password manager tools based on your needs.
We chose TweakPass Password Manager as the "best overall" because it offers a rich set of functionalities like storing unlimited passwords, multiple device syncing, a solid password generator, auto-fill web forms, and so on. It also uses the industry-standard AES 256-bit encryption, ensuring complete digital safety. We are on Twitter, Facebook, Pinterest, and Flipboard.