Speccy Review 2023: All About The CPU Monitoring Tool
Speccy software is a truly wonderful tool that gives you insight into your computer's hardware and software. It will show you detailed information on CPU, operating system, storage, RAM, audio support, Motherboard, optical drives, and graphics cards. Let's take a look at the Speccy program in this review where we talk all about its pricing to the features. Also, learn how to use the Speccy application on your computer along with its installation method. 
Speccy: The Best CPU Temperature Monitor Tool
Piriform Speccy is an astonishing tool when it comes to its simple yet accurate results. Speccy from Piriform is one of the best CPU temperature monitoring software. It shows you what's going inside your PC. Speccy application is a must-have for all Windows PCs. The quick summary will walk you through the basic overview of things that need to be taken care of. Whereas the detailed report is also available to make the right decision. This program will monitor the PC's temperature levels and thus save it from any damage.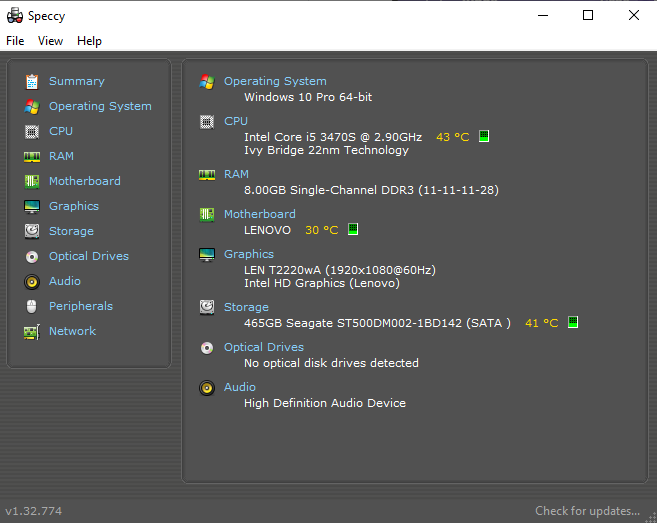 The reports can be shared with others and saved on your computer to keep track. Speccy application is available in two forms- Free and Paid. You can choose either of them as per your requirement. Speccy Free Download comes with fewer options than that of a Piriform Speccy Professional.
Why To Choose Speccy Temp Monitor Software?
It comes from Piriform which is a largely famous company owning products such as CCleaner and Recuva. Speccy has been a very important tool as it serves the user with providing every information on the Windows PC which is useful in many aspects.
Monitors temperature of CPU and components.
Gives hardware information.
Shows memory allocation.
Take screenshots.
Portable software.
Light on system resources.
Fast speed.
Save files in XML, Text file.
Sharable files.
Publish on Speccy server.
When you are selecting Speccy you get a ton of features in the free edition as well. Otherwise you can take a look at HWMonitor which harbours some advanced features.
Hardware Temperature
CPU
Motherboard
RAM
Storage
Advanced information
Audio
Clock Speed
CPU
Fan Speed
Graphics
Motherboard
Network
Operating System
Optical Drives
Peripherals
Portable
RAM
Storage
Voltage
Customer Support
Email Support
Knowledge Base
Live Chat Support
Telephone Support
User Forum
Current Edition- Speccy v1.32.740 which was released on 20th May 2018.
It Includes-
Improved SSD detection for the latest devices.
Improved SSD detection for laptops.
Added Privacy Menu,
Bug fixes.
System requirements-
Operating System – Windows 10, 8.1, 8, 7, XP, Vista (both 32 and 64-bit versions).
Processor- 400MHz or higher.
RAM- 256 MB or more
Disk Storage space- 8MB
How To Install Speccy?
The process of Speccy download on your computer is very simple and you can follow these steps to simplify it.
Step 1: Download the Piriform Speccy from the download button given below-
Or visit the website and get the setup file from here
Step 2: Run the setup file which is an executable file.
Step3: Click on Install.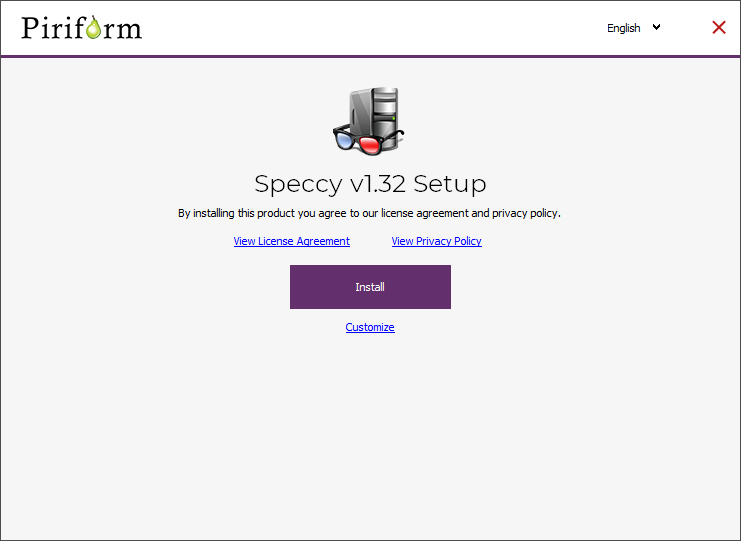 You can also customize the installation by clicking on the Customize button given below Install. In the customization, you will see three options – Add desktop shortcut, Add Start Menu shortcut, Inform me of updates to Speccy. Here you will see the first two marked on default. If you wish to not see a default Start menu or desktop shortcut, you can unmark it. One more important thing is to check the box in front of Inform me of updates to Speccy. As it will be crucial for a user to keep getting updates for the Piriform Speccy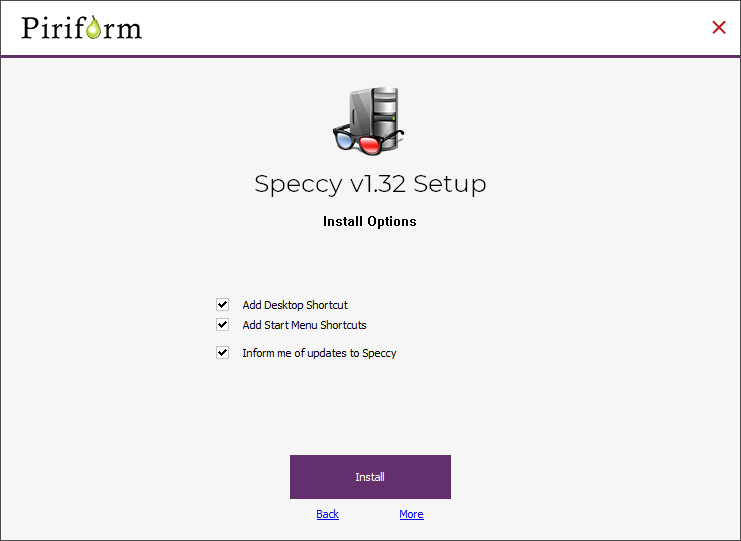 Next, you need to click on More, this will show you the file path and options to make the installation specific to the user on your computer. Here you can select the location of the installation on your computer. Second, you get to choose if you wish to download Speccy for all users on the computer or just you. Once you make a decision, select the necessary sections.
Thereafter, you can click on the Install button.
Step 4: The installation process will take a few moments and you will see the Setup Complete message once it's done.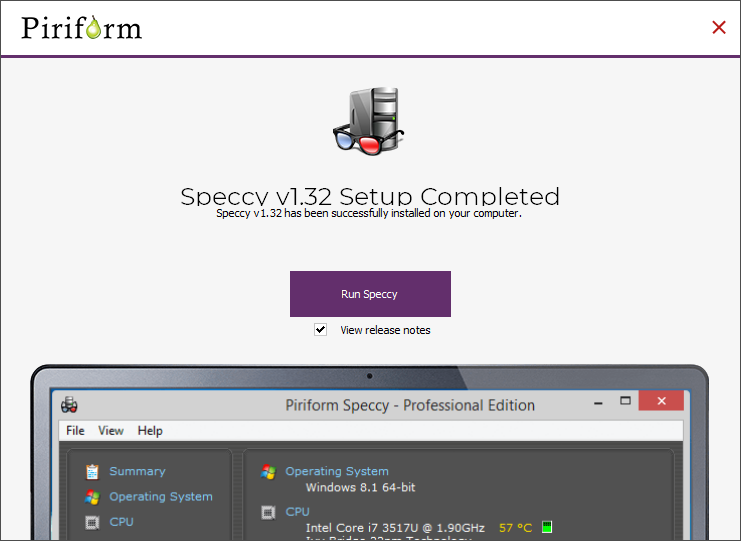 Now, you can click on Run Speccy to get it working for your computer.
How To Use Piriform Speccy Software For Windows?
Using Speccy on your computer is very easy. Here is what you need to do, just wait for the application to show you results, once you clicked on the Run Speccy button. 
Step1: The Summary will give you insight into your computer.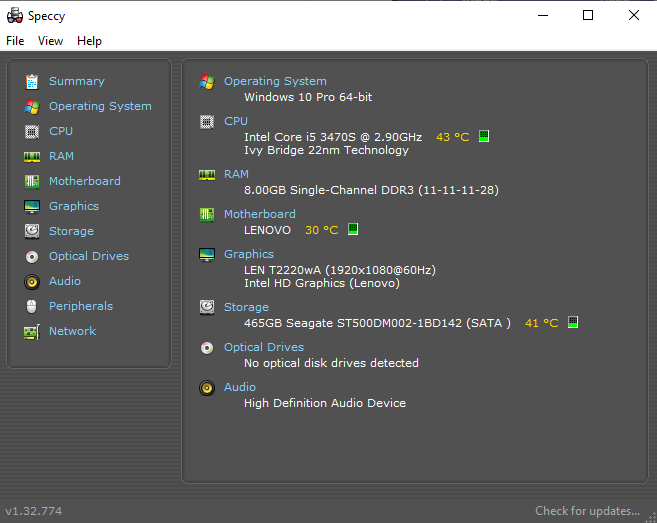 Here you get the basic information on your computers such as Operating system, Storage, CPU, Motherboard, graphics, audio, and optical drives. 
Step 2: Now, click on the Operating System to see the details on your computer. This will include the Windows version, computer type- desktop or laptop, serial number. If the antivirus is activated or not. 
Step 3: Next, click on the CPU.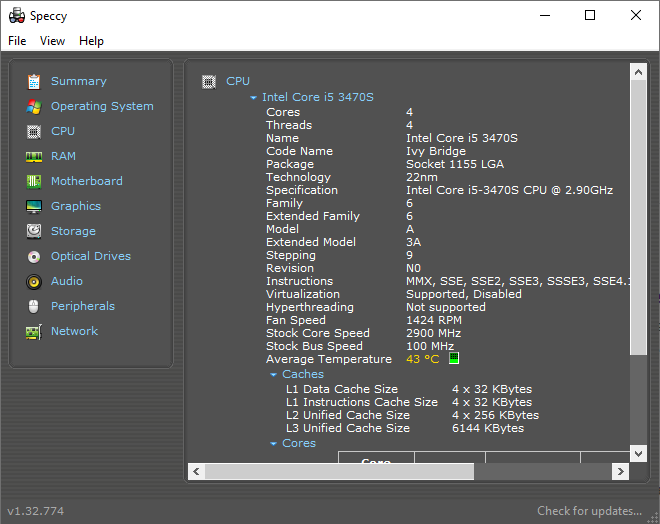 Step 4: Now to save the information you go to the Top Menu, click on File>Save Snapshot.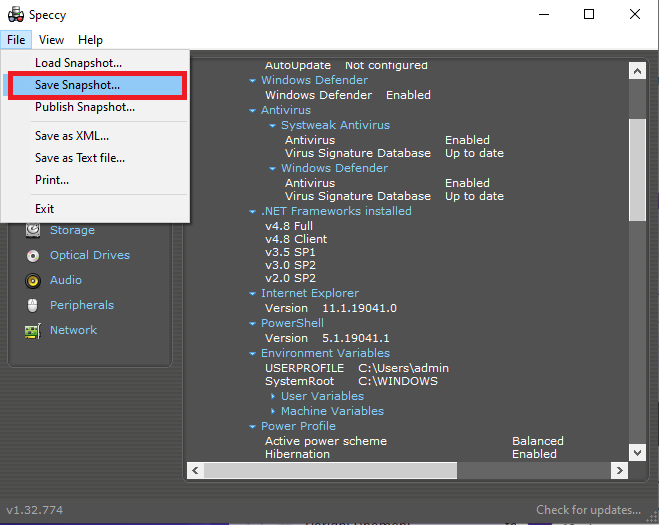 Step 5: Save it to the desired location with a suitable file name.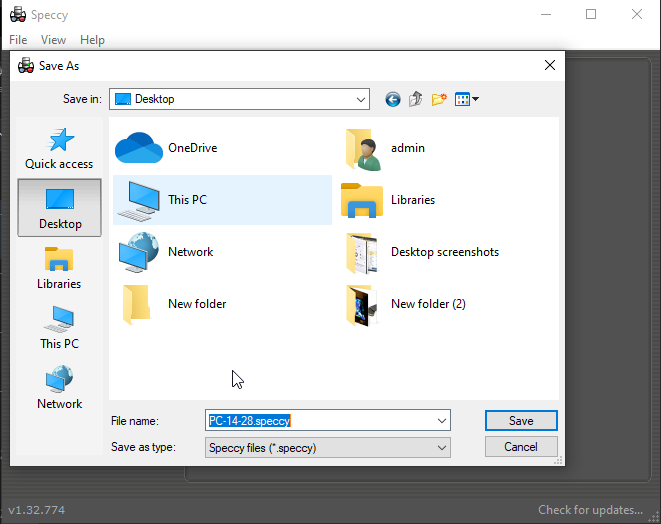 Step 6: Now you can access these screenshots for sharing or printing them. The text can however be copied and pasted too. This is another of the best features from Speccy.
Similarly, you can check the information and share it for other aspects on your PC.
In terms of interface, we would like to give Speccy full marks. As it passes the exam for both looks and simplicity. The product comes as a help to the users who are looking for detailed information on their computers. With all the features on the home screen, it has made it easy for the user to fully understand how to operate. It will give you all the information on your computer right when you run Speccy. You can easily save the screenshots or share them with others. Making the file available in TXT and XML format and easy to print is a help for all the users
1. CPU Temperature-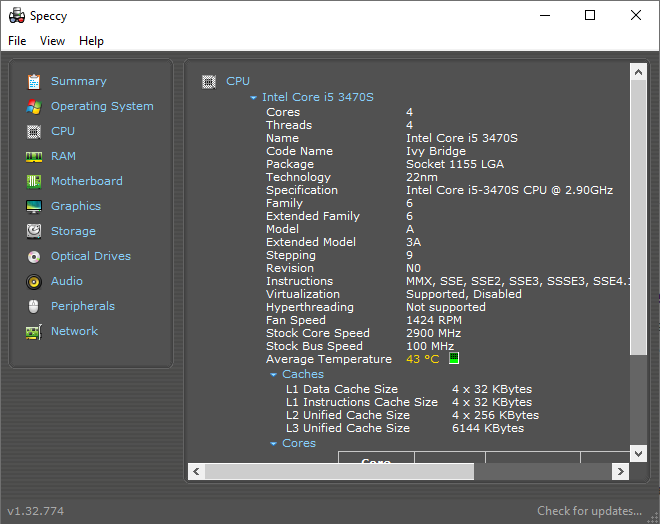 Monitoring the temperature of your PC with the help of Speccy for windows makes it the best. You can check the temperature on Motherboard, storage disk drive, and CPU so that you can check if they are overheated and resolve the issues.
2. PC Maintenance Tool- 
Not only it shows you information about the CPU, but all that you need to know about your device. If you have any doubts about if your Antivirus works or not, it will help you to show the status. The graphics cards are troubling you get info on them as well. 
3. Share The Results on The Web-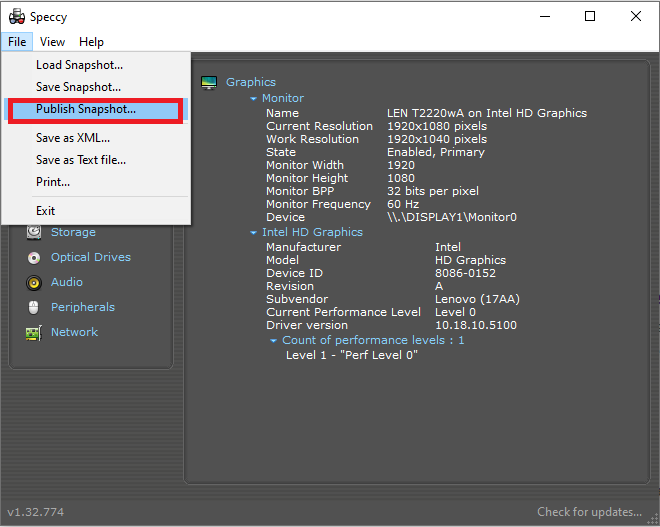 It is a great thing that we can share the results from our tool to the web. Speccy allows you to upload the details directly to its server and it stays there for 30 days. 
4. Graphics Card-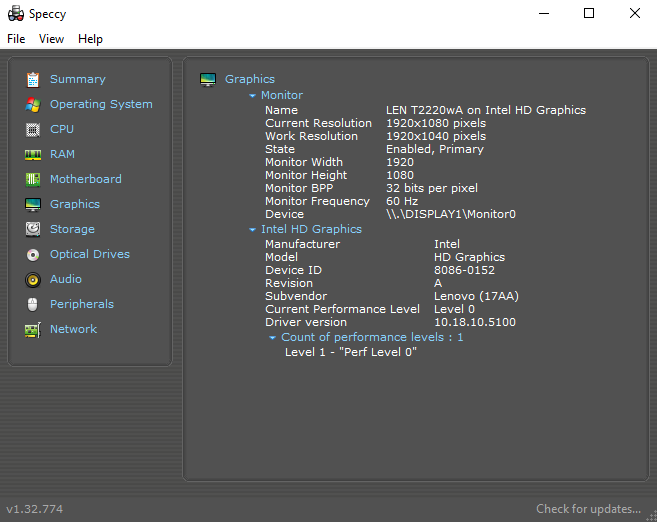 With the graphics cards information on the driver version, performance level, device ID etc. You can use the information before downloading a heavy game or video on your computer. 
5. Portable Software- 
Being portable software, it is not needed to be downloaded on every device. The portable tools can be carried on the USB drive and used on other computers.
6. Text Can Be Copied 
This means that you can directly copy the whole report or certain parts to show to someone else. 
Screenshots- Taking screenshots can be a hassle and therefore it has an inbuilt tool to do that for Speccy. It enables you to keep track of the summary and other reports on the tool.
Network Speed- You can get all the information on your network along with the link speed. This can be a very useful tool for getting details on your IP address, server and DHCP.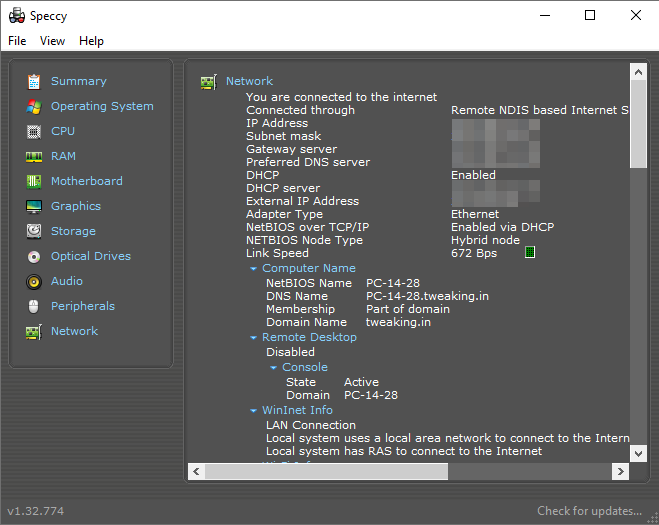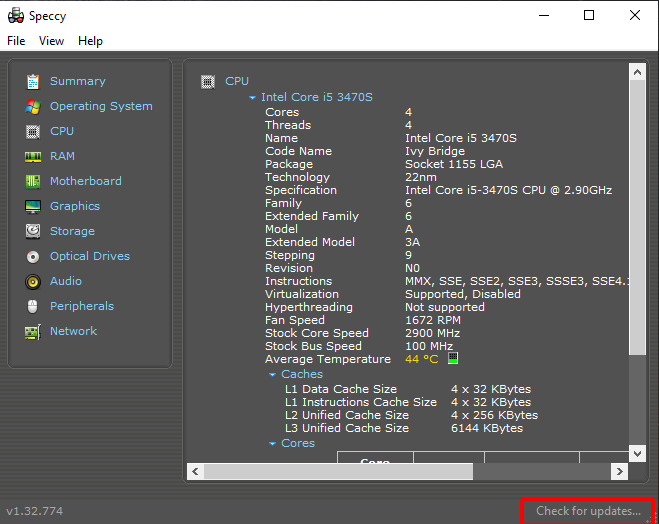 Speccy program often comes up with updates and it regularly informs its users on its official website. You can manually check for the updates from your Speccy application. All you need to do is go to the bottom-right corner and click on the Check for updates button. This will quickly look for any pending updates for your PC monitoring software. This works for the Speccy free download and is very helpful according to us. However, if you opt for Speccy Professional which is a good option for home users you get to avail of the automatic updates. 
Speccy comes with the great options as the free version offers a lot for first time users. To keep a continuous check on your PC, you need Speccy Pro which has more advanced features. You can select one between the two. Here are the pricing plans for Speccy
Speccy Free
Speccy Professional

Advanced PC insights, Automatic updates, Premium support
In terms of speed, Speccy is a great tool as it shows you results instantly. You can catch all of the information on your hardware instant you launch the application. It also shows you the real – time CPU temperature. The network speed can also be determined by using Speccy. So it is a great tool as the CPU temperature monitoring software. 
You get premium support when you have Speccy Professional on your computer. It is treated as a priority and this is a major help for the users. In other cases for the free version, you still get customer support from the website. There are knowledge-based articles for the user's help. Along with this, you will find guides on product setups and frequently asked questions to solve your queries. Users can also join the Community Forum to discuss more on Speccy. 
Visit here for more information- https://www.ccleaner.com/support/speccy
Frequently Asked Questions:
Q1. What Is Speccy Used For?
If you are wondering what Speccy is, it is used to monitor the PC's temperature levels. It keeps the temperature of your CPU in check and keeps showing you reports. This enables you to maintain healthy hardware and increases the life expectancy of your computer. Speccy is one of the best programs to monitor PC performance.
Q2. Is Speccy Safe To Download?
Yes, it is 100% safe to download Speccy on your computer. It is 100% legit software from a very renowned company Piriform. It has been downloaded and used regularly by a multitude of users.
Q3. What Does Speccy Do?
Speccy is a software tool for monitoring your system's performance. It is a simple yet powerful monitoring tool software
Q4. How Accurate Is Speccy?
We can say after the usage that the Speccy program has been deemed to be quite accurate. The results are satisfactory as they are closer to the proximity of the ambient temperature. 
Q5. How Much RAM Do I Have?
If however you want an answer manually search for it on your computer. Go to Task Manager> Performance>Memory>More Details. The total amount of RAM installed on your computer is listed here. The easier way is to run Speccy and see the summary where you get all the details of your computer.
Verdict
It is safe to say that Piriform Speccy is the best CPU temperature monitoring software. We highly recommend downloading Speccy for Windows PC. It is an efficient tool with a very simple-to-understand user interface. CCleaner Speccy has seen a good run over the years and continues to showcase the same results. Speccy free download works great as a tool to monitor CPU temperature but it has limited features. 
Whereas, Speccy Professional will be the idle choice for anyone who is looking for a good deal at home computer. Professionals can also take it up as a PC maintenance tool to keep the device in check. Not only it will provide you insights on the CPU but lets you share it with others for a second opinion. Isn't this a great deal as are getting support on priority plus all the advanced features with this version? We used the Speccy free download version for this review and have to report accuracy with the results on Speccy for Windows 10. We would likely suggest using it once and find it yourself. Our verdict says Speccy is worth it when you are looking for a free version to try on. Thereafter you can upgrade it to Piriform Speccy Professional.