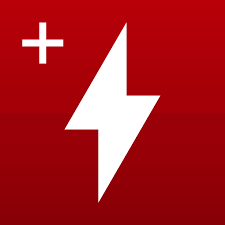 HWMonitor Pro
HWMonitor Pro: Best CPU Temperature Monitoring Software
If you are looking for a lightweight, multi-functional tool for keeping your computer hardware in check, HWMonitor Pro is the perfect solution. In this HWMonitor review blog, you find out all about the temperature monitor for Windows 10. The blog will help you decide on whether to invest in the CPU monitoring software or not. Read on to find the detailed overview of CPUID HWMonitor Pro for Windows
What Is HWMonitor Pro?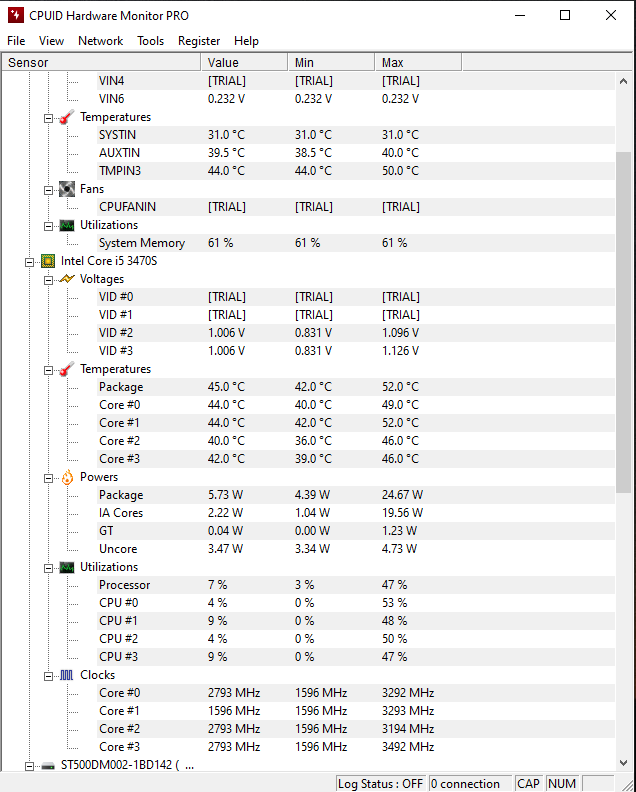 CPUID HWMonitor Pro is a simple to use tool which measures CPU heat monitor speed to keep the hardware running at optimum stats.  Voltages, Temperature, Fan Speed, Fan PWM, Power, Clock Speed, Utilization, Bandwidth are some of the insights on the computer which are measured by CPUID HWMonitor Pro. But apart from giving you the important information on your computer, it also helps in fixing the issues. HWMonitor Pro is efficient in fixing the voltage and load to keep the computer running in a healthy state.
This will give you the results in real-time and make it easy to monitor the system's health. Moreover HWMonitor Pro also generates graphs for the reports on your computer insights to help you easily compare with previous results. It supports remote monitoring which will make you keep records on your computer even when you are away from it. HWMonitor Windows 10 is available for download from the download button.
Why Do We Need HWMonitor Pro?
Measuring the temperature of the CPU and keeping track of other hardware is important for the performance of your computer. The CPUID HWMonitor Pro is a great tool to help you figure out these factors and also provide the solution. HWMonitor Pro allows you to track the various components of your computer and keep it in good condition. It plays a crucial role in monitoring system temperature, fan speed, voltage, and several other factors. This will give you an indication of how the internal organs of your computer are doing to maintain your PC for a longer run. As compared to other CPU monitoring software, this has several advantages. HWMonitor covers the remote connection access which makes it easy to monitor devices from afar.
Additionally, HWMonitor software is a portable tool. These factors make it the best CPU monitoring software for Windows. Let's take a look at these features of HWMonitor software-
Records CPU temperature.
Track system voltage.
Logs Fan Speed.
Quick results.
Storage information.
Graphical user interface temperature.
Graphics Card information.
Clock Speed of CPU.
Shows network information.
Generates graphical reports.
Interface customization available.
Fixes Voltage and Fan speed issues.
Remote monitoring available.
Regularly updated.
Portable tool.
If you are looking for an affordable option as a home user with fewer features than go for Speccy, read its review here.
Hardware Temperature
CPU
Motherboard
RAM
Storage
Advanced information
Audio
Clock Speed
CPU
Fan Speed
Graphics
Motherboard
Network
Operating System
Optical Drives
Peripherals
Portable
RAM
Storage
Voltage
Customer Support
Email Support
Knowledge Base
Live Chat Support
Telephone Support
User Forum
Current Edition- Version 1.46 was released on September 14th, 2021.
Included in the latest version-
Fix IP selection when multiple IPs are available.
Fix saving minimized and tray modes.
Fix tray icons bugs.
Add auto start.
Intel Core 12th generation "Alder Lake" and Z6xx chipset.
AMD Ryzen 5000 "Zen 3" Vermeer.
AMD ThreadRipper PRO 3995WX, 3975WX, 3955WX, 3945WX and WRX80 chipset.
AMD Cezanne and Lucienne APUs.
AMD Radeon 6000 GPUs.
NVIDIA RTX 3000 GPUs
System requirements-
Operating System – Windows 10, 8.1, 8, 7, XP, Vista (both 32 and 64-bit versions).
Processor- 400MHz or higher.
RAM- 256 MB or more
Disk Storage space- 8MB
How To Install HWMonitor Pro?
If you are interested in getting CPUID Hardware Monitor Pro for your computer, take a look at these steps to learn how to install it –
Step 1: The first step is to download the tool on your computer, CPUID HWMonitor download button is given here
Step 2: An executable file will be downloaded on your computer. Double click on it.
The setup will run and you will be able to see this-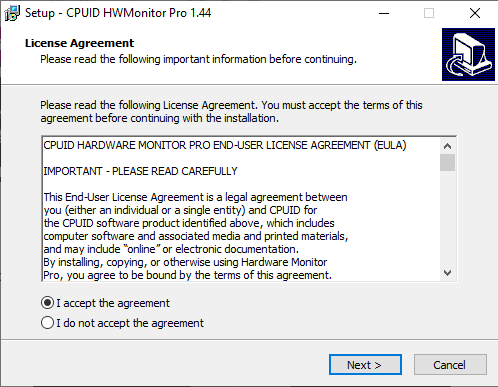 Select the – I accept the agreement under the License Agreement page and click on Next.
Step 3: Next, select the location where you want to save the file. Click on browse to choose a place on your computer.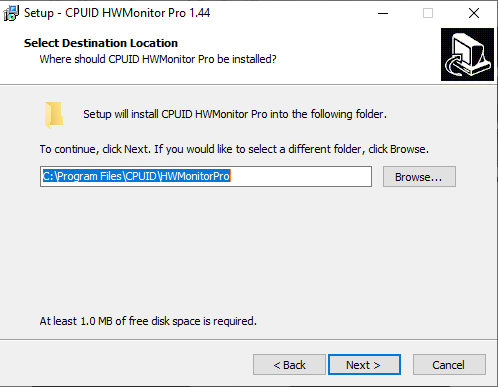 Step 4: Next, set up a StartMenu folder for the tool's shortcuts on your computer. By default it chooses one on your computer, click on the Browse button for the different folder.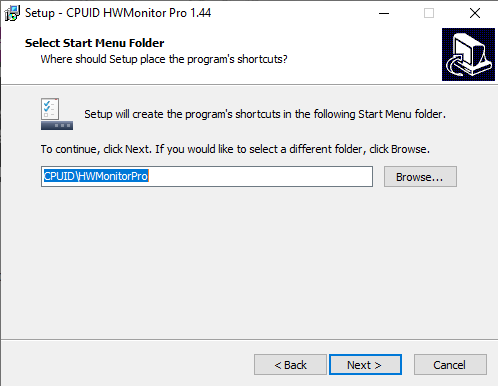 Step 5: Next, choose to create a shortcut for CPUID Hardware monitor or not. By Default it is marked to create a desktop shortcut, if not needed, unmark it.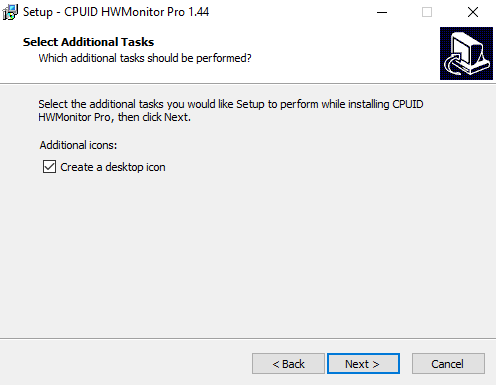 Step 6: Next, it shows you that the HWMonitor software is ready to install and shows you the information selected previously. If you want any modifications, click on Back and repeat the above steps.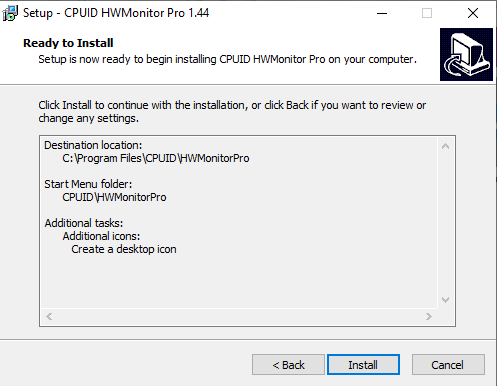 Once you are sure, click on the Install button.
Step 7: The installation process is quick and it shows you this message as it completes. Click on Finish to exit the Setup.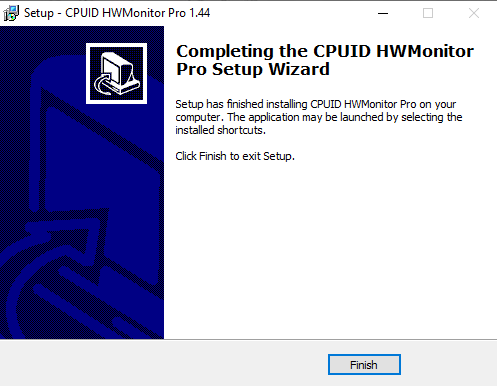 Now, the installation for CPUID HWMonitor is complete.
How To Use HWMonitor Pro?
Let's learn more about the usage of HWMonitor Pro with its working –
Step 1: Once you launch the application, it will show you all the statistics of your computer.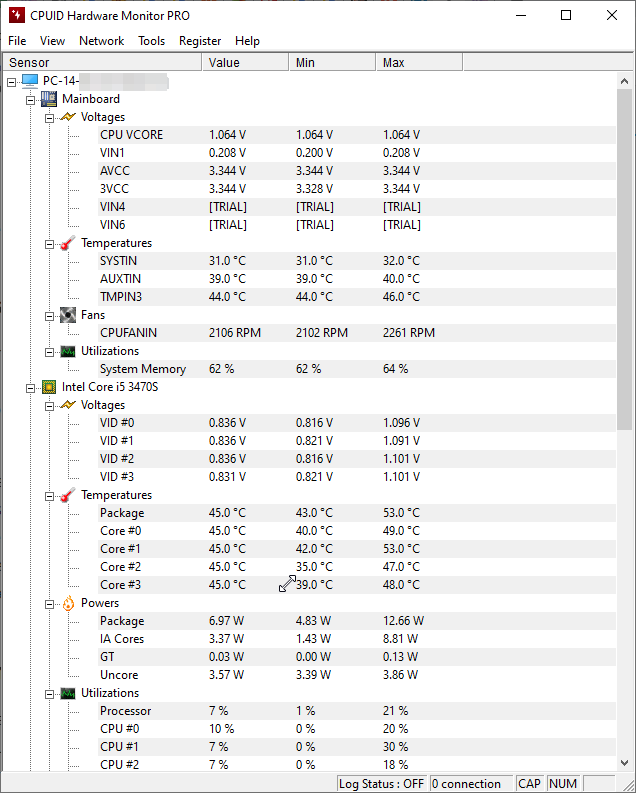 Step 2: To customize the interface, you need to go to the component and right-click on it to see options appear.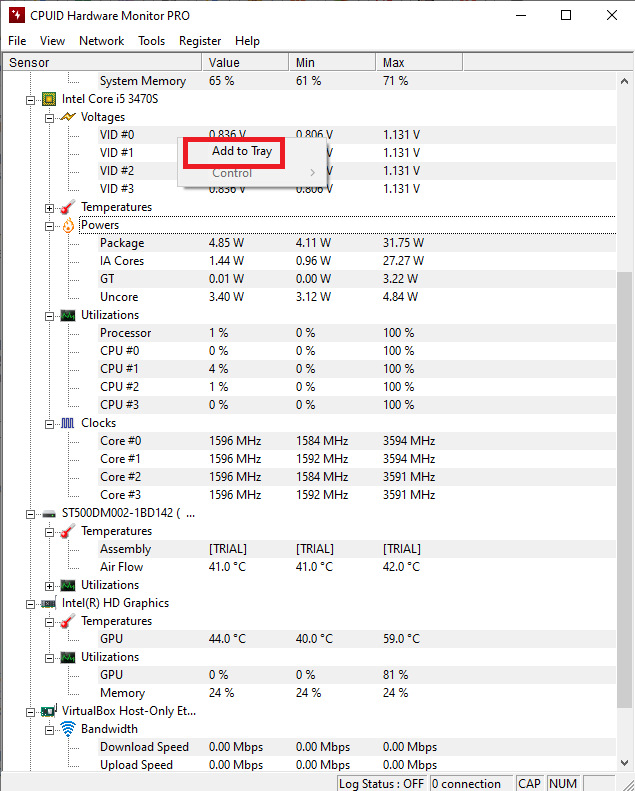 Step 3: To change the names of your labels on your computer to make them convenient to understand. Go to the application and press F2.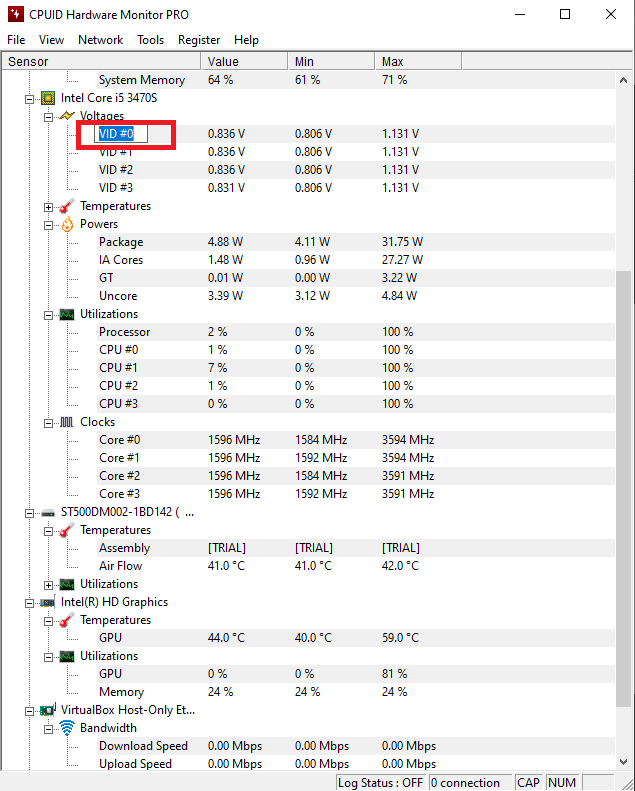 Step 4: To remotely monitor your computer, you need to install the same version of HWMonitor on your other computer. Here all you need to do is connect your computer with the TCP/IP connection. To access it, go to Top menu >Network> Connect> IP address.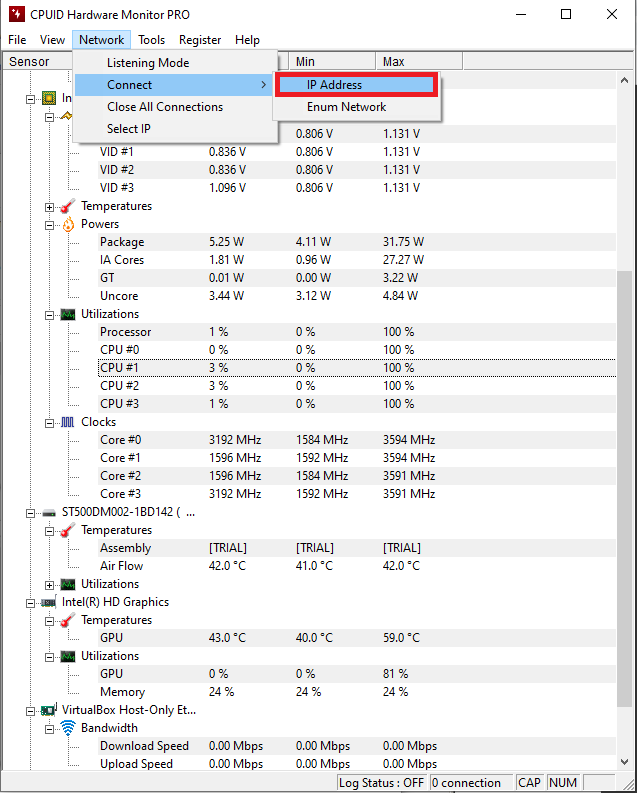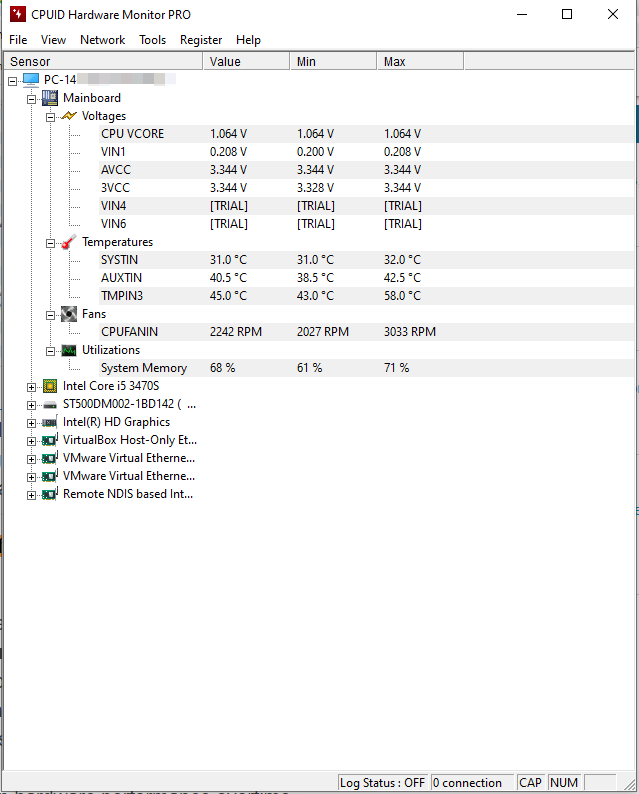 Talking about the HWMonitor Pro interface, it can be termed as the simple to understand the tool. The highlighted feature about the interface is the customization which allows you to make it as per your requirement. The best part is that you can easily access all of the features from the tool by clicking on the options. With the regular updates, HWMonitor Pro has made a lot of improvements in the interface to make it more user-friendly. The maximize and minimize buttons make it surprisingly easy to take a look at all of the hardware components.
1. Track Hardware Components Temperatures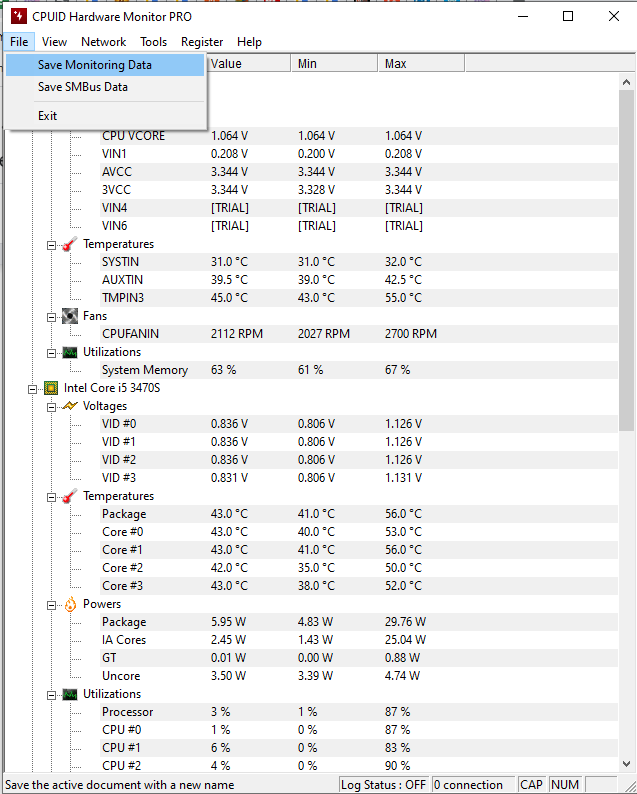 With the help of the sensors on the hardware components on your computer, HWMonitor determines the various aspects. The temperature measurement is an important part of the assessment as this will save you from any system damage due to heat. Thereafter, you save all the information for further records.
2. Network Information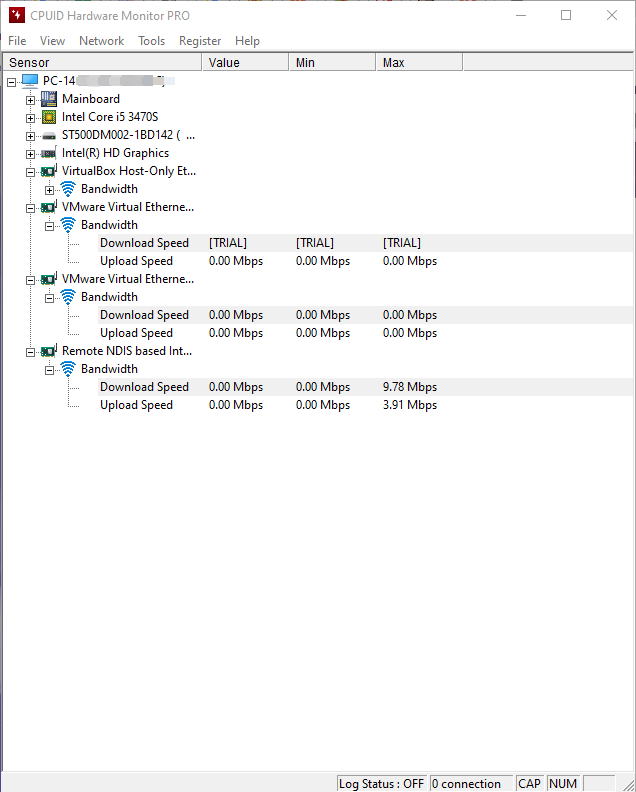 The detailed information on the network is provided by HWMonitor Pro. It shows you the bandwidth of the connection along with the download and upload speed.
3. Connect With an Android Device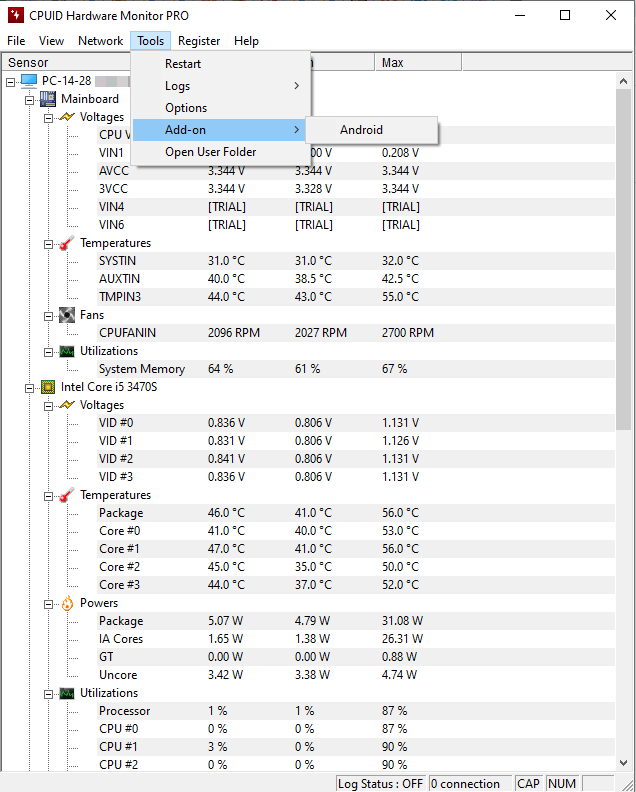 It can be remotely connected to the Android device for remote monitoring of your computer. For that, you need to add your Android device to the computer temperature monitor tool.
4. Graphical Representation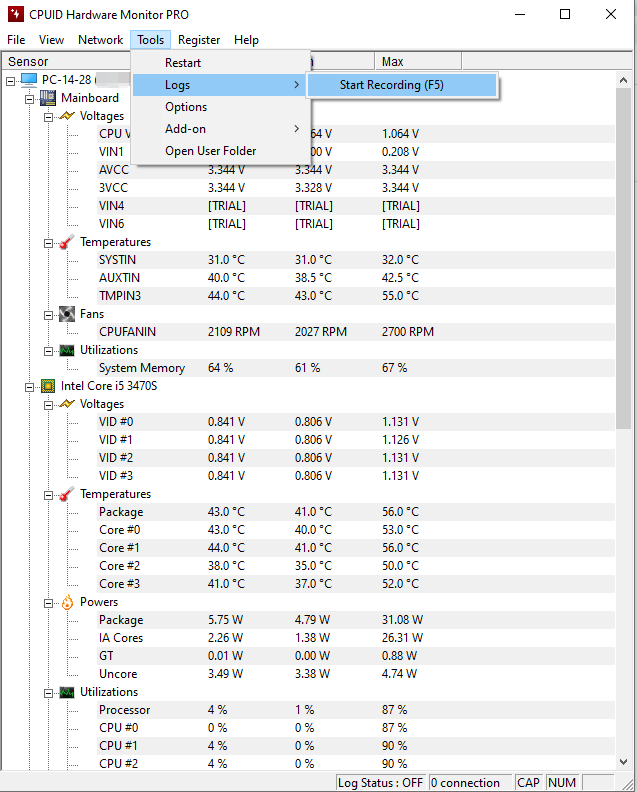 Get the reports on the insights of your computer in the format of the graph. You need to go to the Top Menu> Tools> Logs> Start Recording and it will produce quick graphical images for all the hardware components.
 5. Dark Theme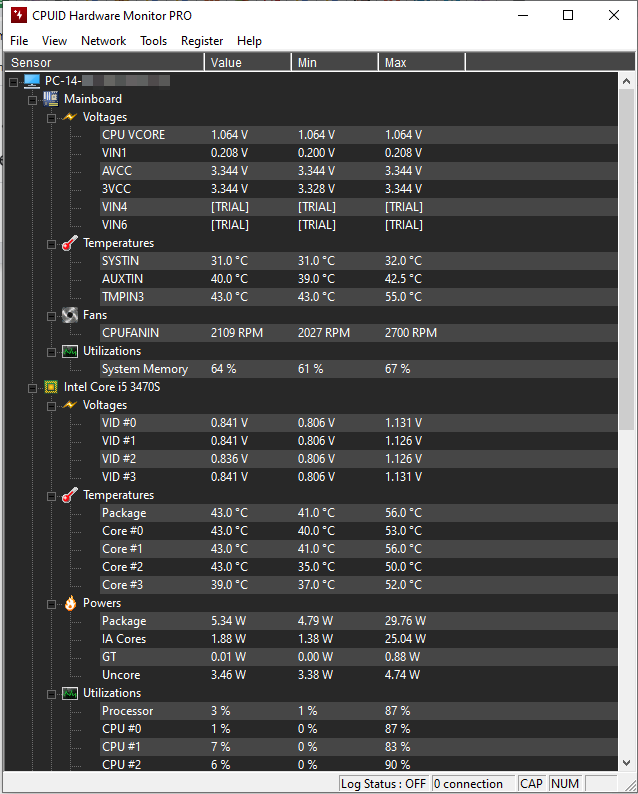 A dark and light theme is available for HWMonitor Pro making it more likely to be used by Windows 10 users.
Here are the pricing plans for HWMonitor Pro which is available for Windows. You can select a one-year plan which lets you access the remote connections from 10 different devices. For 2 years, this plan doubles the number of remotely connected devices. It also gives you unlimited updates in that duration. Choose one which is more suitable for your requirements.
CPUID hardware monitor is one of the fastest among the temperature monitoring tools for Windows. HWMonitor free or paid works at a very good speed. The results can be seen within moments and the reports are devised quickly. The real-time monitoring makes it even more.
CPUID HWMonitor Pro has a very good record in updating the software. Ever Since its release in September 2009, it has been regularly updated and the latest version 1.44 was recently released earlier this year. You can always count on HWMonitor for improving its functionality and helping users by fixing the bugs
It is fairly easy to contact the support team for CPUID HWMonitor Pro. Any query related to it can be submitted as a request with the contact details to the team. It can be noticed on the homepage of the official website of HWMonitor. For additional support, they have provided the frequently asked questions and troubleshooting queries on the website as well. Users can also check these questions for preliminary problem-solving.
For customer support, HWMonitor works on email support only. You can also check the FAQs and troubleshooting from the Help section of the HWMonitor software
Frequently Asked Questions:
Q1. What is CPUID HWMonitor?
CPUID HWMonitor is a simple application that helps you to detect the computer working on optimum performance. It helps to see if hardware components are running at an optimum temperature or not. This will keep your system safe and increase its longevity.
Q2. Is HWMonitor Pro safe?
Yes, CPUID HWMonitor Pro is a safe tool and there are risks involved in having the software on your computer. It is beneficial to use it as HWMonitor CPU temperatures are regularly kept in check. 
Q3. Is HWMonitor Free?
Yes, HWMonitor free-to-use version is available and it is different from HWMonitor Pro. In the HWMonitor, you get to see the statistics of your computer hardware. Whereas in HWMonitor you get additional features like remote monitoring, graphical representation, and customizable interface.
Q4. Are HWMonitor temps accurate?
Yes,  HWMonitor uses the sensors on your hardware components to measure the temperature and it's deemed to be very reliable. If you are getting any faulty data, you must get your hardware sensors checked.
Q5. Is HWMonitor Pro legit?
Yes, CPUID Hardware Monitor Pro or HWMonitor Pro is a legit software for Windows and Android. It helps you in various ways by keeping the track of the temperature of hardware components in your computer.
Verdict
CPUID Hardware Monitor Pro is highly recommended by us for the use of a Windows 10 temperature monitor. It has multiple features to help you with your daily requirements of monitoring your computer's health. The CPU benchmark tool is a must-have for all professionals. Especially for the network administrators who require to keep a tab on network information as well. The remote connections give an upper hand in making CPUID HWMonitor Pro one of the Top CPU monitoring tools.