Recuva Data Recovery gives impressive results if you have lost any data saved on your system that you cannot afford to lose. This versatile and reliable tool is available in both freeware and premium versions and will not disappoint you.
What Is Recuva?
You might lose/delete a file if you choose Yes instead of No or if your system gets corrupt. Whenever a file is lost/deleted, an individual searches for it in the Recycle Bin. However, if you have emptied the trash or deleted the file using Shift+ Delete, you won't find your files in the Recycle Bin as well. That's when a file recovery program like Recuva, a reliable data recovery tool for Windows can come to the rescue.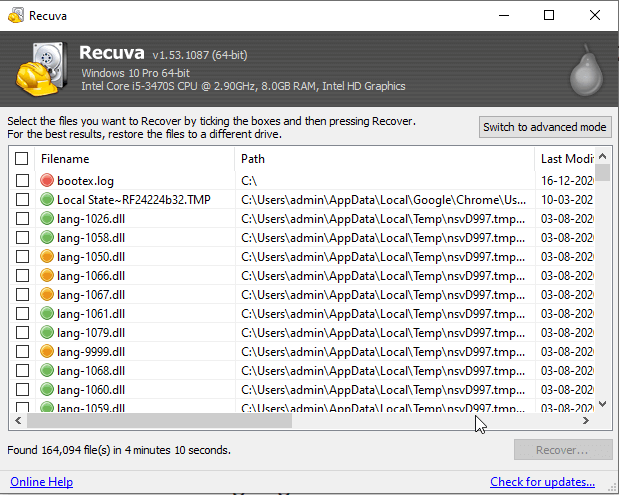 Data deletion, corruption, or data loss are some of the common issues we all deal with. It can be both deliberate or via a virus attack. The unpredictability of data makes it harder for a user to deal with it.
Fortunately, there are many software that targets data recovery. What does data recovery software do? The programs like Recuva can scan and recognize a number of the file types from the damaged partitions, disk drives, etc. Furthermore, it restores the deleted files from Recycle Bin even after it has been emptied.
Top Features At A Glance
Undelete files on your computer.
Recover data from damaged or formatted disks.
Recover deleted emails from Microsoft Outlook Express, Mozilla Thunderbird, or Windows Live Mail.
Recover deleted iPod Music along with additional track data.
Restore unsaved word documents.
Quick-Start wizard with Deep scan feature.
Securely delete files you want to erase forever.
A Portable tool to take with you anywhere you go.
Supports all Windows OS in 37+ languages.
A Brief Overview Of Recuva
Recuva Data Recovery software is a product from CCleaner which is available for Windows PC. It is to be used to recover deleted files from your computer. This comes as a freemium product, whereas you get limited features of data recovery software in the free version. Recuva can be trusted for data recovery as it functions on the advanced data recovery algorithm. Windows older versions can also download Recuva software for PC as it is compatible with all Windows versions. This is a user-friendly tool and can be operated in simple steps to recover the deleted data.
If you're looking for more alternatives to Piriform Recuva, then take a look at our guide to the best data recovery software.
Starts from
$
19.95
per year
Advanced Partition Recovery
Detailed Sector-Wide Scanning
Filters For Accurate Results
Recovers data from any storage device
Scan to Recover Any Type of File
Scans External Drives & Cards
Data Recovery & Protection
Guaranteed Recovery Features
Rescue For All Data Loss Situations
Pros:
It has a simple wizard with advanced options.
Portable version also available.
Can recover pics, music, docs, videos, etc
Enhanced drive and partition detection
Cons:
The download page is a bit confusing.
Does not support the latest Windows version.
The free version offers limited recovery
Top 5 Alternative of Recuva Data Recovery Software
Provider
$ Per Year
Top Features
Since, now you know what Recuva's pros and cons are, let us proceed further and dive into some of its notable features.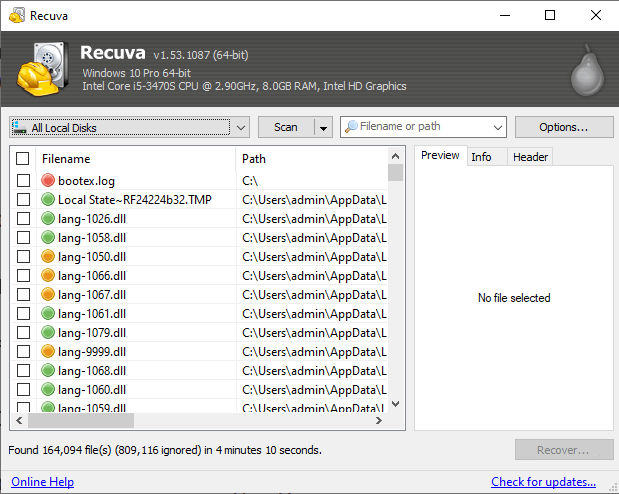 What is the first thing you see after downloading software? Yes, it is the user interface that can either make or break the interest of the user. Recuva, therefore, comes up with an easy-to-understand interface.
Recuva's user-interface is basic, simple, and quite minimalistic, making users comfortable while using it. Apart from its looks, the navigation to the next steps is made quite impressive. Being a user, you just need to launch the app and follow the instructions displayed. By following these navigation steps, you will see 'Start Scan'. That's it; your system is under a scan process. Next, you'll receive a list of files that can be recovered in the next window.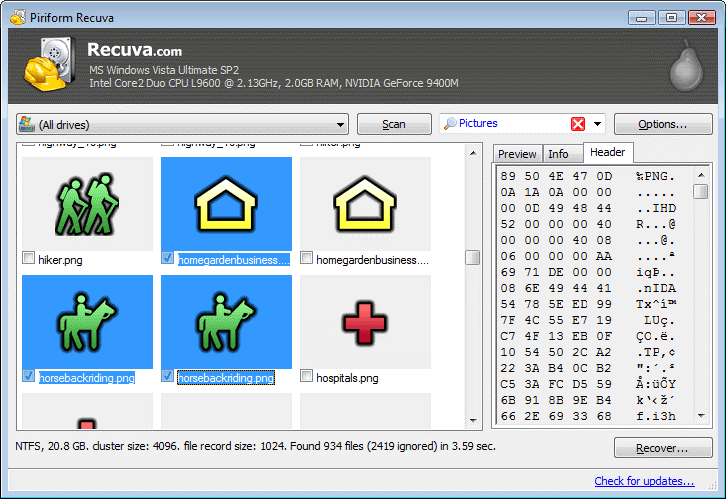 Recuva offers spectacular features that you might be looking for in data recovery software. Let's check out what Recuva has to provide its users.
Undelete File On Your Computer
Intentionally or unintentionally, we all have deleted our files and regretted later, be it a photograph(s), documents, music files, or even emails. Recuva comes in handy for people like us who regret later the things that we delete. Install Recuva, and you can get all of them back quickly, safely, and efficiently. This software works for you by scanning your drives and locating the file; you need to get them back.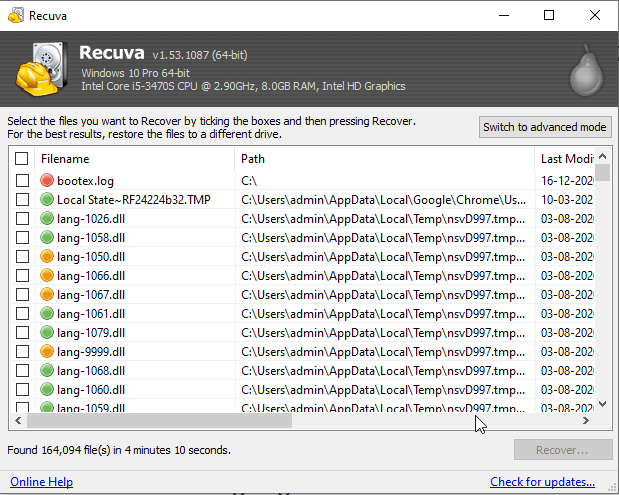 Recovers From Damaged or Formatted Disks
No wonder why Recuva is counted amongst the best data recovery tools. It is because it can recover from the damaged or formatted disks as well. Yes, it can recover the files from a dreaded hard drive and even recovers pictures from the memory card that no longer works.
Recuva has a quick start wizard that guides beginners and intermediate users about the process of recovering files. You just need to let Recuva know what data you need to recover and where they were located before getting deleted, and this fantastic program will do the rest.
Recuva gives you a chance to tweak the work of the software as you want. It works wonderfully even in its default installation. While looking for a file that you lost a couple of days back or also you are not able to find it, Recuva comes here for your help giving you the best of both worlds, i.e. quick scan or deep scan.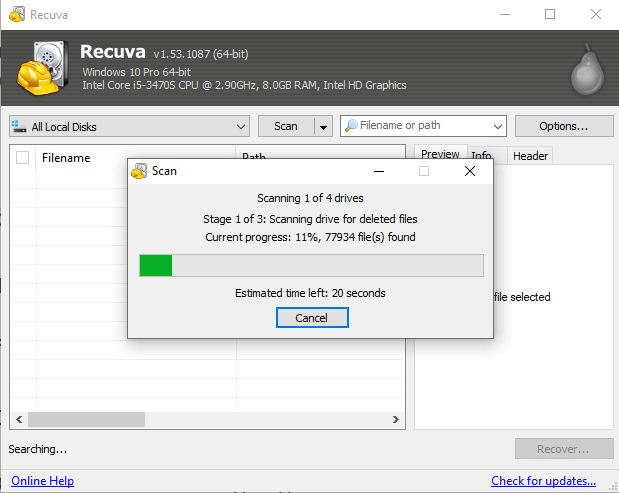 Take Recuva recovery tool wherever you go with its portable version. It works on a desktop PC, a Notebook, or any computer running Windows. Its portable version lets you use it with its no installation version.
What we expect from every tool are its timely updates. If any software runs on an old version and does not update timely, it won't be able to handle the problems and give appropriate solutions.
In that context, Recuva Data Recovery will not disappoint you. It keeps on improving its performance from time to time either by enhancing its scanning capabilities or by improving its speed. If you think you need to install updates regularly and manually, worry not, this software is efficient enough to automatically installed in the background. Therefore, you need not have to worry about the same
Recuva (Free)
Recuva (Professional)

Advanced file recovery Virtual hard drive support Automatic updates Premium support
Recuva is a freemium tool that gives unlimited access to recover several deleted files on your PC. The free version gives you access to quick scan if you wish to have deep scan along with other possible accesses like virtual hard drive and premium support, etc., you need to switch to its professional version. Recuva professional is valued at $19.95 for a year per PC. The professional range includes automatic updates, premium support, advanced file recovery, and virtual hard drive support.
Key Details of Recuva:
System Requirements: Windows 10, 8.1, 7, Vista, and XP. Including both 32-bit and 64-bit versions, but not RT tablet editions.
Latest Version: v1.53.1087 (08 Jun 2016)
Recuva data recovery software offers PC scanning at an amazing speed delivering the best of the committed results. It takes a few minutes to complete the scanning process, which is acceptable enough. The results it delivers at the end are legit and worth to be relied on. The scan process in its free version takes less time as compared to its premium version scan functionality. Recuva is indeed a great tool to recover data from large disk partitions, and it doesn't even take much time.

A brand can always be identified with its customer service. This is the factor where Recuva proves itself to be a fair choice. You can reach out to its customer support through its community forum and help and FAQ files. With its Help Articles and FAQs, you can get solutions to all your queries.
What Makes Recuva A Good Choice?
Recuva Wizard is an easy-to-use tool that seeks some vital information from the user and helps the user diagnose the recovery task that needs to be done.
Recuva is available in a portable version making installation an optional thing,
With a quick standard scan and an optional deep scan, it covers all the technological bases in the search for recoverable files.
Recuva supports scanning inside files and finds out even a document that contains particular text strings.
Recuva data recovery not only scans your system but also examines the external storage devices including hard drinks, USB drives, memory cards, CD/DVD/Mp3 players, etc. along with the devices that are damaged, corrupted, or recently reformatted.
With Recuva, securely overwrite the files to ensure that nobody else can restore the data you see in the results. The overwrite methods include DoD 5220.22-M, NSA, Gutmann, and Secure Erase.
Both 32-bit and 64-bit versions of Recuva are available.
Recuva supports drives as large as 3TB.
How To Recover Data With Free Recuva File Recovery?
The steps below will give you a gist of how to use Recuva for quick data recovery.
Visit the Recuva website to download the version of Recuva. Install it and follow the further steps.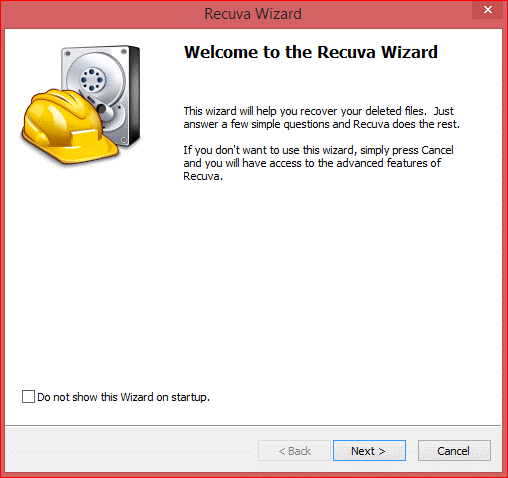 Launch the Recuva free data recovery program and select a file type you want to recover.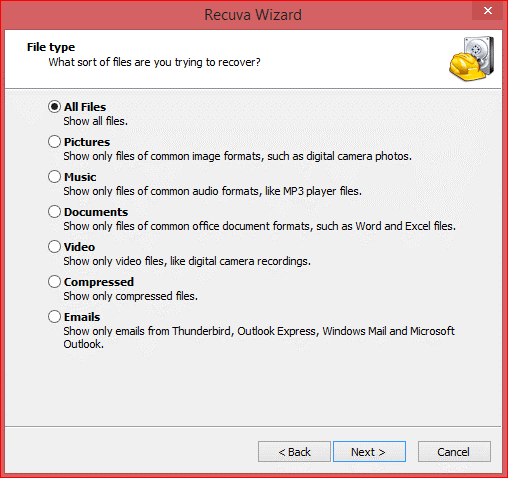 Select the file location where the files were stored. Then, click "Next" to proceed.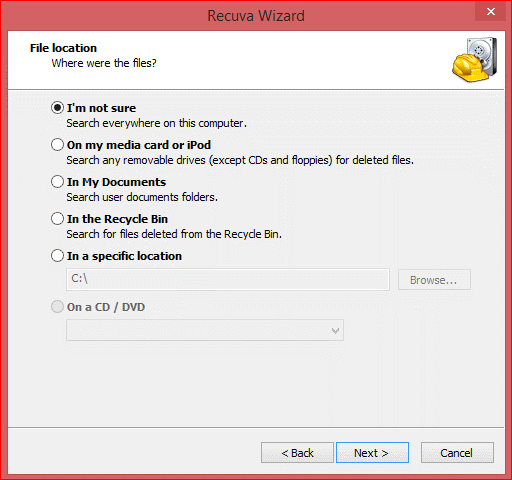 On the next window, it will ask you to Start scanning. Click Start scanning your system.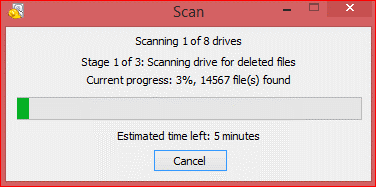 Once the scanning is finished, you will see a list of files. Select your files and get them back.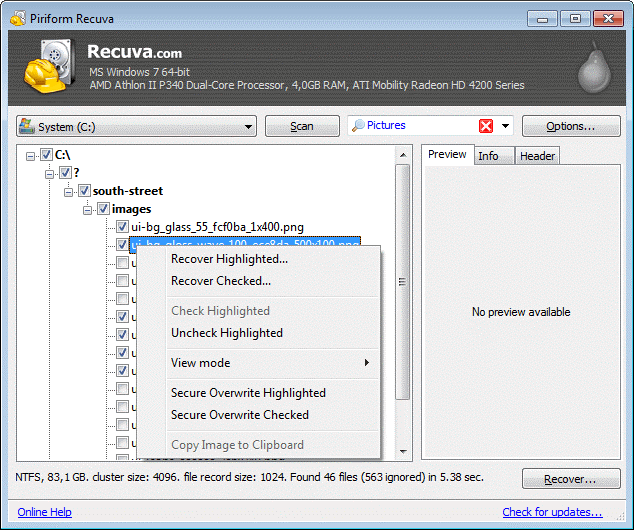 Well, this is just a process to follow. It is your discretion which version to use; otherwise, both free and premium Recuva versions are upto the mark. With Recuva Professional, you get some more options such as sorting and previewing, plus additional information about a file.
Recuva Professional is highly efficient and recommended if you are looking for a full package of data recovery software. To avail of this software, you can visit the Recuva website and get Recuva Professional at just $19.95. This version unlocks premium support that cannot be accessed by its basic version.
Who Else Finds Recuva Helpful?
"If a file has gone missing from your mistake, virus infection or a system crash, there is a good chance that the Recuva free file recovery program can find it. There's no guarantee that Recuva can successfully recover any particular deleted file, but it's your best bet."

– Lifewire
"If you just want a good undelete program with a small disk footprint (and no financial cost), then Recuva is what you're looking for… the interface is the very model of restrained style and efficiency."

– PC World
While some of these brands are appreciating this data recovery tool, we too believe it as a user-friendly Windows-based file recovery software that has been awarded by users for being the top data recovery tool. This can sort your deleted data and help you undelete it only if the data is as simple as accidentally removing a file. You can check out other cross-platform or robust data recovery tools to retrieve files. However, Recuva's professional version comes up with advanced features other than advanced file recovery, virtual hard drive support, automatic updates, premium support.
Frequently Asked Questions for Recuva
Q1. Is Recuva Free?
Recuva is a freemium software that offers its core features for Free, but its Pro version is available at a high cost. The professional version of Recuva lets you take advantage of its core plus advanced features.
Q2. How Good Is Recuva As A Data Recovery Tool?
Recuva is an affordable tool that can be used to recover deleted files. Its affordability makes it a good to go option apart from its extremely user-friendly interface and faster usage. You can recover all your lost data and restore them for zero cost. Recuva is a quick and easy-to-install tool. However, it can be used without installation as well.
Q3. Is It Safe To Use Recuva?
Yes, it is cent percent safe to use Recuva for file recovery as no virus or threat has been reported to date. However, you are free to use Recuva after reading its review, pros and cons, and features.
Q4. Can Recuva Recover Deleted Files?
Recuva can scan your system inside out. It scans hard drives, memory cards, and USB sticks to find files and folders you have deleted. It further tells you in advance how likely it is to get your data recovered.
Q5. Does Recuva Work?
Yes, Recuva is one of the most popular data recovery programs for Windows. It has been around for a while and works well in recovering the accidentally deleted files.
Q6. How Much Data Can Recuva Recover?
Recuva for Windows 10 can recover the data deleted from the hard drive easily. It can differ from device to device as the condition and the scan will be considerably different for each situation.
Q7. What Is Better Than Recuva?
There are several data recovery software for Windows, we have mentioned the topmost in the list above. We recommend using Advanced Disk Recovery as an alternative to Recuva Data Recovery software.
Conclusion- Our Verdict!
Recuva is indeed a great platform to choose for data recovery. If you need any assistance while using this useful tool, you can check out the official help documents here. With Recuva in hand, you need not have to worry about loosing your important data. You can recover the deleted files as and when required. There is no guarantee that Recuva can successfully recover any deleted file, but believe us it is indeed the best one to check out.
Have you ever used Recuva? If not, give it a try and share with us your experience. How did you find it? Suitable software or a clumsy one. We'd love to hear from you.