If you are looking for a way to free up RAM on your system, try using a RAM Booster for PC. Best RAM Cleaner tools are the ones that can provide your computer with an instant boost in performance after the cleanup. Advanced System Optimizer is the best RAM cleaning program for Windows PC
Top Software Reviews
Rating
1.

Advanced System Optimizer

2.

Advanced PC Cleanup

3.

IOLO System Mechanic

4.

CCleaner Pro

5.

Ashampoo WinOptimizer

6.

Advanced SystemCare 15 Free

7.

Razer Cortex

8.

Wise Memory Optimizer

9.

RAM Rush

10.

MZ RAM Booster
What Is RAM Cleaner?
RAM Cleaner is a program that will work in the direction of freeing up RAM to speed up the device. It is one of the must-have software for PCs as it will help the computer utilize the memory efficiently. RAM cleaner is a specialized tool to monitor memory usage. As the Windows application and processes start to hog more memory it will automatically run a scan and clean the unwanted processes and applications. This task is performed so that more important tasks can be completed at an optimal speed.
In this blog, we have included some of the best RAM optimizers for Windows. You can take a look at the compatibility, pros, and cons before picking the best memory optimizer for your computer. We have included the best free memory cleaners as well in the list to help you all solve the problem with the freeware. 
How Does RAM Cleaner Works?
The RAM cleaning tool works in closing the unwanted processes and creating space for the important ones. If you wish your computer to operate smoothly, we recommend using one of the best RAM cleaners for Windows 11. The best RAM booster for Windows will help you take full advantage of the physical RAM to shift the processes in virtual RAM. This helps in boosting the speed of the computer as physical memory is free after the cache is cleared
List Of Best RAM Cleaner And Booster For Windows 11,10
1

Advanced System Optimizer

Clean and optimize Windows PC
Removal of privacy traces
Fix common computer issues
Clean and optimize registry
Update drivers
Get rid of malware and privacy traces

$49.95

/ year
2

Advanced PC Cleanup

Startup Manager
Cleans Registry
One-click PC care
Removes temporary files
Detects and removes malware

$39.95

/ year
3

iolo System Mechanic

Modern, easy to use interface
Malware removal
Fast PC optimization
File recovery functionality
Internet booster

$49.94

/ year

Download Here
4

Piriform CCleaner

Complete PC health checkup
Remove internet trackers
Apps constantly updated
Application prompts you when you are running out of space
Customizable settings

$24.95

/ year

Download Here
5

WinOptimizer

Encrypt, delete and recover files with ease
Get rid of unnecessary services on PC
Improve PC security
1-click system maintenance
Fix registry issues

$49.99

/ year

Download Here
6

Advanced SystemCare

Modern attractive interface
AI mode
Tools for optimization, speed, and cleaning
Spyware, malware, and firewall protection
Software updater

$16.77

/ year

Download Here
7

Razor Cortex

Best game booster tool
Enhances system performance
Frees up memory
Improves boot time
Light on system resources

FreeDownload Here
8

Wise Memory Optimizer

Free up memory
Easy to use
Automatic Tune-up

FreeDownload Here
9

RAMRush

Recovers memory from applications
Prevents memory leaks
Frees up memory

FreeDownload Here
10

Mz RAM Booster

Auto Recovering RAM
Speed up computer
Increase free RAM

FreeDownload Here
1. Advanced System Optimizer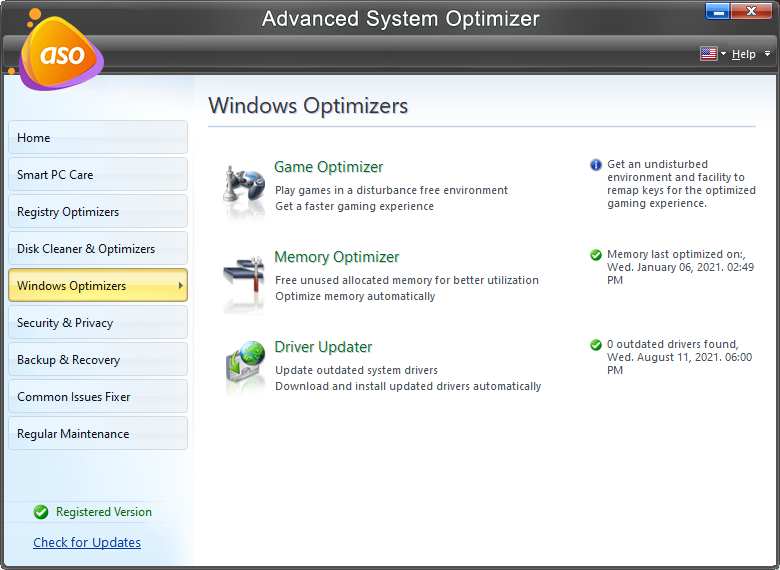 Advanced System Optimizer is the best RAM cleaner for Windows 11,10. The powerful Memory optimization tool will help your system free RAM and also allocates memory for improving speed. With just one click, you can quickly get rid of unwanted junk from your computer. Memory can be used by the application without forcing Windows to go to the hard drive. It results in applications running smoothly without lowering the computer's response time.
Advanced System Optimizer is the best memory cleaner and booster as it will make your computer new. With tools such as driver updater, game optimizer, duplicate finder, system cleaner, and registry optimizer you can have a smooth running operating system.
Pros:
Easy to use simplistic interface
Modules for cleaning and optimizing PC
Detect and remove privacy traces
Facility to fix common PC issues with one-click
Easily fix disk fragments
Facility to backup important files
Integrated driver updater
Registry cleaner and optimizer
Cons:
Free trial is only available for 24 hours
2. Advanced PC Cleanup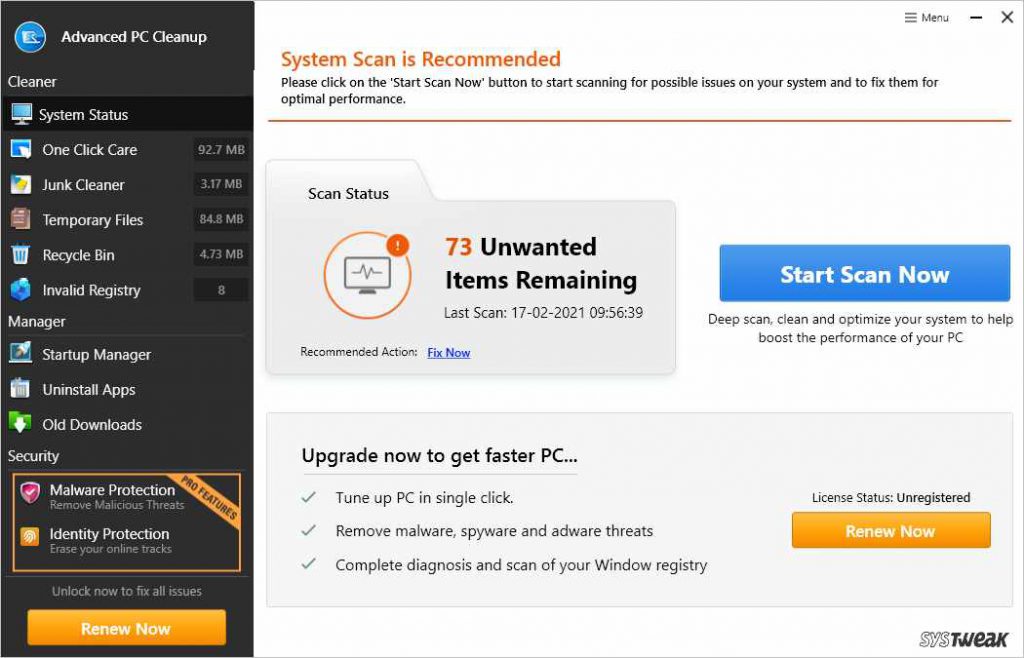 Advanced PC Cleanup is a RAM booster for Windows 11, 10. It comprises many PC cleaning software which will easily free up RAM on your computer. This will result in providing free memory space to run the important applications and processes at an optimal speed. Advanced PC Cleanup can be run by scanning the entire system.
The scan will show you the issues and you can resolve them by clicking on the Clean now button. This will fix RAM related issues on the PC quickly and therefore it is a recommended memory cleaner software. Along with that, it can also manage Startup programs to enhance the performance at the boot time.
Pros:
Cleans junk, temp files
One-click solution
Includes Startup Manager
Uninstalls Applications
Cons:
Premium features will require a full version
A few rival software do a slightly better job
3. IOLO System Mechanic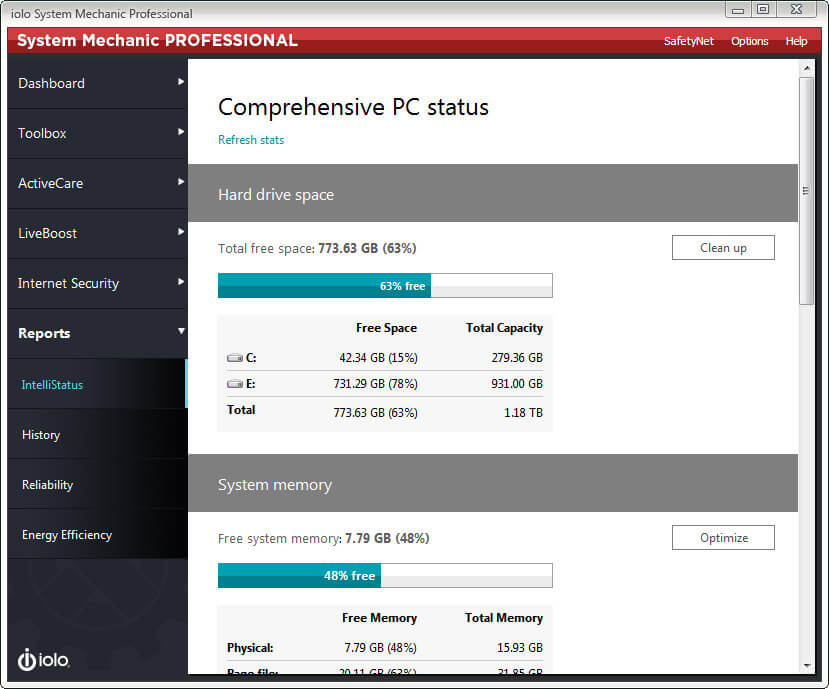 IOLO System Mechanic is a great choice as a RAM cleaning software for Windows PC. It instantly shows you the scan summary with the details on your computer. The system memory section will show you the free system memory out of the total memory. Click on the Optimize button and rest will be done by the tool as you sit back and watch the unwanted processes stop. It will create space in memory for your desired application and process to operate efficiently.
Apart from RAM cleaning, it can also protect your system from malware threats. It will provide internet security by removing PUPs which can hog on the memory sometimes. Automated PC care will clean the junk and fix the PC's irregularities.
Pros:
Easy to use, modern interface
Functionality to enhance internet speed
Safely resolves registry issues
Malware removal
Password management tools
Cons:
Enhanced features available in the paid versions only
It can prove to be pricier for some
4. CCleaner Pro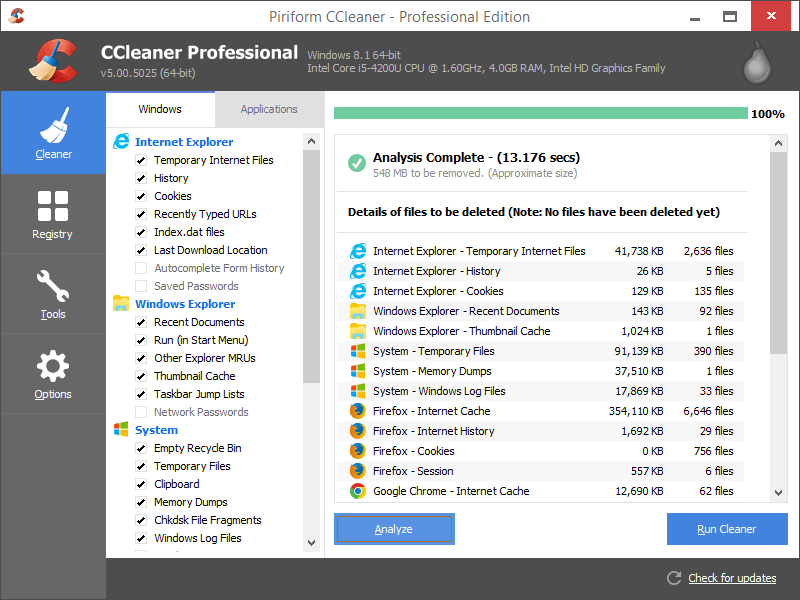 CCleaner Pro is one of the most used PC cleaning tools. It can be used for freeing up memory by removing unwanted junk, files, and applications from your hard drive. This will eventually increase the speed of your computer as resources are free. The boot time will improve as the unwanted junk is removed and the Windows processes are used for running important tasks.
CCleaner also provides real-time monitoring of your system to show you any errors and also quickly updates the software on your computer. This will also help in updating the driver and result in lesser system errors.
Pros:
Simplistic and easy to use interface
Light file size
Installation takes place pretty quickly
The tool regularly updates itself
Fix problematic registries and even create a backup before making any changes
You can schedule CCleaner to clean your PC automatically.
Keeps you aware of cookies that you might not want to delete
Cons:
The regular installer may bundle another software.
No explicit option for malware cleaning
5. Ashampoo WinOptimizer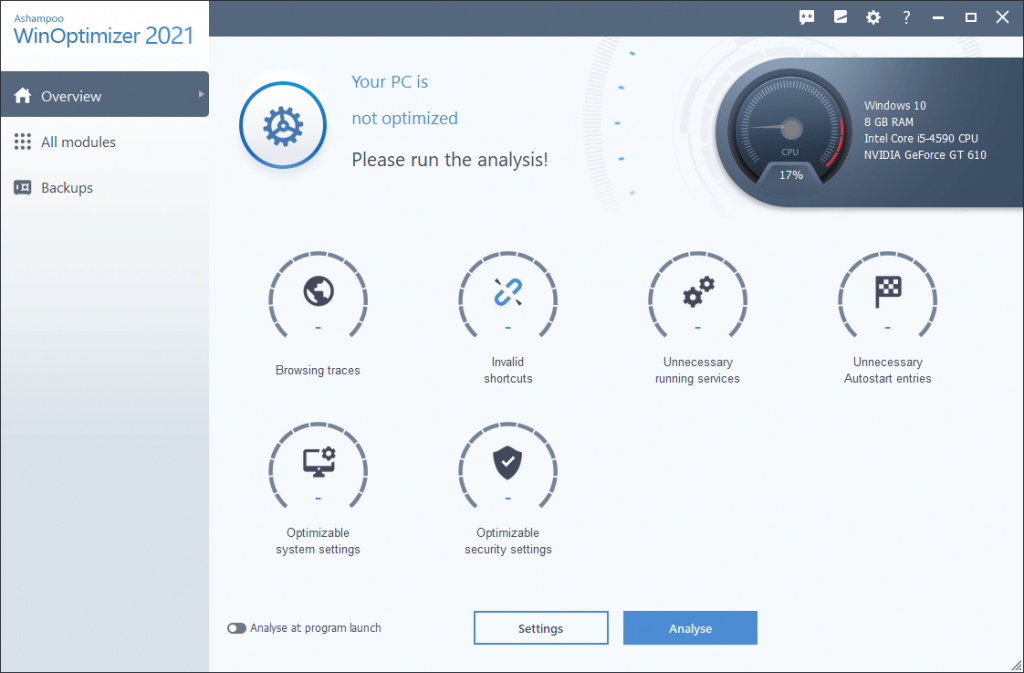 Ashampoo WinOptimizer 2022 is one of the best RAM cleaners for Windows 11, 10. It can efficiently clean up your system and administer it to run smoothly. The memory booster for Windows 10 can manage the ongoing Windows processes thus managing the RAM. It can easily show you the system details along with the hardware information.
It quickly closes the unnecessary processes directing the RAM usage for other important tasks. As one of the best RAM cleaners for Windows 11 it can optimize the memory and also customize the Windows system for personal use. The system cleaner tool also frees up a lot of storage space by getting rid of unwanted applications and files.
Pros:
One click optimization
Great tool to backup and deal with registries
Renders snappier performance when using resource hogging applications
Faster boot time
Cons:
Premium features will require full version
A few rival software do a slightly better job
6. Advanced SystemCare 15 Free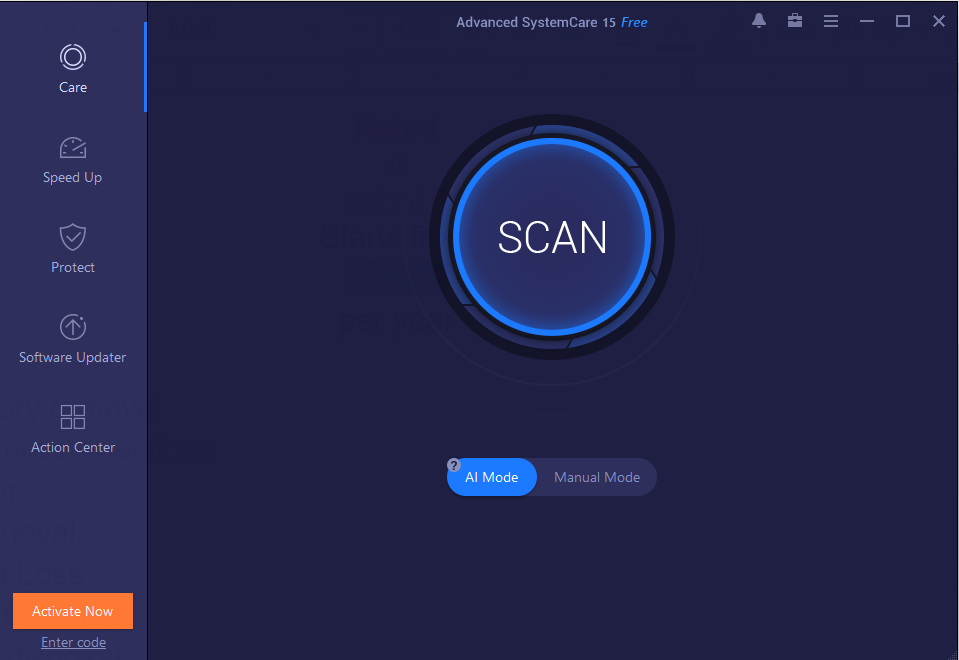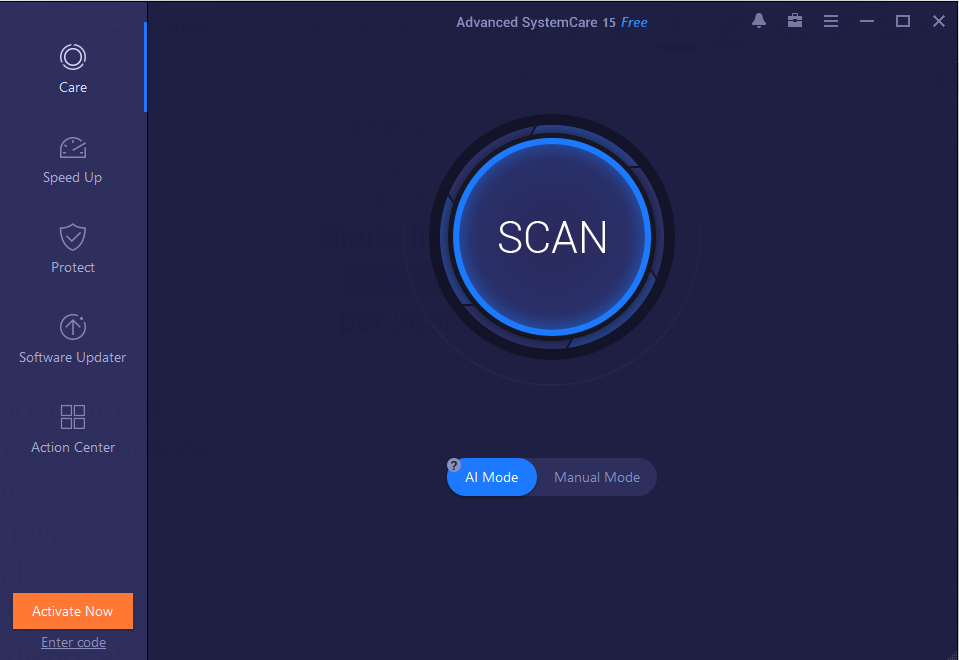 Advanced SystemCare 15 Free is a freeware by IOBit which is a free memory cleaner software for PC. It can be used to protect data along with optimizing your computer. The AI mode is incorporated in this RAM booster to help you improve the PC performance status. This tool can fix the disk fragmentation issues.
It can fix the unknown running applications and the processes and free up RAM instantly. Not only will it be a smooth operation but also to make your computer lag-free
Pros:
Simple and easy to understand interface
Preview that lets you dive straight into the containing folder
Real-time tuneup is available.
Update software present on your computer
Includes 30+ troubleshooters
You can delete, move and exclude folders from scanning
Have an option to scan rotated images as well
Cons:
Scanning speed could have been better
The application hasn't been updated in a while
Can't select individual files
7. Razer Cortex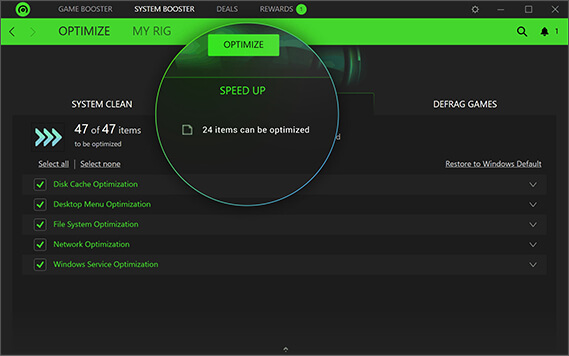 Razer Cortex is the gamers' favorite tool for optimization on Windows PC. You can use it efficiently as the PC memory optimizer tool. The system booster module will help you clean up junk files and free up memory. This will help you speed up your computer and thus optimize it for other applications usage.
Razer Cortex is a major game optimization application that will also help in improving your gaming experience after memory optimization. This is one of the best RAM boosters for PC if you love playing games on your computer which require free space to run smoothly.
Pros:
Maximize FPS
Automatically boosts the system
Disables CPU sleep mode
Customize settings manually
Activated when the game launches
8. Wise Memory Optimizer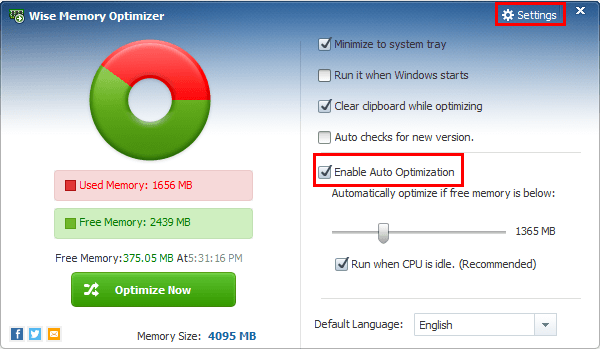 Wise Memory Optimizer is a free memory cleaner for Windows 11. It works exceptionally well for freeware and provides you with a neat user interface. After running the scan, it will show you the used and free memory size and then provide you with the Optimizer button. Clicking it, you can instantly boost memory on your computer.
This Windows Memory cleaner also comes with an automatic optimization tool which when enabled can run scans automatically. You can also set the value for the memory and if the computer runs out of free memory assigned by you, it will automatically run the memory optimizer.
Pros:
Free Memory optimizer
Automatically Optimizes
Clears clipboard
Manually optimizes the memory
Cons:
Lacks other optimization tools
9. RAM Rush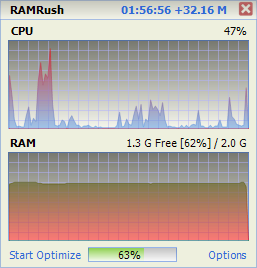 RAMRush is one of the best RAM cleaners for Windows PC which is free of cost. This can easily free up physical RAM and improve system performance. The memory management tool can optimize memory usage on your computer. The constant check on RAM can keep your system running smoothly and prevent system crashes.
The easy-to-use RAM optimizer for Windows can be efficiently used for memory leaks. This can quickly be customized using Hotkeys to make the operation easy. It can also be used to recover memory from Windows applications
Pros:
Free RAM booster
Increases system performance
Constantly updated
Available in multiple languages
Cons:
Only one optimization setting
10. MZ RAM Booster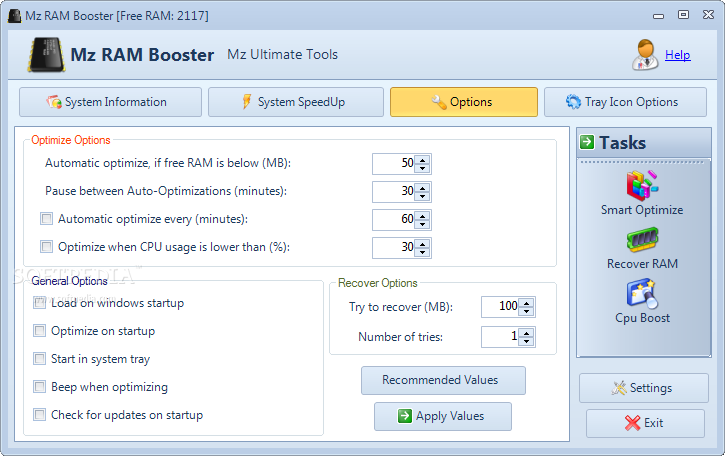 Mz RAM Booster is a free RAM cleaner for Windows 10. It is a handy RAM booster for PC which will quickly adjust some of the functions and then boost the internal memory. The tool can easily restrict the unnecessary background processes which are hindering the smooth operation of your system. Along with this, it also shows you information about your system.
It takes a few minutes to run the operating system at an optimal speed and RAM recovery is possible in real-time. It is considered to be a good PC memory cleaner for beginners as they can easily operate it due to the user-friendly interface.
Pros:
Free to use.
Provides system information
Speed up PC
User-friendly Interface
Cons:
Hasn't been updated in a long while
Faqs About RAM Cleaners-
Q1. DDo RAM Cleaners Work?
Yes, whenever you need extra help on cleaning RAM on your computer, you can use the RAM cleaners for PC. They not only shut down the unnecessary services but also free up the space in memory for other applications.
Q2. Which Is The Best Memory RAM Cleaner?
Advanced System Optimizer is the best memory RAM cleaner for Windows PC. It contains several tools to clean up the storage, fix system issues, restore storage space, update drivers, create backup and restore points, etc. Each one of which helps in RAM cleaning and PC optimization.
Q3. How Do I Free Up More RAM?
To free up more RAM on the computer, you must take help from one of the best RAM cleaner tools from the list above. They not only save your time but do the work effortlessly.
Q4. Why Is My RAM Always Full?
If you're interested in finding out why RAM is always full on your computer, you must check your actions. Is it because you are running a large number of applications on your system, or do you have a full storage driver? There are other factors also adding up to the RAM resulting in full.
Q5. What Can I Use To Clean RAM?
It's best to use a RAM cleaner if you are cleaning your system. It will require only for you to run the program and easily get rid of the unwanted processes hogging the RAM.
Verdict –
If you wish your computer also runs as it did at the time you got it and everything was new, you must get yourself one of the Best RAM cleaners for your PC. Whenever you are looking for a way to get rid of the slow responding PC, run a RAM booster tool and you will see instant changes. The aforementioned RAM cleaner for Windows 11 will stop unnecessary processes easily and boost the speed quickly. You can choose any one of the best Ram cleaners for Windows 10.
We hope this article helped in finding the best RAM Booster for Windows 11, 10. We would love to know your views on the post for the memory cleaner for Windows 10 in the comments section.