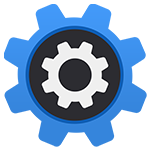 WinOptimizer
Ashampoo WinOptimizer Review – PC Cleaning Software
Ashampoo WinOptimizer is one of the best cleaners available. It doubles up as an optimizer which fixes several issues in your Windows system. It helps you get to the root of the issue because of which your PC might be acting up.
Ashampoo WinOptimizer Introduction
For a PC to run smoothly, it is indeed imperative that it is well optimized. This further means that it has all the settings and processes in place, has no junk files looming around, and unwanted registries interfering with the overall performance. That's not just it; there are various other tweaks that need to be performed, such as fixing any security issues.
Now, dealing with many such issues on your own or even with Windows inbuilt tools might not just be sufficient enough, and that's where you need to take the help of dedicated PC Optimization tools. One of the greatest tools is Ashampoo WinOptimizer which is one of the greatest PC Optimization tools available.
Ashampoo WinOptimizer is one of the best PC Optimization tools that clean, accelerate and fix your Windows 10 PC. It also helps cement your system's security and privacy. Now, since files and other data are a crucial part of your computer, WinOptimizer has modules that let you safely encrypt, recover, and delete files if needed.
Here we shall try to go into the depth of each of its features, and have a look at some of the results so that we can know if it is right to bring this tool aboard.
Also Read: Best PC Cleaner And Optimization Software
WinOptimizer Review: A Brief Overview
Security
Browser history removal
Detect & Remove Infections
File Encryptor
Malware Removal
Prevent Data Loss
Prevent Identity Theft
Private docs disposal
Cleaning
Bloatware
Cache
Disk Cleaning
Old backups
Temporary Files
Unused applications and unnecessary software
Unwanted Registry
Windows Optimization
Automatic Cleaning and updation
Backup and Restore
Driver Updater
Game optimizer
Memory optimizer
Registry optimization
Sleep Mode
Software Updater
System Crash prevention
System slowdown prevention
Customer Support
Email Support
Knowledge Base
Live Chat Support
Telephone Support
User Forum
Top 5 Alternative of Ashampoo WinOptimizer PC Cleaner
1

Advanced System Optimizer

Clean and optimize Windows PC
Removal of privacy traces
Fix common computer issues
Clean and optimize registry
Update drivers
Get rid of malware and privacy traces

$49.95

/ year
2

Piriform CCleaner

Complete PC health checkup
Remove internet trackers
Apps constantly updated
Application prompts you when you are running out of space
Customizable settings

$24.95

/ year

Download Here
3

Norton Utilities

Optimize PC performance amidst high demand apps
Prevent system crashes
Remove unwanted startup programs
Shred personal files and folders completely
1-click interface

$39.99

/ year

Download Here
4

Super PC Care

Clean all kinds of junk files
Detect and remove malware
Remove of identity traces online
Fix registry issues
Removal of large files

$49.95

/ year
5

WinOptimizer

Encrypt, delete and recover files with ease
Get rid of unnecessary services on PC
Improve PC security
1-click system maintenance
Fix registry issues

$49.99

/ year

Download Here
Factors Used In The Rating Of Ashampoo WinOptimizer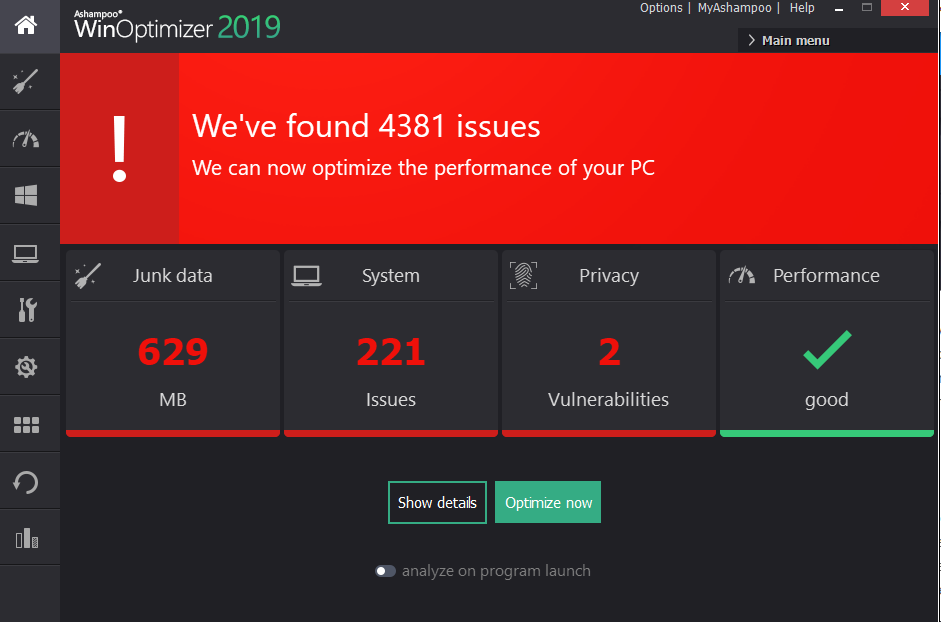 To begin with, the interface is quite attractive and well segregated. It is divided into four parts, namely – Junk data, system, Privacy and Performance. We shall get into the depth of these features a little later. As for the interface, it's a simple yet very decent and a clean interface. Most of the components are self-explanatory about what they do.
Here's what might be a little time consuming and a little confusing too. Unlike many other PC Optimization software that tell you what each button does as soon as you hover the mouse over. Here, you will have to click through each of the icons to understand what they are there for. Apart from that, it is pretty much a one-click affair.  In fact, it is one of those software that enlists all the issues on the dashboard itself, and you know where you are supposed to take actions
When we say that WinOptimizer is a complete optimization tool for your PC, we have its features substantiating our claim. It takes a 360° approach to optimize your Windows PC. It starts with system maintenance where drives are scanned for junk files, unnecessary registry items are fixed, and web browsing traces are removed.
It's not just system cleansing that WinOptimizer takes care of; it performs various operations to manage and optimize Windows services, processes, applications and the web so that the PC can give its peak performance.
WinOptimizer also does a great job in making you aware of everything that's happening in your system. It has an inbuilt analyzer that displays your system's information, benchmarks and resources at a glance. Plus, it even tells you about how healthy your hard disk is.
1. Maintain System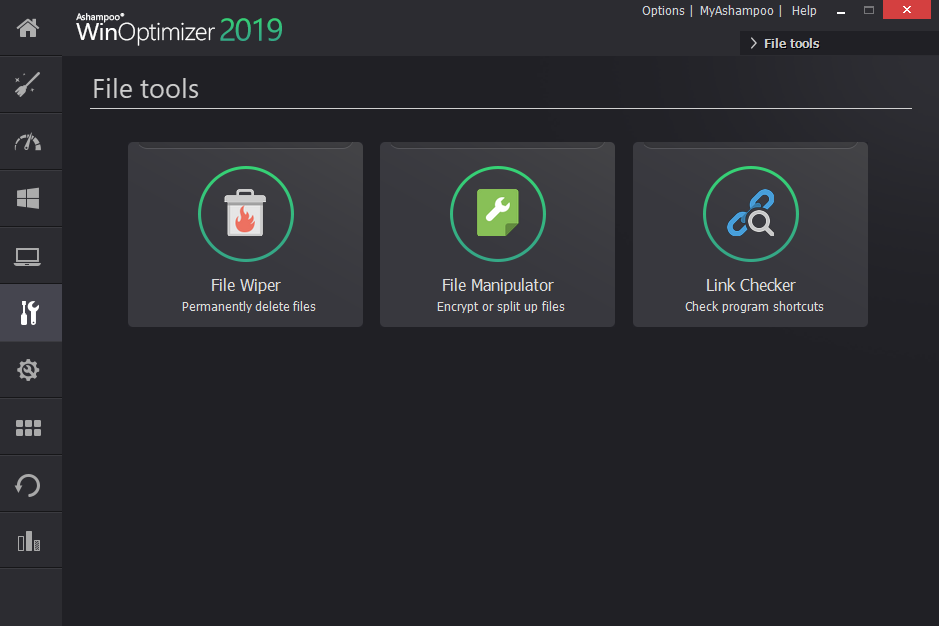 If your PC's is filled with unwanted junk in the form of temporary files, browsing traces from the internet, unwanted registries then this module will come in extremely handy. Here you can choose to delete temporary files, and unwanted registries in one click or you can visit, and clean drives, registries or web browsing traces separately.
To delete temporary files and unwanted registries, there is a one-click optimizer whereas there are separate modules for freeing space on drives, optimizing registries or cleaning web browsing traces.
2. Improve Performance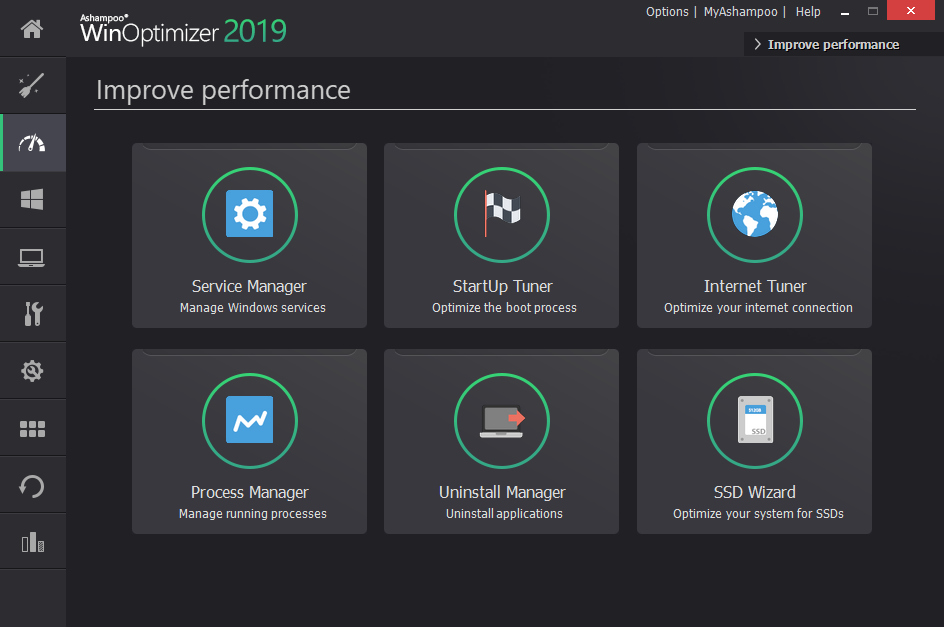 Here, you can optimize and manage the various processes and services to improve the performance of your PC. You can also uninstall applications which could be hindering the performance of your PC. 
3. Customize Windows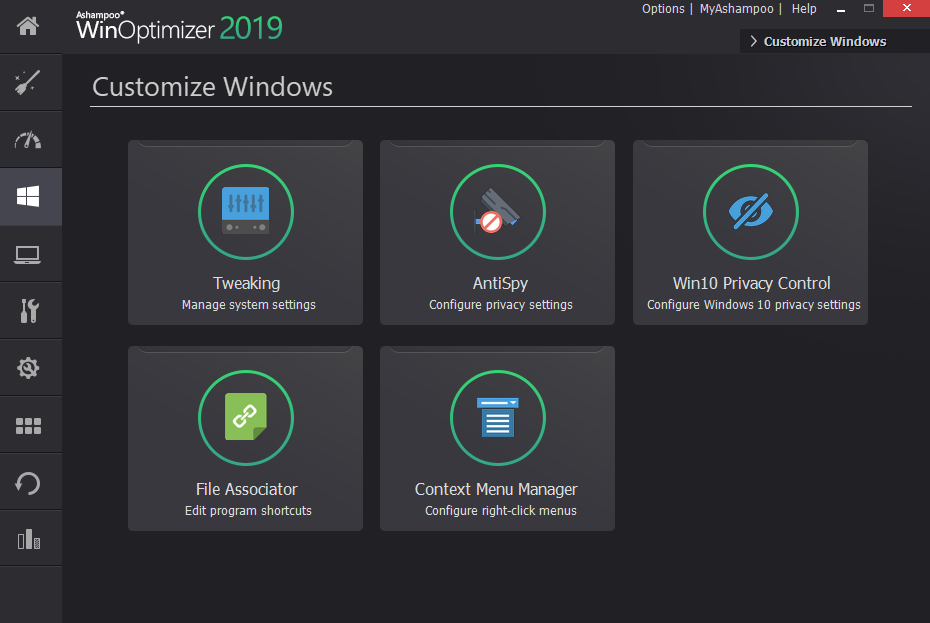 This module helps you customize the various Windows settings. You can manage different system settings, control how Windows collects telemetry data, edit program shortcuts and icons and even configure menus that appear when you right-click. And, this is not just for one program but for all the programs.
4. Analyze System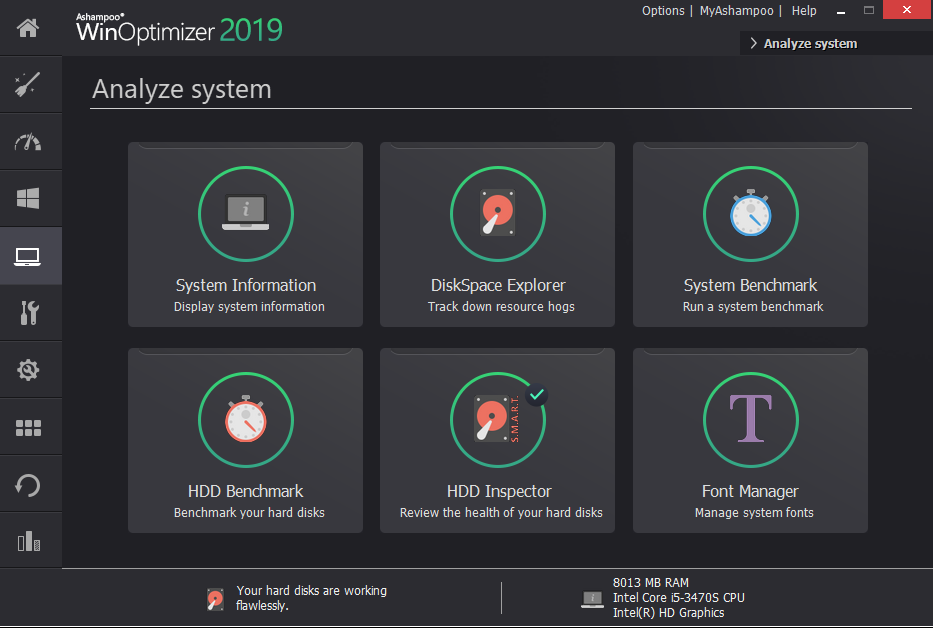 This tool analyses your system and gives you the performance status as per the common standards applicable to your system. It does this by running several benchmarks for your system, HDD and even helps you select fonts that go rightly with your system.
5. File Tools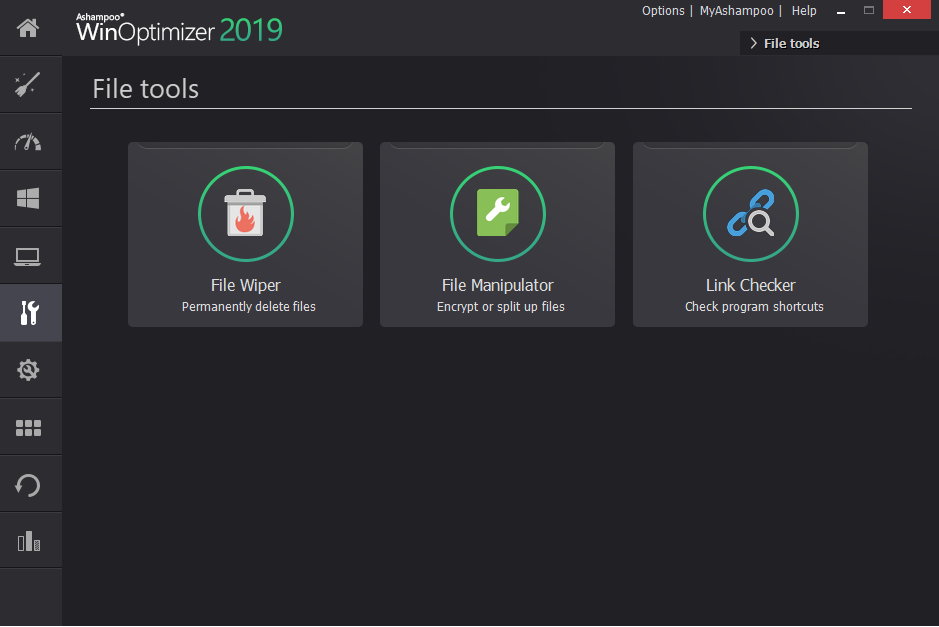 6. Backups
File management is yet another which is offered by WinOptimizer and not by many other PC Optimization tools for Windows. First and foremost you can permanently delete files individually or from folders available on your PC. Not just that, you can add free disc space from any of the drives available on your PC. But, you need to be careful that once you click the 'wipe data' option, these files and folders will permanently be deleted from the system and you won't be able to retrieve them back.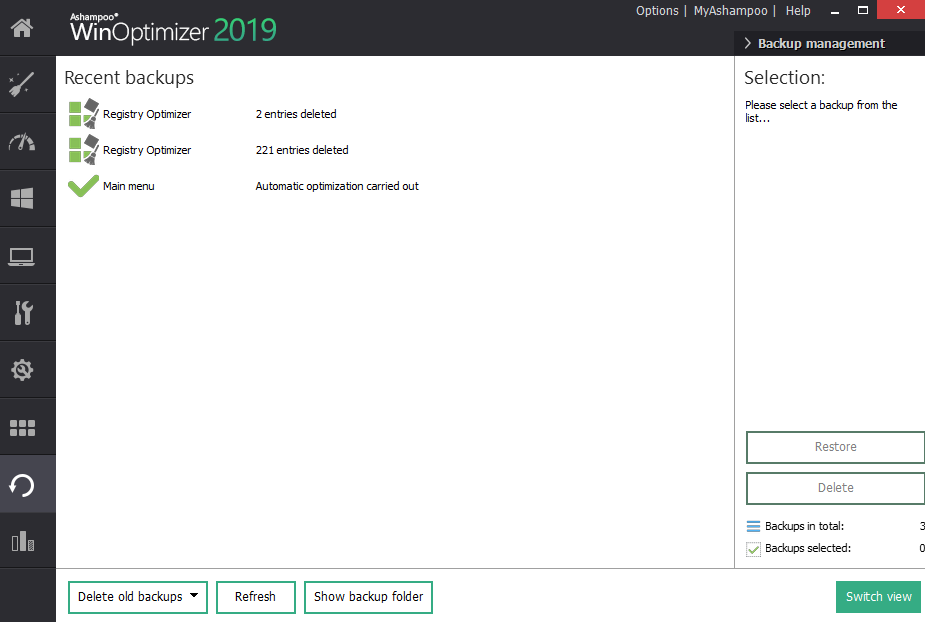 One of the highlights of WinOptimizer is that you can create and restore backups of settings, files and folders. And, not just that you can even choose to delete old or obsolete backups. Backups are stored in a specified folder.
Backups stored in designated folders can be useful in a situation when you have to restore a backup, and you are figuring out which one of the following backups is the latest.
7. Statistics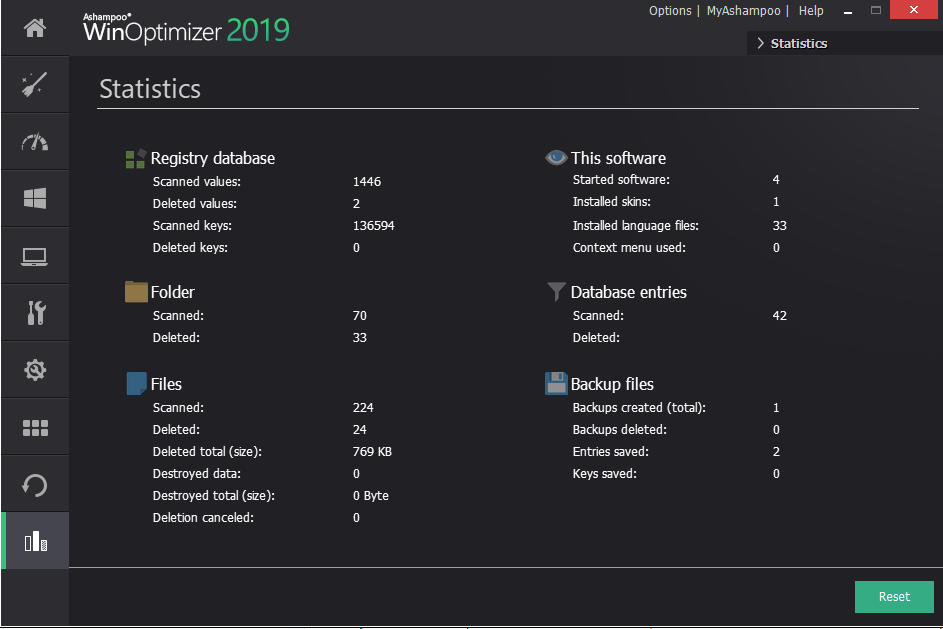 Through stats, you get to know about the various scans that have been performed by WinOptimizer and the entries that have been deleted so far. These include scans performed on registries, database entries, backup files and other files and folders. You can also keep track of the number of backups created.
You get access to most of the features in the free version itself, which is a great thing. This allows you  to analyse the software completely and decide whether or not you actually want to go for the purchase.
Even if you have to pay the price, you shouldn't get disappointed as WinOptimizer is one of the cheapest PC Optimization tools available. The full version starts at $ 29.99 Yearly, which is quite low as compared to many other PC Optimization tools.
It takes a few seconds for the results to appear. If it takes some time to scan the results, it makes sure that when they are fixed, they improve the performance of your PC.
Should you face any issues regarding the product, WinOptimizer provides great customer support.
You can easily get your issues resolved by going through the FAQs, which contain precise information on charges, subscription, and license-related queries. There is a separate section for those who have queries pertaining to activation code or who have issues finding the download link of the purchased product.
Even then if you haven't had your queries resolved, you can always reach out to the technical support team which promptly replies to your queries. You can have your queries resolved via emails or via telephone.
Final Verdict
All in all, WinOptimizer is a great tool to clean and optimize the performance of your PC. Though there were instances when we had to click on the 'optimize now' button a couple or more times to get rid of issues apart from that, we didn't face any major issues.
One of the best things about the tool is that, if it asks you to optimize a software or application, it even has preexisting ratings for the same. This way you can judge the credibility of the application beforehand. Or, you can even give a rating based on your experience
Even though it takes sometimes to fix the issues completely, we have to say that the results are worth the wait. Also, for the price which is one of the lowest, you can probably not get a better deal. 
Now, dealing with many such issues on your own or even with Windows inbuilt tools might not just be sufficient enough, and that's where you need to take help of a dedicated PC Optimization tools