If you are worried about your computer's health and want a solution, Advanced PC Cleanup is the answer. Over time, Windows PC can be filled with unwanted junk, could have underlying privacy issues, might boot slowly, if not regularly taken care of. . Read the Advanced PC Cleanup review and learn how to get rid of all of these problems instantly and keep your computer optimized.
What Is Advanced PC Cleanup?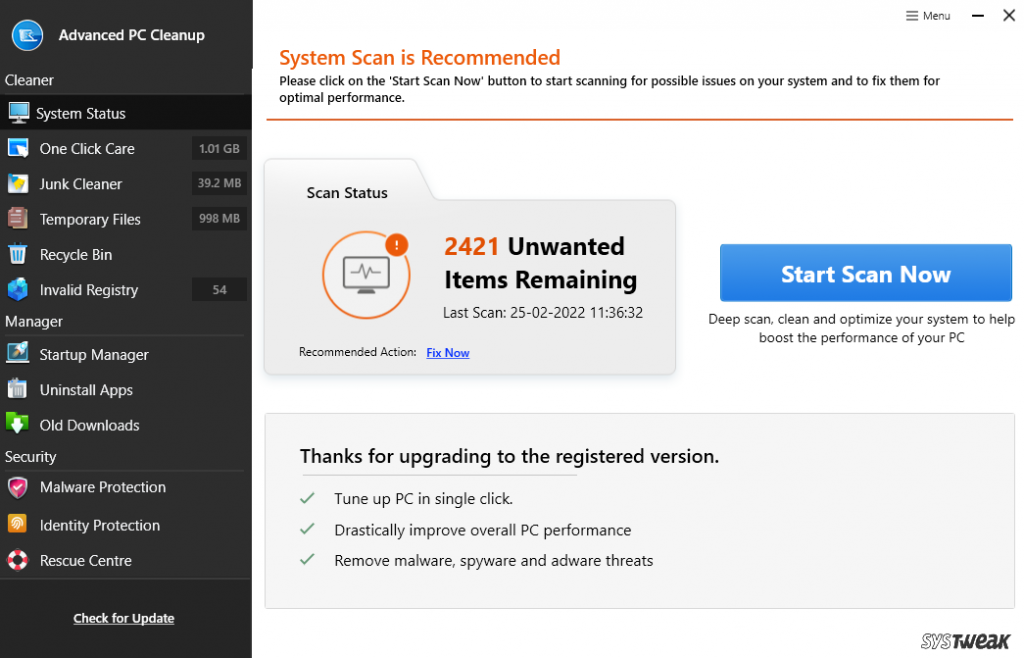 Advanced PC Cleanup is an easy to use PC optimization software. It comes equipped with the handy features to help you clean up junk from your computer. The PC cleaner tool has the ability to run a comprehensive scan and detect all types of junk files. It can show the list of all the data found on scan in a summary for you to analyze. Advanced PC Cleanup allows you to quickly get rid of the clutter by one click and improves the performance of your PC.
Additionally, it comes with the ability to scan for malware and provides you privacy protection. As a lot of issues arise from the web browsers, it can clean up the cache, browser history and any saved credentials to save you from online trackers. Download Advanced PC Cleanup and learn how this optimizer boosts the start-up time bymanaging the startup programs for you. It also cleans up the invalid registry entries and saves you from unwanted system errors.
Reasons To Choose Advanced PC Cleanup –
There are several reasons why you should go for Advanced PC Cleanup, we have stated a few for you.
Cleans junk files.
RemovesTemporary files.
Clears the trash.
Deletes invalid Registry entries.
Manages startup items via its Startup Manager.
Uninstalls unwanted apps with leaving associated files.
Removes old & unwanted downloaded files.
Deletesmalicious files.
Clears the privacy traces via its Privacy Protector module.
Get the detailed in the next section for the Advanced PC Cleanup review –
Technical Specifications –
Current Version – 1.5.0.29138
System Requirements –
Operating System – Windows 11,10, 8.1, 8, 7 (both 32 bit and 64 bit)
Processor- 400MHz or higher.
RAM- 256 MB or more
Disk Storage space- 2MB
Starts from
$
39.95
per year
Detect & Remove Infections
Unused applications and unnecessary software
Automatic Cleaning and updation
System slowdown prevention
How To Install Advanced PC Cleanup?
Let's learn how to install Advanced PC Cleanup following these steps –
Step 1: Start with clicking on the download button given below to download Advanced PC Cleanup on your computer –
Step 2: Click on the downloaded file and it will start the installation.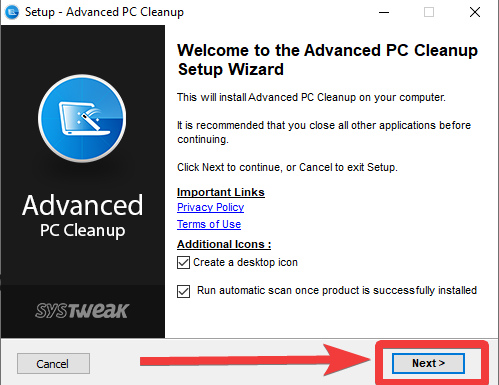 Click on the Next button.
Step 3: On the next screen, you will see License Agreement. By default I agree to be selected and it is required to move forward. Click on Next to continue.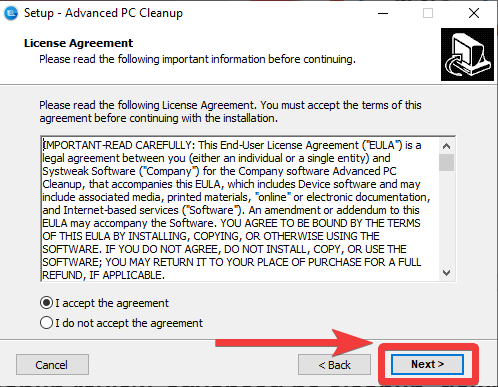 Step 4: On the next screen, select the location for saving Advanced PC Cleanup and click on Next.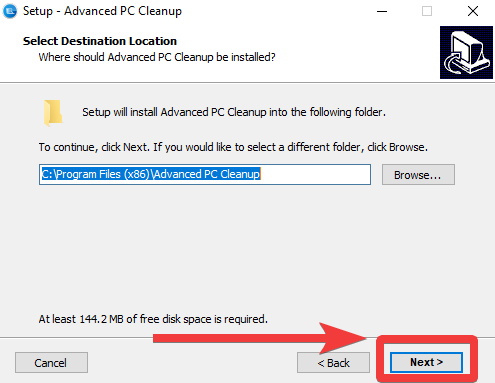 Step 5: On the final step to setup Advanced PC Cleanup, click on Install.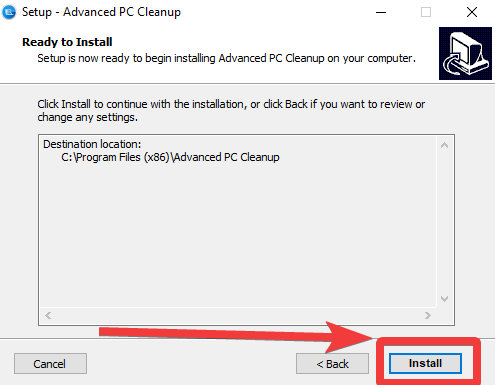 It will take a few moments for the installation to complete.
How To Use Advanced PC Cleanup?
Once you are done with the installation, you can see that it is an easy to use the product. Follow the steps given below to clean up the computer easily with Advanced PC Cleanup –
Step 1: After downloading the Advanced PC Cleanup on your computer, run a scan by clicking on the Start Scan Now button.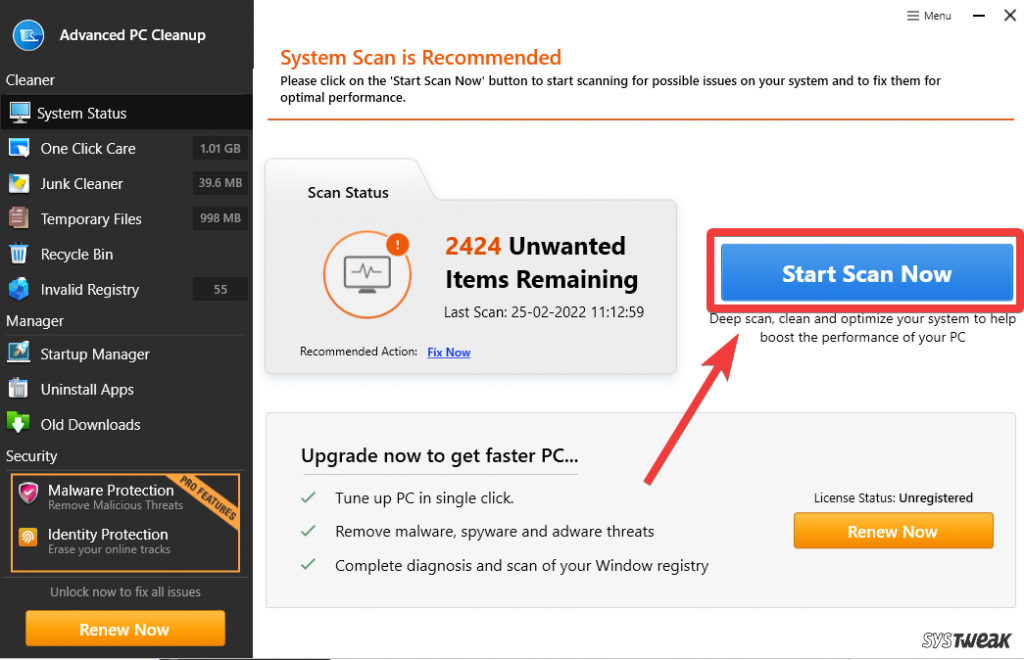 It will help you find out the present state of junk and privacy issues.
Step 2: The scan will begin and it mostly depends on the speed of your computer and the junk present on it. However, Advanced PC Cleanup is comparatively a fast scanning tool.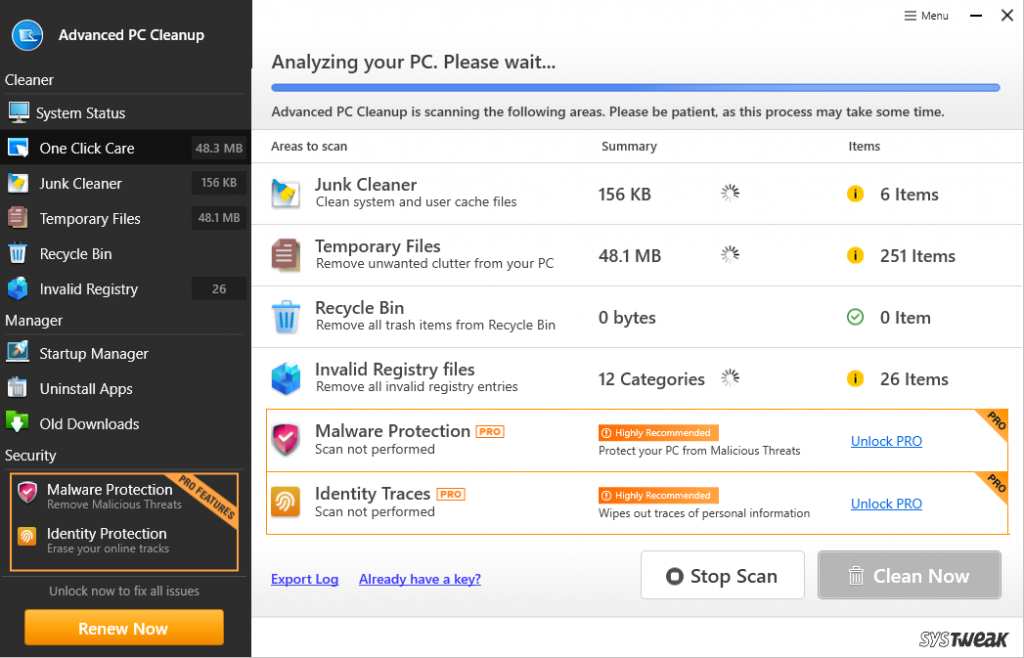 Step 3: Advanced PC Cleanup will show you the scan results in a few minutes.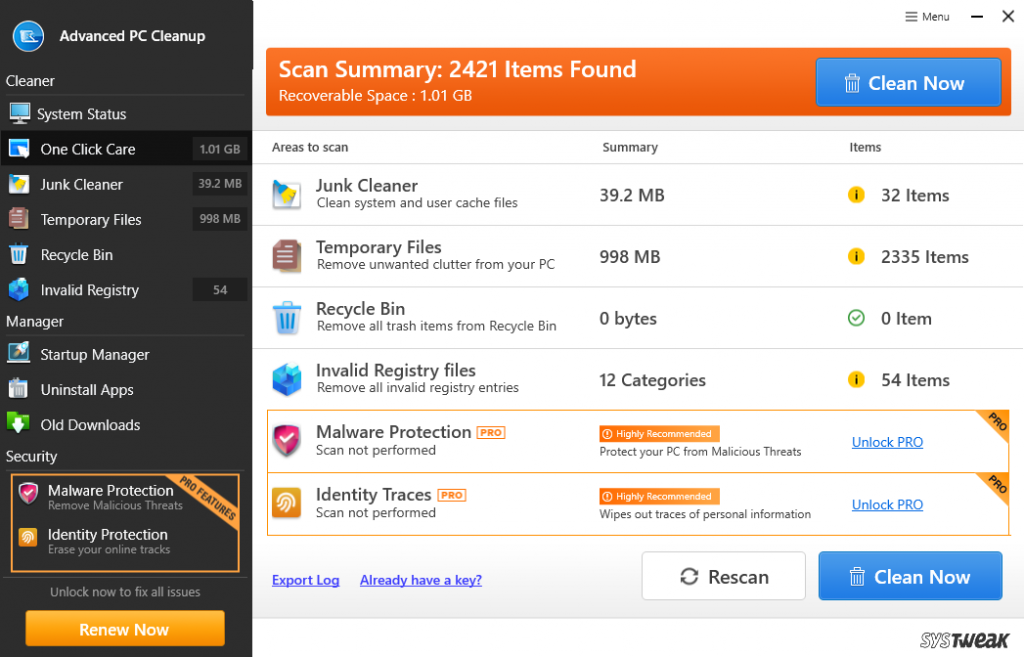 Here you can see the overview of the different areas – Junk Cleaner, Temporary Files, Recycle Bin, Invalid Registry files, Malware Protection and Identity Traces.
Note: If you are using a free version of Advanced PC Cleanup or if you have not registered it yet, it will not show results for Security. For better security, we recommend getting a Registered version of Advanced PC Cleanup. You can unlock full features by making a purchase.
Step 4: Now you can quickly fix your computer and get rid of unwanted junk and privacy issues by clicking on the Clean Now button.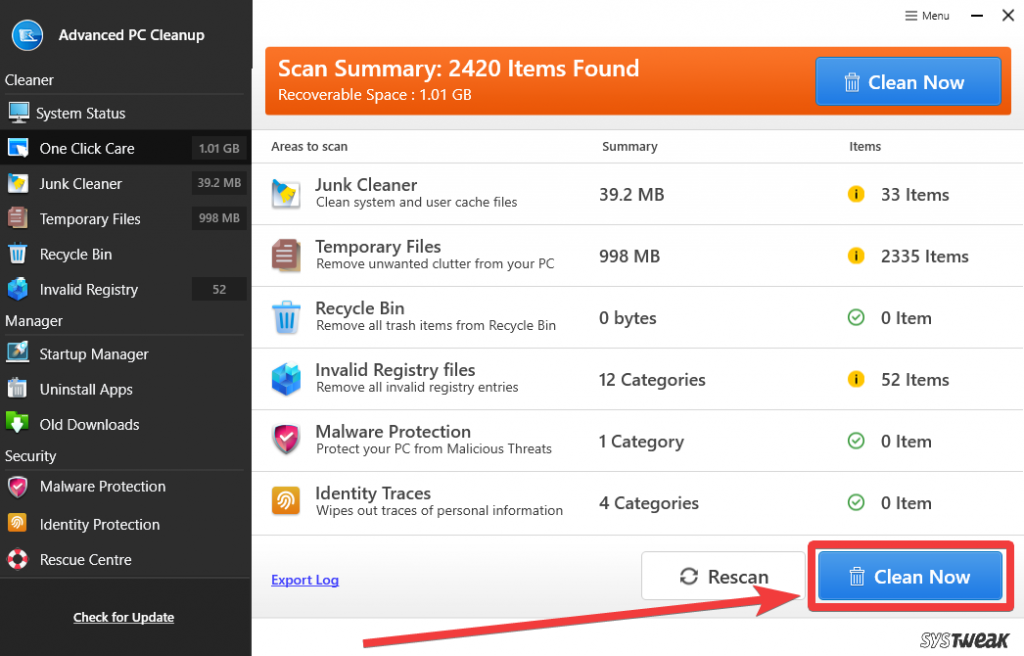 Step 5: Click on the confirmation button to remove the unwanted items. In the next screen, you will see that Advanced PC Cleanup will create a restore point before deleting the unwanted items and fixing the issues found in the scan.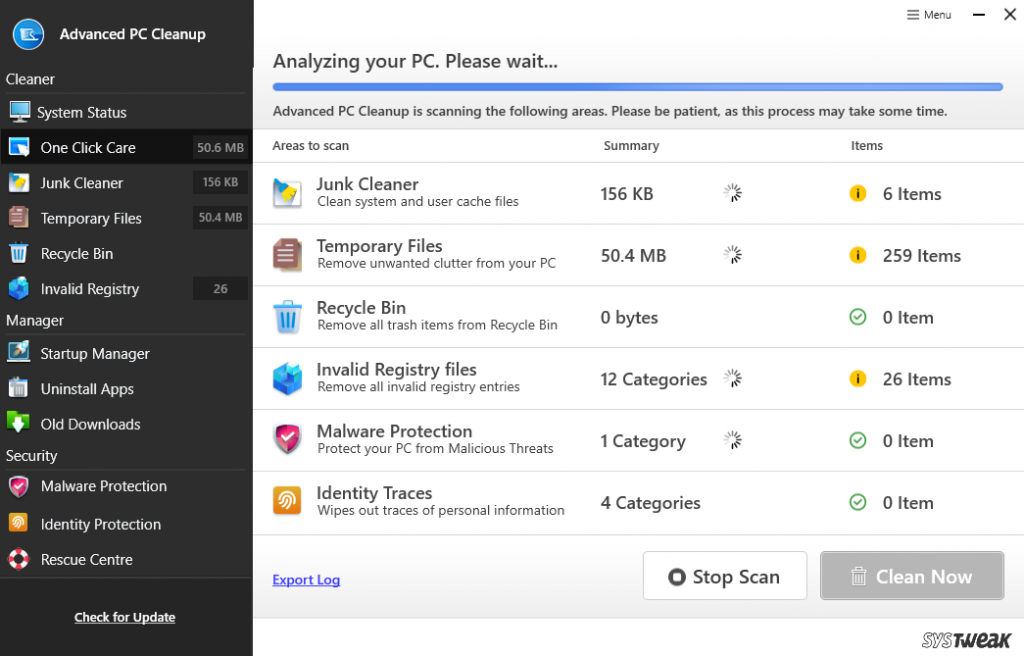 Step 6: After this it will quickly wipe out all the unwanted items and free up the storage space on your computer.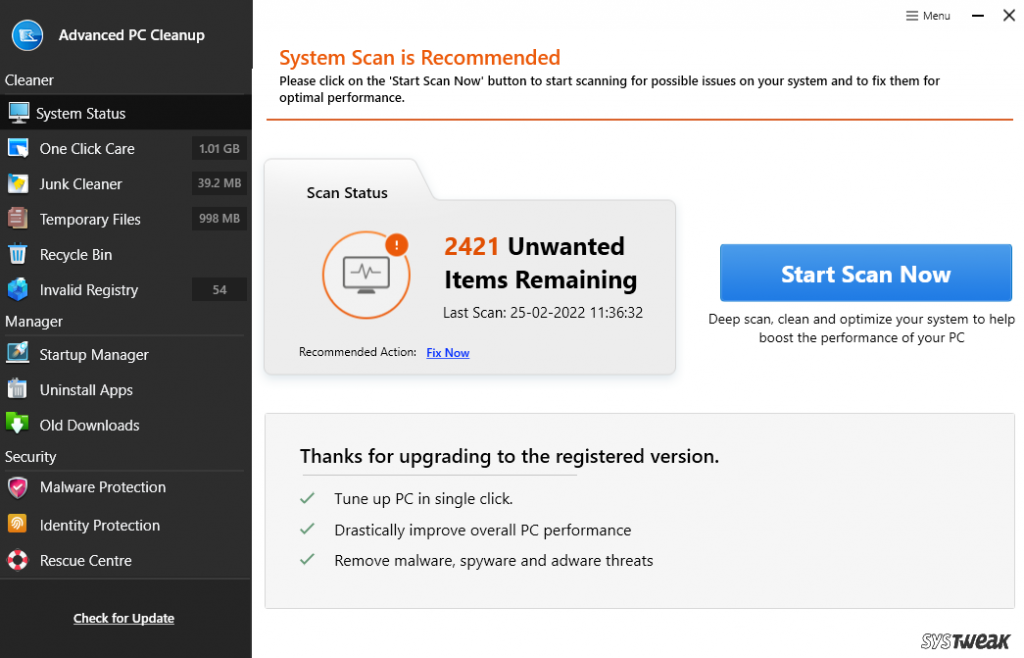 Advanced PC Cleanup has a user friendly interface as all of its features are clearly visible on its home screen. You can locate the Start Scan Now button to begin with the scan from the home screen itself. The Menu is also available on the Top-right corner of the tool which let's to go through the Updates, Support and Settings. You can also check the individual modules and get a summary of the scan to analyze the details of the files.
1. One Click Care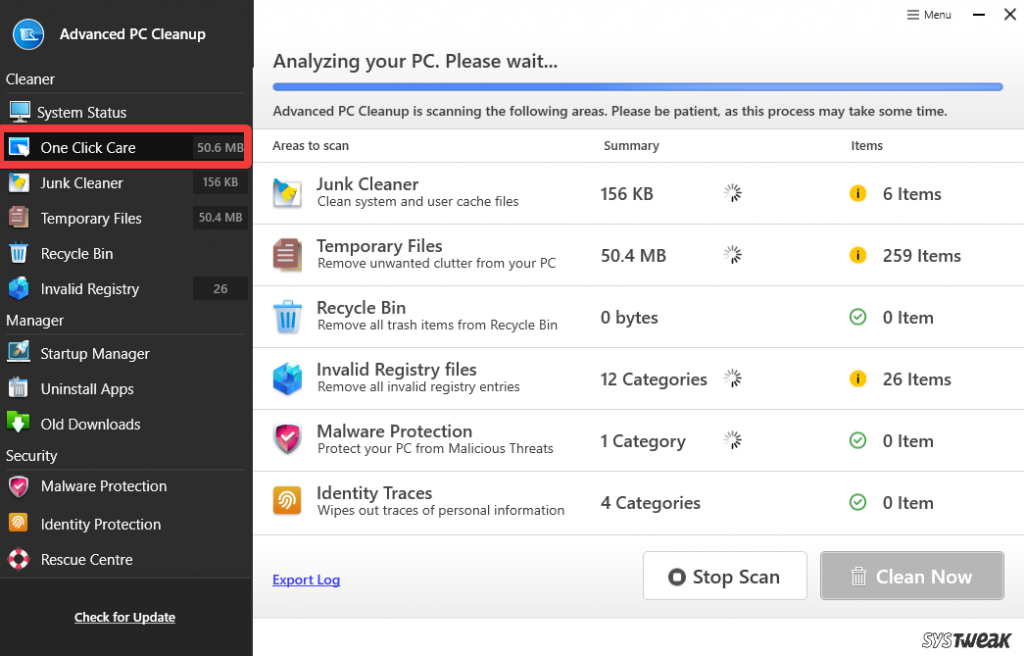 If you are in a hurry, this is the perfect solution for you by Advanced PC Cleanup. This cleaning module will show you a quick scan summary of the computer for all types of junk, invalid registry entries and unwanted applications.
2. Invalid Registry Cleaner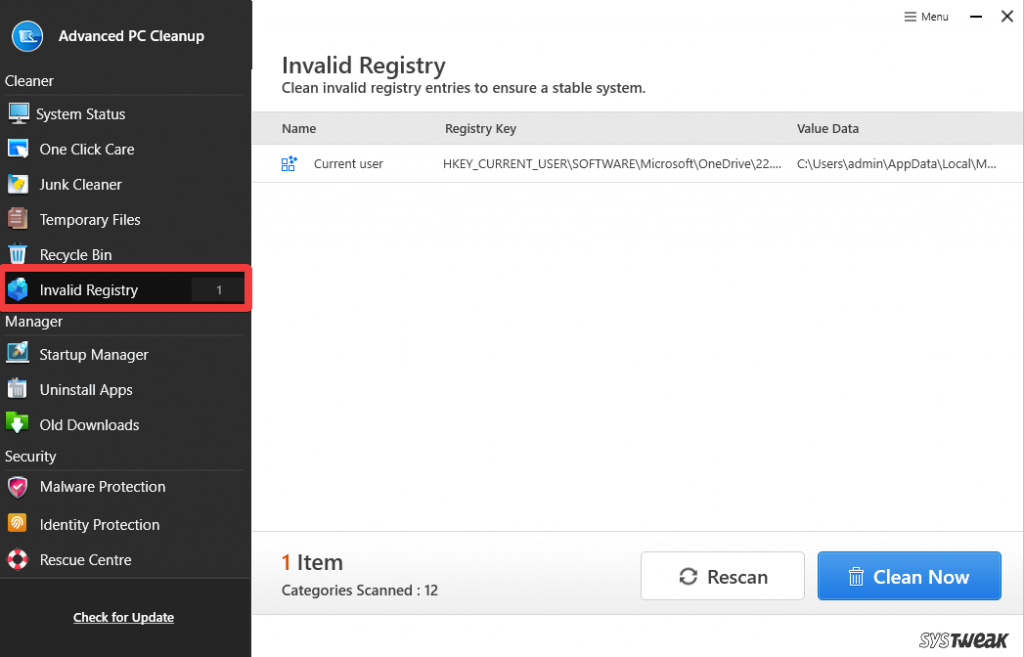 Registry entries hold an important role in the functionality of a computer. If any of the registry entries are corrupted, invalid or missing, you can suffer from unwanted system errors. Advanced PC Cleanup includes a very important module Invalid Registry Cleaner,which detects and removes any such registry entries.
Also take a look at the best registry cleaners for Windows PC, here.
3. Startup Manager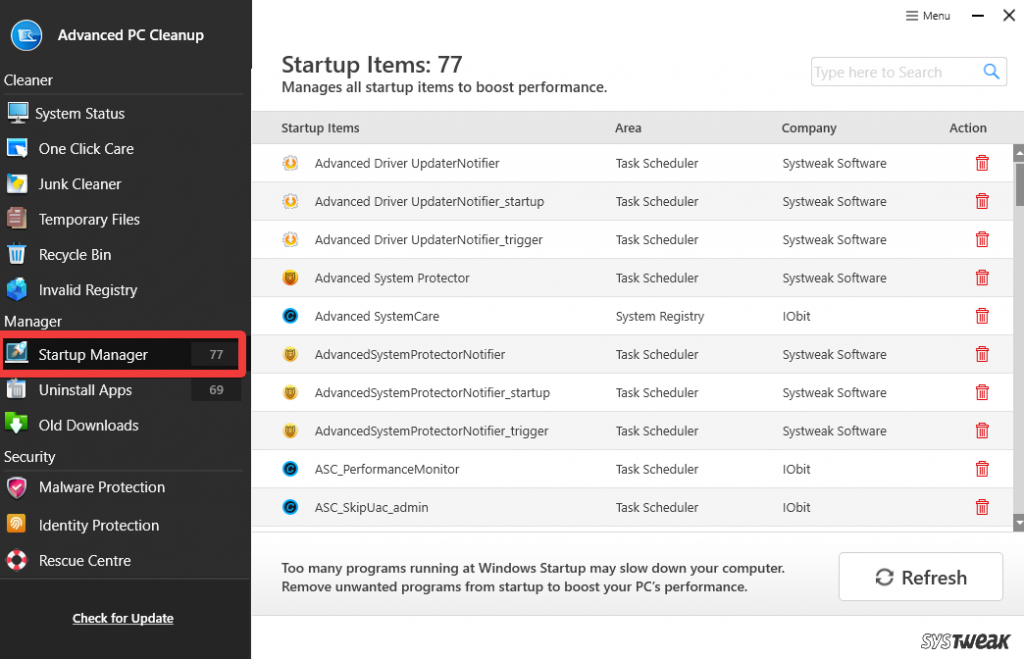 A large number of startup programs make your computer's boot time length. It will extend to unnecessary waiting time and makes it frustrating for users everytime they boot the computer. To avoid this, Advanced PC Cleaup's Startup Manager features will enable or disable the list of startup programs easily.
4. App Uninstaller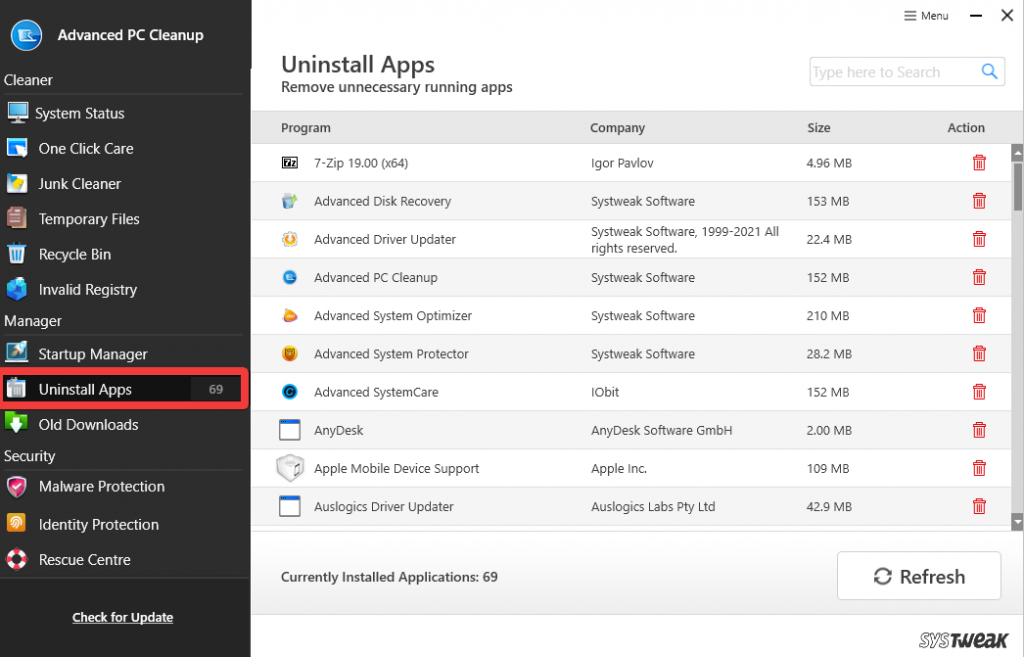 An app uninstaller is a must have module for a PC cleaner as users tend to download a number of applications over time. However, not all the apps are of use, so these unwanted apps hog system resources and takes up space on your computer. So Uninstall Apps module will show you a list for all the installed applications and you can mark one or more applications to delete them instantly.
5. Removes Old Downloads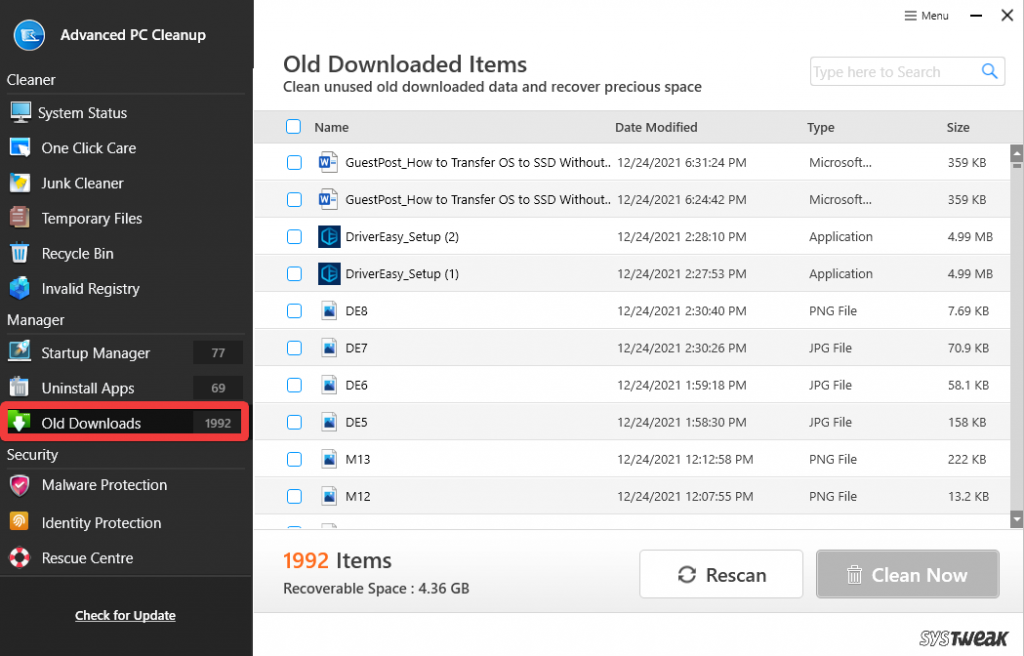 Often, we neglect the downloaded files and they accumulate a large chunk of storage space on the hard drive. It is important to remove the unwanted files and this must include the unnecessary downloaded files. Old Downloads module will quickly scan for all the old downloads and you can select the ones which are no longer required and delete them via this tool.
6. Security
Advanced PC Cleanup can easily detect any malicious element on your computer and get rid of it with Malware Protection module. This module works in helping the user to stay safe from online trackers with the Identity Protection. It quickly scans all the saved personal credentials such as name, email addresses, passwords and more and shows you the results. You can deletethem with one click.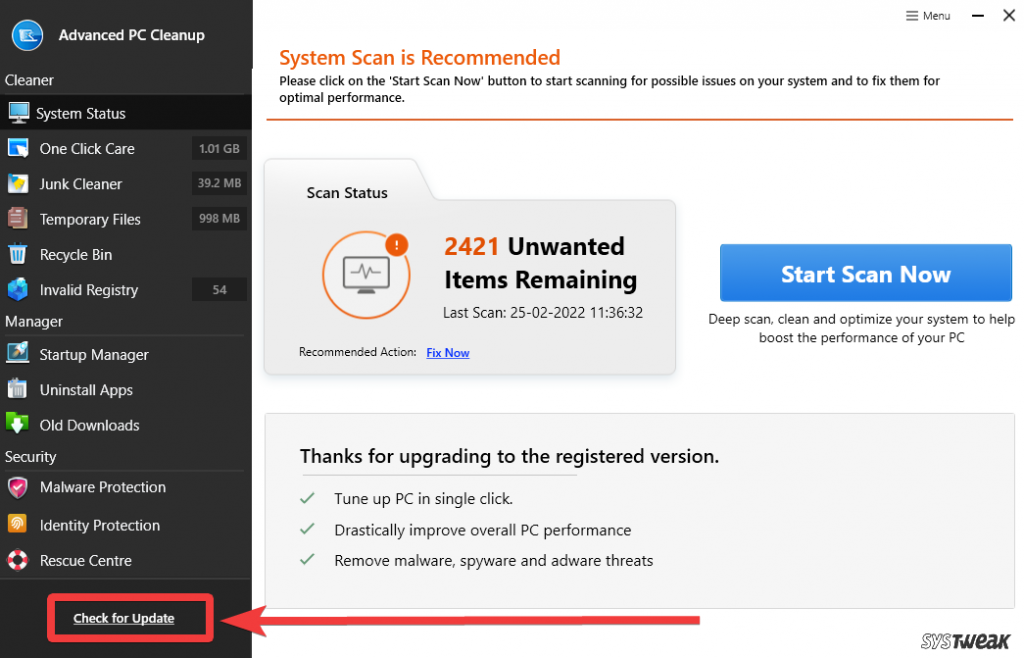 Advanced PC Cleanup regularly scans the computer and it also releases the new updates continuously. It will send notifications to you as and when the new updates are released. Along with that, checking for updates on your own is also possible with the Check for Update button. Click on the Check for Update button from the home screen.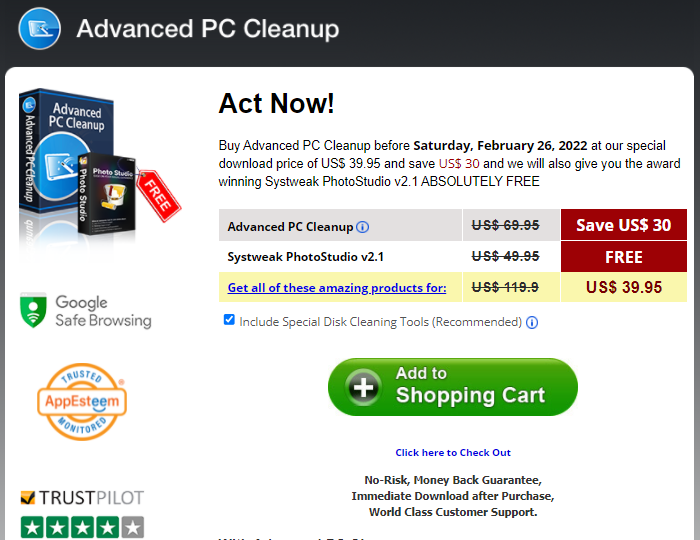 Advanced PC Cleanup free download is available from the official website. It also lets you run a scan and find all the clutter. Although when you click on the Clean Now button on the free version, it will free up a limited storage space. To avail all of its features, you must get the registered version which is available at a price of $39.95. It also gives you a 60 day money back guarantee.
Advanced PC Cleanup is a fast PC Cleaner as you click on the Scan button, it will quickly assemble all of the information you need. Then it will show you the scan summary and you can clear it all with One Click Care feature. Removing the unwanted junk files and clutter will also take a short time.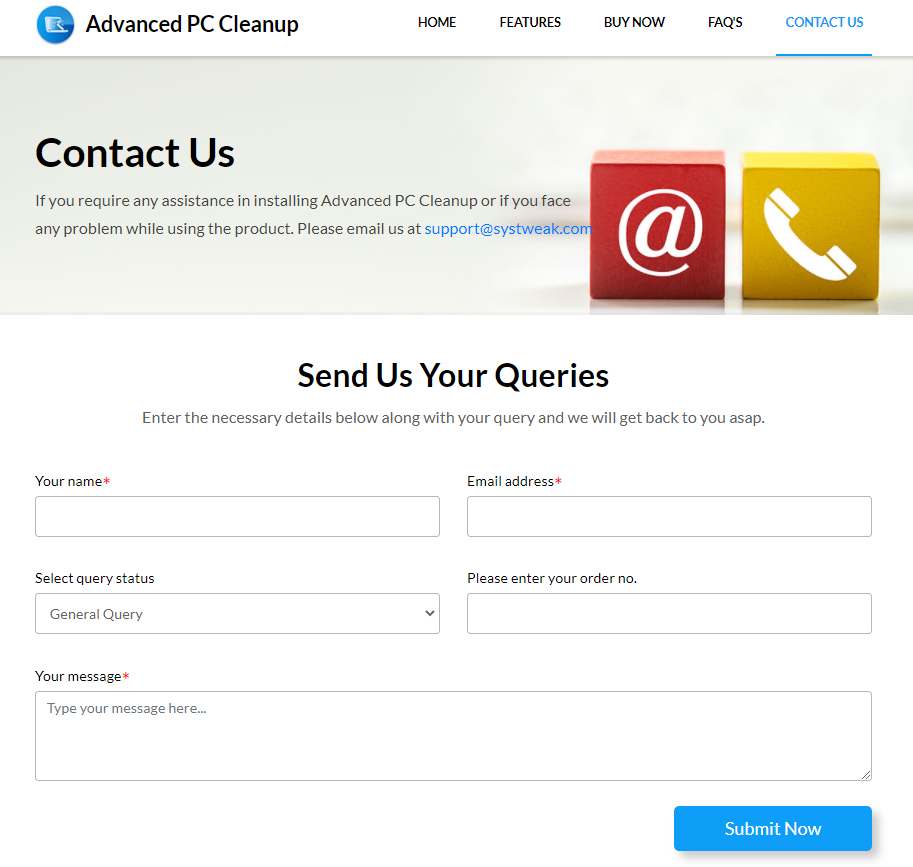 When it comes to the customer support for Advanced PC Cleanup, you can visit the Contact Us page on its official website.
https://www.advancedpccleanup.com/contact-us/
Here you can fill in your details along with the query status and additional information. You can also access the Support Page from the tool by going to the Menu> Technical Support.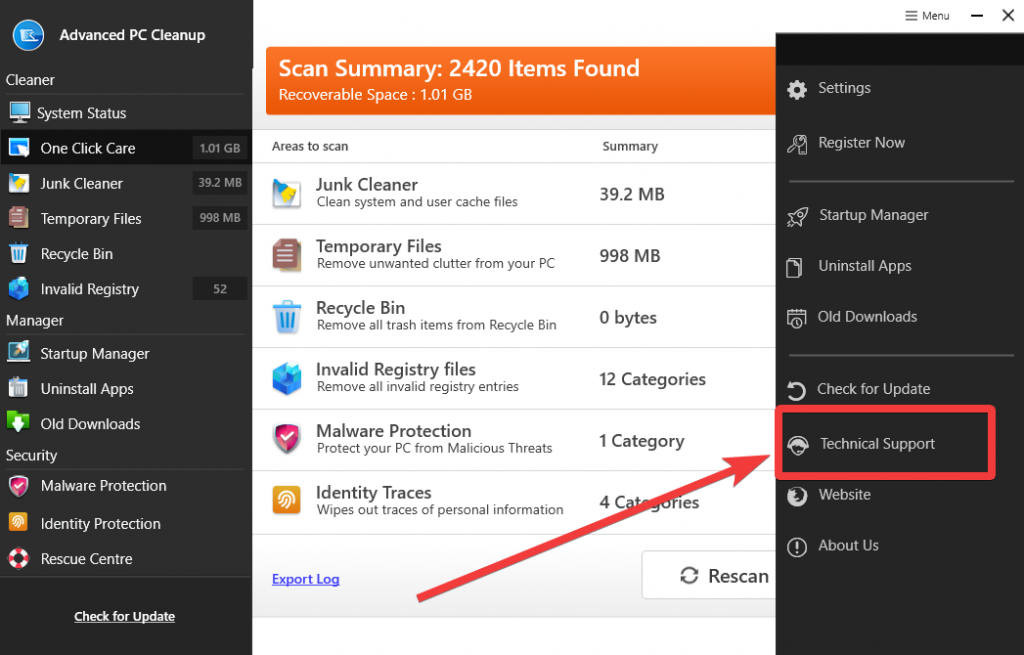 Frequently Asked Questions:
Q1. Is it safe to use Advanced PC Cleanup?
Yes, Advanced PC Cleanup is safe-to-use tool. It saves you from potential threats and gives you two security modules to clear up any such malicious elements and private information getting into the wrong hands.
Q2. Is Advanced PC Cleanup a virus?
No, Advanced PC Cleanup is in no way a virus. It is a PC optimization and cleaning tool with multiple modules to clean junk, invalid registry entries, and unwanted applications. It can improve the performance of your computer with Startup Manager and security modules.
Q3. Is it worth using Advanced PC Cleanup?
Yes, you can check out all of the useful features of it in the Advanced PC Cleanup review. It covers the cleaning and storage optimization, malware & identity protection, and Startup management of your computer.
Verdict
We hope the Advanced PC Cleanup review has helped you understand the features and functions of the tool. We suggest you download Advanced PC Cleanup now and speed up your computer. One thing which it misses is a driver updater but you can get another tool if you feel the need for that. We recommend you to check out Smart Driver Care – the best driver updater for Windows PC. We look forward to your comments to know more about your opinion on this blog post. Also, if you liked this, take a look at Advanced System Optimizer which comes with more advanced tools. For more such reviews on Windows software, keep visiting Top10PCSoftware. Also, follow us on the social media platforms for the latest updates for Windows software. We are on Twitter, Facebook, Pinterest, and Flipboard