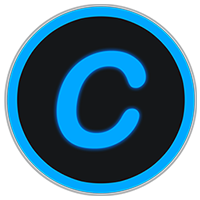 Advanced SystemCare
Advanced SystemCare 15 Review – An Intelligent PC Optimization Tool For Your Windows
Advanced SystemCare 15 is an excellent AI-powered PC optimization tool that doesn't just help you comprehensively clean your computer but even helps in enhancing its speed and security. In this blog, we will have a look at all the features which make this tool one of the best PC optimization tools.
Introduction – Advanced SystemCare 15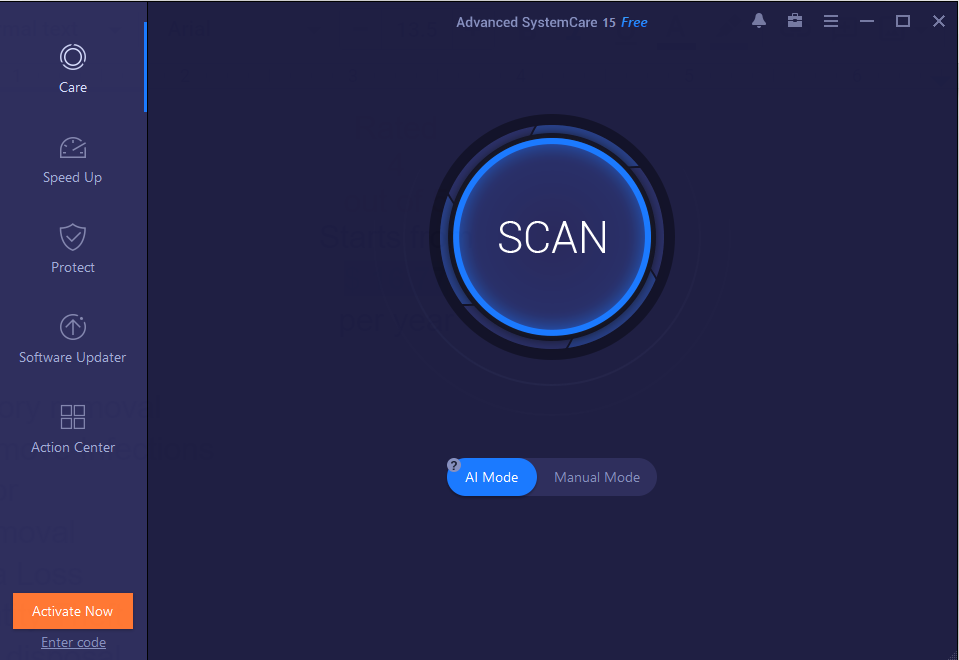 IObit Advanced SystemCare 15 is a renowned and trusted PC optimization software for Windows 11. It comes in two variants – paid and free. To begin with, it comes with an AI mode that intelligently adapts to your optimization habits and then cleans and speeds up your PC.
Secondly, it monitors the performance of your computer in real-time and then releases disk space and RAM accordingly. Furthermore, to ensure that your system stays safe and vulnerabilities are patched, it offers firewall protection to ensure that your system is protected all the time and also ensures that frequently used programs are constantly updated.
One of the features that make it stand apart is the Internet booster which boosts your internet speed up to 300%. However, such features and a lot more come with the Advanced SystemCare 15 pro version.
A Brief Overview: Advanced SystemCare 15
Your computer is put through a lot of wear and tear daily. Ideally, if you want your computer to work just the part, you will how to optimize all necessary settings, clean all the junk and disk fragments which might have accumulated over some time, and even take care of privacy issues which won't just slow your computer down but even put your crucial data in jeopardy if not looking.
We are addressing this as an ideal situation because manual cleaning or optimization is next to impossible. Well, not until you have a tool like Advanced SystemCare. If put in a few words, you can expect the tool to maximize your slow PC's full potential and not just eliminate any and every privacy issue that resides in the deepest recesses of your computer.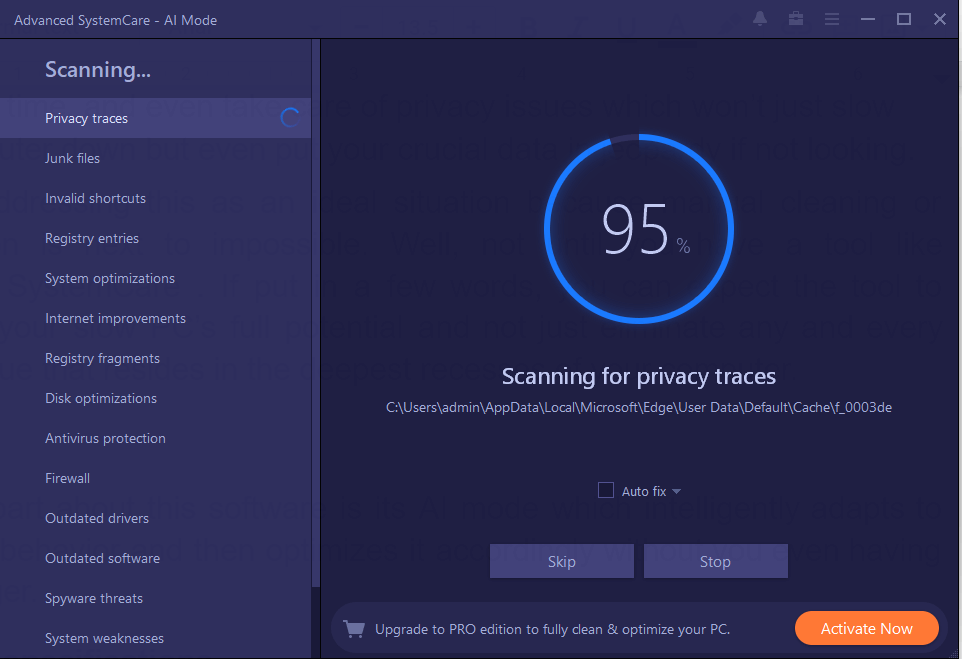 The best part about this software is its AI mode which intelligently adapts to your PC's behavior and then optimizes it accordingly without you even having to lift a finger.
Technical specifications –
Current Version – V 15.2.0
Software & Hardware Requirements
Here are the minimum perquisites, you need to follow to use Advanced SystemCare 15.
Operating system – Windows 11, 10, 8, 7, Vista, and XP.
Hard Drive Space Required – 500 MB of hard drive space is required
File Size –  45.2 MB
What Platforms is Advanced SystemCare Available?
Advanced SystemCare 15 free and Advanced SystemCare Pro 15 are available for Windows 11, 10, 8, 7, Windows  Vista, and XP.
Security
Browser history removal
Detect & Remove Infections
File Encryptor
Malware Removal
Prevent Data Loss
Prevent Identity Theft
Private docs disposal
Cleaning
Bloatware
Cache
Disk Cleaning
Old backups
Temporary Files
Unused applications and unnecessary software
Unwanted Registry
Windows Optimization
Automatic Cleaning and updation
Backup and Restore
Driver Updater
Game optimizer
Memory optimizer
Registry optimization
Sleep Mode
Software Updater
System Crash prevention
System slowdown prevention
Customer Support
Email Support
Knowledge Base
Live Chat Support
Telephone Support
User Forum
The interface is one of the key aspects of Advanced SystemCare 15. Despite being minimalistic and user-friendly. it is attractive and in fact, gains an edge over several PC optimization software. The scan button in between looks quite animated and modern. It is here so that you can choose between the Manual mode and AI Mode. 
You can also customize the interface as per your needs and likability. For instance, you can change the background, increase or decrease its transparency or even choose between the classic or readable themes. It also has a tiny widget that shows up your RAM and CPU usage and when you pop it open, it even lets you in on metrics such as the temperature of CPU, GPU, mainboard, and even fan speed.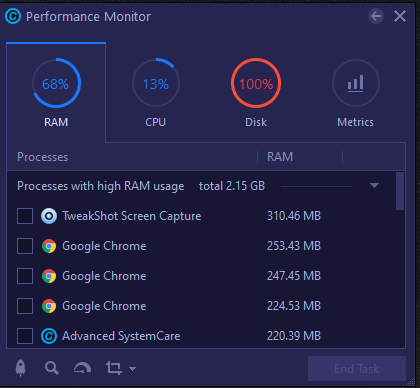 Apart from the visual appeal, you have all the major functionalities quite neatly enlisted on the left-hand pane. These include options for optimization and speed up the performance, updating necessary applications, and enhancing security.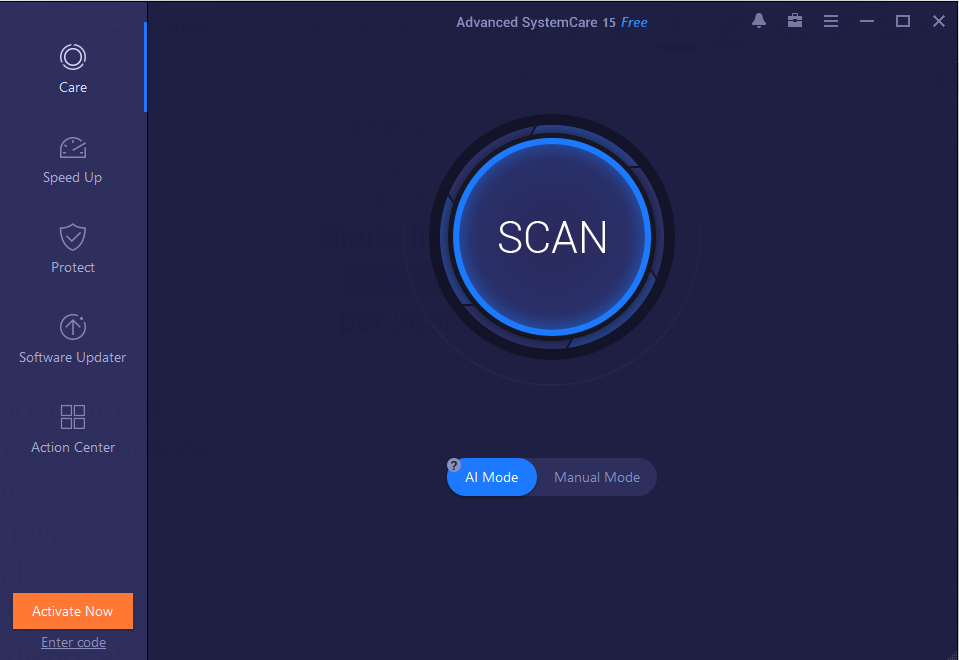 The reason why you should download the latest version of this software is  the array of features it offers. Let's have a look at some of the best features of Advanced Systemcare driver booster. 
Advanced SystemCare 15 free offers features like –
All the basic optimization and cleaning features will help you see a significant change in your computer's performance
AI mode which intelligently scans your PC for issues
Basic antivirus and spyware protection.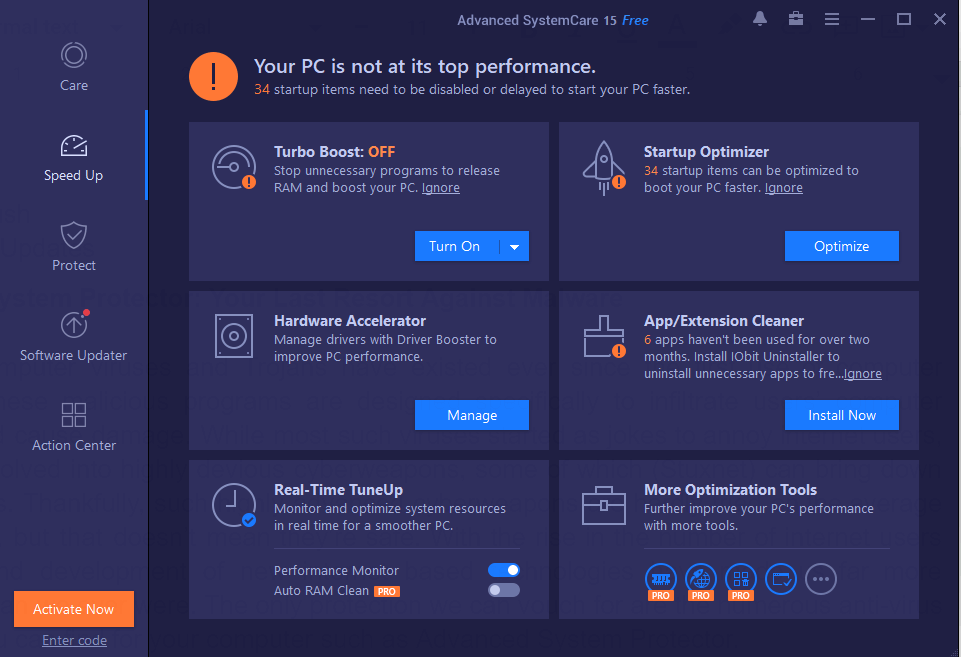 It also keeps a track of whether or not the firewall is active on your PC or not. Face ID with the help of which you can capture intruders. This is one of the features which help it gain an edge over some of the best PC optimization tools.
Software Updater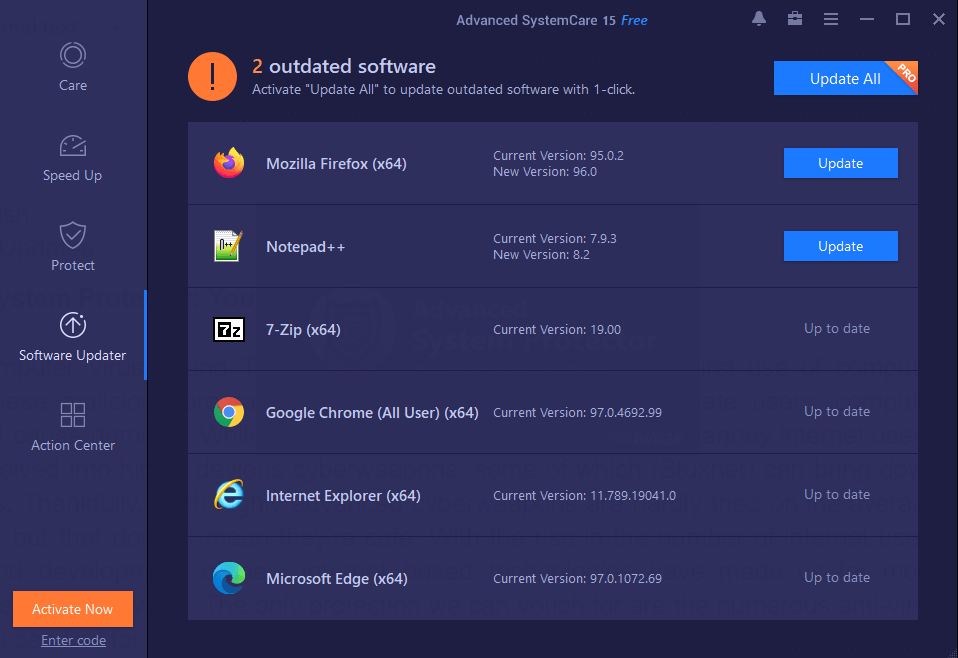 You even get a software updater that helps you update all outdated software with just a click of a button.
If you thought the Advanced SystemCare 15 free offers impressive features, wait till you see what the paid version has to offer –
The paid version gives you the ability to enhance internet speed by 300 % and computer speed by 200 %, something which is not offered by many PC optimization tools.
Auto RAM cleaning process which ensures that all unused processes and programs are shut off for peak performance
No matter how deep-rooted spyware, malware virus is, it won't be able to hide from Advanced SystemCare pro 15.
None of your web activity traces are left
Security potholes are removed in real-time
Moreover, you get much better on-demand customer service.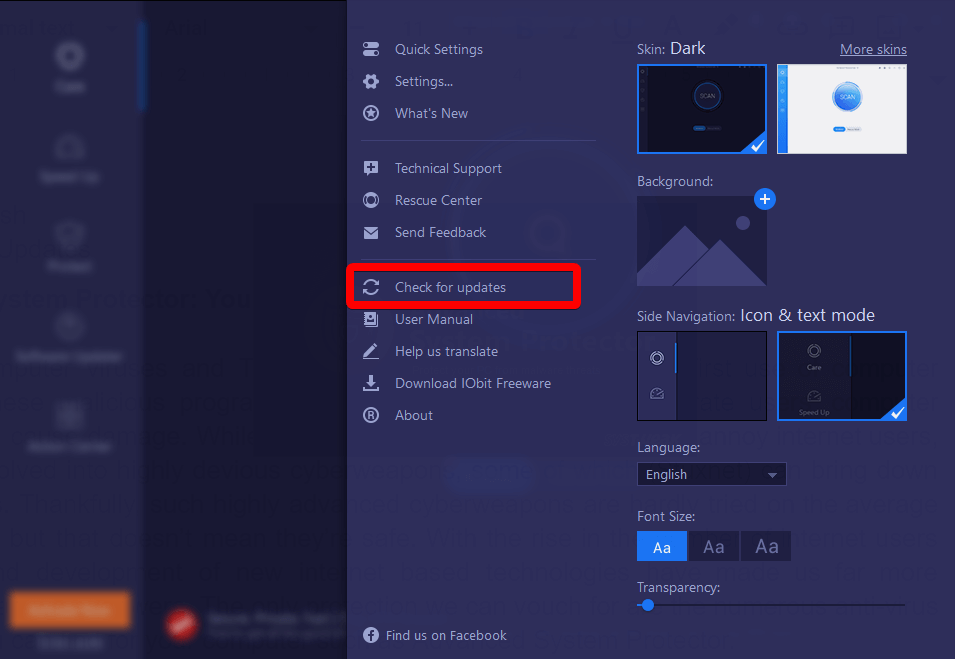 Updates are quite essential when it comes to software. These ensure that all the new functionalities are promptly upgraded in the software as and when they appear. Not just that, the updates also patch and remove any vulnerabilities which can further lead to the entry of malware and other viruses and even hamper its performance. From the updates perspective, Advanced SystemCare is on-point. A user is notified as and when a new update appears.
You can also manually check for updates, by clicking on the hamburger icon present at the top right-hand side and then click for Check for updates.
Speed is one factor that could have been slightly better especially when compared to some of the best PC cleaner and optimization tools. It is not the worst but still has a scope of improvement.
It took a few minutes to scan junk files, invalid registry entries, privacy traces, invalid shortcuts, spyware threats, disk fragmentations, and a lot many other such items. All in all, in a matter of 10 minutes it was able to scan around 7189 items which included cleaning of files which could help save 1.8 GB and 1022 items which if optimized can help improve PC performance. It also traced 9 security items that needed to be fixed.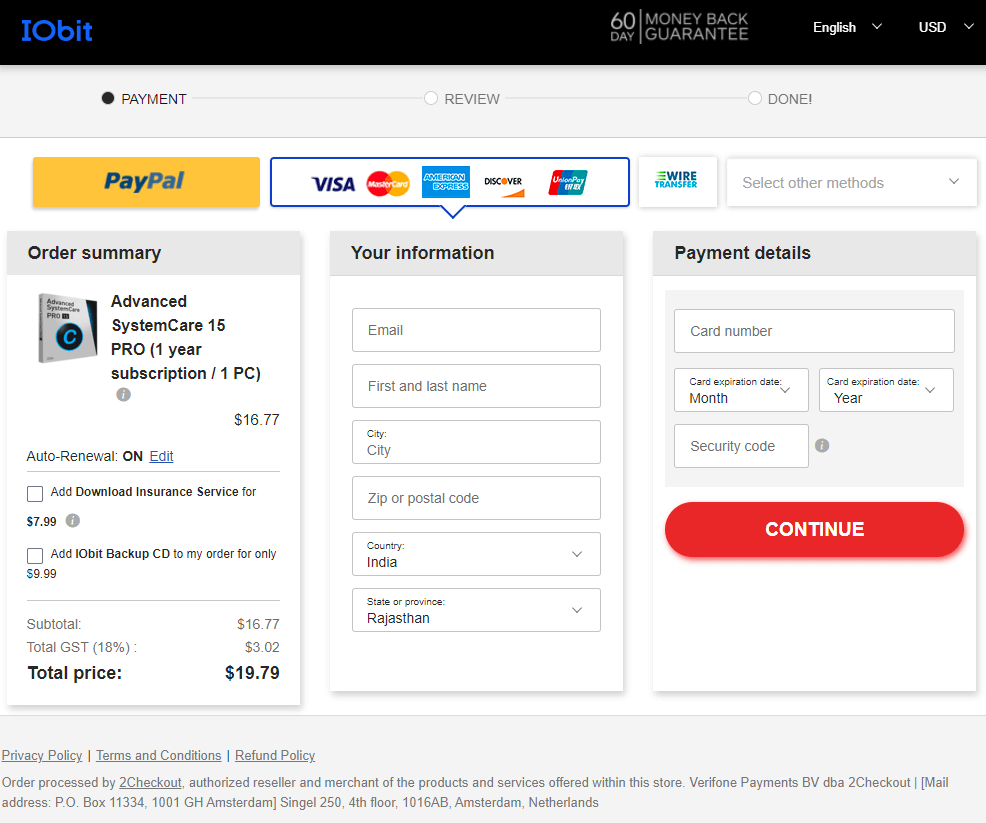 This software comes in two variants – Advanced SystemCare 15 free and Advanced SystemCare 15 Pro which is a paid variant. The paid variant further has two versions. For 1 PC, you will have to pay US$ 29.99 per year and at the time of writing this blog, you can avail of a discount of 40% and get Pro for US$ 16.77 per year. For 3 PCs, you will have to pay US$ 49.99 per year and at the time of writing this blog, you can avail of a discount of 60% and get Advanced SystemCare 15 Pro for 3 PCs for US$ 19.99 per year. (Prices are exclusive of GST and additional taxes).
1PC

At the time of writing this blog, you can avail a discount of 40%)

3PCs

At the time of writing this blog, you can avail a discount of 60%
It won't be wrong to say that it is one of the low-priced PC optimizers and despite being low in price it certainly doesn't compromise on features. The company also offers you a 60-day money-back guarantee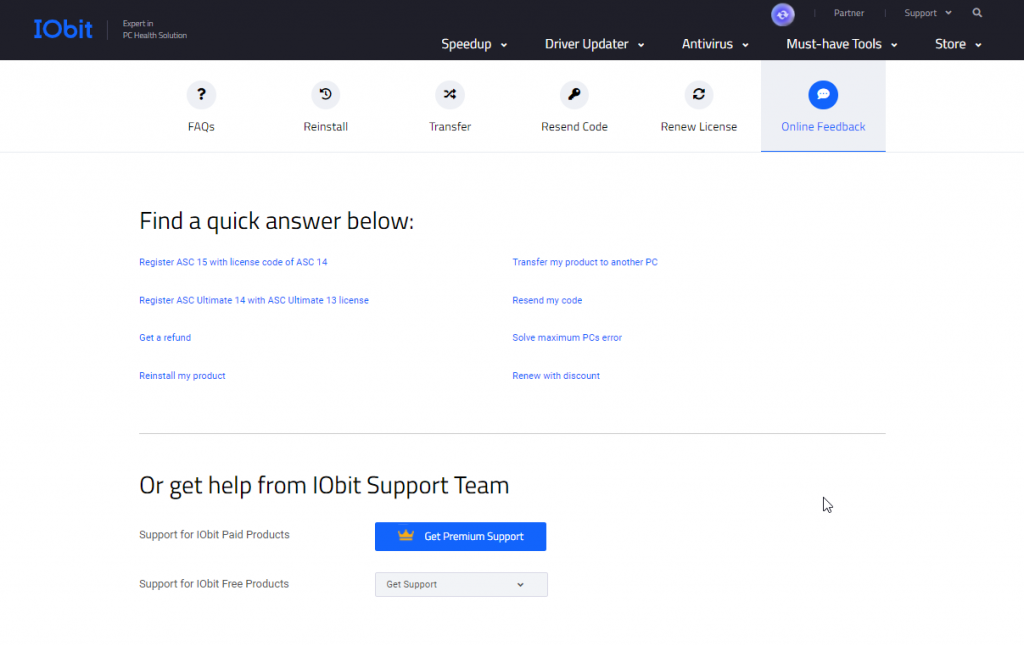 You can reach customer support in various ways. You can reach them via a dedicated phone or via a feedback form. Their FAQs page itself consists of exhaustive information on the most common queries faced by users.
Now, when you choose the premium version i.e. Advanced SystemCare Pro, you also get free 24/7 on-demand support as well. Having said that, the free version too offers you a variety of ways you can get your doubts resolved. 
When you click on Technical Support you can enter your query via a feedback form, get help regarding reinstallation, transfer of license, license renewal, and even get help via online chat 24/7. Wrapping Up
How To Use Advanced SystemCare 15? How to Install It?
Using Advanced SystemCare 15 is extremely simple. It offers 1-click fixes for a variety of PC optimization and cleaning needs.  You can check each of the modules which would help you speed up, protect and keep your PC updated. Let's have a look at how the Care module works –
1. Download and install Advanced SystemCare 15.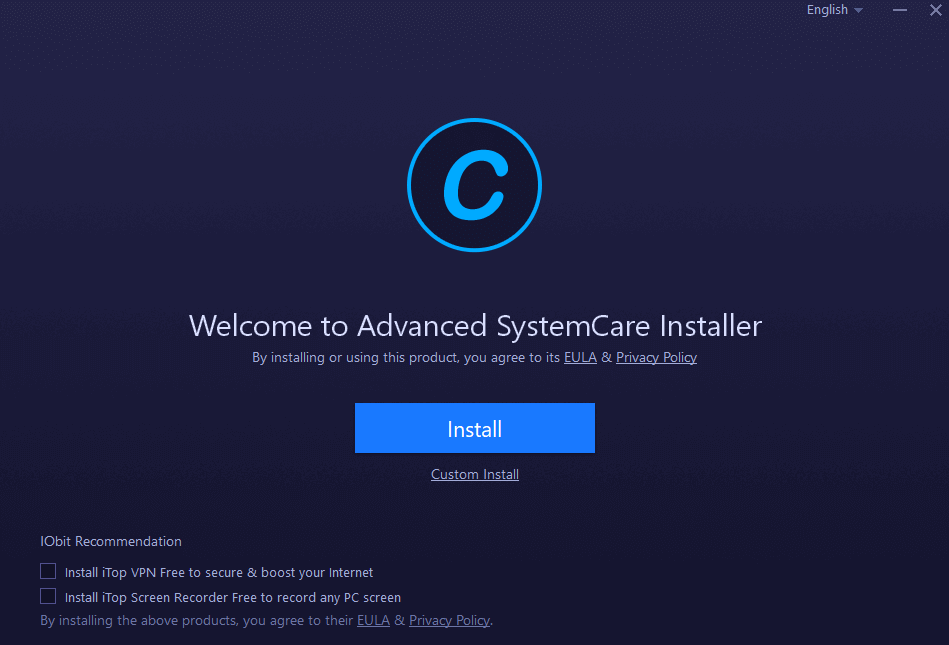 2. Click on the Care button from the left hand pane
3. From the right-hand side choose between AI Mode and Manual Mode. The AI Mode scans your PC and then provides you the right settings to optimize, clean and speed up your PC. It also enables protection as per your PC's current status. With the Manual Mode, you can choose what all aspects you want the tool to scan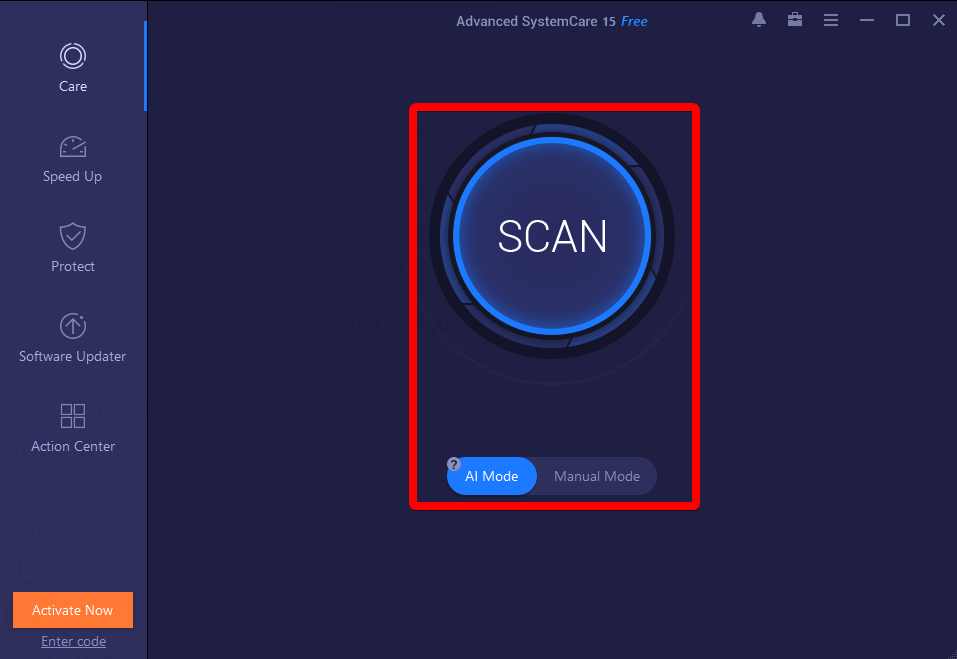 4. Next, click on the Scan button after which your PC will be scanned for privacy traces, junk files, registry entries, firewall, invalid shortcuts and many such aspects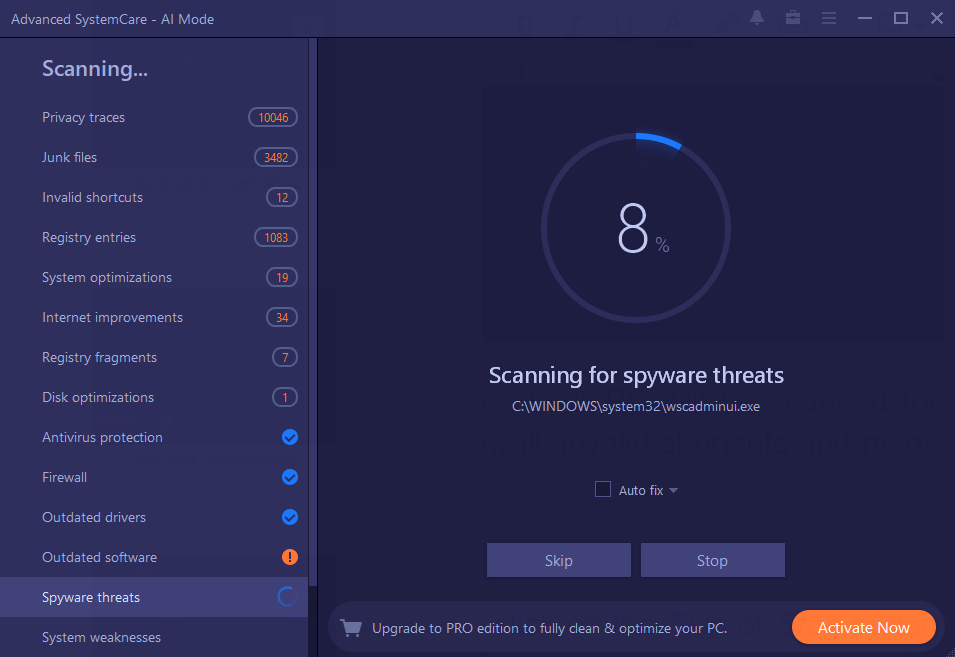 5. Now you can either let the scan finish or click on the Skip or Stop button from the right-hand side to skip the scanning for a particular aspect or stop the scan completely. You can also check the Auto fix option (or its variants by clicking on the dropdown) post which the issues will be fixed without you having to intervene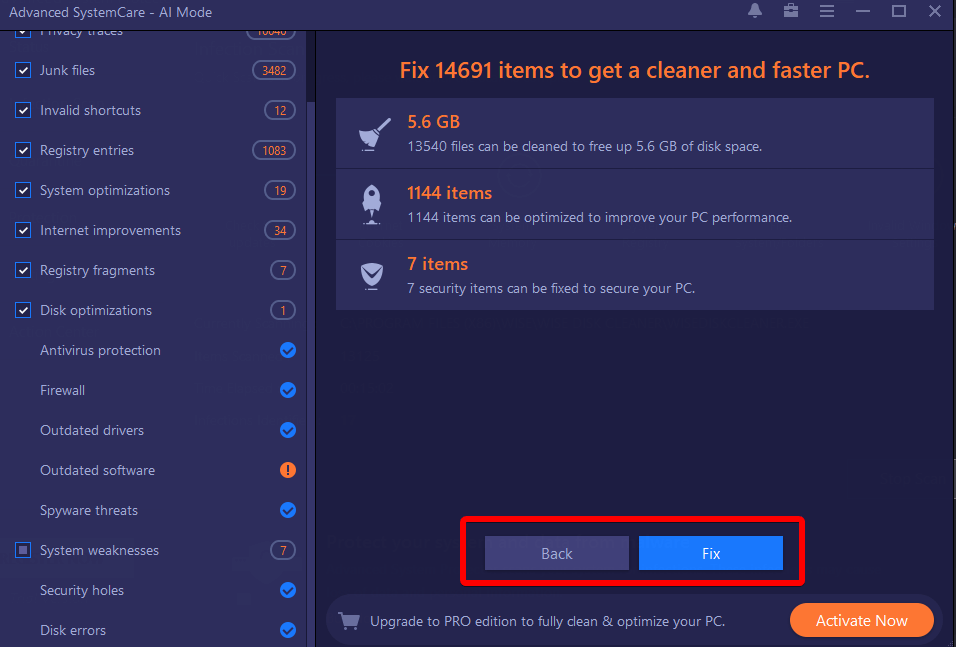 6.  If you don't want to opt for Auto fix, you can click on the Fix button
Frequently Asked Questions: Advanced SystemCare 15
Here are some frequently asked questions related to using the product:
Q1. What is Advanced SystemCare?
It is a PC optimizer and cleaning suit from iObit which helps you optimize your computer so that it can deliver the best performance. Not just that it even helps clean your registry, boost internet speed and remove all kinds of malware, viruses, and other kinds of infections.
Q2. What does the recent version offer?
The new version comes with some exciting new features. For instance, the new AI mode has been included which learns from your optimization habits and clears tons of unnecessary logs, junk files, and caches. Then, you also get the functionality to fix disk errors with 1-click amongst several others. Also, you can now enable and detect both firewall and antivirus for dual protection. 
Q3. Is Advanced SystemCare PC Optimization Utility free?
Yes, it is. It comes with a free version as well. However, the features included with the free version are limited as compared to the registered or premium version. For more insight on the features, do give this blog a thorough read. 
Q4. Is Advanced SystemCare a virus?
No, it is not a virus. It is,, a computer cleaning tool that helps you get rid of malware, spyware, and various kinds of viruses. Apart from being a PC booster software, it also doubles up as a tool that can guard your computer against impending online attacks.  
Q5. What's the latest version of Advanced SystemCare and where can I download it from?
The latest version at the time of writing this blog is Advanced SystemCare 15 v 15.2.0. The latest version can be downloaded from the webpage of the company.
Q6. Is Advanced SystemCare good for Windows 11?
It is one of the best PC Optimization, cleaning, and protection tools for your Windows 11 computer and laptop. It has an AI mode that intelligently removes caches, junk, and log files from all recesses of your computer, be it your drives, fragments in your disk, or even browsers. Plus, it contains a lot of fantastic features.
Top 5 Alternatives Of IObit Advanced SystemCare 15