A poorly written application uninstaller is causing system crashes? You might want to get rid of invalid registry items. Manually removing registry items can be a risky task because one wrong move can leave your system inoperable. So, here we'll review Wise Registry Cleaner which is regarded as one of the solutions to get rid of problematic registry items
What Is Wise Registry Cleaner?
Wise Registry Cleaner is a free registry cleaner that also doubles up as a powerful pc optimizer as well. It helps in repairing erroneous registries, removing redundant registry items, defragment them if necessary.
Erroneous registries and outdated references are inclusive of invalid software paths, history of all those files that you have accessed, missing MUI cache references, missing registry items, outdated DLL files, and many more. Wise Registry Cleaner free helps identify and remove all of these. And, that's not all –
Wise Registry Cleaner for PC also comes with an integrated optimizer that helps speed up your computer and remove any stability issues.
Let's talk a little about the makers of the tool – Wise Registry Cleaner free comes from WiseCleaner which is already popular for developing tools like Wise Disk Cleaner, Wise Uninstaller, Wise Data Recovery, and many others.
Pros:
Lightweight registry edit software.
Easily find errors & residual items in the Registry.
Supports the full registry backup feature.
Allows users to create a system restore point
Cons:
Limited functionalities are unlocked in the free version
Why Is There A Need To Use Wise Registry Cleaner?
A utility like Wise Registry Cleaner takes off the plight of manually finding invalid registry entries and rectifying them. Moreover, by regularly cleaning registries you can improve your computer's performance and make it even more stable. Another reason, to choose Wise Registry Cleaner free is that it lets you create a backup of your registries and even lets you create a restore point. So, it keeps you backed up in case something goes wrong. Below is the table that enlists the kind of things you can expect from Wise Registry Cleaner for your Windows PC.
Starts from
$
19.95
per year
Create backup and restore point
Technical Specifications –
Current Version – 10.7.2699
System Requirements –
Operating System – Windows 11/ Windows 10/ Windows 8.1/ Windows 8/ Windows 7/ Windows Vista/ Windows XP (32 and 64 bit)
Processor: Pentium 233 MHz or above
RAM: 128 MB or above  
Disk Space: 10 MB
Languages supported: English, French, Italian, German, Portuguese, and many others (45+ languages)
How Does Wise Registry Cleaner Work?
Here is how you can download Wise Registry Cleaner on your PC and start cleaning Windows registries –
1. Download, run and install Wise Registry Cleaner by double-clicking on the .exe file.
2. Just after Wise Registry Cleaner is installed it will ask you to backup your registry before you perform the scan. Click on Yes if you want to back up the registry.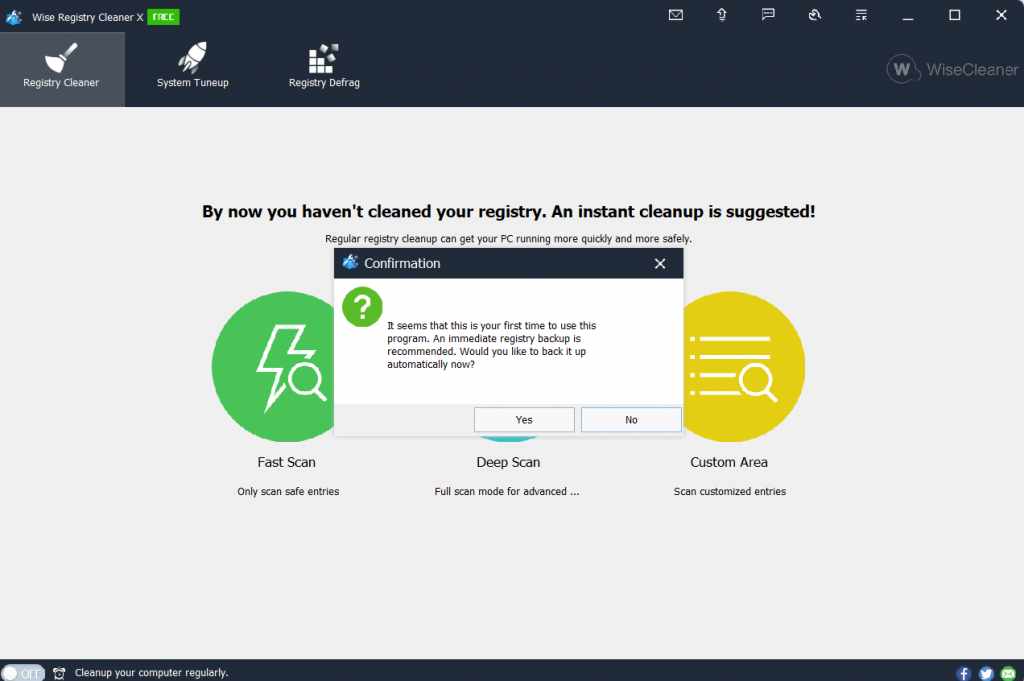 3. Let's learn how to clean the Windows registry. First, choose Fast Scan, Deep Scan, and Custom Scan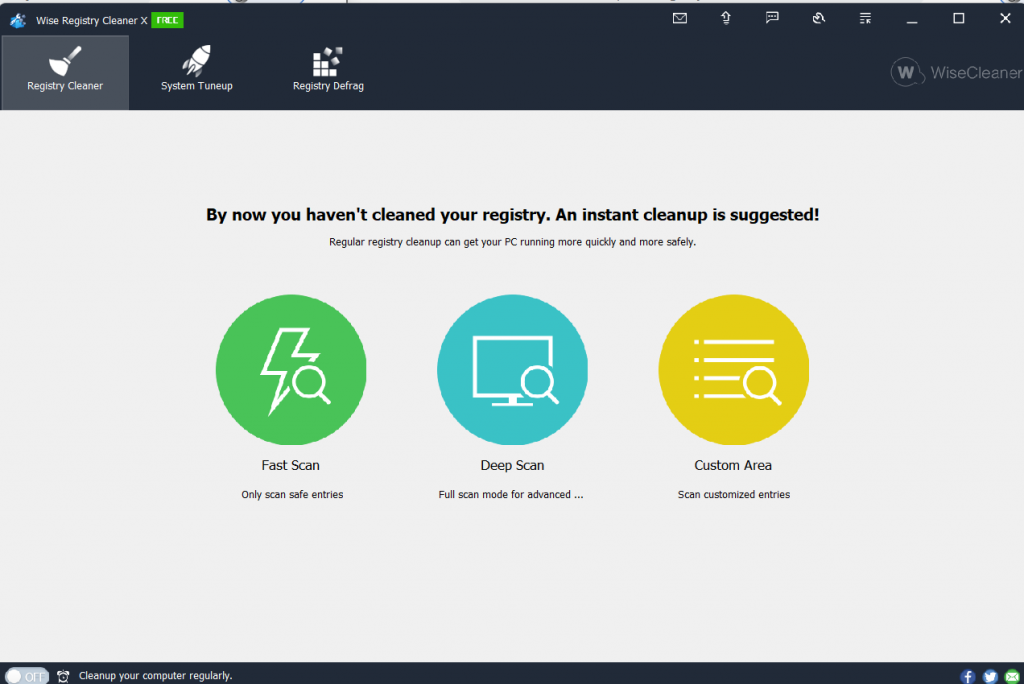 4. Check the scan results. Here green shield means that it is safe to remove the issue. However, an orange shield means that item is unsafe to be deleted.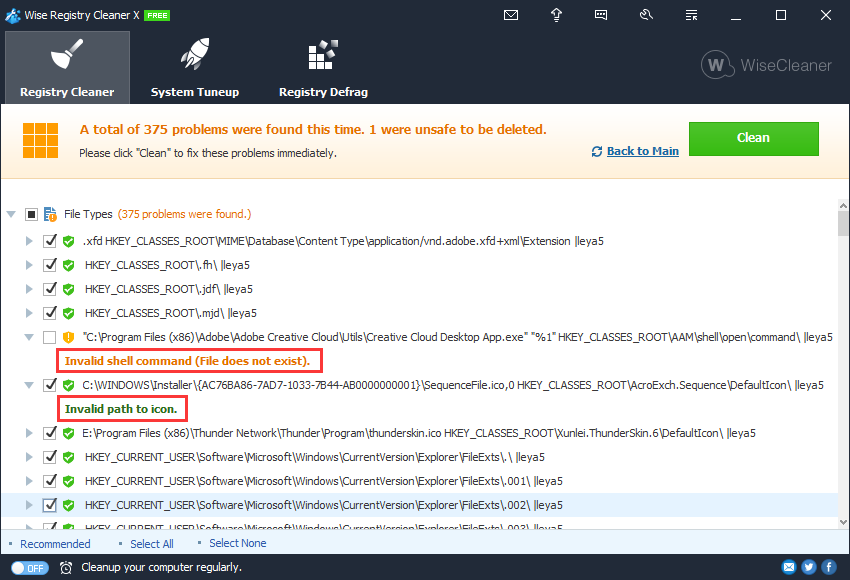 5. Next, you can right-click on an item and then perform the following actions –
Select Safe Entries – Only those entries that are safe to delete will be selected
Ignore Selected Entry – This option will put all the selected registry entries in the exclusion list and these will thereby not be scanned anymore.
Export To – Let's assume that you are completely uncertain about a registry item. You can export this item to a text file and send it to the WiseCleaner support team.
Open In Registry Editor – As the name suggests, when you choose this option, the registry key will open in your Windows Registry Editor.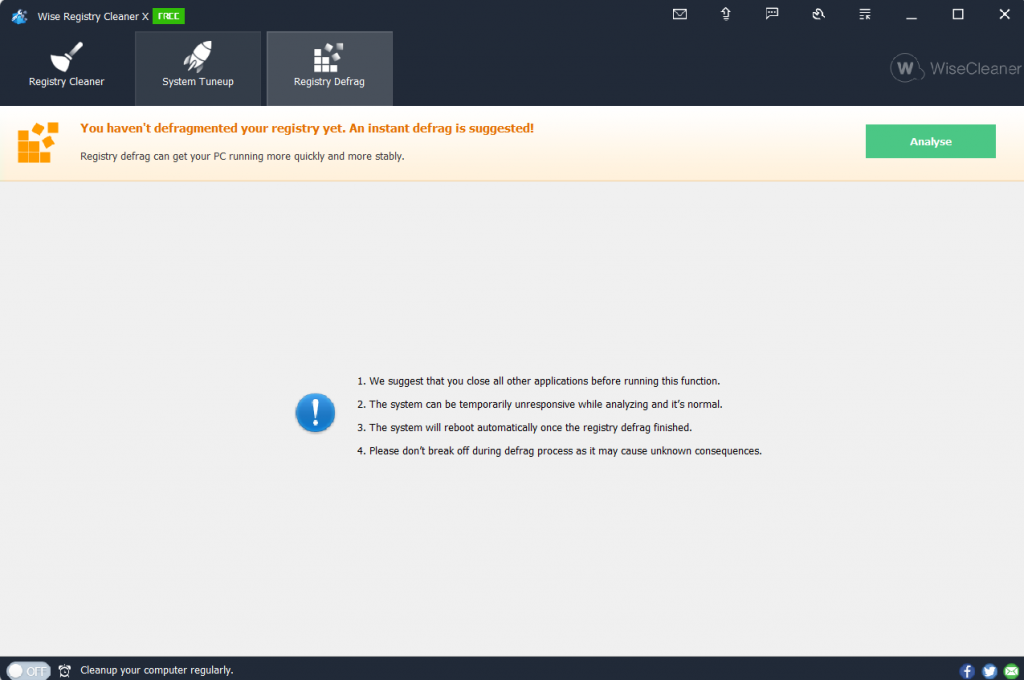 When you download the free Wise Registry Cleaner on your Windows 11/10 PC, you get a user-friendly and uncluttered user interface. By that, we mean that the options for registry cleaning, system optimization, and registry defragmentation are clearly marked. Furthermore, all the options and sub-options carry a brief explanation of what they do, which in our opinion can be great for a first-time user. For example, when you click on the Registry Defrag tab, you can see text that tells you what you should do and what you should expect when defragmenting your registry.
Wise Registry Cleaner for Windows 10 comes packed with the following features –
1. Registry Cleaning
At its core, Wise Registry Cleaner is a powerful registry cleaner. In fact, it does the task of registry cleaning in an erroneous manner so that you don't have to.
More specifically, it scans your Windows registry and then looks out for any erroneous items like the ones we mentioned at the beginning of this post. Once it detects them, it either defrags them or cleans them.
2. Backup And Restore
Often we are told to first back up the registry before we clean it, right? That's because if anything goes wrong with the registry while you are removing or making changes to it, you might have an inoperable operating system.
Here, Wise Registry Cleaner stands true to its name. It wisely and automatically backs up your system's registries and only then performs the cleaning. If in case, you observe some issues later, you can always perform a system restore or use your previous registry backup.
3. Optimize Your Computer's Settings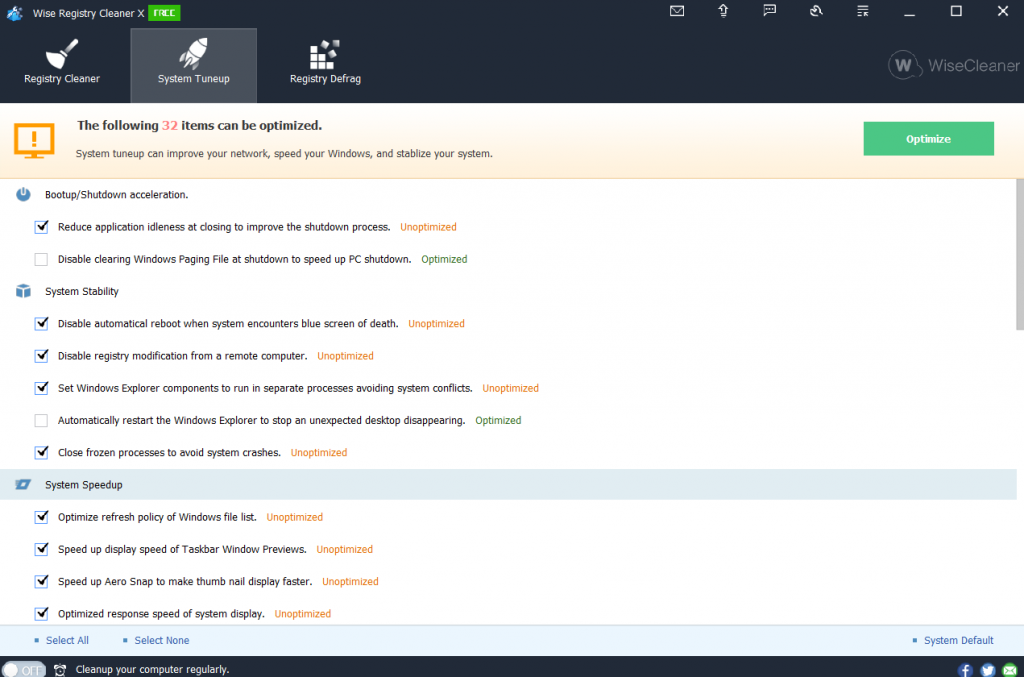 Wise Registry Cleaner is not just a registry cleaner. When you download Wise Registry Cleaner, you also get a tool with the help of which you can optimize your Windows settings in a way that your system can deliver the best performance. Whether it be speeding up your computer, internet, extending your SSD's lifespan, etc, Wise Registry Cleaner is your tool to do just that.
4. Schedule Registry Cleaning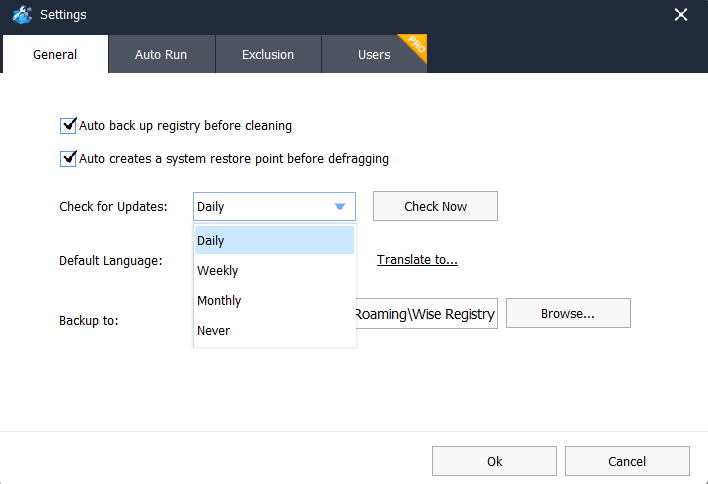 As per your need, you can schedule registry cleaning tasks with the help of Wise Registry Cleaner. You can schedule registry cleaning on a daily, weekly, or monthly basis. Based on the option you have chosen, Wise Registry Cleaner will run in the background and clean your registry.
5. 1-Click Cleaning
You needn't open the Wise Registry Cleaner to clean your PC's registry. This means you can create and place the "Clean with 1-click" icon and place it on your desktop. To clean your registry, all you have to do is click on this icon and the registry cleaning task will take place.
6. Multiple Cleanup Options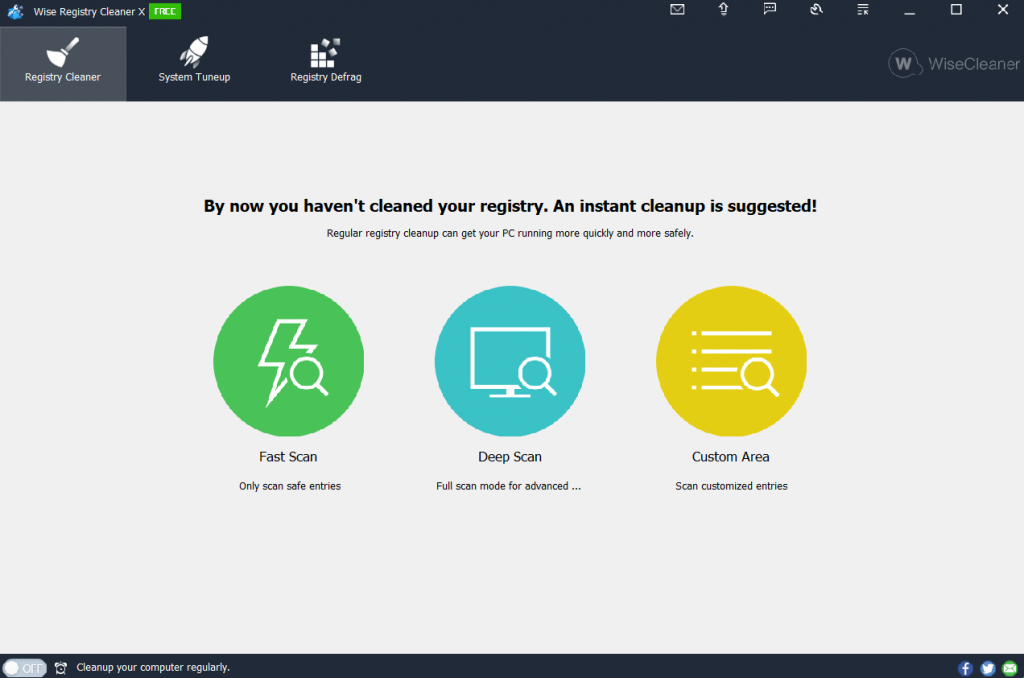 Wise Registry Cleaner comes with 3 scan modes namely – Fast, Deep, and Custom scan modes. The Fast Scan only scans safe entries, the Deep Scan is a little more advanced method where all registries are scanned and with the help of Custom Area, you can scan customized entries. Apart from choosing from these scan modes, you can also select or exclude areas that you want to scan or don't want to scan.
Ever since its first release, Wise Registry Cleaner has included many features, fixed countless bugs, has improved its user interface and even has made the tool Windows 11 ready. So, you can expect that with every update it rolls out, you will get something new. Checking for updates in Wise Cleaner for PC is very easy –
1. Click on the Menu icon located on the left of minimize button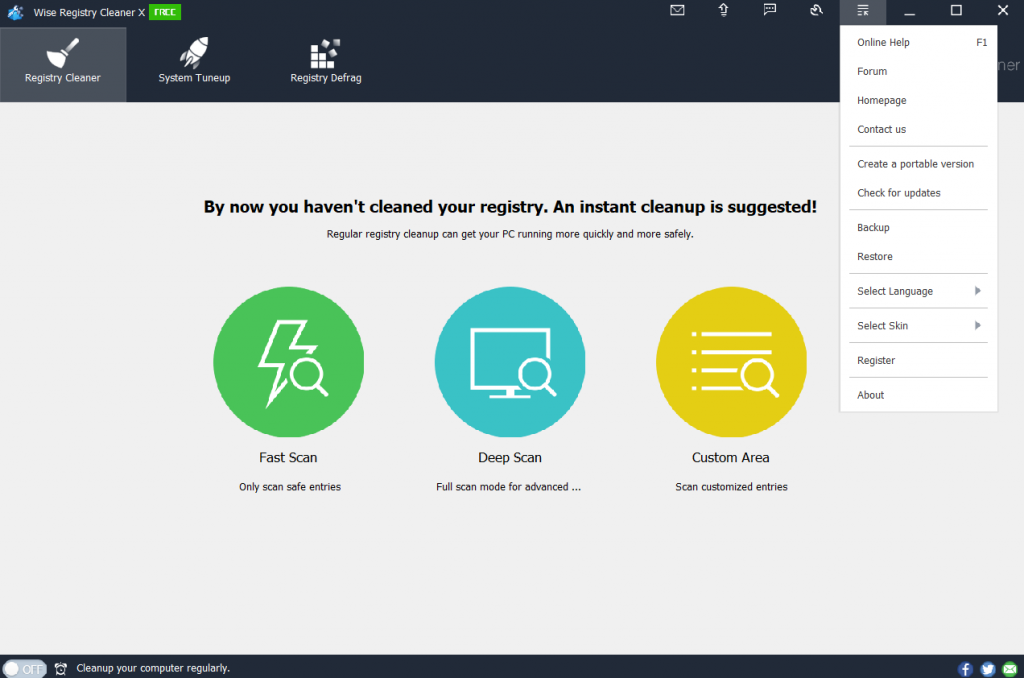 2. Click on Check for updates

Wise Registry Cleaner comes in two variants – Wise Registry Cleaner free and Wise Registry Cleaner Pro which can also be called Wise Registry Cleaner full version. The main difference between the free and the pro variant is that with the latter you can clean the registries of all user accounts on your laptop or desktop, whereas the free version only lets you clean the registries of the current user account. Normally, Wise Registry Cleaner Pro sells for US$29.95, but at the time of writing this post, it is available for US$19.95
Depending on the mode of scan you have chosen, the scan may take time accordingly. For example, when we choose the Deep Scan mode Wise Registry Cleaner took a little more time than the Fast Scan or Custom Scan.
The optimization module on the other hand did work like a charm to an extent, it did speed up the computer and its response time.
In case you have any issue whether it be technical or regarding the license (if you have purchased Wise Registry Cleaner Pro), there are several ways you can get your doubts and issues resolved.
You can get answers to all major questions via a dedicated FAQ page.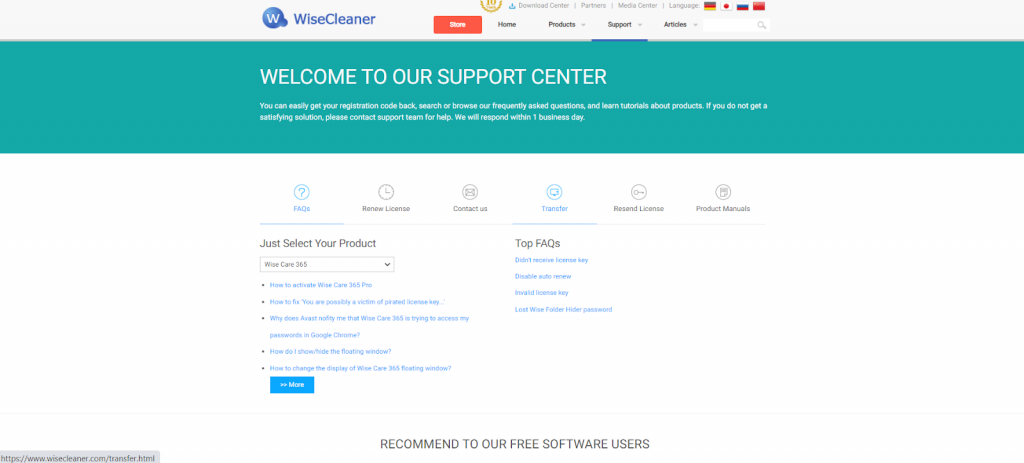 For any technical assistance, you can mail your query to support@wisecleaner.com
There is a dedicated forum where you can post your questions regarding the product.
WiseCleaner the maker of Wise Registry Cleaner also offers 24*7 email help at US$9.9/ year which is a proposition that not many companies offer.
Frequently Asked Questions
Q1. Is Wise Registry Cleaner Safe?
Yes, Wise Registry Cleaner is safe to use since it lets you create a backup of your registry items and create a restore point of your system before you go ahead and delete or make any modifications to the registry items.
Q2. Is Wise Registry Cleaner Free?
You can purchase the free version of Wise Registry Cleaner. Here you will be able to perform all tasks related to registry cleaning, however, these will apply to your current user account. If you have multiple user accounts on your computer and you wish to clean their registries, then, you will have to purchase Wise Registry Cleaner Pro.
Verdict
All in all Wise Registry Cleaner is a great tool that you should have for your Windows 11/10 computer. One aspect, that we especially liked is the fact that it marks which are the registry issues that you can remove and which are the ones that you should not. Do give Wise Registry Cleaner a try and let us know how has your experience been. For more such content, keep reading Top10PCSoftware. You can also connect with us on Facebook, Twitter, Pinterest, and Flipboard