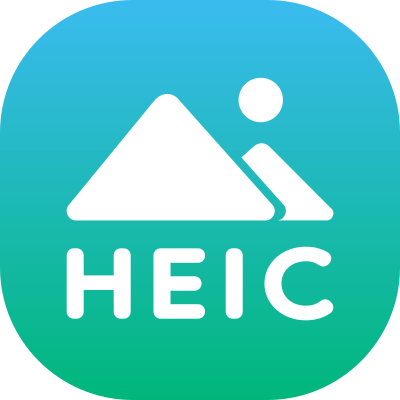 HEIC Converter
Reasons Why You Should Use HEIC Converter for Converting Files on Windows 11/10
You've taken amazing pictures from your recent trip with friends, and now you need to make a photo collage on your Windows PC. But, what do you find – You can't open the images as they are in HEIC format. With a tool like HEIC Converter, you can not only convert HEIC to JPG but you can also configure their quality and manage EXIF metadata as well.
Why would I need HEIC Converter software? Well, there are various reasons, for starters HEIC images have an advantage over other image formats. They offer advanced compression techniques to preserve both image size and quality. They are considered more efficient for animations, as a result, they are more suitable for animated images and live photos. Moreover, they also offer a broader and richer color spectrum.
However, the main drawback of HEIC images is compatibility. Not all devices, software or operating systems support HEIC images. For example, you might not be able to play HEIC images natively on Windows or edit them in a photo editing tool like Adobe Photoshop. That's where you need a dedicated HEIC conversion tool. In this post, we are going to review the HEIC Converter from Tweaking Technologies which is considered one of the best utilities for converting HEIC photos to JPG or PNG format.
What Is HEIC Converter for Windows 11/10
HEIC Converter from Tweaking Technologies is a Windows utility that lets you transform HEIC images to JPG and PNG without compromising on quality. It is easy to use and comes loaded with several features that make the process of converting HEIC to JPG or PNG a hassle-free one.
How does Tweaking Technologies' HEIC Converter help?
Lets you convert HEIC to JPG or PNG without compromising on quality.
You can edit and view the converted images on a variety of devices, operating systems, and software.
Upload converted images to cloud services and websites like Google Drive that otherwise may not support HEIC images.
Enjoy enhanced conversion speed without any hiccups.
You can easily add photos that you want to convert and even remove those that you decide not to convert.
How To Use HEIC Converter
Let's get you started with this easy-to-use HEIC Converter –
Step 1 – Head to the location where you have placed HEIC images for conversion. Drag and drop images into the interface.
Step 2 – On the next screen, you can either choose all the HEIC images and convert them to JPG/ PNG or you can select only the ones that you want to convert.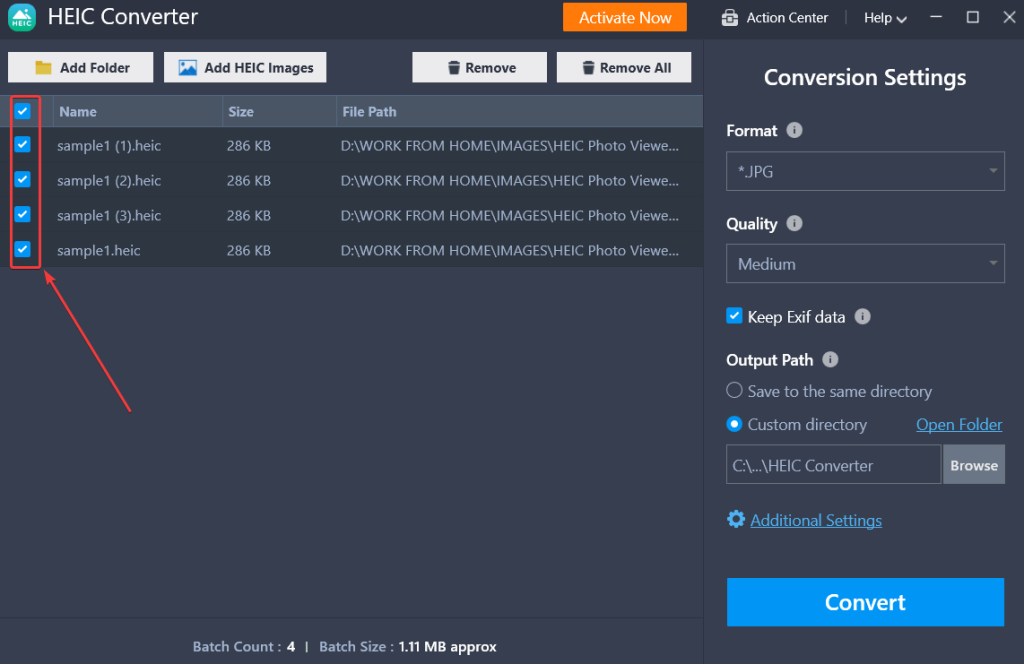 Additionally, you can organize your dashboard, by selecting unwanted images and clicking on the Remove buttonto delete those images from the existing batch.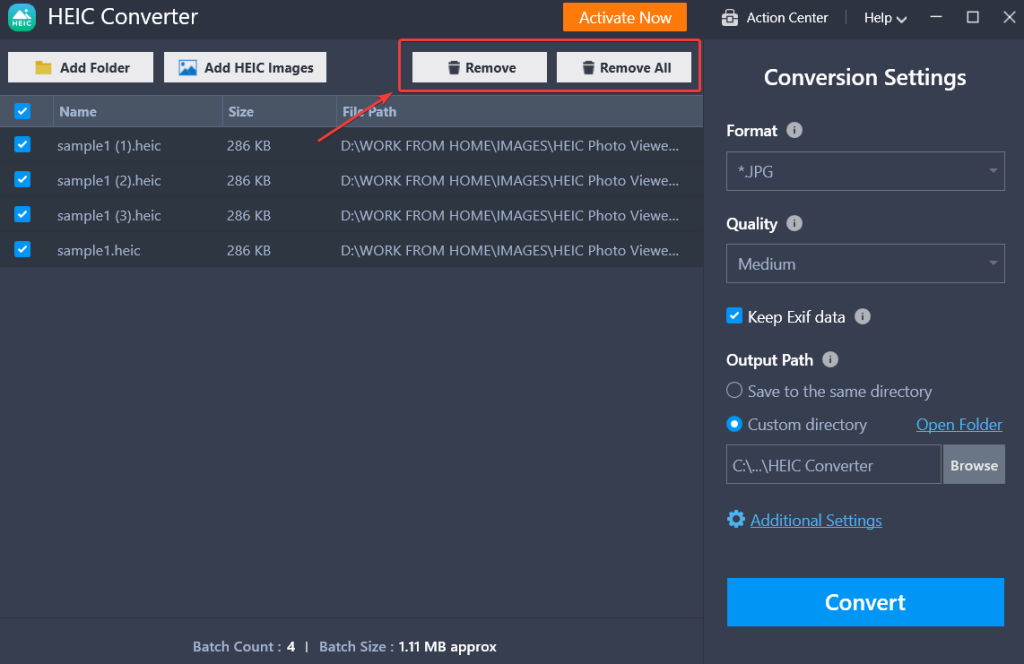 Step 3 – From the right panel, choose the format, quality, output path, and also whether you want to keep the EXIF metadata or not.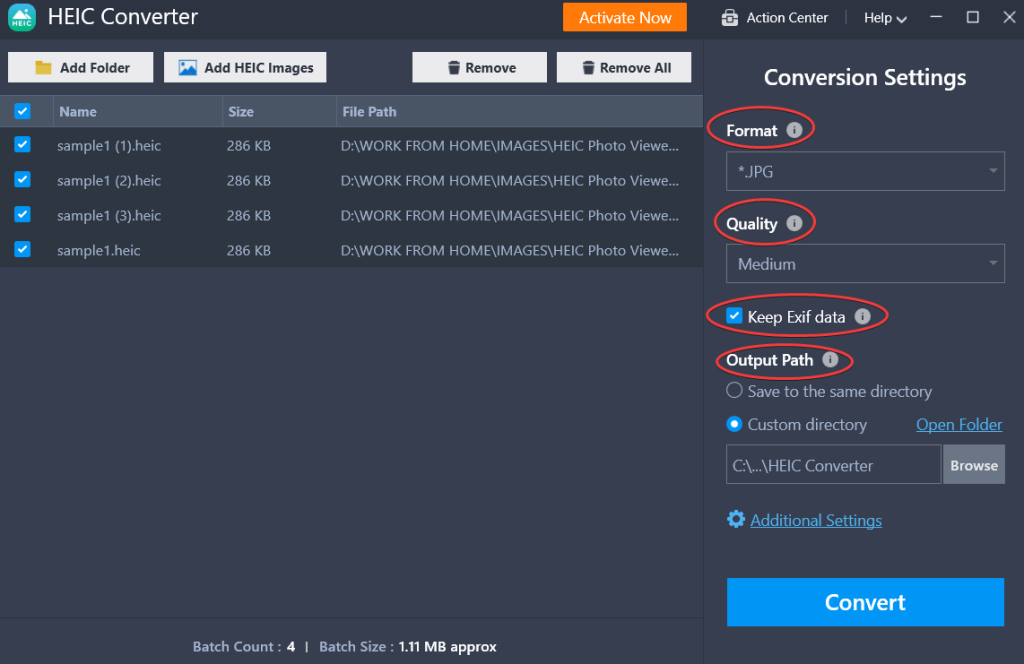 Step 4 – Once you are satisfied with all the settings, click on the Convert button.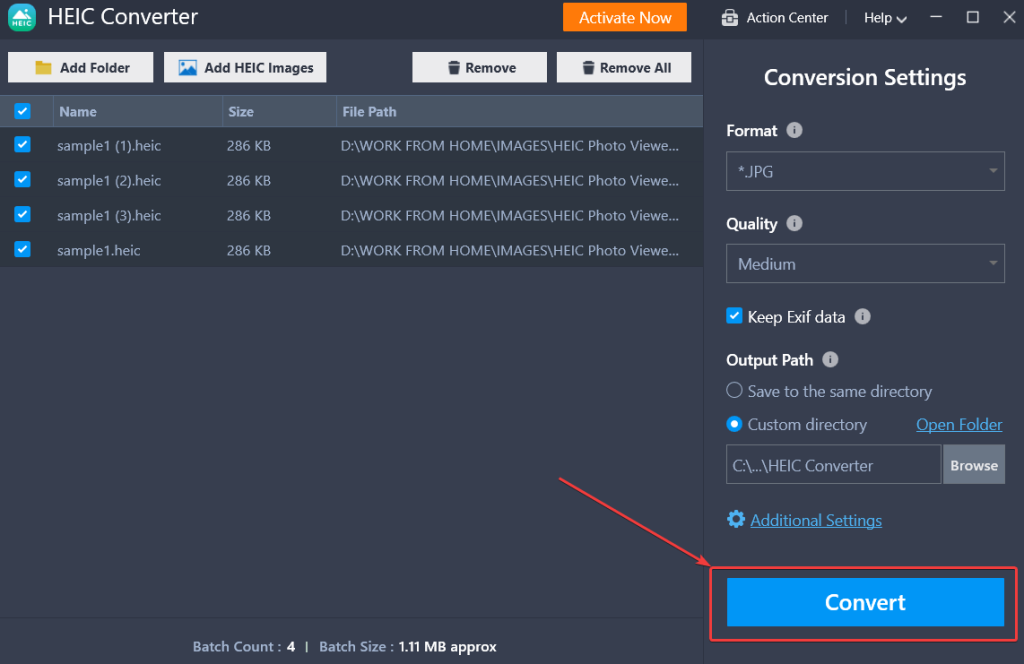 HEIC Converter has a simple, straightforward, and easy-to-understand interface. Once you have downloaded the HEIC Converter, below is the screen that you will see to initiate the conversion process.
Here you can either drag and drop images or entire folders by clicking the  Add Folder or Add HEIC Images to add files.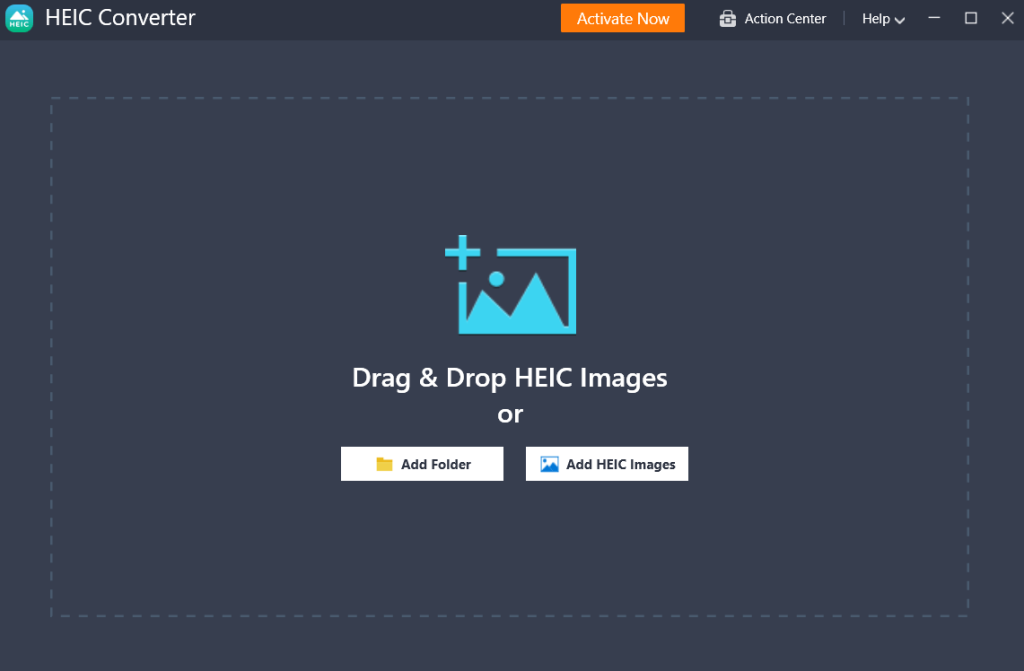 Once you have added files, on the next screenyou will find the options to convert HEIC photos to JPG or PNG.  At this point, if needed, you canadd more images. The screen interface simplifies managing HEIC image conversions.
You can click on the checkboxes to select photos that you wish to convert to JPG or PNG. There are dedciated buttons like  Remove and Remove All to  delete individual photos or clear the complete list at once.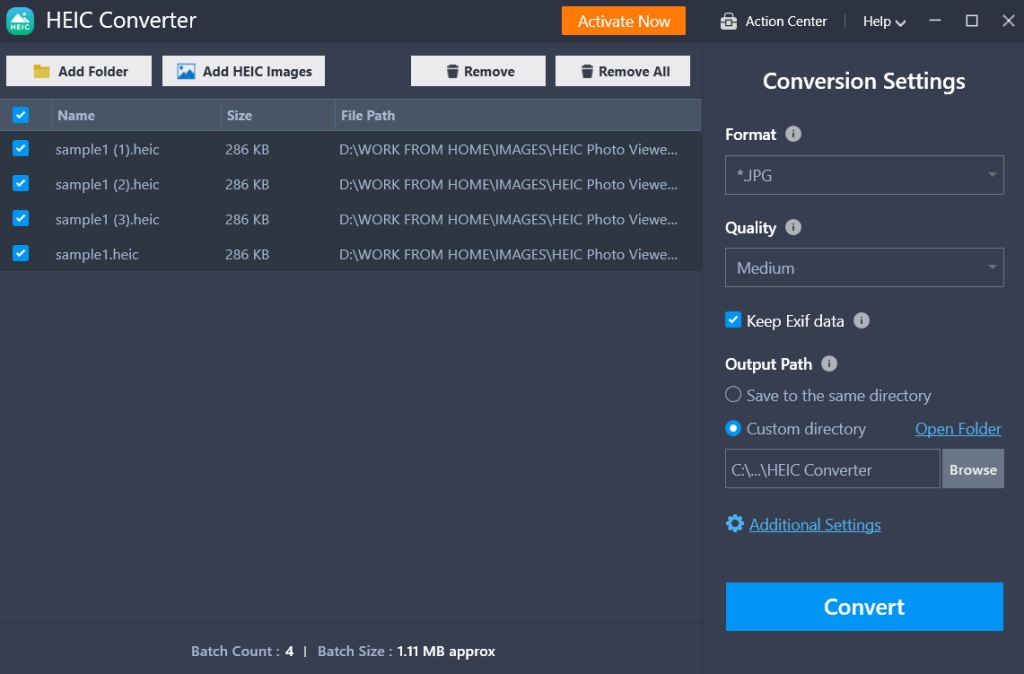 From the right-hand side panel, you can choose the format in which you want to convert your HEIC photos, select the quality that you intend to have after conversion, choose an output path, and select whether or not yu want to keep the EXIF metadata.
Via Additional Settings, you can also increase/ decrease the speed of conversion.
1. Convert HEIC Images to JPG or PNG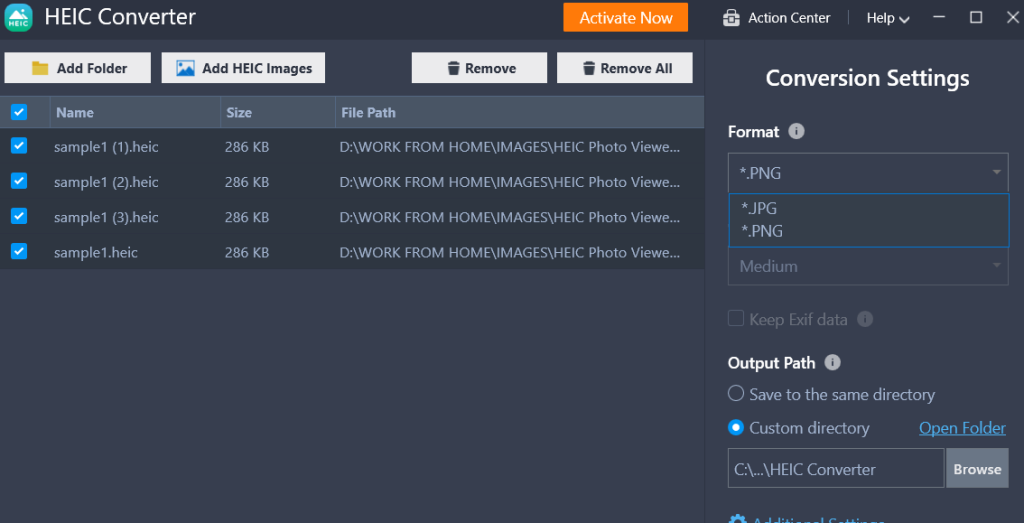 The HEIC Converter from Tweaking Technologies lets you convert your HEIC Images to either JPG or PNG file formats.
2. Batch Convert HEIC Images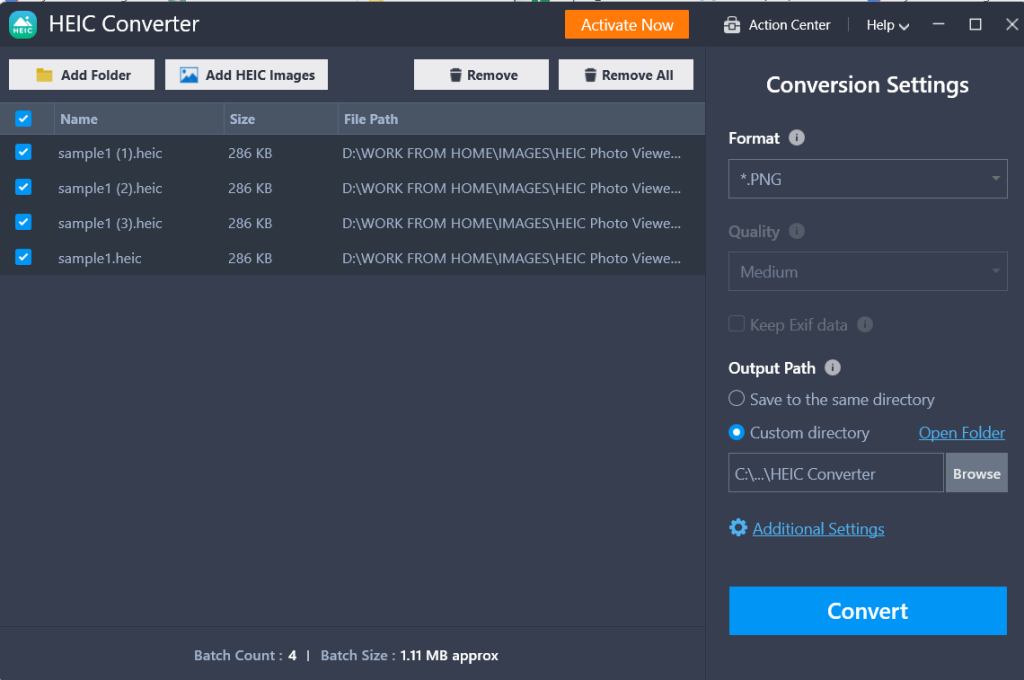 HEIC Converter lets you convert as many photos as you want to JPG or PNG in one go. Through the interface, you can select the images that you want to convert.
3. Choose The Quality of Converted Images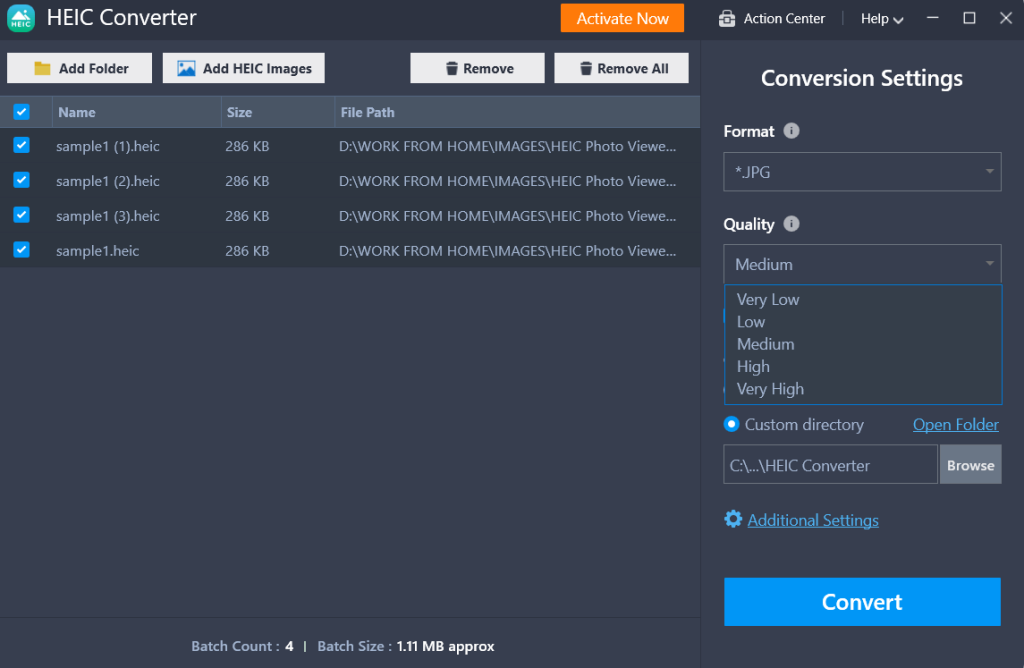 When converting an HEIC image to JPG you can also manage output image quality. For that, the HEIC conversion utility offers five options namely – Very Low, Low, Medium, High, and Very High.
4. Keep Exif Data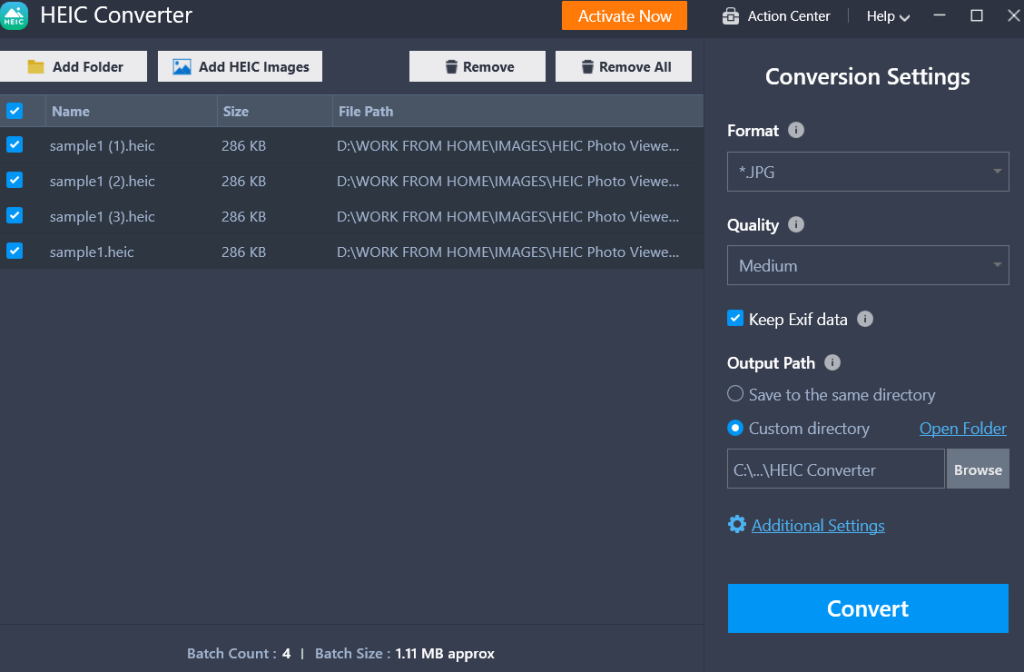 HEIC Converter from Tweaking Technologies is not just a conversion tool. It also lets you keep or remove EXIF metadata. This way you can remove important details such as date, model, exposure settings, location, or even when the photo was taken, thereby preserving your security.
5. Freedom To Choose Output Path
Here you can choose the locations where you want to  save the converted images. You can either save the converted images to the same directory or you can select a different location.
6. Additional Settings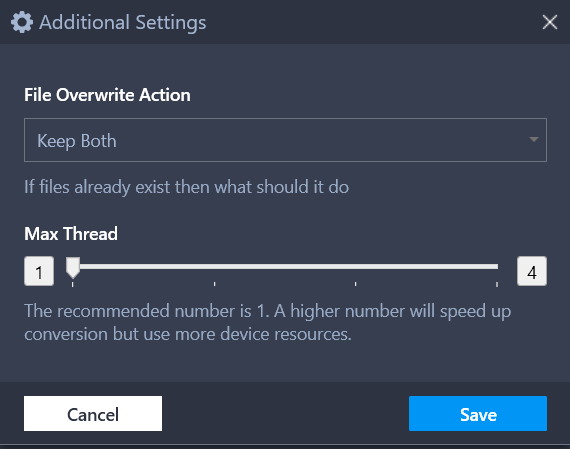 HEIC Converter also offers two additional settings. The first lets you decide what to do with the files if they already exist. You can choose to Keep Both the files, Replace them or Skip the process altogether.
The second setting lets you increase the conversion speed by using a little more system resources. We have discussed this in the speed section.
New updates are regularly released for the HEIC Converter. Through these updates, developers ensure that users enjoy new features and free from all the potential bugs. Moreover, you can also manually check for updates by following the steps mentioned below –
Step 1 – Open the Microsoft Store on your computer.
Step 2 – From the left hand-pane, click on Library.
Step 3 – From the list of apps, locate the HEIC Converter and check if an update is available. If an update is available click on the Update button.
The free version of HEIC Converter lets you convert up to 15 images for free. Once that limit is reached you will have to sign up for a premium variant. The premium version is priced at $8.99.
The speed of the conversion from HEIC to JPG or PNG depends on the output quality you have chosen. For example, if you have selected Very High as the output quality, the conversion would take more time than if you had selected High or lower quality output.
The speed of conversion also depends on the Max Thread option. If you have selected a higher number, the speed of conversion will be higher but that will consume more system resources. To increase Max Thread  for speedier conversion –
Step 1 – From the right-hand side, click on Additional Settings.
Step 2 – Under Max Thread, select a number. The higher the number, the more device resources will be used.
Step 3 – Once you have selected a number, click on the Save button.
If at any point, you are stuck with a feature or have queries related to the license, you can reach out to the customer support team at support@tweaking.in.
Wrapping Up – Access HEIC Photos Anywhere
By converting HEIC photos to JPG or PNG format, you open a world of possibilities – You can access HEIC images on any device, edit them on a platform on a whim, and do a lot more. And, as we established in this HEIC Converter review by using a conversion tool like HEIC Converter, you can also keep the quality intact and even enhance the conversion speed. We'd suggest that if you are someone who, for example, often clicks photos with an iOS device and intends to edit them on a Windows PC, then a tool like HEIC Converter is a must.
Frequently Asked Questions
Q1. How to convert HEIC to JPG on Windows?
To convert HEIC to JPG on your Windows PC, you can use a tool like HEIC Converter from Tweaking Technologies. It doesn't just help you convert HEIC photos to JPG or PNG but also features like retaining quality and increasing conversion speed.
Q2. What is the best free HEIC to JPG converter?
There are many decent HEIC to JPG converters like HEIC Converter from tweaking Technologies. Some other names include CopyTrans HEIC, iMazing Converter, Wondershare UniConverter, and many others as mentioned in this post.
Q3. Are HEIC converters safe?
Yes, most of the renowned HEIC Converters are safe. However, to steer clear of any danger is important that you download the software from a trusted source such as the software's own website or Microsoft Store.
Q4. Is it worth converting HEIC to JPG?
It is worth converting an HEIC photo to JPG or even PNG as it makes the image compatible across various photo editing platforms and operating systems. By converting HEIC to JPG, the photos can be uploaded to most of the cloud platforms.
Q5. What does a HEIC file do?
A HEIC file is an image format that offers high-quality compression, preserving image details while reducing file size, commonly used on Apple devices.