SwifDoo PDF Editor
What Makes SwifDoo PDF a Must-Have PDF Editor for Windows 11?
When juggling between various PDF tasks like iewing, editing, annotating, compressing, merging and splitting PDFs, and more, you needn't have separate tools for each of the chores. What you need is a PDF editing tool like SwifDoo PDF. But, is it worth installing on your Windows 11 PC? Let's find out in this review.
Gone are the days when PDFs were only helpful when it comes to reading documents. With the advent of PDF editing software, you can now perform an ocean of tasks and increase your productivity when working with multiple PDF documents. Take SwifDoo PDF for instance, from offering a variety of reading modes, letting you create and edit PDF documents, annotating them to protecting PDFs, SwifDoo PDF comes packed with several great features.
Technical Specifications
Windows compatibility:  Windows 11/10/8.1/8/7 and XP (32 and 64 bit)
Hard drive space required: 150 MB and above
RAM: 1 GB recommended
Processor: 1 GHz or above
SwifDoo PDF Editor has a streamlined interface, to begin with. On the top, you have various options to edit your PDF documents. Just below the various editing options, you can see a + sign.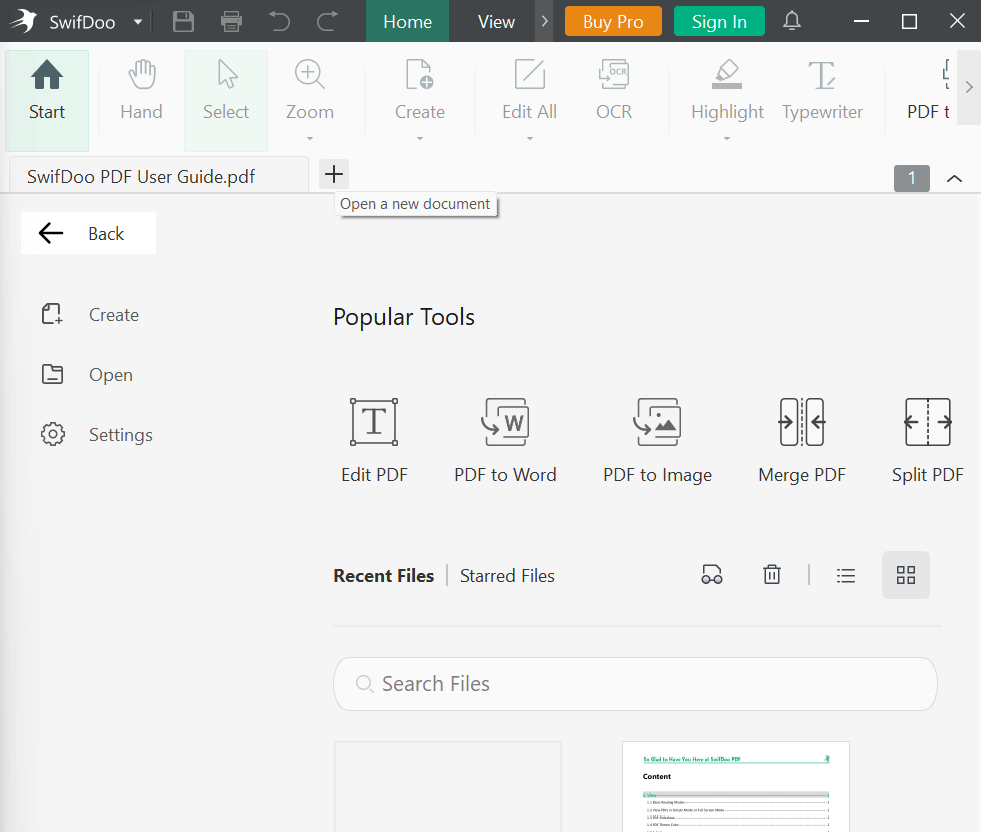 From here, you can add multiple PDFs in the form of tabs and then easily toggle between them. Here we'd like to mention that when working with a PDF if you need to go to the home screen, there is a home button located at the farthest left.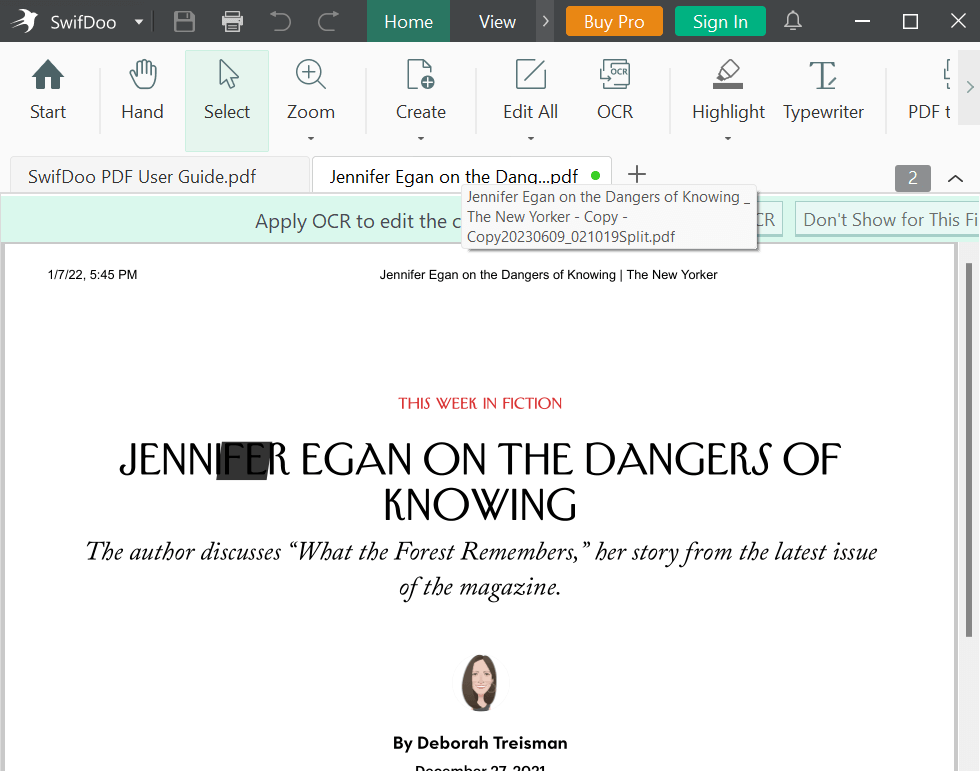 The home screen interface also enlists popular tools for editing, conversion, and other batch-processing tasks. Since SwifDoo PDF is a highly customizable PDf editing tool, you can access its various settings by clicking on the Settings button from the left-hand pane.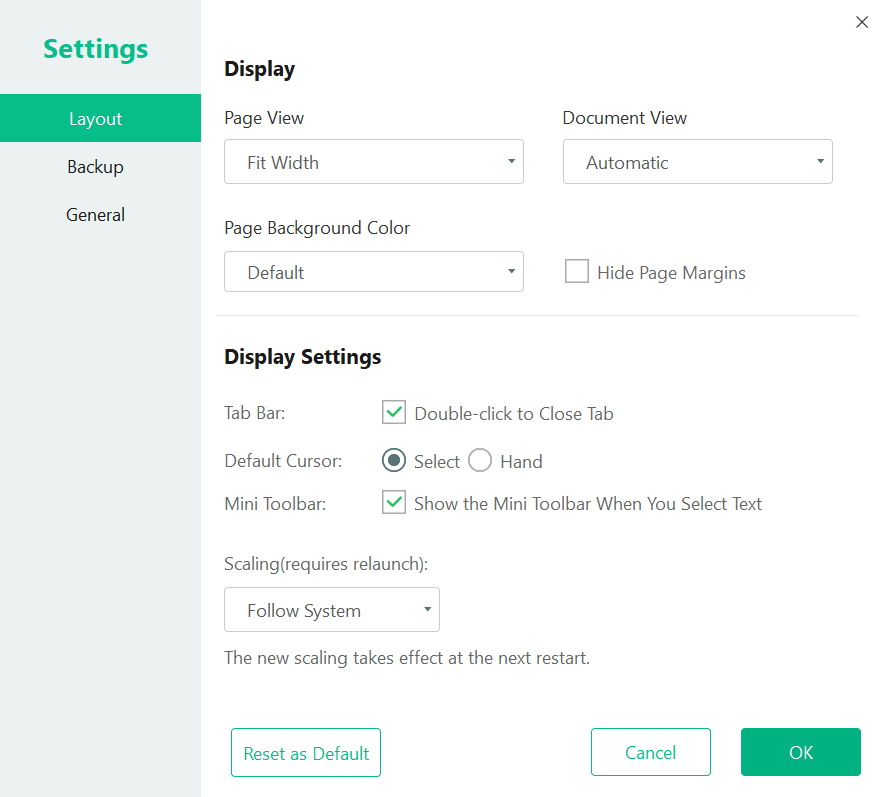 For faster access to PDF files, SwifDoo PDF offers decent searchability and even lets you star your favorite PDf documents. Additionally, you can even use the Incognito mode so that the PDF files you view won't be seen in the Recent Files section.
Once you open a PDF document, you can see various options on the left-hand side. From a personal experience, the options can help you navigate the PDFs or their sections. These can help you –
Create bookmarks
View the pages of PDFs in the form of thumbnails
View any annotations or jump to sections where you have annotated.
Convert PDF to various file formats.
Search specific sections.
– Edit PDF
SwifDoo PDF Editor offers a multitude of options with which you can edit your PDF documents. You can highlight important parts, insert images and texts and even conceal those parts that you want to hide and don't want the viewer to see. You can even annotate your PDF file and make it more comprehensive. To do that, you can add lines, arrows, strikethrough text and do loads of other things.
– Inbuilt Translator
SwifDoo PDF has an inbuilt translator with which you can translate any text into a variety of languages. For this, you can select "Quick Translation" in the "View" tab. Not just translate but SwifDoo PDF also comes with a text-to-speech engine that converts the text to speech and reads it out aloud in your chosen language such as English, Arabic, German, French, Spanish and Russian.
– Compress PDF Files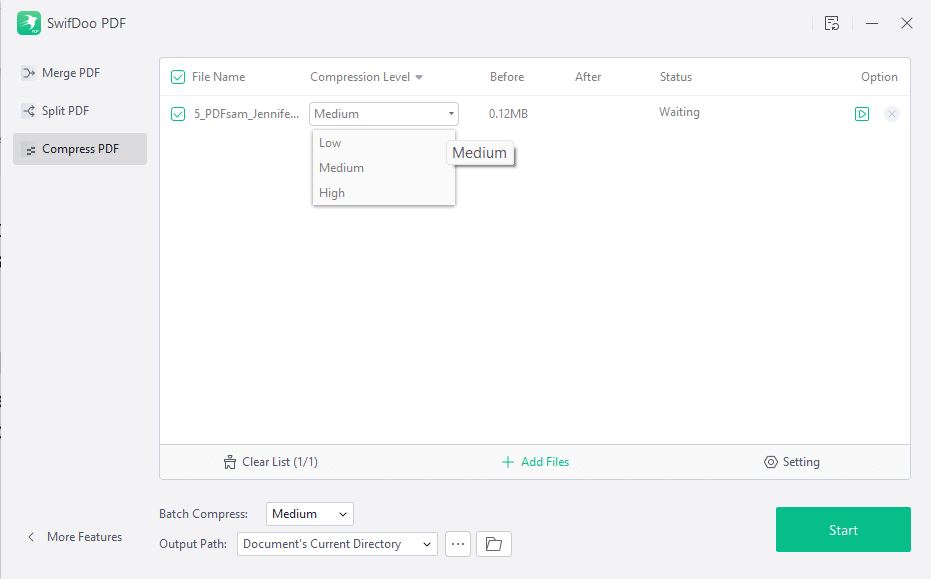 There are times when you might have to reduce the file size of your PDF document when sharing them. A large PDF document also takes a toll on the bandwidth when you are uploading or downloading PDF files henceforth slowing down the process. With the help of SwifDoo PDF you can easily reduce the size of your PDF documents before sharing them.
What we liked here is the fact that it lets you have complete control over the compression level. Hence,lets you keep a track of file size before and after compression and offers various other settings.
– Convert PDF To A Variety of File Formats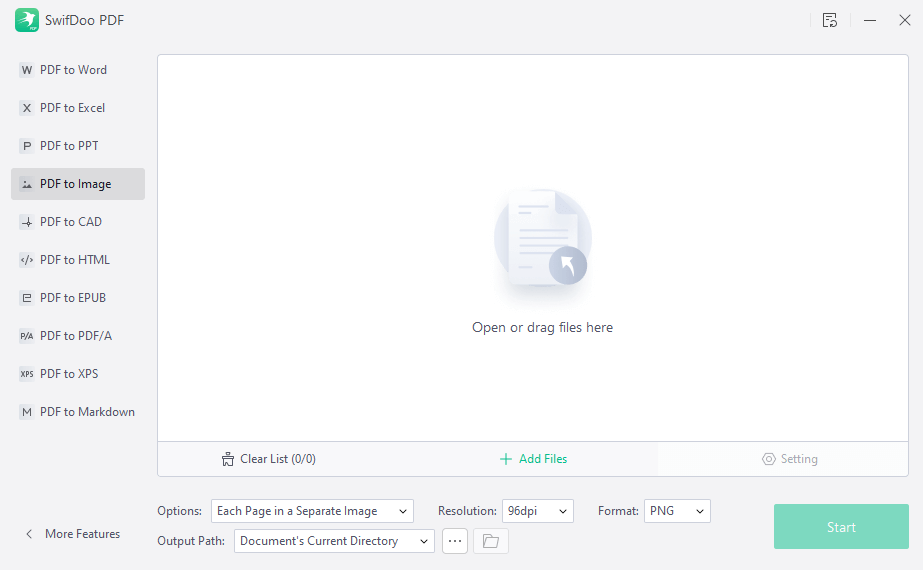 If the need arises to convert PDF documents to any other file format, you will not have to go anywhere else, thanks to the conversion feature SwifDoo PDF provides. Whether it is converting PDF to Word or any other file format ranging from Excel, PPT, CAD, HTML, XPS or any other, SwifDoo is capable of converting PDF to any file format and without compromising the quality. You can also see from the screenshot above that you can manage various documents for conversion, choose resolution, sub-format, and perform several other things from a single dashboard.
– Watch PDF Documents Discreetly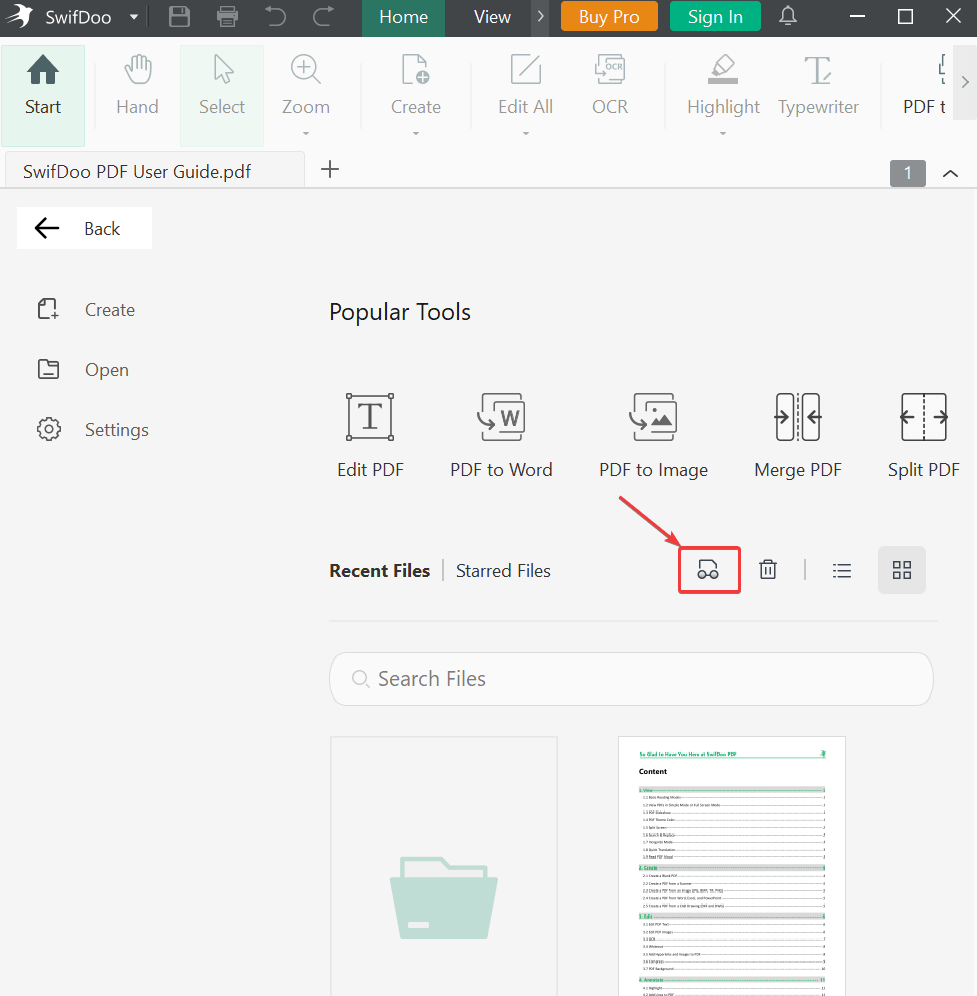 The PDF editing tool also offers an "Incognito" Mode. What this does is that you can use this feature and view PDF files privately in a way that your viewing history won't be saved by
– Split and Merge PDF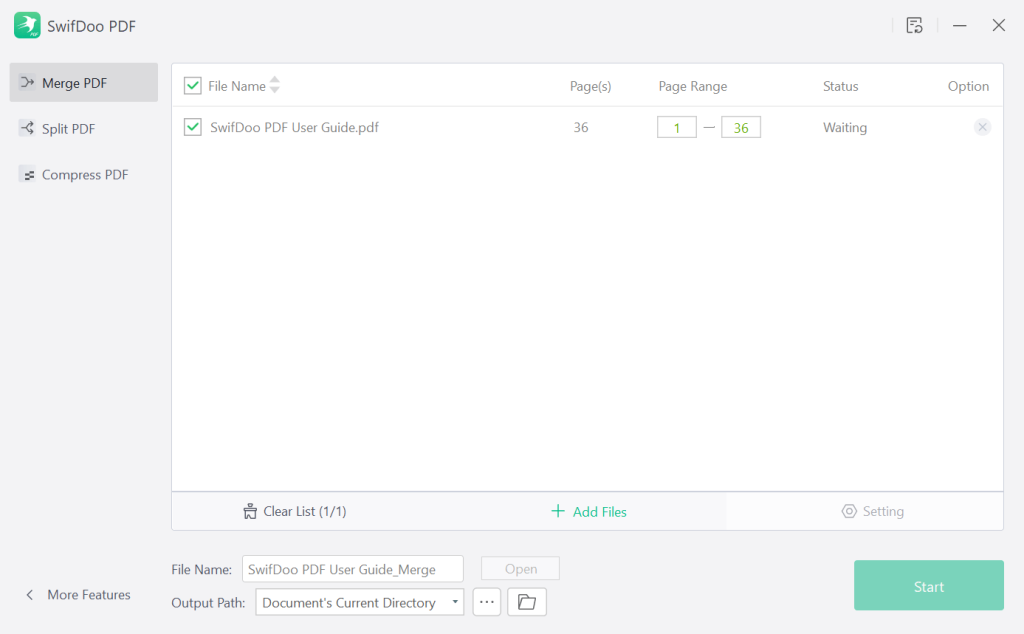 You might want to split or separate pages in your PDF documents for a variety of reasons. It could be that you wish to save individual chapters or remove unnecessary pages. SwifDoo PDF lets you split PDF documents according to your needs and preferences. Here you can assign a page range, and choose how you want to split and in how many files you want to split your PDF document.
– Whiteout Area

SwifDoo PDF lets you shade an area in a PDF and you can then use the Whiteout feature to hide it. Once you have saved the changes, the next person accessing the PDf won't be able to see this area. Although it is quite like the search and redact feature of Systweak PDF Editor, the latter adds on better searchability. This means you can search for the phrase, word or portion that you want to blackout. This makes it easier to locate the section you want to hide.
– OCR Capabilities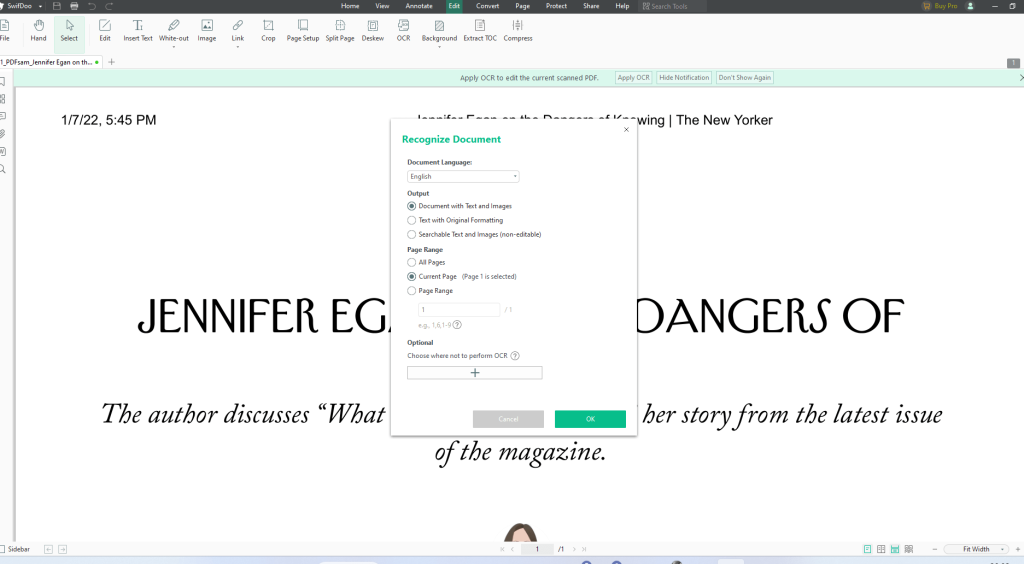 To recognize text in any given PDF, SwifDoo PDF Editor uses an OCR (Optical Character Recognition) engine with which it converts image PDFs to text PDFs. Once it does that the text in it becomes searchable and editable. Again there are various options where you can choose how you want to OCR the document.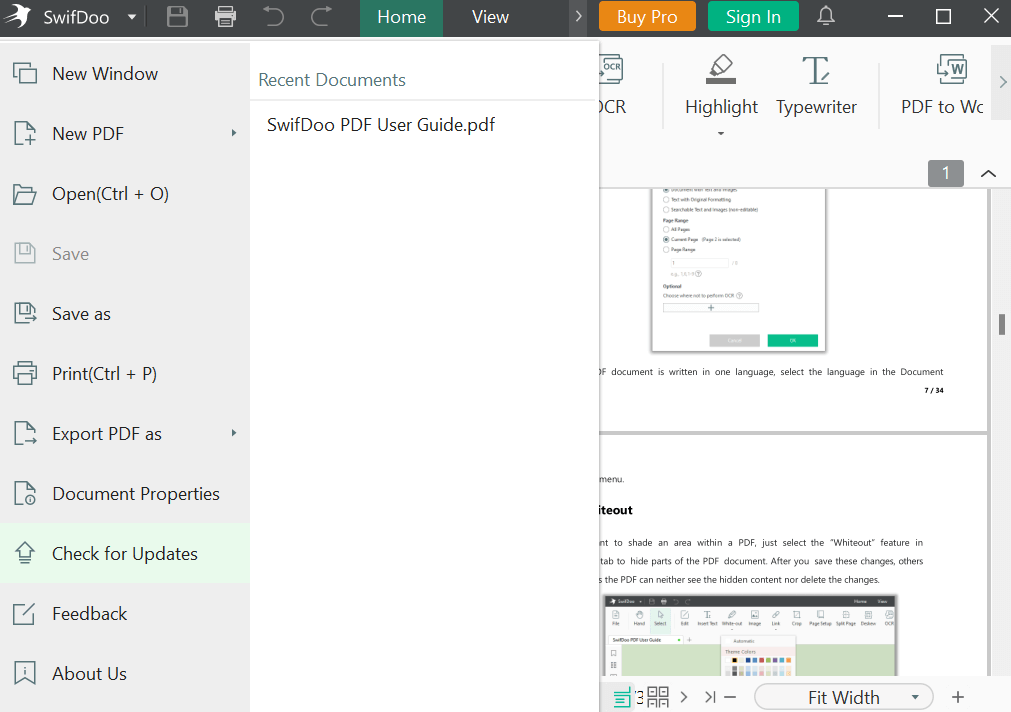 New updates are constantly rolled out in SwifDoo PDF to enhance your PDF experience.
By releasing these updates, developers offer new features and existing resolve bugs if any. Recently in the version 2.0.3.5, various new features were added, such as the "Text Box" and "Callout" features, the "PAID" stamp in different language versions, and a few others. In the same update, the "Eraser" feature was improved and the "PDF to TXT" and "Extract" features were optimized.
SwifDoo PDF is broadly available in 2 variants – free and paid. You can SwifDoo PDF free for 15 days after which you will have to sign up for one of the premium variants. Here's a broad distinction between the free and paid versions. As for the paid variants below is the screenshot that depicts the kind of features you can expect –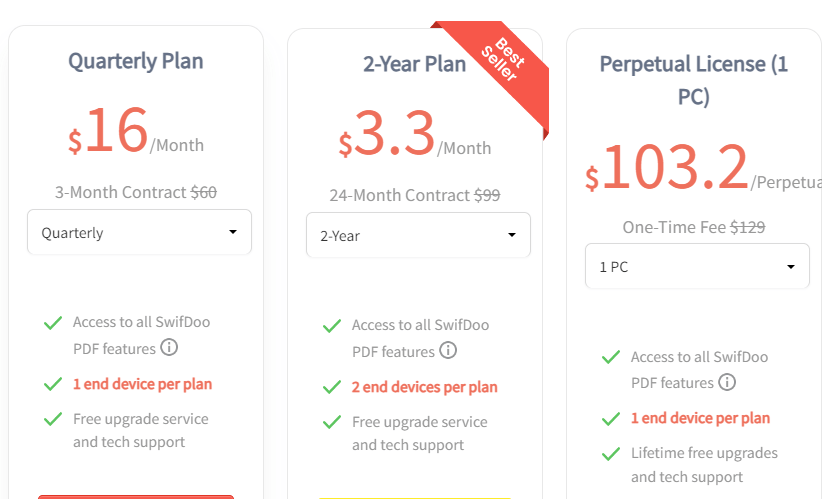 All in all SwifDoo PDF is a decent performer. However, there are multiple factors that may impact the speed of this PDF editing utility. The speed, for instance, may depend upon the size of the documents, the kind of editing tasks being performed, and your computer's overall specifications. As an example, the computer that we tested SwifDoo PDF on is a Windows 11 PC that has 8 GB worth of RAM and approximately 512 GB worth of hard drive space. It also has an SSD. Barring aside a few very minor glitches, SwifDoo PDF performed decently.
At any point if you are stuck with a functionality or if you seek assistance, you can get in touch with customer support. You can visit the SwifDoo Support Center and give feedback, inquire about purchase and activation-related aspects, or even get inputs from exhaustive how-to guides. You can also raise an issue or question using a predefined format as well.
Is SwifDoo PDF – A Swift PDF Editor for Windows 11/10
SwifDoo PDF is a decent PDF editor that does most of your PDF-related tasks with utmost ease. It makes your navigation around PDFs much smoother and offers various ways in which you can edit texts, add images or annotations to make it more comprehensive. It goes without saying that it is an apt tool for professional and home users alike who have to juggle with PDFs all day long. Do give it a try and share with us your experience in the comments section below. You can also reach out to us on Facebook,  Flipboard and Pinterest.
Frequently Asked Questions
Q1.What is SwifDoo PDF?
It is an all-in-one PDF software that lets you view, create, edit, annotate, and manage PDF documents with a few clicks. It even offers various options to protect your PDF files as well.
Q2. What are the key features of SwifDoo PDF?
We have discussed some of the notable features of SwifDoo PDF in the post above. Just to recapitulate, you can edit PDFs, perform annotations, use the text-to-speech function, compress PDFs, merge and split them and do a lot many things.
Q3. What are the benefits of using SwifDoo PDF?
It is an easy-to-use PDF editing utility that offers various tools under one roof. As far as PDF documents are concerned, you can edit, view, compress, split and merge, and do lot many things. You can convert your PDFs to various file formats. SwifDoo PDF also comes with an inbuilt translator.
Q4. Who is SwifDoo PDF for?
SwifDoo PDF is suitable for a wide range of users such as students, business professionals, and home users.
Q5. Is SwifDoo PDF Free?
You can SwifDoo PDF free for 15 days after which you will have to sign up for one of the premium variants as we have discussed in this post.