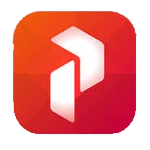 Systweak PDF Editor
Is Systweak PDF Editor the Best PDF Editor for Windows 11/10? Our Review Reveals All!
Have a PDF document that you want to  highlight, add texts, images, and other elements to? Do you wish to sign PDF documents but want to save yourself the plight of printing them out and signing them physically? Want to encrypt your PDF with a password? Well, you need an extensive PDF editing tool that does it all. But do we have such comprehensive solutions in the market that can cater all these users' needs? Well, you should check out Systweak PDF Editor. Here we are going to review the program which is considered  as one of the best PDF editing tools for Windows users.
A PDF document these days is more than just gazing at blocks of text or images. By that, we mean that you can do loads of things when it comes to interacting with a PDF document. You can edit PDF documents, annotate sections, add notes, add password protection, and manipulate it completely as per your needs and preferences. The best part is, that you can do all of this with just one software. Here we are going to review Systweak PDF Editor – An all-in-one solution for all your PDF-related tasks.
What Is Systweak PDF Editor?
As the name suggests, it is a simple solution to open, view, read, edit, sign, protect, annotate, compress, combine, and perform several other PDF editing & management tasks. Since it is loaded with several wonderful features, it is regarded as one of the best PDF editors for Windows PC.
From the home screen itself, we can have a look at the tasks that the PDF editing tool is capable of. As far as the ease of use is concerned, it has an easy-to-understand interface.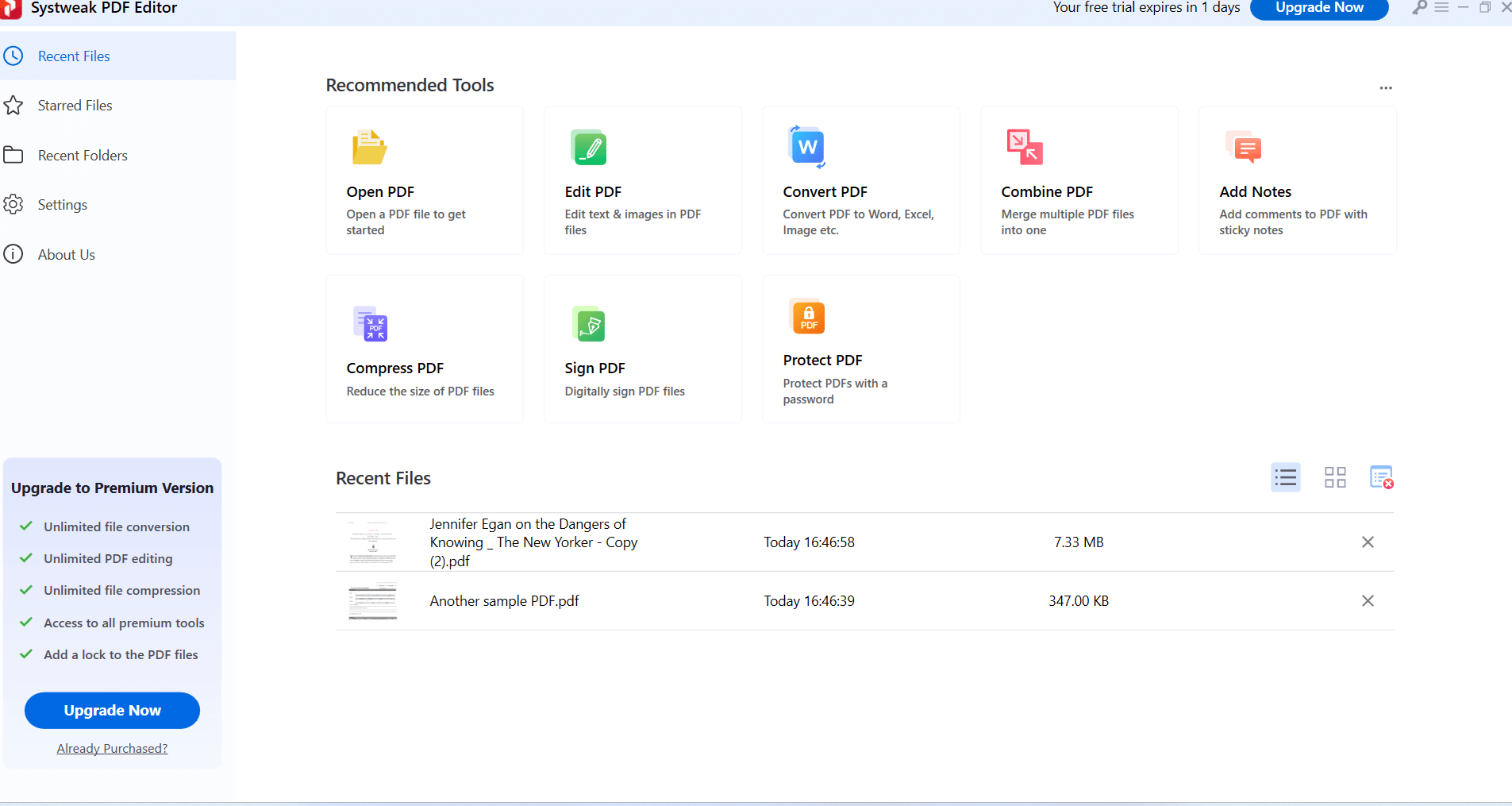 Technical Specifications
Windows compatibility – Windows 11/10/8.1/8/7 (32 & 64 Bit)
RAM –  1GB or more
Processor – 1GHz or above
Hard disk space needed – 150 GB or more
Easy to use and intuitive interface
Edit PDF – add notes, images, sign PDF, etc
Annotate PDF
Password protection
Compress and convert PDF
Split and merge
OCR functionality sometimes lags.
How To Use Systweak PDF Editor To Edit PDF Files?
1. Download, install, and run Systweak PDF Editor.
2. Click on Open PDF.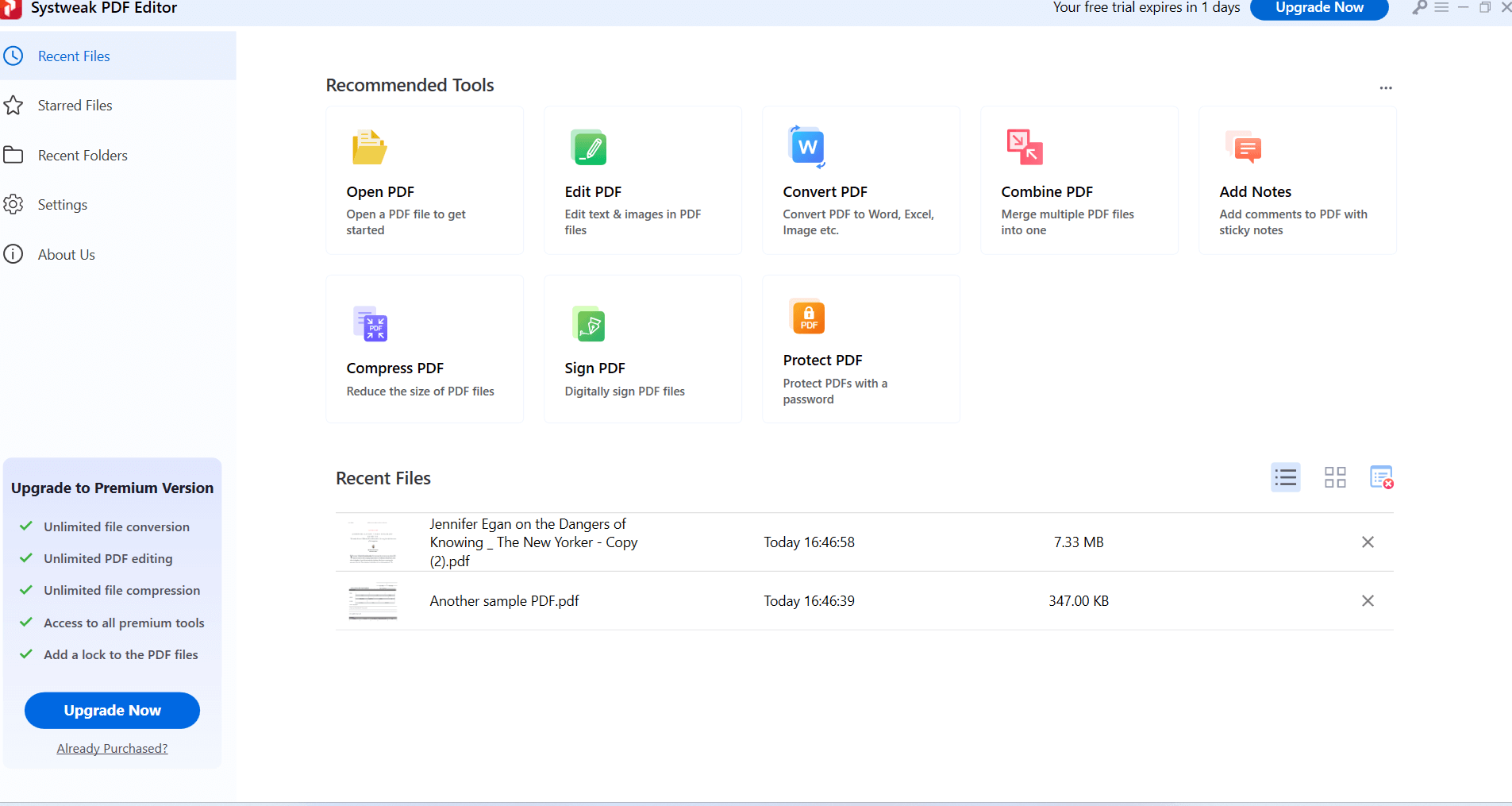 3. Alternatively, depending on the task you want to perform on your PDF document, you can choose from multiple PDF editing tools.
4. Once you have opened the PDF, you can choose from one of the options to edit PDF – Annotate, Edit PDF, Convert, Compress, Combine PDF, etc.
5. Once you have edited the PDF as per your liking, click on Save.
Interface
90% – Excellent
Systweak PDF Editor has a clean and intuitive interface. You would automatically understand what  what each of the options is meant to do.
The home page features all the various PDF editing tools such as editing, combining PDF, password protection, merging, signing, and much more.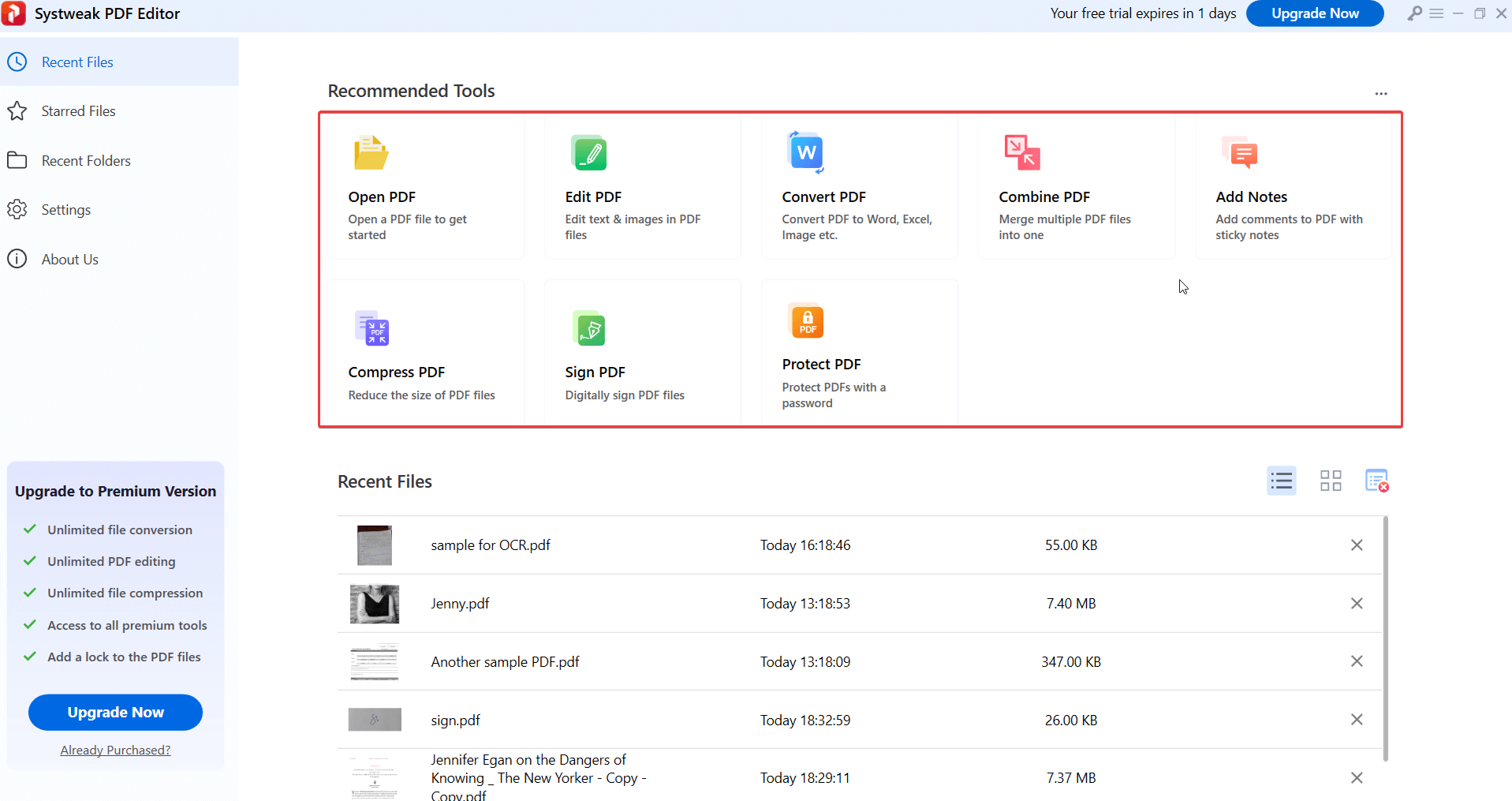 From the home page itself, you can access recently opened PDF files, or, folders containing these PDFs. You can even mark important files as well by clicking on the star.
The Recent Files section further offers three options – The List View with which you can see the PDFs in the form of a list and the Thumb View which shows your PDFs in the form of thumbnails. The third option is Clear All which clears all recent files.
When you click on a tool, you can navigate to a location on your computer from where you can select PDFs for further actions. All the PDFs are opened in tabs. This way you can juggle multiple PDFs at the same time.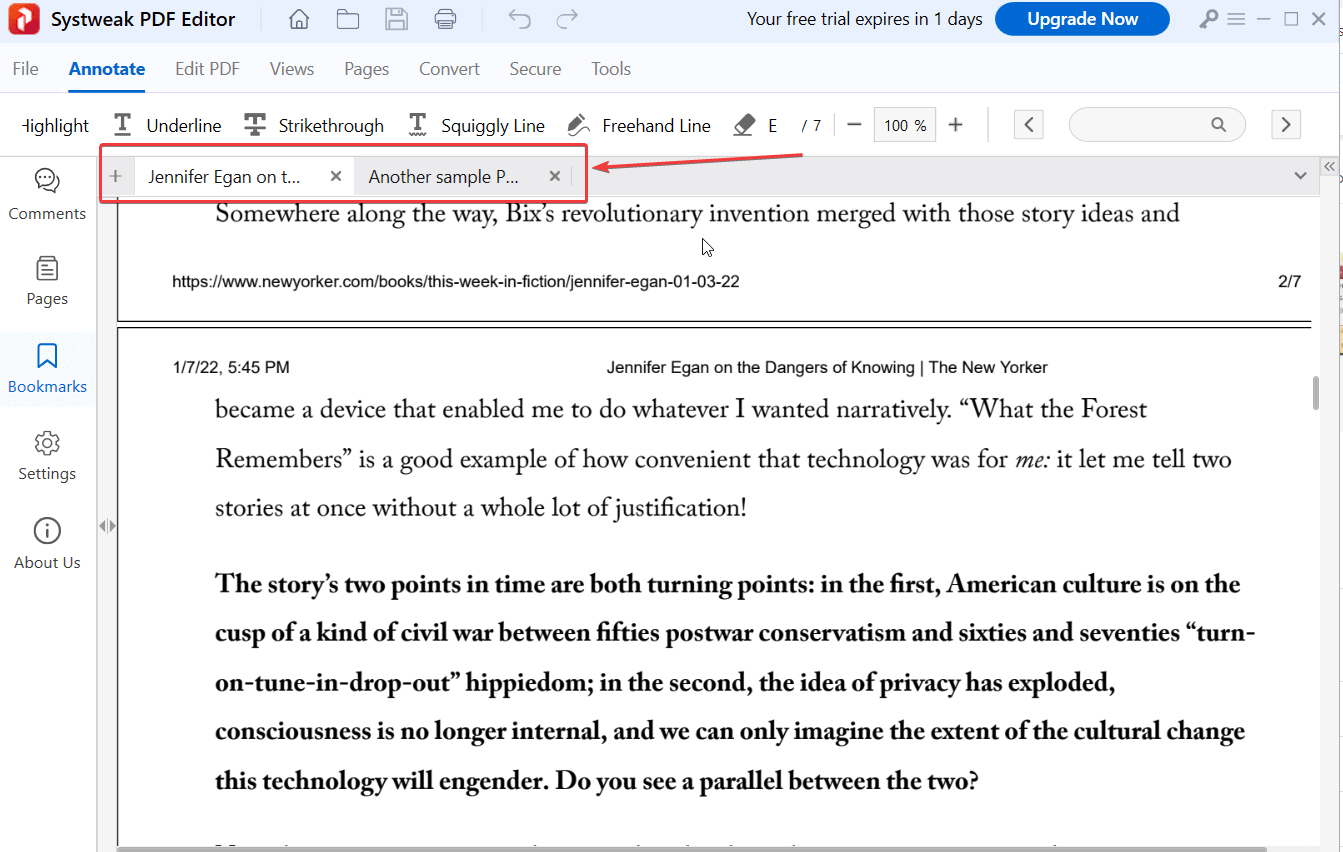 Once, you have opened a tool, on the very top, you have the option to go back to the home screen, open another file/ folder, print a PDF (with any changes you have made), and save the PDF.
You can easily multitask with the tool. For instance, every time you open the Edit PDF feature, you can also annotate, convert, secure, and more, as shown in the screenshot below.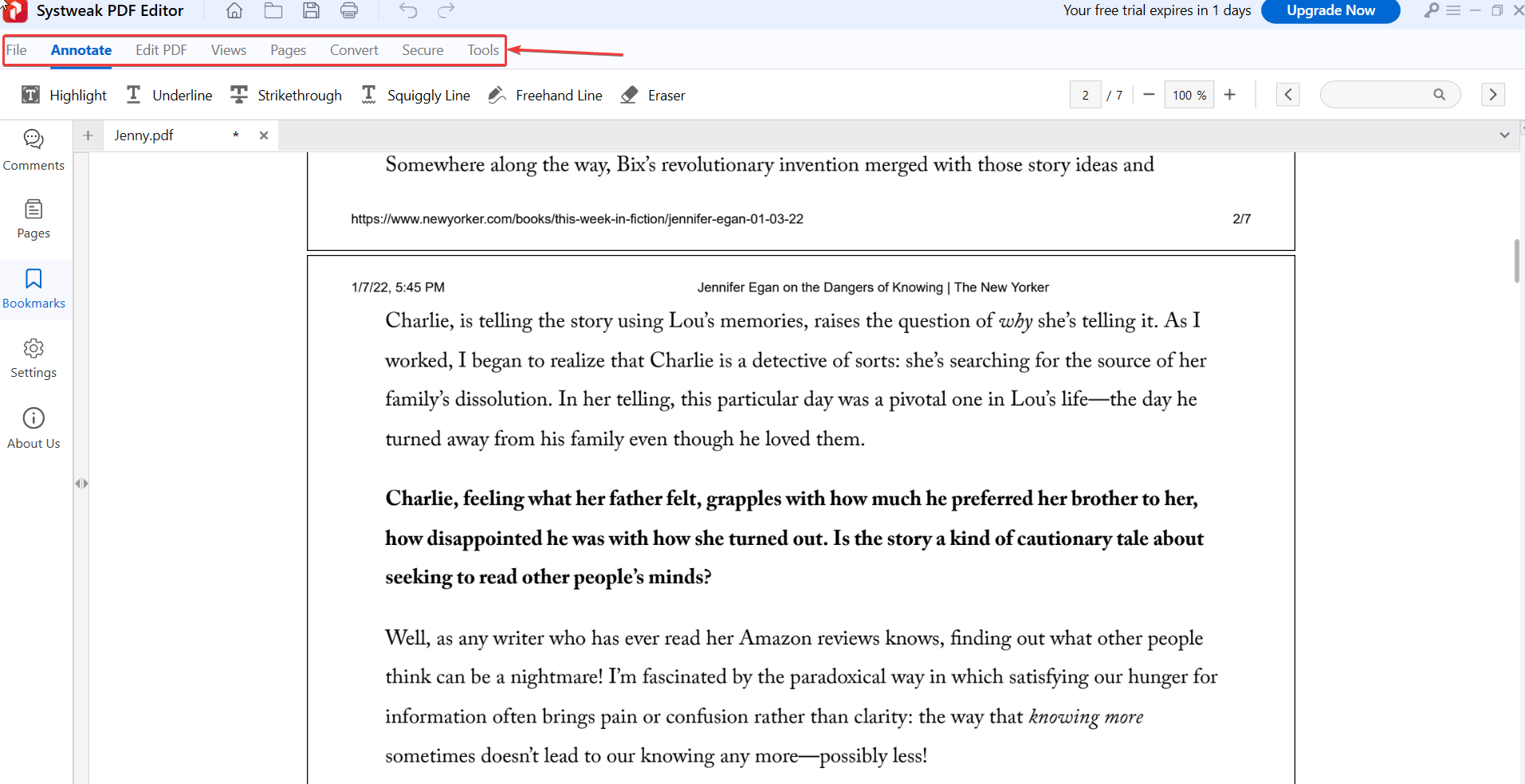 Edit PDF
When reviewing a PDF document – for instance, a legal contract, an answer sheet, or any other document, you might want to add elements that can signify changes and other things to the intended person. Systweak PDF Editor features several PDF editing tools with which you can –
Add Text
As the name suggests, you can add text to your PDF document. You can change the fill, font, and border color, increase or decrease text opacity and width, and even change the font.
Text Callout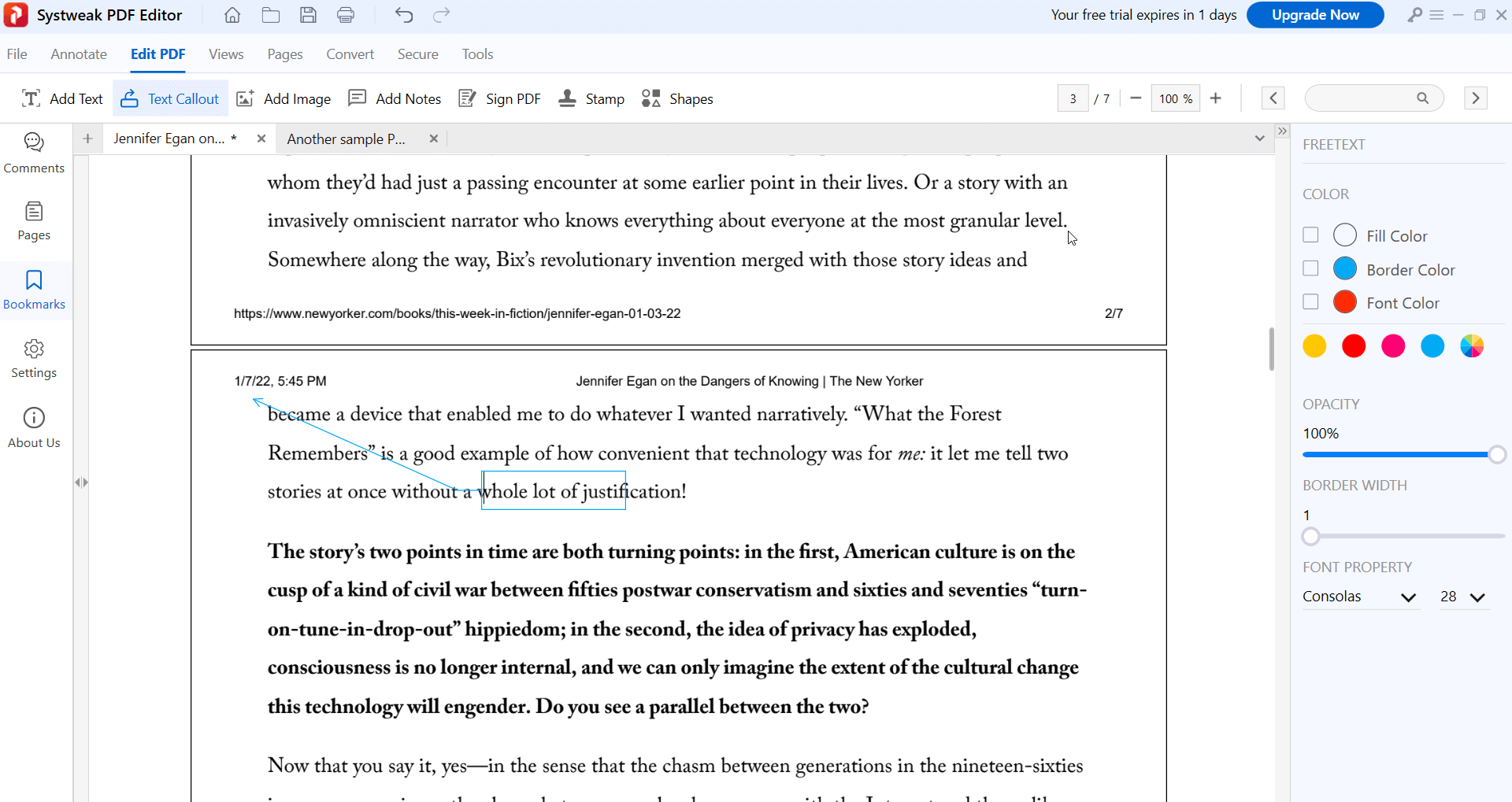 This feature lets you create a text note with an arrow pointing to a specific spot on your PDF page.
Add Image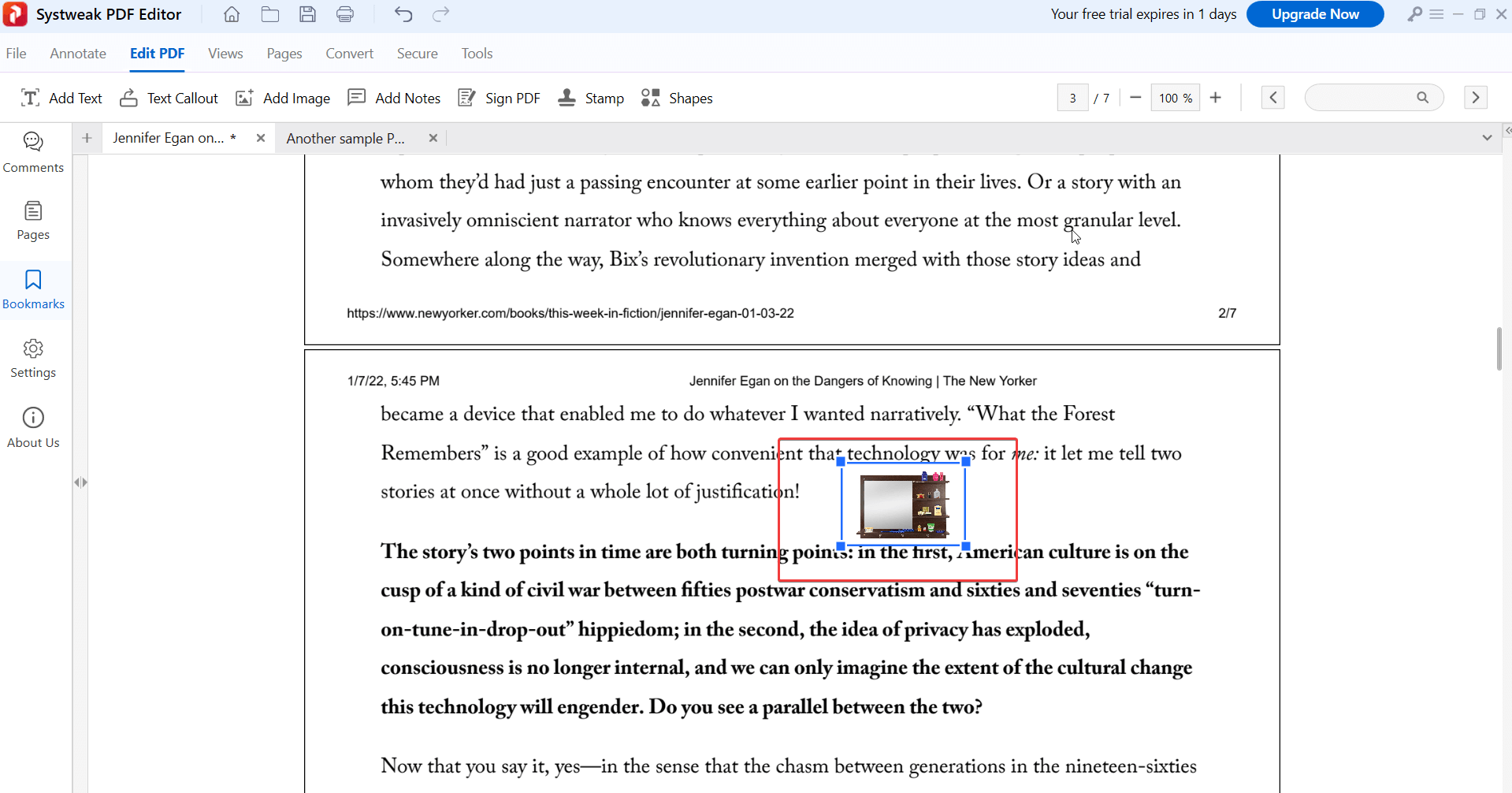 Wherever required, you can easily add images to your PDF and even resize them.
Add Notes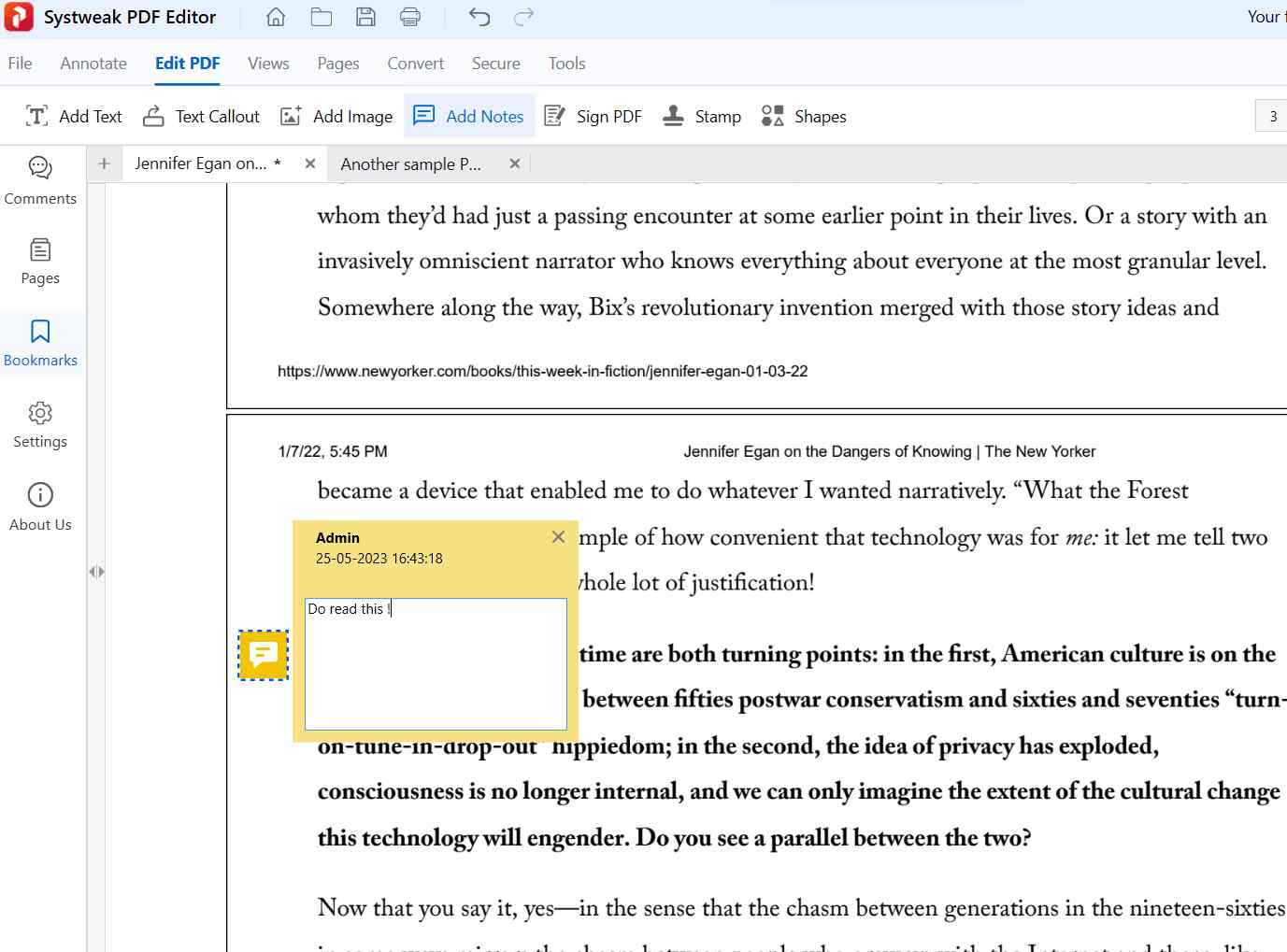 Systweak PDF Editor lets you add sticky notes. You can create as many sticky notes in your PDF document as you want. These notes are movable and show date and time-wise comments that someone working on your PDF can refer to and take help from. Again, you can change the color and opacity of each sticky note.
Sign PDF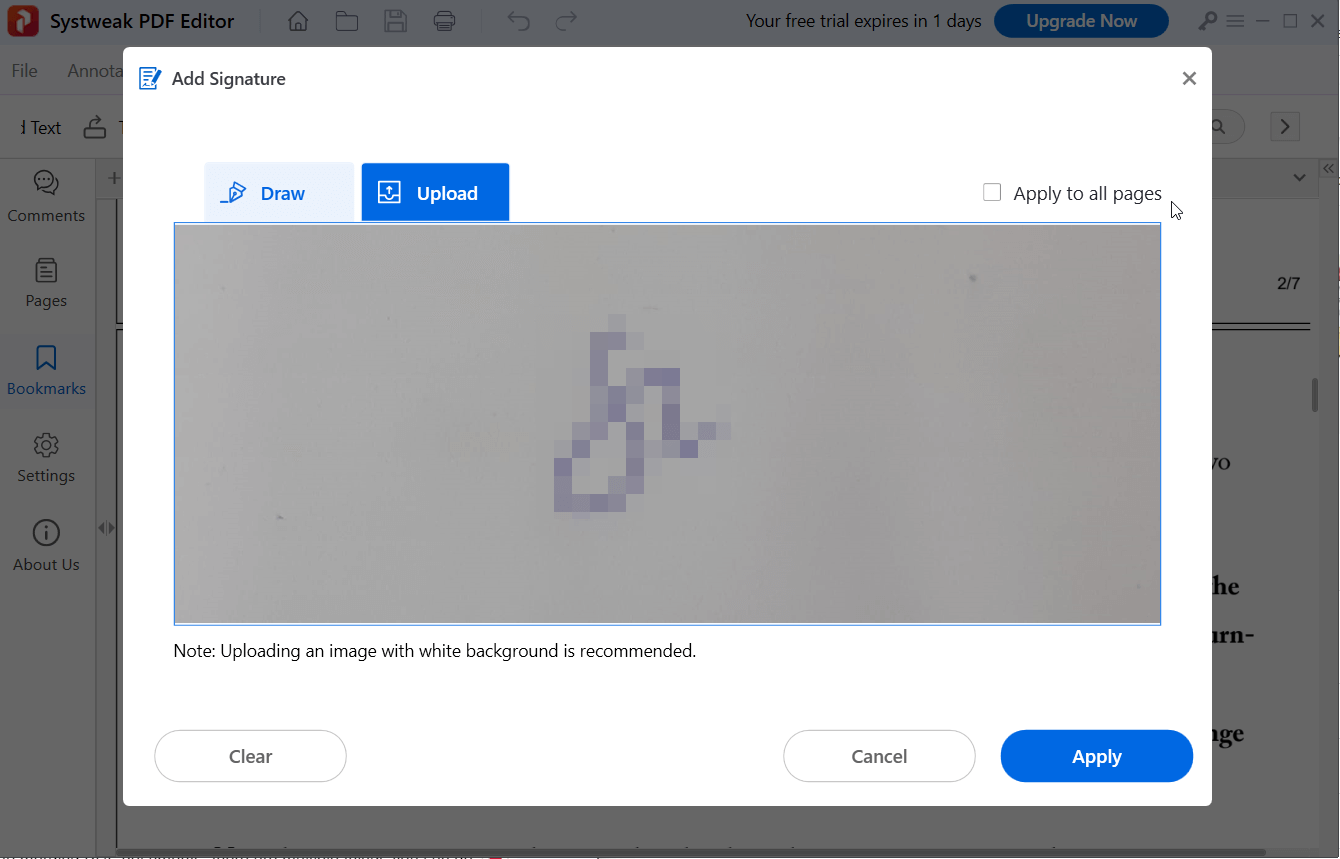 When dealing with  official contracts or documents you often feel the need  to place your authorized signatures on. Fortunately,Systweak PDF Editor lets you either upload your signature or you can sign in the given (you can always use a device like a pen tab to draw signatures).  When uploading signatures, it is always recommended that you upload an image with a white background.
There's More –
Apart from all the above PDF editing features, you can add shapes, stamp your PDF documents, and even password-protect PDFs. This password protection feature is a powerful one, so do check it out.
Merge PDFs
Using Systweak PDF Editor for Windows, you can easily merge multiple PDF files into one. Additionally, you have the flexibility to combine pages by selecting specific page numbers or selecting a range of pages.
Annotate PDF
Systweak PDF Editor offers several ways to annotate your PDF documents. You can underline text, and, add squiggly, and freehand lines. You can even highlight, and strikethrough text. At any point, if you wish to remove one of these elements, you can use the eraser.
OCR Functionality
When you import a scanned PDF into Systweak PDF Editor, it allows you to perform OCR or Optical Character Recognition. This means that it makes the text in the scanned PDF selectable and searchable.
Password Protect PDFs and Redact Text and Images
With Systweak PDF Editor, you can password-protect your PDF documents and if required you can even remove the password protection. To encrypt the PDF, you can assign a strong password.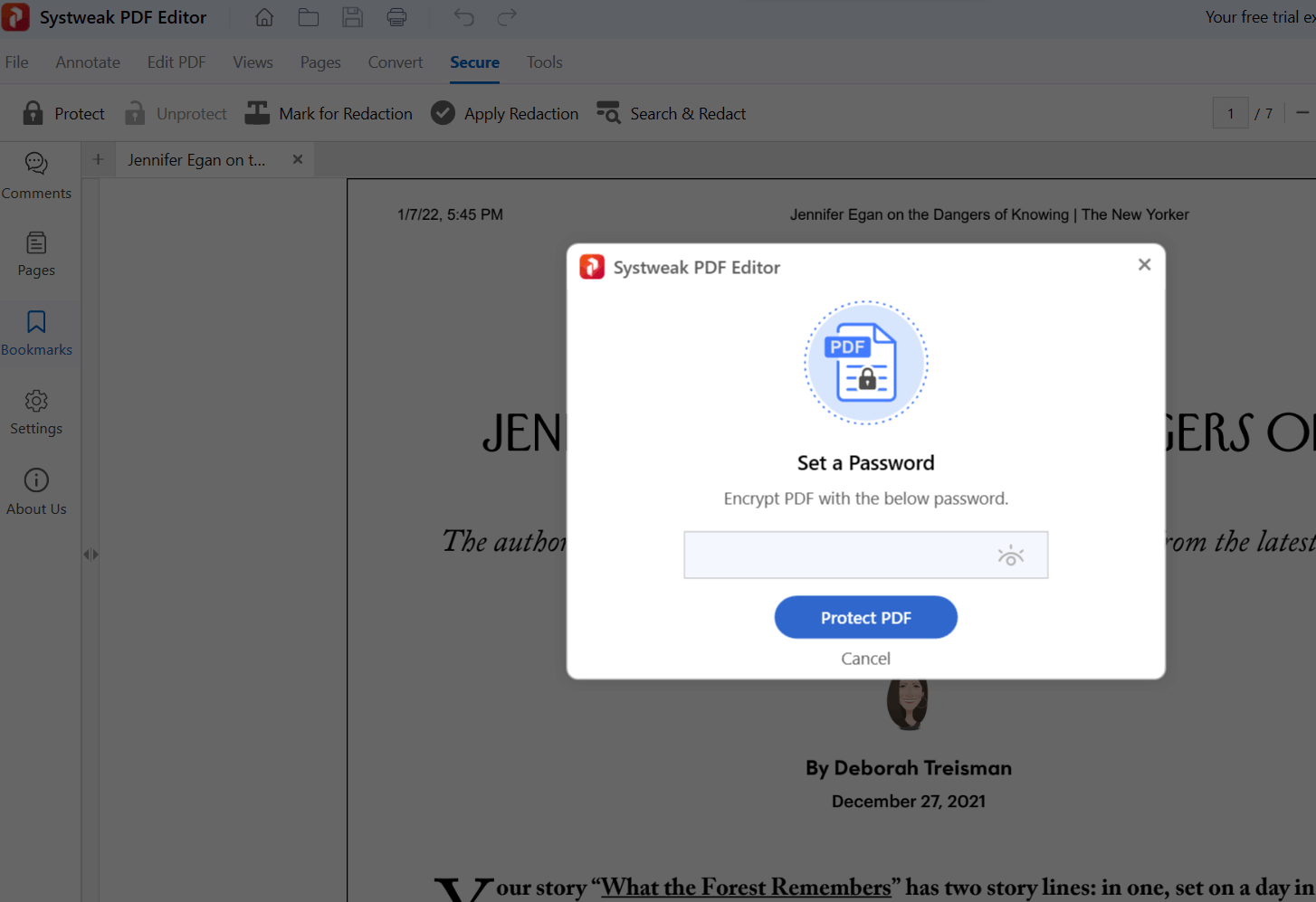 Talking of protection, there are times when you might want to censor or obscure certain images or text in your PDF document. Systweak PDF Editor lets you redact or permanently blackout selected text and images.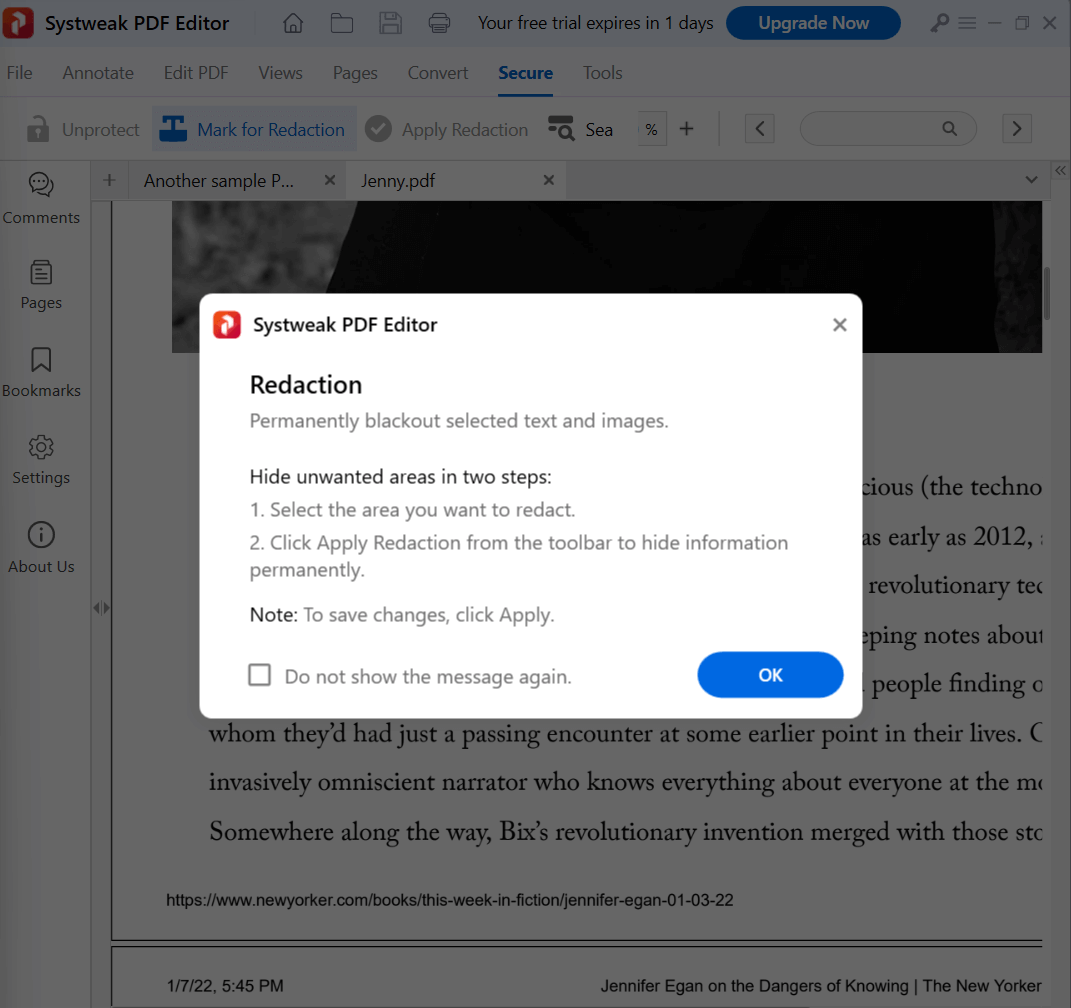 It is important to review any redactions that you have made before saving the document as once the document is saved, you won't be able to undo the operation.
Compress PDF
For ease of sharing your PDF files via email or other channels, you might want to compress your PDF files. This can especially be the case when your PDF document consists of several images.
Systweak PDF Editor offers you three compression modes – High, Medium, and Low.
The High mode will reduce the file size to the maximum with low quality. The Medium mode will provide a slightly higher quality but the compression will be medium. Lastly, the Low mode of compression will provide higher quality, but the compression here will be minimum.
Convert PDF
Systweak PDF Editor lets you convert multiple PDFs to other formats. You can convert your PDF files into all major high-resolution image formats, including Word, text documents, PowerPoint, HTML, EPUB, and many others. You can also change the resolution of your PDF before converting it.
Once you have added PDFs for conversion, you can further keep track of details such as folder path, page clout, PDF size, conversion status, etc. You can also add or remove files and folders containing PDFs by just dragging and dropping them into the interface.
The developers ensure that users receive new features and better functionality with each update. And, while you'll be promptly notified of all the updates, you can manually update the software by clicking on the three horizontal dots (hamburger icon) at the top right corner of the interface and click on Check for Updates.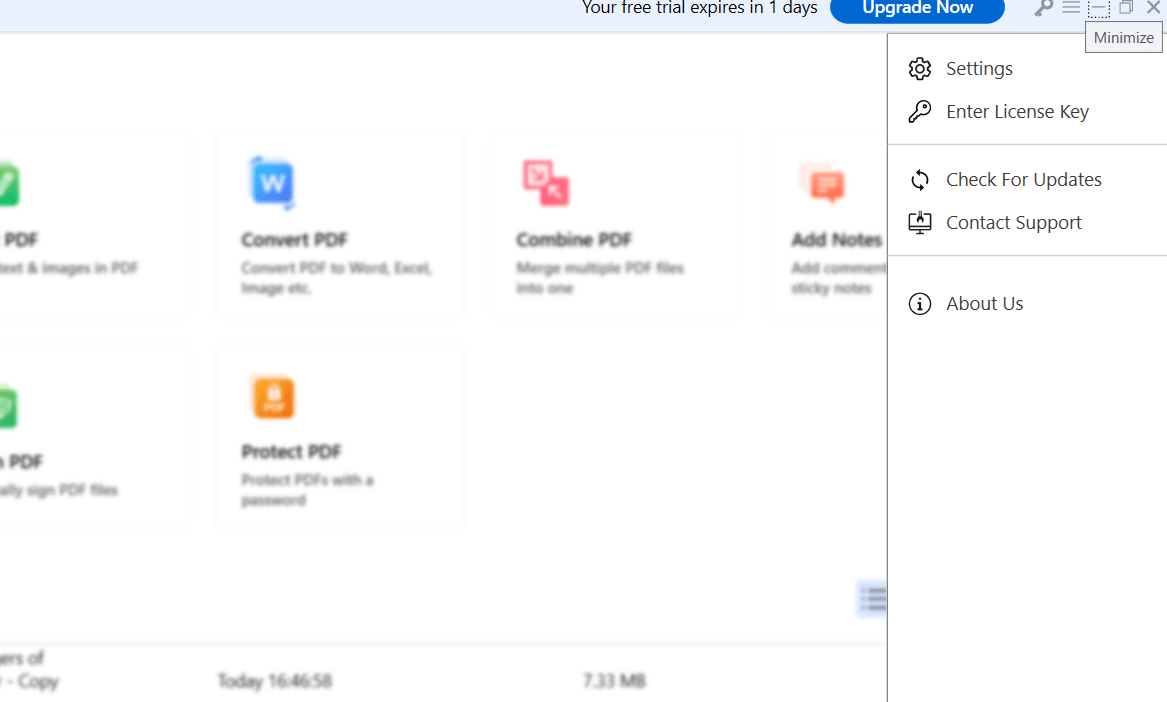 Systweak PDF Editor offers a fully functional 7-day trial wherein you can test out all the features of this PDF editing tool for Windows. After 7 days, you can opt to purchase Systweak PDF Editor Pro for $69.95.
Here is what you can expect from either variant –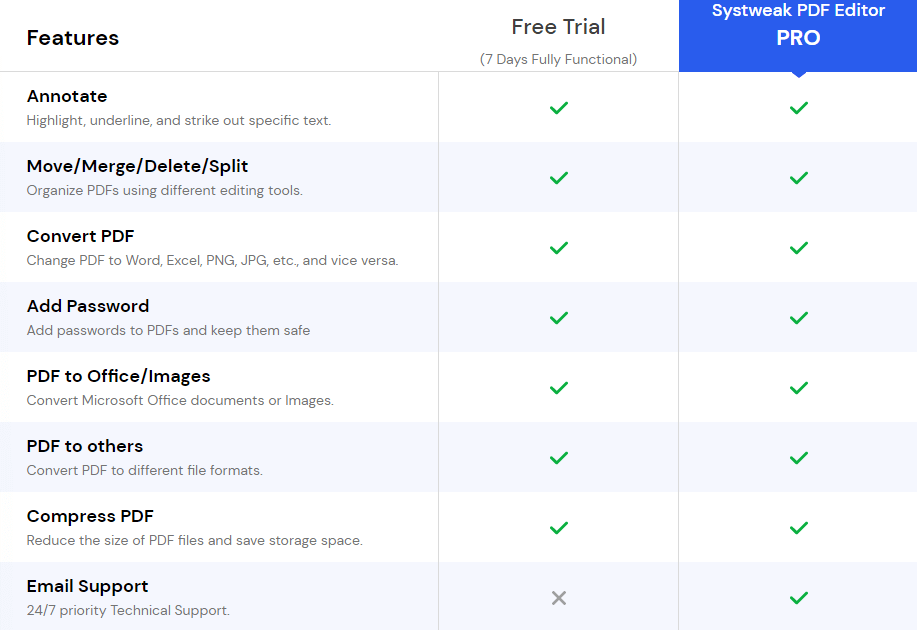 During our personal testing session, we honestly didn't face any lags. From opening PDF documents to performing a variety of tasks – adding annotations, text, shapes, password protecting, combining, and compressing PDFs, we were able to perform all the tasks smoothly.
At any point, if you have any queries related to the functionality of Systweak PDF Editor or license, you can the customer support team at support@systweak.com. Here you can mention your particular issue and related screenshots.
Systweak PDF Editor – All PDF Editing Tools Under One Roof!
In the end, we'd like to conclude by saying that Systweak PDF Editor is an efficient and feature loaded PDF editing tool for Windows PC. While it does a great job at helping you edit PDFs, it won't let you stroll elsewhere when it comes to combining PDFs, compressing or encrypting them or other such tasks. Do give this tool try and share your experience in the comments section below. For more such content, keep reading Top10PCSoftware. Also, follow us on the social media platforms for the latest updates for Windows software.
We are on Twitter, Facebook, Pinterest, and Flipboard.
Frequently Asked Questions
Q1. How do I edit a PDF without watermark?
Open your PDF using a PDF editing tool like Systweak PDF Editor, and click on Edit PDF option. You can now add text, shapes, add highlights, notes, and other elements to edit your PDF.
Q2. Which PDF editor is best?
Systweak PDF Editor, Adobe Acrobat DC, Wondershare PDFelement, and SwifDoo PDF are some of the best PDF editors as they come packed with several great PDF editing features.
Q3. Is there a 100% free PDF editor?
Systweak PDF Editor offers a 7-day fully functional trial where you can test out all its features for free.