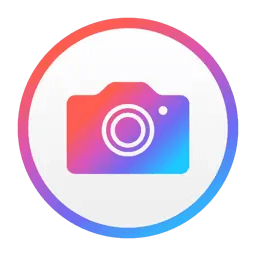 iMazing Converter
iMazing Converter Review for Windows PC – Is It The Best HEIC and HEVC Converter?
Captured great photos with your iPhone but can't edit them on a Windows PC because the image editing application doesn't support the HEIC format?Fear not! Here we are going to review iMazing Converter which is capable of converting multiple HEIC files to JPEG format in no time at all for hassle-free editing experience.
The HEIC file format was introduced in 2017 when Apple devices (iOS 11 and above) started using the HEIF format to encode photos. As compared to JPEG, HEIC images are much lighter even though both offer the same high quality. If you have a Mac or an iPhone, you shouldn't have a problem, but, if you have a Windows desktop you might not be able to viewHEIC photos. The same goes for various applications that are not compatible with this format.
Hence,  a utility that can help you convert HEIC to JPEG/ PNG is needed. So, thatformats that are compatible with Windows and Windows applications can be used. Here we are going to review iMazing Converter which is one of the best HEIC to JPG converters for Windows PC.
Why Is There A Need for A Utility Like iMazing Converter?
Here are some reasons why a HEIC converter utility like iMazing Converter can be a valuable addition to your Windows PC –
With the help of a HEIC converter, you can convert multiple HEIC photos and videos to a compatible format.
After converting HEIC photos to JPG/ PNG you can view and edit them on various operating systems and applications.
Easily upload converted images on various platforms which otherwise don't support HEIC images.
By using conversion software you can preserve the best resolution and quality.
How To Use iMazing Converter?
Step 1 – Download, install, and run iMazing Converter.
Step 2 – You can either click on File > Open Files/ Open Directory to import HEIC images that you wish to convert or you can go to the location and drag and drop files into the interface.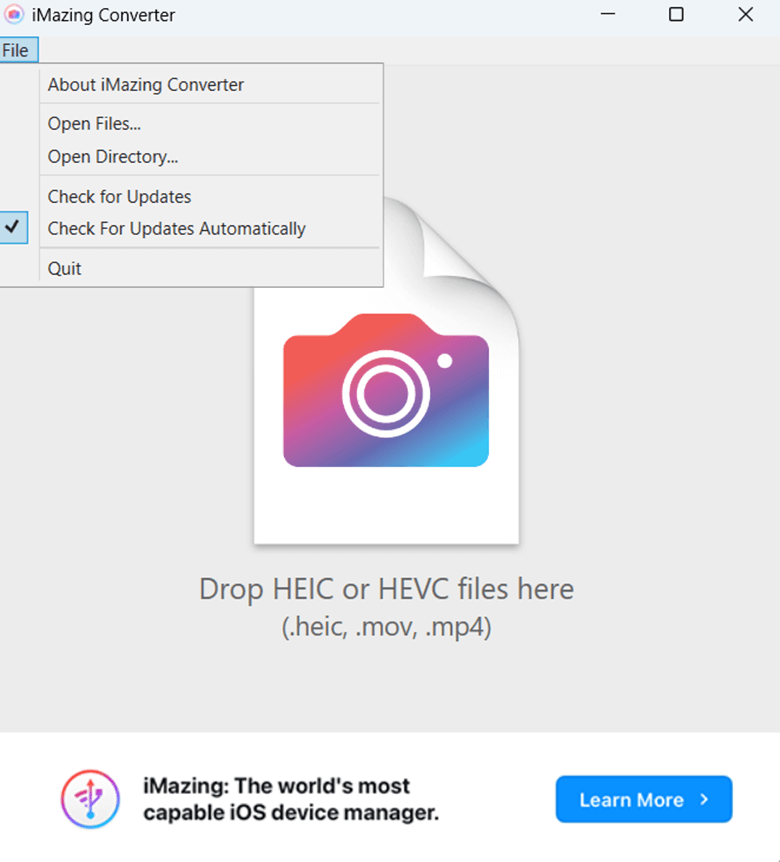 Step 3 – Configure conversion settings as per your needs.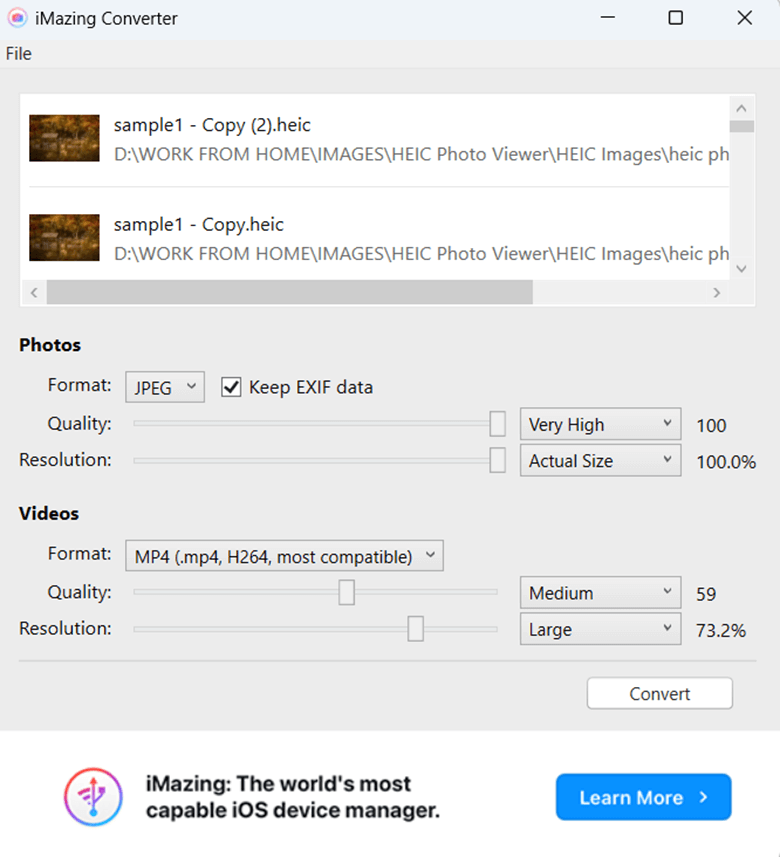 Step 4 – Once you have configured settings, click on the Convert button.
iMazing Converter has a straightforward, and easy-to-understand user interface. On the top, there is a single File menu. It offers you options to open files, check for updates, and quit the application.
The next section is where you can see the imported images. As we had mentioned before, you can either open images using the File menu or drag and drop images into the interface. Under the images, you can even see the path as well.
Moving on, you can see the conversion configuration settings that can broadly be bifurcated into two parts – Photos, and Videos. Under both "Photos", and "Videos", you have the option to choose the desired format that you wish to convert your HEIC or HEVC photos to, desired quality, and the resolution that you want the out to be in. Talking of these attributes, while there is a single dropdown for choosing Format, you can pull the slider left and right to adjust the "Quality", and "Resolution". You can also choose the levels for these by clicking on the dropdown next to these options.
Once you are ready to convert your HEIC photos or videos, you can click on the Convert button which is clearly visible at the bottom right side of the interface.
One of the downsides of the interface is that we expected better file management as seen in competitors like HEIC Converter. For example, you can remove multiple images from the list of HEIC photos queued for conversion. To start afresh, we had to close the application.
– Convert Multiple Images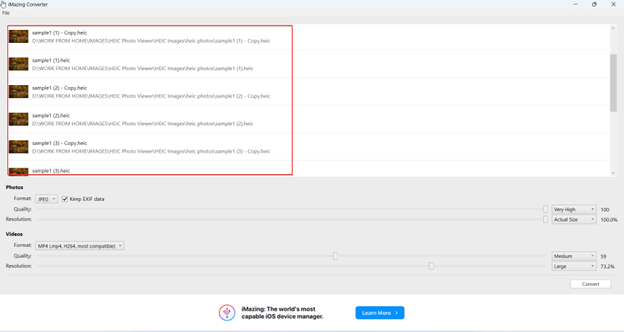 iMazing Converter lets you convert multiple HEIC photos to JPEG or PNG format. You can convert as many HEIC photos as you like. Not just HEIC, but you can also convert HEVC, MOV as well as MP4 files as well.
– Choose Whether or Not To Keep EXIF Metadata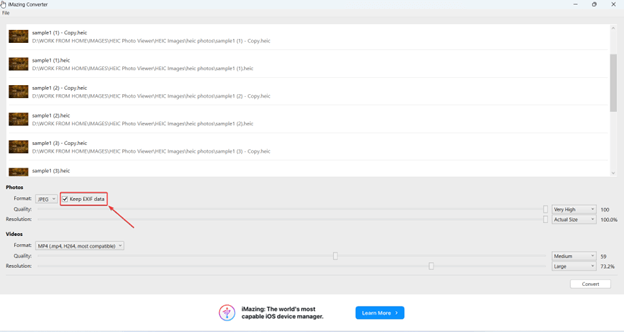 The EXIF data holds crucial information related to the images you have captured. There could be times when you don't want to publish this information. So, when converting HEIC photos you can also choose whether or not you want to keep the EXIF Metadata.
– Convert HEIC To JPG or PNG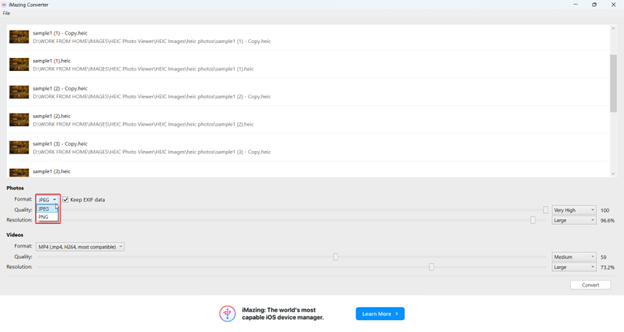 With iMazing Converter you can convert your HEIC photos to two different formats. You can either convert them to JPG or PNG format with a single click.
– Select the Quality and Resolution of Images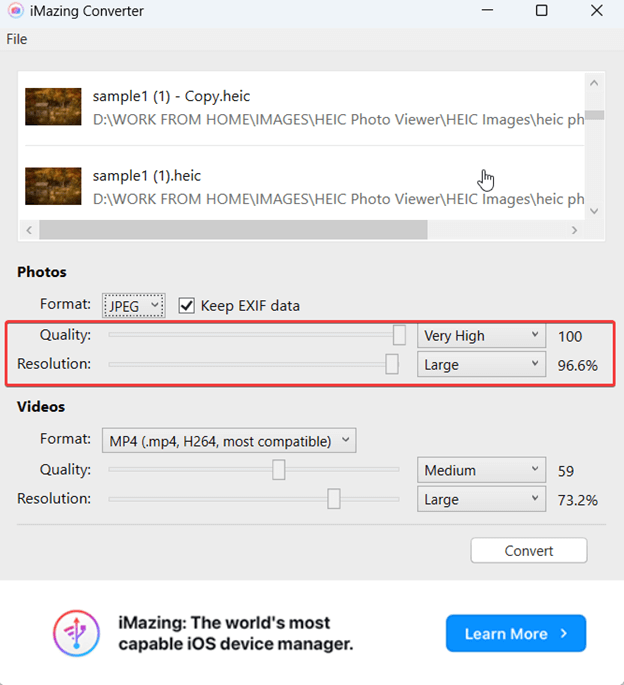 When converting images, you can also select the quality and resolution of the output images. For both "Quality" and "Resolution", iMazing Converter offers 5 options each. When choosing the quality, you can choose from very, low, medium, recommended, and very high. For resolution, you can pick from very low, low, medium, large, and actual sizes. The higher the "Quality" and "Resolution", the slower the conversion will be and vice versa.
– Not Just Photos You Can Even Convert Videos
iMazing Converter is not just confined to converting HEIC photos to JPEG. In fact, you can also convert HEIC videos as well. You can convert them to MP4 (mp4,  H264) format or QuickTime (.mov, H264) format.
Regular updates in iMazing Converter are released by developers to ensure that the software remains free of bugs. With each update, new functionalities are added that enhance the overall experience and efficiency of the software.
In iMazing Converter, you can either choose to update the software manually or automatically. To do that click on the File menu at the top left corner of the interface and select Check for Updates (manual method) or Check for Updates Automatically.
iMazing Converter is free for personal use
iMazing HEIC is a decent performer. We tested it with images worth 3.35 MB on a PC with moderate specs (8 GB RAM, 512 GB hard disk, and Intel i3 processor. We chose maximum settings for conversion and iMazing Converter converted these images in 10 seconds.
In case you are stuck with the functionality of the tool or have some other queries regarding iMazing Converter, you can visit the support page of iMazing and find answers to your queries.
You can also find comprehensive how-to's and guides that help you get started or fix common issues that you may face while using the product. You can also visit the support page where you can raise your issue via a predefined form and someone from the support team will reply back promptly.
Convert HEIC/ HEVC Photos/ Videos To JPEG or Compatible formats Seamlessly
iMazing HEIC Converter for Windows excels at swiftly transforming HEIC files into compatible formats like JPEG, maintaining image quality brilliantly. While file management options could be more robust, it remains a crucial tool. Particularly for iPhone users needing to share or edit their HEIC photos on platforms incompatible with the format, iMazing Converter serves as an essential solution.
Frequently Asked Questions
Q1. Is iMazing Converter safe?
Yes, iMazing converter is a safe utility. It wasn't flagged off as a malicious threat by any of the antivirus software.
Q2. What is the iMazing photo converter?
iMazing photo converter is a feature within the iMazing Converter tool. It allows you to convert HEIC photos to JPEG or PNG formats easily.
Q3. What is the best free HEIC to JPG converter?
One of the best free HEIC to JPG converters is iMazing Converter. It offers high-quality conversions with a user-friendly interface.
Q4. How do I convert HEIC to high-quality JPEG?
To convert HEIC to high-quality JPEG using iMazing Converter, simply drag and drop your HEIC files into the tool and choose the JPEG format. Adjust settings for quality if needed, then click Convert.