A backup software on Windows is an essential tool to safeguard your data in case of any mishap. Here are some of the top backup software for Windows that let you create backups of anything and everything on your PC.
Top Software Reviews
Rating
1.

EaseUS ToDo Backup

2.

MiniTool ShadowMaker

3.

AOMEI Backupper Standard

4.

Paragon Backup and Recovery

5.

Acronis Cyber Protect

6.

Macrium Reflect

7.

R-Drive Image

8.

Iperious Backup

9.

NovaBACKUP

10.

Wondershare UBackit
A backup software is a must-have utility on Windows and here's why – Your computer stores a lot of precious data – photos, documents, system-related files, applications, audio and video files, the list is just endless.
Imagine your computer being hit by a mishap – a sudden computer crash, a malware attack, human error, data getting into the wrong hands, hard drive failure, file/ folders becoming inaccessible due to an error, the list goes on and on.  In such an event, backup software on Windows acts as a fallback option provided you have created a backup using one.
How Can A Backup Software Be Helpful?
As a prudent user if you have installed a backup software on your Windows PC, here are some reasons why it can be incredibly helpful –
Create a Backup of Individual Files or Complete Partitions –
You can create a backup of individual files or complete drives and their partitions.
Sync Backup Between Multiple Devices –
It's not just that you can create a backup on one device. Backup software also offer sync feature where you can sync data between multiple devices. Hence, you can access your data anywhere you want. You can even backup data on an external storage medium as well.
Create Multiple Versions of Your Backups –
To prevent accidental changes or data loss, various backup tools for Windows let you create multiple versions of the backup. In this scenario, instead of overwriting the previous backup version, the utility saves the new version as a distinct copy.
Choose the Type of Backup –
Select from incremental, differential, or full backup.
Backup Software Offer Cloud Storage-
Many backup utilities don't just let you store data on your local drives. Instead, they also offer you a considerable amount of cloud storage as well.
You don't need to worry about manually creating or soliciting through the whole backup process as many Windows backup software let you schedule backups at your preferred date and time. Moreover, you are notified as soon as the backup is complete.
Some backup software for Windows also provide you the facility to compress large data.
Strong Military Grade Encryption –
A good backup software is protected by strong encryption (military-grade encryption).
Best Backup Software for Windows 11/10
1. EaseUS ToDo Backup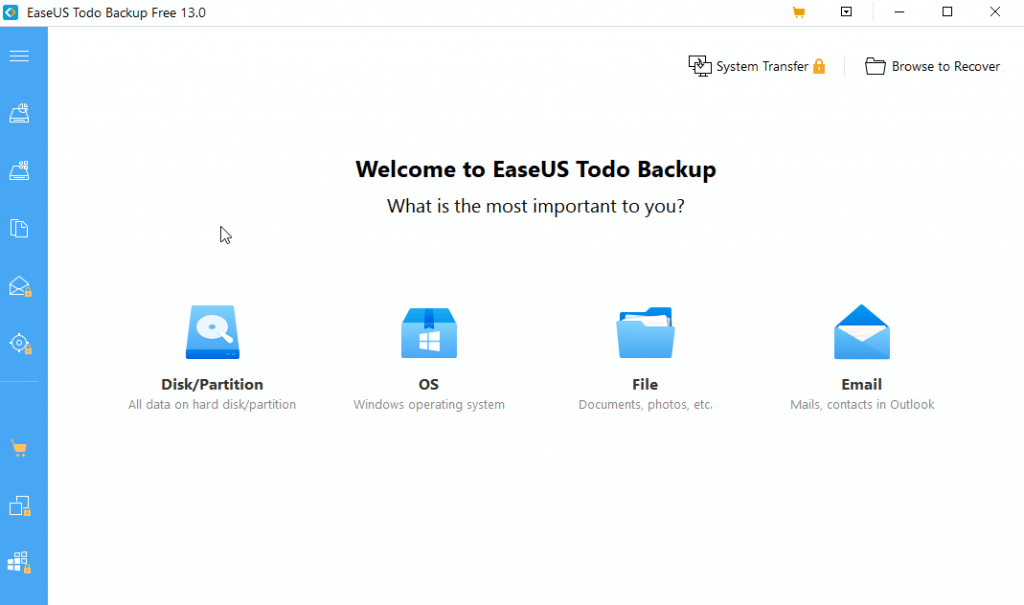 Current Version – 2023
It is one of the best free backup software for Windows that lets you create backups of the disk, partition, operating system, and individual files. You can save backups to local files, NAS, external storage mediums, and the cloud. One of the best aspects of EaseUS Todo Backup is it offers various advanced features even in its free variant. Check out our comprehensive review of EaseUS Todo Backup
Notable Features
Disk, partition, and system cloning.
Various options for system and file backup.
Facility to create various types of backup – full, incremental, and differential.
Schedule backup at your desired time.
Optimize clone for SSD.
Easy to use
Various cloning options.
Cloud backup is available.
Great privacy protection and encryption.
No file mirroring and syncing.
Pricing – Free trial available. Pricing starts at $39.95/ year.
2. MiniTool ShadowMaker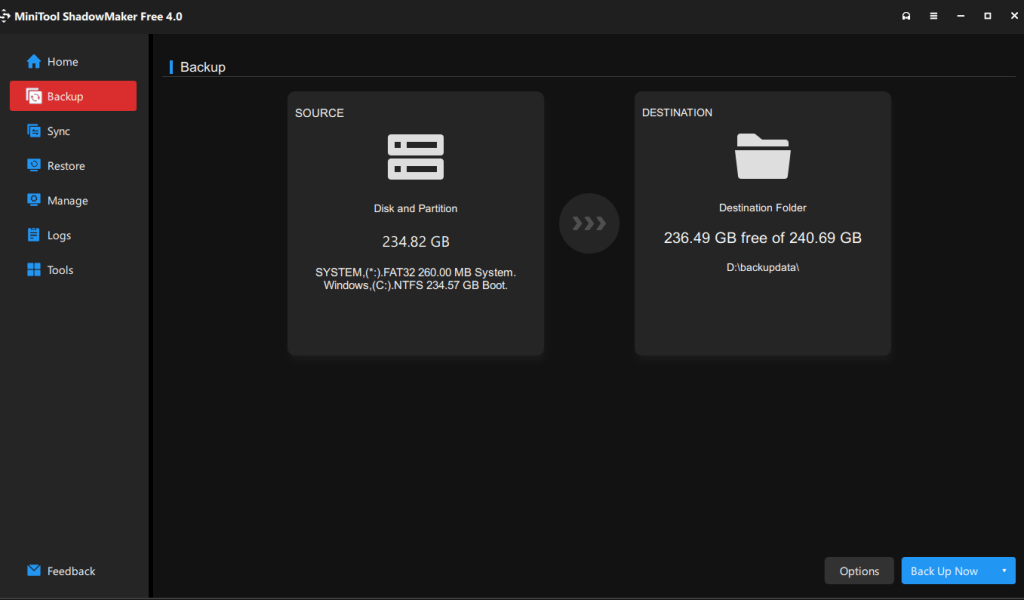 Current Version – 4.1
MinitTool Shadowmaker is considered by many as the ultimate Windows backup tool. It can help create a backup of everything on your Windows PC – from individual files to complete drives down to sectors. It rids you of manually soliciting through the backup process as it lets you automate your backup tasks or synchronize backup across multiple devices.
Notable Features
Backup files and folders
Save and restore backups by version.
Schedule backup
Add boot media and menu.
Auto-sync files between folders and other locations.
Easy backup management.
Backup remote computer.
Partition backup is also available.
Frequent updates.
The minimum automatic interval backup is 1 hour.
Pricing – Free trial available. Pricing starts at $6/ month
3. AOMEI Backupper Standard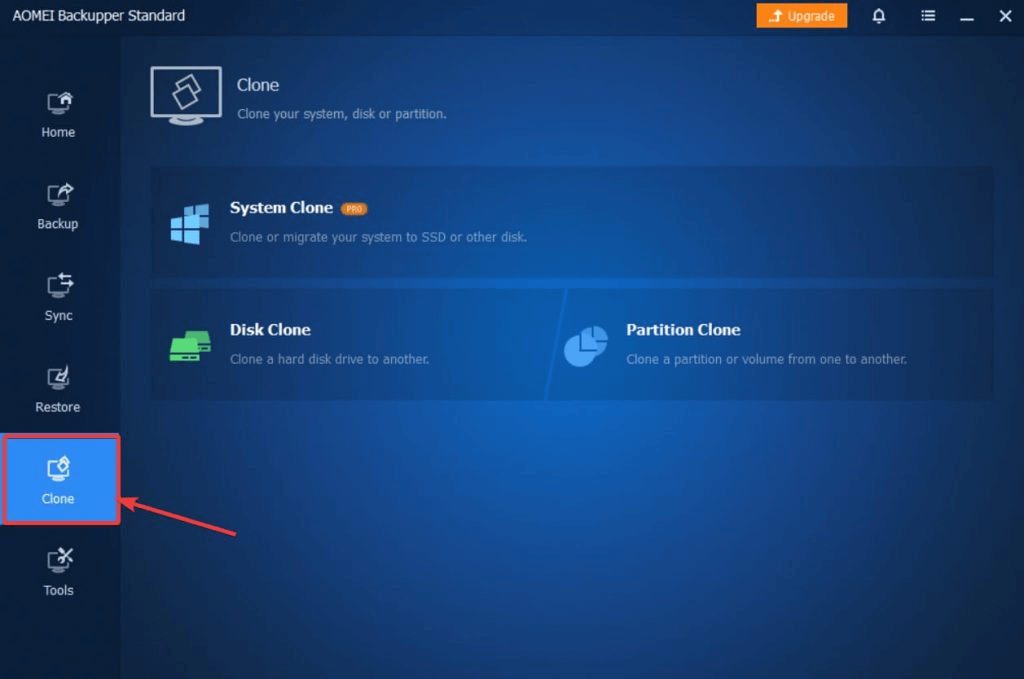 Current Version – 7.3.0
It is a good disk cloning and backup software. It lets you restore backup in case of an emergency without interrupting your current work session. It also provides the ability to create bootable media in the event you are not able to boot into your computer.  One of the best aspects of this backup software is that it also lets you recover data from a crashed disk.
Notable Features
Performs various kinds of backup – system, disk, file, and partition.
Supports backup on a cloud drive.
Schedule backup at regular intervals.
Disk cloning.
Restore selective files.
Supports automating backup.
Sync file changes in the chosen source and destination directory.
Regularly updated so that users get new features and vulnerabilities are patched.
Receivers data from a crashed disk. Looking for an advanced and feature-rich recovery tool, here are some more options.
Some features are only available in the pro version.
Pricing – Free trail available. Pricing starts at $39.95/ year.
4. Paragon Backup and Recovery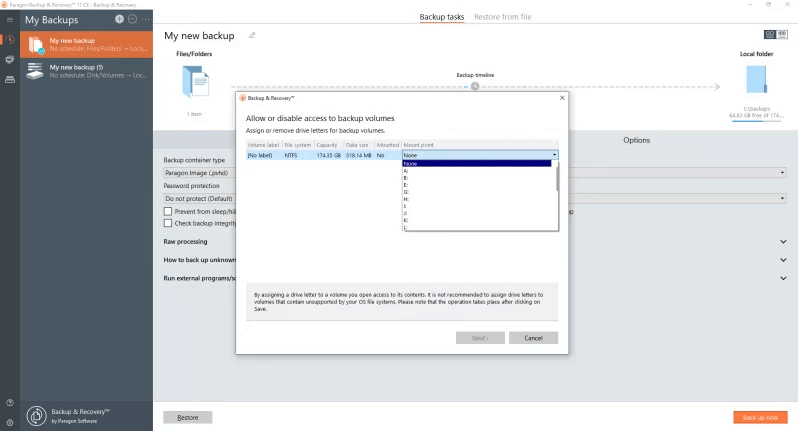 Current Version – 9.3.0
As a reliable backup and recovery tool, Paragon offers everything that you need to safeguard your data. It can also help you backup an entire PC in a situation where it is undergoing service and maintenance. To further keep you safe from accidentally deleting backups, it offers to create backup versions so that a copy of the backup can be saved and recovered when needed.
Notable Features
Create automated backups instantly.
Create and manage versions of backups.
Recover in WinPE.
Mount archives and browse them like a normal disk.
Allow or disable access to backup volumes.
Easy to use. In that, it guides you through every step.
Easy backup management; get rid of old backups automatically and free up disk space. For better disk management, try this.
Backup files, folders, disks, and even OS.
Easy syncing.
Drive imaging facility missing.
Pricing – Free trial available. Pricing starts at $39.95
5. Acronis Cyber Protect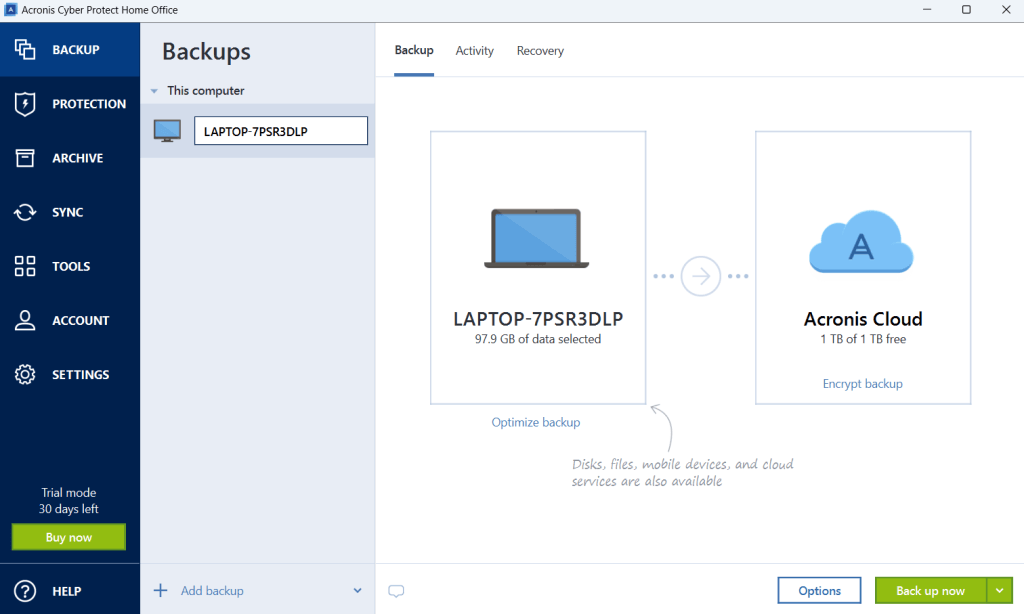 Current Version – Acronis Cyber Protect 15
Acronis Cyber Protect has made it to the list because it is not just a tool that can keep you protected from cyber threats but it even lets you backup your precious data as well. It offers both full-level as well as full-system backups and can be deployed on a variety of devices and platforms. Even with its free version Acronis Cyber Protect offers a significant amount of cloud storage.
Notable Features
Backup files offline or on Acronis Cloud.
Create a full image backup.
Archive large and old files.
Event/trigger-based backup.
Active protection against malware and other cyber threats.
Keep 999 versions of your backup.
Download copies of the backup even if the internet terminates or is compromised.
Easily synchronize files and folders.
It comes with host of other productivity tools.
Disk cloning is available in the premium version only.
Pricing – Free trial available. Then, $49.99/ year
6. Macrium Reflect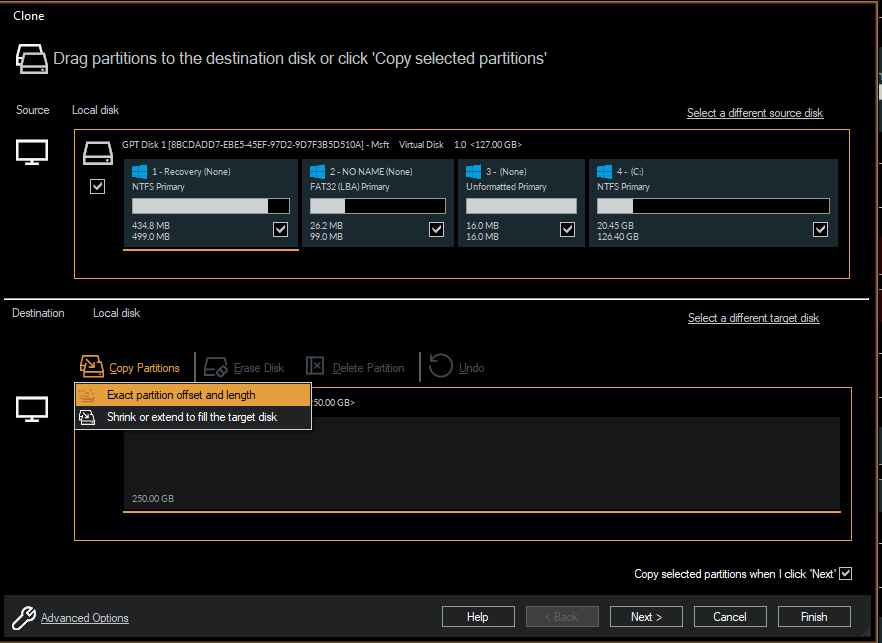 Current version – 8.1.7401
When it comes to creating image backups, Macrium Reflect is often hailed as one of the top choices. You can create a complete copy of your hard drive and use it to restore your computer. It is easy to use and can be used even by beginners. The free version lets you backup up to 10 GB worth of data. To know more about this tool, check out this post.
Notable Features
Various options to schedule backup and cloning tasks.
Guard against ransomware.
Restore backup on dissimilar hardware.
Support for Hyper-V Virtual Machines.
Variety of backup options.
Industry-standard encryption is used to protect data.
Several restore options.
Create bootable media
Schedule backup.
Pricing – free trial available where you can backup 10 GB of data. Pricing starts at $49.95
7. R-Drive Image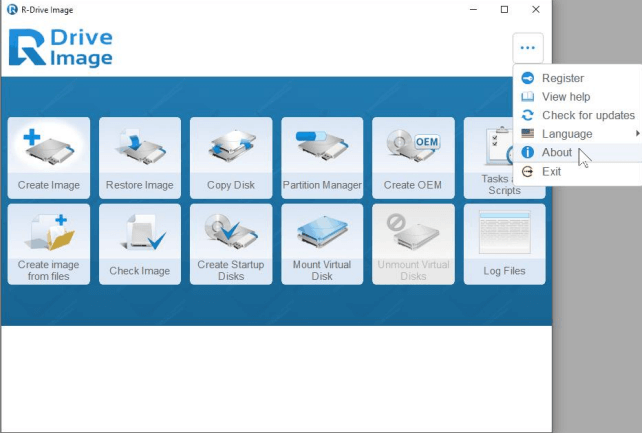 Current Version – 7.1
As a disk image and backup software developed R-Tools technology, R-Drive Image lets you create an exact byte-by-byte copy of partitions or a logical disk. You can use the image to restore backed-up data in case your original disk is lost or fails to initiate. It comes packed with several features some of which are mentioned below.
Notable Features
Advanced drive imaging and restoration.
Disk to disk manager.
Automate tasks by scheduling them.
Virtual drive mounting.
Multi-language support.
Hassle-free partition management.
Support for S.M.A.R.T warnings. For instance, in the case of hardware failure, it gives you warnings.
Detailed logs of backup tasks.
You can run it from a bootable disk.
Slow backup speed as compared to competitors.
Pricing – Free 30-day trial. Pricing starts at $44.95
8. Iperious Backup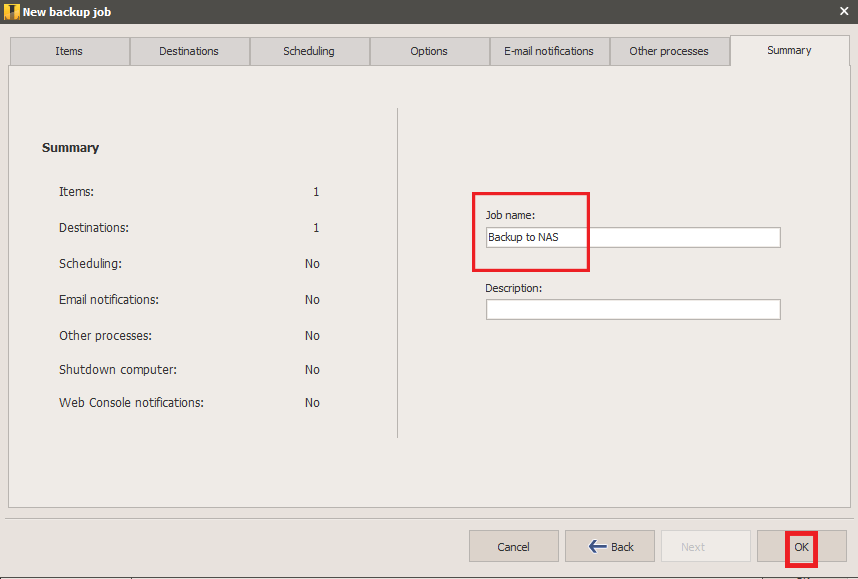 Current Version – 7.8.3
It is a backup and disaster recovery software created by Iperious Software. It lets you backup files, folders, and entire hard drives giving you full control over source and destination. It supports a variety of file systems and devices and can be used by both technical and non-technical users.
Notable Features
Hard disk cloning.
Recover the disk with pre-installed drivers.
Supports virtual machines as well i.e. backup and replication on VMware.
Choose to restore individual files also.
Bare-metal restore.
P2V hard disk cloning.
NAS, cloud, USB, and FTP drives are supported.
Supports various other cloud drives such as Google Drive, OneDrive, Amazon S3, and various others.
Create image backup even on dissimilar hardware.
The default layout can be confusing for some.
Pricing – Free trial available. Pricing starts at $39.95
9. NovaBACKUP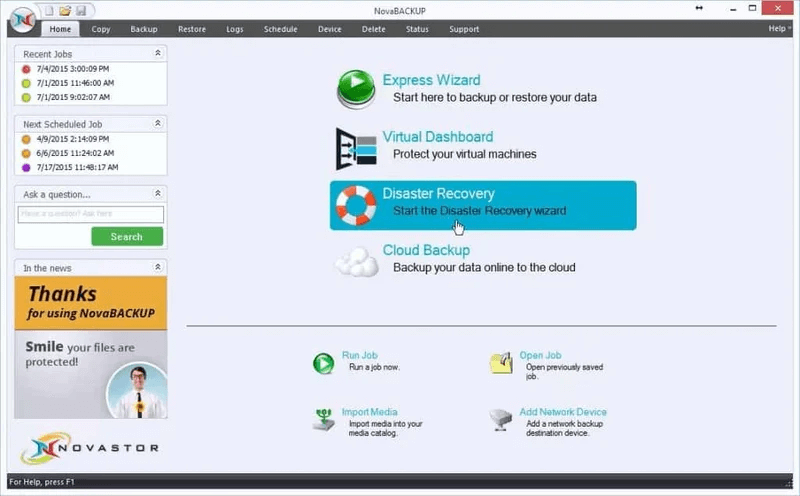 Current Version – 20.0
In an event of disaster another backup software for Windows that can be of great help is NovaBACKUP. It offers both paid and free editions. Hence, once you are satisfied with the trial you can choose from one of its premium variants. Even the essentials edition which is the free variant allows you to backup up to 1 TB of data and backup up to 3 computers.
Notable Features
Backup individual files or images of entire drive partitions.
Availability of cloud backup.
Perform various kinds of backup – full, incremental, and differential.
Create a boot disk to restore a backup if Windows is unable to boot up.
Get notified by email when a backup is complete.
Automate backup jobs by scheduling backups.
Adjust the frequency of the backup schedule as per your needs (E.g. – hourly, daily, and so on)
Choose any NTFS formatted drives as a source and store backups to both NTFS formatted as well as NAS or even Single Tape Drives.
Backups utilize AES 128-bit, 192-bit, 256-bit, and Blowfish encryption.
Premium variant might come across as costly.
Pricing – Free trial available. Pricing starts at $59.95
10. Wondershare UBackit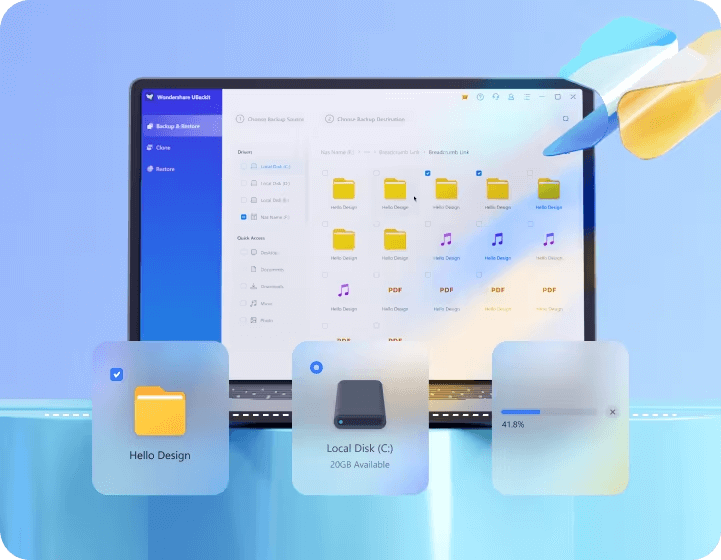 Current Version – 6.5.1
Last but not the least we have Wondershare Ubackit that can help manage file backup, disk backup, partition backup, disk clone and all other kinds of backups. It supports a variety of devices and file systems and at the same time lets you automate the various kinds of backup tasks depending on your needs.
Notable Features
Backup files, NAS disks and partitions.
Backup outlook emails.
Version wise backup restoration.
Schedule backups.
Compress and encrypt backup.
Custom restore of backup available.
Preview files to confirm the backup version.
Check version history.
Pricing – Free one-month trial. Pricing starts at $39.95.
Time To Safeguard Your Data With the Best Backup Software for Windows 11/10
In this digital age where data is paramount, it is important that you back up your data so that you can retrieve it if ever something wrong happens to your computer. And, now that you are armed with several options, choose the one that suits your needs. For more such information keep reading Top10PCSoftware. You can also reach out to us on Facebook, Twitter, and Pinterest.
Frequently Asked Questions –
Q1. What is the most effective data backup?
The most effective data backup involves both local and cloud-based backup. You can also use an external storage medium to create regular backups. In all of these situations, backup software for Windows can be of great help that accounts for fast and secure backup.
Q2. What is the best way to backup files from PC?
You can always use reliable and secure backup software for Windows computers. Such utilities let you automate your backup tasks while letting you choose the files, folders, or entire drives that you want to back up. Most backup software these days also come with cloud storage.
Q3. How do I back up my entire computer?
A system image backup tool like the ones mentioned above can help you backup your entire computer which also includes the various settings, applications, and many other things. In emergency situations such as computer failure or worse a malware or ransomware attack, you can restore this backup onto some other computer.
Q4. Which backup is fast?
Incremental backups are considered faster as they only backup changes made since the last backup. Other factors that affect backup speed include backup type, and computer hardware. For instance, you can use external drives that have a repute of being fast. Apart from that you can choose from some of the best backup software for Windows that can expedite your backup process.
Q5. Is Windows 10 backup any good?
Yes, Windows 10 backup is a decent feature of Windows OS. For basic backup needs the native backing feature can suffice. However, for more advanced features, consider trying out a good backup software that offers more features and better customization.