In an event like a hard drive failure or system crash, a prior backup can prove to be a life savior. This is the reason why you need a backup utility. Here we are going to review the AOMEI Backupper Standard which is one of the best backup and imaging tools available in the market.
What Is AOMEI Backupper Standard?
AOMEI Backupper Standard is Windows backup and disk cloning software that helps backup files and folders, the various hard drives on your computer, and even system partitions. You can restore this back up in a time of need without interrupting your work.
AOMEI Backupper Standard comes from AOMEI, a company known to provide data security utilities the likes of AOMEI Partition Assistant and AOMEI OneKey Recovery, and runs by the motive "always keep global data safer". The variety of functions offered by this hard drive cloning software are customizable as we will see in this AOMEI Backupper Standard review.
With the help of AOMEI Backupper Standard, you can even create bootable media. In case you are looking for some good alternatives to AOMEI Backupper Standard, check this post out where we have listed some of the best disk cloning software that will help you clone your hard drive hassle-freely.
Pros:
Free imaging software.

Intuitive user interface.

Versatile features. 

Automatically syncs backup

Recovers from a crashed disk.

Reliable software
Cons:
Lacks features from the Advanced version
A Brief Overview of AOMEI Backupper Standard
You might wonder why is there a need of a disk cloning and imaging software like AOMEI Backupper standard when a simple cut and paste or copy and paste from file explorer should suffice?
For one it offers disk cloning. This means you don't simply copy and paste data but do that in the same physical order as the drive from which you are copying the data. When you clone data to SSD using AOMEI Backupper, the tool even takes into account the spaces, fragments, and file order. This can be very useful when you are trying to backup your boot disk that has your operating system, saved games, and settings and programs where one single file missing can prove to be a blunder.
Technical Specifications
Current Version: AOMEI Backupper Standard Edition 6.9.1
Operating System: Windows 11/ 10/ 8.1/ 8/ 7/ XP/ Vista
File Systems: NTFS, FAT16, FAT32, EXT2, EXT3, and other file systems
Hard Disk Space Required: Minimum 300 MB disk space required at the time of installation
Processor: 500 MHz x86 or equally compatible CPU
RAM Needed: Minimum 256 MB
Languages: 16 languages that include Arabic, Dutch, Dutch (Belgium), English, French, German, Hungarian, Italian, Japanese, Polish, Portuguese, Russian, Simplified Chinese, Traditional Chinese, Spanish and Turkish.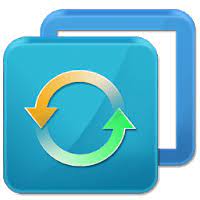 Download Here
★★★ Best AOMEI Backupper Standard Review: Is It A Good Backup and Disk Cloning Software? ★★★
Convert NTFS to FAT support
Cloning Backup Scheduling
How To Use AOMEI Backupper Standard?
Here we are going to have a look at how you can clone your disk using AOMEI Backupper Standard –
1. Download, run and install AOMEI Backupper Standard. Double-click on the .exe file and run the setup by following the on-screen instructions.
2. After you have installed AOMEI Backupper Standard, click on Clone from the left-hand side.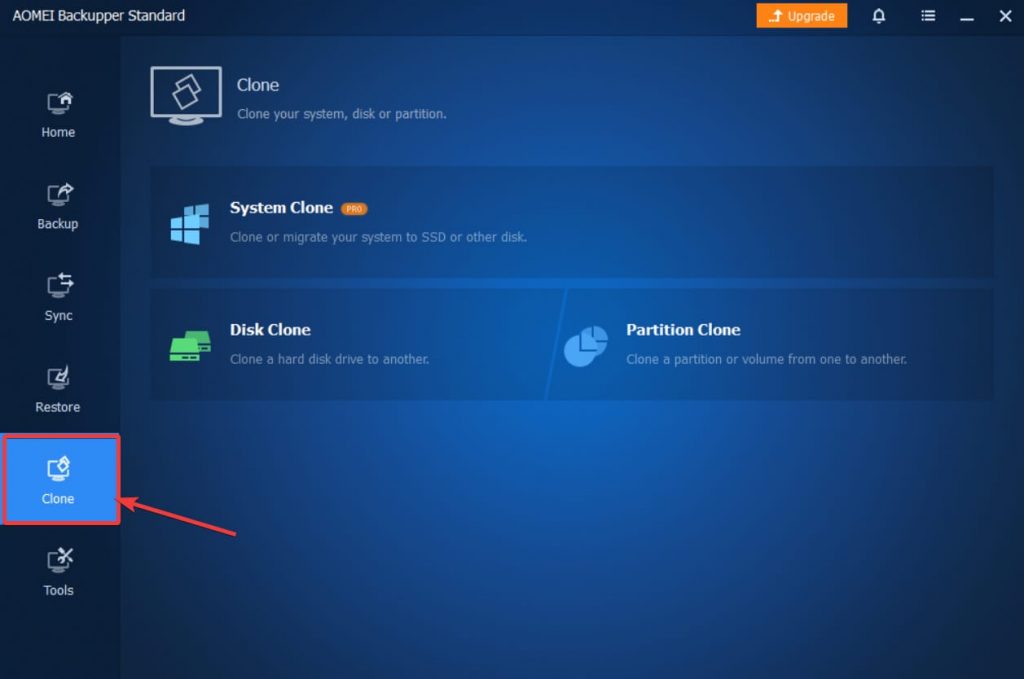 3. From the right-hand side, click on Disk Clone.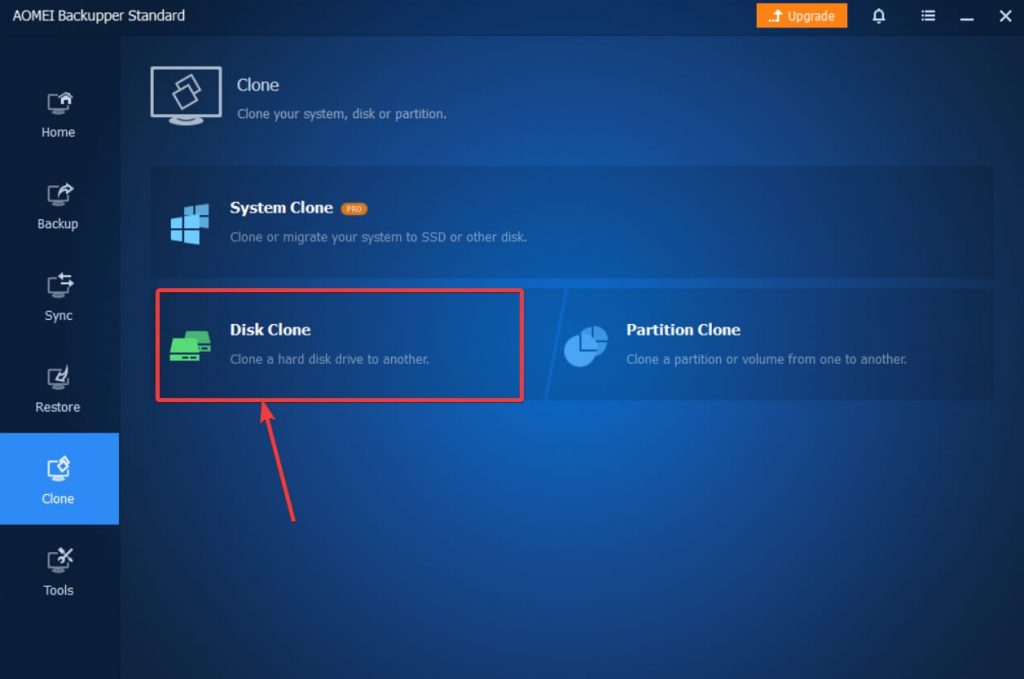 4. Select the source partition that you want to clone.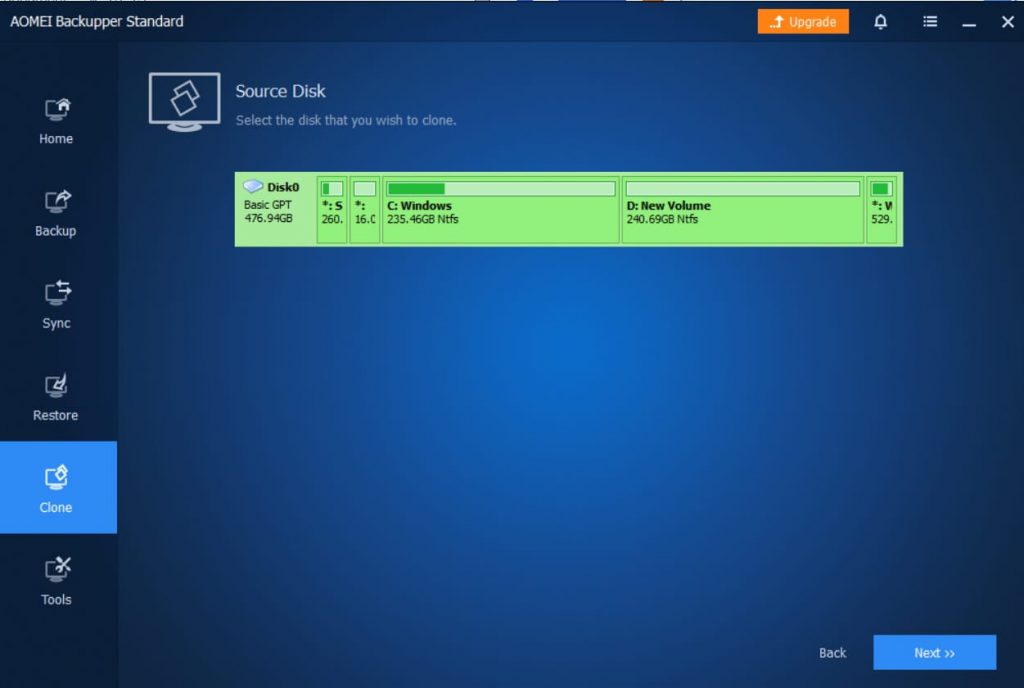 5. Click on Next
6. Select the Destination disk. This is the place where your source disk will be cloned to and then, again click on Next. It is highly recommended that you take a backup of all the important data that is present in your source disk.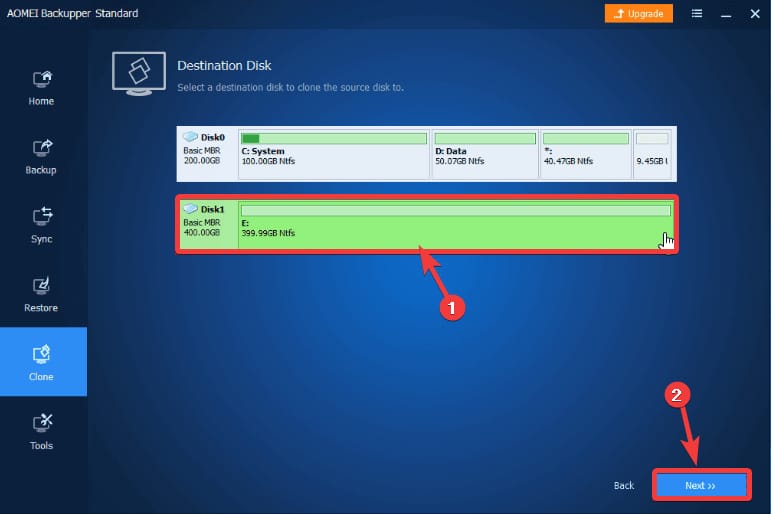 7. You can now preview both your source and destination disks and if you want you can even make changes to advanced settings mentioned at the bottom of the screen. These include options to Edit Partitions, Sector By Sector Clone, or even SSD Alignment in case you want to clone HDD to SSD using AOMEI Backupper.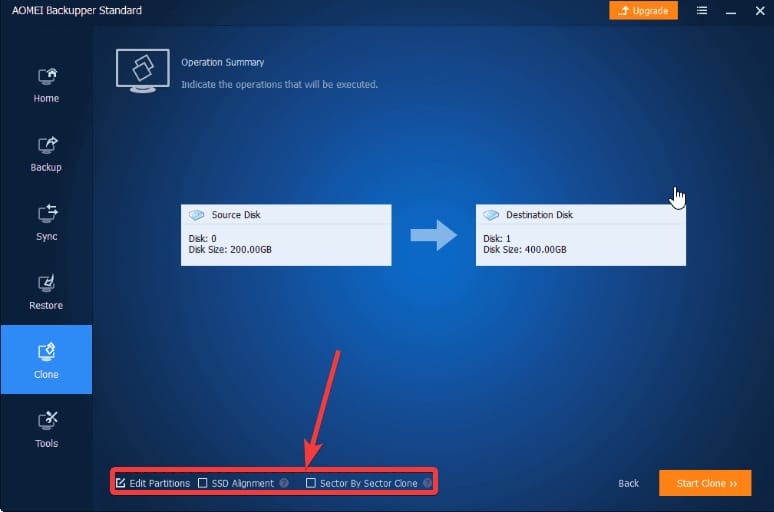 8. Once you are sure of the settings and have previewed the information of your source and destination, click on Start Clone.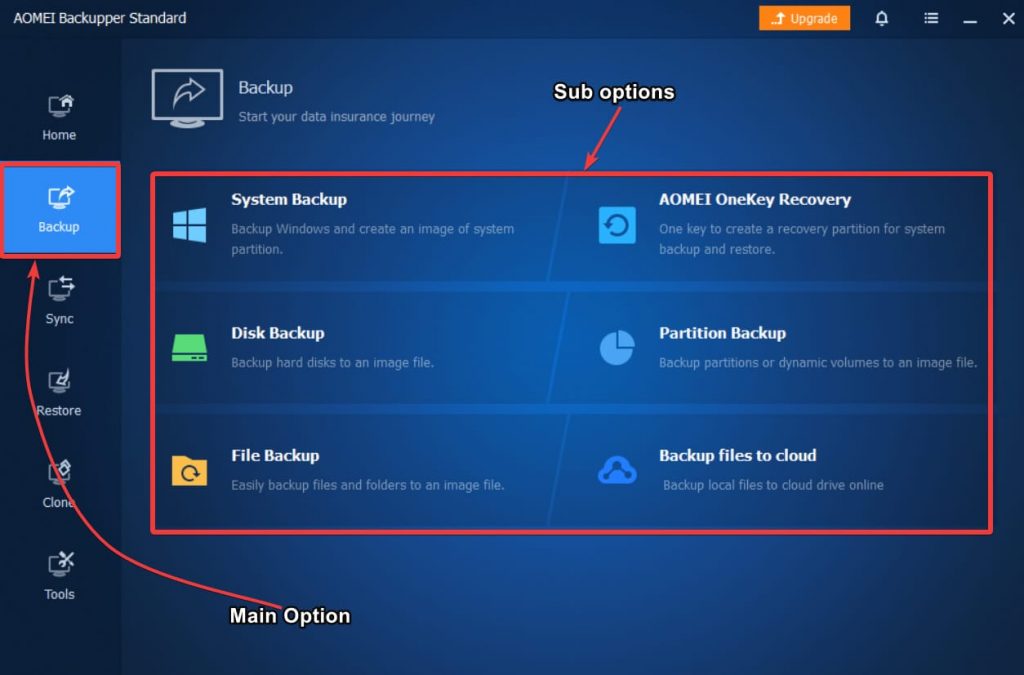 The interface of AOMEI Backupper Standard is simplistic and makes it easy, even for the first-timer to get accustomed to the functions of this backup and cloning software. The main options are located on the left-hand pane and when you click on each of these options you are further taken to the sub-options. Talking of which, both the main options and their sub-options are well labeled which prevents any hindrances in your workflow. Also, while performing operations, you are also delivered "caution prompts" so that you don't lose your data in the process.
It would have been better if the interface could be adjusted by dragging it from left to right or right to left and menu options, especially on the right-hand side could be adjusted because there are times when the interface covers the whole screen.
What makes AOMEI Backupper Standard one best free hard drive cloning are its features. Here we are going to talk about some of them –
1. Backup
To put it simply, in the event when you have lost important files, a backup of your data can be very important and AOMEI Backupper Standard offers various options to do that. From taking a backup of your files, a partition, or even a backup of your complete hard disk or system, the tool offers you several options. You can even backup local files to a cloud drive online as well.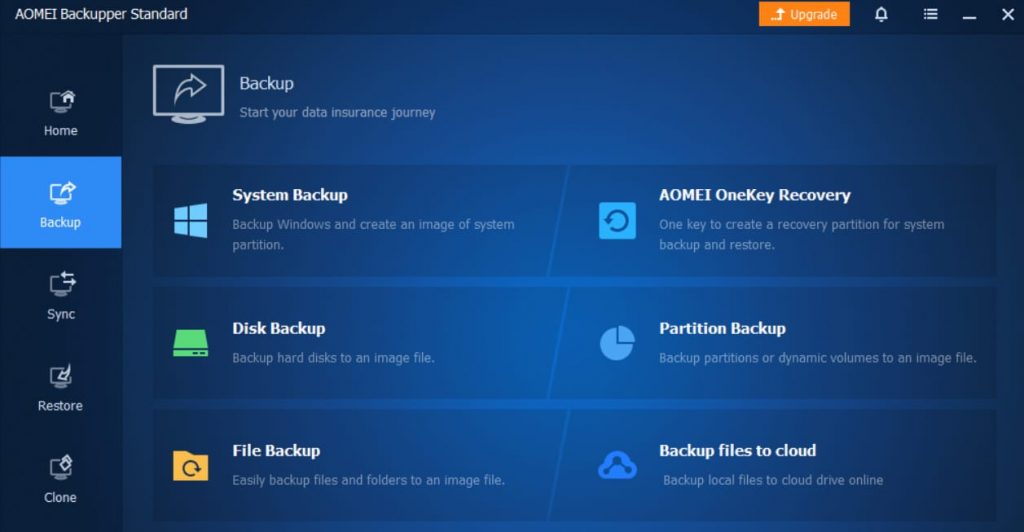 Every backup option even lets you schedule a backup as well. For instance, you can schedule a Disk Backup or a System Backup at the desired time.
2. Cloning
With AOMEI Backupper Standard, you can clone your HDD to SSD, clone one hard drive to another, or even clone a volume or partition to another.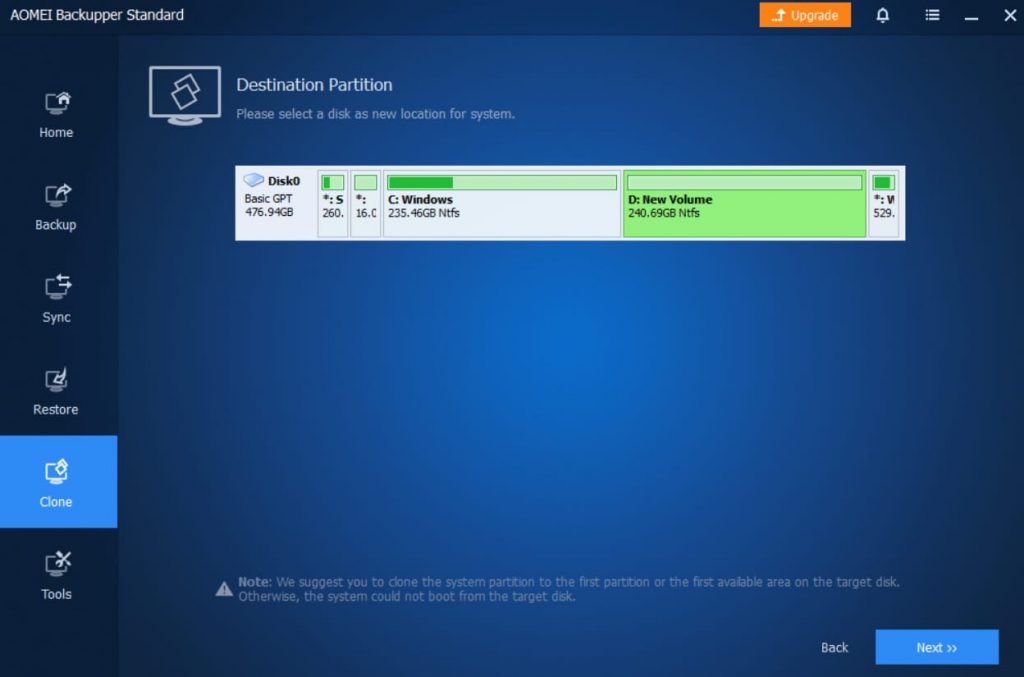 It is highly recommended that you first take a backup of the partition that you want to clone because in the process it will be overwritten. As a prudent free disk cloning software, AOMEI Backupper Standard, prompts you to do the same so that you don't repent later.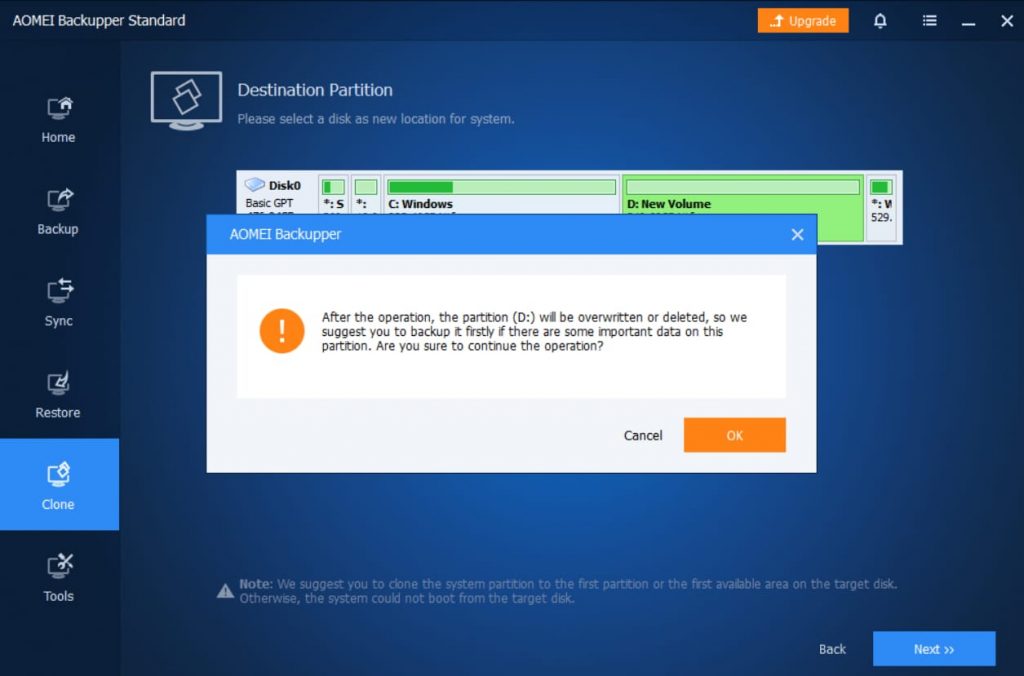 3. Restore
Think of a scenario where you ran into a sudden computer crash. Thankfully your computer got back to functioning again but some very crucial files became corrupt and how you wished you could restore the previous versions of those files. In such an event, things can get even worse if some of your system files become corrupt. In this regard, AOMEI Backupper lets you restore not just files but a lot more than that. For example, you can restore selective files which mean – based on your needs, you can restore parts of files.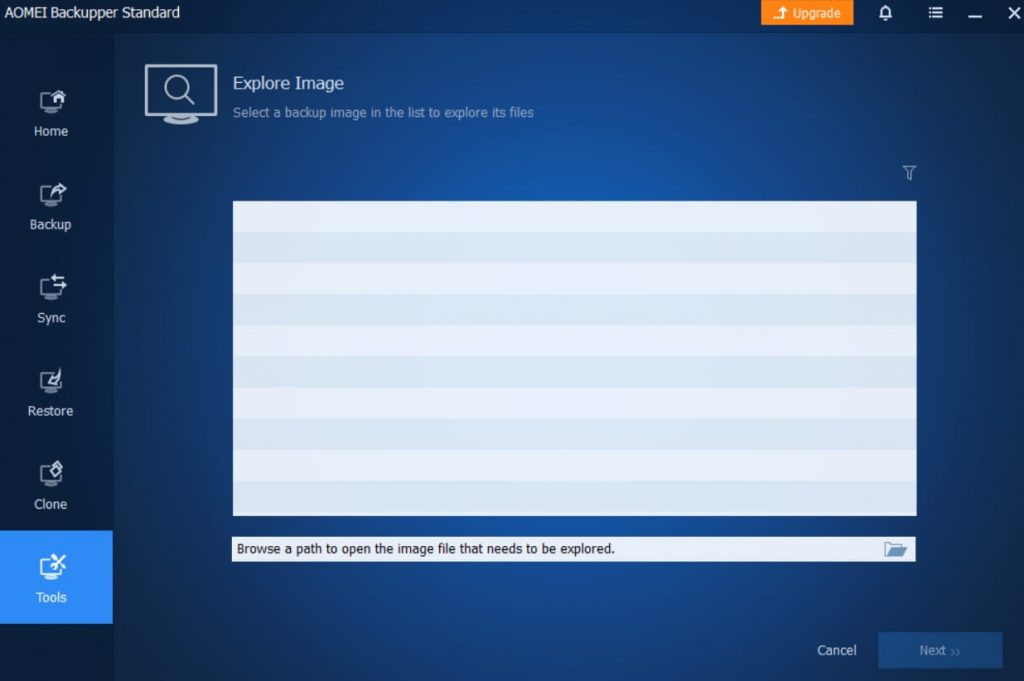 4. Sync
AOMEI Backupper Standard free lets you synchronize your files. The changes that you will make to your files in the source directory will also reflect in the destination directory.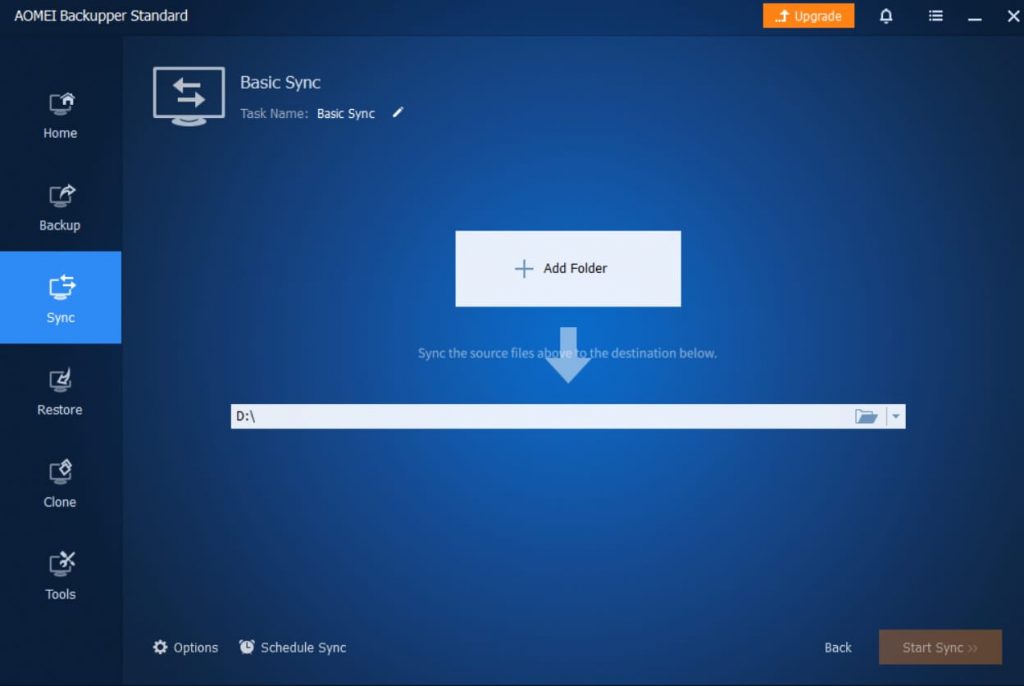 You can even play with the sync settings where you can write a custom note for the backup, get notified via email every time a change occurs, incorporate deletions via syncing, and by that we even mean the integrity of files as well. You can even use command-line operations as well.
From adding a Windows 11 Update Checker back in September 2021 to optimizing it in a way that you can perform disk cloning on Windows 11 seamlessly using AOMEI Backupper, AOMEI frequently rolls out updates that are important both from features such as well as a security perspective. In fact, in case you are facing an issue such as a network path failing after backup or the like, AOMEI ensures to fix it promptly and delivers an impeccable utility with every upgrade. Although, the tool is prudent enough to prompt you about the updates, however, to manually fetch updates –
1. Click on the hamburger icon from the top-right of the interface.
2. Click on Check for Updates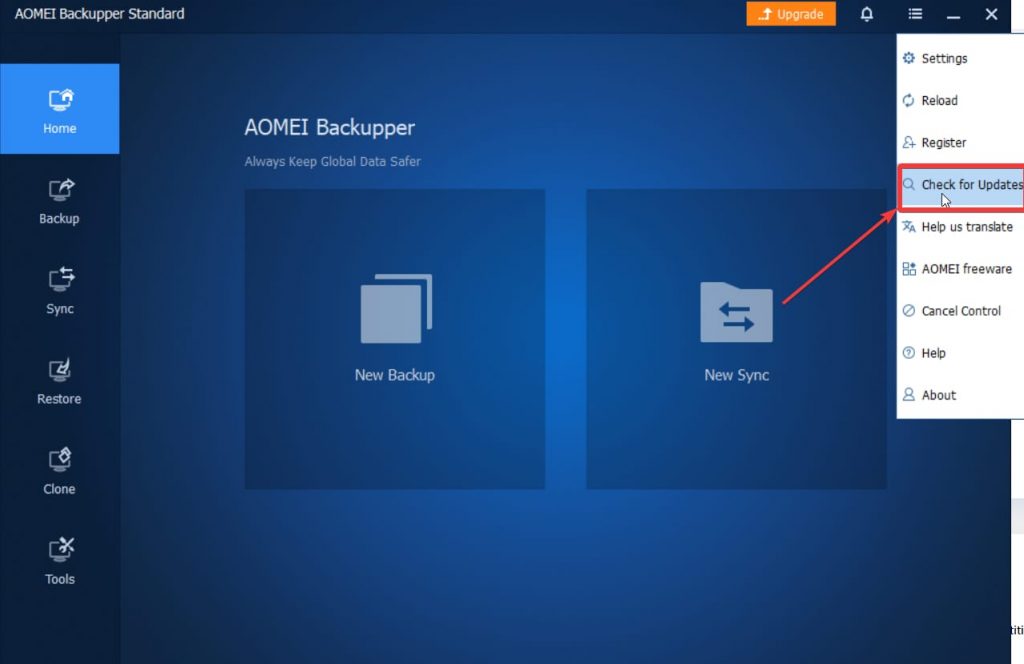 Yes! That's how simple it is.
AOMEI Backupper Standard is a free utility. However, there are premium versions as well that offer more features that might interest you if you want to use AOMEI Backupper for professional or technician purposes. Talking of which, the other two versions are AOMEI Backupper Professional and AOMEI Backupper Workstation. For 1 PC/ 1 License, the AOMEI Backupper Professional is priced at $49.95, while the Workstation would cost you $59.95. The premium versions offer faster task execution speed, and 24X7X365 technical support, unlike the standard version which offers technical support during business hours only. Apart from that here's a glimpse of what you can expect from premium versions –
Save backup disk space by cleaning redundant backups
Encrypt backup
When you download AOMEI Backupper Standard, you expect a good backup and restoration speed because for most of us time is a constraint. You would want to backup data or clone your disk so that you can restore this backup and start working on it as soon as possible, isn't it?
As per our tests both the backup and restore speeds were good, however, we expected a little better backup speed. On average we found that it was able to backup 1 GB of data per minute and took approximately 40 minutes to create a full backup. The restore speed clocked almost 1.9 GB per minute. The least we can say is that both the backup and restore speeds give a tight competition even to some of the other great hard drive cloning software.
In case you are dealing with bugs or technical issues, you can reach out to AOMEI via various channels. You can reach out for support right from the interface. For instance, as your first point of reference to get your query resolved, you can always check out the relevant tutorials by clicking on the hamburger icon from the top right corner and then, clicking on Help > Tutorials as shown in the screenshot below.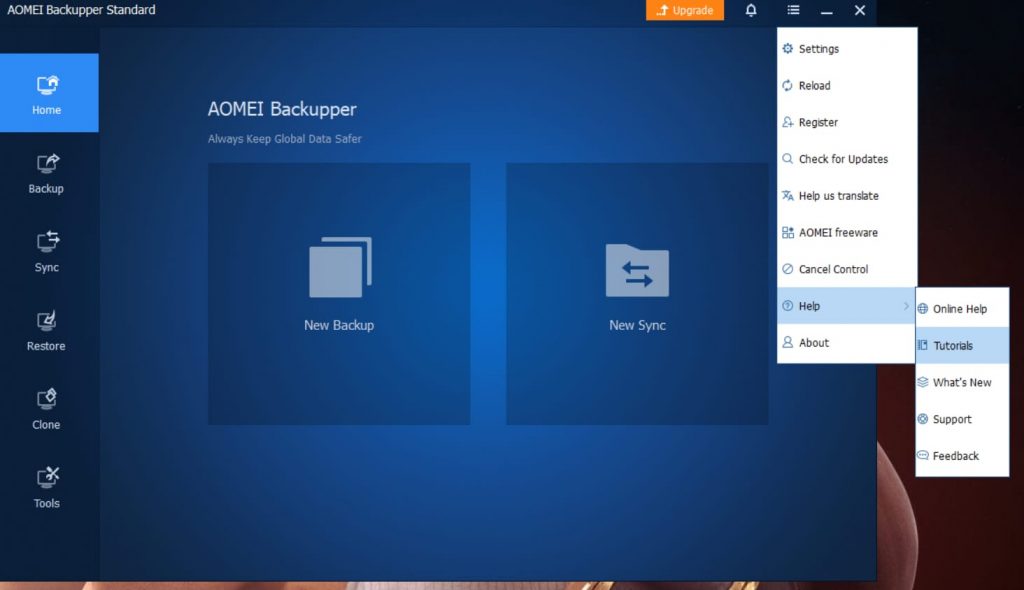 You can even check out a detailed guide that will walk you through all the functions of the utility. AOMEI Backupper also provides a comprehensive FAQ section where it addresses some of the common user queries. Plus, you can also reach out to the Contact Support at support@aomeitech.com and report whatever issue it is that you are facing or what more you expect from the utility.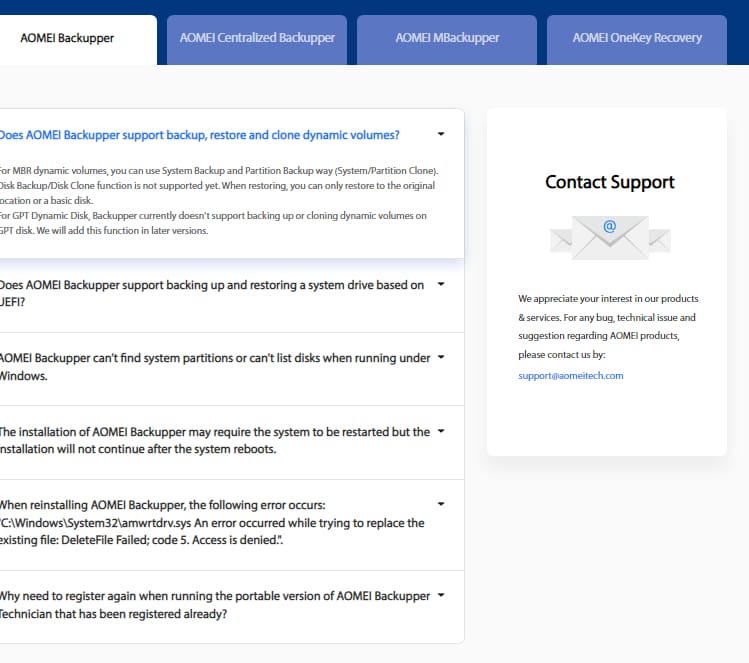 You can get your queries resolved via Live Chat that's available from Mon-Fri (09:00 AM to 6 PM GMT + 8)
Frequently Asked Questions
Q1. Which Is Better Aomei Vs Acronis?
Give and take a few features, AOMEI Backupper Standard gives all the features that Acronis True Image offers, and that too at free of cost, whereas in the case of Acronis you will have to pay for these features.
Q2. Is Aomei Backupper Standard Free?
Yes, it is free of cost and it does offer great value even after that. You get tons of options for backing up, cloning your hard disk, and even partitioning. You can even sync changes in files in the source directory to the destination directory.
Q3. Is Aomei Backupper Standard Good And Reliable Backup And Disk Imaging Software?
Yes, it is. Firstly, despite being free, it gives a user a complete grip on how he or she wants to backup or clone their files, partition, and disk, and secondly, the processing speed is decent if not the best. Last but not the least, the interface is user-friendly and eliminates the chances of errors which can cost you your precious data or even the operating system.
Q4. Is AOMEI Backupper Safe To Use?
Yes, it is. AOMEI Backupper is free from malicious threats and we can say that, based on the scan that we ran on an Antivirus tool.
Q5. How much does AOMEI Backupper cost?
AOMEI Backupper comes in three variants namely – AOMEI Backupper Standard, AOMEI Backupper Workstation, and AOMEI Backupper Professional. While the Standard variant is free of cost, the Professional and Workstation variants would cost you $49.95 and $59.95 for 1 PC/ 1 License respectively.
Q6. Does AOMEI Backupper work with Windows 11?
AOMEI Backupper is well compatible with Windows 11. And, as we have mentioned in the post, it started making the utility Windows 11 ready ever since its nascent stage. And, for the most part now (after having tested it on Windows 11) we can say that it does a decent job.
The Final Verdict
If you are looking for alternatives to AOMEI Backupper Standard then some great options can be Acronis, Macrium Reflect, and EaseUS Todo Backup. Having said that, despite being a free utility, we'd still conclude that AOMEI Backupper Standard is one of the best best free hard drive cloning software which doubles up as an efficient backup tool for Windows 11. You can try it and do let us know if it has stood up to your expectations. For more information, keep reading Top10PCSoftware. You can also follow us on Facebook, Twitter, Pinterest, and Flipboard.