EaseUs Todo Backup is a disk cloning software that can help you copy or migrate every ounce of data present on your hard disk to a target destination of your choice. You can also choose to clone your entire system to the desired location. For the disk cloning process to happen successfully, it is important to ensure that the storage capacity of the targeted destination is higher than the used space available in the source disk. We'll find a lot more in this EaseUS Todo Backup review.
What Is EaseUS Todo Backup?
EaseUS Todo is a backup utility software that helps you backup and restores precious data at the time of need. From individual files to a complete system to partitions on the disk, you can create a backup of everything in no time at all without any hassles and store them anywhere.
The tool also lets you schedule backup on a specified time or event and supports a variety of backup methods. As a part of a backing-up strategy, the images of backups can also be created. And, not just that, the tool makes it extremely simple to even manage the backed-up images.
EaseUS Todo Backup software is available in both free and paid versions. Although the disk cloning and system cloning features are available in the paid versions. You can test this feature with EaseUS Todo backup free trial version valid for up to 30 days. Later, you can activate the registered version after making the payment from within the tool.
Also Read: Best Disk Cloning Software 2021 – Clone Your Hard Drive Hassle Free
The data that resides in your computer or laptop is vulnerable to various kinds of mishaps. This is why you need to have a strategy to create a copy of your data from time to time that can be restored in the event your existing data gets lost, damaged, or even corrupted.
Pros:
Ease of use
Clones complete system and partition
Several cloning options
Cloud backup supported
Stringent privacy protection and encryption
Cons:
No file mirroring and sync
Doesn't support GUID/ GPT partition table
Cloning features are available in the paid version
A Brief Overview: EaseUS Todo Backup
The data that resides in your computer or laptop is vulnerable to various kinds of mishaps. This is why you need to have a strategy to create a copy of your data from time to time that can be restored in the event your existing data gets lost, damaged, or even corrupted. EaseUS Cloning software makes it possible for you to create a successful backup.
EaseUS Todo Backup clone to SSD makes it one of the useful products to backup your data completely along with the mounted drives.The best part about this EaseUS clone free version is that you can try out the features. This software also gives you the option to sync the files and folder regularly to another computer.
Software & Hardware Requirements
Current Version – 13.5
File Size: 1.7 MB
Operating System: Windows 11, 10, 8.1, 8, 7, Vista, and XP
Languages Supported – English, German, Spanish, Italian, French, Japanese, Polish and Portuguese
File System:

NTFS, FAT 16, FAT 32, FAT 12

Disk Space: Minimum 1 GB of disk space required on the hard disk
RAM: At least 1 GB
CPU: 500 MHz
Backup Storage Devices: HDD, SSD, RAID, USB drive, Tape, Network shared location, FTP server, NAS, DVD, etc.
Starts from
$
29.95
per year
Convert NTFS to FAT support
Cloning Backup Scheduling
How To Clone A Hard Drive Using EaseUS ToDo Backup?
1. Launch EaseUS Todo Backup and click on Clone/ System Clone from the left-hand pane.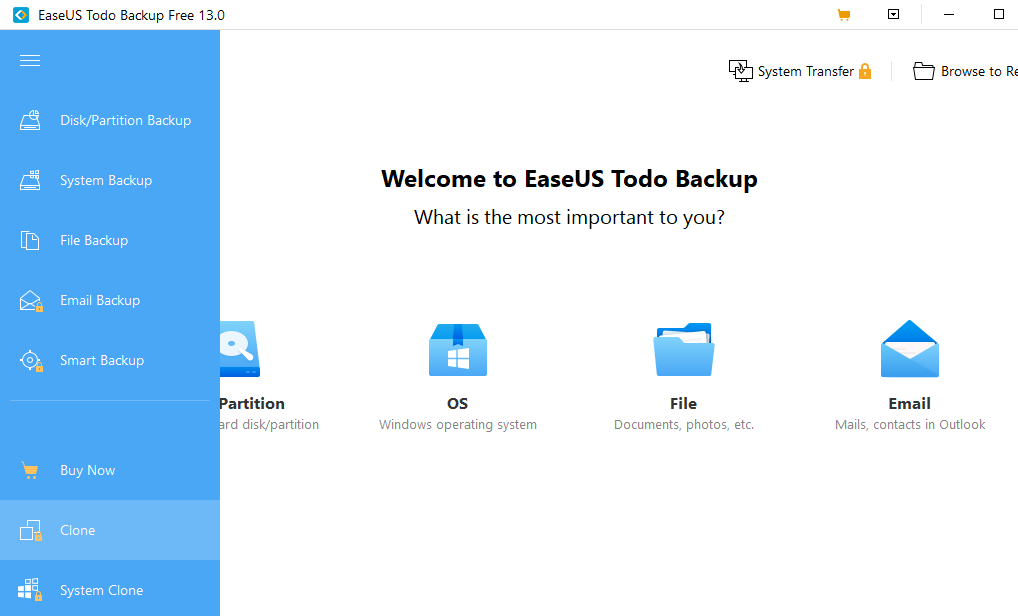 2. Select the source hard disk that you want to clone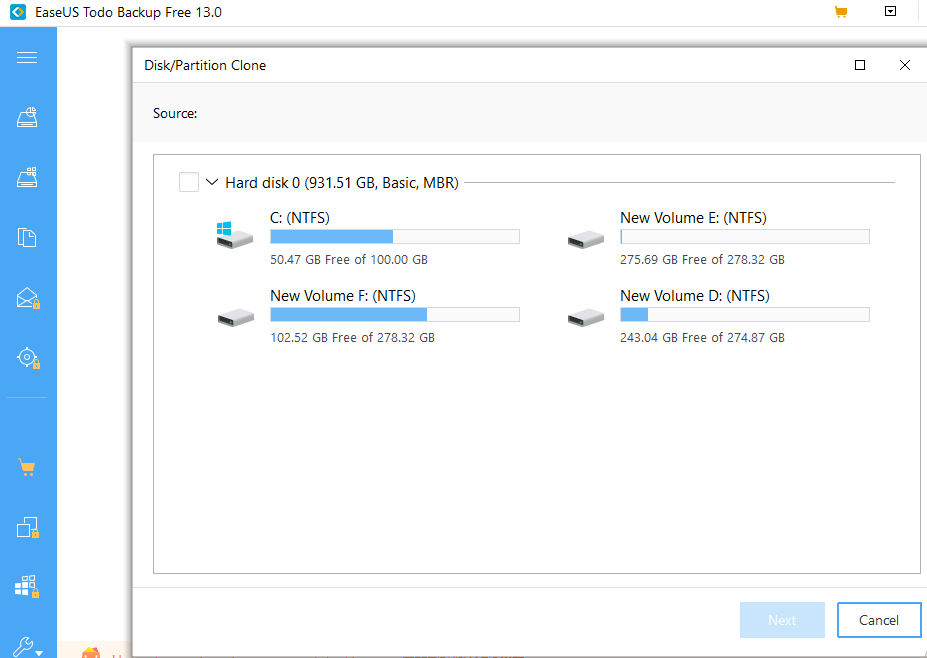 3. Select the destination disk where you want your data to be cloned. Now, here is one functionality that you might especially want to pay attention to. You can –
Conduct sector-wise alignment if your destination disk is an SSD
Sector by sector replica of the source by choosing sector by sector cloning option
Create a bootable USB system disk
4. After the cloning has been processed, you can preview it and then once sure you can click on Proceed
EaseUS Todo Backup (free and paid) has a decent, minimalistic, and streamlined interface. Each of the modules and functionalities is very well defined and any user shouldn't have any issues in getting accustomed to them. When you click on the options on the left-hand pane, a new window pops up prompting you to take an action.
All the options pertaining to backup and cloning are well aligned on the left-hand pane and are demonstrated with the help of icons. Every time you hover over an icon, you can see what an option is meant to do. You can also click on the hamburger icon and see the complete name of the functionality against the icon.
As for the various backup methods, the options for choosing a destination, scheduling a backup, selecting the type of backup, etc are neatly mentioned. And, for cloning the options for selecting source and target destinations are well demonstrated.
There are several features offered by EaseUS Todo Backup.
1. Disk/ Partition Clone: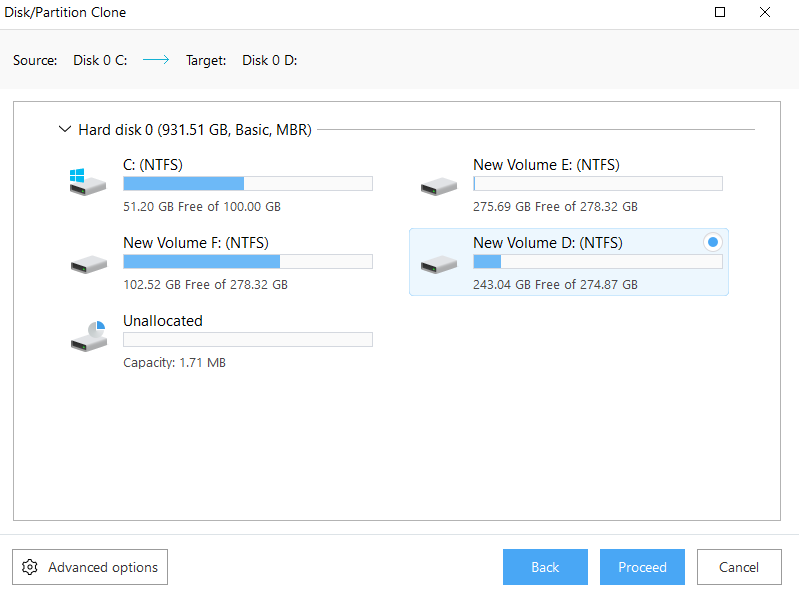 You can migrate your entire data or even copy it from one source hard disk or partition to another target disk/ partition. This feature can be useful if you want to replace or upgrade your hard drive.
2. System Clone: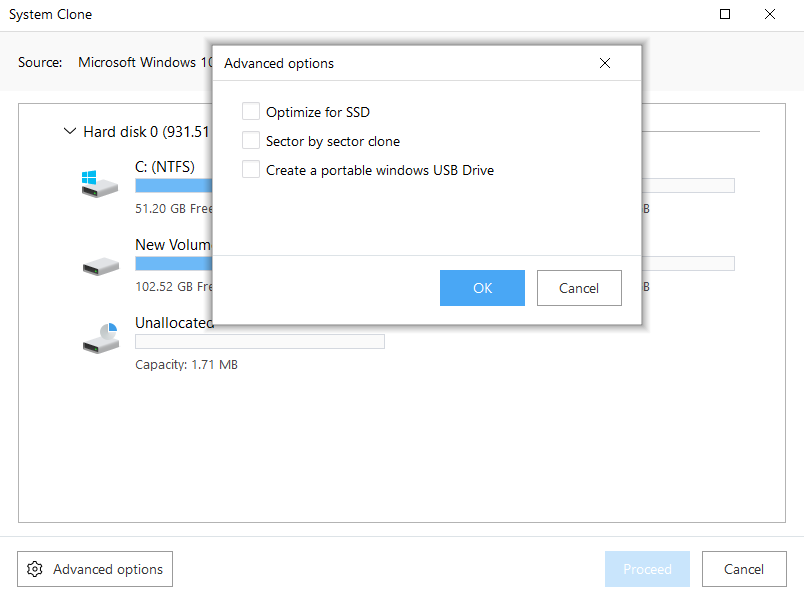 There are times when you might want to migrate or clone your entire system to a new hard drive without wanting to reinstall applications or the operating system per se. That's where the system clone feature can be useful. But here, you will have to take care of one thing: that the space on your targeted hard drive should be larger than the total size of your system and boot partition.
This option also lets facilitates –
Sector by sector cloning
Optimizing clone for SSD
Creating a portable USB Windows drive
3. System Backup: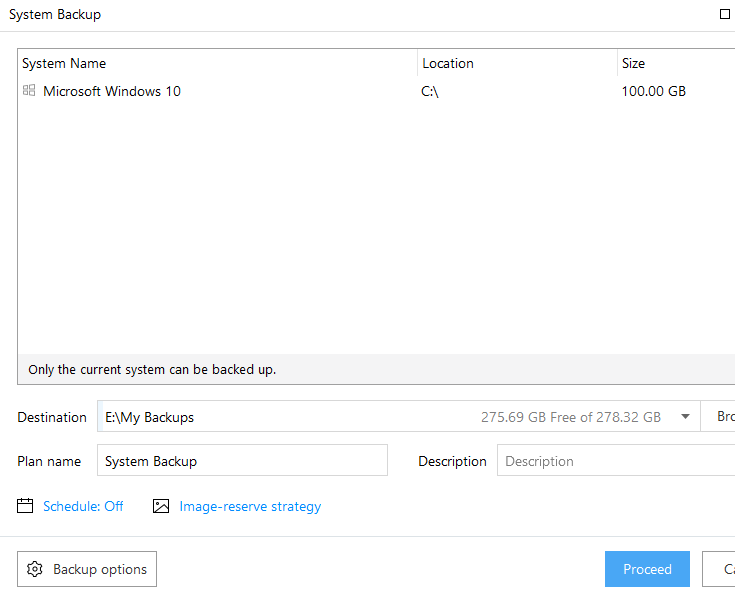 This feature backs up all the items which are essential for your system to operate. Using this option, you can create an image of your system that you can restore later, should your system run into a mishap like a crash or failure.
4. File Backup: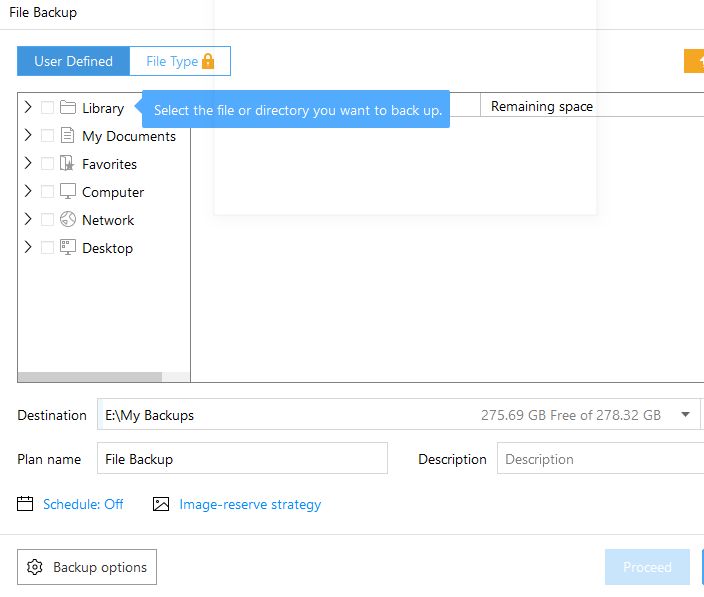 You can run an automated backup on all your files and directories. Not just that, you can encrypt those files for ultimate privacy and even compress file images as well. Don't Want to manually create a backup every single time, you can also schedule your backup at your desired date, at your desired time.
5. Different Types of Backups: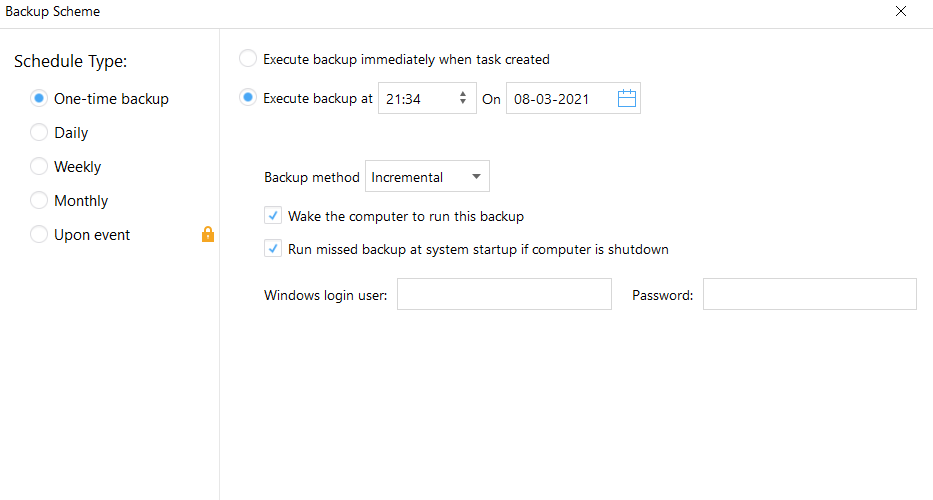 For any backup task, you can choose from three different kinds of backups, namely full, differential and incremental which you can select from the schedule settings.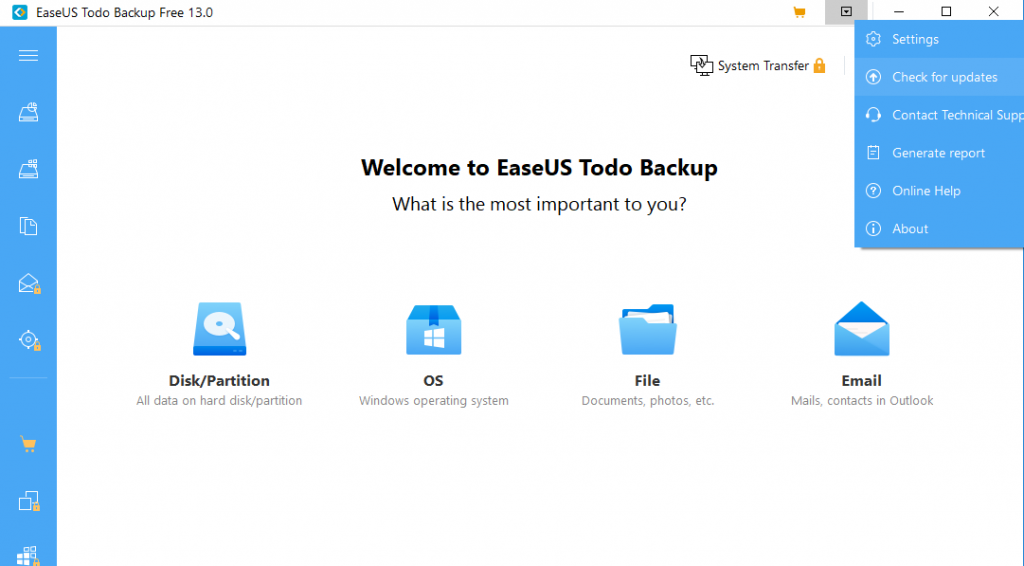 In simple words, disk cloning or system cloning involves algorithms that keep on evolving with each passing day. And, EaseUS Todo Backup takes heed of every ongoing evolution in the algorithm. As soon as an update appears, the software will prompt you to fetch that update.
You can also manually check for updates by clicking on the dropdown present at the top bar just next to the cart icon as shown in the screenshot below. From there, you can click on the Check for Updates option present just below the settings.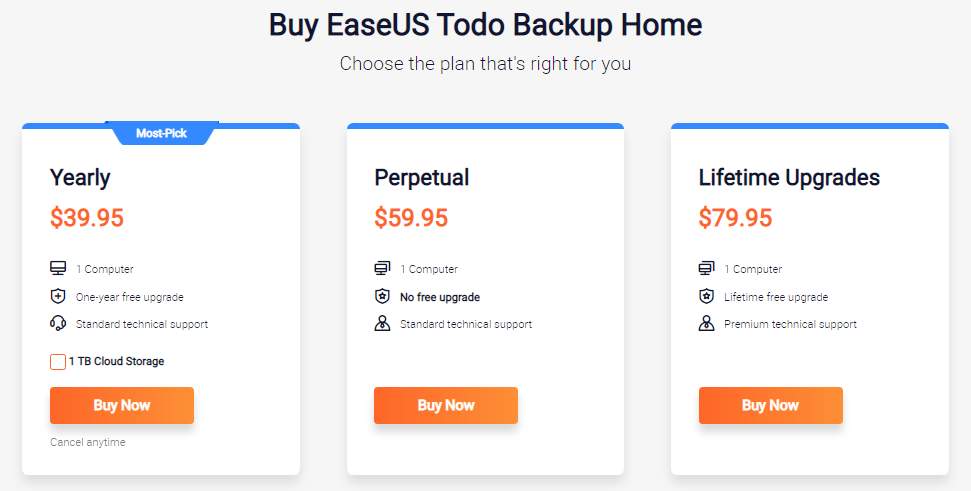 Once the EaseUS Todo Backup free trial period of 30 days is over, you can opt for one of the three variants. The pricing for which is mentioned below-
When cloning several gigabytes of data, speed is a crucial factor. You also need a tool that can conduct the cloning process before any further damage is caused to the existing data. In that regard, EaseUS Todo Backup disk cloning software is a fairly fast performer if not the best in the business.
At the outset, we'd like to mention that to an extent the performance of the software depends on your cloning speed. At a steady 100 Mbps of cloning speed, EaseUS Todo backup takes approximately 90 minutes to clone 500 GB worth of data.
EaseUS is known for its spectacular customer service. EaseUS Todo Backup Help has provided the users with multiple options to reach out. First, let's talk about how you can reach out for help from within the application, should you get stuck somewhere. 
Click on the dropdown icon present at the top right corner as shown in the screenshot below and then generate a report while also attaching the screenshot of the problem.

As you can also see that the dropdown has an option for online help. It provides you with online manuals for ready reference in case you get stuck with options in the product. Then, there are also several knowledge base articles and blogs that can help you with almost all aspects of the product.
Even if after referring to the manuals or knowledgebase articles, you find that your query is not resolved, you can email your issue via ticket. The best part is that each of their products has a separate email support team which is available 24 X 7. You can rest assured that your query will be answered in approximately 48 hours.
Top Alternatives of EaseUS Todo Backup
Provider
$ Per Year
Top Features
1
Acronis True Image

$

49.99

Easy disk cloning wizard
Cloud backup sync
Real-time malware removal
Fast and reliable
Restore backup to dissimilar hardware
2
Macrium Reflect 8

$

69.95

Clone data exactly
Schedule backups with templates
Access backup files and images from Windows explorer
Support for virtual machine
Ransome protection for backups
Frequently Asked Questions – Some Common User Queries
Q1. What Is Easeus Todo Backup?
EaseUS Todo Backup is a disk cloning, disk imaging, and one-click backup utility which enjoys a customer base of over 20 million. It lets you create a backup of precious data on your computer by several means. You can then restore this backup in an event of a system crash, malware attack, or any other kind of disaster.
Q2. Is Easeus Todo Backup Free?
Yes, EaseUS Todo Backup comes with a free version. But, the free version only gives you the facility to backup and restore data which in itself is a great feature. EaseUS frequently runs discounts and giveaways, for instance, at the time of writing this blog, you could try all the features of this tool for free for 30 days.
Q3. Can EaseUS Be Trusted?
Being the makers of some of the best Windows and Mac utilities such as data recovery, data backup, and several others, it is safe to say that EaseUS Todo Backup is 100% safe to use and has been entrusted by some of the best technical experts in the world.
Q4. Does Easeus Todo Backup Really Work?
There is no doubt that this disk cloning utility has very effective modules in place to backup and restore data. It doesn't only help take a backup of an individual drive but also the backup of your complete hard drive or your complete system as well.
Q5. How Long Does EaseUS Take To Clone?
For cloning a 100 GB hard drive, EaseUS would normally take around 17 minutes provided the cloning speed is 100 MB/s.
Q6. Is EaseUS Safe?
Yes, EaseUS Todo Backup Software is safe to be used on Windows PC. It comes from a renowned software company EaseUS and the product can accurately take backups of your computer.
Wrapping Up
A disk cloning software like EaseUS Todo Backup solves many purposes. Not only can it be a lifesaver in case your computer has run into a grave problem where your data has been damaged. But EaseUS Clone can also prove to be extremely handy in situations where you have to set up multiple computers with the same configurations, replace a damaged hard drive or upgrade it or reboot your computer to a previous version. While no backup software provides as many features as EaseUS Todo Backup, you can always rely on its file syncing feature for multiple personal computers. Do give EaseUS Todo Backup a try and let us know if it has been able to stand up to your expectations.
We look forward to your comments to know more about your opinion on this EaseUS Todo Backup review. Also, if you liked this, we recommend you to check out – Acronis Cyber Protect which is a good competitor. For more such reviews on Windows software, keep visiting Top10PCSoftware. Also, follow us on the social media platforms for the latest updates for Windows software. We are on Twitter, Facebook, Pinterest, and Flipboard.