Acronis True Image Review 2022 – a utility that gives you a robust strategy to safeguard your data in the event of a computer crash or create a backup in case you are planning to upgrade your hard disk or migrating data (even your operating system) from your hard disk to an SSD. You name the situation and Acronis True image will have a backup plan ready for you.
What Is Acronis True Image?
Acronis True Image 2022 is various utilities packed into one. To begin with, it is a feature-packed online backup service. You can take a backup of files or the entire system and restore it anytime. One of the key aspects of Acronis True Image HD software is that apart from helping you make a backup of files or the entire system, it also protects them from various kinds of malware infections which is why it also doubles up as a data protection software as well.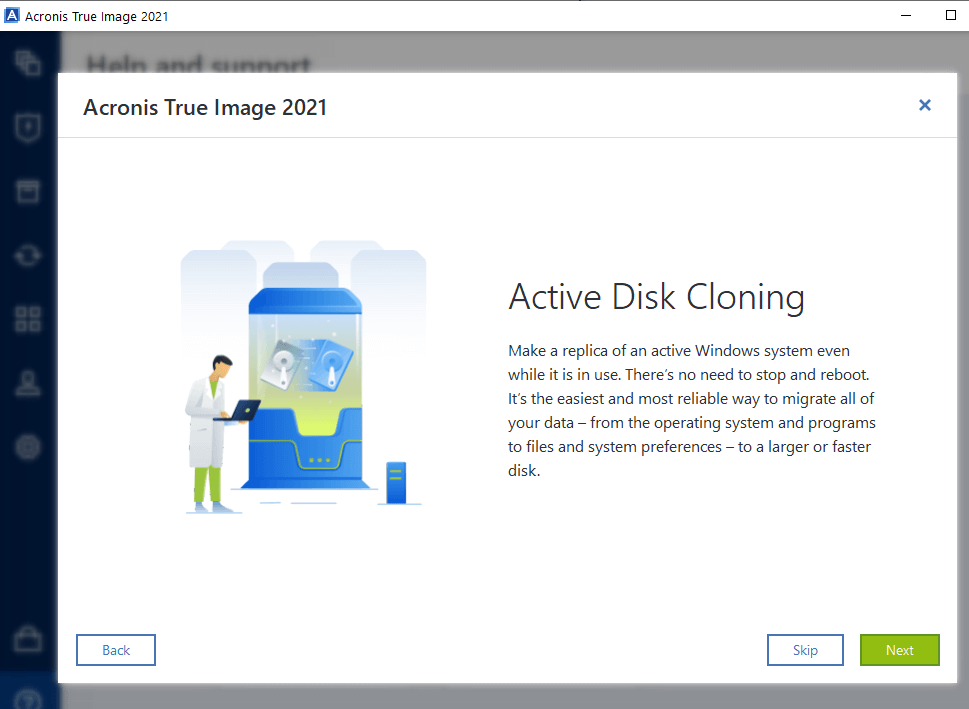 Here are the kind of features you can expect from Acronis True Image. We'll be elaborating on these and a lot more a little later in the blog, but, meanwhile, you can at least get a fair idea of the kind of features you can expect –
Acronis True Image (Backup and Cloning Software) Features At A Glance
1. Active disk cloning
2. Tons of backup features
3. Easily sync data between PC's or cloud
4. Powerful archiving capabilities
5. Universal media builder
6. Trial mode to check unsafe operations first
7. Efficient account management
Also Read: 10 Best Disk Cloning Software – Clone Your Hard Drive Hassle Free
Why Do You Need A Software Like Acronis True Image?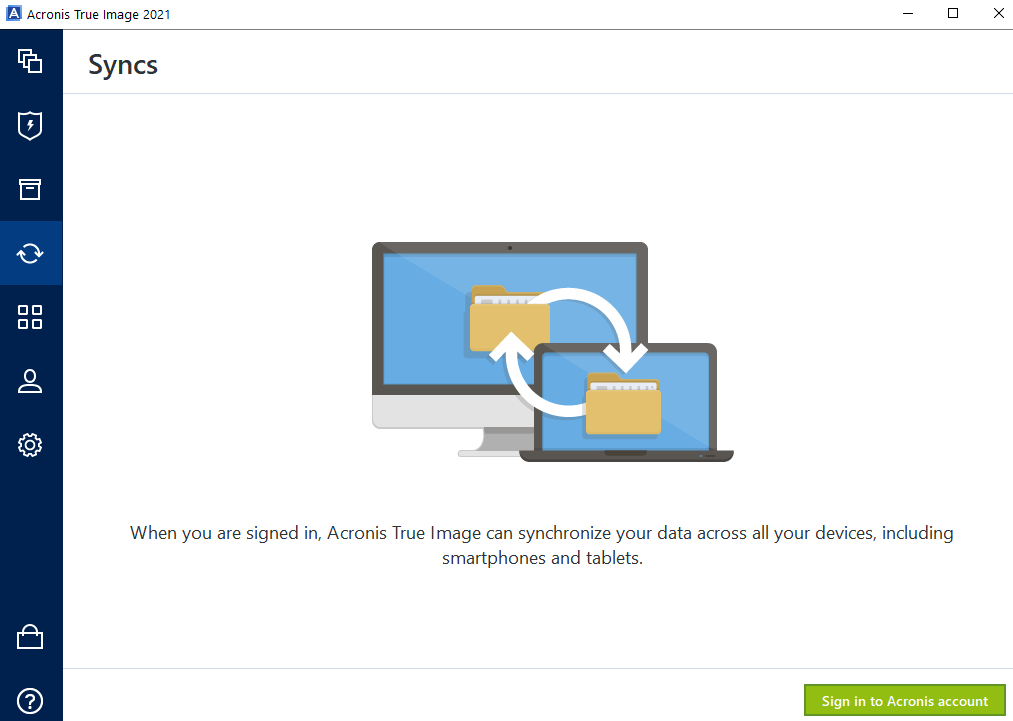 Our Windows 10 computer is a storehouse of enormous data. Sometimes, when there is an accumulation of too much data, the storage space on Windows 10 just falls short. That's when a utility like Acronis True Image HD software comes to the rescue. It lets you create a backup of all your data, your operating system included and helps you easily restore this data anywhere, anytime.
Let's take this a step further, what if you want to replicate the contents of your hard drive on several PCs – maybe at your office or even at new machines at your home. Apart from helping you take backups, Acronis also doubles up as a cloning software that lets you clone the data from one source to another destination. In this blog, we'll have a look at Acronis True Image from the perspective of a backup and cloning utility. But, first, let's have a glance that as a backup and cloning utility what it has and what it doesn't.
Starts from
$
49.99
per year
Convert NTFS to FAT support
Cloning Backup Scheduling
Hardware Requirements To Install Acronis True Image on Windows 10 –
Operating System: Windows 10, Windows 8.1, Windows 8, Windows 7 SP1
File Systems Supported: NTFS, FAT16, FAT32, EXT 2/3/4, exFAT, SWAP, HFS+, HFSX
Memory: RAM not less than 1 GBHDD Space: The download size is itself approximately 800 MB, it is advisable to have a minimum of 3.5 GB worth of hard disk space so that there is sufficient space for back up images
Pros:
Easy to use, modern interface
In-depth one-click scan even in the free version
Functionality to enhance internet speed
Safely resolves registry issues and even backs it up
Malware removal
Swift and prompt customer support
Cons:
Enhanced features available in the paid versions only
Options could have been better marked
It can prove to be pricier for some
How Does Acronis True Image 2022 Work?
Acronis True Image for Windows 10 is fairly simple to use. It is important to note that when planning to clone data from source to destination, make sure that the destination should have more space than that of the source. For example, if you are planning to clone data from HDD to SSD, make sure that the storage capacity of your SSD is larger.
Talking of which let's see how you can use Acronis to clone HDD to SSD –
1. Download Acronis True Image 2022 (At the time of writing this blog, this is the latest version)
2. Click on Tools from the left-hand pane
3. From the right-hand side, click on the Clone Disk which is the first option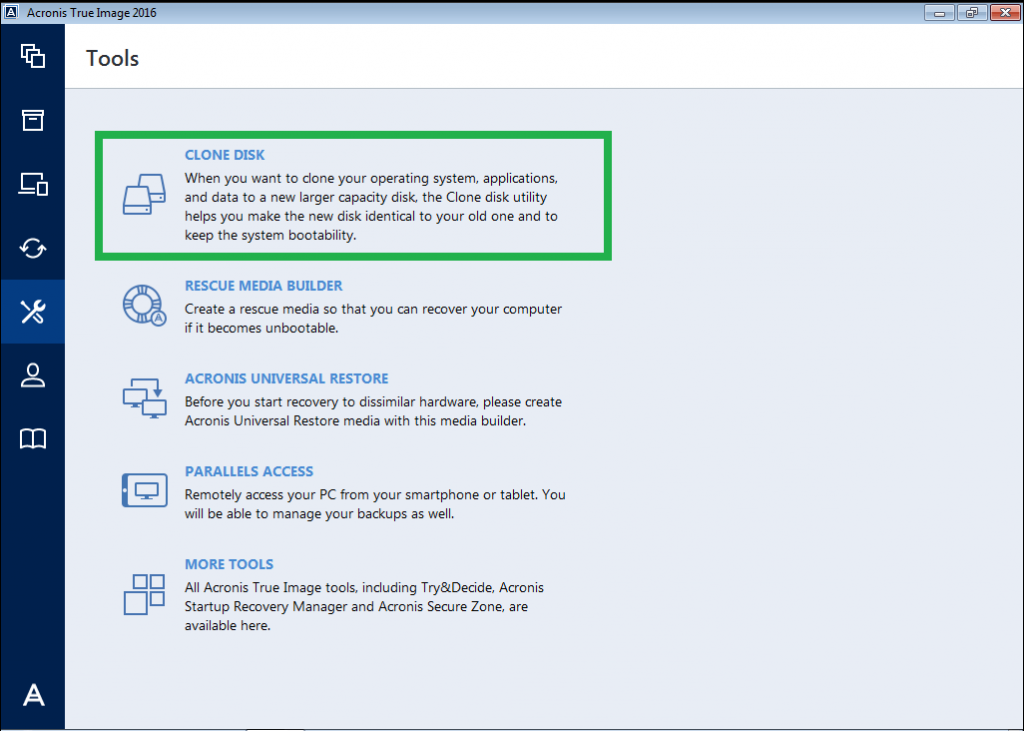 4. When the Clone Disk Wizard opens select the mode. It is recommended that you choose the Automatic mode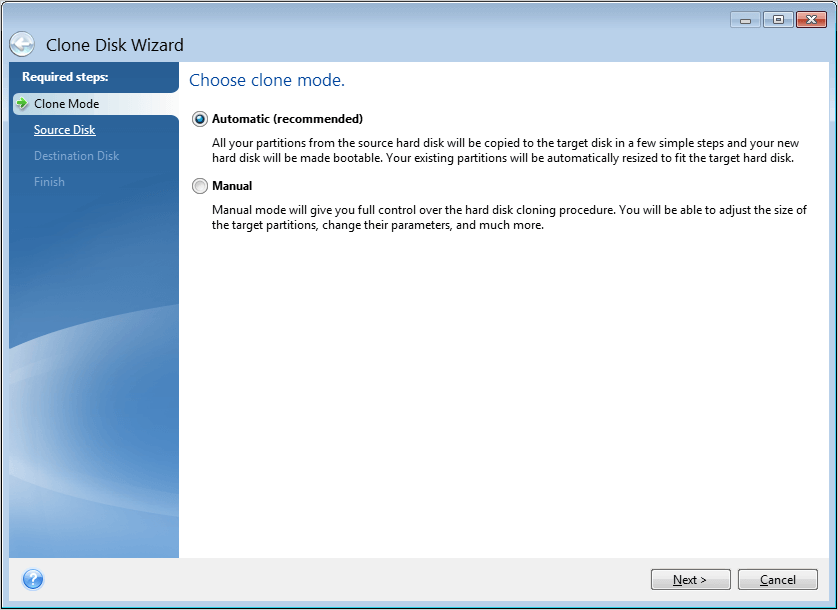 5. You will now be able to see/choose your source drive (e.g. one of your hard drives) and the destination drive (e.g. An SSD)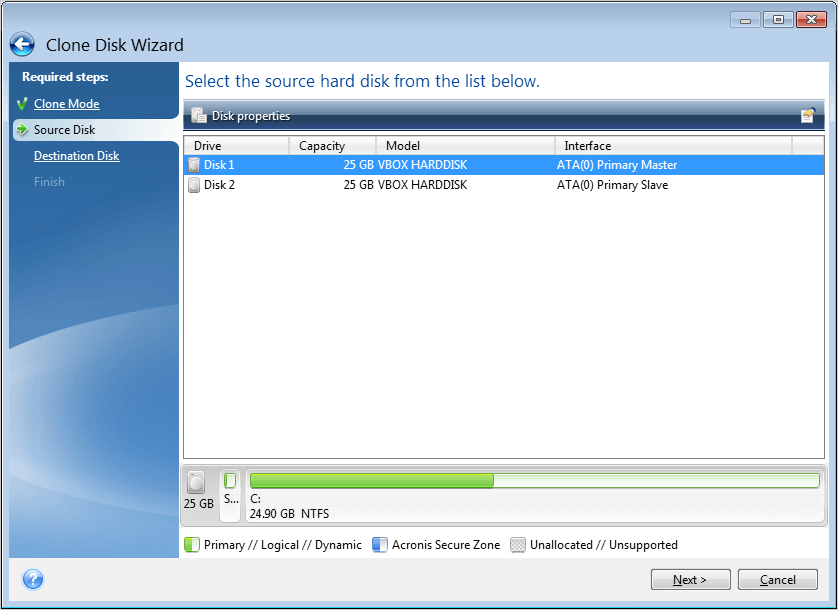 6. Click on Next
7. Click on Proceed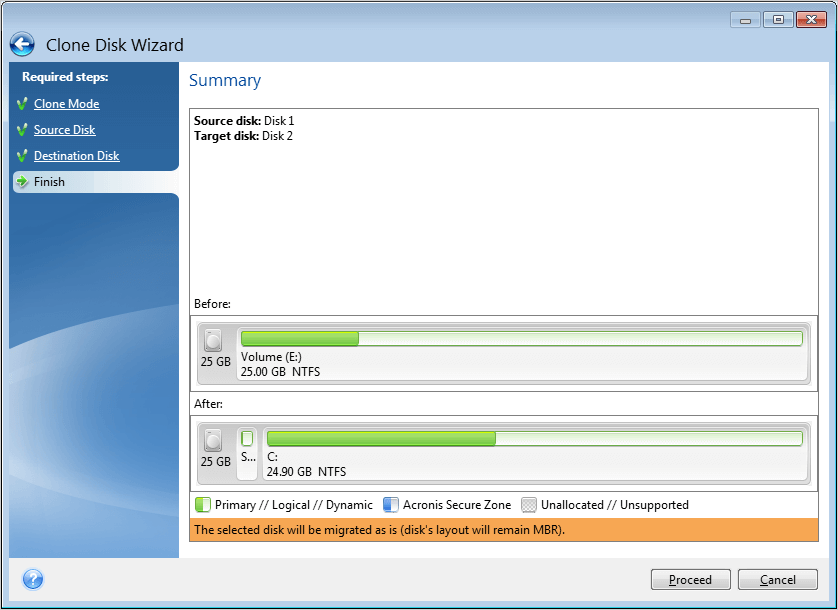 Note: Also, make sure that you clear all the bad sectors by using chkdsk/r in the command prompt of your Windows operating system. Be patient, as this operation may take a considerable amount of time.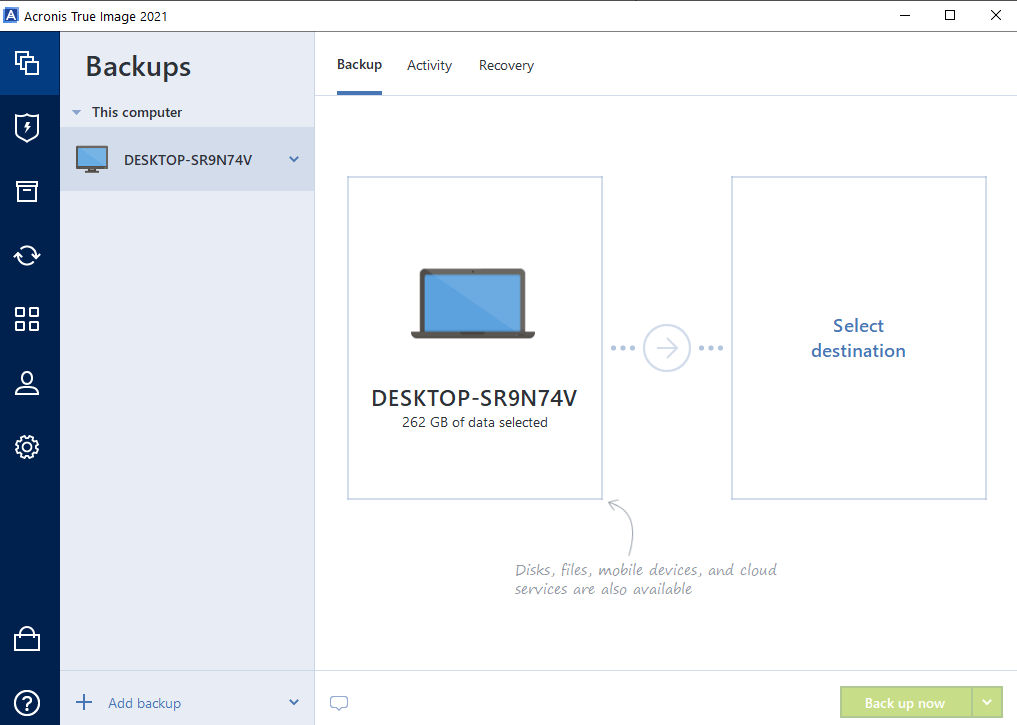 The interface, though a little cluttered, is still easy to get a grasp of. Even a beginner user shouldn't have difficulties in figuring out what each of the options is meant to do. On the left-hand side, several backup and archiving options are marked. More specifically the options are titled backup, protection, archive, sync, tools, account, and settings.
Since we are talking about disk cloning – if you intend to, say, clone your HDD to SSD using Acronis True Image, the option is hidden under the Tools section. And, honestly, that's the only cache – to figure out where the option of cloning is located. But besides that, once you get into that option, the disk cloning wizard of the software will guide you through every single step.
Even with Acronis True Image free, you get tons of features that will certainly suffice all your backup needs. Let's dive deeper and have a look at some of the key features of Acronis True Image HD software –
1. Easy Active Disk Cloning: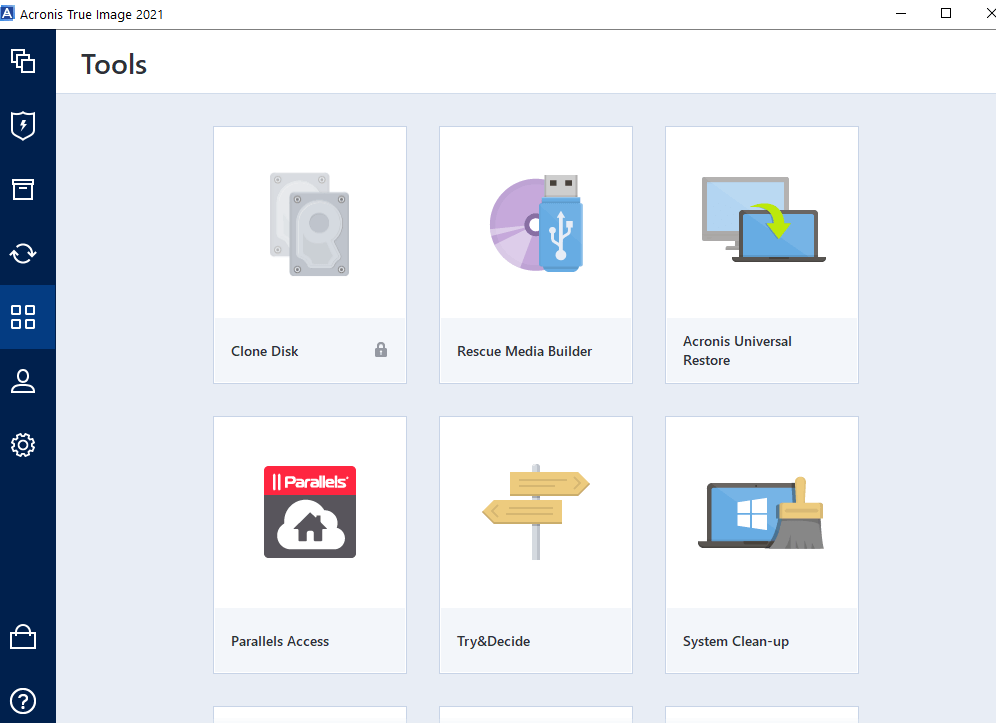 You can duplicate your running operating system without shutting it down or even rebooting it. It certainly is the easiest way to migrate all of your data, your programs, files, and even your operating system. Moreover, you also have the facility to create a recovery drive or boot media.
2. Full Image Backup:
Create a mirror image of your complete system, applications, configurations, folders, etc. The backup can easily be restored anywhere, anytime.
3. Universal Restore
Let's say you are restoring your backup to a computer whose hardware requirements are different than yours. To tackle such a situation, Acronis True Image lets you change Windows Hardware Abstraction layers and install NIC drivers and HDD controllers, thereby successfully helping you restore your system to a distinct hardware environment.
4. Cloud/ Local/ Hybrid Backup Options:
Backup files, folders, or the entire system on the cloud, on your local PC, or choose the hybrid option. You also get the functionality to schedule backups as well. One of the best aspects of this disk cloning and data backup utility is that the backup can be scheduled based on events. This means you can set a backup that will be triggered on user logins, system shutdown or startup, or even when you plug-in a drive.
5. Protection From Malware: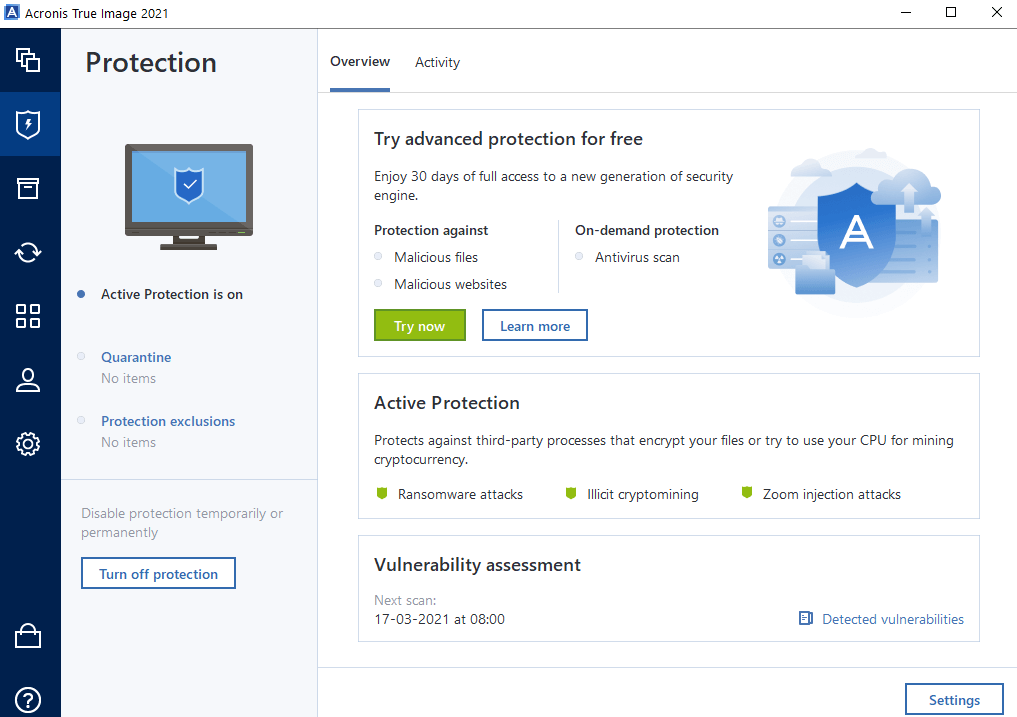 Acronis True Image scans your entire system for malware, especially high-risk files. Its behavioral heuristics protect from malware, crypto-jacking, and ransomware in a single click.
6. Backup Resumption:
If a backup is interrupted, the process will start from the point where it was interrupted, which will save both your time and cloud storage space
7. Try and Decide Mode
If there is an operation that you think might not be safe, you can take the help of this mode and decide for yourself if you want to apply the changes or not.
8. Web Filtering
Acronis True Image blocks any malicious websites and phishing emails from causing any harm to your computer or data

Like any other software, updates are extremely crucial for cloning software as well. A regularly updated software effectively and efficiently keeps any vulnerabilities, bugs, or security loopholes at bay. And, from that perspective, Acronis True Image fairs up well. Its latest build i.e. 39184 is power-packed with several new features such as on-demand antivirus scans, vulnerability assessments, and real-time protection from all kinds of cyber threats.
The application automatically checks for updates, but you can manually check for updates by clicking on the settings and unchecking the Automatically check for updates at the startup checkbox.
With Acronis True Image's free version, you can try most of the features for 30 days. After which you can opt for one of the following variants –
Essential

Image to file-level backups, Anti-malware protection, Active disk cloning, Universal restore/ quick recovery, Tech Support via email, phone, and online chat

Advanced

Image to file-level backups, Anti-malware protection, Active disk cloning, Universal restore/ quick recovery, Cloud backup, Automatic replication, Backup of Microsoft 365, Tech Support via email, phone, and online chat

Premium

Image to file-level backups, Anti-malware protection, Active disk cloning, Universal restore/ quick recovery, Cloud backup, Automatic replication, Backup of Microsoft 365, Electronic signature on files, Your files can attain blockchain certification, Tech Support via email, phone, and online chat (priority)
If you are considering investing in a disk cloning utility, one of the most crucial factors is speed. After all, you would want to clone or image your data, be it files, folders, or the complete operating system as quickly as possible.
Acronis True Image review will be incomplete without mentioning something about the speed. After all, you might be curious to know how much time would this cloning software take to clone your data, right? To clone around 500 GB worth of data, the software might consume 2-4 hours. Do let us know in the comments section if that's a decent enough speed.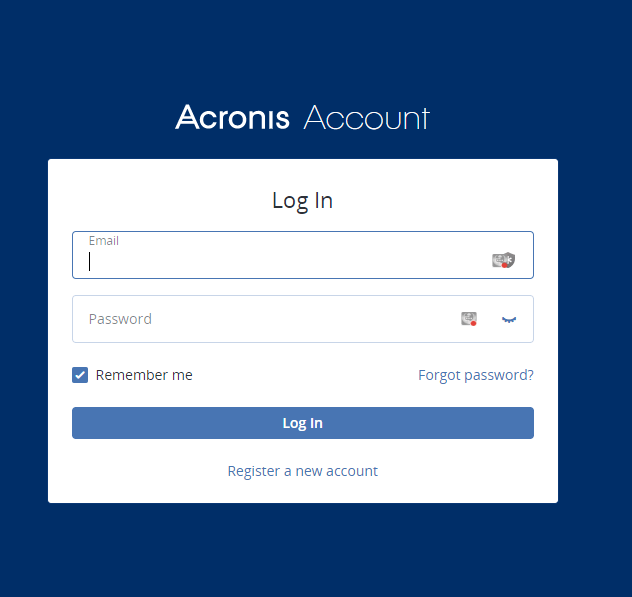 Acronis has brilliant customer support. In case of doubts or queries regarding the product, a customer can approach Acronis through various channels. You can log in with your Acronis account and reach the customer support team via phone, online chat or even raise a ticket mentioning your complaint or doubt. Apart from that, Acronis has an exhaustive collection of knowledge base articles that cover most user queries. Furthermore, you can always put your queries in the user forum as well where you can discuss your queries pertaining to Acronis True Image.
Frequently Asked Questions – Common User Queries Answered
Q1. Is Acronis True Image worth it?
Yes, Acronis True Image is worth every penny spent. It is simple and intuitive and gives you a lot of options to backup or even clones your data. Not just that it even protects your data from ransomware, crypto-jacking, and other infections and has all-around customer support.
Q2. How many computers can I install Acronis True Image on?
You can purchase the license for it for up to 3 computers (Windows and Mac) and an unlimited number of iOS and Android devices. The license that you receive after you have signed up for a premium service is valid for 1 year.
Q3. How can I configure a backup to the cloud?
To configure backup to cloud using Acronis True Image, click on Backup from the left-hand pane, then select destination from the right-hand side, and then click on Acronis Cloud. You can sign up for a free trial for 30 days and then invest in one of the plans mentioned above.
Wrapping Up
If you are looking for backup and disk cloning software, Acronis True Image 2022 is a great option. The best part is you get to use most of the features for free for 30 days. So, Do give it a spin and let us know what you think of this Acronis True Image review. If you liked the review, do give it a thumbs up and for more such content, keep reading Top10PCSoftware.