There are instances when you might want to replicate your drives, applications, and even your very own operating system onto another system. This is when you would need a tool like a disk cloning utility that will help you replicate your entire drive or operating system in no time at all. One such utility is Macrium Reflect 7. In this Macrium Reflect 7 review, we'll dive into all the major disk cloning features of this utility.
What Is Macrium Reflect 7?
Macrium Reflect 7 free as the name suggests is one of the best free disk cloning software for windows pc that can help both personal as well commercial users to protect their data, upgrade their hard disks or even replicate the operating system onto a new machine. It helps create an accurate image of your complete hard disk or its partitions into a mountable and single compressed archive file. This file can be used to extract images of a partition on a hard disk when a situation arises.
Even Macrium Reflect free disk imaging software is loaded with a lot of features. We will discuss these features in greater detail later in the article. To give you an overview, here are the kind of features you can expect from this disk cloning utility –
Direct disk cloning capability
Create images of live Windows operating system
Boot backups in Hyper – VVM
Schedule backups as per your desires
Restore nonbooting systems
Why Do You Need A Disk Cloning Software Like Macrium Reflect 7?
If you are planning to buy yourself a new PC or laptop or considering upgrading from an HDD to a bigger and better SSD, you are in for two things – for a treat and some amount of hard work.
For a treat because now you are going to have better specifications and for some hard work because you will have to move all that data and settings. Moreover, you may even have to replicate everything as it is. And, when you have cloning software like Macrium Reflect free, life will become all the easier. It helps you migrate everything – your programs, files, apps, settings from your old PC to a newer one.
Starts from
$
69.95
per year
Cloning Backup Scheduling
Hardware Requirements To Install Macrium Reflect Disk Cloning Software On Windows 10 –
Operating System: Windows 10, Windows 8.1, Windows 8, Windows 7, Windows Vista, Windows XP Service Pack 3, Windows Server 2003 Service Pack 2
RAM: Minimum 1GB
For using the rescue media feature, you will need a USB pen drive or CD/ DVD writing drive
Pros:
Easy to use interface
Ability to directly clone disk
Schedule backups
Protect backups from ransomware
Facility to encrypt backups
Detailed log reports
Cons:
Can be a bit pricey for some users
Cloning speed could have been speedier
How Does Macrium Reflect 7 Cloning Application Work?
After you have downloaded the disk cloning and imaging utility, here are the steps that will bring the cloning software into action –
1. First, choose the disk that you desire to clone in the application's main window and then click on Clone this disk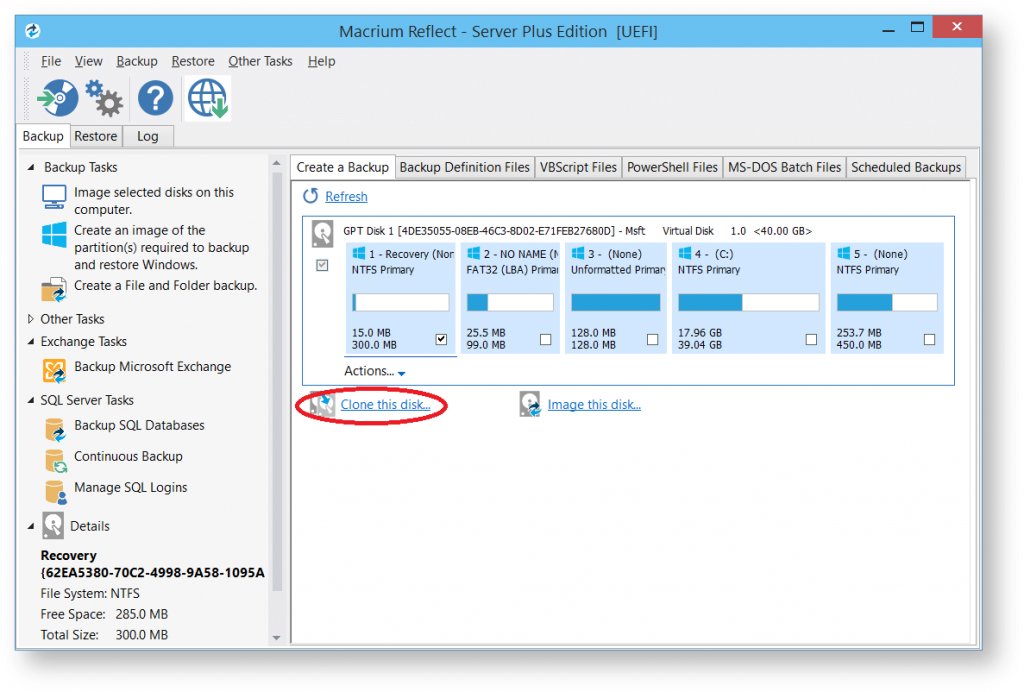 2. In the wizard that next opens, click on Select a disk to clone to
3. Select the hard disk for cloning
4. You can reorder the partitions or even make modifications to their size. If you want to proceed without these changes, click Next which happens by default. However, you can reorder the partitions after which you will be able to see the changes as shown in the below-mentioned screenshot
Before Screenshot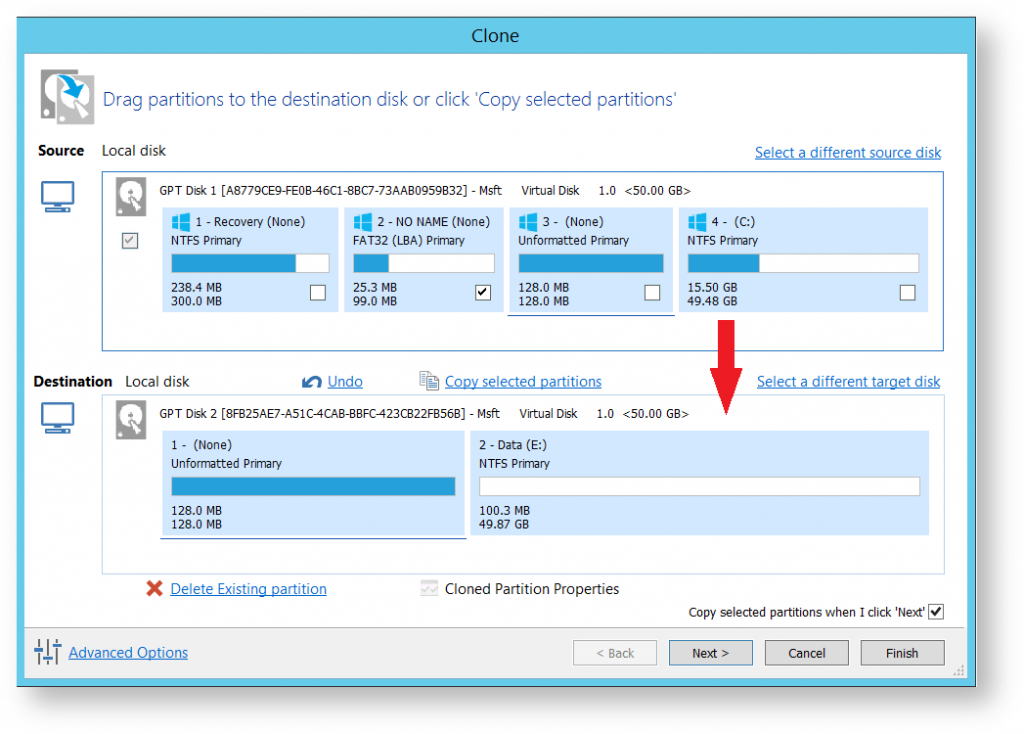 After screenshot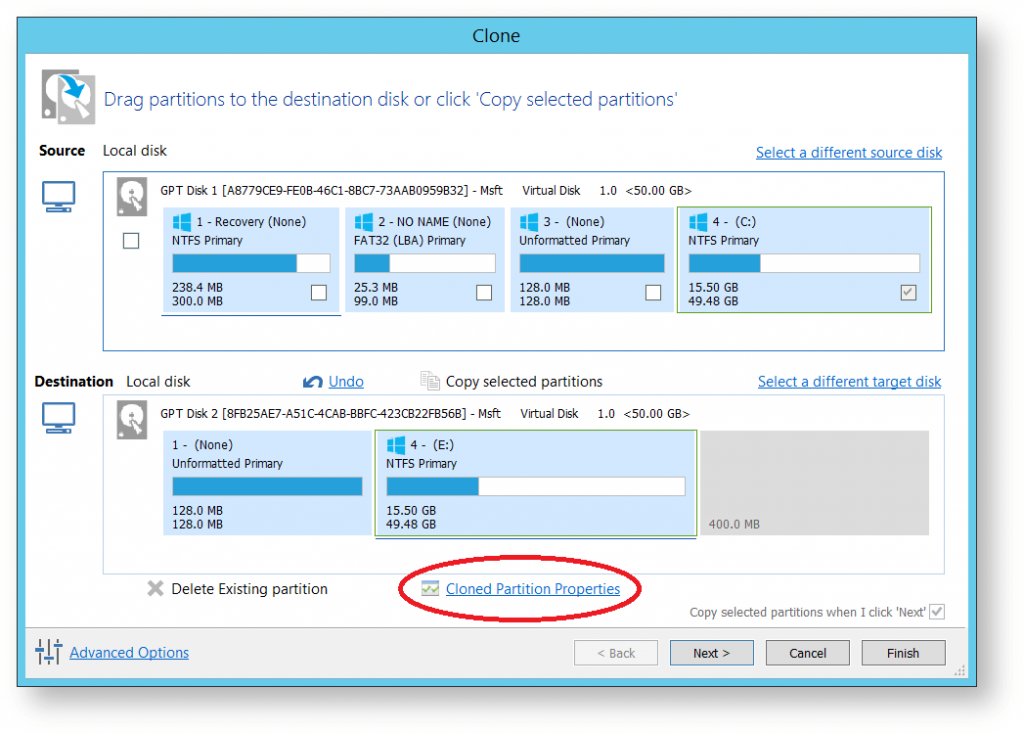 5. If you want to make modifications to the partition sizes, click on Cloned Partition Properties and subsequently you can adjust the partition size by –
Using the Partition Size entry, you can set the partition size precisely
To change the partition size (resize it) automatically click on Maximum size, Minimum size or Original size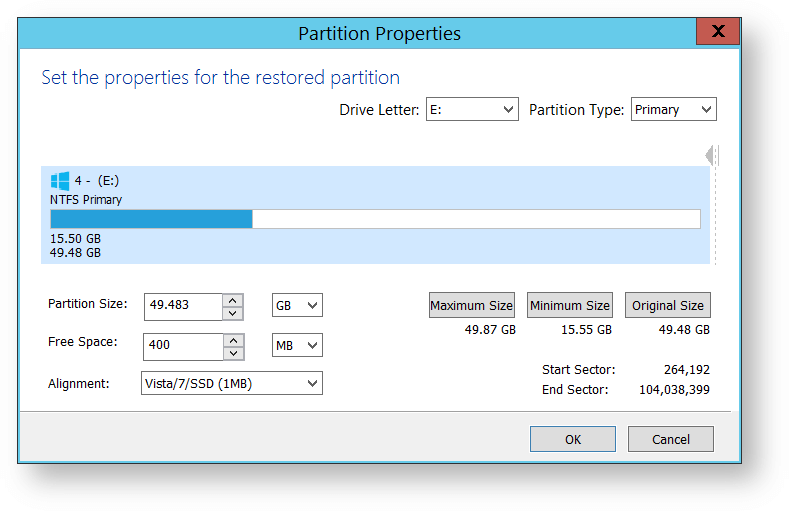 6. Click OK
7. You can even click on Advanced Options to change clone settings
8. Click on Next after which you will be able to schedule the cloning process. For this, you will now be able to see – Add Schedule, Edit Schedule, or Delete Schedule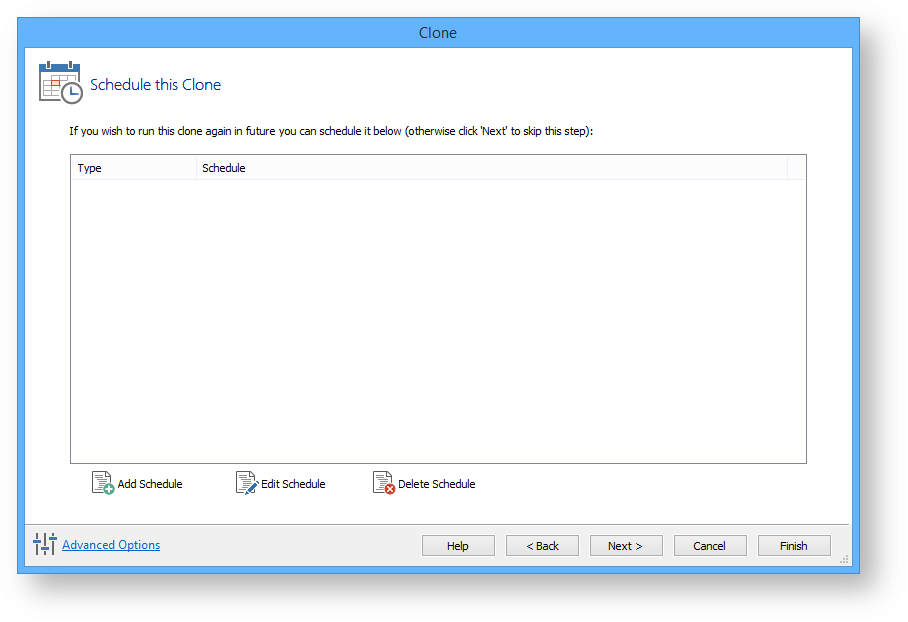 You can schedule the cloning process at your desired Start Time and Start Date and even change the frequency at which the cloning process will take place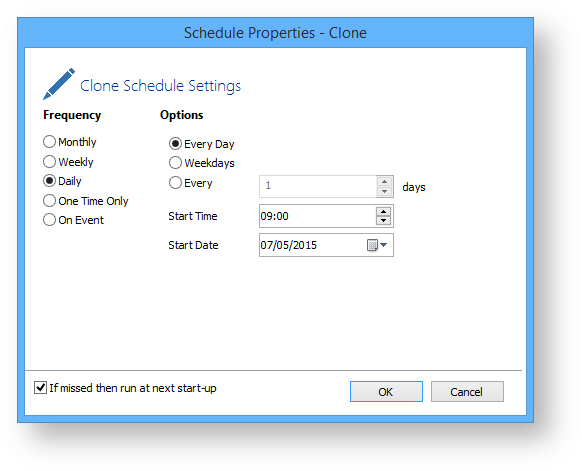 9. Review settings and then click on the Finish button
10. Verify all the settings and then click on OK
11. Click on Continue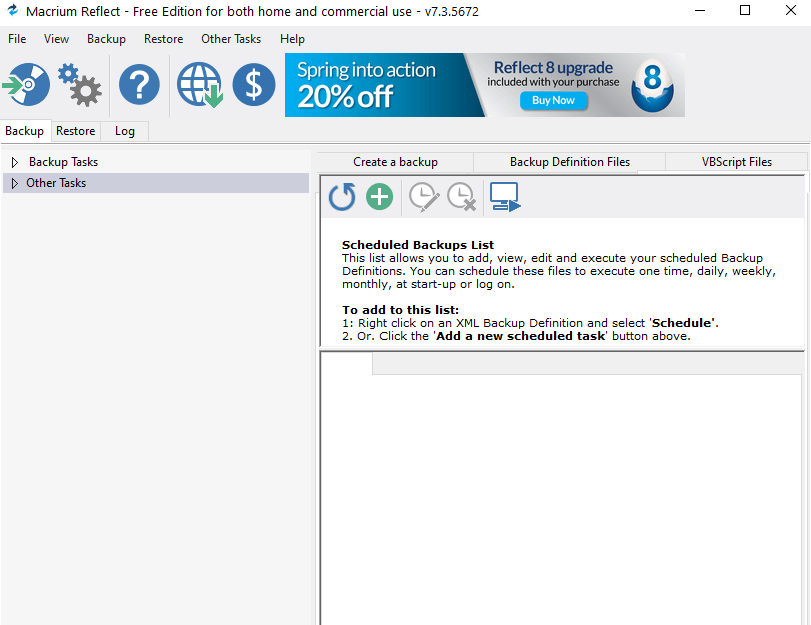 The interface of Macrium reflect cloning application is quite apt for a backup, cloning or disk imaging utility. It is simple and easy to understand. To testify what we are saying, have a look at the screenshot below. You will find that at the outset, options are quite neatly segregated as far as backup or restoring backups is concerned.
Each option is quite self-explanatory. Take the task of disk cloning for example. As you can see, the interface so neatly presents in front of you the drives that you can clone. You can also choose to deselect a particular drive as well. Even the steps that follow are quite self-explanatory. Also, you can see the size of each disk or see disk type. Now, here's one thing that could have been better and that is if features like Macrium Image Guardian or even analyzing file systems were presented more clearly.
Let's have a look at some of the features of this wonderful disk cloning and backup utility-
1. Direct Disk Cloning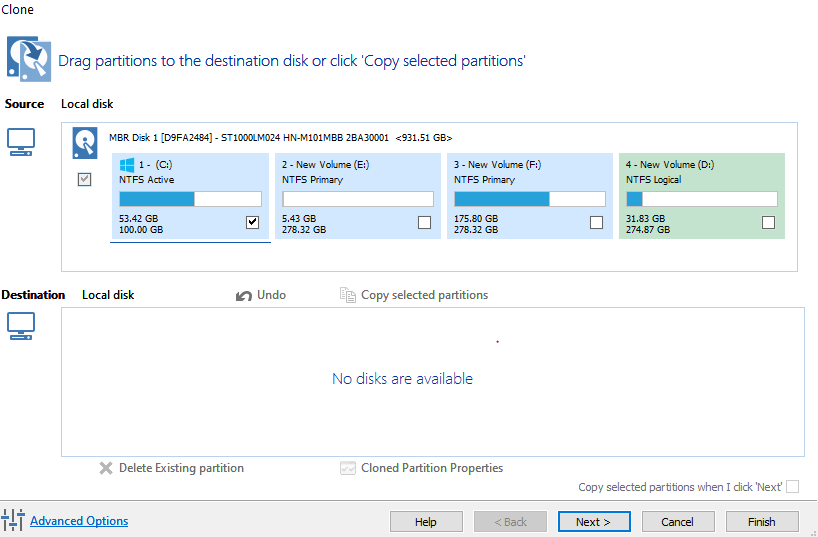 Macrium Reflect 7 free helps you create a replica of your hard drive, partitions of a hard drive, or even a complete operating system. You can clone your active operating system and replicate the same settings onto another machine.
2. Schedule Cloning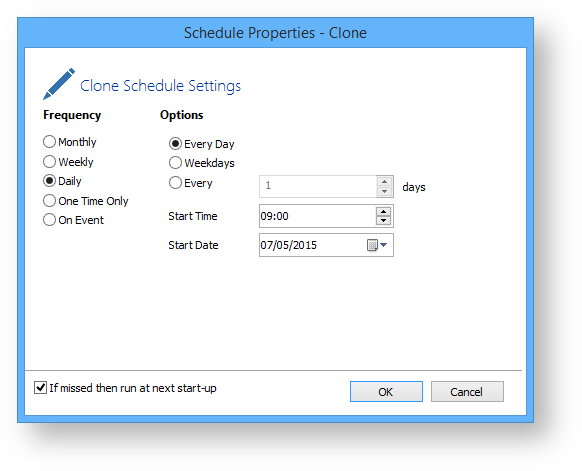 You can schedule the cloning task using clone schedule properties. Here you can choose the start time, start date, and even frequency of cloning as well. The same can be done with other backups as well.
3. Great Restore Capabilities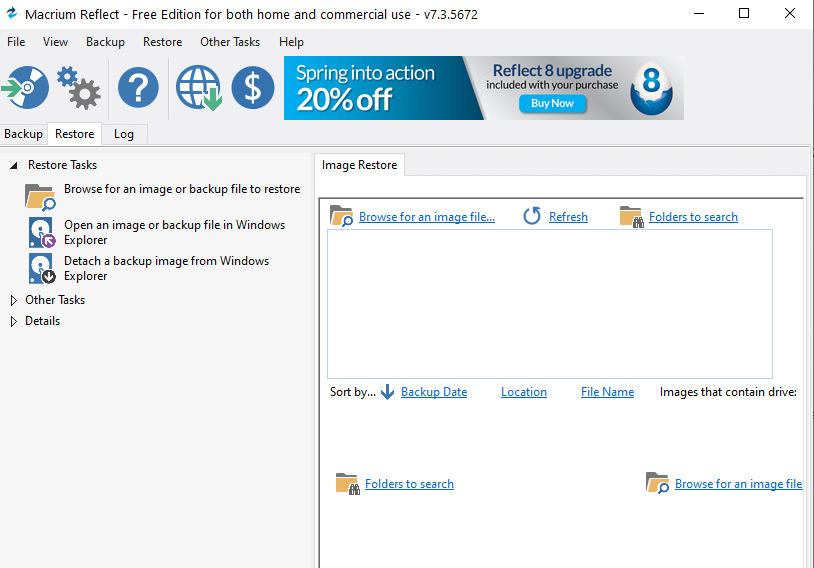 You can set several restore tasks such as restore a backup file or an image. You can open a backup file or image placed in Windows explorer and restore that or you can even choose to detach a backup image placed in Windows Explorer.
4. Macrium Image Guardian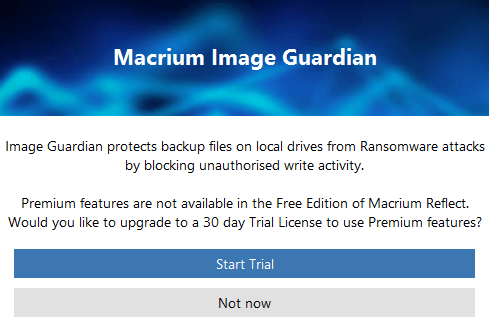 Also known as MIG guards backup files from ransomware. This feature only grants Macrium Reflect 7 or any of its products the write access to your backup files. Apart from that, every other tool or process will be denied access.
5. Support for Microsoft Hyper-V virtual machines
You can instantly create, start and manage Microsoft Hyper-V virtual machines with the help of Macrium viBoot. You can easily boot into images that you have created using Macrium Reflect or you can even retrieve data from old applications that you might have stored on a bootable image.
6. Great Rescue Capabilities
God forbid, if due to some unforeseen circumstances, you lose Windows operating system? If such an incident occurs, you can start your System using Macrium Reflect rescue media on a USB stick, SC, or DVD. The rescue media essentially contains a lightweight and bootable version of Windows.
7. Functionality to Restore the Backup to a Dissimilar Hardware
Sometimes situations arise when you might have to restore images to hardware that is different than yours. You can take the aid of Macrium ReDeploy and restore images to machines of any hardware configuration.
8. Create Both Incremental and Differential Disk Images
Once you have created an initial full image, it is up to you whether you want to create an incremental disk image or differential disk image. The free trial version only lets you create differential and full images of your partitions and disks.
In case you are a Macrium Reflect 7 user, you can manually fetch updates by clicking on Other Tasks from the top bar and then select Check for updates. For instance, the update to version 7.2 is free. For Home users running version 6 who have bought a license on or after 26th November 2016, you can upgrade to version 7 free of cost. However, those who got the license before the aforesaid date can get an upgrade with a 50% discount.
Macrium Reflect 7 is available for both personal (Home Edition) and business purposes, each of these is available at several price points as mentioned below –
As far as speed is concerned, Macrium is a fast performer, to take a backup of 100 GB worth of data, takes hardly 10 minutes. The cloning might be a different picture. For cloning 1 TB worth of data on a hard disk drive, Macrium cloning software usually takes less than 1.5 hours. However, even with slow transfer speeds, it shouldn't take anywhere more than 2.5 hours.
The users using the trial version of Macrium Reflect 7 can take the aid of email support in case they are stuck with doubts. They can raise a support ticket to get their doubts resolved. However, those opting for premium versions get 12 months of free technical support. Moreover, business users can further get benefited from 24/7 telephone and online support. You can also go through an ocean of exhaustive knowledge base articles which would cater to all your doubts about the product.
Wrapping Up
If you are looking for the best disk cloning software, Macrium Reflect is sure a strong contender. It easily caters to the backup needs of both personal and business users and works well even if you have basic disk imaging or cloning needs. And not just backup, the disk cloning utility even makes the restore functionality smooth. Plus, the ransomware protection for backups and file encryption features add icing to the cake.
Frequently Asked Question: Common User Queries Answered
Q1. What is Macrium Reflect 7?
It is a powerful backup utility which offers both disk cloning and imaging facility. And, there are several plans which cater to the needs of both personal and business users. You can backup data to local or network drives or even USB drives as well.
Q2. Is Macrium Reflect 7 Safe?
Without a doubt yes! The software has been around for quite some time now. Plus, we can safely say that it is not a virus, moreover, it helps protect your backup from ransomware and prying eyes as well.
Q3. Can Macrium Reflect Clone A Drive?
Yes, it is possible to clone an entire HDD or specific partitions pertaining to the drive. You can clone your complete operating system. It is important to note that the target disk should have more capacity than the source disk.
Q4. How Long Does Macrium Reflect Take?
To clone a hard drive that has 1 TB worth of data, Macrium Reflect 7 should clone everything in under 1.5 hours. However, the speed also depends on your device as well. In the worst-case scenario, it shouldn't take more than 2.5 hours.