Keeping your PC protected from malicious threats while at the same time making regular backups of your data are two of the important functions to perform regularly. Acronis Cyber Protect Home Office offers both solutions in one software. In this review, we will discuss its features, pricing and other aspects. 
Acronis Cyber Protect was previously called Acronis True Image and it offers a variety of features with which you can backup important data on your computer as well as safeguard your PC from malicious threats that might attack while you are surfing the web or while you are transferring or copying files. One of the key highlights of Acronis Cyber Protect Home Office is that it also offers cloud storage. Even with the 31-day trial version you get 1 TB of Acronis Cloud Storage. 
What Is Acronis Cyber Protect Home Office?
As the name suggests Acronis Cyber Protect Home Office is a solution that integrates security and backup. It can help you backup your files, folders, applications or complete operating system for that matter and at the same time protect them from any malicious threats that they may be exposed to during the process. It also consists of features like rescue media builder with which you can create a bootable media and operate the PC in case it is unbootable.
Why Is Acronis Cyber Protect Home A Great Backup Solution?
You can replicate your local backup automatically in the cloud and restore it when needed. 

Backups run without affecting your tasks – you could be working with applications, gaming, surfing, etc. 

You can keep up to 999 versions of your backup. 

Download copies of previous backup even if your internet connection terminates or is compromised. 

Event-based backups – The tool automatically begins backing up with event triggers. For e.g. – As soon as you plugin your USB, the backup will start.
Technical Specifications
Windows Compatibility –

Windows 11/10/8.1/8/7 SP1 (all editions)

Current Version –

Build 40338

Processor –

Intel CORE 2 Duo (2GHz) processor or equivalent

RAM Required –

Minimum 2 GB 

Hard Disk Space Required –

7 GB of minimum free space

 
USB Drive or CD-RW/ DVD-RW for bootable media creation

– Minimum 700 MB free space

Screen Resolution –

1024 X 768 

File Size –

820 MB
Cyber Protection – Protection against malicious websites and several other malware threats. 

Archive large and old files to either Acronis Cloud or on an external hard drive.

Backup solutions – local and cloud.

Create a bootable drive for a situation when you can't boot your computer. 

You can create a full disk image.
Disk cloning is available only in the premium version.

Installer is large (over 800 MB) and installation takes time. 
How To Use Acronis Cyber Protect Home Office To Protect Your Computer and Create Backup
To demonstrate how to use Acronis Cyber Protect, let's have a look at two important aspects of Acronis Cyber Protect Home Office – (1) Backup and (2) Security. 
1. Backup
Step 1: Download, install and run Acronis Cyber Protect Home Office
Step 2: Click on Backup from the left-hand side.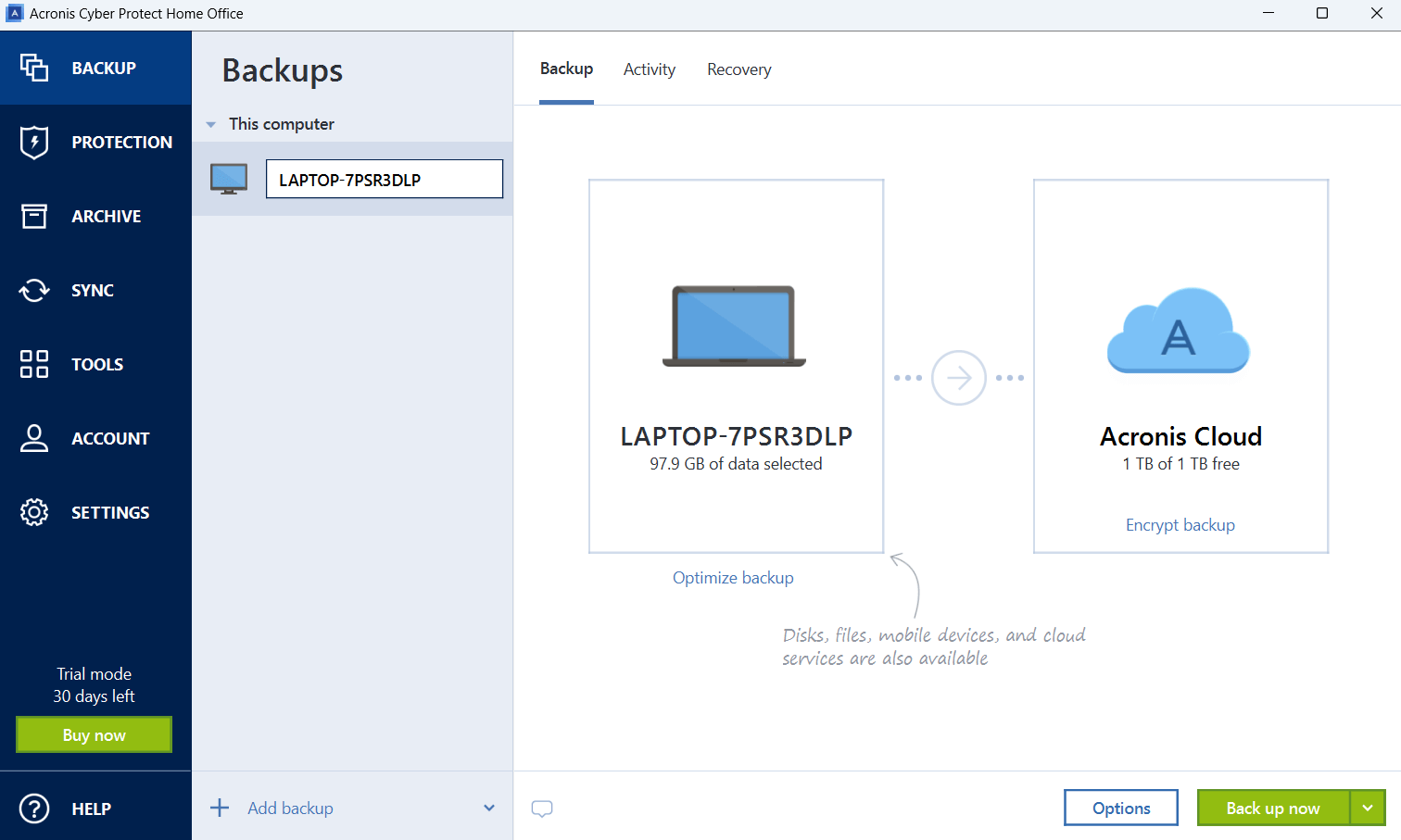 Step 3: Choose the source and destination. For critical backups, you can choose Acronis Cloud as a destination. 
Step 4: Click on the green colored Back up now button. 
Step 5: To create a bootable media, click on Tools  from the left and select Rescue Media Builder.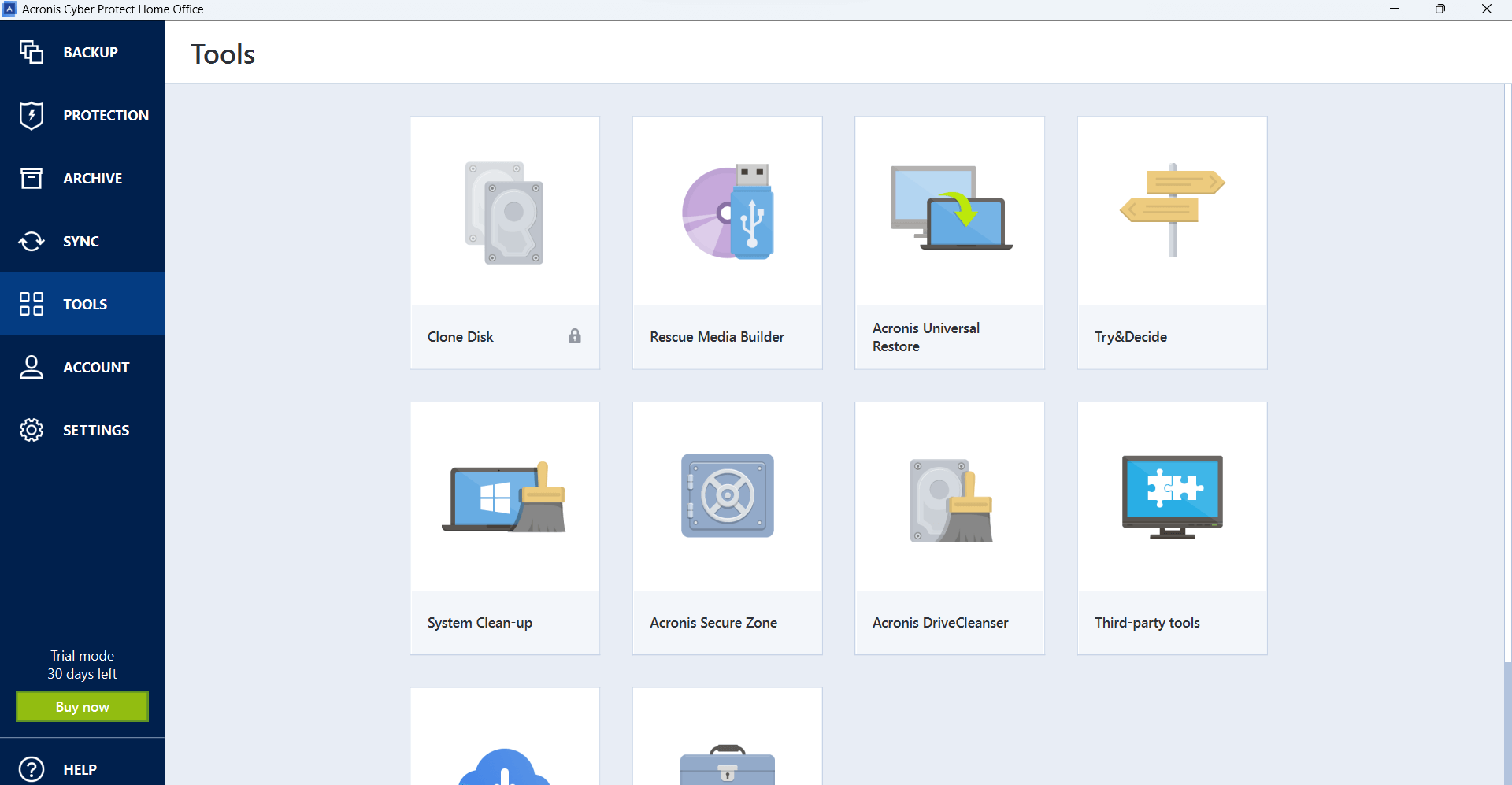 Step 6: Select the Simple mode. 
Step 7: Connect a USB drive and select it when the Choose media destination option occurs. 
Step 8: Click on Proceed. You may have to format the USB drive so it is important that you create a backup of any existing data beforehand. 
2. Security
Step 1: Click on Protection from the left-hand pane.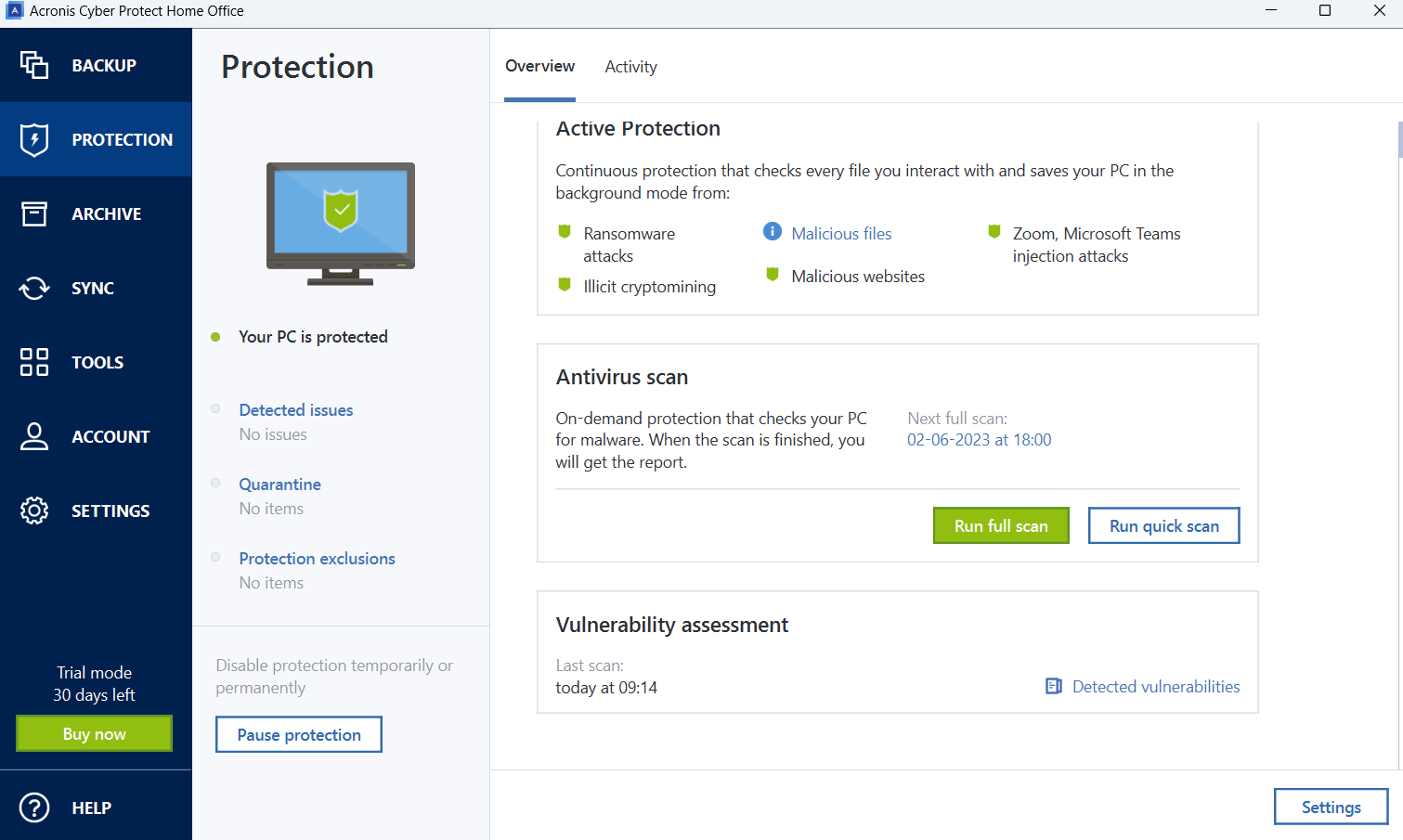 Step 2: Under Antivirus scan, choose a scan mode – Run full scan or Run quick scan. It is important to note that if you already have an Antivirus installed, Acronis Cyber Protect won't run the scan.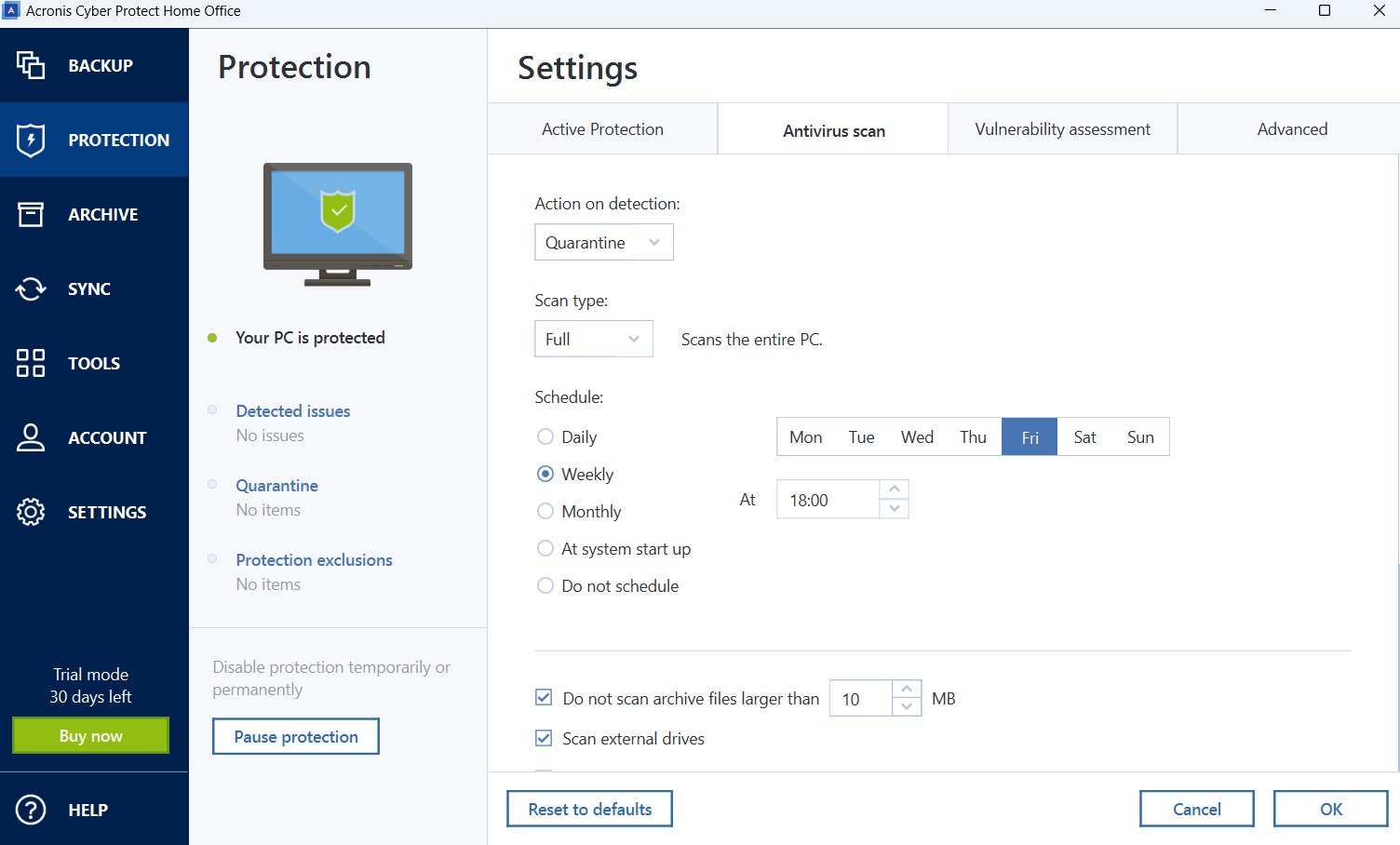 Step 3: To schedule a scan, you can click on the hyperlinked date and time under Next full scan under the Antivirus scan section. 
Step 4: You can also click on Detected vulnerabilities under Vulnerability assessment to check if any applications are affected.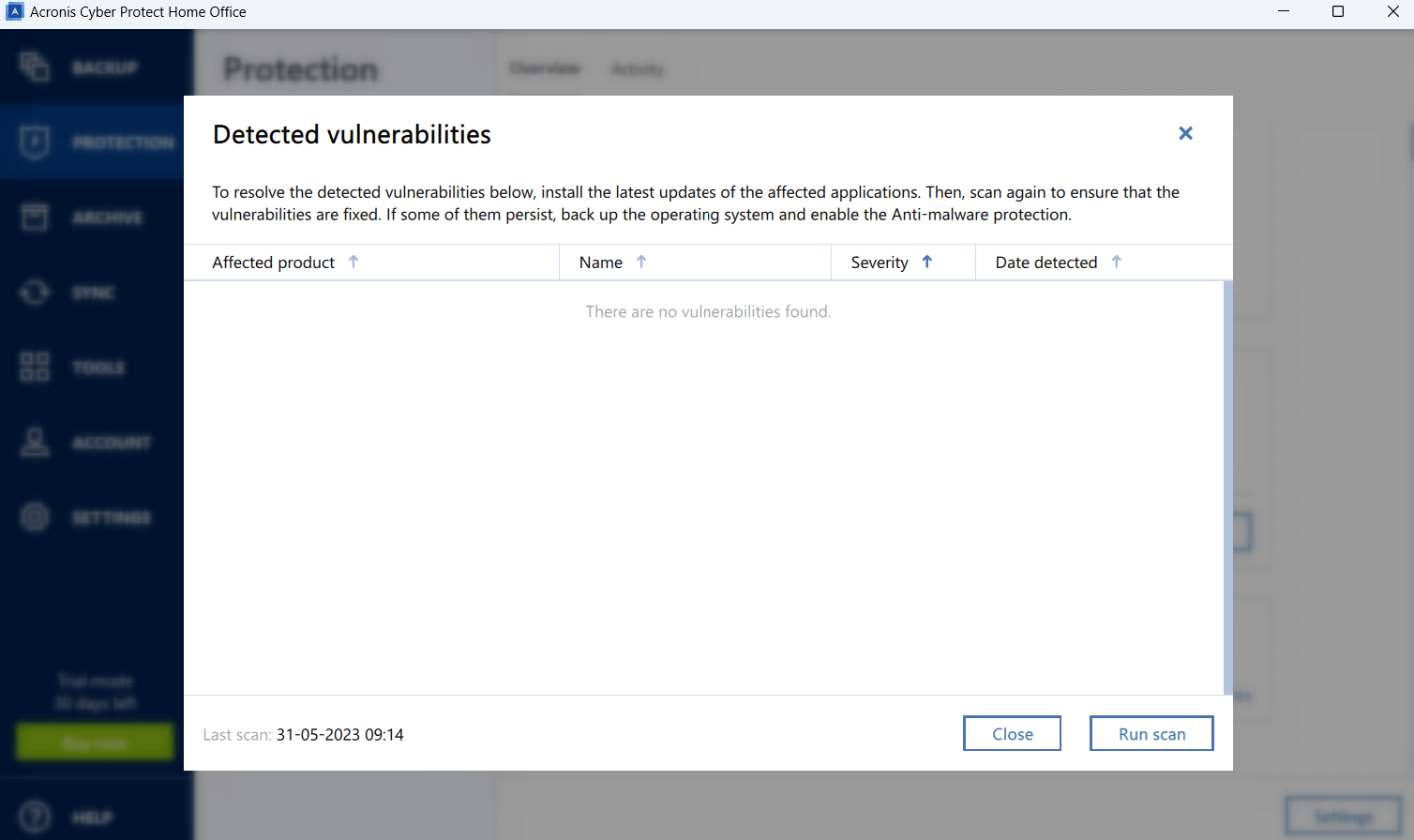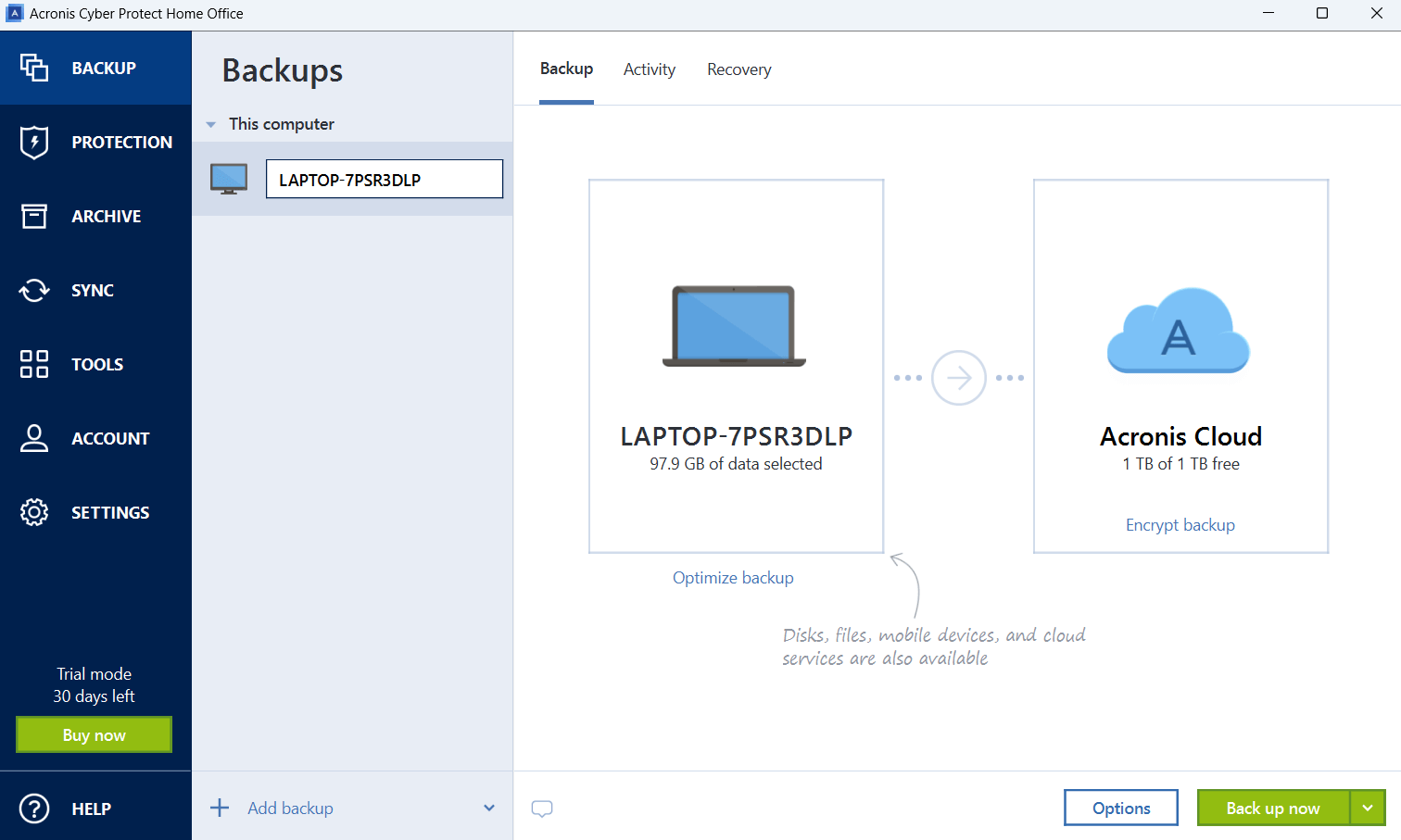 Acronis Cyber Protect for Windows PC has a simple and straightforward user interface. On the left-hand pane, you have options for backup, protection, archive, sync, tools, account, and settings. By clicking on each of these, you can further access subsequent options. 
In most cases, after you have clicked on any of the options from the left-hand pane, it's easy to figure out what the subsequent options will do. For example, when you click on the Archive option from the left, you can see how well you are guided on the right and also what you can expect when you archive your large and old files using Acronis Cyber Protect Home Office.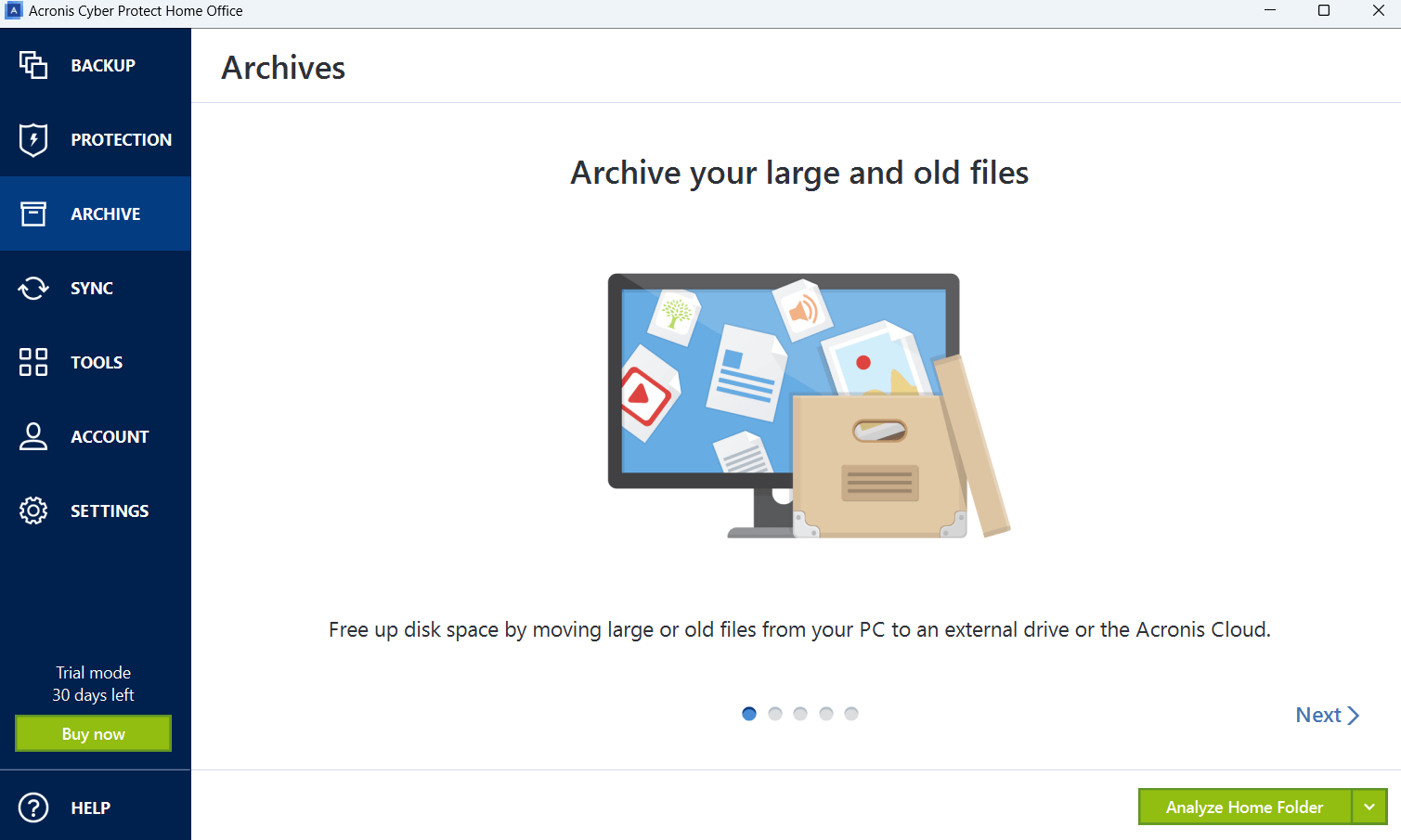 You can make the interface smaller by dragging either side of the interface. Although it still takes up a significant part of your screen, something that can create slight hindrances when you are multitasking with other applications. When you drag the left-hand pane from the inside, you can hide the text and make the icons visible, for instance, when you have become familiar with the names. 
1. Full Image Backup
With this feature, you can create a mirror image of your entire machine. This includes files and folders, disks and partitions, operating systems, applications, mobile devices, settings, and configurations. The image backup can be a savior in the event of data loss when you can recover all the above-mentioned items. You can also back up data from OneDrive or Microsoft Outlook to the chosen destination. You can also exclude files from backing up and speed up the backup process. 
You can Also Create Microsoft 365 Backup 
The premium variants i.e. Acronis Cyber Protect Advanced and Premium let you create cloud-to-cloud backup of your Microsoft 365 account which also includes your attachments and emails as well. 
2. Active Protection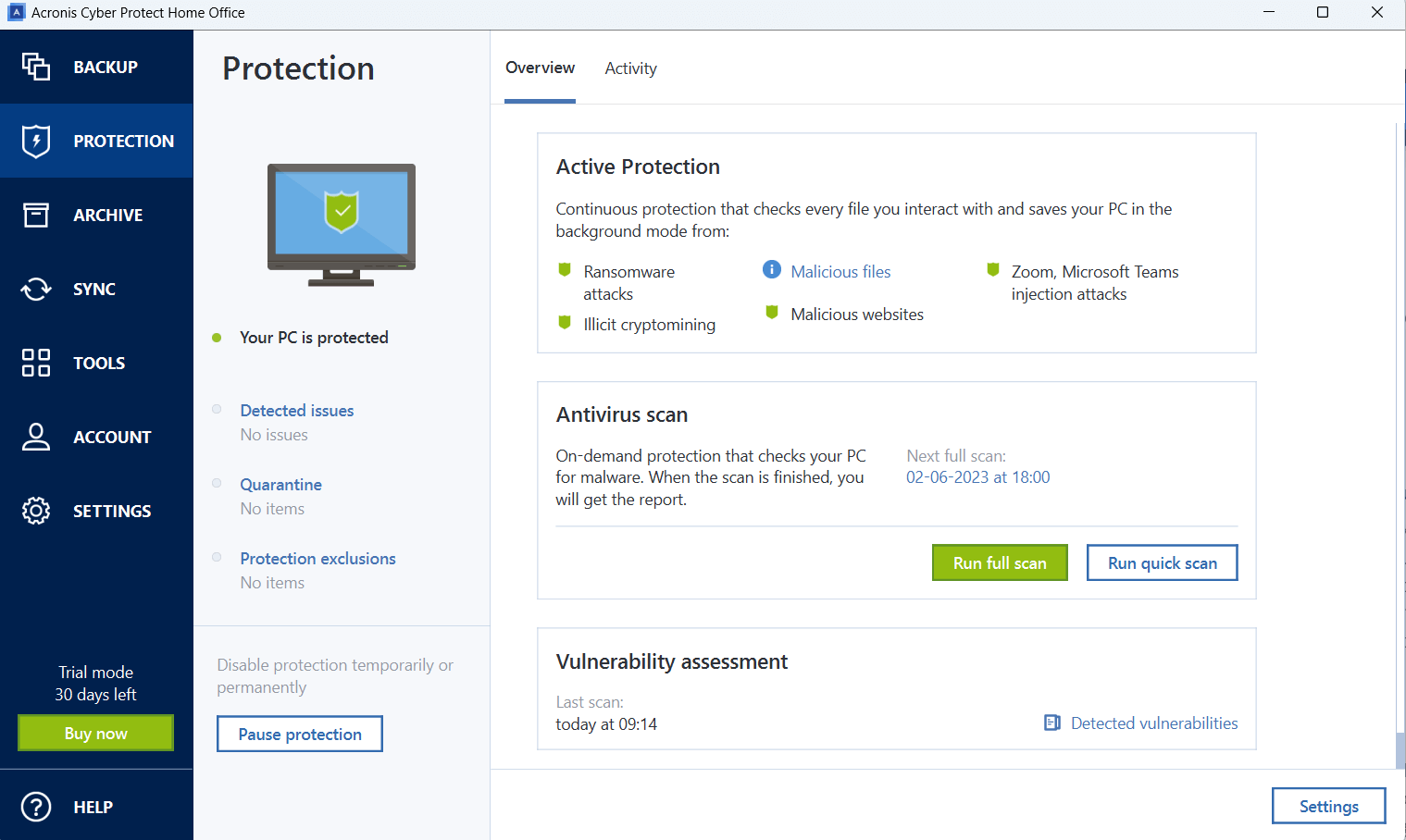 Acronis Cyber Protect provides continuous protection by checking every file that goes into your computer. It runs in the background and continuously checks for malicious files, illicit crypto mining, ransomware attacks, and many other threats. It safeguards your PC against injection attacks while you are using platforms like Microsoft Teams and Zoom. It also prevents you from visiting any malicious websites.   
You can run a full scan, quick scan or schedule an Antivirus scan at your desired date and time. At the same time you can keep tabs on any detected vulnerabilities. What we liked is the fact that it gives you this information in accordance with the vulnerable applications. This way you can update the application, uninstall the application (if it is way too problematic) or even backup application data. 
3. Archive Old and Large Files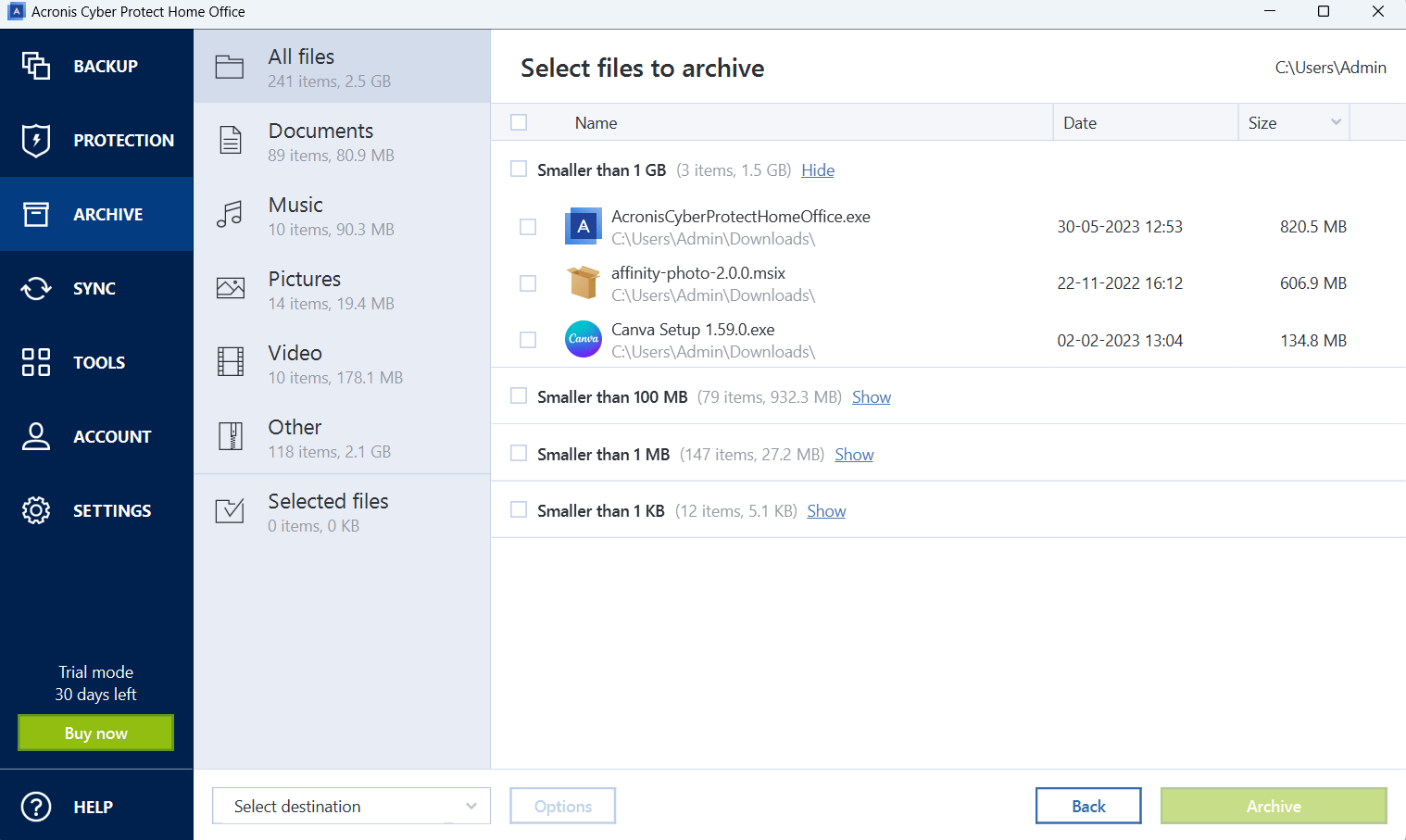 You can free up storage space by moving old and large files to either another PC or Acronis Cloud. For this, you can scan your PC or a particular folder and review files. You can then select an archive location. The archived files are available from your web browser and File Explorer. One of the best aspects is that when you create an archive, Acronis Cyber Protect lets you encrypt it using military-grade 256-bit AES encryption. 
4. Synchronize Files and Folders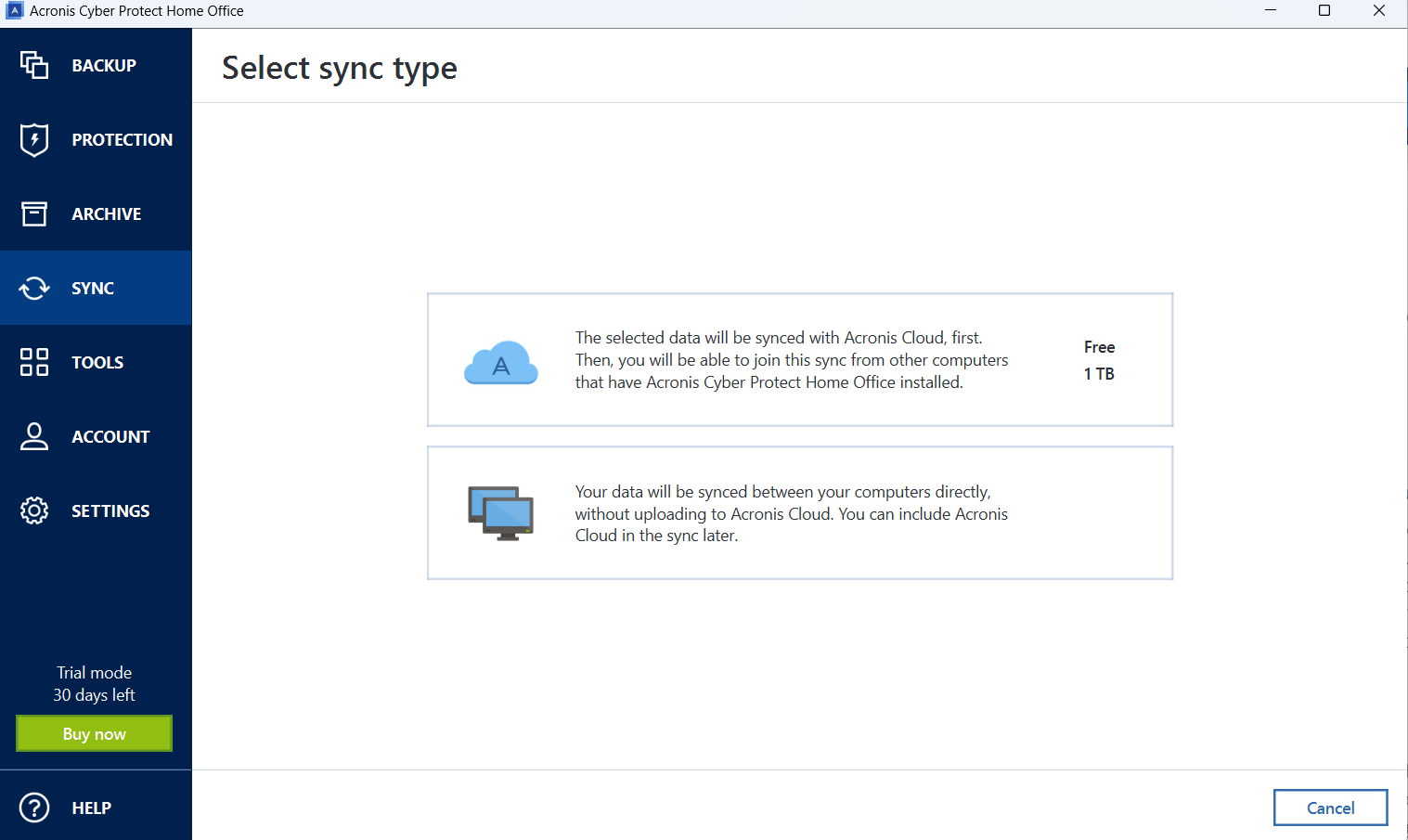 Acronis Cyber Protect syncs files and folders between two PCs that have the software installed. You can also sign up for a free or trial Acronis Cloud Storage and sync data between your computer and your cloud storage account. Even with the Acronis Cloud Storage trial version, you get 1 TB worth of storage space where you can try online backup, mobile backup, and data archiving. You also get a web-based online dashboard with which you can completely control your data protection.
5. Host of Useful Cleanup, Backup, and Other Tools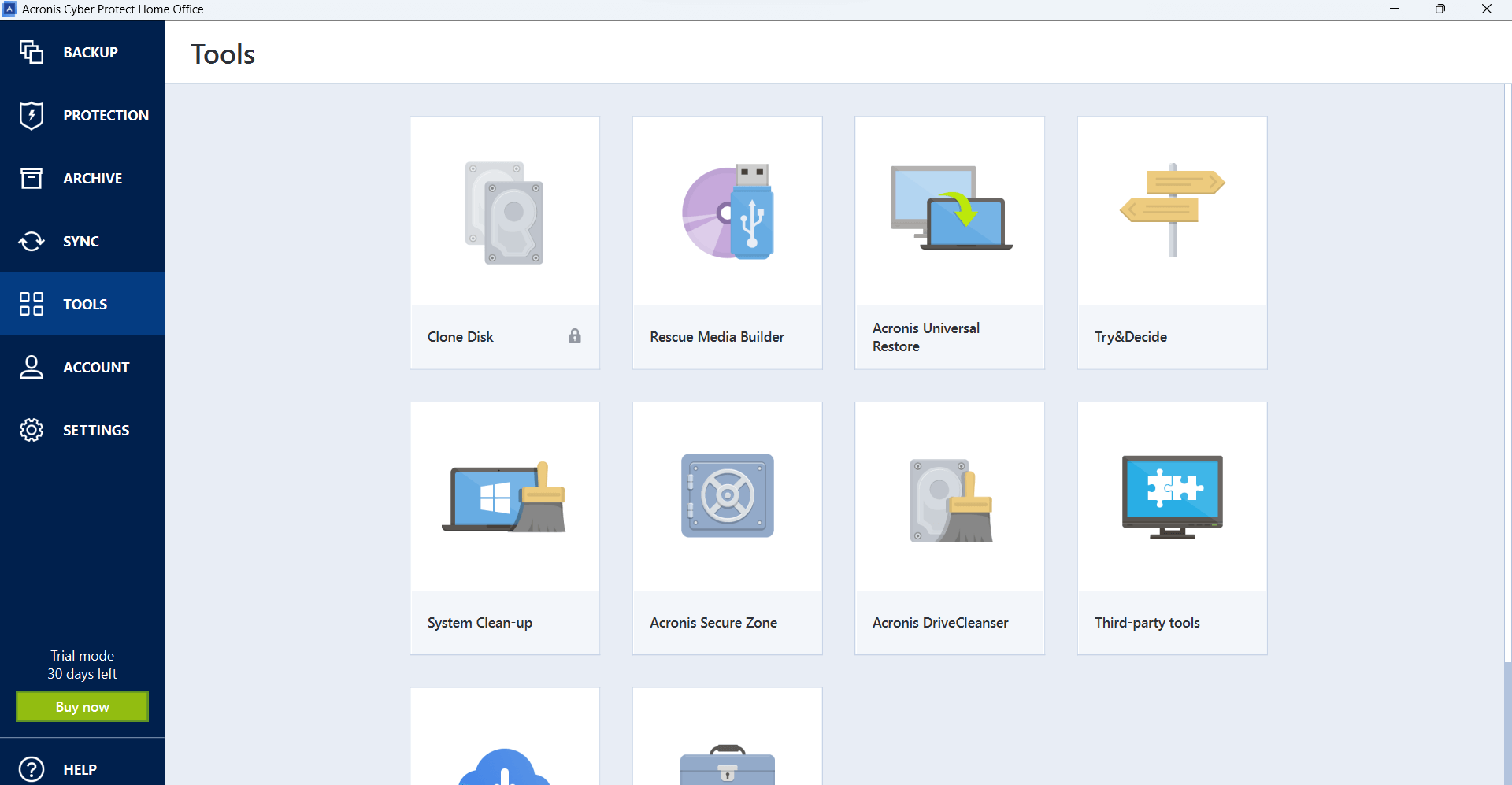 If you head to the tools section you will find a variety of tools for cleaning up data, remotely accessing PC, cleaning drives, etc. Although you will have to install each of these separately which may further take up space on your computer. 
Disk Cloning 
Although you need to sign up for a premium version, with this feature you can clone your data, application, or even the complete operating system on a new disk while keeping the system bootable. However, if you are looking for disk cloning alternatives, checkout this post.
Rescue Media Builder 
What if your computer becomes unbootable? You can create a bootable media so that you can recover data from an unbootable computer.
Universal Restore 
This feature lets you restore your computer to a different hardware environment. It allows you to install HDD controllers, NIC drivers and even change Windows Hardware Abstraction Layer. 
Acronis DriveCleanser
This feature lets you shred all the data on your old partitions or disks completely. 
Access Your Computer From Mobile Devices
With this feature, you can install Parallels and remotely access your computer from another computer or even a mobile device.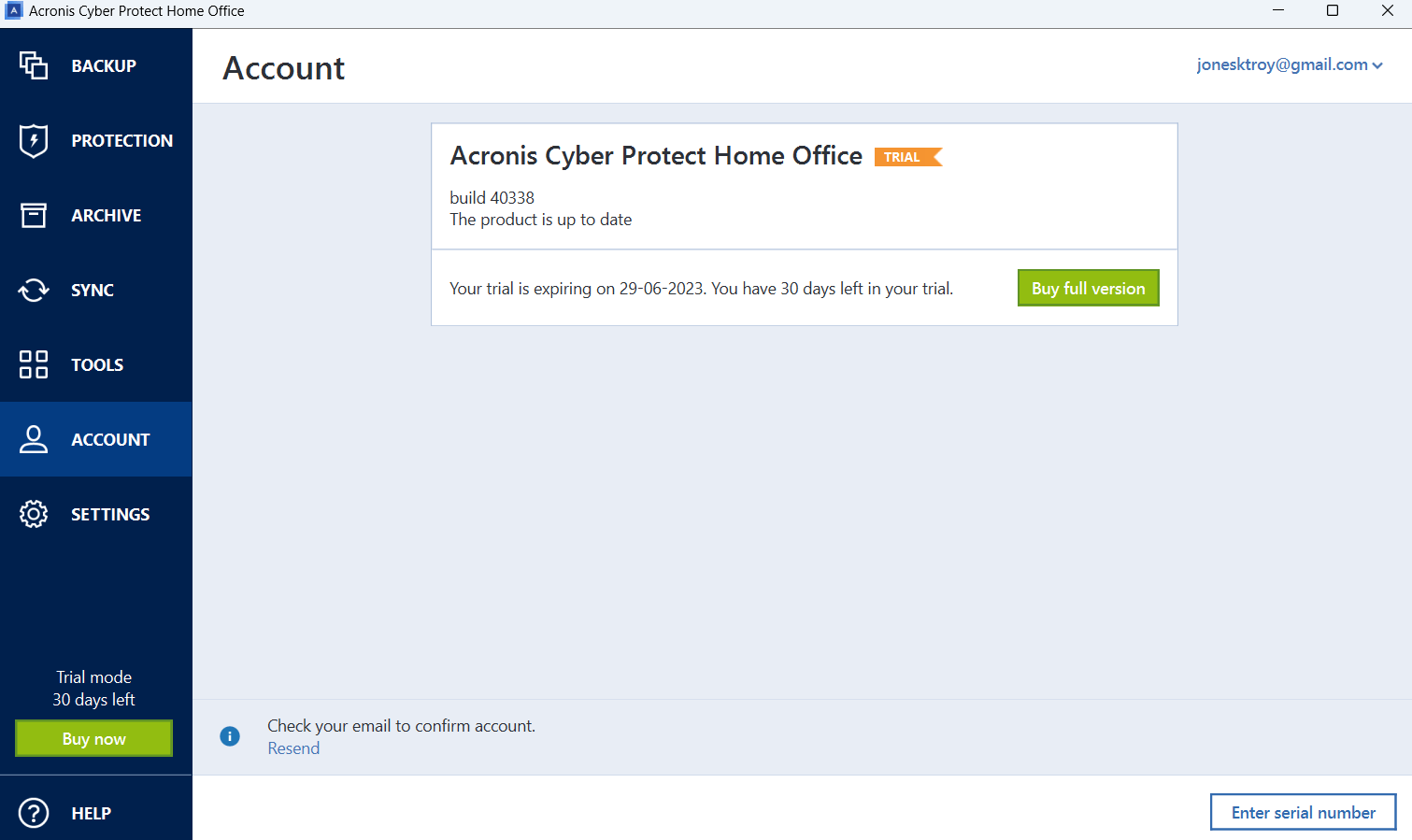 Acronis changed the name from True Image to Cyber Protect Home Office keeping in sync with the fact the digital space is evolving and so are mishaps. As your system might fall prey to disk failures, computer crashes, power failures and so on and threat actors may steal your data. 
Regular updates are released for Acronis Cyber Protect Home by developers so that the software remains bug free and new features are regularly rolled out. And, you won't have to manually look for updates. All you have to do is click on Account from the left and if an update is available it will promptly be reflected as can be seen in the screenshot below.  
You can try out the various features of Acronis Cyber Protect Home for 31 days after which you can choose from one of the premium variants. 
What To Expect From Each Of The Variants?
Acronis Cyber Protect Home Office Essentials
Acronis Cyber Protect Home Office Advanced
Acronis Cyber Protect Home Office Premium
Please Note:

In this variant the Cloud Storage is not available 
Pricing Breakdown  (Base Pricing)
Here we will give you a base price breakdown. For more information based on your requirements, you can head to this link. 
Name of The Variant
1 Year Subscription
Cloud Storage Requirements
Price

Acronis Cyber Protect Home Office Essentials

1

NA

US$49.99

Acronis Cyber Protect Home Office Advanced

1

50 GB minimum cloud storage

(500 GB cloud storage also available)

US$54.99 for 50 GB cloud storage 

Acronis Cyber Protect Home Office Premium

1

1 TB minimum cloud storage





(2 TB, 3 TB, 4 TB and 5TB cloud storage also available)

US$124.99 for 1 TB cloud storage 
In our testing, we were able to backup nearly 300 GB worth of data on Acronis Cloud in around 4 hours with decent internet speed. Depending on what you are backing up, the speed may vary accordingly. We are not saying that it is the best, but, it did slightly better than AOMEI Backupper Standard but results may vary. 
Acronis offers a live chat facility where you can put forth your queries related to product functionality, licenses, or any other aspect where you have doubts. The customer support team is prompt in helping as can be seen from the screenshot below.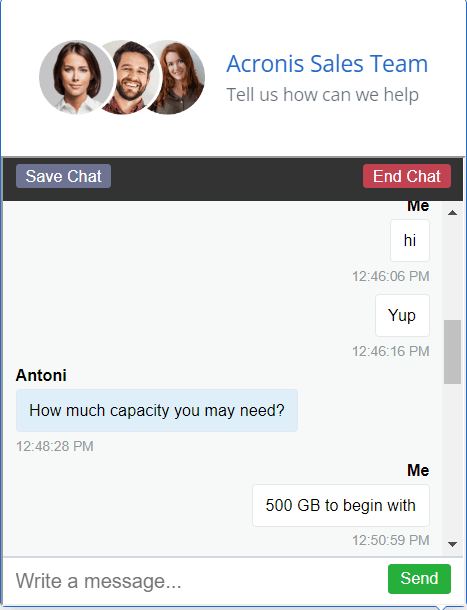 Security and Backup Under One Roof
With Acronis Cyber Protect Home Office we can safely conclude that it is a decent tool with which you can protect your data as well as back it up. On top of that if you are looking for a secure cloud storage solution, Acronis Cyber Protect can be a great option. Give it a spin and share your experience in the comments section below. For more such content, keep reading Top10PCSoftware. You can also find us on  Facebook, Pinterest, and Flipboard.
Frequently Asked Questions
Is Acronis Cyber Protect Home Office free?
You can try out Acronis Cyber Protect Home Office free for 31 days. Though there are some limitations like you need to purchase the premium variant to use the disk clone feature. 
What is the difference between Acronis True Image and Cyber Protect Home Office?
The difference between Acronis True Image and Cyber Protect Home Office is that the latter integrated disaster recovery, backup, remote desktop, AI based protection against malicious threats and much more.