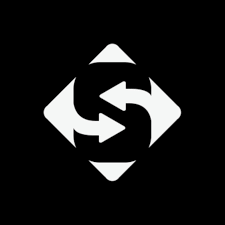 MiniTool ShadowMaker
MiniTool ShadowMaker Review – Is This the Ultimate Windows Backup Tool?
Computer mishaps are inevitable. As a prudent user, you can always backup your data and recover it in case of a computer or hard drive crash, Or whena computer refuses to boot up due to an error or virus attack. Here we are going to review MiniTool ShadowMaker, a powerful solution designed to simplify and enhance the process of backing up your computer. 
Before we delve into the review of MiniTool ShadowMaker and find out whether its worth installing or not, let's first understand why considering  a backup tool can be a life savior. 
As far as our PC's are concerned, we often have to deal with stuffed storage space. Hence, we often feel the need to remove unwanted files & recover valuable space. While you might be inclined to immediately delete data, you might lose important files. That's why, it's highly recommended to first backup your data.
Consider a different scenario where the need arises to synchronize files and folders across two distinct destinations, such as your hard drive and a NAS (Network Attached Storage). How would you go about it? In both the above scenarios, you can download a tool like MiniTool ShadowMaker that would ease the entire backup process. Now, that you have an idea of how one such tool can benefit you, let's review MiniTool ShadowMaker and discuss its various aspects. 
What Is MiniTool ShadowMaker
MiniTool ShadowMaker is a backup tool for Windows PC. It can help you create a backup of your files, folders, hard disks (internal and external), partitions, sectors and even the entire operating system. It even lets you automate backup by allowing you to schedule regular backups or execute file syncronization tasks. It comes in broadly two variants – MiniTool ShadowMaker free and MiniTool ShadowMaker Pro. You can jump to the pricing section and have a look at what you can expect from both these versions.  
System Requirements
Windows compatibility –

Windows 11/10/8.1/8/7 all editions

Processor –

Pentium 1 GHz and above 

RAM –

1 GB (32-bit) and 2 GB (64-bit)

Hard disk space –

1.5 GB

File systems supported – 

exFAT, FAT16, FAT32, NTFS, Ext2/3/4

Storage media supported –

HDD, SSD, USB External Disks, Hardware RAID, Network Attached, Storage (NAS), Home File Server
Backup files, folder and entire system quickly. 

Sync files and folders easily.

You can even backup remote computers. 

Create bootable media and menu. 

Schedule backups.
Automatic minimal backup interval is just 1 hour. 
How To Use MiniTool ShadowMaker
Since one of the prime functions of MiniTool ShadowMaker is to help you backupyour PC, here, we'll demonstrate how to do that – 
1. Download MiniTool ShadowMaker Free or Pro and run the installation file. 
2. From the left-hand pane, click on Backup.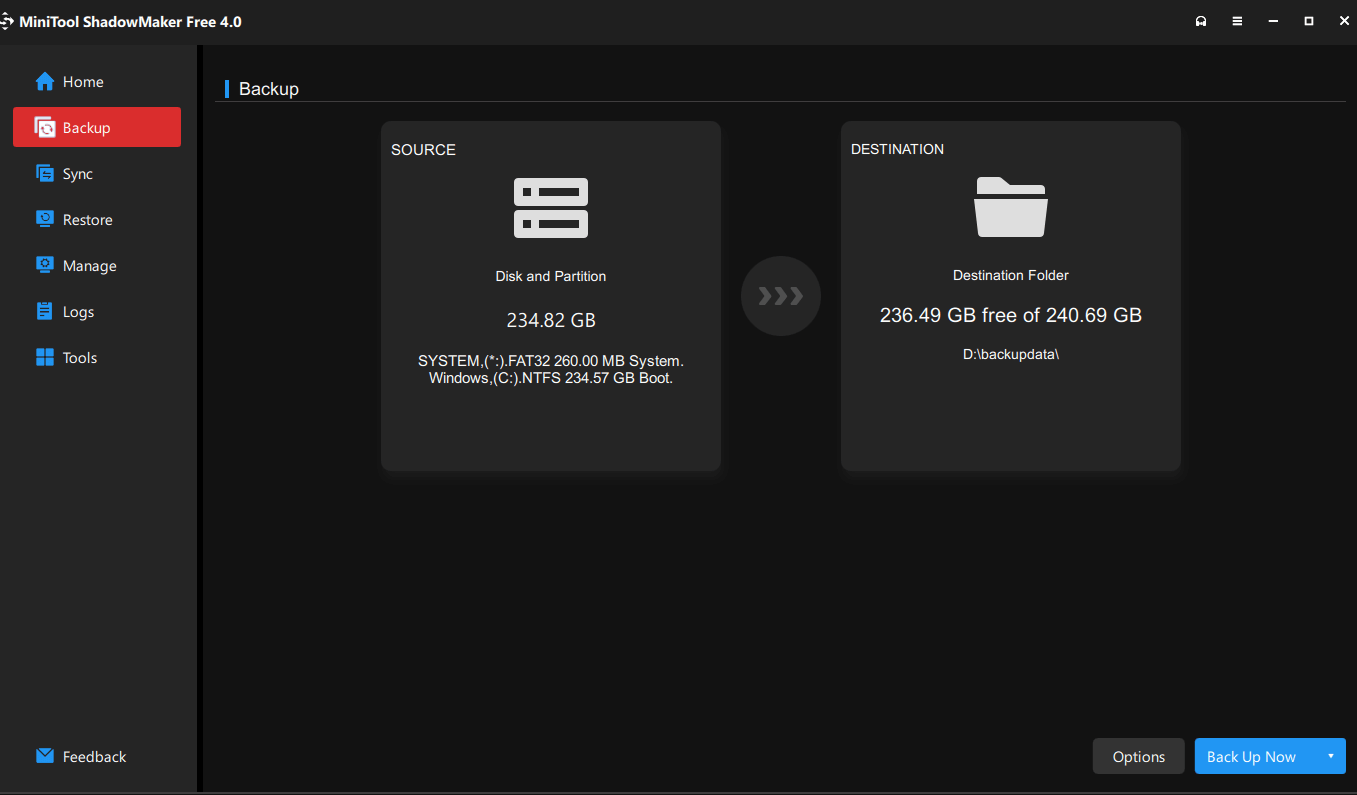 3. Select the Source disk/ partition, and the Destination folder where you want the backup to take place. You can also choose an external hard drive or even a network path as a destination for backup. 
4. You can click on the Options and change settings pertaining to your backup.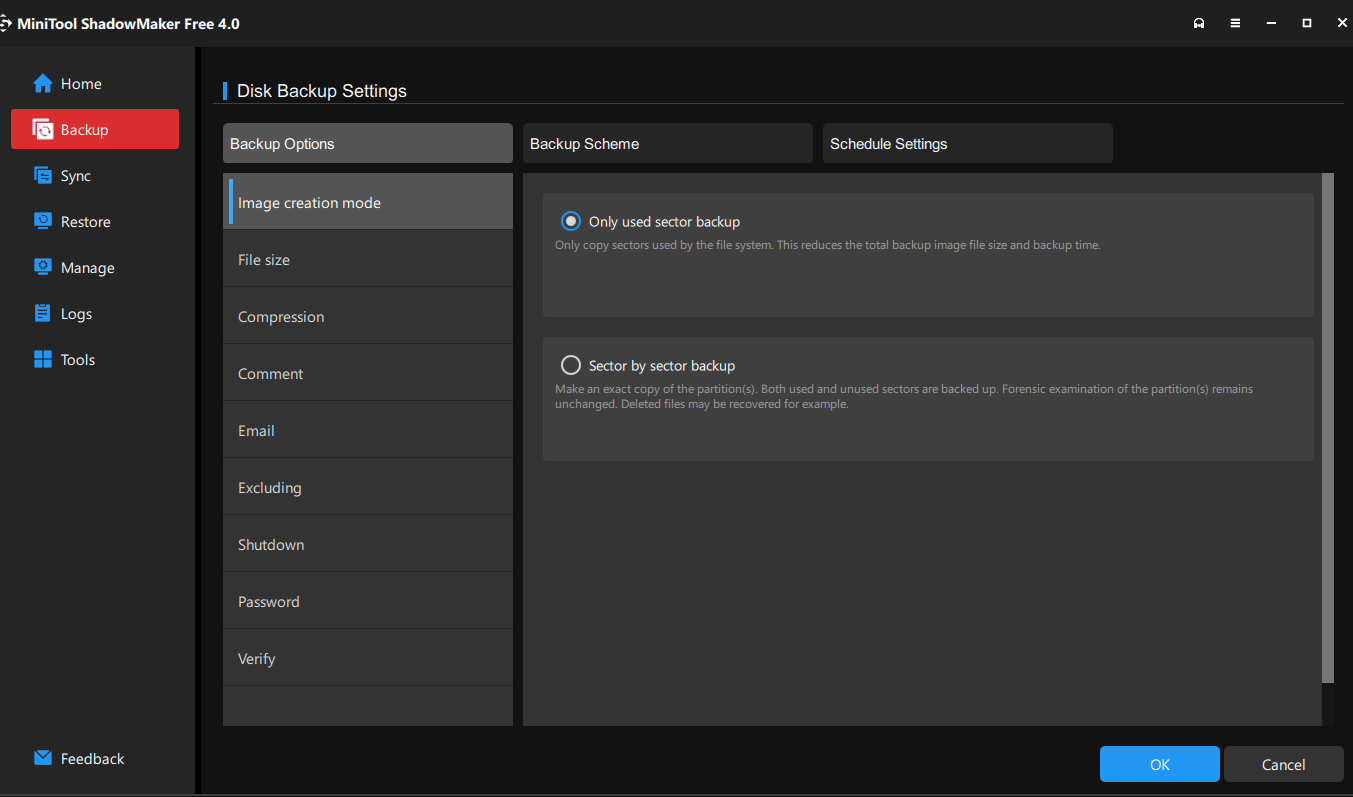 5. Once you are sure of the settings and files and folders that you want to backup, click on the Back Up Now option. Or, you can even click on the little dropdown and choose to Back up Later at your desired schedule.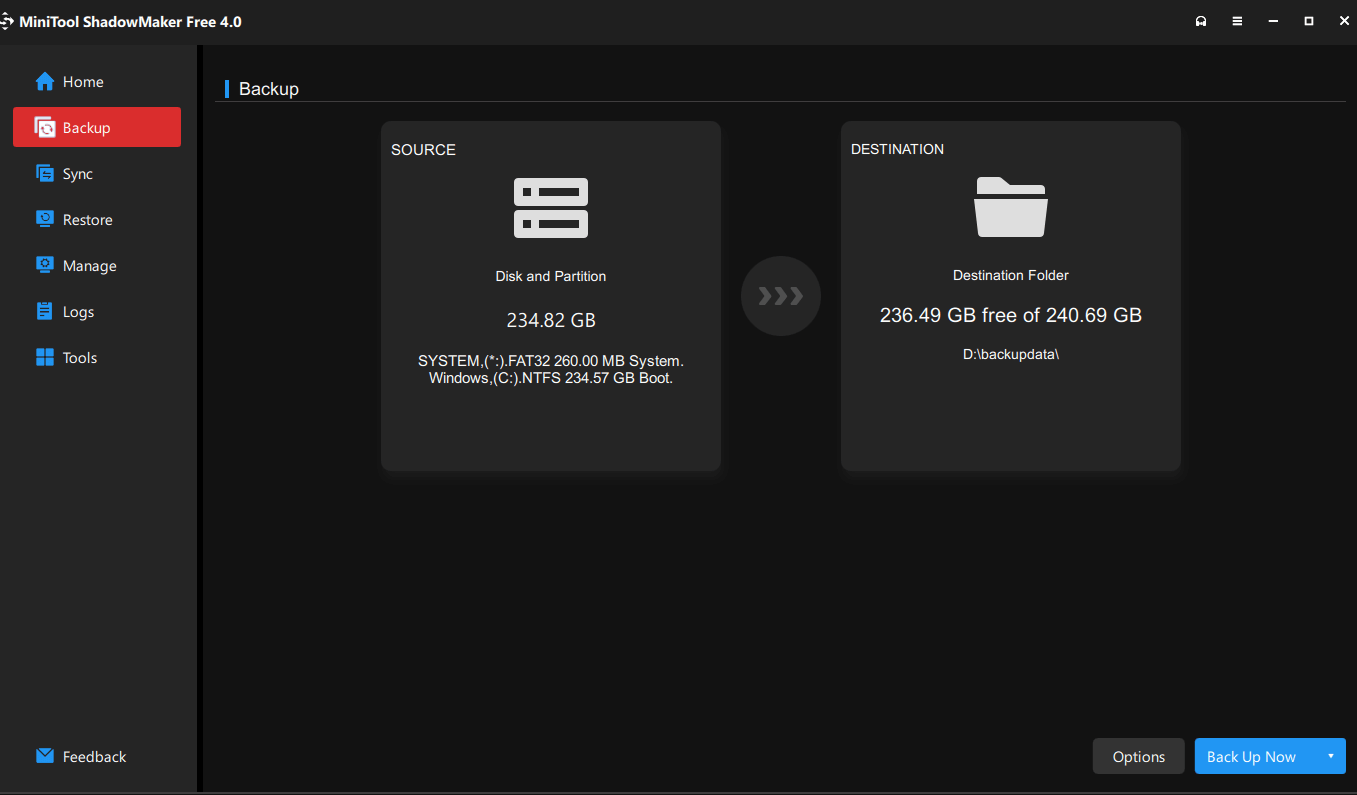 With the latest version 4.0 and above  MiniTool ShadowMaker got a brand new UI. Unlike its predecssor versions the interface has become more accessible, it has a dark background and you can now quickly access past or current backup versions. The ribbon menu of the software which provides a list of options for backup, restore, and sync has been moved to the left.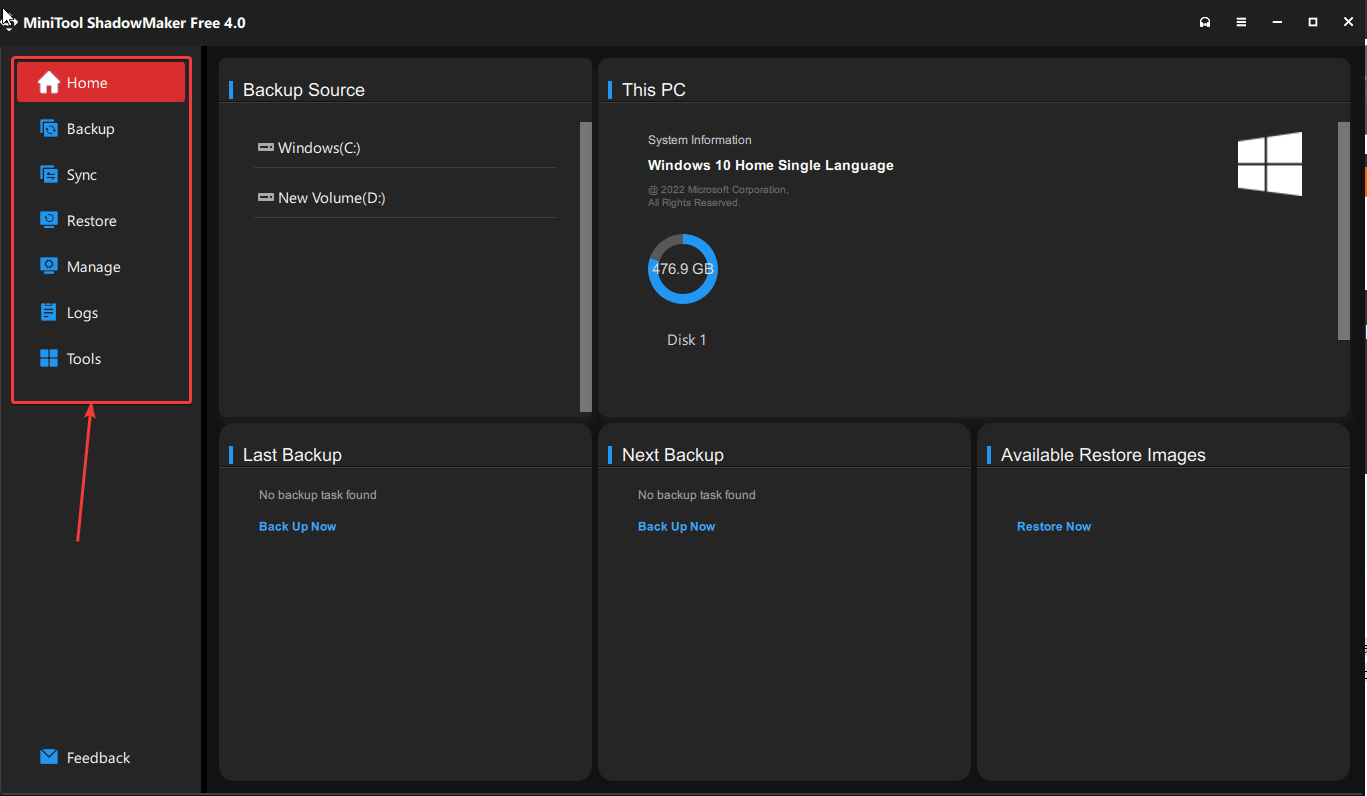 When you click on the Home section, you can see your system information on the right hand side. From this section, you can also choose your Backup Source and access information regarding your Last Backup or any scheduled backups. You can also click on the Restore Now option to enter the Restore page and retrieve backups. 
From the left-hand pane you can click on individual options to backup data, sync files and folders, restore data from a backup you have created, manage existing and scheduled backups. Additionally, features to browse task related logs and access a bunch of other tools such as boot menu addition, media builder, etc can also be accessed from here. 
Once you head to the Backup and Sync options respectively, you can first choose your source and destination. You can dive into more granular settings by clicking on Options from the bottom right and choose compression method, backup scheme, schedule settings, password encryption, etc.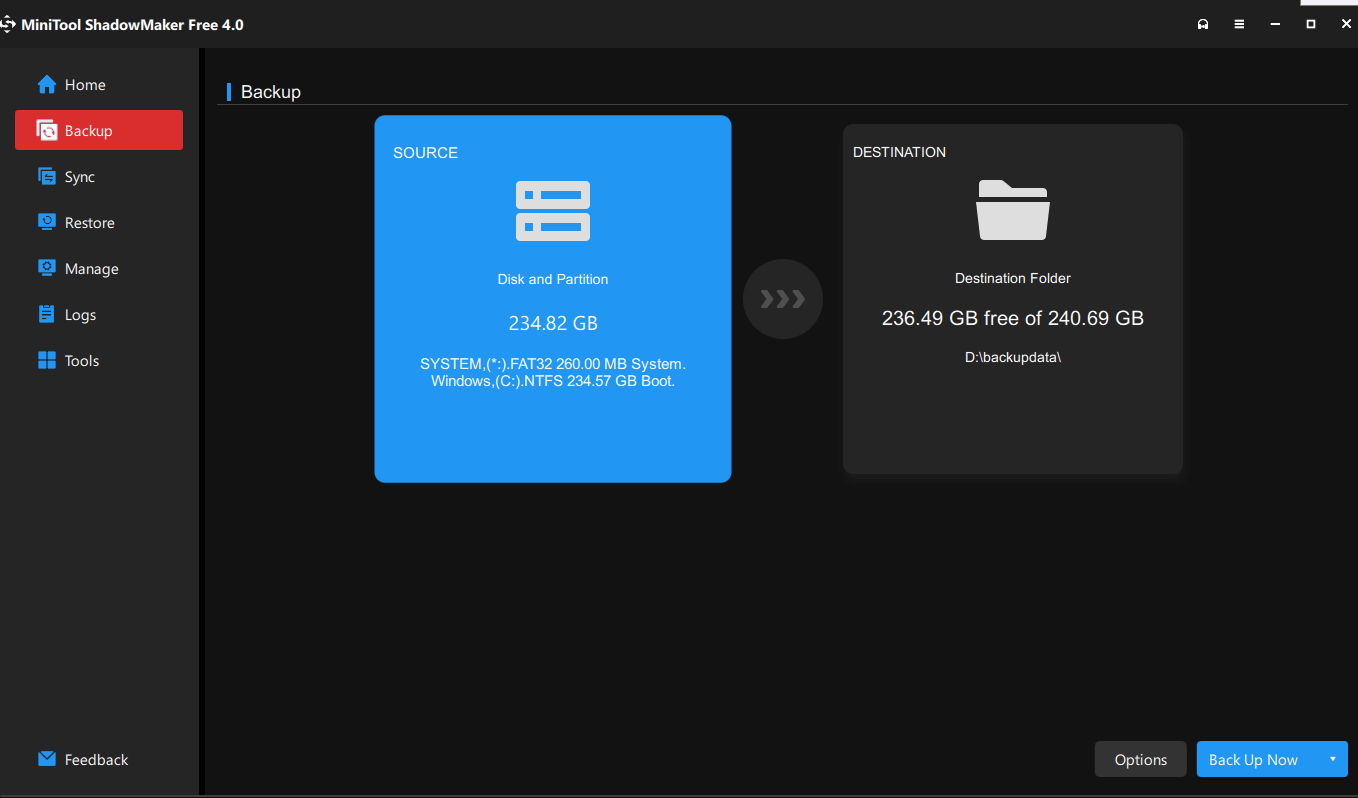 The Restore and Manage sections when clicked, let you perform actions based on the backup you have added.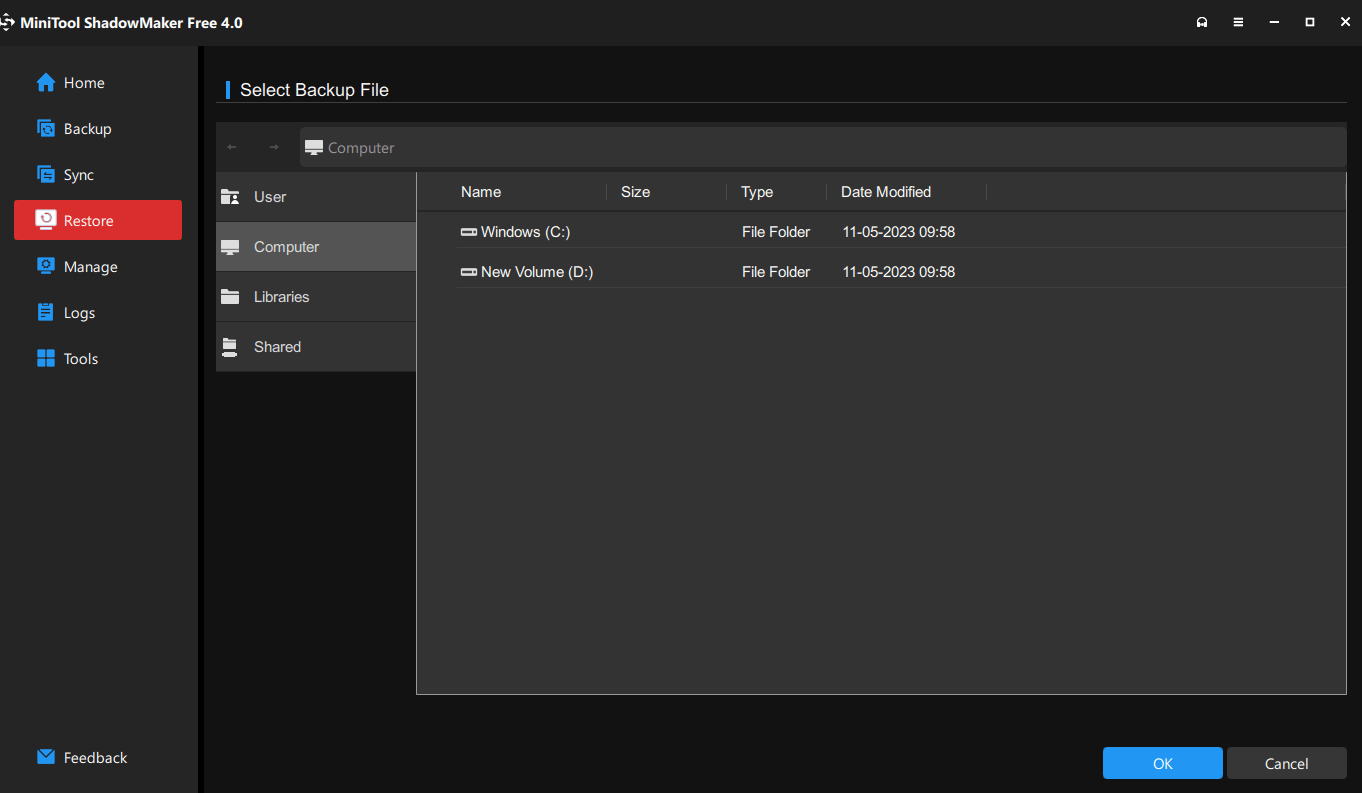 To verify the successful execution of your backup tasks, you can easily access the related statistics by simply clicking on the Logs.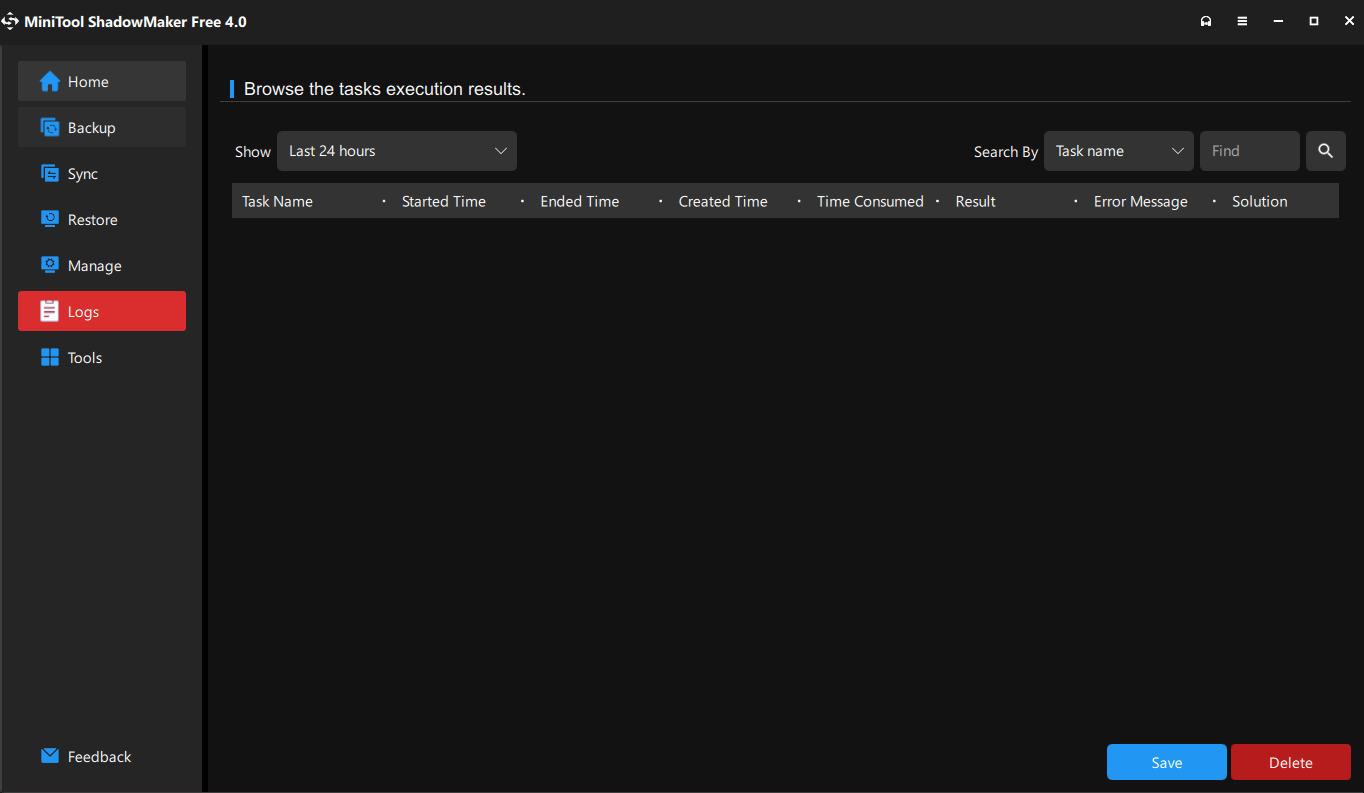 Lastly, MiniTool ShadowMaker lets you access tools with which you can create a bootable media or boot menu  in case you aren't able to boot your computer. If you have purchased a premium license, you can also manage your computer remotely. 
– Backup Files and Folders
With MiniTool ShadowMaker you can backup files, folders, hard drives, and even partitions. It offers many options to deal with a variety of backup tasks. You can perform a file backup, system backup, or disk backup. Moreover, you can choose the backup scheme i.e. full, incremental and differential. 
It maintains a 2MB cluster size that can be helpful in case of mishaps. You can either create a normal computer backup or even a system image that you can restore to a computer of dissimilar hardware.
When you click on the Backup option you can first select the Source and Destination. Before that, you can tweak several settings regarding your backup. You can choose whether you want a sector-wise backup or a backup only "used sectors". The latter will reduce the total backup size and time. Then you can specify the way you want to split a large image file into multiple files. 
You can also securely encrypt your data with a password and even choose an AES 128 data encryption.
Schedule Backup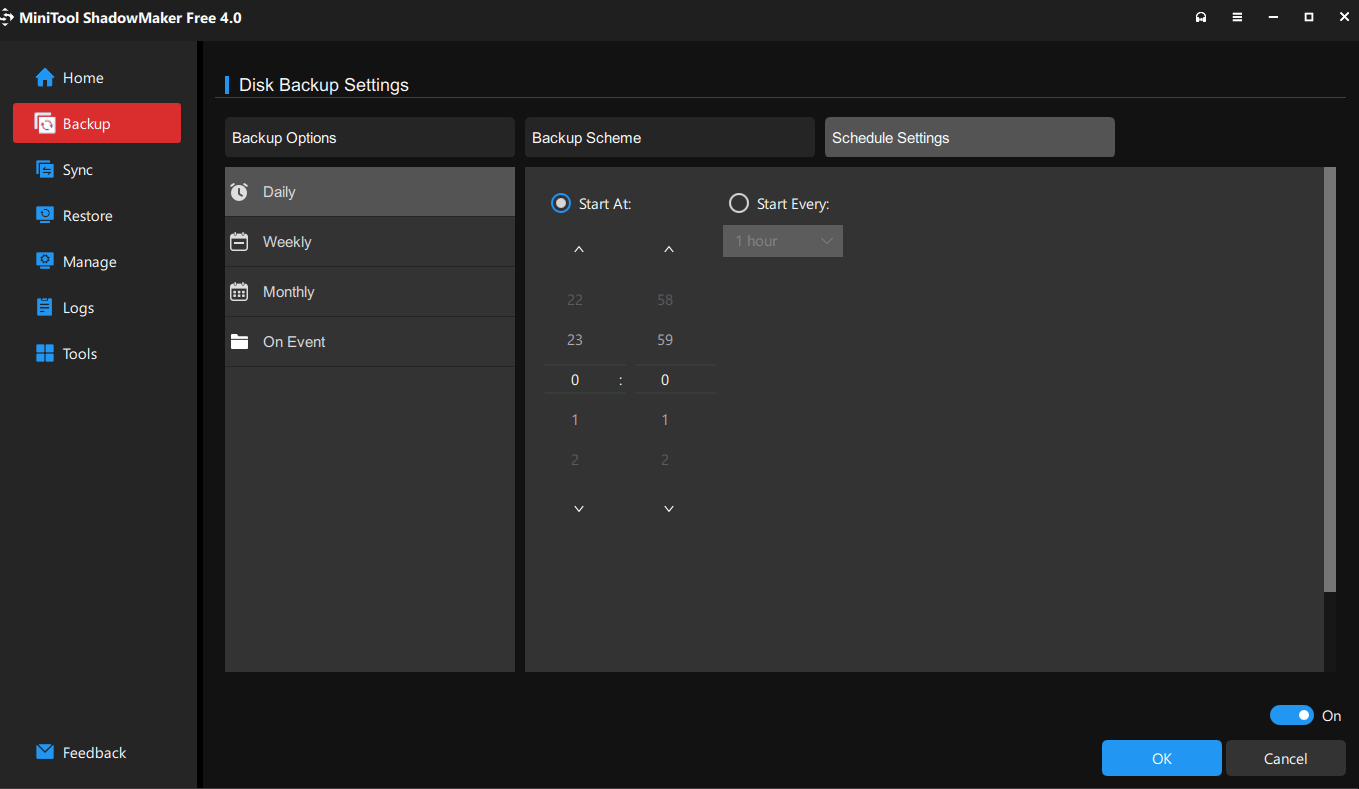 You have the freedom to determine the timing of your backup task, giving you full control over when it should occur. You can backup data daily, weekly or monthly. To schedule a backup on a desired day, you can also specify the exact date and time at which the backup will start. 
– Easy Backup Management
MiniTool ShadowMaker also lets you set the number of versions of backup files. You can set the versions between 1 and 99. For example, if you have set it to 20 and conduct a daily backup, you can go as far as 20 days of history and recover any files you have modified. That's how efficient backup management of ShadowMaker is. You have qa dedicated Manage section where you can manage all your backups easily. 
– Restore Data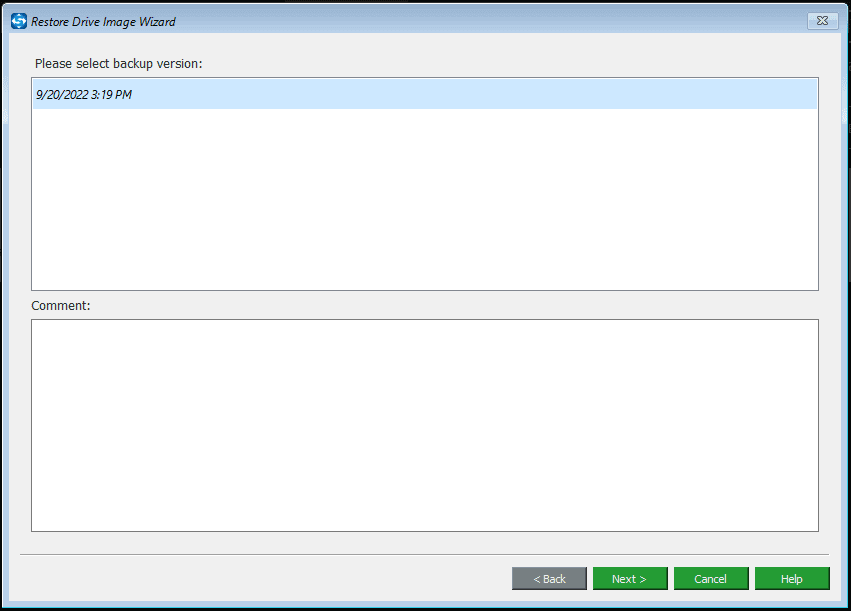 Once you have configured your backup, next you might want to restore data from that backup. MiniTool ShadowMaker lets you quickly restore drives, entire system, and even specfic files,  in case something wrong happens. The feature can especially work wonders in case of a hard drive failure or system crash. 
When you click on the Restore option you can see all your backups. Now, you can select the targeted location where you would like to restore a backup. Next, you can simply click on the Restore option and the restoration will happen. 
– Add A Boot Media and Boot Menu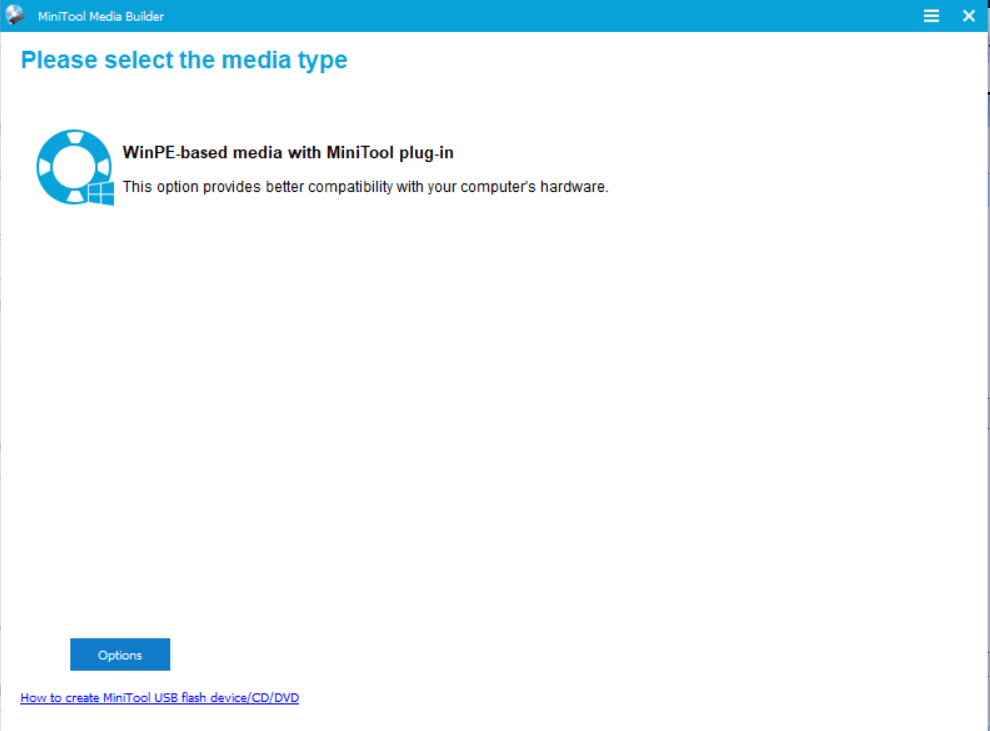 What would you do in the event your computer crashes or fails to boot? If you are not prepared beforehand, there's not much you can do.However, if you are, you can boot your PC and access it with the help of this powerful tool. Fortunately, MiniTool ShadowMaker lets you create a bootable disc/ drive and even create Windows Boot Menu. This ensures that critical files and data can be recovered effortlessly. 
Under the Tools section, you have two options – the Media Builder and the Add Boot Menu option. The Media Builder uses either USB flash/ hard drive or a CD to boot up your computer. Here you can also add drivers especially those compatible with the WinPE environment. The Add Boot Menu option adds a Windows start-up menu option for the MiniTool recovery environment. With recovery environment, you can go for a full system restore without a boot CD. 
– Automatically Sync Files
MiniTool ShadowMaker offers the convenient feature of syncing files and folders between local drives and other specified locations. In simple terms the changes you will make to the source data, the same will automatically be reflected to the destination data. It is different from a backup since it doesn't create an image but saved the same copy of the file to your chosen location. The sync feature also lets you sync files/ folders to a shared folder as well.
There are some File Sync Settings that you can adjust so that the file syncing happens as per what is needed. You can compare the contents of the file based on time, size, and content. The more criteria you choose, the higher will be the backup time. You can even Exclude conditions i.e. the kind of files that you want to exclude from syncing. 
As in the case of backup, MiniTool ShadowMaker also lets you schedule syncing where you can sync files and folders daily, weekly, monthly, or when you log off or on. 
– Back up Remote Computer
If you are dealing with several computers on the same LAN then you can easily manage their data from a single place. All thanks to MiniTool ShadowMaker's  backup and recovery feature of remote PCs. But, this functionality is only available if you have purchased MiniTool ShadowMaker Pro variant.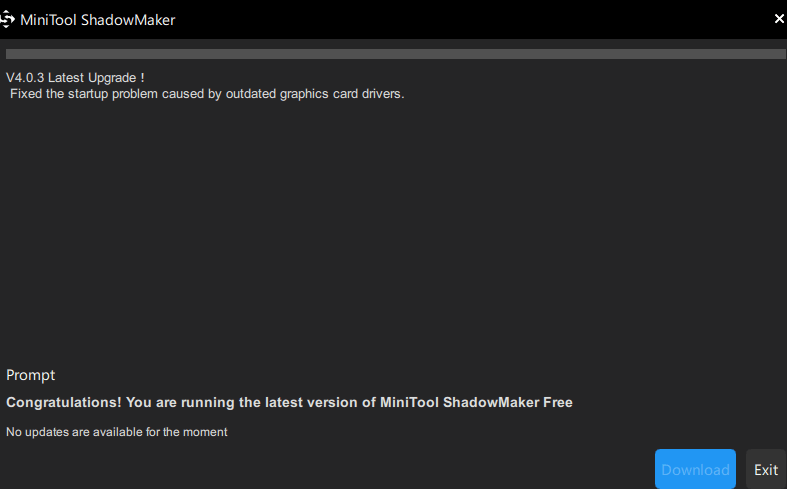 If you have a look at the release notes, you will find that MiniTool regularly releases updates to introduce new features and fix bugs in ShadowMaker. With the recent update it has completely revamped  its interface and has made backup tasks quickly accessible. 
In the previous versions, the company has improved  the restoration from MBR to GPT disk in both system and data drive. You can manually update MiniTool ShadowMaker by clicking on the hamburger icon from the top right corner and clicking on Update. 
MiniTool ShadowMaker for Windows 11/10 comes in two variants – Free and Pro. The Pro variant further comes in three forms – Pro Monthly, Pro Annual, and Pro Ultimate (the license is valid for a lifetime. The pricing is as follows – 
| | |
| --- | --- |
| Name | Price |
| MiniTool ShadowMaker Free | |
| MiniTool ShadowMaker Pro (Monthly Subscription) | $6/month |
| MiniTool ShadowMaker Pro (Annual Subscription) | $3/month billed annually |
| MiniTool ShadowMaker Pro Ultimate (Perpetual License) | One-time price of $79 |
There are two more variants – Business Standard and Business Deluxe. Here's a detailed breakdown of features that you can expect from all the variants. 
On our test rig, we tried to backup almost 500 gigs worth of data. At a steady 100 Mbps speed, MiniTool ShadowMaker completed the task on 85-90 minutes, quite similar to EaseUs Todo Backup. However, when we tried to clone disk to an identical sized SSD it hesitated a bit which means disk cloning does a require a larger capacity disk. 
MiniTool has dedicated support that works 24*7, however, registered and licensed customers are treated as priority as compared to free edition users. You can visit the support page and seek assistance via multiple channels. You can chat with an executive and resolve issues regarding download, license, or purchase issues. You can also mail in your doubts at support@minitool.com. MiniTool also has exhaustive user documentation as well as FAQs with which you can resolve your issues.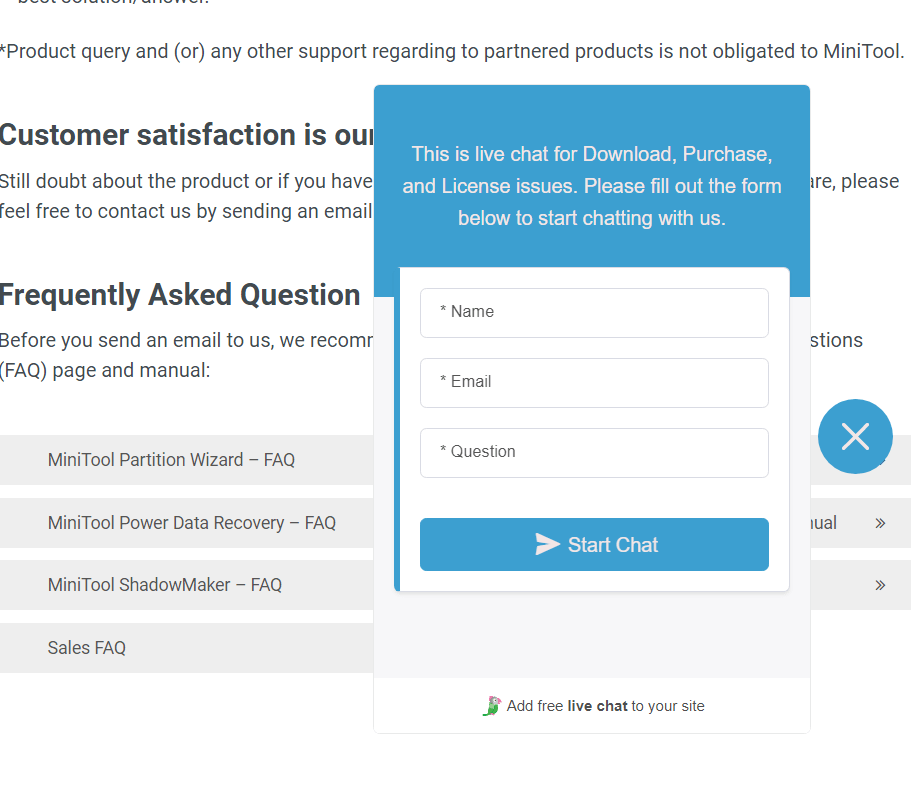 Is MiniTool ShadowMaker the Ultimate Windows Backup Tool for Unparalleled Data Security? What's Your Say?
MiniTool ShadowMaker is a decent backup software that can help you retrieve data in case of emergency situations like hard drive failure and many others. In case you are looking for a tool that can help you recover data, you can check our list of some of the best data recovery tools. If you have tried Minitool ShadowMaker before, do share your experience with us in the comments section below. For more such content, keep reading Top10PC. You can also find us on Facebook, Flipboard and Pinterest.
Frequently Asked Questions
Q1. Is MiniTool ShadowMaker any good?
MiniTool ShadowMaker is a professional backup tool that can help you create and manage backup, restore backup when needed, sync files and folders and perform a host of other tasks like creating media, boot menu and many others.
Q2. Is MiniTool ShadowMaker free?
MiniTool ShadowMaker comes in two variants – completely free variant and the Pro variant. The free variants comes with a variety of features but lacks some features like remotely managing backup, choosing some backup schemes, etc which are present in the paid variant. 
Q3. How do I set up backup in MiniTool ShadowMaker pro?
Click on the Backup from the left-hand pane. Select Source and Destination folder. You can even change the backup scheme, compression, file size that you'd like to split an image into, etc. You can refer to this post where we have outlined detailed steps.