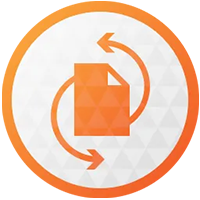 Paragon Partition Manager
Efficient Disk Management for Windows 11/10: Paragon Hard Disk Manager Review
There comes a time when you have to organize your hard disk, make partitions, backup files and folders, and transfer the operating system from one device to another. Such tasks can be tedious and difficult to handle if you don't have a dedicated tool. In this post, we are going to review Paragon Hard Disk Manager which is an all-in-one tool that can help you maintain your hard drive's health.
Over a period of time, our PCs get stuffed with files and folders. To accommodate more data, you might need to create or manage partitions on your system. The task is not as easy as it may sound. You might also have to wipe off exisitng  data securely so that it becomes accessible for other valuable files. And, as an additional prudent measure, you might also require to back up data. Let's throw in another task, what if you are unavailable at the time when the backup is to be created? Would you postpone the backup?

To handle all the above tasks including automating or scheduling backups, you can invest in a tool like Paragon Hard Disk Manager. 
What Is Paragon Hard Disk Manager?
Paragon Hard Disk Manager is an efficient and easy-to-use system and data management solution. Apart from helping you manage data it also helps users protect  it as well. 
It helps you manage hard drive partitions, wipe disks completely, create automated backups, clone disks, create bootable media in the event your computer fails to boot up normally. Besides this it can perform a variety of tasks pertaining to hard drive management. It is also considered as one of the best disk cloning software in the market. However, if you are looking for better alternatives for disk cloning, you can check out this post. On a more granular level, you can perform a surface test to identify any bad sectors in partitions. Amazing, right?
Technical Specifications
Windows Compatibility: Windows 11/10/8.1/8/7/XP
Processor: Intel Pentium or compatible, 300 MHz or higher processor
RAM: 512 MB or higher recommended
File Systems: NTFS, FAT 16/32 and various others
Hard disk space required: 250 MB or higher
Supported Partitioning Schemes: MBR, GPT, and Microsoft Dynamic Disk (simple, spanned, striped, mirrored, RAID-5)
Active Internet Connection
Resize partitions on the fly. 

Wipe data completely. To make data even more irrecoverable, check out these

low-level formatting tools

.

Schedule backup; choose from backup schemes (For example – Incremental or differential)

Restore data from the backup. 

Undelete partitions. As for

data recovery, check out these solutions

.

Recovery media builder.
No free or trial version. 

Backup could be a little slower as compared to some of the competitors.
How Does Paragon Hard Disk Manager Work?
Paragon Hard Disk Manager is a pretty straightforward HDD manager. Here is a small demo of how it works- 
Let's assume you want to manage partitions on your PC. Here is how this hard disk manager doubles up as a partition manager – 
1. Download, run, and install Paragon Hard Disk Manager.
2. Choose what to do you want to do.  For example, let's assume you want to Undelete Volumes. For this, click on the option of the same name under Operations from the left-hand side.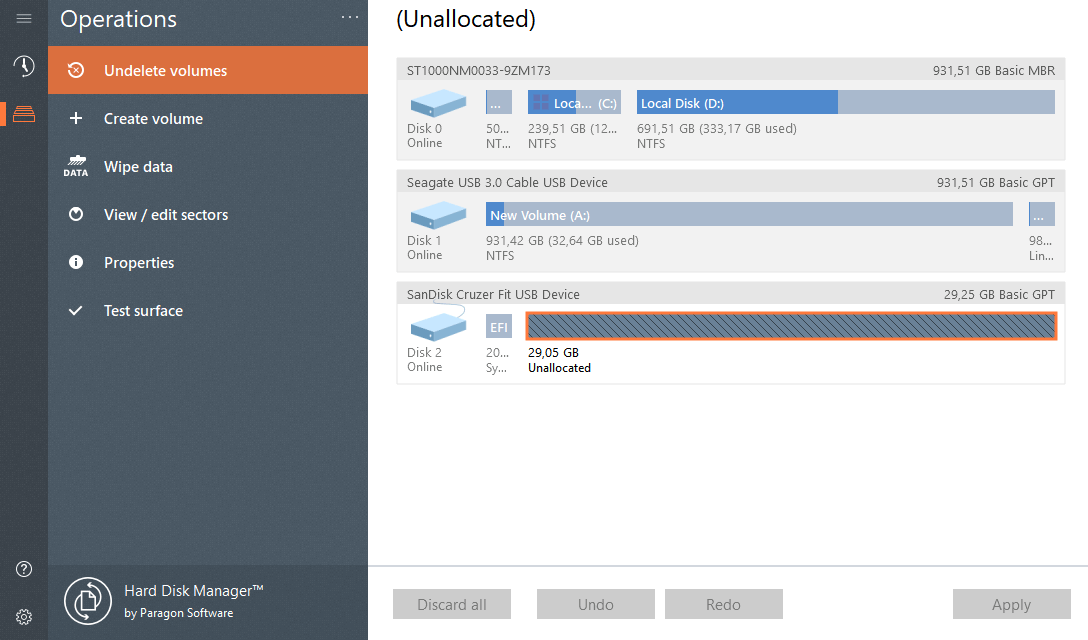 3. Choose from one of the search methods. While Quick Search is faster, the Full Search conducts a deeper search and helps find and recover volumes that the Quick Search may not be able to. Click on Next once you have chosen the search method.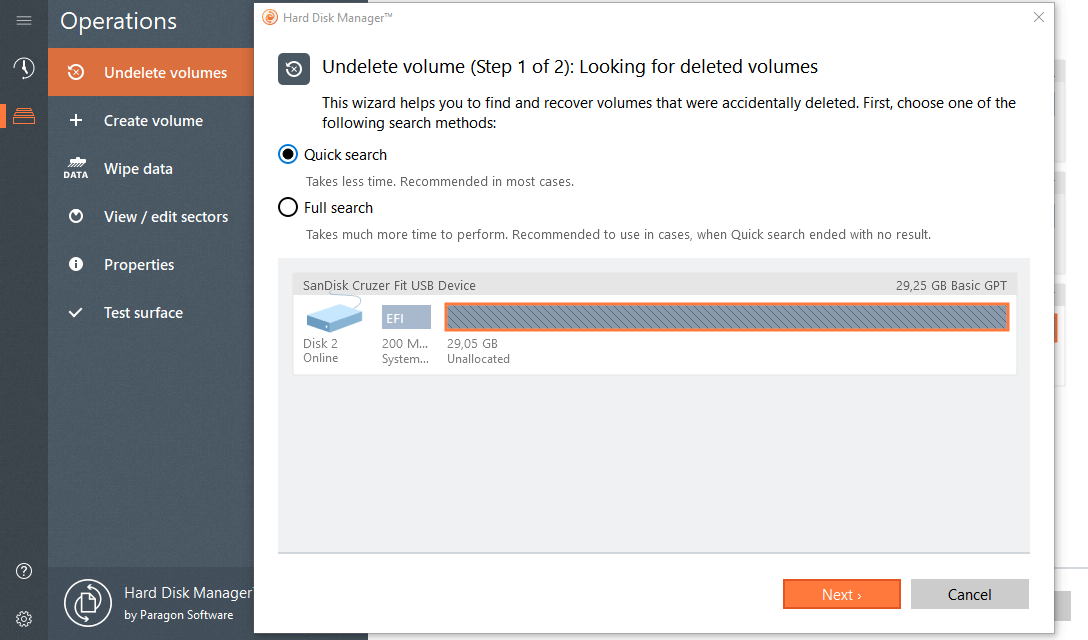 4. Select the Volume that you want to recover and click on Next.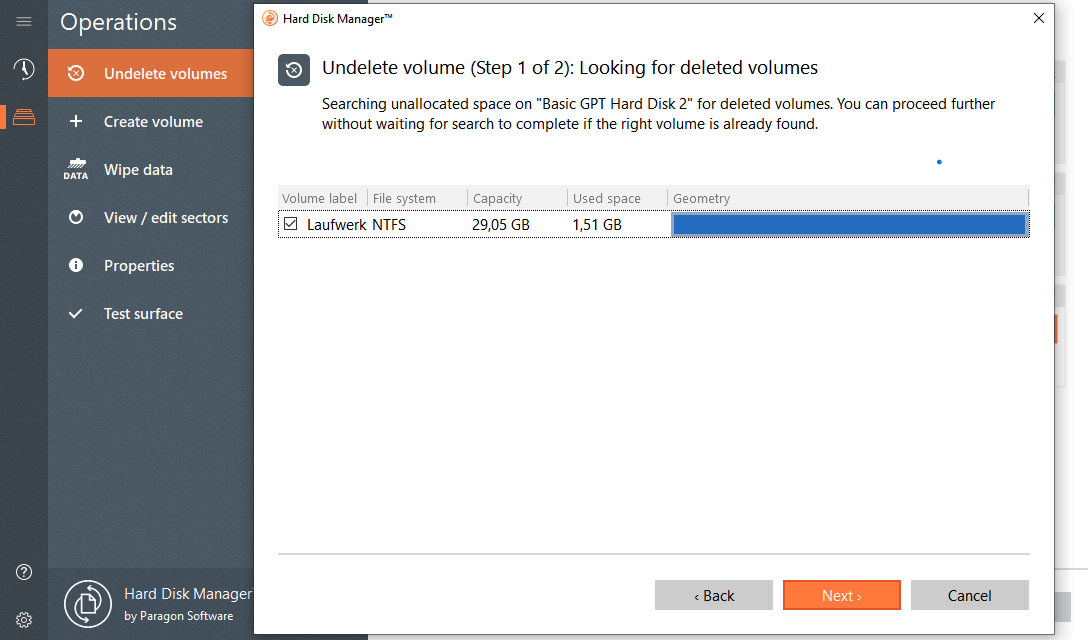 5. Click on Undelete now.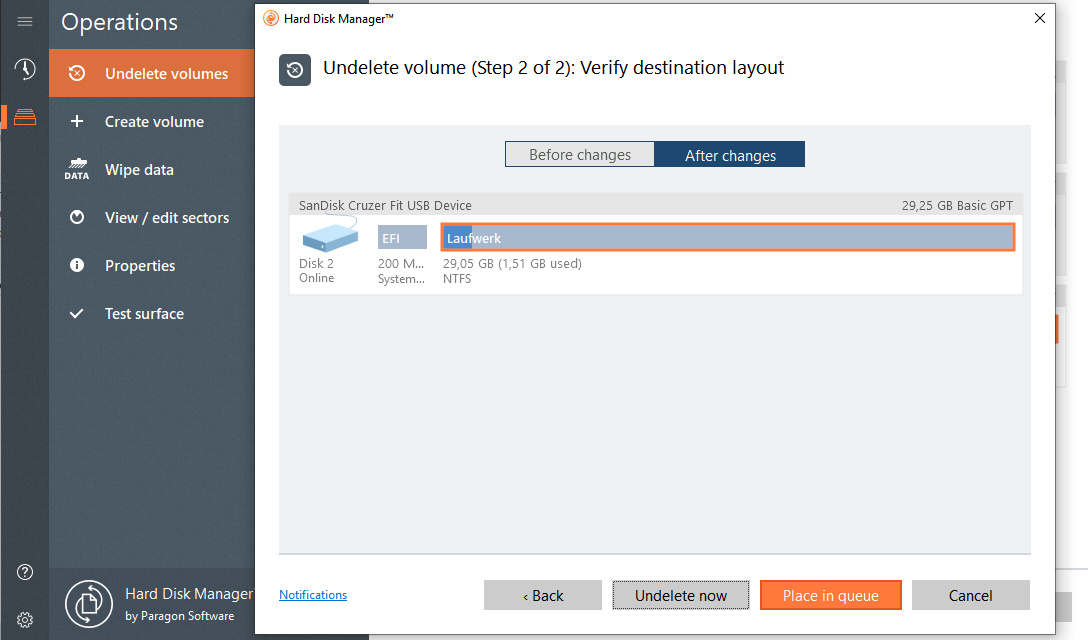 6. Once the process completes, click on Close. 
Paragon Hard Disk Manager for Windows 11/10 has a modern and responsive user-interface. Even if you are working with the tool, you will find it effortless to manage tasks, as each of the options and sub-options are streamlined. 
First, you can easily identify the options pertaining to the issue you are facing. The home screen neatly enlists all such tasks – Backup and restore, tasks related to partition management, functionality to migrate data or complete operating system, data sanitization and wiping module and disk image creation.
From the left-hand pane, you can select what you want to do i.e. choose from the above-mentioned tasks. Each of the options are neatly labeled. For instance, you can see in the screenshot below that when you want to create a backup, you can add a backup by clicking on the + sign. Furthermore, it is also clearly defined how you can add a Backup source and Destination where you want the backup to take place.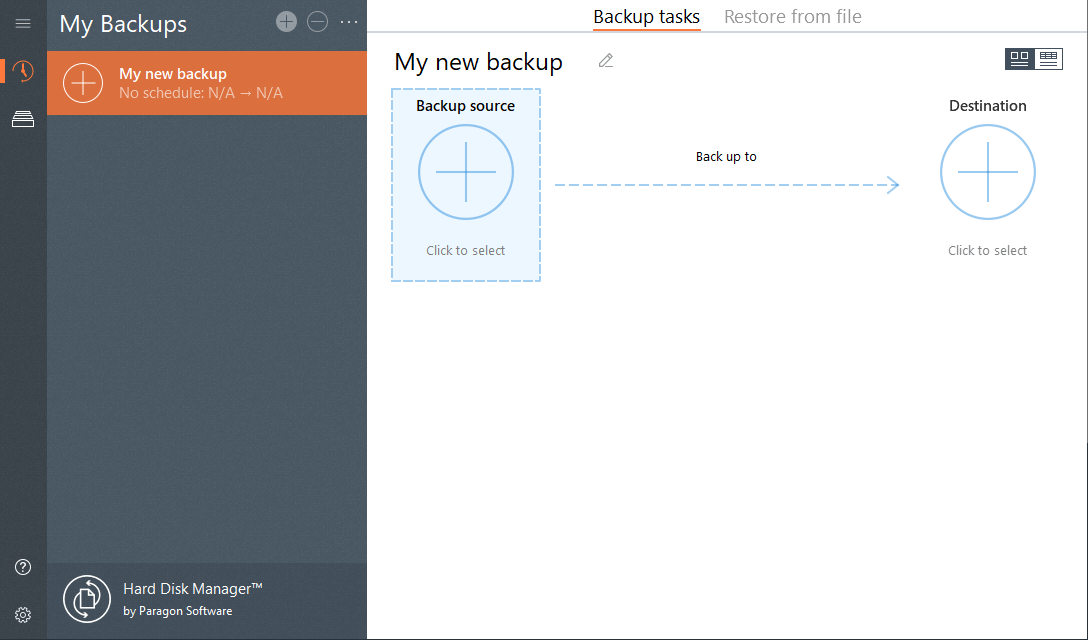 What we also liked is the fact that in various instances, if you are clueless about what a feature or option does, you can refer to the description that's given just below the option/ feature.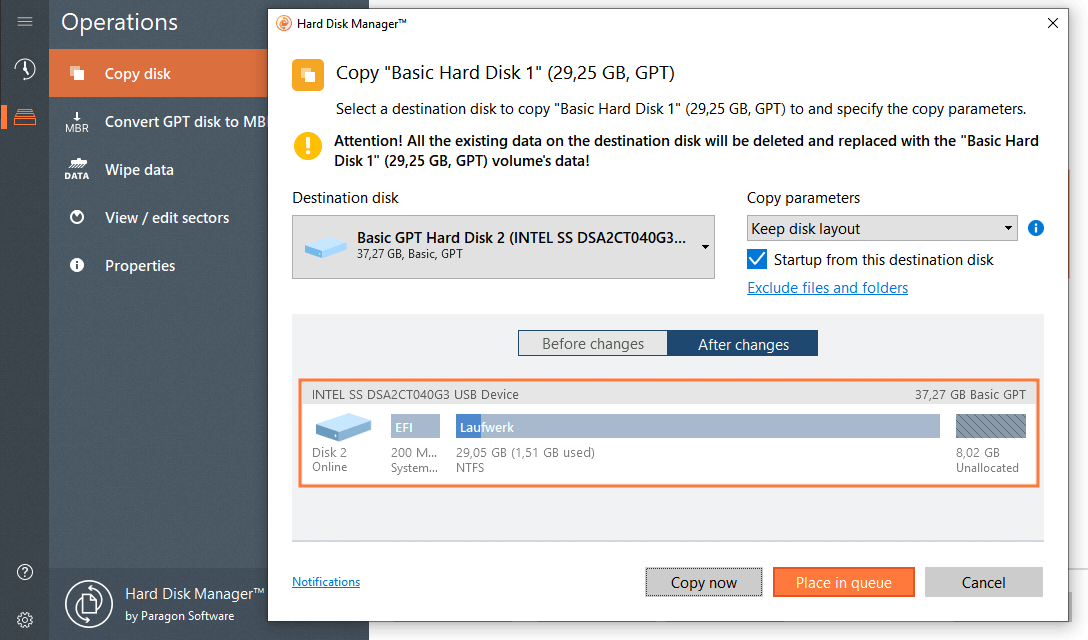 – Backup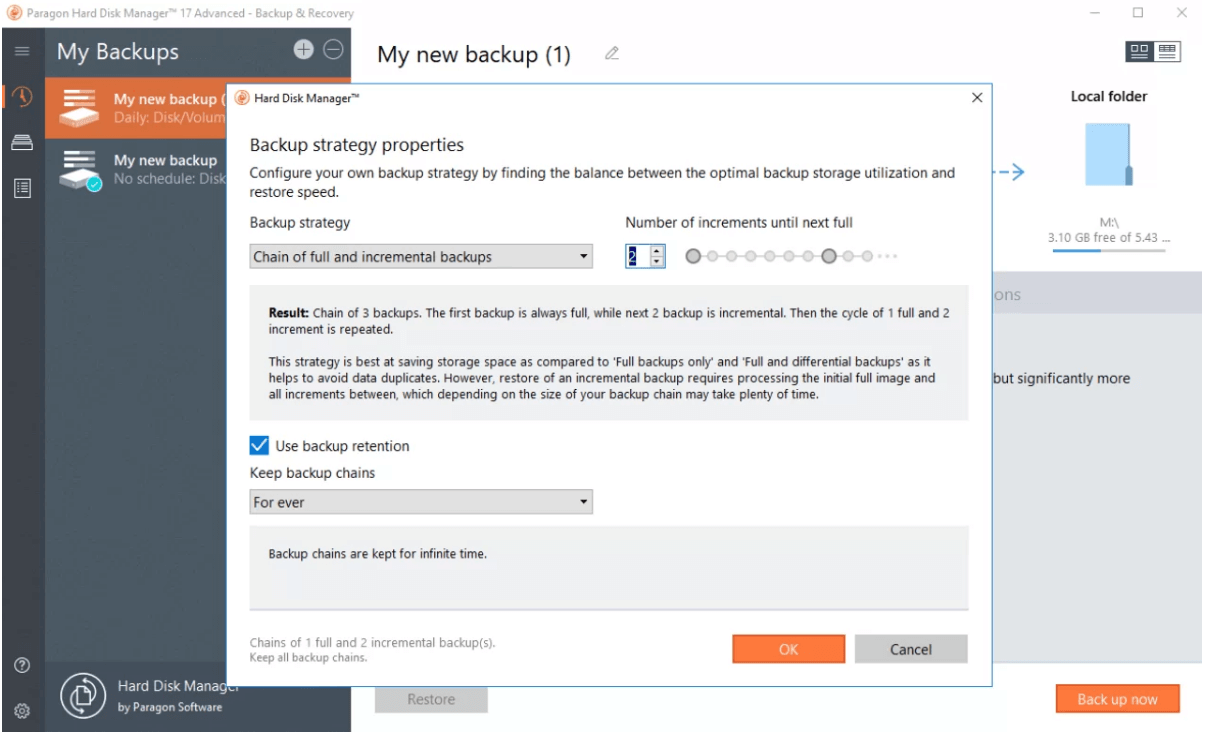 With Paragon Hard Disk Manager, you can back up your complete system or individual files and volumes. You can choose your backup scheme such as differential and incremental backup. You can also select compression and encryption methods for your backup. The tool also lets you exclude data that you don't want to back up. Apart from that, you can schedule your backups at your desired date and time. To add more security, you can protect your backups using a password. 
– Restore From Backup
Paragon Hard Disk Manager makes it easy to restore data from backups regardless of what it is that you want to restore. You can restore entire hard disks or encompassing partitions. Or, you can choose to restore separate files and folders as well. 
– Basic Partitioning
When it comes to partitioning drives, with Paragon Hard Disk Manager for Windows, you can perform a lot of tasks. You can create, delete/ undelete, format, hide/ unhide. assign/ remove drive letter, active/ inactive, change volume label, convert one file system to another.For example – FAT to NTFS or NTFS to HFS. You can even run file integrity checks as well. 
– Data Migration
Let's assume you want to move your operating system to a large-capacity HDD or a high-speed SSD. Paragon Hard Disk Manager makes this task easy and fast for you. You can also copy partitions or entire hard disks to some other location or attached device. It has "alignment aware" aspects that keep partition alignment concerns in check. 
– Create Bootable Drives
With Paragon's Hard Disk Manager, you can create bootable drives (UEFI and BIOS-compatible) in the event some serious error strikes your PC and you are unable to boot it normally. The software offers Recovery Media Builder with driver injections and pre-mounted network connection capabilities. To create bootable drives you can take help USB sticks or any other external storage mediums.
– Disk Wipe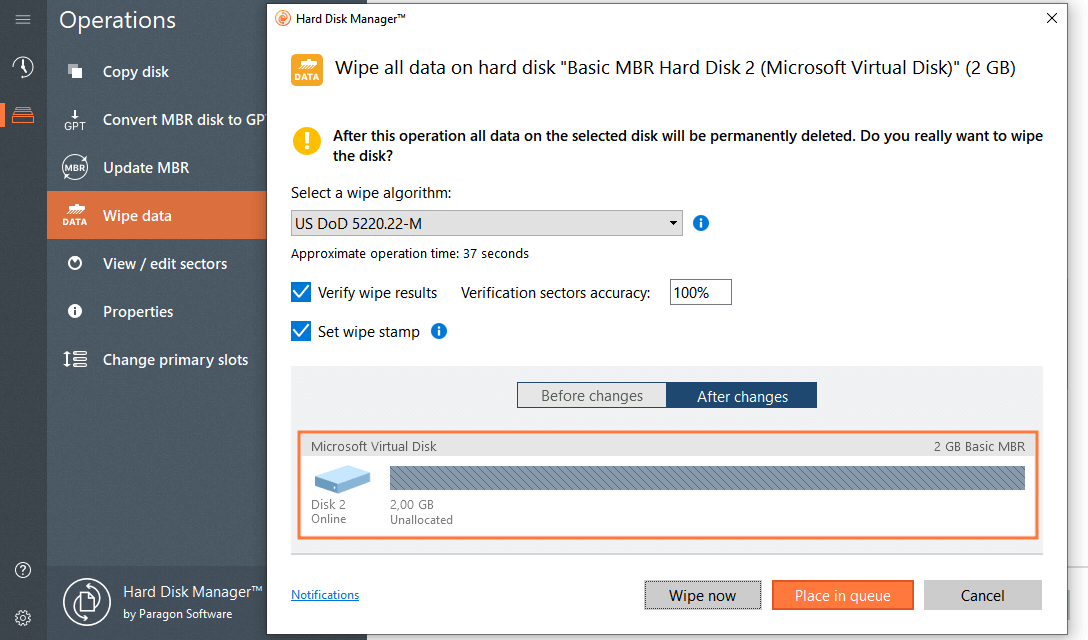 For data sanitization and  to safeguard your assets from prying eyes, you can use Paragon Hard Disk Manager to wipe off any kind of data. You can do it in a way that no one will be able to recover it. You can choose from a variety of wiping algorithms and even protect your SSD lifecycle while wiping. It is important to note that once you have erased data, you can't retrieve it because the software uses military-grade wiping and delicate SSD trimming algorithms. 
– Data Cloning
With Paragon Hard Disk Manager 17, disk cloning was introduced for easy system migration. You can create an exact and uncompressed replica of any drive on your computer – be it a hard drive or even an external drive. It saves tons of migration time and offers OS portability. 
Paragon Software the makers of Paragon Hard Disk Manager regularly release updatesto make the product even better and bug-free. In the recent features such as the ability to create backups directly in the form of virtual disks in supported formats have been released. The new variant features new drive copying functionality and revamped and more modern UI. 
Paragon Hard Disk Manager is priced at $79.95. There is no free or trial version. The license covers three personal computers and includes all features such as drive copy functionality, advanced backup and partitioning management facilities, disk wipe module, and many others. 
There is another variant called Hard Disk Manager for Business that you can try for 30 days after which it is priced at $99. However, this doesn't work with Windows Server. If you want to purchase a Business Server License, you can contact the sales team to get a personal offer based on your needs.
As compared to its competitors like EaseUS Todo Backup, The backing up functionality took slightly longer. In our case, it took almost 2 hours and 30 minutes to back up 500 GB worth of data. However, if you compare other features, it does get a slight edge on many of its competitors especially when its partition management capabilities are considered. 
In case you run into issues, whether related to the functionality of the software or license issues, how can you seek assistance? You get it right off the bat, Paragon has an extensive knowledge base that helps users get started with the product. 
The second stage that you can move on to if the knowledgebase doesn't help is to drop in your queries at support@paragon-software.com 
There are also telephone lines but they are for business inquiries only. 
How Good Is This Hard Disk Management Program?
We are not saying that it is the best, but, it does a decent job when it comes to backing up your data, its partitions, or even if you are considering data sanitization. In fact, if you are someone who often deal with diminishing storage space and are looking for a professional-grade tool to expand partitions, migrate OS, etc, Paragon Hard Disk Manager is a great tool that you can consider. 
Do share with us your views in the comments section below. You can also find us on Facebook, Flipboard, and Pinterest.
Frequently Asked Questions –
Q1. Is Paragon Hard Disk Manager safe to use?
Yes, it is. It is one of the most reliable and secure tools with which you can carry out hard disk management tasks effortlessly. It was not flagged as malware by any of the Antivirus tools and it also lets wipe off data securely when needed. 
Q2. How much does the Paragon Hard Disk Manager cost?
Paragon Hard Disk Manager home license for personal use will cost you $79.95, whereas the Business variant offers you a 30-day free trial after which you can purchase the same for $99.
Q3. Who makes Paragon Software?
Paragon Software is created by Paragon Software Group which is a German Software Company headquartered in Freiburg im Breisgau, Germany.
Q4. When was Paragon Hard Disk Manager 17 released?
Paragon Hard Disk Manager 17 was released in 2019 with several new features some of which we have discussed above.