Norton Utilities Premium is a utility software that optimizes your computer's hard drive, processing power, and memory. It helps your PC get rid of common issues and thereby, enhances its speed. Apart from that, it even keeps a track of startup programs that can slow your computer down. The best part is that it even offers 1-click optimization because of which you can access programs faster. Read all about it in this Norton Utilities Review
What Is Norton Utilities?
Through continuous wear and tear, your PC gets bundled with junk files, develops hard drive fragments, and has gaps in the registries. Dealing with such issues is no child's play. But, several PC Optimization tools help you cope with such issues with the utmost ease. Symantec's Norton Utilities is one such great PC optimization software.
The features of Norton Utility make it extremely easy for user to clean their PC completely. Symantec's Norton Utilities Premium is one such great PC optimization software
Now, you must be wondering why you should invest in Norton Utilities Premium or any PC optimization and cleaning tool per se? That's because no matter how much you might trust Windows 11 to clean junk, fix registry issues, defrag disk space, or anything else for that matter, you would still need a dedicated tool to optimize your PC completely.
Coming to Norton Utilities Premium, to begin with, Norton is a brand that needs no mention. When it comes to computer security there might be very few who might have not heard of Norton Antivirus. And, PC Optimization is yet another feather in its cap.
Pros:
Enhances system's performance and speed
It has an easy to use interface
Monitors your system in real-time
Comprehensively shreds personal documents and also prevents others from accessing them
Helps erase browser file downloads
Cons:
You may find some community-based features lacking
Some Windows 10 specific features are lacking
A Brief Overview Of Norton Utilities Premium
System Requirements & Additional Hardware –
Latest Version – 22.22.3.9
Compatibility – Windows 11, 10, 8.1, 8 and 7 SP1
CPU: 1 GHz
Memory: 1 GB for 32-bit, 2 GB for 64-bit
100 MB of available hard disk space
SVGA (1024 x 768) video
Internet connection
Starts from
$
39.99
per year
Detect & Remove Infections
Unused applications and unnecessary software
Automatic Cleaning and updation
System slowdown prevention
Norton Utilities Premium has a minimalistic interface that does not overwhelm you with a lot of icons. The interface is not very flashy which is good because there are only things that matter the most. The interface is divided into five parts – Dashboard, Toolbox, Automatic Care, and Real-Time Boost.
The components are self-explanatory in the sense that you know what exactly each component is supposed to do. If you wish to know what exactly an option does, all you have to do is hover your mouse over the 'i' icon. Once the scan is performed you have to just click on the 'Optimize Now' button to fix the issues.
Symantec Norton utilities Premium packs several tools to deal with the optimization needs of your Windows PC. Broadly, on the dashboard, there are five tools, namely Dashboard, Performance, Privacy, Recovery, and Settings. Each of these items has several sub tools. We'll look under each of these modules, discuss their features in greater detail and see what these are capable of
1. Dashboard
This section has tools that help you scan and resolve some of the most common PC issues. The tools also work towards accelerating the speed of the applications running inside the PC and the PC itself. Let's take a closer look at some of the tools.
It quickly scans your computer to find out how much memory space is available. This analysis will help you determine the state of your hard disk, if it is filled with unwanted junk, you can clean it up
It readily removes all the cache and temporary files collected on the computer while using the internet. These are all collectively known as Internet junk files and then detected by Norton Utilities Premium and cleaned in the scan
Hard disk defragmentation
While there are separate options to manage registries the software recommends on exactly what issues you need to take urgent actions.
This option tells you exactly how much free space is available on a particular disc. You can accordingly check the 'Smart Defrag' option and the space will be well utilized. You can also optimize and defrag individual files too.
Optimizing Windows and Windows startup Items
The option helps you make tweaks to optimize Windows so that it can deliver best or balanced performance. Also, by using this option you can manage applications and decide which of these should automatically load when your computer boots up.
Broken Internet connection
It also scans the computer for any issues regarding the internet connection. If you often find yourself struggling with the fluctuation in the internet connection, it might be a good idea to run a scan for it. If the scan results show an issue, you can quickly run a repair for it
2. Automatic Care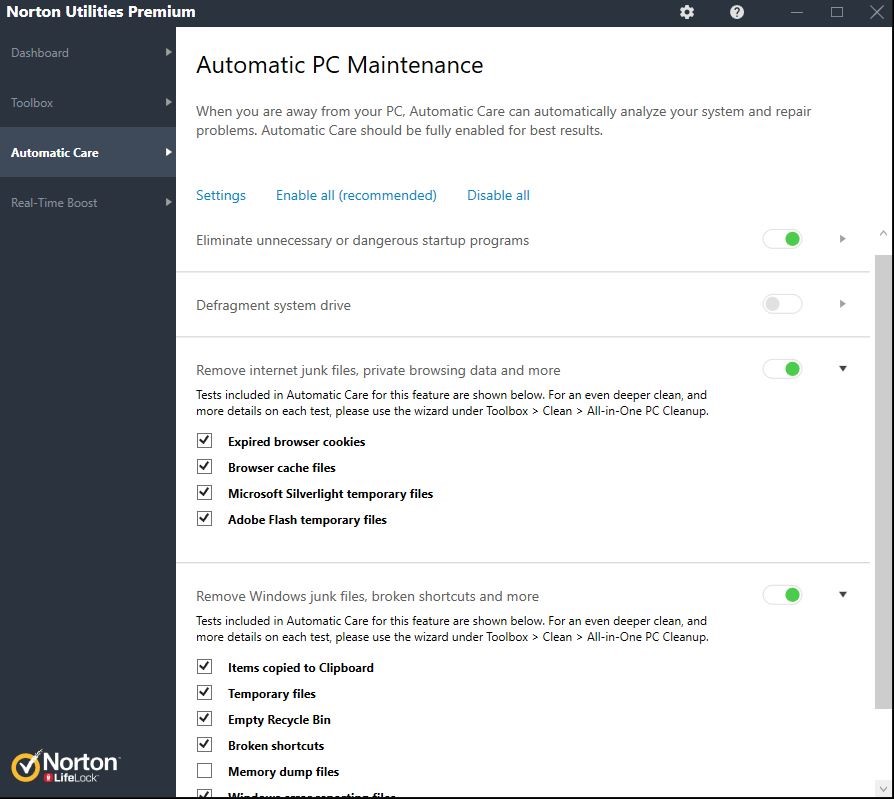 This section will help you analyze your system automatically. This will work even when you are away and then repair the found issues. To use this feature, one must not forget to enable it. One can easily customize this section with various options such as eliminating unnecessary startup programs or defragmenting system drive. It can fix the issues on its own by just selecting the relevant boxes for the issues. It can easily remove Windows junk files, broken shortcuts and empty recycle bins
3. Toolbox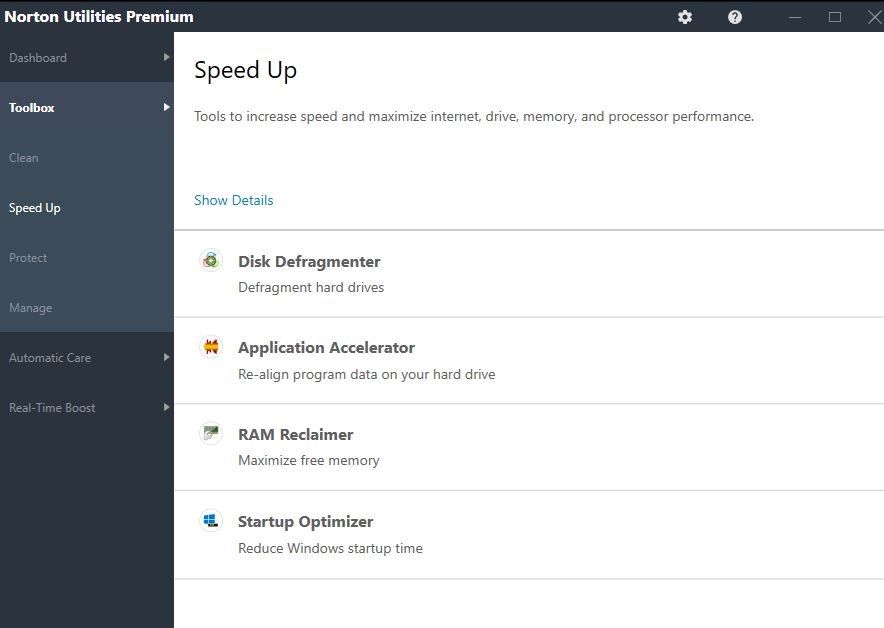 While Windows is a very secure operating system, there are still chances that your private data may get into the wrong hands. This could happen in many ways immaterial of whether you are surfing the web or not. Here's how Norton Utilities Premium helps cement your privacy –
You can clean all document histories, temporary files, clipboard contents, recycle bin and every small bit of information retained by Windows.
The browsers on your computer store your browsing history in the form of cache and cookies which make it all the more easier for websites to track your browsing habits. Norton Utilities helps you clean your browser entirely completely in one click, thereby removing all such browsing traces.
Clear Third-Party Software Traces
Third-party software retains some of your information which remains with them even after you have deleted the software. Using this PC Optimization tool you can clean all the plug-ins and other information retained by all the third party software available on your PC.
This option lets you clean the disk so that all the files are permanently deleted from all the disks. The disk bleacher scrambles your master file table in such a manner that all the traces of previously deleted files are removed
Whatever files and folders you choose to shred using this option will be permanently deleted and you won't be able to recover them back. This feature is useful to dispose of private documents safely
4. Recovery
The option in our opinion is not that aptly named. As the name states, this option does not just help you recover lost files but even help you restore registry backups and repair drives as well.
Here you can recover any type of files from any of the drives that you might have lost at some instance. These include all types of files – graphics, videos, text and music.
One of the reasons why your PC might not be functioning well is because it is stuffed with duplicates. And, let's face it, you can not fix duplicates on your own. Norton Utilities Premium enables you to assign filters and helps you detect and delete duplicate files, thereby helping you save a lot of storage space
The disk doctor repairs erroneous drives so that they can function with speed and efficiency. You even get to select drive operations such as performing a surface scan, repairing the drive or just checking the drive for issues.
Norton Utilities Premium creates registry backups every time you choose to repair issues. This is done so that in case something goes wrong you can restore older backups.
Uninstall Unused Software
Several pieces of software are unnecessary and that takes up a lot of space on your PC. Norton Utilities helps you decide on all such software and helps you uninstall them.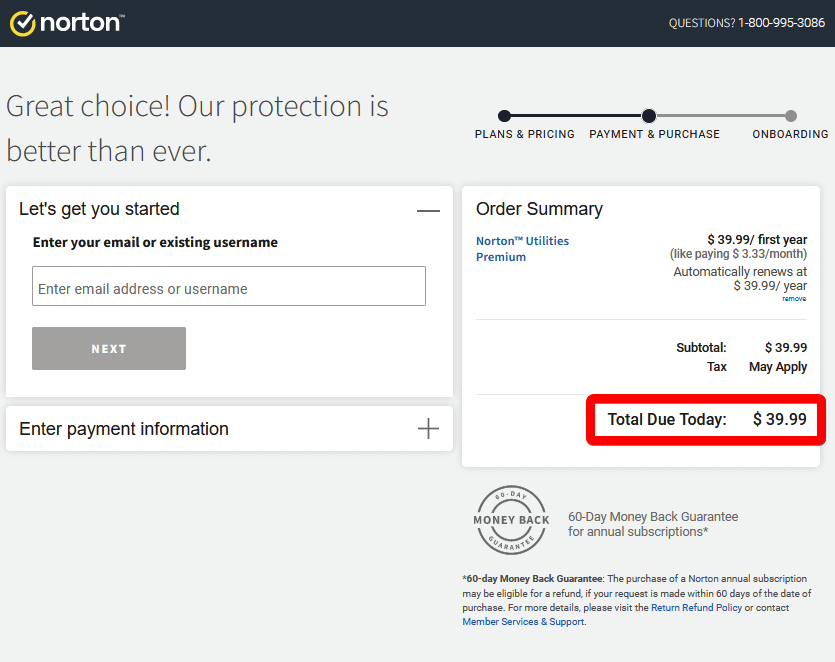 You will have to purchase a plan that starts at $ 39.99/ year which is quite cheap as compared to various other PC Optimization tools available. And, we must say for the price, Norton Utilities Premium does a fairly great job with that price. You can also try the product as it offers you a 60-day money-back guarantee.
On randomly taking a speed test of some of the modules, we found that the 1-click optimization option takes nearly a minute and a half to clear privacy information. It performed 10 optimizations on Windows, repaired 136 registry issues and during the same duration found no unused applications.
Then, we headed on to scan and clean the registry. This operation took almost 50.9 seconds to complete. Next up, we chose to use the Internet Junk Files to remove unwanted files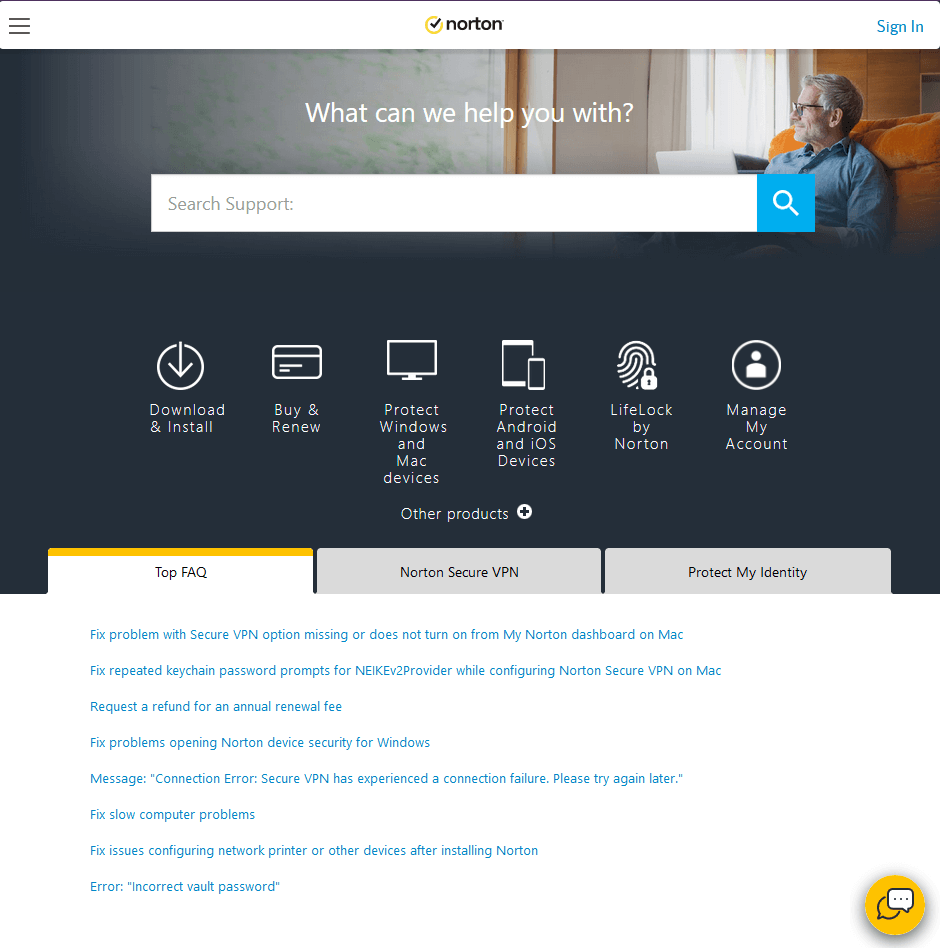 Norton Utilities Premium Review will be incomplete without the mention of customer support. So, when it comes to resolving customer queries, Norton is one of the best in the business. For getting a query resolved, there are several ways. You can either chat live with the Norton Customer support team, which is who is available 24*7. Or you can join the Norton Community where you can have productive discussions about queries about issues and other related topics
Check out the support link to contact or to get help from the tutorials and forums
https://support.norton.com/sp/en/in/home/current/info
Alternatives Of Norton Utilities Cleaning Software
Provider
$ Per Year
Top Features
The Final Verdict
Norton Utilities Premium is a strong contender that could become your next tool for all your Windows optimization needs. Be it price, features, customer support or anything for that matter, it does tremendously well on all fronts. The interface is extremely ease to use and self-explanatory.
Frequently Asked Questions-
Q1. Is Norton Utilities Premium worth it?
Yes, Norton Utilities Premium is a worthy product for Windows. It comes with so many features of Norton Utility to help you resolve all system issues. Cleans system clutter and helps in improving the speed
Q2. Is Norton Utilities Premium-Free?
No, Norton Utilities Premium is not free of cost. Norton Utilities Premium cost is $39.99 for a one-year subscription. Although you can take advantage of its facility to let you try it out after a purchase on the money-back guarantee of 60 days.
Q3. What Does Norton Utilities Premium Do?
Norton Utilities Premium comes as a great tool to clean up your PC. You can get rid of the system errors, take registry backups, securely delete documents, improve the speed and performance by getting rid of unwanted junk. Norton Utilities for Windows 11 is worth giving a try.
Q4. Do you have to pay for Norton Utilities premium?
Yes, you have to pay to avail the features offered by Norton Utilities Premium. To use it on your Windows PC you must purchase it at $39.99 for up to 10 PCs.
Q5. What is the difference between Norton Utilities Premium and Norton Utilities Ultimate?
Norton Utilities Ultimate is an advanced version of the Norton Utilities Premium. It gives you more features to enhance the performance of your computer. You can find it at the cost of $69.99 for up to 10 PCs for a one-year subscription.
Q6. Is Norton Utilities being discontinued?
Yes, Norton Utilities is being discontinued and you can easily find its replacement Norton Utilities Premium on its official website. The product support for Norton Utilities ended in September 2020 as it was built on a program to not receive updates after a time period.