If you are looking for a disk defragmenter for your PC, your search ends here. We bring you the list of the best defrag tools with complete details and pros and cons to weigh in. The Disk Defragmenter will help you physically organize the files in the hard disk and help it run smoothly.
Top Software Reviews
Rating
1.

Advanced System Optimizer

2.

Smart Defrag

3.

O&O Defrag

4.

Disk Speedup

5.

Auslogics Disk Defrag

6.

CCleaner's Defraggler

7.

Glarysoft Disk SpeedUp

8.

Wise Disk Cleanup

9.

UltraDefrag

10.

Puran Defrag
What is Disk Defrag Software?
Defragmentation is the process where you can put the content of the files together on the physical hard disk. Over time when the computer storage is filled, you save new files over time. It stores in different places, affecting the computer's speed. When a file is called, as its bits are stored in different locations, it increases the time of opening that particular file. But when you use one of the best hard drive defragmenters, it will organize that data close by. With this process, whenever a file is called upon, it will be easy to locate data next to each other and speed up the process.
There are multiple good free defrag utilities available, along with a built-in tool. We take a look at all of those and more of the paid services in this blog.
Why Do We Need Disk Defrag Software?
All Windows versions of your computer come equipped with defragmenting utilities. The inbuilt tool is called Disk Defragmenter and can be used easily to view the current status, defragment and schedule a scan. But like most inbuilt utilities, it lacks a few features. This makes up for a dedicated defragmenting app for your computer.
1. Advanced System Optimizer
Price – $39.95
Compatibility – Windows 11, 10, 8.1, 8, 7, XP and Vista.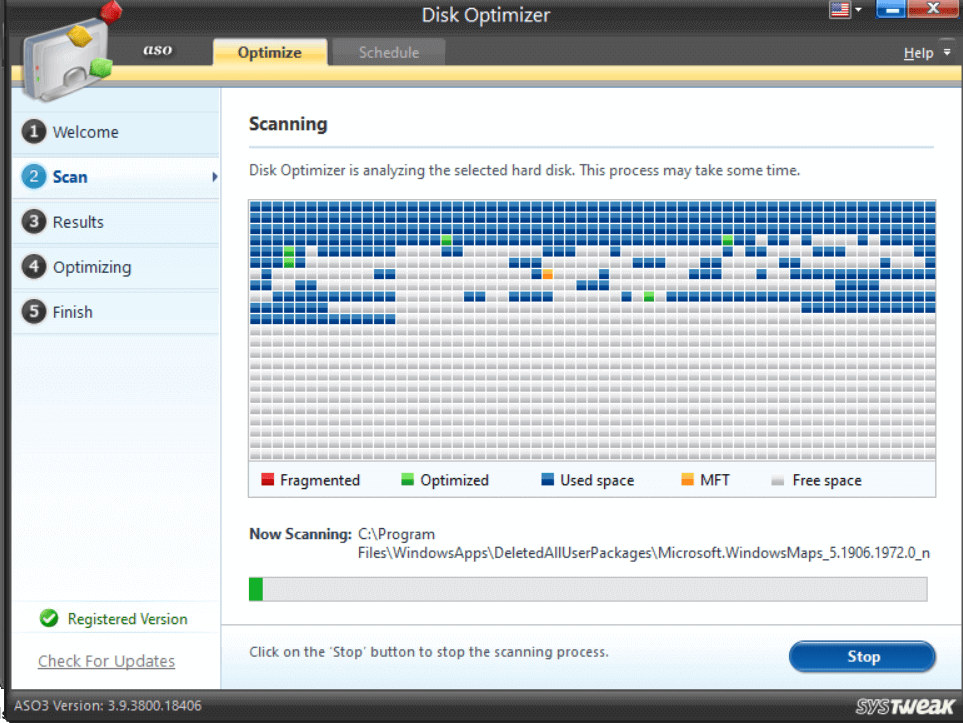 Advanced System Optimizer is the best defrag software for Windows. It comes with the option to schedule defragmentation on your computer easily. You can avail of other features to repair disk and optimizer disk with other tools available on Advanced System Optimizer. You can view the simple representation, which shows the fragmented, optimized, used disk space, etc in different colors. After the scan, you can quickly see the difference as well with the help of this representation.
Pros:
Easy to use simplistic interface
Modules for cleaning and optimizing PC
Detect and remove privacy traces
Facility to fix common PC issues with one-click
Easily fix disk fragments
Facility to backup important files
Integrated driver updater
Registry cleaner and optimizer
Cons:
Free trial is only available for 24 hours
2. Smart Defrag 8
Price – $19.95
Compatibility – Windows 11, 10, 8.1, 8, 7, XP and Vista.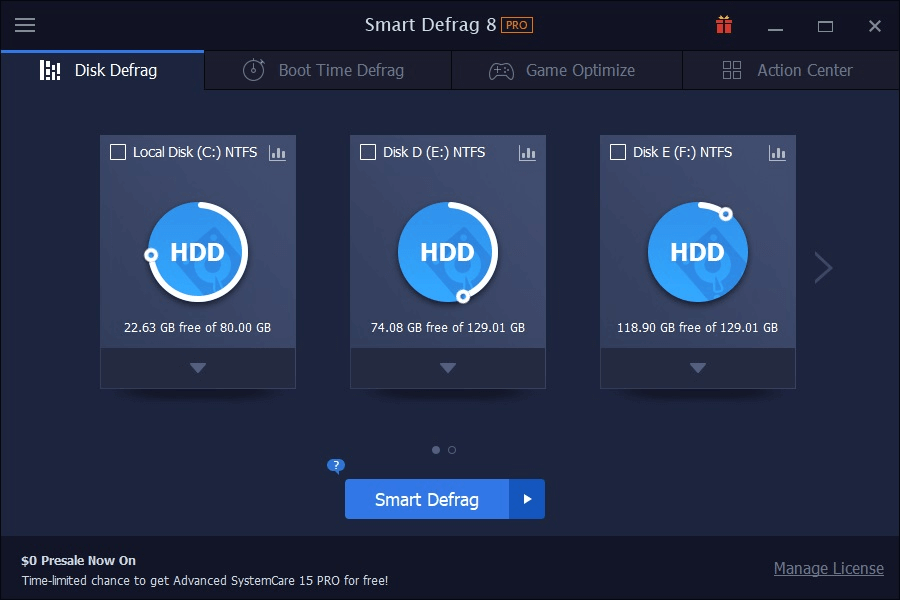 Smart Defrag 8 is a product from iObit and it works with a great disk defrag engine. This best hard disk defrag software accelerates the speed and even the boot time of your computer. It is an easy-to-use tool that can optimize your disk and improve its performance. It works to optimize your computer for gaming as well.

Pros:
Automatically scans and defrags disk.
Allows SSD trimming.
Always on to help in real-time defragmentation.
Boot-time defrag possible.
Cons:
Free download redirects to other links
3. O&O Defrag 26
Price – $29.95
Compatibility – Windows 11, 10, 8.1, 8, 7, XP and Vista.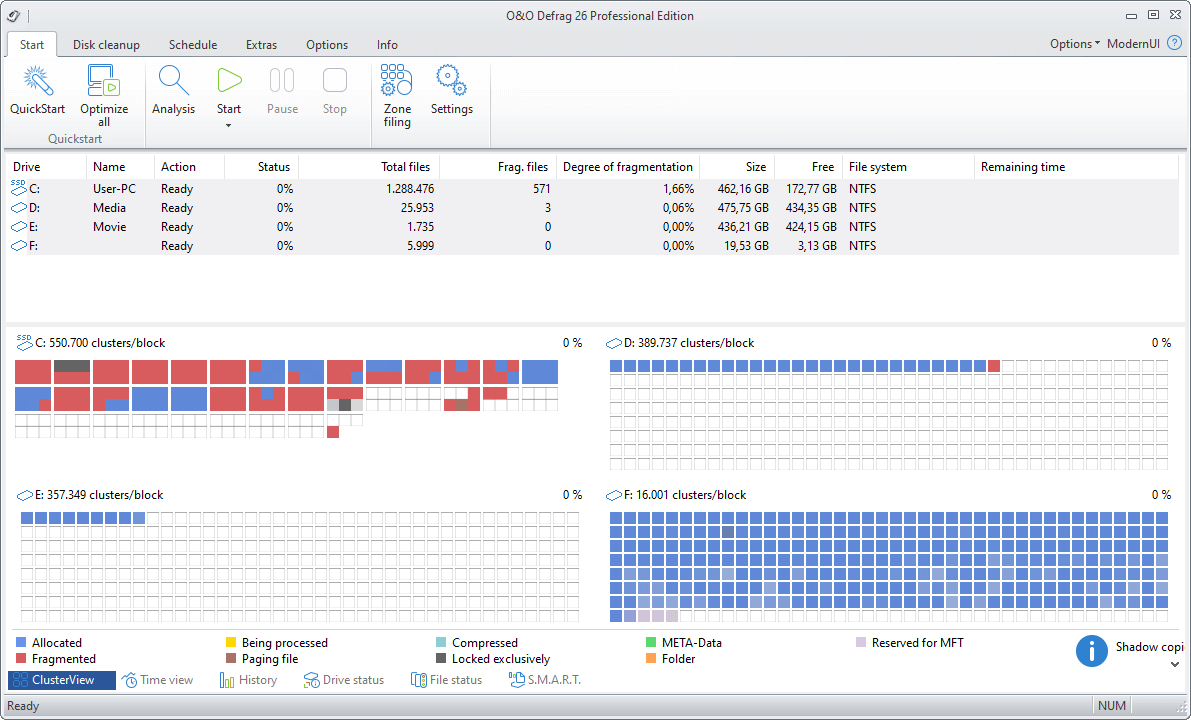 O&O Defrag 26 is the latest edition to this professionally used best defrag Windows 10 tool. The dedicated utility is meant to help you quickly perform all disk-related tasks. It comes with a neat interface that will show all the tools to the users easily. The QuickStart guides you to run defragmentation on your computer and shows all drive partitions clearly.

Pros:
Maximum PC performance.
Intuitive interface.
Minimizes the file accessing time.
Runs automatically in the background
Cons:
Basic functionality for the cost
4. Disk Speedup
Price – $39.95
Compatibility – Windows 11, 10, 8.1, 8, 7, XP and Vista.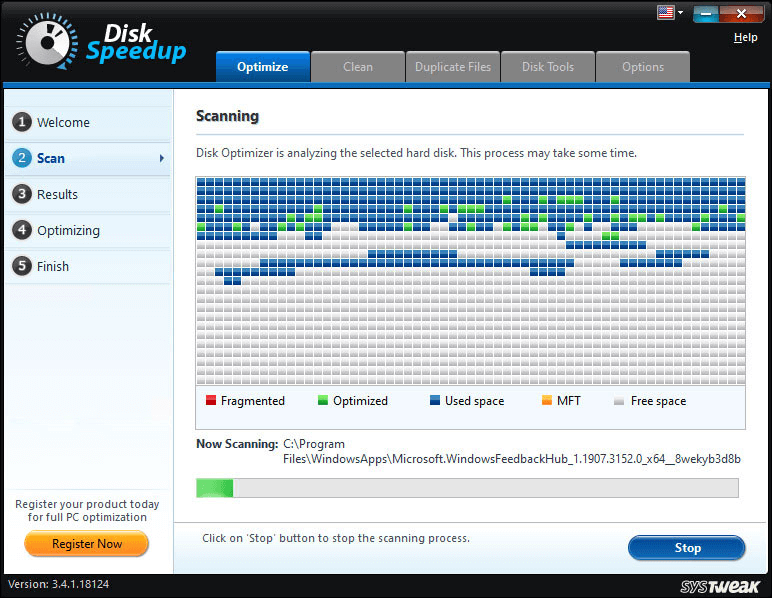 Disk Speedup by Systweak Software is another dedicated tool to defrag disk on your PC. It has a simple interface that can quickly run, scan and optimize the disk to perform the tasks of opening files quicker. It comes with certain features such as duplicate file remover to clear up space on the hard disk. Other tools also let you fix the hard disk health on your computer.

Pros:
Clean interface, and fast scan.
Duplicate files remover.
Additional Disk Tools.
Clear representation of the disk
Cons:
No customization features
5. Auslogics Disk Defrag
Price – $29.95
Compatibility – Windows 11, 10, 8.1, 8 and 7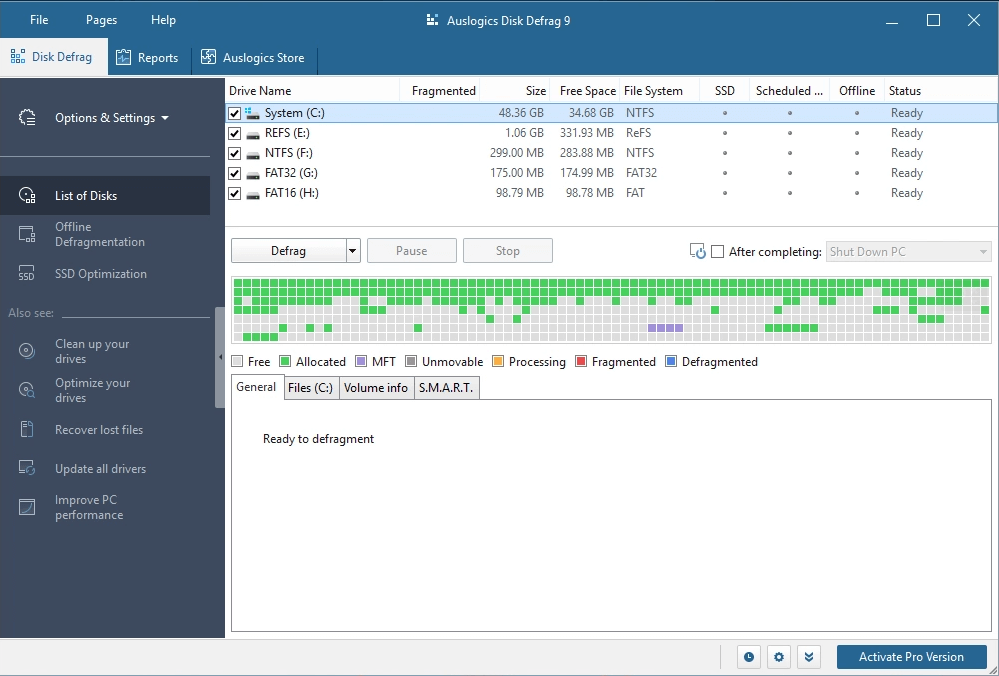 Auslogics Disk Defrag is another of the best hard disk defragmenters for your computer. If you wish to get an ultimate defraggler, you can get it. As it frees up the disk before running the optimization. It also works on a good algorithm to defrag SSD on your latest laptops. It has a fast speed and additional tools to wipe free disk space.

Pros:
Run disk checks regularly.
Finds and fixes disk errors.
Ultra fast disk defragmenter.
Clean disk before scan
Cons:
Free trial has limitations
6. CCleaner's Defraggler
Price – Free
Compatibility – Windows 11, 10, 8.1, 8, 7, XP and Vista.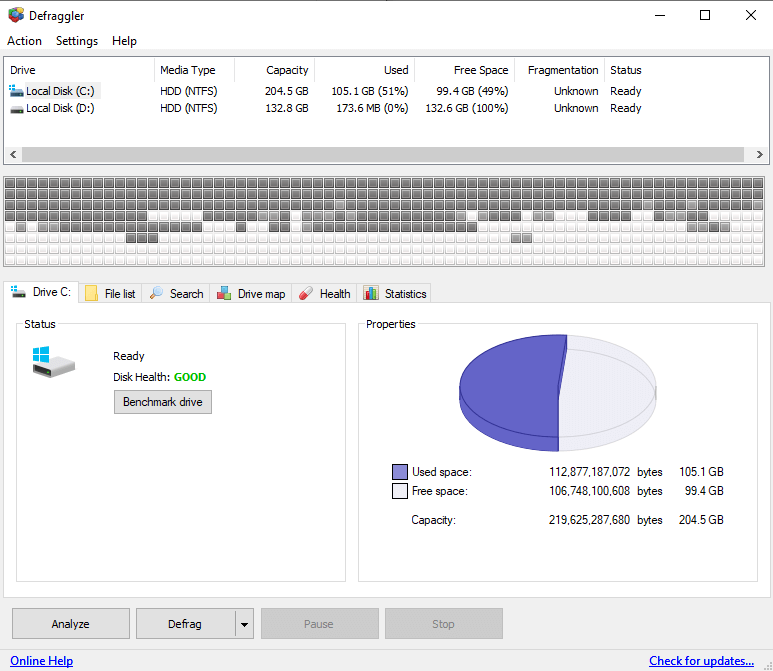 Defraggler is one of the old products used to defrag the disk on your computer. It is developed by CCleaner which can easily defrag separate files as well as the entire hard disk at a time. It works with both NTFS and FAT32 file systems. However, it can run the scan and defrag the hard disk for you easily, it is not preferred to be used as a professional tool for your computers.

Pros:
Simple to use tool.
Frees up disk space.
Defragment individual files.
Disk diagrams for easy understanding
Cons:
Very basic usage for individual users
7. Glarysoft Disk SpeedUp
Price – Free
Compatibility – Windows 11, 10, 8.1, 8, 7, XP, and Vista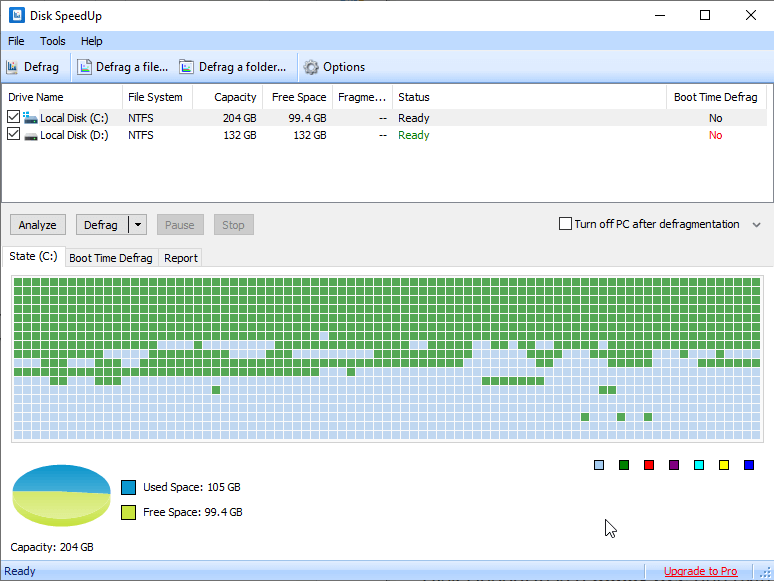 Glarysoft Disk SpeedUp is another in the list of the disk defragmentation tools for Windows PC. It can help you with the customized scans as it presents you with multiple options. The focus can be put on a certain file and it also lets you organize your disks easily. This is the best among the completely free defrag utilities for Windows.

Pros:
Different scan modes.
Easy representation of the disk.
Work for boot-time defrag.
Freeware
Cons:
Trial mode has limited functionality
8. Wise Disk Cleanup
Price – Free
Compatibility – Windows 11, 10, 8.1, 8, 7.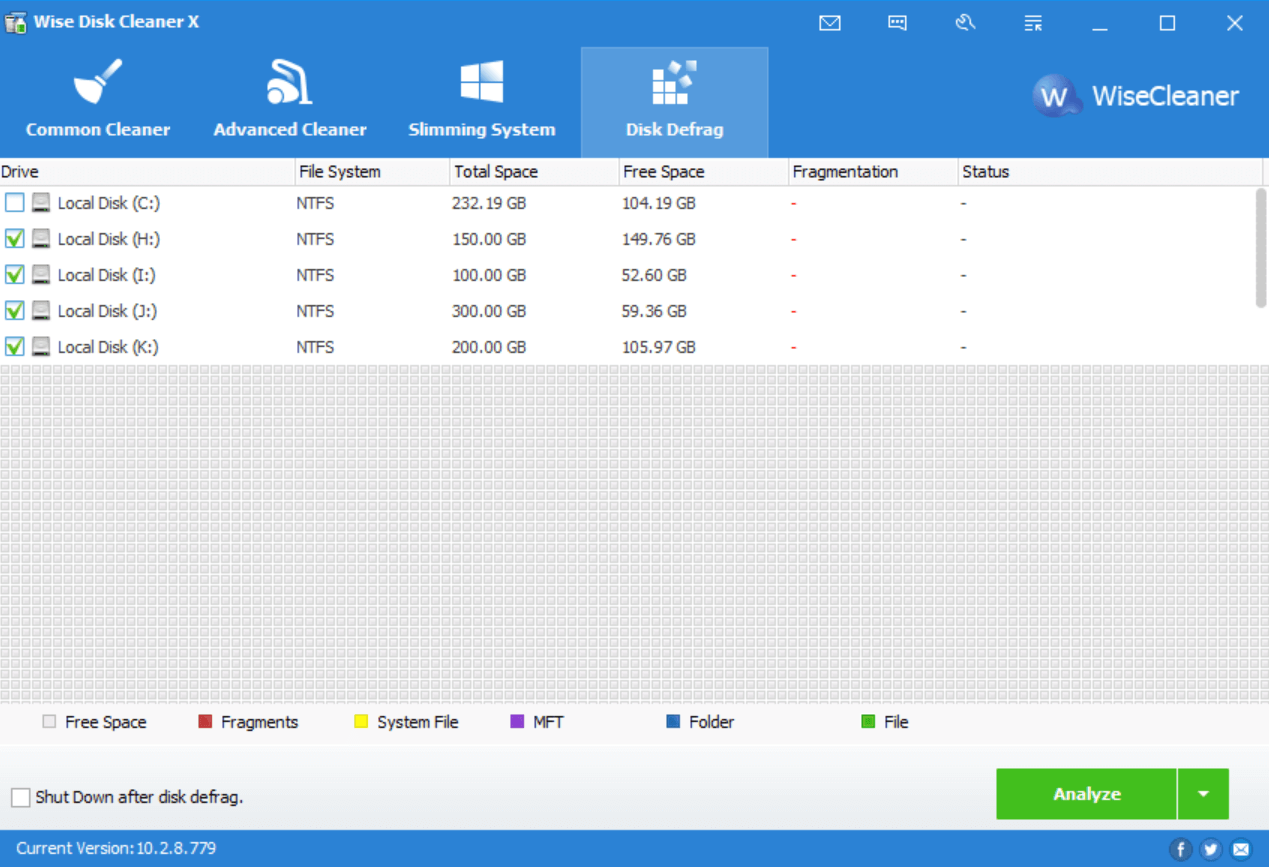 Wise Disk Cleanup is a free utility for Windows which can be used to clean up the hard disk and get rid of junk and run defragmentation. It will help in deleting unwanted files and then freeing up the disk space. Shows you the disk usage and then defragments the disk to improve the performance and speed of your PC.

Pros:
Cleans privacy traces.
Customized options for disk cleaning.
Free to use tools.
Easy to use interface
9. UltraDefrag
Price – Free
Compatibility – Windows 11, 10, 8.1, 8, 7, XP, and Vista.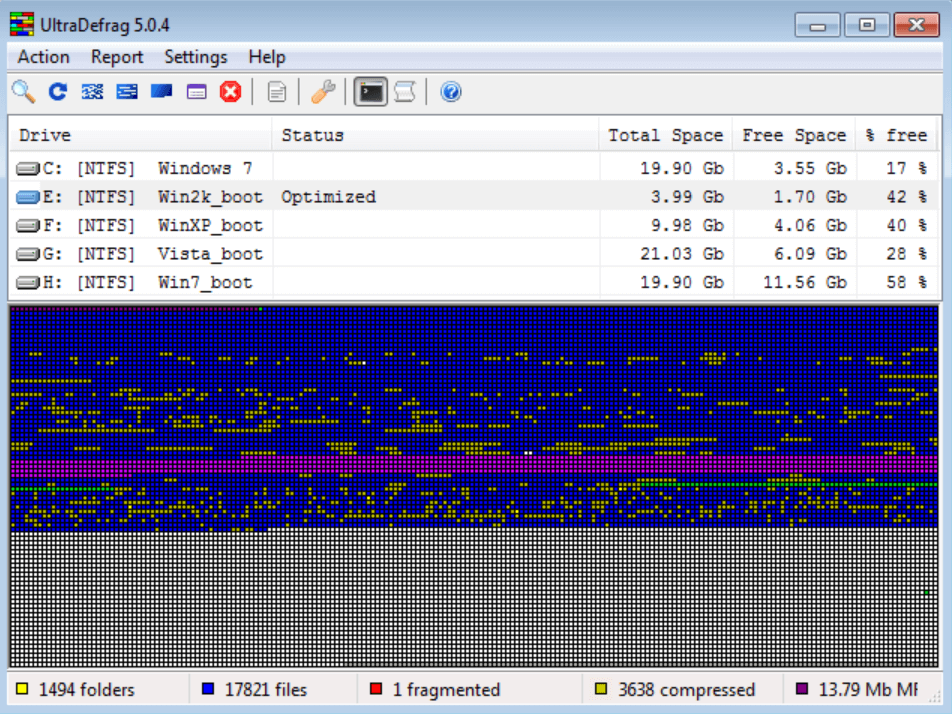 UltraDefrag can be downloaded for free on your computer and it works well for individuals who don't need to run it regularly. The defraggler can easily check for the files, drives, or folders separately and also perform the disk defragmentation for the complete hard disk. It uses the process to untie the fragmented files to improve the execution speed.

Pros:
Boot time defragmentation.
Allows processing the individual files.
Uses special algorithms.
Works on both 32 bit and 64 bit
10. Puran Defrag
Price – Free
Compatibility – Windows 8, 7, XP, and Vista
Puran Defrag is another of the Windows defragment tools. It can be used as a very basic tool to help you defrag the files folder with the selective defrag option. It can also restart or shut down the computer based on the boot time defragmentation. This app for defrag can be used to clean the disk and optimize the PC.

Pros:
Puran Intelligent Optimizer.
Automatic scan runs.
Exclusion list.
Supports older Windows versions
Frequently Asked Questions
Q1. Which is the best defragmenter for Windows 10?
Advanced System Optimizer is the best defrag software for Windows 10. As it not only defrags the disk but also helps in cleaning junk from your hard disk. It is a system booster that improves performance overall.
Q2. Should I do disk defragmentation in Windows 10?
Yes, it is important to perform the task, and it becomes easier using one of the defragment utilities. As Windows 10 also keeps running a lot of tasks and it is common to have disk fragmented at some point in time.
Q3. How often should I defrag Windows 10?
If you get one of the defrag applications, you can schedule the defragmentation process and it will run regularly.
Q4. Can defragging hurt your computer?
No, defragging only helps you manage the data stored on your hard disk. However, if you have an SSD then you should avoid defragging your computer.
Q5. Does Windows 10 defragment automatically?
Yes, it can automatically run the good free defrag program which is a built-in utility called Defragment and Optimize Drives. It can schedule the task and you can also get the
Verdict
With the blog, it is clear that there are multiple options available to be used as the Windows defragment tools. But when you are selecting one for your computer, always make sure that it fits the bill. As you need to invest in the best disk defragmenter which can make the task easy for you, Therefore, we recommend using the fastest defragmenter which is Advanced System Optimizer. It is a PC suite that comes with utilities for cleaning, fixing errors, and repairing disk issues among others. You will see an instant change in the speed and performance of your computer once you get this best-defragmenting program.
We look forward to your comments to know more about your opinion on this blog post. Also, if you liked this, we recommend you check out the best duplicate cleaners for Windows to remove unwanted files to declutter your PC. For more such reviews on Windows software, keep visiting Top10PCSoftware. Also, follow us on social media platforms for the latest updates for Windows software. We are on Twitter, Facebook, Pinterest, and Flipboard.