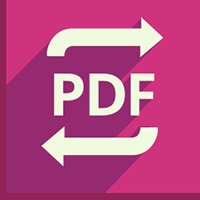 Icecream PDF Converter
Icecream PDF Editor Review: Is It Worth Buying?
Icecream PDF editor will fulfill your needs of making quick edits on a PDF document. It will help you in making your PDF files password protected for sharing. Read more about it in this Icecream PDF editor review blog and find if you should buy it or not.
What Is An Icecream PDF Editor?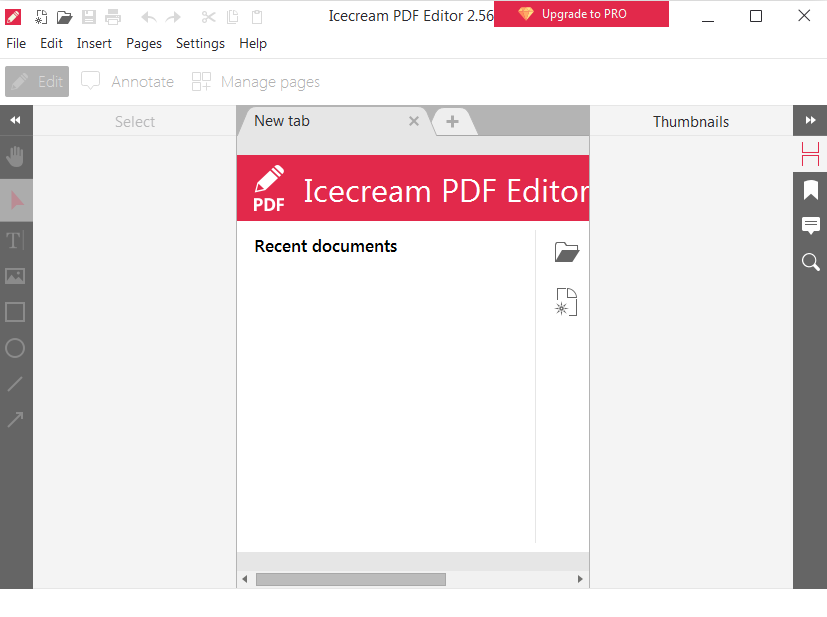 When you are looking for the Best PDF editor for Windows, you can not miss Icecream PDF editor. This is an easy-to-use PDF editor which is packed with features to help you make several types of edits on a document. Apart from basic text, image editing, it can be used for suggesting edits, adding notes, comments, and managing pages. The PDF editor can help you put a password on the document to help you share it safely. It can additionally add two passwords to keep a document from getting changed with file permissions restrictions. It will allow its users to quickly extract pages from an existing PDF to a new PDF document. You can also run a search using Icecream PDF Editor to check your documents before making edits.
Interestingly you are allowed to make most of the changes on the PDF files using Icecream PDF Editor free of charge on your computer. But for the saved changes, the Icecream PDF Editor watermark will also appear on the PDF files. To customize or remove the watermark, you need to upgrade to the Pro version. Icecream PDF Editor Pro is equipped with more features where you can edit PDF files fastly and makes it easy to share.
Reasons to Choose Icecream PDF Editor –
Icecream PDF Editor comes from a manufacturer which has a pool of Windows utilities. It provides you with several features to help you edit the PDFs, share them and provide you the needed protection.
Create PDF.
Edit text in PDFs.
Add or edit objects.
Add new pages to the existing PDF.
Manage/rotate pages.
Add password.
Restrict file permissions.
Suggest editing.
Add Highlights.
Add notes and comments.
Add images
Add stamps.
Fill inbuilt forms.
Annotate PDFs.
Edit PDF metadata.
Organize
Add/ Remove Pages
Compress PDF
Merge PDF
Split PDF
PDFs
Add page numbers
Add Watermark
Batch Editing
Edit PDF
Repair Corrupt PDF
Conversion
PDF to Excel
PDF to HTML
PDF to JPEG
PDF to Powerpoint
PDF to Word
Security
Add password
PDF to PDF/ A
Remove password
Sign/ Get Sign
Product Version-
Current Version – 2.56 updated on December 28, 2021
System Requirements-
File Size: 21.5 MB
Compatibility – Windows 10, Windows 8.1, Windows 8, Windows 7.
Processor – 2.33Ghz Intel®, AMD, or any other compatible processor
Memory – 200 MB to 2 GB recommended.
Disk space – 2 GB of available hard-disk space.
How To Install Icecream PDF Editor?
To install Icecream PDF Editor on your computer, you need to follow these steps –
Step 1: Icecream PDF Editor PRO free download is available for Windows versions -10, 8, 8.1, 7. Get it from the official website or download it from here –
Step 2: Run the downloaded file and give the necessary permissions.
Step 3: A new tab opens and you can follow the on-screen instructions to start the installation.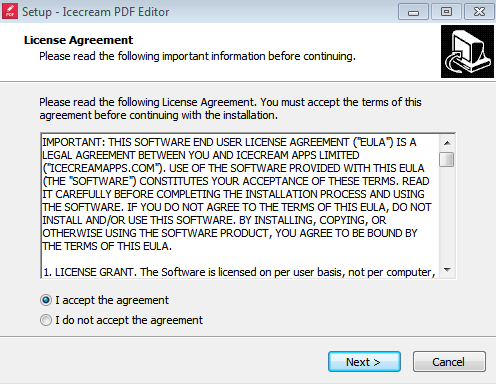 Select on the I accept the agreement and click on the Next button.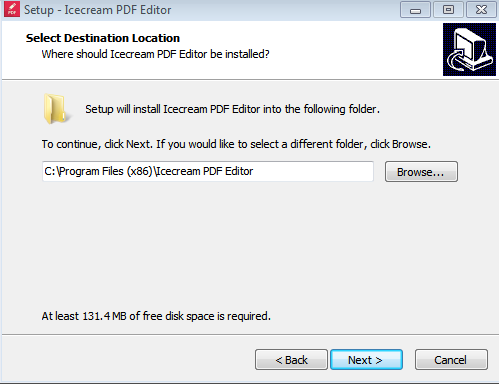 Now, select the destination folder to save the Icecream PDF Editor.
Step 4: On the next screen, click on the Install button.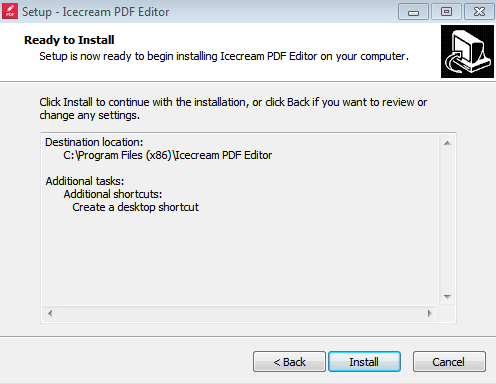 The installation will begin and you can see that it will be completed in a few moments.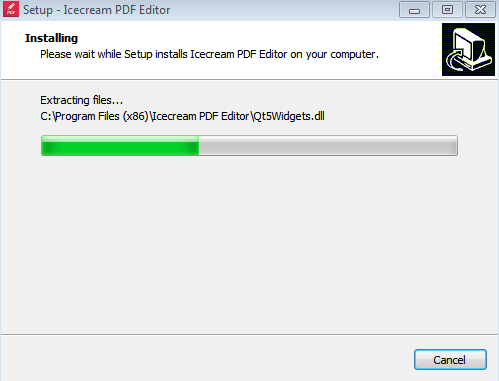 Step 5: Once the installation is complete, click on Finish. It will show you that Icecream PDF Editor will launch as selected as the default option.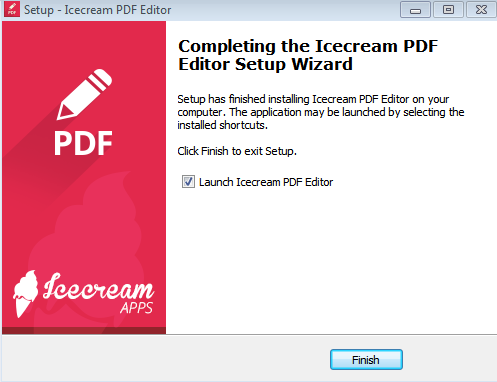 How To Use Icecream PDF Editor?
Step 1: Icecream PDF editor download can be performed from the above method. Once you installed it successfully, you can start by creating the PDF documents.
Insert download button here
Step 2: Creating a PDF using the Icecream PDF editor is made easy using the Create PDF button. Click on New from the File on the toolbar or use the shortcut on your keyboard – Ctrl + N.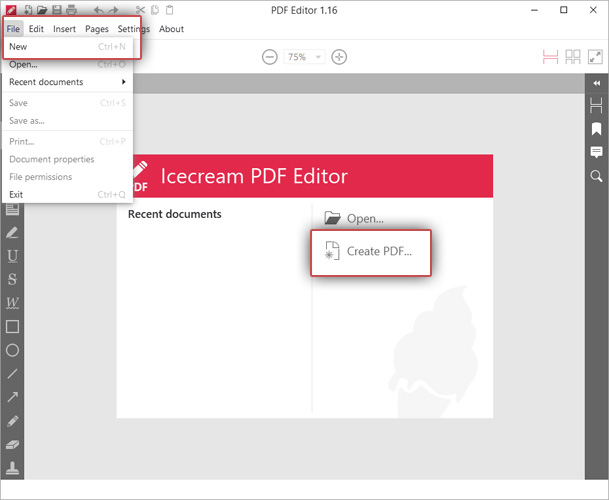 Step 3: Add the information on the newly opened tab with New PDF options. It needs to be filled with the following – Page size, orientation (landscape or portrait), and the number of pages.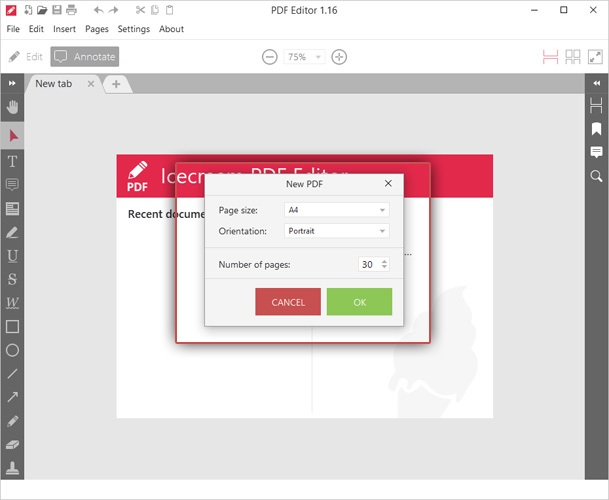 Once done, click on Ok.
Step 4: Now, you start with the Icecream PDF Editor to add text and images to it. Click on the Edit button and then the Edit mode will be turned on the PDF document.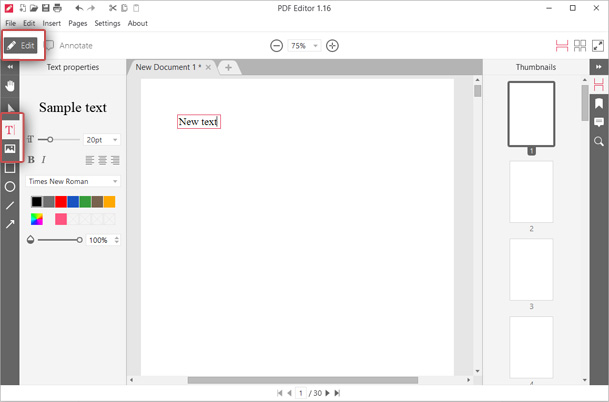 To edit the Text, click on the T option from the left side toolbar. Similarly to add images to the PDF file, click on the Add Image button. By default, it adds a PNG file, for other image file formats click on browse for JPG, JPEG. It allows you to add multiple images at the same time.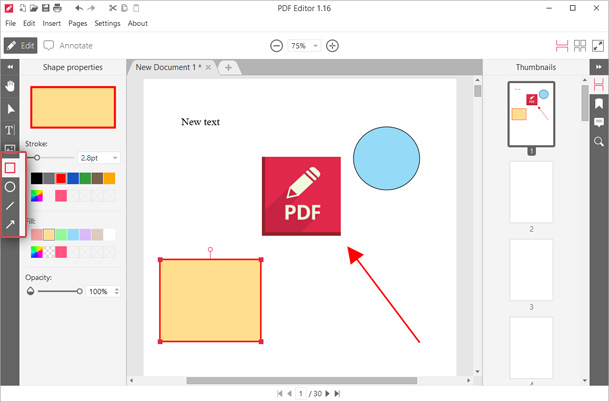 Next, you can easily draw shapes on the PDF file. Use the Shapes shown on the left side toolbar and add the circle, rectangle, lines, and arrows, etc to your file. Use the mouse to select the placement of the shapes on your file and then drag it to change their sizes.
Step 5: You can perform multiple actions on your PDF files, including editing, combining, and adding passwords to them. This PDF file can be later on saved on your computer locally or shared with others.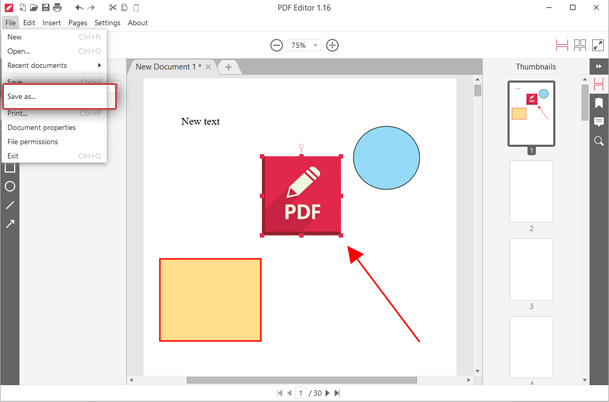 Go to the File option and then click on the Save As button and fill in the name of your PDF file and it will be saved at a desired location on your computer.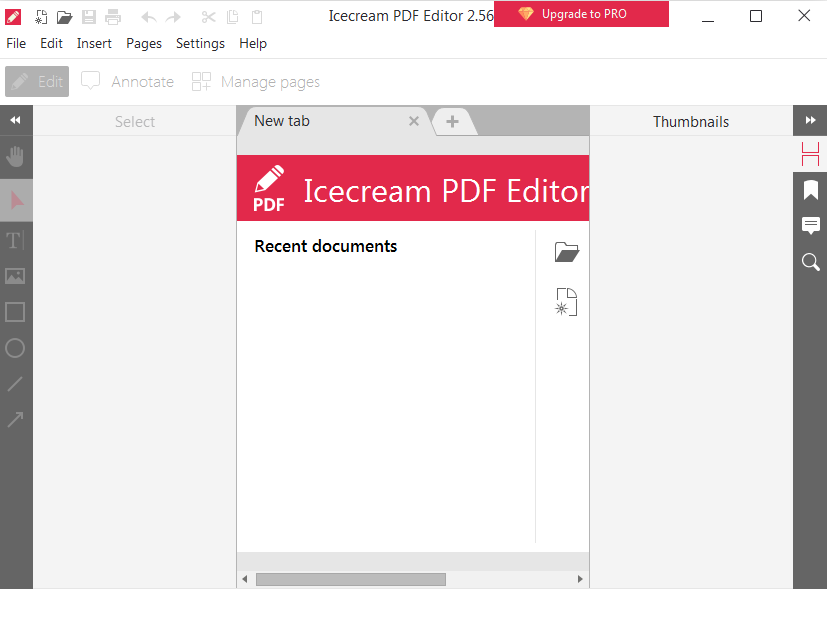 Icecream PDF Editor Pro for PC has a simple tool for your computer. With one look, you can determine where to start in creating your new PDF files. Another option to edit them is also easily available. All the tools are readily visible on the home screen and this makes it easy to locate. The navigation on the Icecream PDF editor comes smooth making it a user-friendly application users.
1. Create PDFs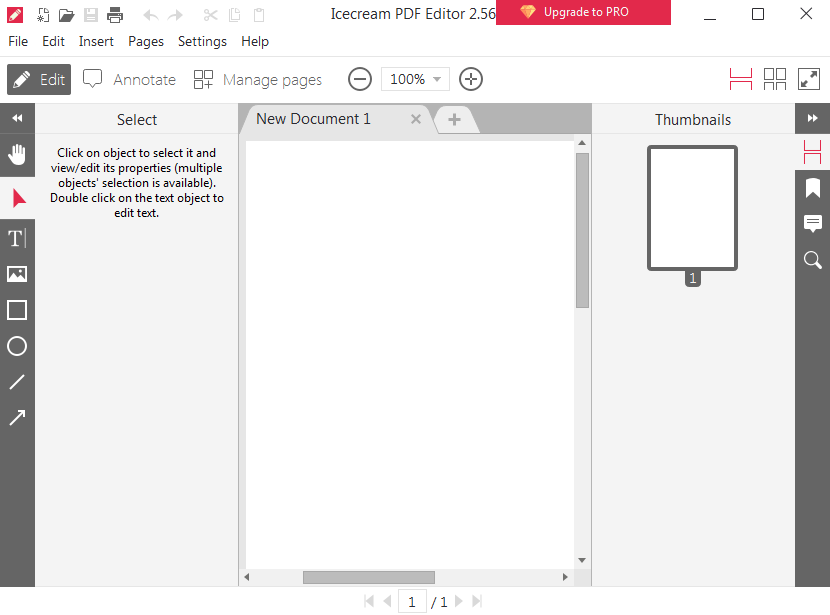 Icecream PDF Editor can quickly create new PDF files for Windows users. It can be used to add images in the format of JPG, PNG, SVG into PDFs. One can draw different shapes, arrows, and lines into a PDF document. Combining PDFs is also possible using the Icecream PDF Editor.
2. Edit PDF Text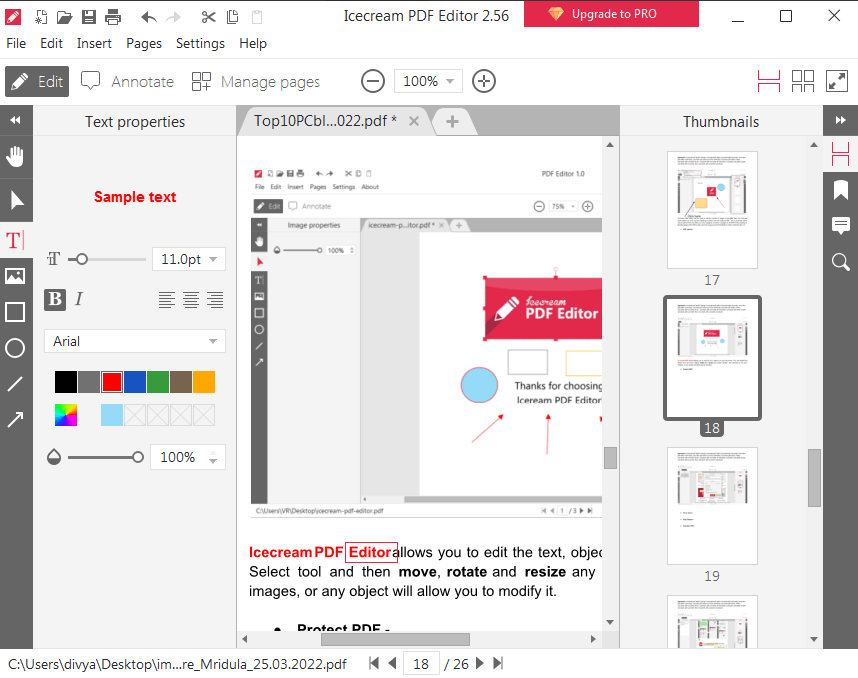 Icecream PDF Editor can be used to edit the text present on a PDF document with ease. As it will give you the option to edit the existing text on the PDF file opened using Icecream PDF Editor on your computer.
3. Manage Pages on PDF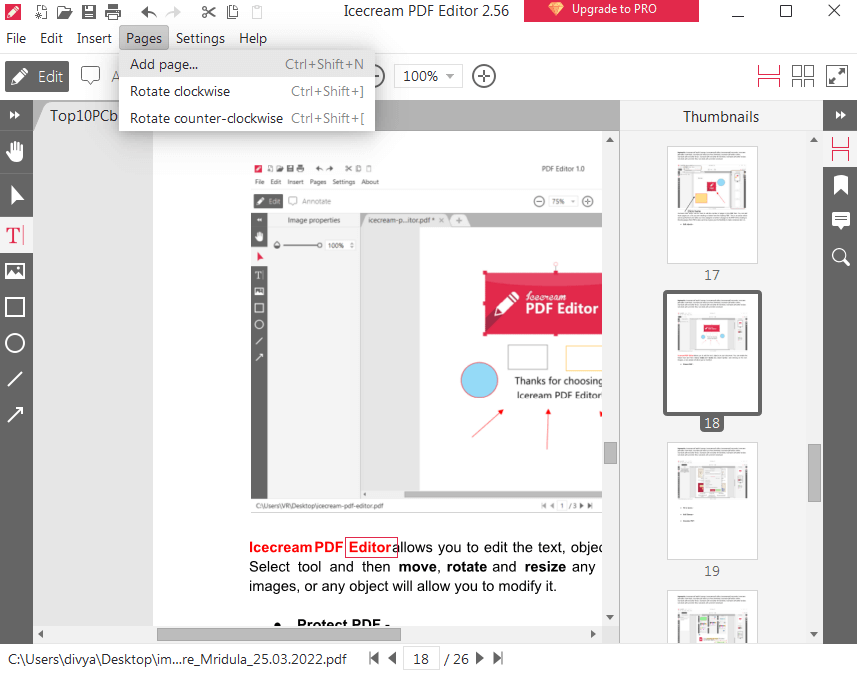 Icecream PDF editor can be used to edit the number of pages on the PDF files. You can add more pages to a file you are creating or delete from the existing PDF. This is an action that can be performed even after you have assigned a number of pages to the PDF while creating it.
Deleting pages from PDf is also useful as it gives you the flexibility to make decisions later on.
4. Edit objects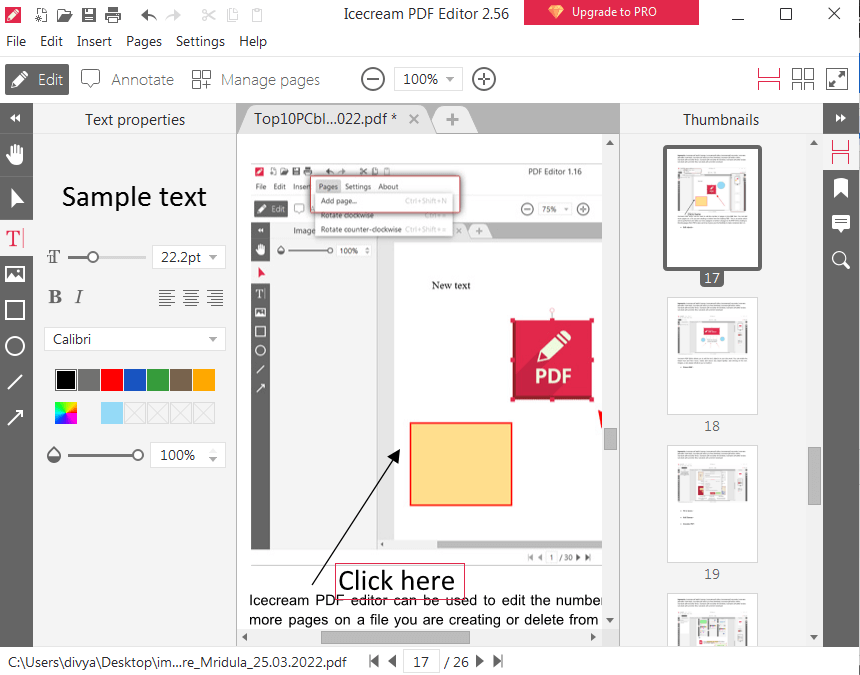 Icecream PDF Editor allows you to edit the text, objects on your document. You can enable the Select tool and then move, rotate and resize any object quickly. Just clicking on the text, images, or any object will allow you to modify it.
5. Protect PDF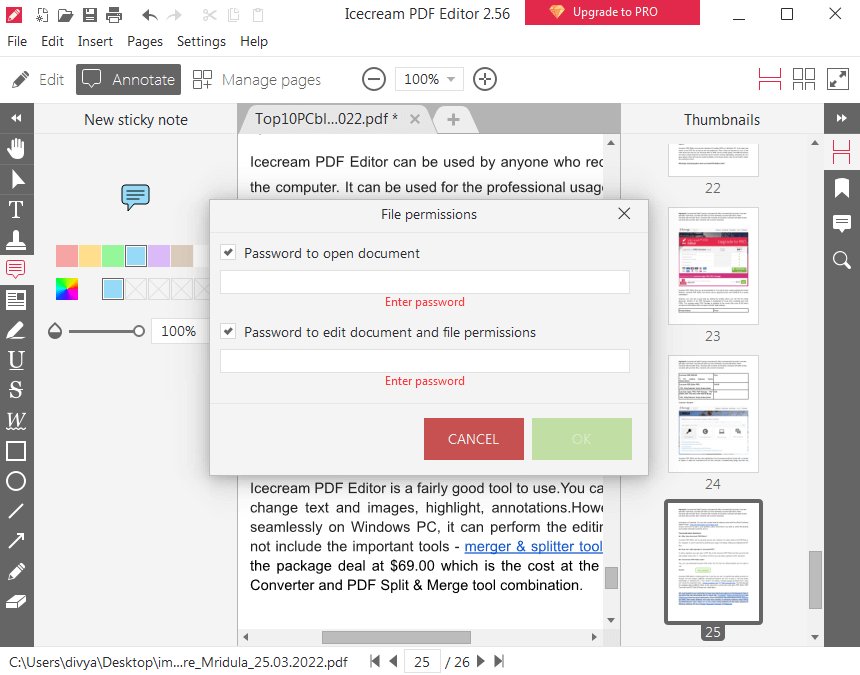 It is possible to add password to your PDF file using Icecream PDF Editor. Open a file and then go to the File menu and click on the File properties. Here you can add a Password to open a document and Password to edit documents and file permissions.
6. Add Stamps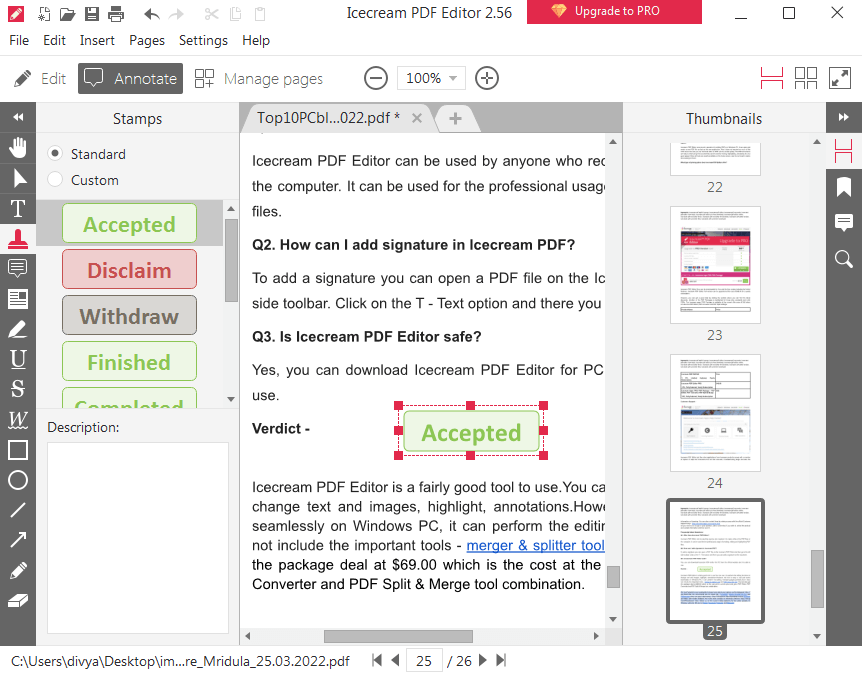 Icecream PDF Editor makes it very easy to add stamps on approval or Rejection on a PDF Document. You can quickly choose from the multiple options available for the Stamp from the Icecream PDF Editor. It also gives you an option to customize your stamp for different purposes.
7. Annotate PDF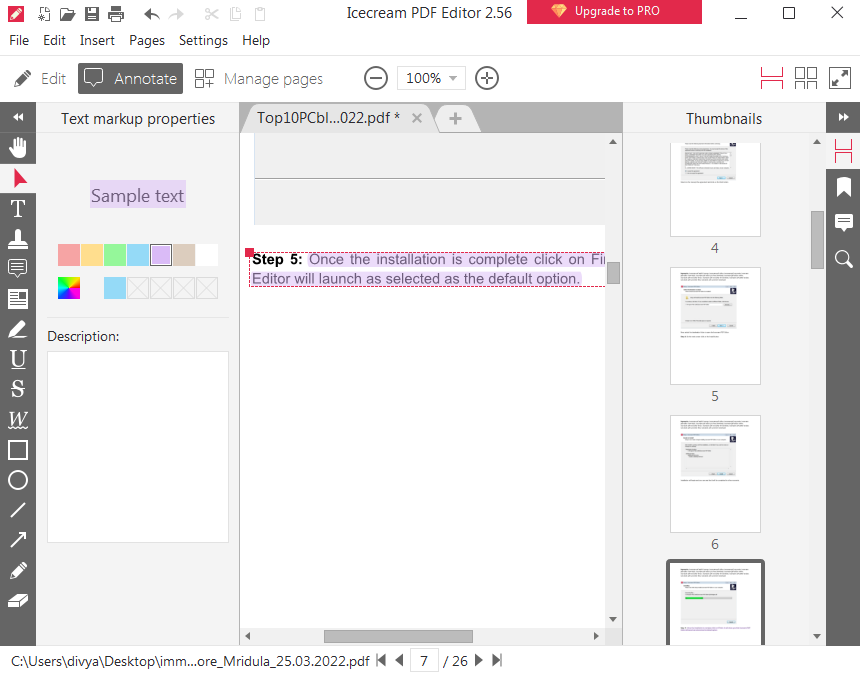 With Icecream PDF Editor you can easily annotate PDF documents. It will help you highlight, suggest, add notes, add comments, strikethrough the text, etc. Open a PDF file and click on the Annotate option given to start the editing.
8. Edit PDF Metadata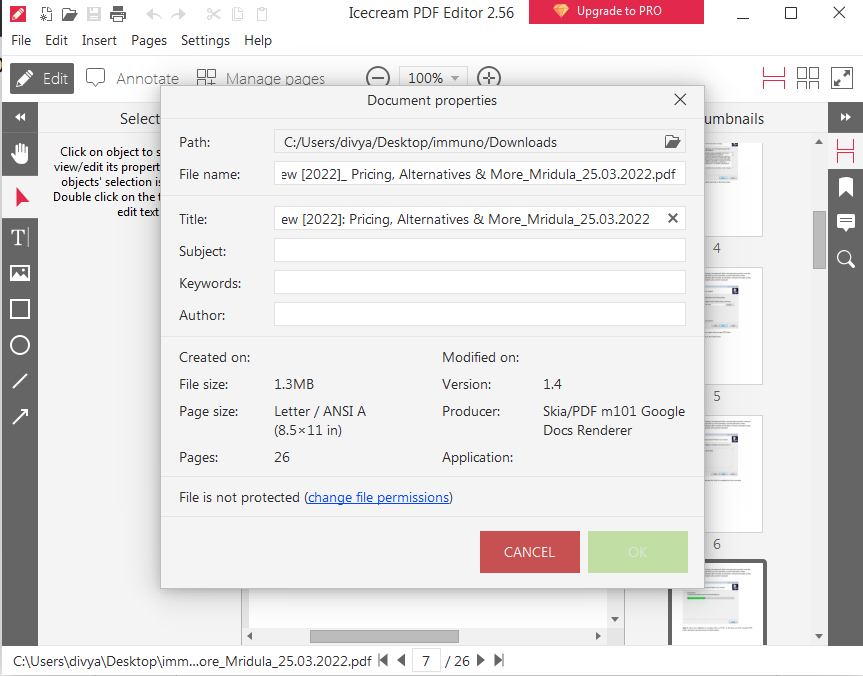 It is very necessary to edit the metadata in case you are sharing a confidential document. OR simply you do not wish others to find out all details on the document. Icecream PDF can easily edit your PDFs metadata with one click. Go to the toolbar and click on File and select Document properties.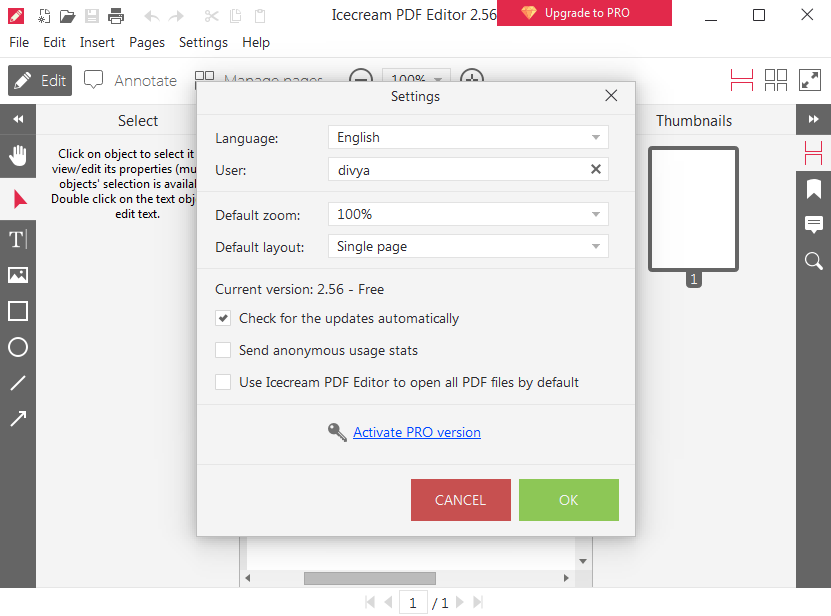 Icecream PDF Editor provides you with the option to check for the latest version of the tool itself. Users can go to the Settings and find the Check for the updates automatically marked as default. With this option selected on your computer, you will be able to get notifications on the newly released versions and updates for the software. You can also go to the official website to find out about any new releases or updates and download the file on your computer.
Icecream PDF Editor runs a smooth operation for editing PDFs on Windows PC. It can open and create a new PDF file as fast as the new application. Also, it does not require too much CPU resources, and you can find that edits on PDF can be saved quickly. The PDF documents are easy to read using this tool and they can be used for editing, highlighting, annotating, etc at a good speed. Since all tools are readily available on the home screen, users do not need to waste time looking for them.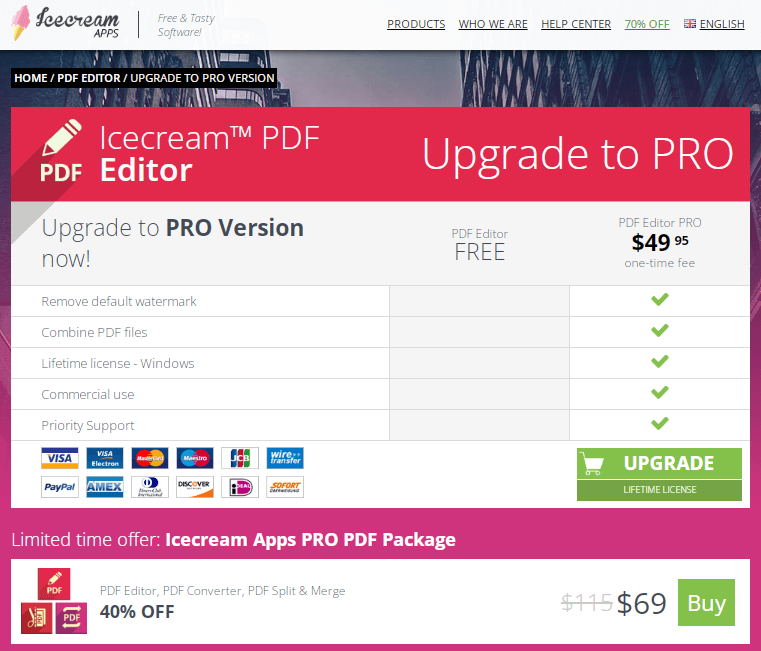 Icecream PDF Editor Free can be downloaded for free and the free version includes limited features. Icecream PDF Editor Full version can be upgraded at the cost of $49.95 for a yearly subscription.
However, you can get a good deal by visiting the website where you can find the latest discounts. Another of the PDF Packages is highlighted for those who constantly work with PDFs. The Icecream apps PRO Package is available at the current offer price of $69 which includes the PDF Editor, PDF Converter, and PDF Split & Merge.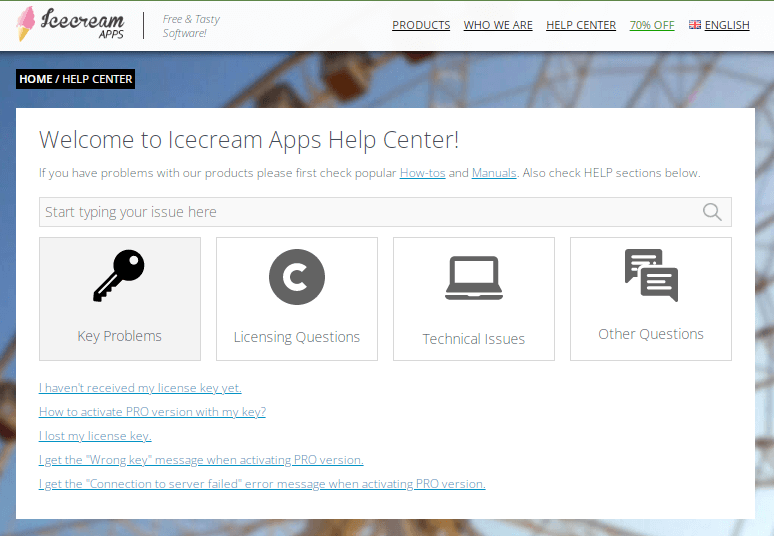 Icecream PDF Editor just like other applications from Icecream products comes with many options to help the consumers. You will find manuals, Troubleshooting blogs, and also information on licensing. You can also contact them by raising a query with the official Customer Support page – https://icecreamapps.com/support.html
All you need to do is type in your question, add a screenshot if you wish to, select the product and contact information and then send it.
Frequently Asked Questions –
Q1. Who Uses Icecream PDF Editor?
Icecream PDF Editor can be used by anyone who requires it to make edits to the PDF files on the computer. It can be used for the professional usage of creating, editing, and highlighting PDF files.
Q2. How can I add a signature to Icecream PDF?
To add a signature you can open a PDF file on the Icecream PDF Editor and then go to the left side toolbar. Click on the T – Text option and there you can add a signature to the document.
Q3. Is Icecream PDF Editor safe?
Yes, you can download Icecream PDF Editor for PC from the official website and it is safe to use.
Verdict –
Icecream PDF Editor is a fairly good tool to use. You can use it to perform the editing functions to change text and images, highlight, annotations. Icecream PDF Editor free can be used to perform most of the tasks with a watermark. Icecream PDF Editor Pro PC allows you to edit or remove watermarks from the edited PDFs. However, the tool is easy to use and works seamlessly on Windows PC, it can perform the editing, managing of pages perfectly. But it does not include the important tools – merger & splitter tool and PDF converter tool. You can also get the package deal at $69.00 which is the cost at the current price and get a PDF Editor, PDF Converter, and PDF Split & Merge tool combination.
We look forward to your comments to know more about your opinion on this blog post. Also, if you liked this, we recommend you to check out – iLovePDF, Adobe Acrobat DC Pro, and PDFelement which are good alternatives. Other PDFelement free alternatives include PDFSam and Nitro with limited features. For more such reviews on Windows software, keep visiting Top10PCSoftware. Also, follow us on the social media platforms for the latest updates for Windows software. We are on Twitter, Facebook, Pinterest, and Flipboard.