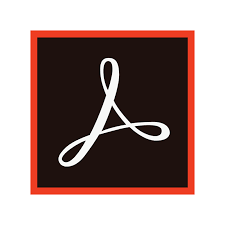 Adobe Acrobat Pro DC
Adobe Acrobat DC Review: Pricing, Rating, And Alternatives
If you are considering getting a PDF editor for your Windows PC, what's better than Adobe Acrobat DC? Do you still have a doubt, so let us give you a detailed overview of the best PDF editor in this Adobe Acrobat DC review blog
What Is Adobe Acrobat Pro DC?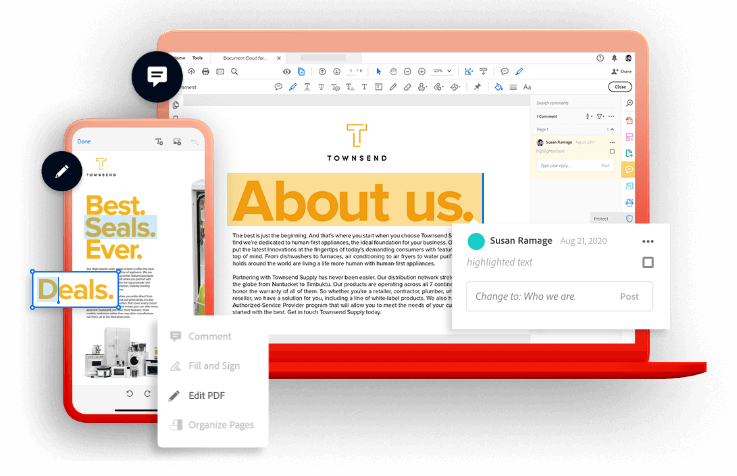 Adobe Acrobat Pro DC is one of the most popular and reliable PDF editing software. It can be used on the desktop, mobile and web as a dedicated application. It is used by millions of users all over the world to create and edit PDF documents. This tool can be used for all your needs for PDF files. Starting from helping you to view a PDF file to converting to another file format, Adobe Acrobat DC can do it all. Along with that, it will help you create protected documents by adding a password to them.
Sharing modes to help others understand your comments and making it easy to simply give out files in viewing mode. Adobe Acrobat Professional is an advanced version of the free PDF editing tools. It will be your ultimate help in working around the PDF files and securing your documents.
What Can Adobe Acrobat Pro DC Do?
It can provide you with multiple PDF related solutions such as viewing, editing, converting and signing the PDF documents. It also helps you work remotely with the remote collaboration option and cross platform accessibility. The PDF files can be converted to other file formats and vice versa is also possible with this Adobe Acrobat PDF editor. This is easier to work with the multiple features it offers to give users a rich experience. Here are reasons listed to choose Adobe Acrobat Pro DC –
Extensive number of features
Multiple platform accessibility
Robust encryption
Allows adding signatures
Converts to multiple file formats
Comes with a free trial
Allows compressing files
Add password
Use Commenting & viewing modes
Uses OCR to scan text
Split & merge files
Create fillable forms
Organize PDF files
Add comments, annotations
Easy share options
Batch editing
Unlock password protection
Technical Specifications
Current Version – 22.001.20085 updated on March 07, 2022
File Size: 740 MB
System Requirements
Compatibility – Windows 11 , Windows 10, Windows 8.1, Windows 8, Windows 7 SPI (32 bit or 64 bit), Windows Server – 2008 R2 (64 bit), 2012 (64 bit), 2012 R2 (64 bit)†, 2016 (64 bit), or 2019 (64 bit).
Processor – Intel® or AMD processor; 1.5GHz or faster processor
Memory – 512 MB or more RAM, 2GB recommended.
Disk space – 450MB of available hard-disk space.
Monitor resolution – 1024×768 screen resolution
Organize
Add/ Remove Pages
Compress PDF
Merge PDF
Split PDF
PDFs
Add page numbers
Add Watermark
Batch Editing
Edit PDF
Repair Corrupt PDF
Conversion
PDF to Excel
PDF to HTML
PDF to JPEG
PDF to Powerpoint
PDF to Word
Security
Add password
PDF to PDF/ A
Remove password
Sign/ Get Sign
How To Install Adobe Acrobat DC ?
Follow these instructions to download and install Adobe Acrobat DC on your computer –
Step 1: Go to the official website – https://www.adobe.com/acrobat.html or click on the download link below –
Step 2: Run the setup file and Sign into your account on Adobe Acrobat DC. Remember to give necessary system permissions for the installation when prompted.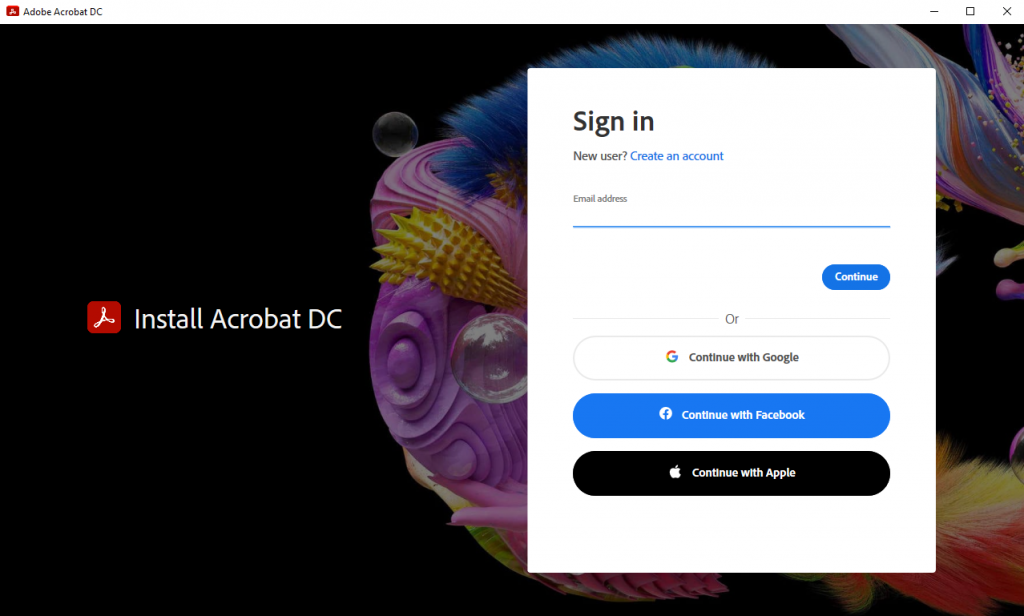 Now, you will be directed to a web page to confirm your authentication and if you have signed in previously, do it now. After that, click on the Start Installing button.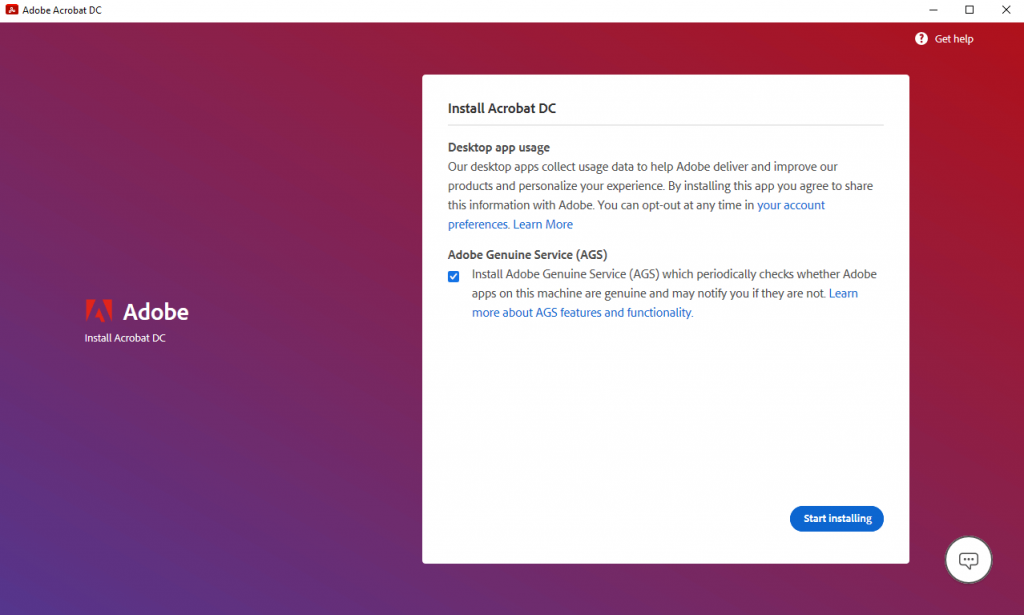 This will take a few moments as it is a large file and can take longer than usual depending on your computer and the internet connection speed.
Step 3: Once the installation is complete, you can launch Adobe Acrobat Pro on Windows.
How To Use Adobe Acrobat DC ?
To learn how to use Adobe Acrobat DC on your computer, you need to first get the subscription service or sign up for the free trial. Once you have successfully downloaded and installed, the free Adobe Acrobat editor on the computer, you can begin. Follow the instructions –
Step 1: Launch the application on your computer.

Step 2: From here, you can open a PDF file or begin to create or edit one. The Tools on the toolbar includes the multiple tools on it.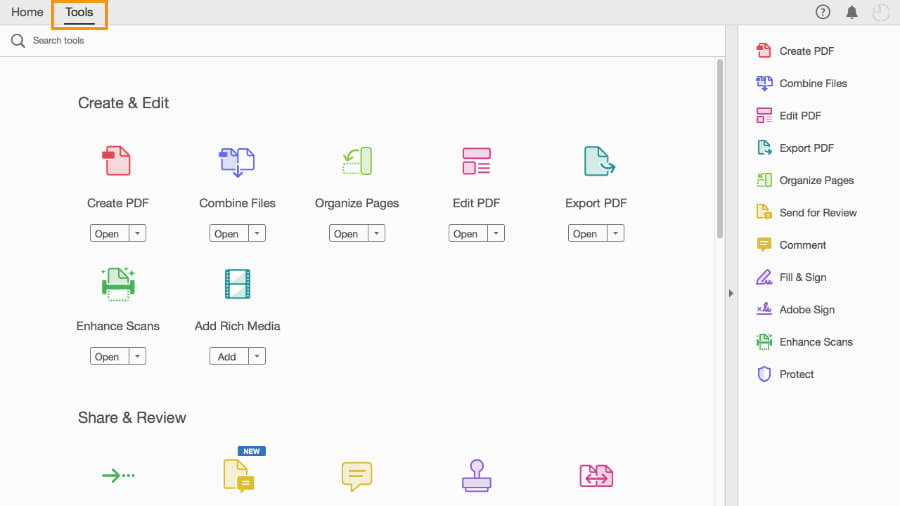 Step 3: You can customize the tools shortcuts quickly by adding the most used tools on the right pane.
Step 4: Now, you can easily start with your PDF files using the simple tools.
Although many would agree that Adobe Acrobat Pro DC is the best PDF editor for Windows, yet it lacks a great interface. As the features and functionality serve the purpose for this PDF editor but interface is not attractive. It is easy to navigate through the tools tab within the application. It has improved a lot over the years and made it possible to complete the tasks regarding creating and editing documents seamlessly.
Adobe Acrobat Pro DC features are listed below, but this Adobe document editor can do much more than usual applications.
1. Edit PDFs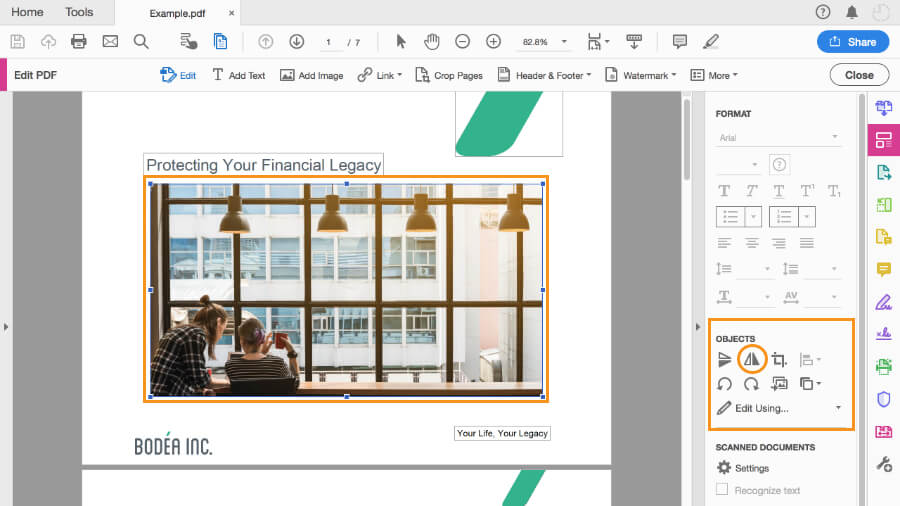 You can edit the PDFs in the following ways – Edit text, Add images, add comments, add notes, add highlights, add annotations, recognize scanned text with OCR. Plus it can help in splitting & merging PDFs and compressing PDFs. It can also be used as a free Acrobat editor for Windows 10 in the trial period as well for editing documents.
2. Create PDFs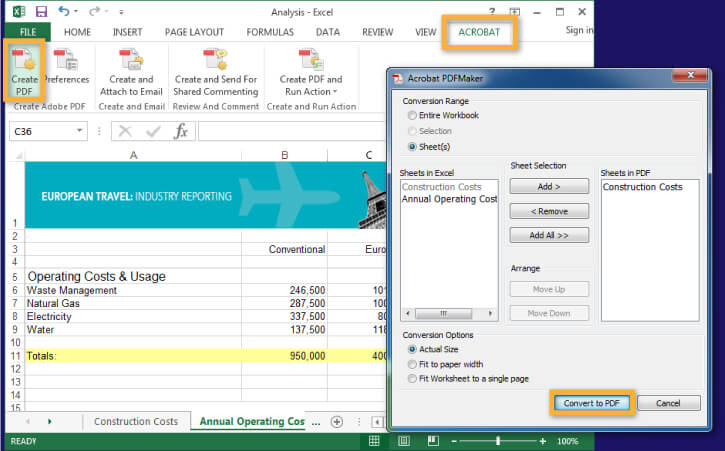 It is easy to create PDFs using any file type as it supports converting PDFs. Adobe Acrobat PDF converter can be used to convert word, excel, PPT, JPG, HTML and other files to PDF.
3. Export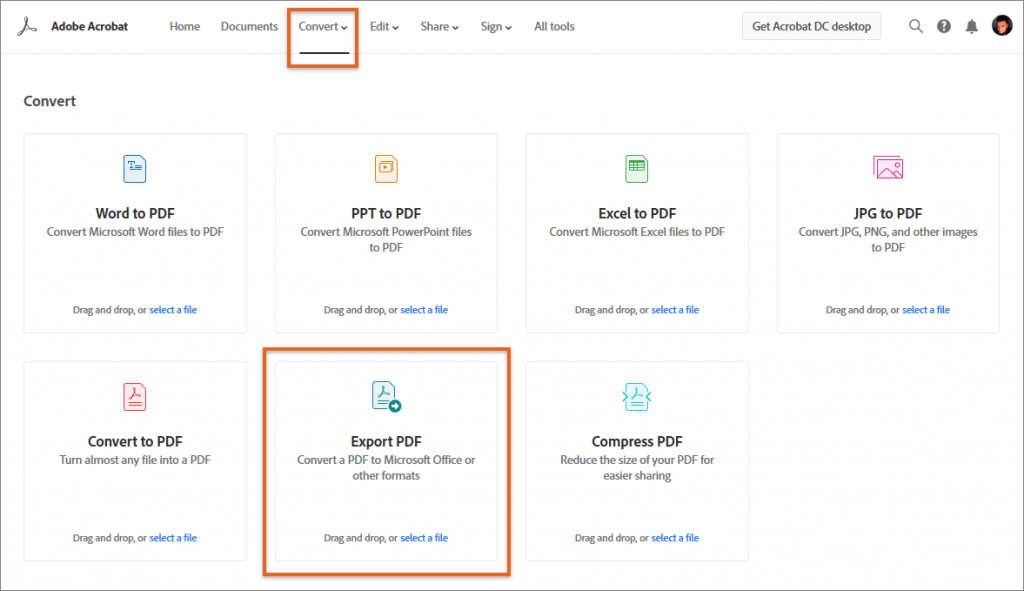 It also allows you to convert the PDFs into other file formats to easy access. This not only supports the cause of editing and presenting in the desired format but makes it a safer option to share. Adobe Acrobat Professional can export PDFs into these file formats – Word, PPT, Excel, and JPG.
4. Sign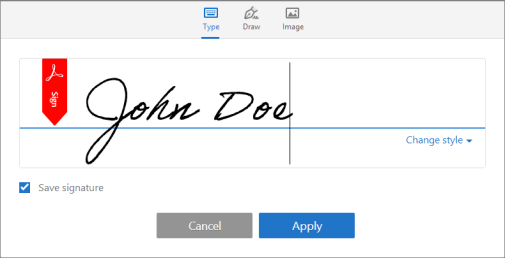 To make your documents more authentic, you can add a signature using this PDF editor. This can also be used to send a request to others for signing documents, creating fillable forms with a signature.
5. Organize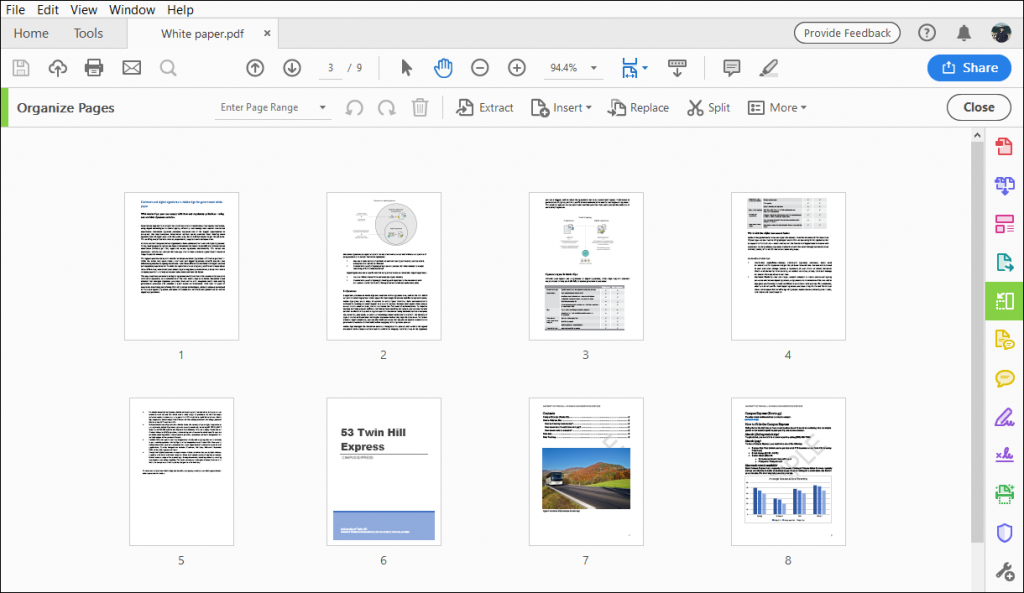 Many times, it's important to tweak the PDF documents but it is not easy using a free tool, therefore you require Adobe Acrobat Pro DC. It can reorder, remove, insert, crop, rotate and extract pages from a PDF file.
6. Share & Protect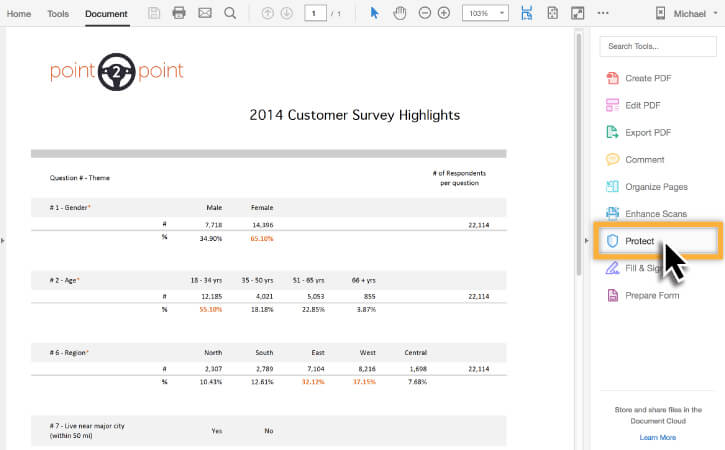 While sharing a file, there are multiple options using Adobe Acrobat Pro as you can turn on the commenting or viewing mode for feedback. Password protection is something that will secure your documents from getting copied. Additionally, you can also use it to remove the passwords from protected files.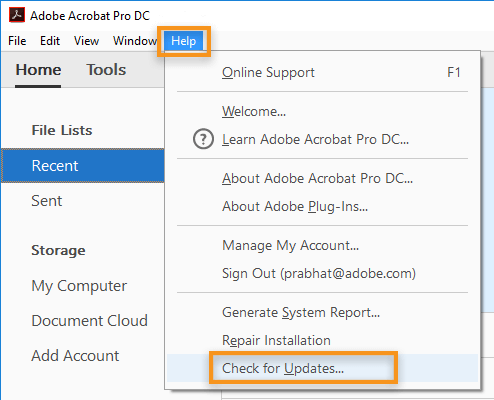 Adobe Acrobat DC comes from a family of multinational software company that regularly works in improving its work for individuals and organizations. You will get frequent updates for the tool which can be availed from the tool and the official website as well. Go to the Help section and click on the Check for Updates button on the tool.
Adobe Acrobat Professional is very fast and you can rely on it for every action to be fulfilled within moments. It opens the files in a jiffy and then editing them is also quite fast. As the navigation on the application is easy you can quickly locate the dedicated tool for the desired action. Be it compressing, merging files, or adding a signature you can do it quickly with the Adobe Acrobat Pro DC 2022.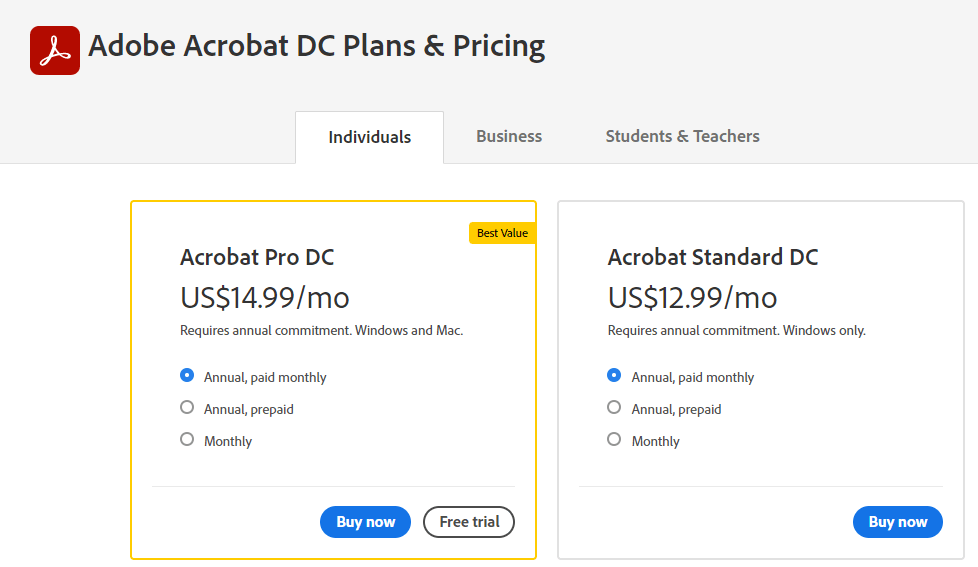 Now, we talk about Adobe Acrobat Price as it holds much importance when selecting a product for your computer. Adobe Acrobat Pro DC comes at a scheme of paying in monthly installments or annually. It can be purchased for $179.88 and Adobe Acrobat Standard DC for $155.88. You can enjoy the free trial before you buy Adobe Acrobat Pro.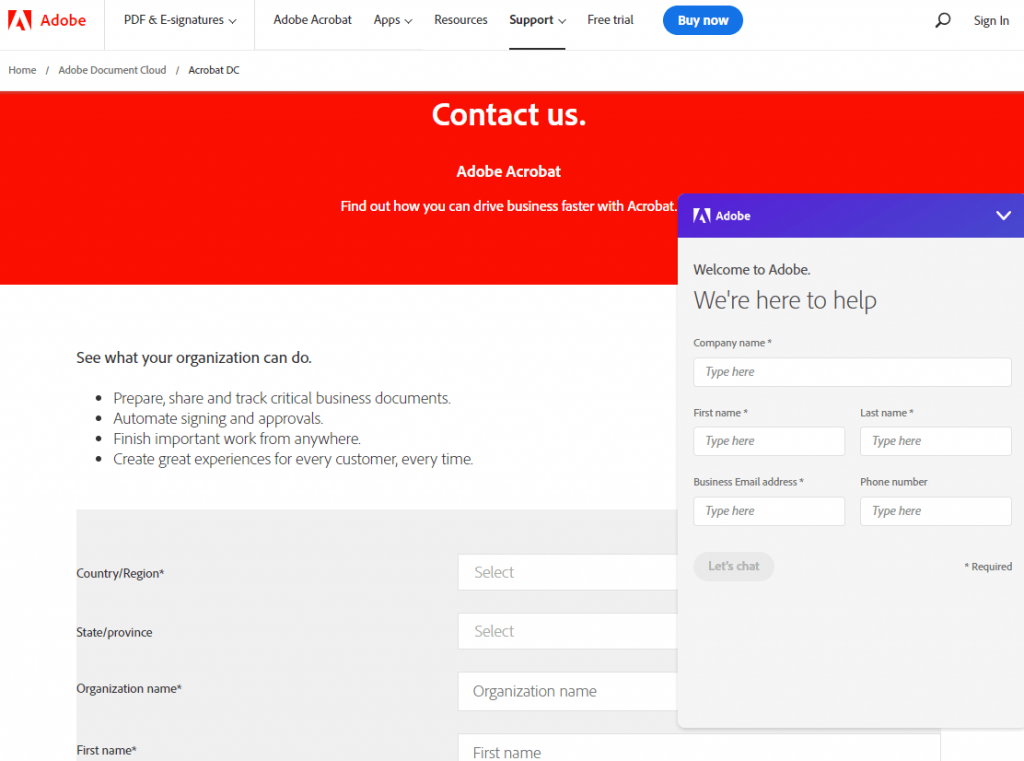 Adobe Acrobat PDF editor just like any other software requires good customer support. It surely delivers with its vast support in the shape of User Guide, Tutorials, Community, Adobe Help Center. You can contact them with any questions on the Contact Us page
Frequently Asked Questions –
Q1. Is Acrobat Reader DC good?
Yes, the Adobe Acrobat PDF editing tool is a great application that covers all of the PDF-related tasks. The advanced features such as using it as an Adobe Acrobat PDF converter and adding signatures are very useful.
Q2. Is Adobe Pro DC worth it?
Yes, Acrobat Pro DC features make it worth the shot for desktop users. It is very versatile and fulfills all your needs of editing and creating PDF files.
Q3. Which is better: Acrobat DC or Acrobat Reader DC?
Acrobat DC is better than Acrobat Reader DC as it comes equipped with tons of features. Reader has limited functionality whereas the latter comes with advanced features such as scanning documents. 
Q4. Is Adobe Reader DC free for commercial use?
Yes, you can use Adobe Reader DC free for commercial use as it can be downloaded and used on any computer to view PDFs.  
Q5. How do I get Adobe DC for free?
You can sign up for the free trial of 7 days which can be availed after you sign up for the Adobe Acrobat DC Pro purchase. Later you can cancel the Adobe PDF editor free trial before the subscription starts and charges your account.
Adobe Acrobat DC Alternatives
Adobe Acrobat DC is great but if you still crave other options, you can check PDFelement by Wondershare. It is a free alternative to Adobe Acrobat DC along with a similar set of tools to edit PDF documents. Also, if you liked this, we recommend you to check out – iLovePDF which is a good alternative to a web application. Other PDFelement free alternatives include Adobe and Nitro with limited features.
Verdict –
Adobe Acrobat Pro Windows 10 can be easily installed and used once you have signed in. This can also be used on different platforms with a dedicated application. You can use the free Adobe document editor with the trial option before making a purchase. Adobe Acrobat Pro DC has all the advanced features to create, convert, edit, compress, merge, extract, protect and share your documents. The built-in tools and the Creative cloud integration will be sufficient to function on a Windows PC. We will highly recommend you to try it and buy Adobe Acrobat Pro if you regularly use the PDFs.
We look forward to your comments to know more about your opinion on this blog post. For more such reviews on Windows software, keep visiting Top10PCSoftware. Also, follow us on the social media platforms for the latest updates for Windows software. We are on Twitter, Facebook, Pinterest, and Flipboard.