iLovePDF Review: Details, Pricing, Features & Alternatives
The importance of PDF files can't be stressed enough. PDF is one of the most acceptable and stable file formats where you needn't worry about any dependencies – no missing fonts, tables images, or any other components. And, you can easily transfer files wherever you want. However, to read or even make modifications, you need an app for editing PDFs. So, here we are going to review iLovePDF one of the best lightweight PDF tools for PC.
What is iLovePDF?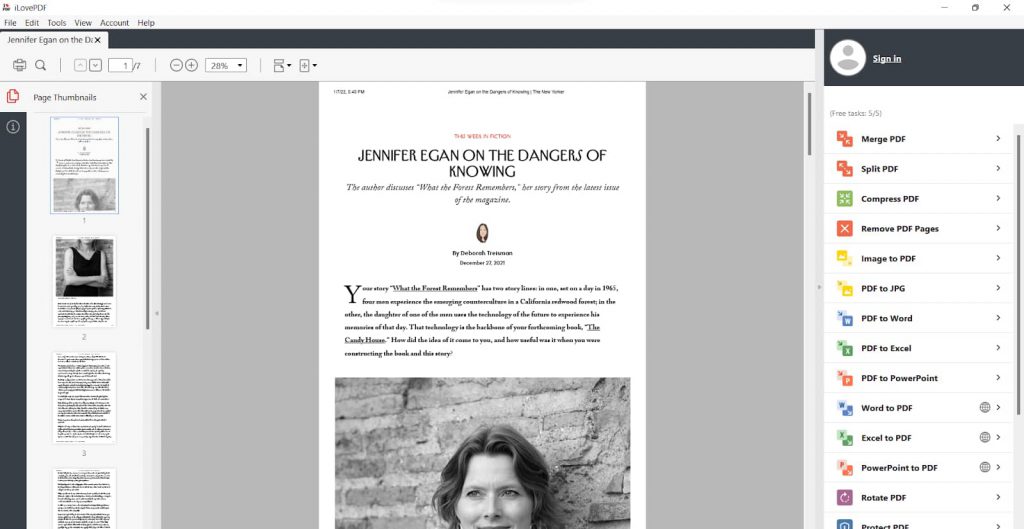 iLovePDF is an easy-to-use all-in-one PDF tool for PC that will help you work with PDFs in a hassle-free manner. You can work with iLovePDF both as a desktop application as well on the web. After you have opened a file in the interface, there are several things you can do to your documents. Whether it is performing edits on a PDF, converting it, securing it, everything can be done in one place.
For instance, apart from using iLovePDF as a free PDF reader, you can use the iLovePDF converter and convert PDF documents to various file formats and vice versa. Moreover, you can merge, compress, unlock, split, rotate, and watermark PDFs and that too, in a matter of a few clicks. We'll try and understand this tool, its ins, and outs through this comprehensive iLovePDF review.
Reasons To Choose iLovePDF
There are many reasons why you should opt for iLovePDF. Here we have mentioned some of them for you
Easy to use, easy-to-understand, and interactive interface
Converting PDFs in batches in a variety of file formats and vice versa
Rotate PDFs in batches
Merge PDF files in any order you want
Compress PDF without compromising on quality 
Split PDF into individual PDF files   
Put and ask for signatures  
Add or remove passwords, encrypt and decrypt PDF documents 
Add page numbers in PDFs as per your need
Repair damaged PDF
We'll talk in-depth about the aforementioned in the next section.
Technical Specifications
Current Version – 1.2.139.0 (Windows 11 Version 2009 64-bit)
File Size – 20.7 MB
System Requirements
Operating System – Windows 11, Windows 10, Windows 8.1, Windows 8, Windows 7
Processor  – 1.33 GHz Intel, AMD or similar processors
RAM – 512 MB
Disk Storage Space –  1 GB
Organize
Add/ Remove Pages
Compress PDF
Merge PDF
Split PDF
PDFs
Add page numbers
Add Watermark
Batch Editing
Edit PDF
Repair Corrupt PDF
Conversion
PDF to Excel
PDF to HTML
PDF to JPEG
PDF to Powerpoint
PDF to Word
Security
Add password
PDF to PDF/ A
Remove password
Sign/ Get Sign
How To Install iLovePDF?
Step 1: Download the iLovePDF for desktop, run and install it
Step 2: Accept the license agreement and click on Next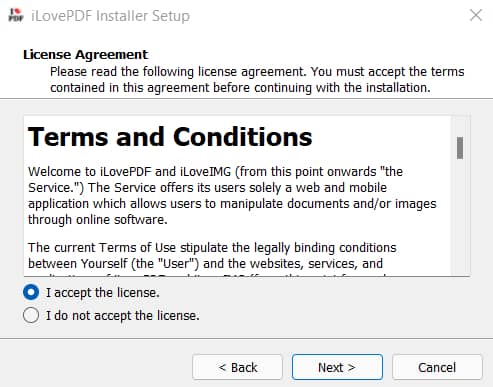 Step 3: Let the installation take place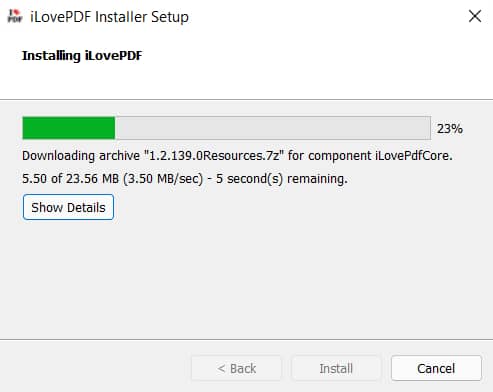 Step 4: Choose whether or not you want to make iLovePDF your default PDF application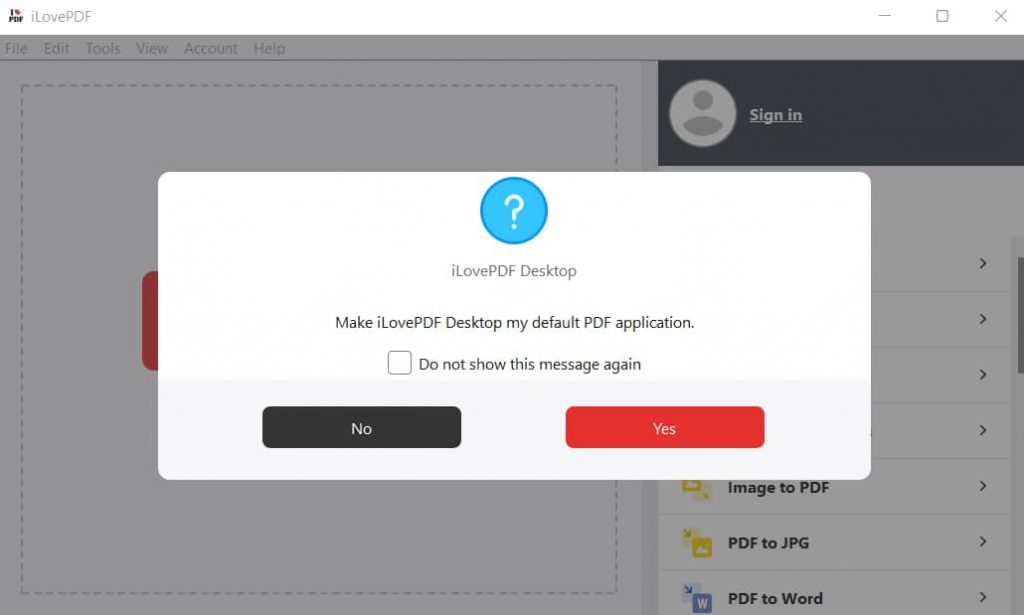 How To Use iLovePDF?
Step 1: After you have downloaded the application, sign up using your email address and select a variant you want to register for.
Step 2: Click on the Open File or drag and drop the files you want to work on.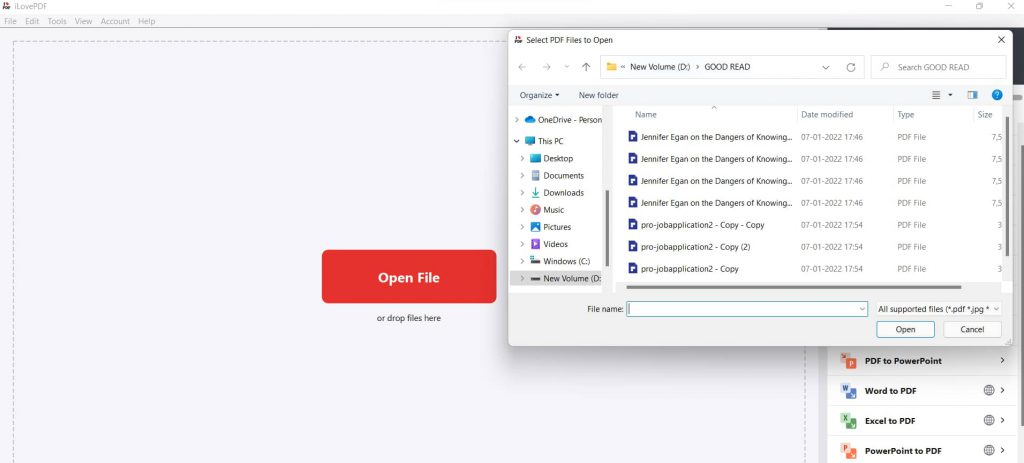 Step 3: From the right hand side, choose the action you want to perform. For example, you might want to convert JPG to PDF with iLovePDF.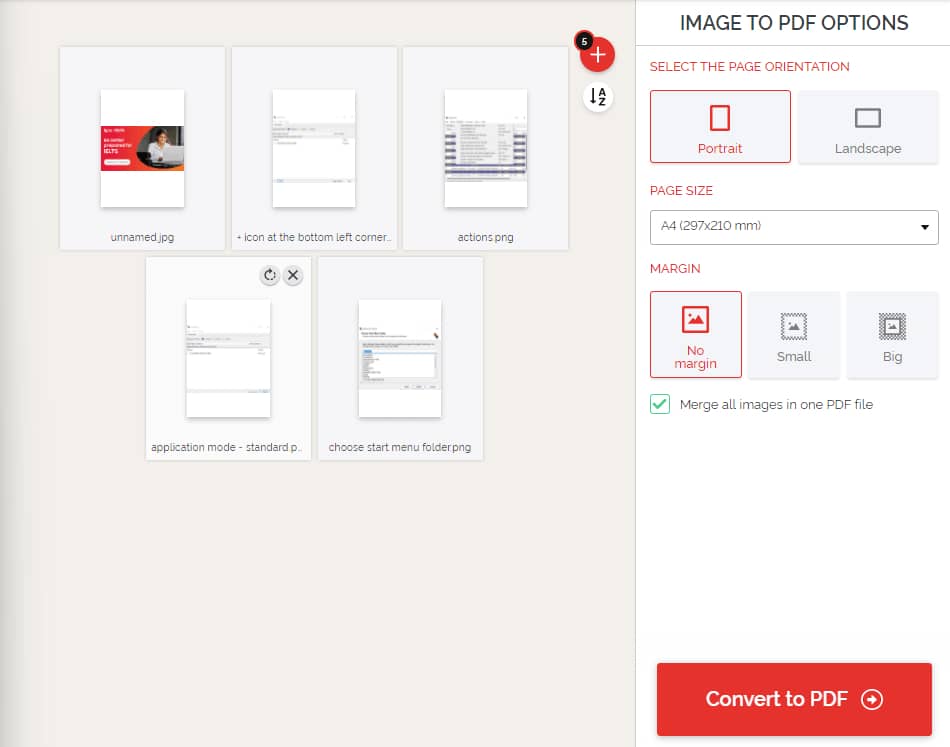 Step 4: As in the above case, click on the Convert to PDF. The action may differ based on the option you have chosen.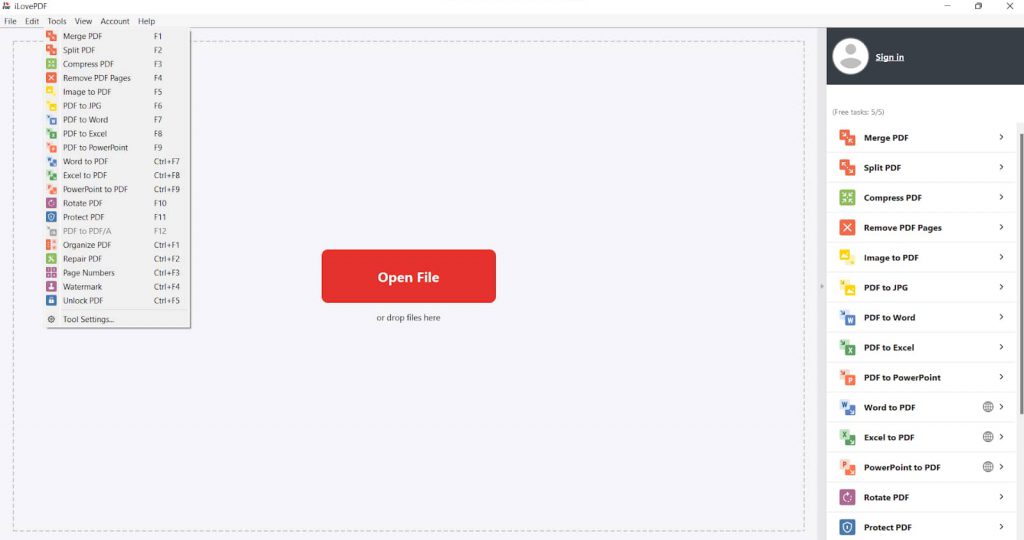 iLovePDF has an easy-to-use, user-friendly interface. The new version is well compatible with Windows 11 as can be seen from the interface itself where you can snap windows as well. You can see and access various tools for organizing, optimizing, editing, converting, and adding security in one place. In fact, you can access the tools from two places – One from the Tools menu and the other from the right-hand side of the interface. You can also check out its interface with otheriLovePDF alternatives such as Foxit and PDFElement.
1. Easy Organization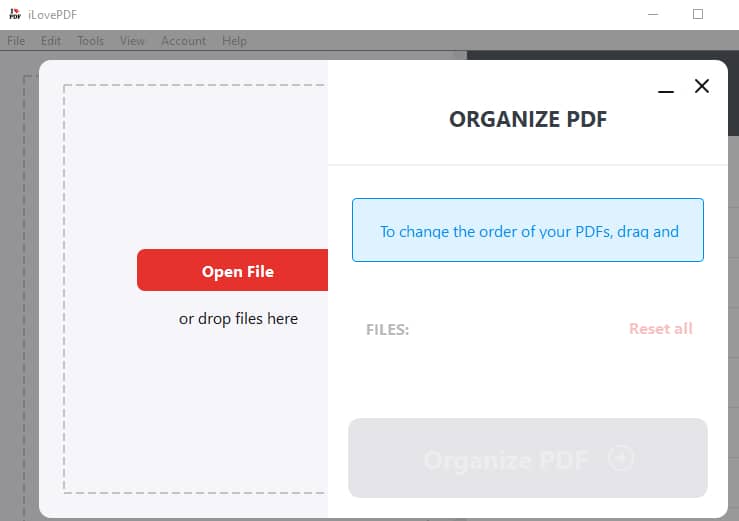 iLovePDF is one of the best online and offline tools to merge PDFs. With the help of iLovePDF, you can easily split a PDF into several different files. You can easily add and remove pages from multiple PDFs even if they are password protected. The iLovePDF desktop app doesn't just let you work with files on your local drives but even the ones that are located on your cloud storage accounts.
2. Convert PDF to Various File Formats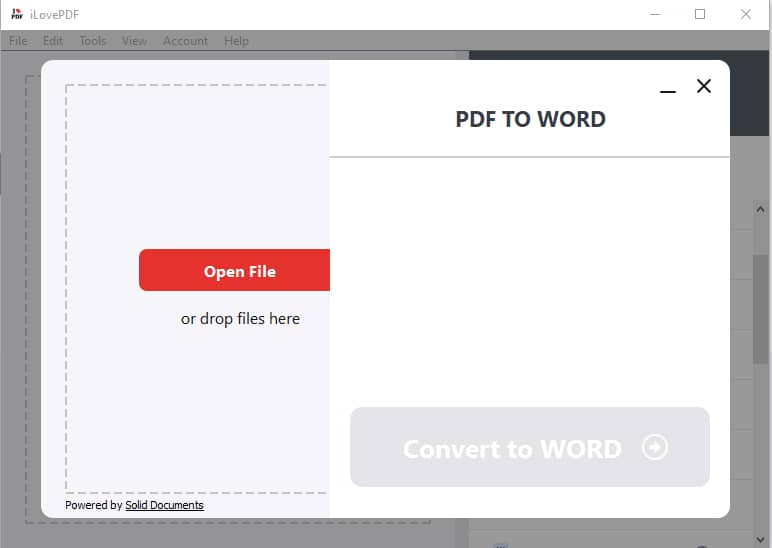 With iLovePDF converter you can convert various files of various formats to PDF and vice versa. For instance, iLovePDF lets you convert Word, Excel, HTML, Powerpoint, JPEG to PDF and it also lets you convert PDF files to these mentioned file formats.
3. Repair PDFs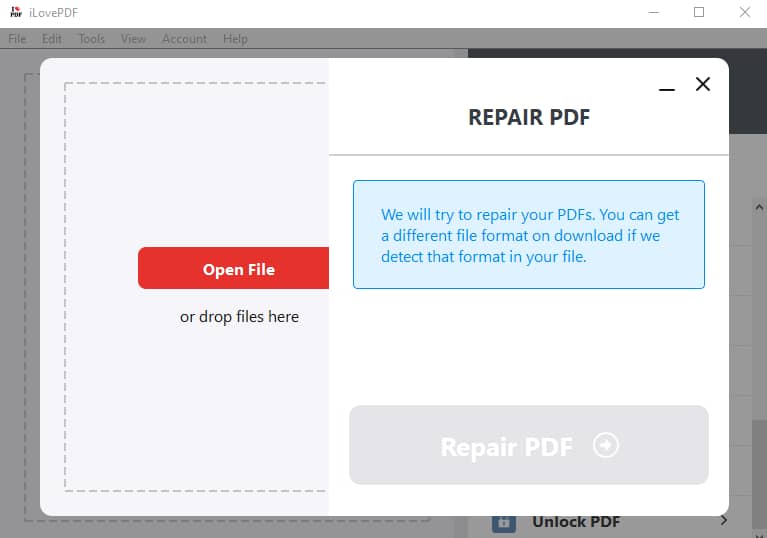 iLovePDF is also capable of repairing corrupt or damaged PDF files. This means, in case a PDF document has become corrupt and you wish to recover content, iLovePDF will analyze the document and then repair and recover content from the damaged file.
4. Security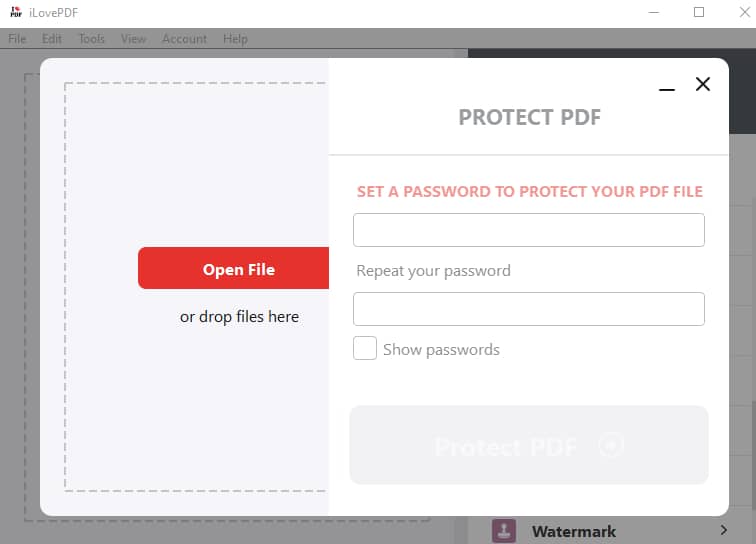 Security is a feature that makes iLovePDF one of the best apps for editing PDF. With this tool, you can protect your PDF documents with the help of a password. The same tool also lets you unlock PDFs and remove passwords as well. Apart from that you sign PDF documents and seek signatures while keeping audit trails that can come in handy during legal proceedings.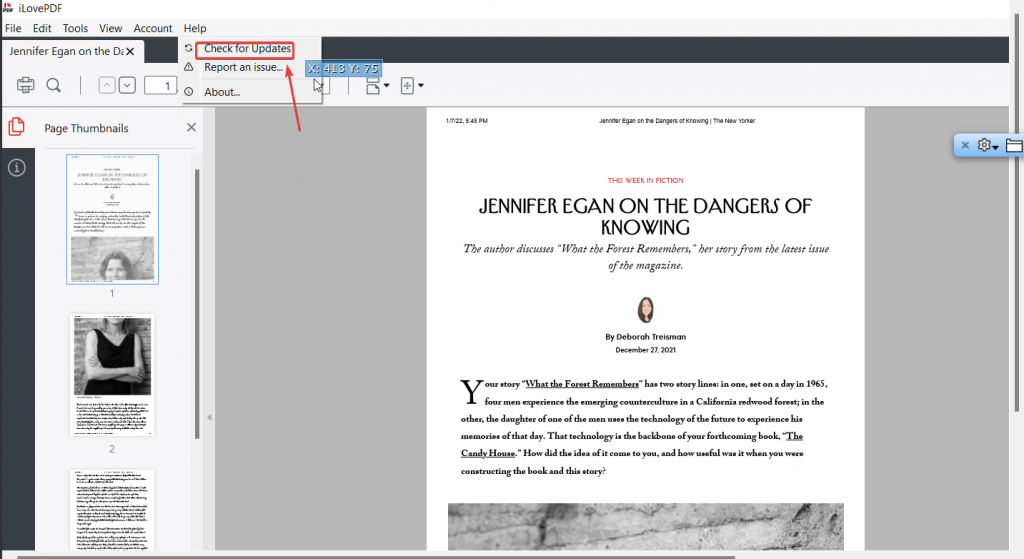 iLovePDF is a PDF tool for PC which keeps up with regular updates. And, while it keeps a user notified of the updates whenever they are rolled out, it also gives the user the option to manually fetch updates. To fetch updates manually, click on the Help menu and then click on Check for Updates.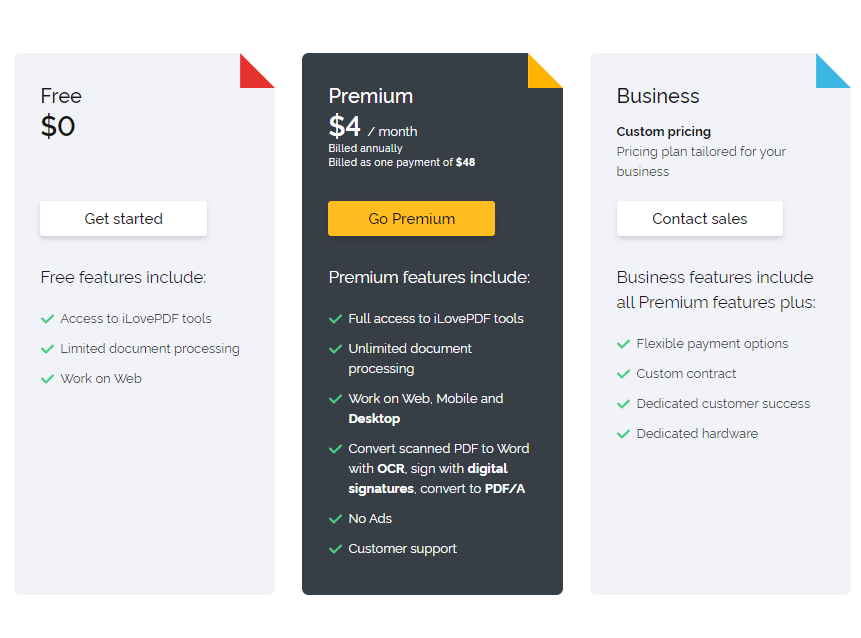 iLovePDF broadly comes with three variants namely – free, premium and business. With the free variant, you can use the majority of the tools. But, the catch here is that they can be used on the web. Also, there is a limit on batch processing and file size per task. Although you get the free PDF Reader even if you download the desktop version without paying anything. In case you want to get access to all the features on a variety of devices, you will have to either purchase the premium or business version especially if you cater to big team size. The yearly premium variant is billed at US$4/ month, with a one-time payment of US$48.
iLovePDF desktop app offers a decent speed across all its functions. Whether you are using the iLovePDF converter, merging and splitting documents on WIndows, signing files, or whatever it is you are doing, the PDF tool for PC offers a decent speed, if not the best.
When it comes to providing support to customers and by that, we even mean users who are using the free web version as well, iLovePDF provides support in the following ways –
1. You can report your issue via a contact form where you can specify your issue and you will promptly get a solution on your email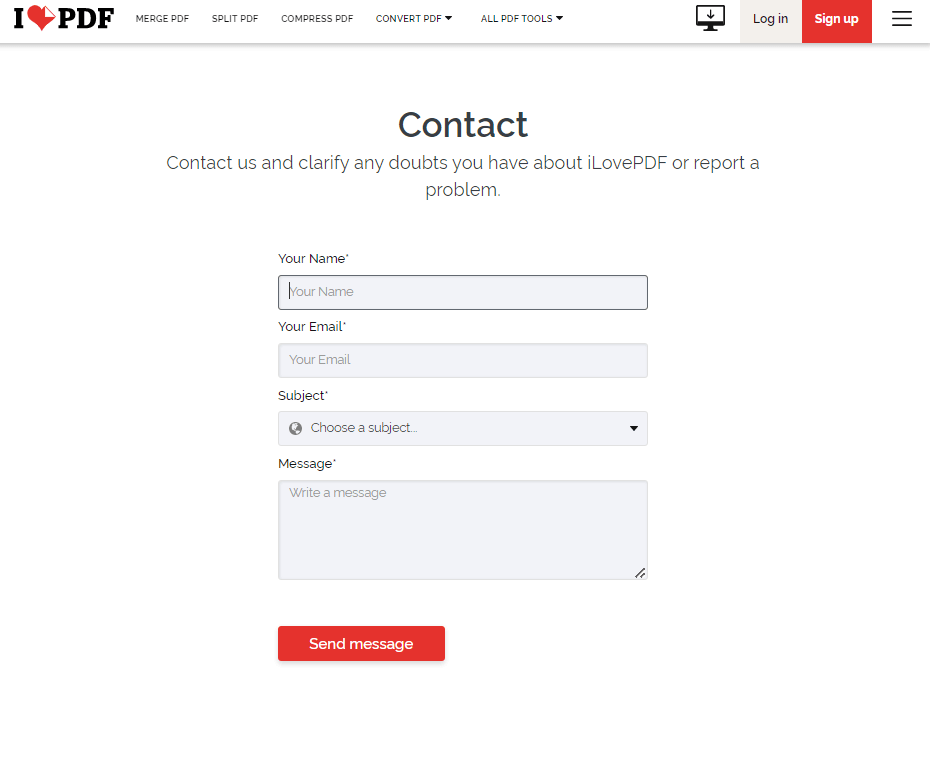 2. There is a dedicated "frequently asked questions" page where general queries regarding the application are answered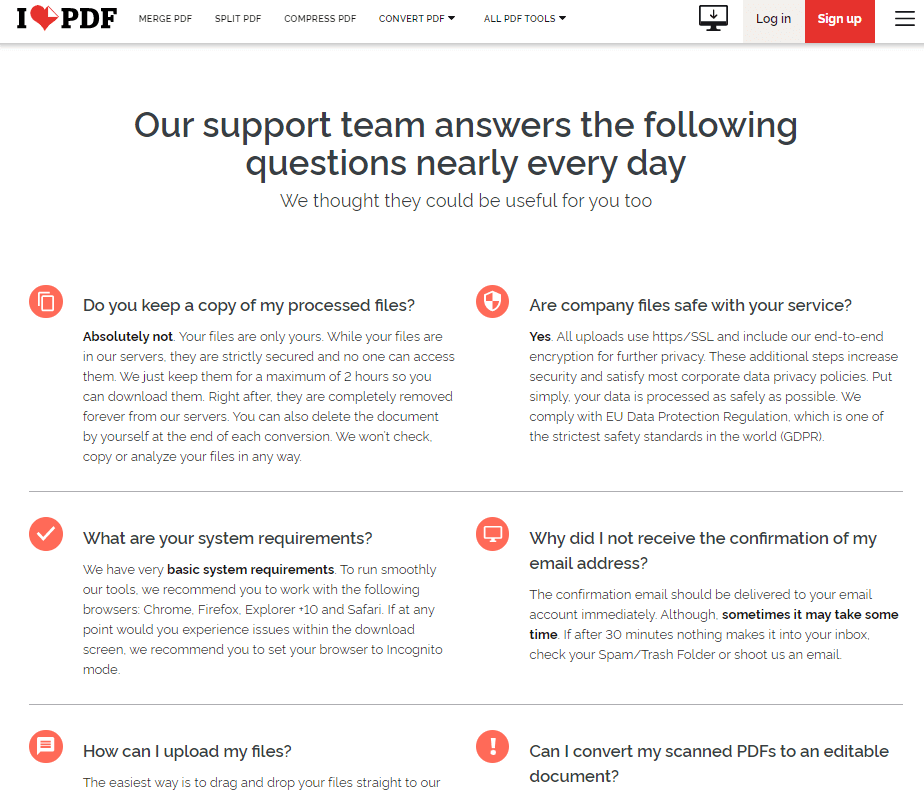 3. If you sign up for a business variant, you will also get a dedicated account manager
Frequently Asked Questions
Q1. How good is iLovePDF?
iLovePDF is a great online and offline platform to work with PDF documents. With this tool, you can edit, compress, merge, split, add and remove pages, convert PDFs to various file formats and do a lot many things.
Q2. How much does iLovePDF cost?
The yearly premium variant is billed at US$4/ month, with one-time payment of US$48.
Q3. Does iLovePDF have a limit?
Yes, there are limits on the number of tools, batch processing, filesize per task, the number of members that can use the tool. However, when you signup for premium services, these restrictions are removed. For more information, you can visit the pricing page.
Q4. Is ilovePDF safe?
The credibility of iLovePDF can be ascertained by the fact that all the files that you upload to iLovePDF are encrypted using the HTTPS or Hypertext Transfer Protocol Secure. It doesn't use, access, store or analyze user data.  
Verdict
All in all, iLovePDF is a decent offline and online PDF tool. Hope the review has helped you in understanding its functions and features. Before signing up for the premium variants for your Windows PC, you can try almost all the tools which are available on the web. Do let us know what are your views about the tool in the comment section below. For more such reviews on Windows software, keep visiting Top10PCSoftware. Also, follow us on the social media platforms for the latest updates for Windows software. We are on Facebook, Twitter, and, Pinterest.