PDFelement Review: Ratings, Features, And Pricing in 2023
Wondershare PDFelement is all in one PDF editor for your computer to take care of all the tasks such as create, merge, split, and add signature on the PDF files. Read the PDFElement review to find out about the PDF editing software for your Windows PC
What can PDFelement do?
PDFelement is one of the best PDF editors for Windows PC. It can perform a number of tasks on your computer, mobile and web. It comes in different versions to help you out with all your PDF files related needs. When talking about its functions the primary requirements of viewing, creating, modifying and the adding signature on it can be easily performed on your desktop. Additionally, it provides you with multiple additional tools for other tasks such as splitting, merging, adding and editing elements such as text, image, shape. This also makes the organization of the PDF files seamless with the easy interface.
What is PDFelement?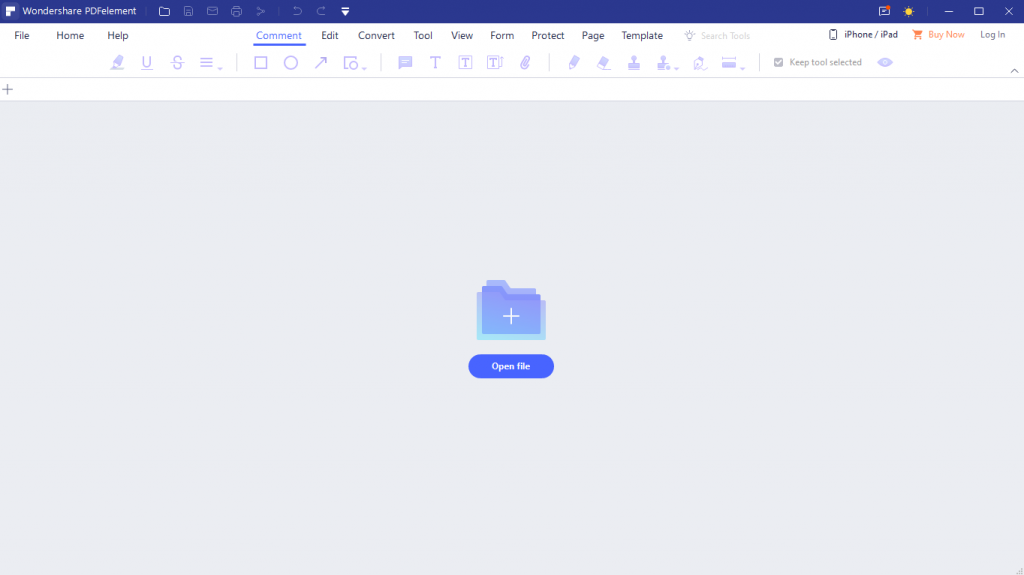 PDFelement is a PDF editing tool by Wondershare which is a developer of multiple utilities for Windows, Mac, Android, and iOS. It is considered the best PDF editor for Windows PC because it gives you many features to complete all the tasks for the user. Be it editing, creating, protecting, or sharing, it covers all the aspects. So, whenever you are looking for a PDF converter, you must give it a try. PDFelement Pro for Windows is equipped with all the features and is capable of taking advanced functions as well.
What Is The Use of PDFelement?
Wondershare PDFelement is used to edit and convert files on your computer. If you are a student, professional, or a common man who needs a PDF viewer and editor. It supports a number of file formats including –
.pdf(PDF, PDF/A), .docx, .doc, .pptx, .ppt, .xlsx, .xls, .xml, .jpg, .jpeg, .png, .bmp, .gif, .tiff, .txt, .epub, .rtf, .html, .hwp, .hwpx
This also easily extracts images, text, single PDF page, splits, combines, and adds a signature to the PDF files on your computer.  Moreover, it can be used to add watermarks, edit watermarks and add and create signatures on documents. Wondershare PDFelement review will help you understand how it can also put passwords on the files. 
Technical Specifications-
Current Version – 8.3.14.1379
File Size: 342 MB
System Requirements-
Compatibility – Windows 11, Windows 10, Windows 8.1, Windows 8, Windows 7, Windows Vista (32 bit or 64 bit)
Processor – Intel® Pentium® 4 and higher, or equivalent processor.
Memory – 512 MB or more RAM, 1GB recommended.
Disk space – 1.5 GB of free space
Organize
Add/ Remove Pages
Compress PDF
Merge PDF
Split PDF
PDFs
Add page numbers
Add Watermark
Batch Editing
Edit PDF
Repair Corrupt PDF
Conversion
PDF to Excel
PDF to HTML
PDF to JPEG
PDF to Powerpoint
PDF to Word
Security
Add password
PDF to PDF/ A
Remove password
Sign/ Get Sign
How To Install PDFelement?
The free PDF editor app can be downloaded from the official website or from the download button given below –
Step 1: Run the downloaded setup file and give system permissions to Wondershare PDFelement to begin the installation.
Step 2: Click on the Install button on the opened tab.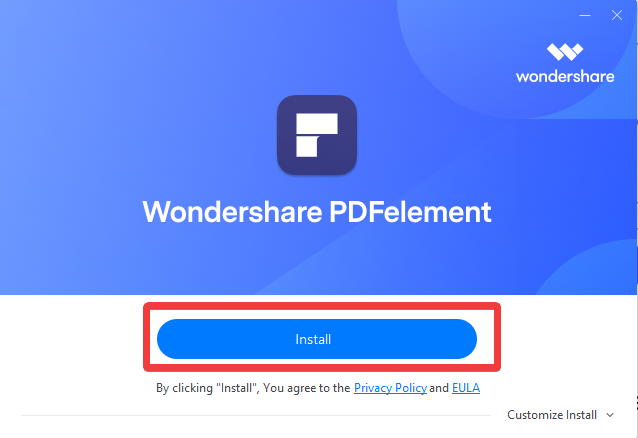 Soon after installation will start and you can see the progress on your screen.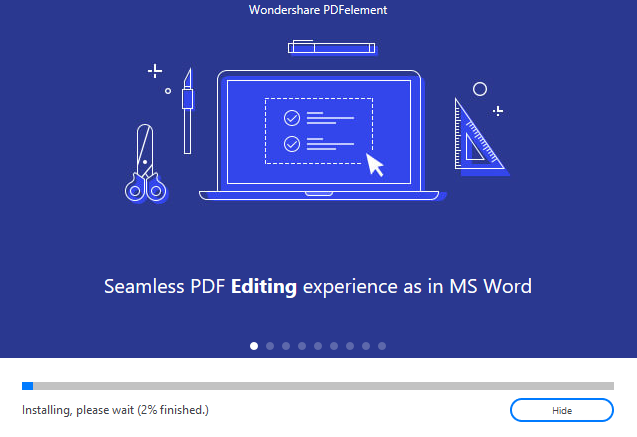 Step 3: Installation will be completed and show you the same on the tab. You can click on Start Now to open the program on your computer.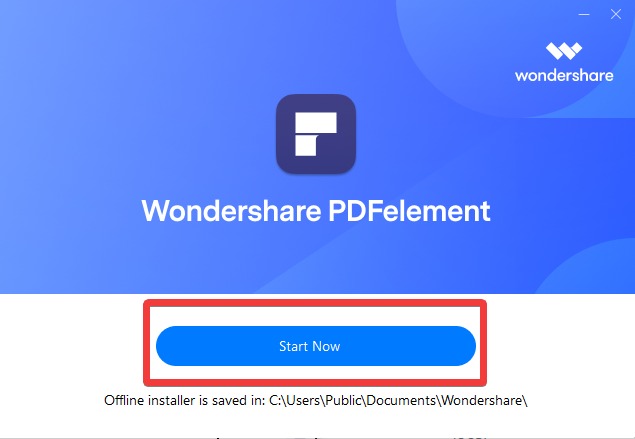 How To Use PDFelement?
Wondershare PDFelement free download is available and you can begin with this version. After following the steps above to complete the installation, you can launch the tool. Now, we will learn how to use it on Windows PC.
Step 1: The home screen will show you all the functions and you can start quickly by choosing one of them.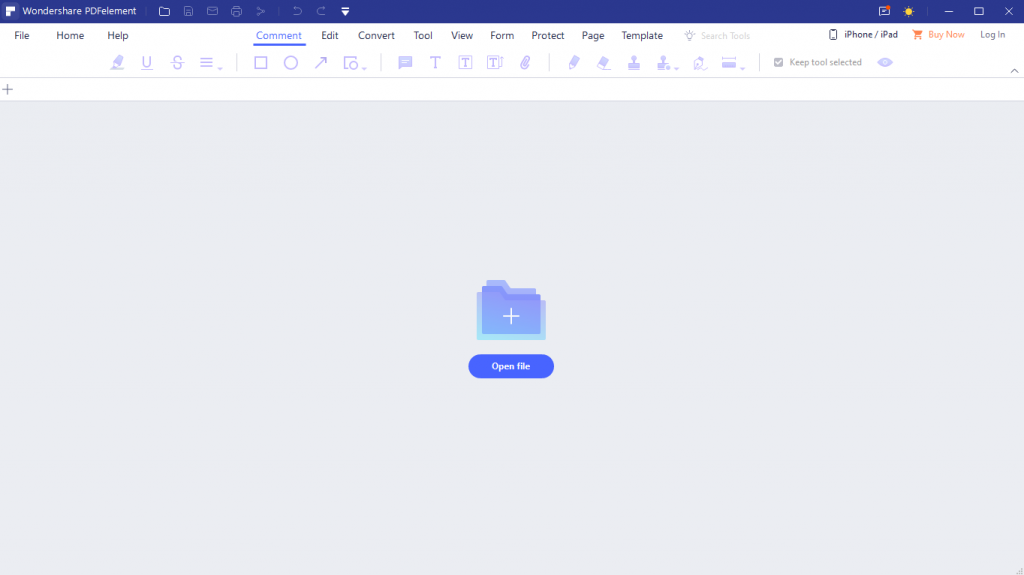 Step 2: Click on any of the options – Open file, Compare PDF, Combine PDF, Compress PDF, OCR PDF, Convert PDF, Create PDF, and Batch PDF. And the next step is to add a PDF or create one to start the editing process.
Step 3: You can also hit back to view more options on the best PDF editor for Windows 11.
Click on Open File and add the files to perform different functions on it. PDFelement comes with a plethora of options to edit the PDF files so click on the particular feature for a specific task.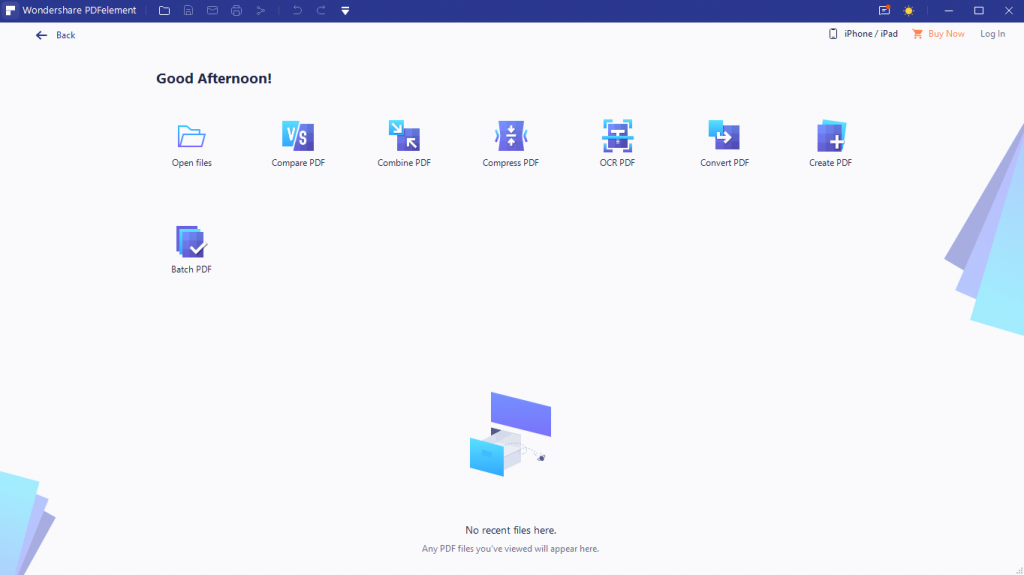 When it comes to the Wondershare PDFelement, you can give full marks to this desktop tool. This home screen makes it easy for the user to navigate through the options to quickly pick the functionality and start working with it. You can also head back to the screen for more options. The updates, about, user guides, customer support and mentioned in the Help section. With the option to Login you can keep your work aligned on cross-platform which is an additional help.
1. Create & Edit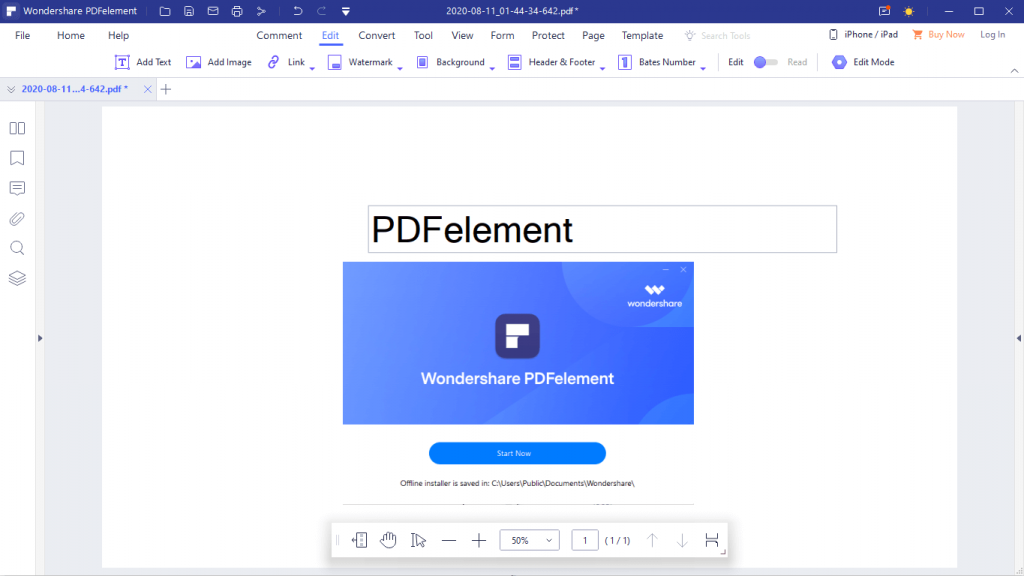 Wondershare PDFelement allows you to create new PDF files as per your requirements. The functions include – Add text, Add image, Add or edit Watermark, Add Link, Add Header & Footer, Bates number Change background. Use several Layouts, add Bates Number, Turn on Edit mode.
2. Split and Merge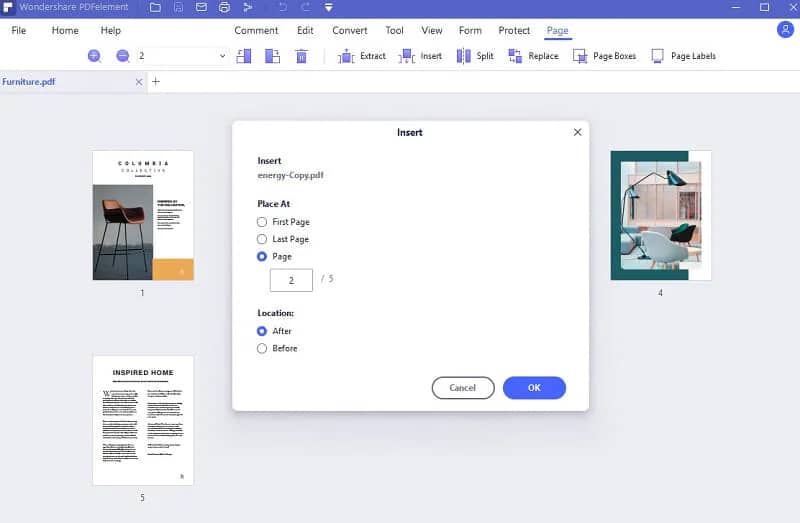 Use it to combine two or more PDF files or to split PDF files. Extract, delete, or replace a few Pages on the PDF files using the Wondershare PDFelement full version. Use it to add pages from other PDF files by inserting both the PDF files over it and turning into your version and saving it as a new file.
3. Form Creation and Filler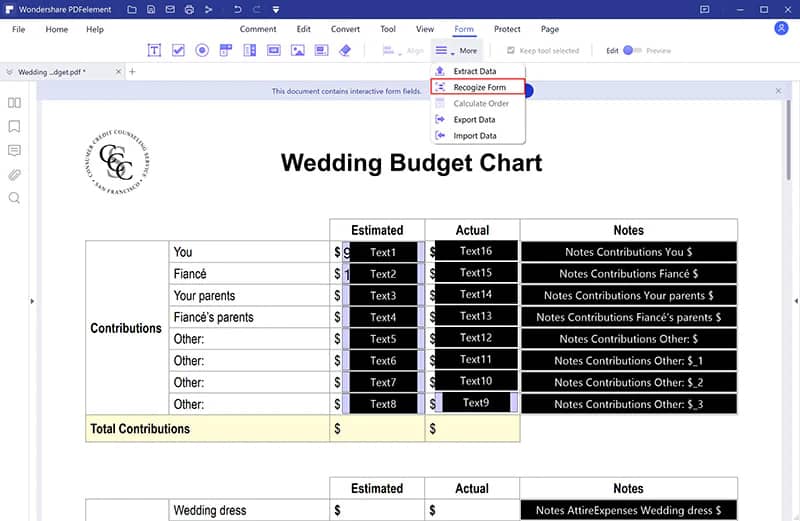 Apart from other basic PDF editing features, this PDF editor also allows you to create PDF forms. Do it with the Auto-Recognition technology along with the digital auto data extraction from scanning methods. Use the label, export, import, and align the forms as per your needs. 
4. Conversion and OCR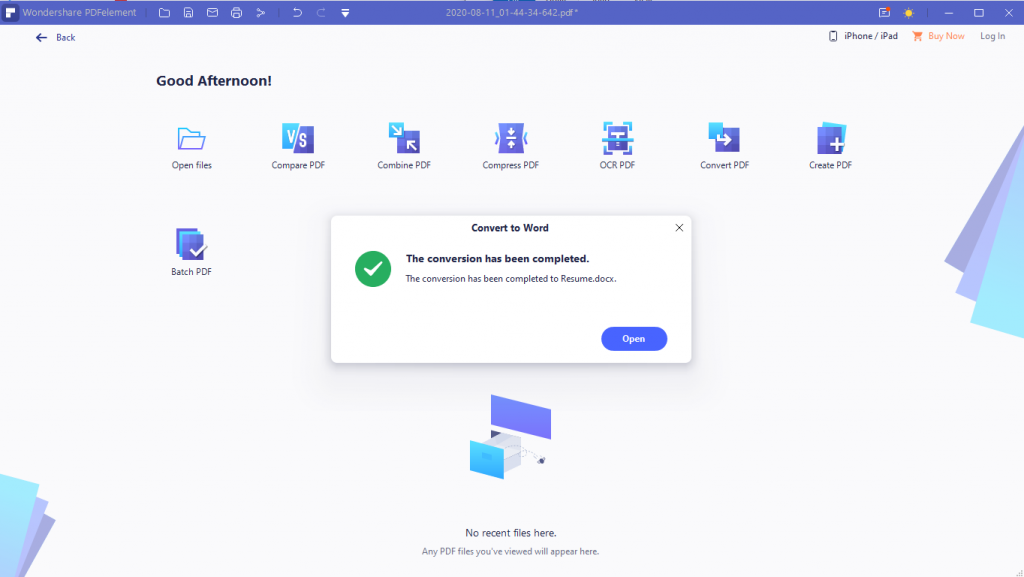 Using it you can convert the files in your computer to any other file format. It supports PDF files to Word, Excel, PNG, JPG, and more and vice versa. Wondershare PDFelement also permits you to make batch conversions to save time to convert multiple documents at a time. The quality of the PDF files is maintained. OCR technology is available to help you recognize the text inside images and it supports over 30 languages.
5. Secure and Share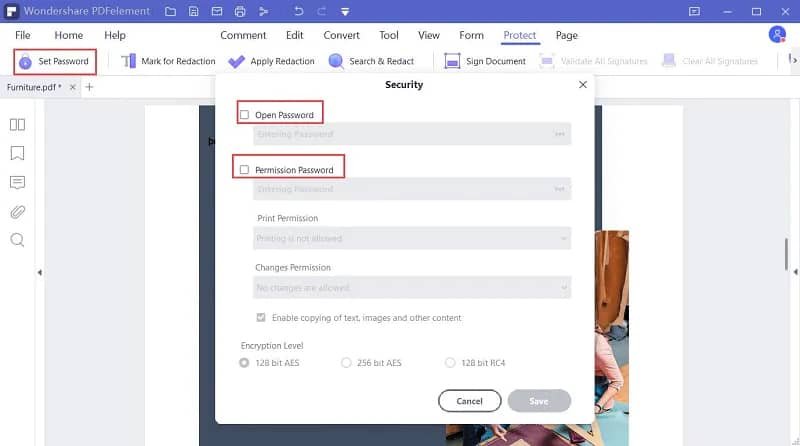 It is important to protect the documents and this is what can be taken care of with the help of PDFelement. You can add a password, create a signature or add eSign to your documents. This makes the sharing of documents easy and safe so that they do not end up in the wrong places. Also, read the review for Advanced System Optimizer if you wish to encrypt other files on your Windows PC.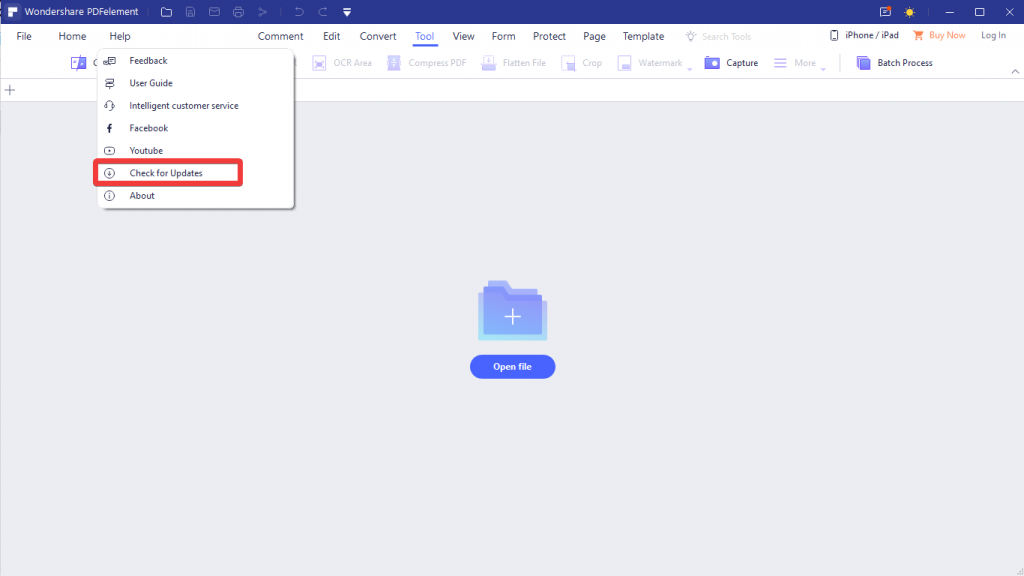 Wondershare has a good reputation in regards to updating its software. The same goes for the PDFelement as you can easily update the tool from the dedicated button whenever you see the notification for new updates. PDFelement free download for PC also shows you the updates options which is a good point. From the home screen, you can click on back and then under the Help section select the Check for updates option.
You can run Wondershare PDF editor at a great speed whether the task involves merging, splitting, protecting, or adding a signature. The tool is not at all slow and will instantly give you results for the assigned task.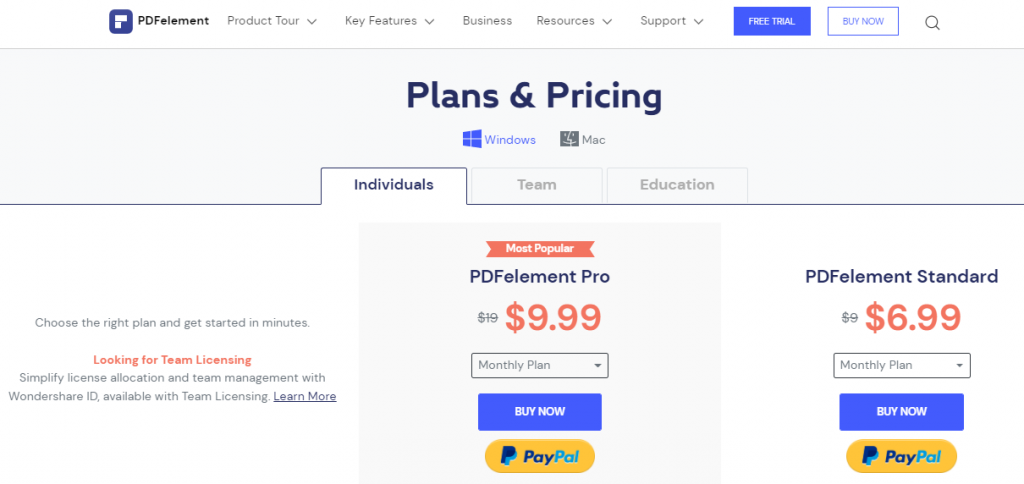 PDFelement can be purchased for one Windows PC at $19 for it's a complete package. While the PDFelement free alternative is the version that can be downloaded for the trial period.
PDFelement
PDFelement Standard

1 PC, Fully featured, unlimited updates, and for 1 month

PDFelement Pro

1 PC, Fully featured unlimited updates, and for 1 month
For the current offer, you can get PDFelement Standard at $11.94 only. Get it now and avail of the offer. Similarly, PDFelement Pro for Windows is now available at $23.94 with the additional Insurance service.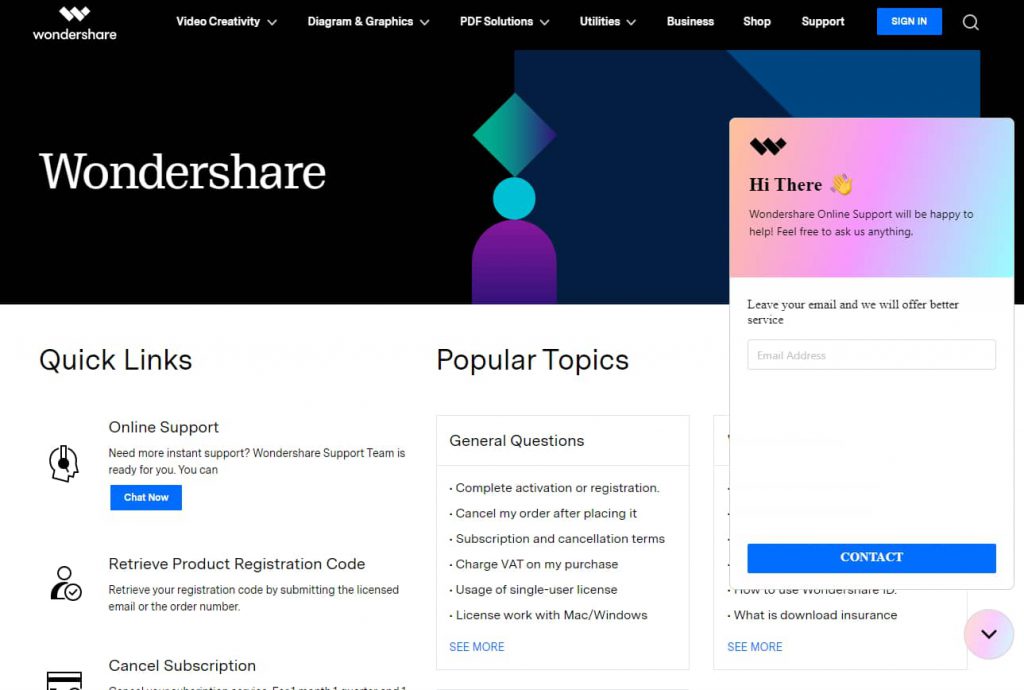 When talking about the Wondershare PDFelement review, it is evident that we must discuss the customer support provided by them. Wondershare comes with great support options on its official webpage-
https://support.wondershare.com/
You can send your query via mail, call, live chat, or get the information from the posts on the usage. Their user guides, video tutorials on the PDFelement will help you understand the features and functions of the PDF editing software for your Windows PC.
Frequently Asked Questions –
Q1. Is PDFelement free?
Yes, the Wondershare PDFelement free download allows you to perform the basic functions on the computer. While the paid version will give you the most use as to edit PDF files in different ways.
Q2. Is Wondershare PDFelement legit?
Yes, Wondershare PDFelement Professional is a legit tool that can be used on multiple platforms to view, create, modify PDF files. You can also enjoy free PDF editing software in the trial period before making a purchase.
Q3. Can I use PDFelement offline?
You can use PDFelement for free offline to view and edit the PDF files. But to register, update, and a few features you are needed to be connected to an internet connection.
Q4. Is PDFelement a good program?
Yes, you can do so much with the help of PDFelement. Be it signing documents, combining or merging PDF files, extracting or adding images and texts on it and so much more.
Q5. Is PDFelement better than Adobe Acrobat?
Adobe Acrobat is comparatively better than any other PDF tool as it is the pioneer in the PDF viewer and creators list. But you can find some great features on Wondershare PDFelement.
Verdict –
If you are looking for a tool to make your PDF files related tasks easier, take a look at the PDFelement. This gives some of the best features to fulfill all your needs related to the editing, converting, and sharing of PDF files. It is a multi-platform PDF editing tool that makes it using easy on different platforms. The conversion and OCR technology reading features make the tool a complete PDF solution for Windows users. We hope this PDFelement review will help you understand the function of the editor and converter which can do all that you require.
We look forward to your comments to know more about your opinion on this blog post. Also, if you liked this, we recommend you to check out – iLovePDF which is a good alternative to a web application. Other PDFelement free alternatives include Adobe and Nitro with limited features. For more such reviews on Windows software, keep visiting Top10PCSoftware. Also, follow us on the social media platforms for the latest updates for Windows software. We are on Twitter, Facebook, Pinterest, and Flipboard.