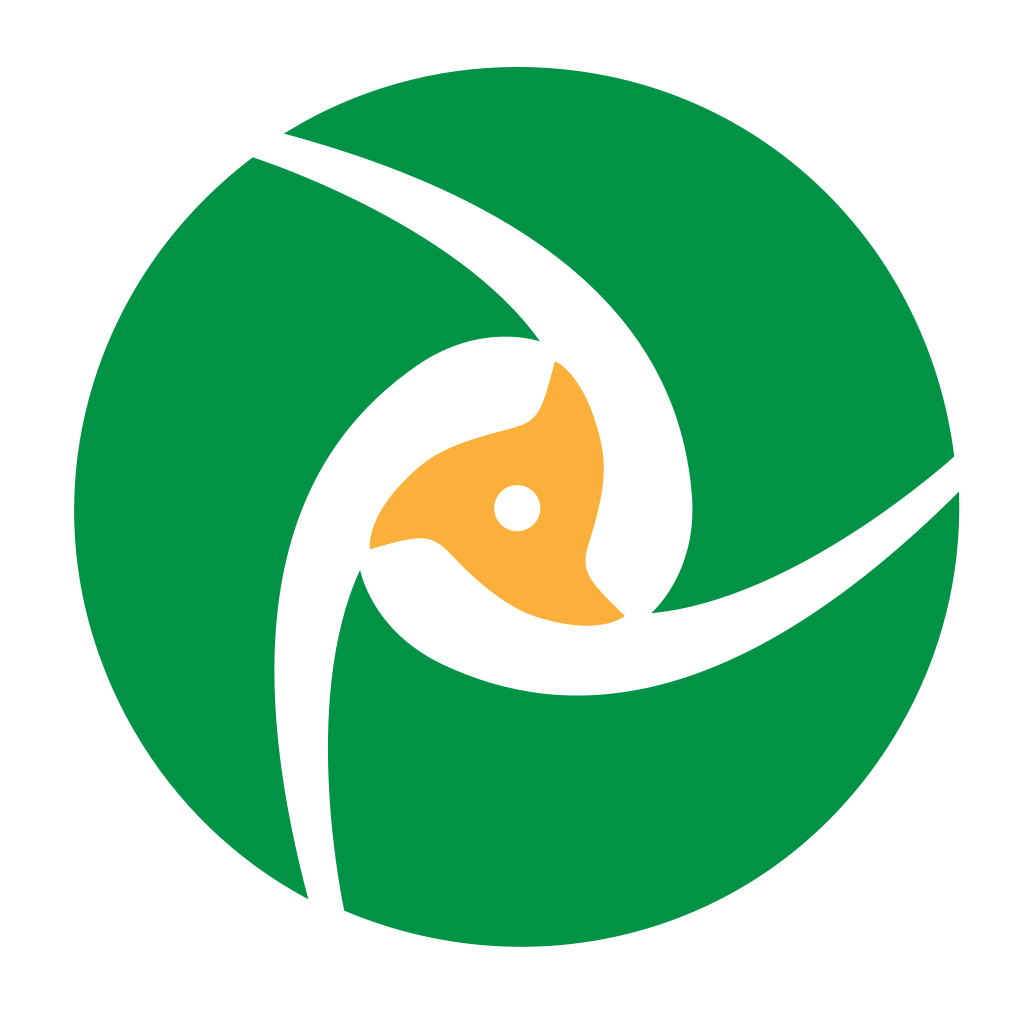 PDFsam Basic
PDFsam Basic Review: Best PDF Editing Software
An efficient PDF editor lets you do more than just view documents. There are several tasks that you can perform as far as performing alterations are concerned. Here we will discuss one such tool – PDFsam Basic. In this PDFsam Basic review for Windows, we will dive deeper into its features and the overall experience that is capable of delivering to a user
What Is PDFsam Basic?
PDFsam Basic is an open-source and free PDF editor. By downloading PDFsam Basic, you can perform a variety of tasks on your PDF files. The tasks include extracting pages, splitting and merging, and mixing and rotating them. It is also one of the best PDF merger and splitter tools.  
Reasons To Choose PDFsam Basic?
There are several reasons why you should download PDFsam Basic. Here are we have listed out few of them –
Free of cost
Easy to use, attractive interface
Split pages in any order you want
Recording pages for all tasks is easy
A variety of merge settings
Gain full control of bookmarks in PDFs while performing tasks
Compress output files
Ability to add footer in PDF documents
Technical Specifications –
System Requirements – 
Operating System – Windows 11,10, 8.1, 8, 7 (64 bit)
Processor– 400MHz or higher
RAM – At least 1 GBrecommended
Disk Space – Minimum 700 MB
Organize
Add/ Remove Pages
Compress PDF
Merge PDF
Split PDF
How To Install PDFsam Basic?
Step 1: Download, run the PDFsam Basic's installer and then, install PDFsam Basic
Step 2: When the PDFsam Setup Wizard appears, click on Next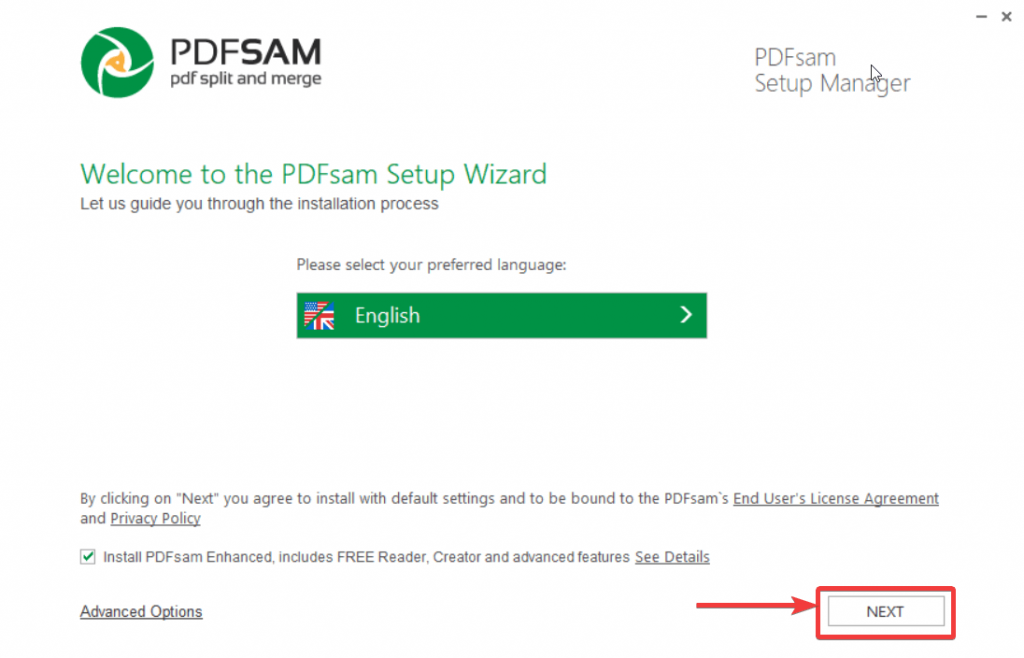 Step 3: Let the installation process complete. This might take some time.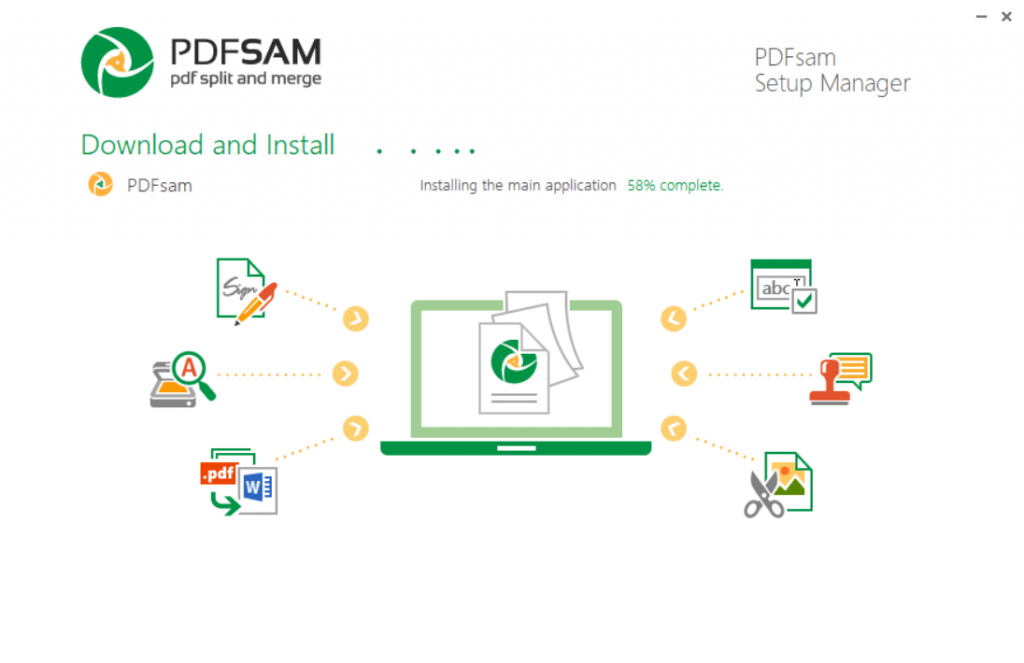 Step 4: Sign up with your email account and password.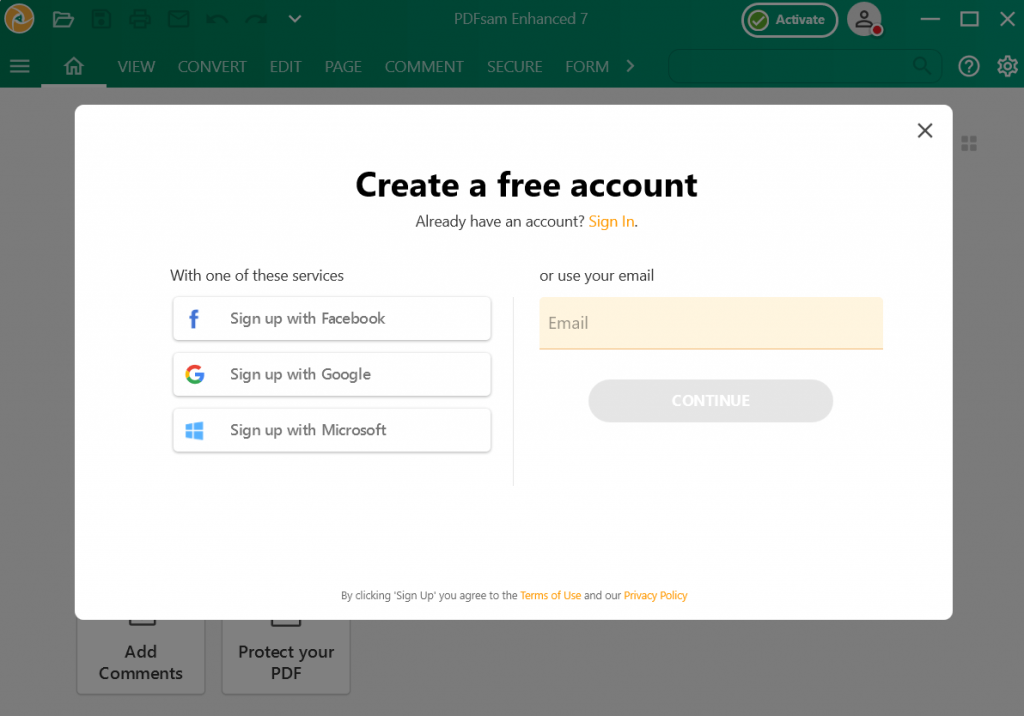 Step 5: Validate your account by heading to the email you have furnished and by clicking on the Confirm Validation button.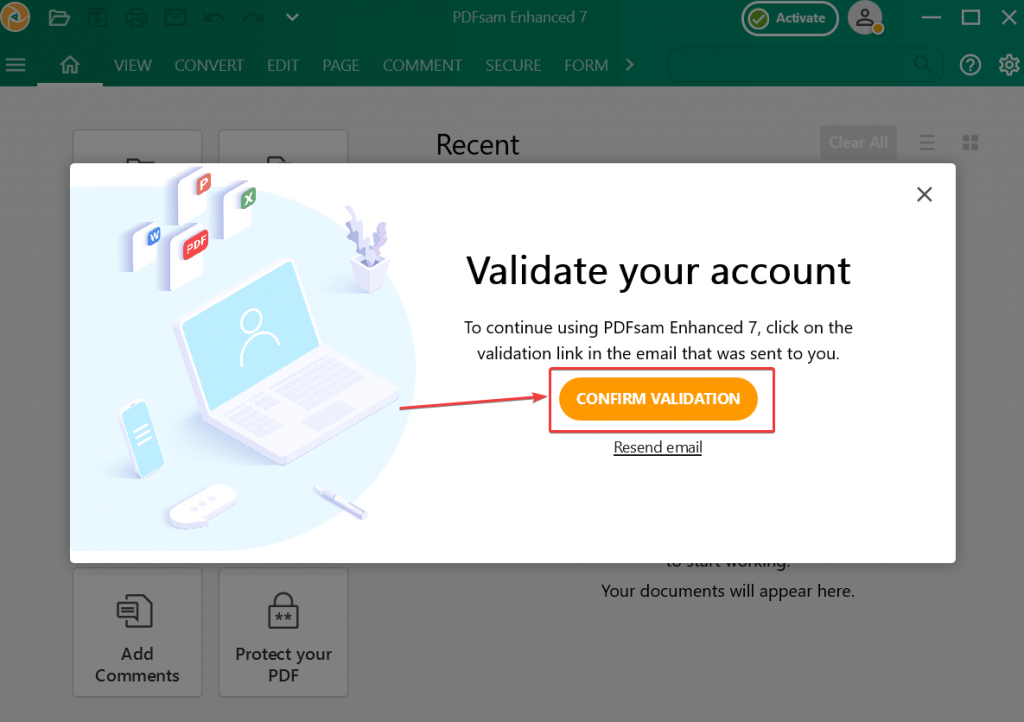 Step 6: Click on the validation link provided to you in your email.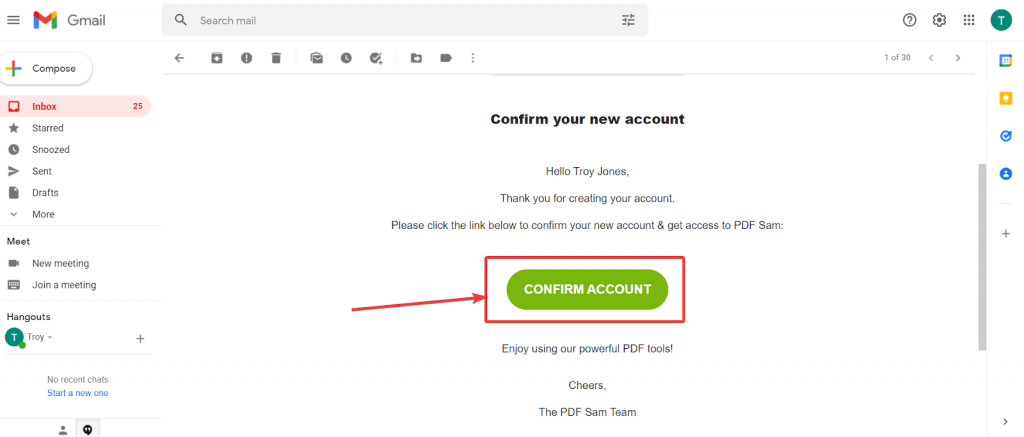 How Do I Use PDFSam?
Now that you have downloaded PDFsam Basic, let's quickly go through the steps that will get you started –
1. Click on any of the features based on what task you want to perform on your PDF document. Let's say you want to extract pages from PDFdocuments. So, click on the Extract button.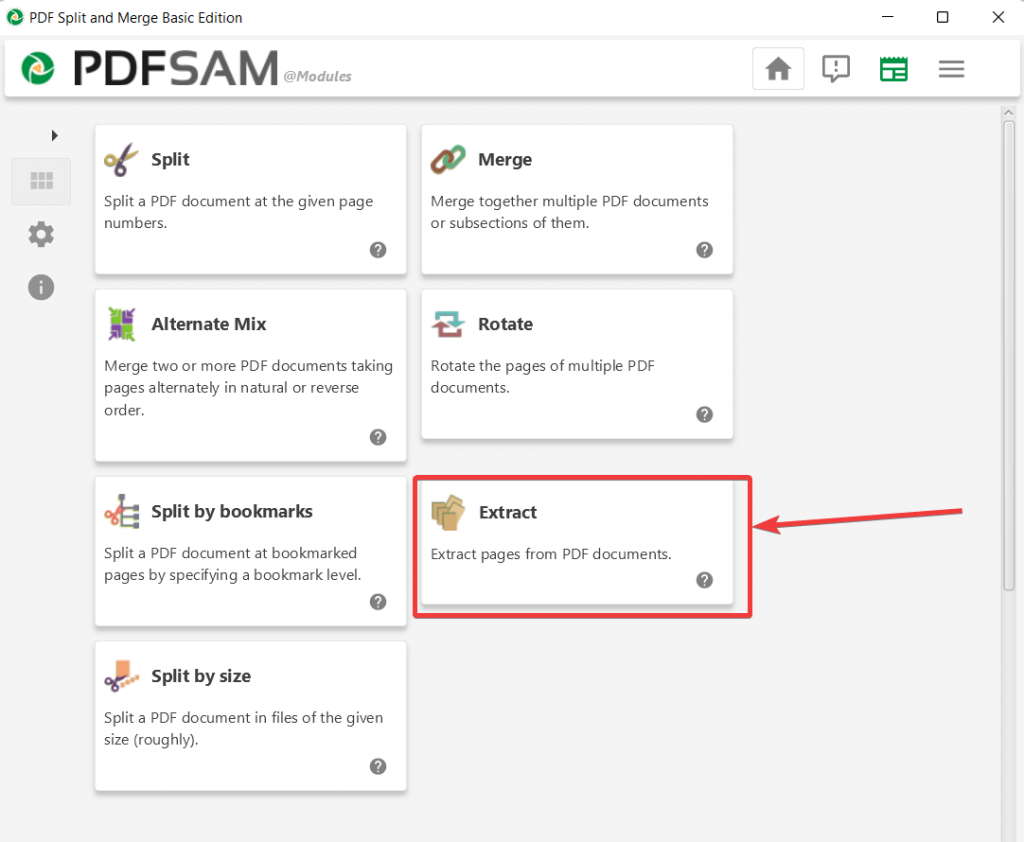 2. Drag and drop a single PDF file or multiple PDF files from which you want to extract pages.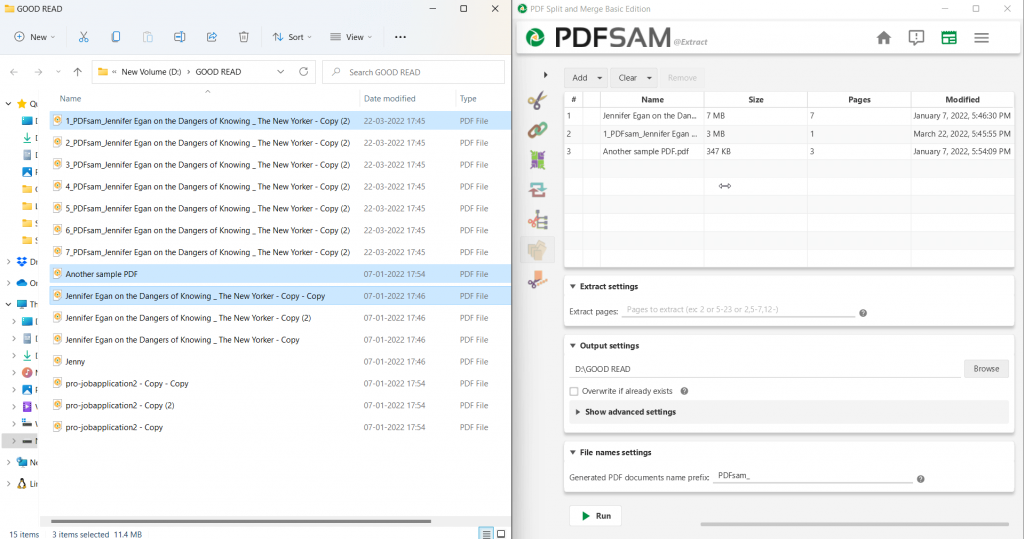 3. Mention a page range or specify individual pages that you want to extract.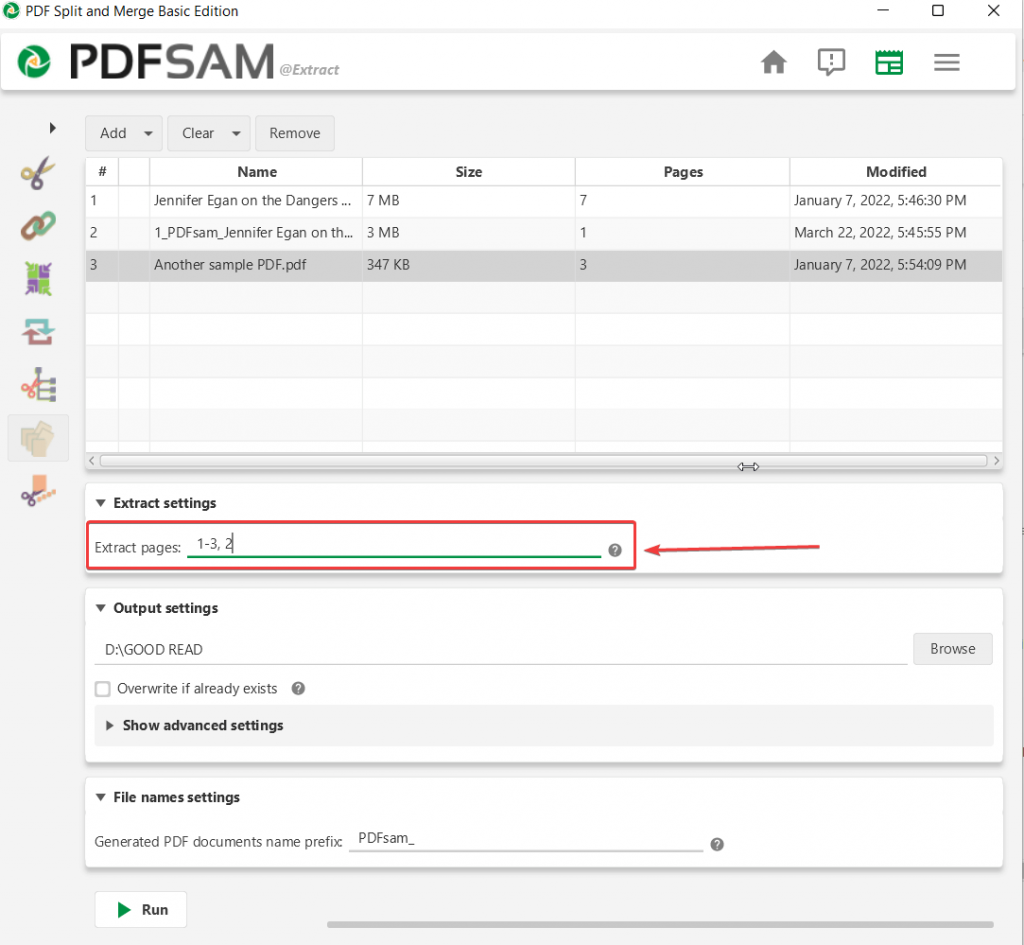 4. Click on the Run button.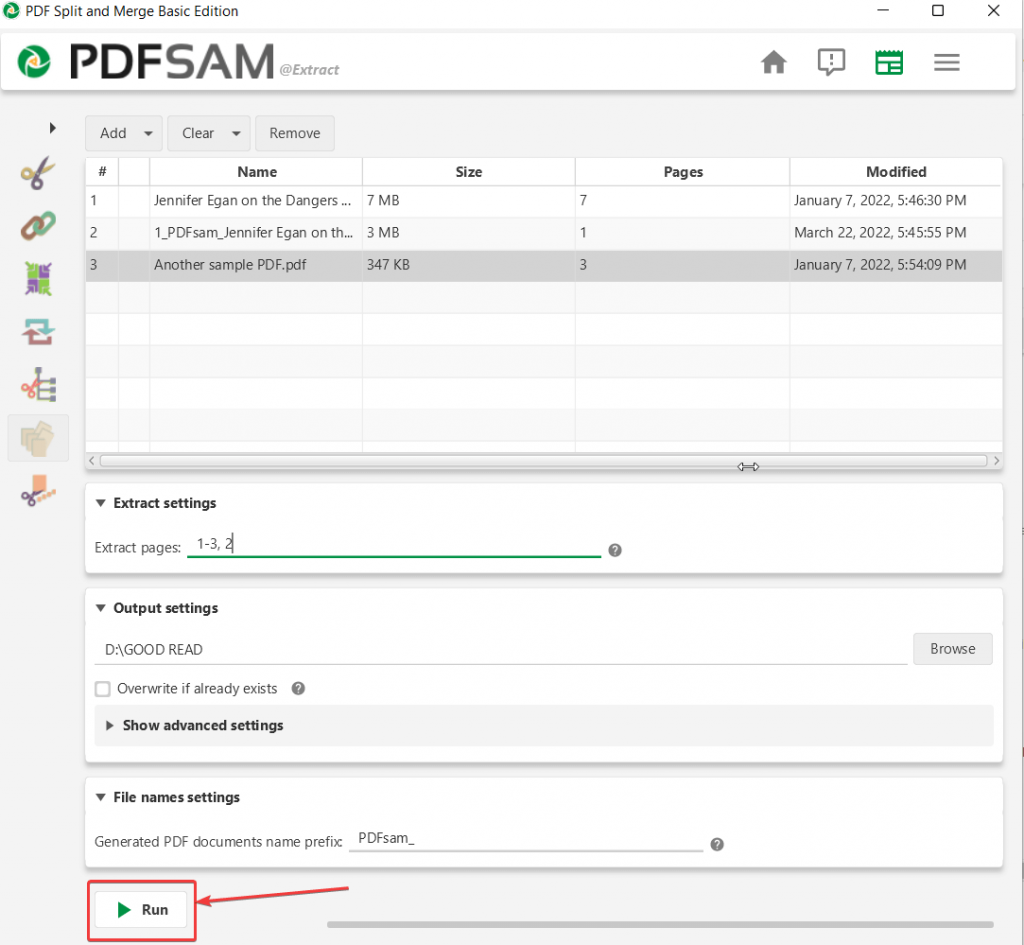 The interface of PDF split and merge basic is neat and simplistic. By the very first look at the interface, you know what PDFsam software will help you with – split, rotate, extract and merge PDF documents. The interface is easy to get accustomed to. And, even if you make your way inside each of the features, the working is simple. The PDFsam Basic installer may prompt you to further install additional software but you can always opt-out of that.
1. Split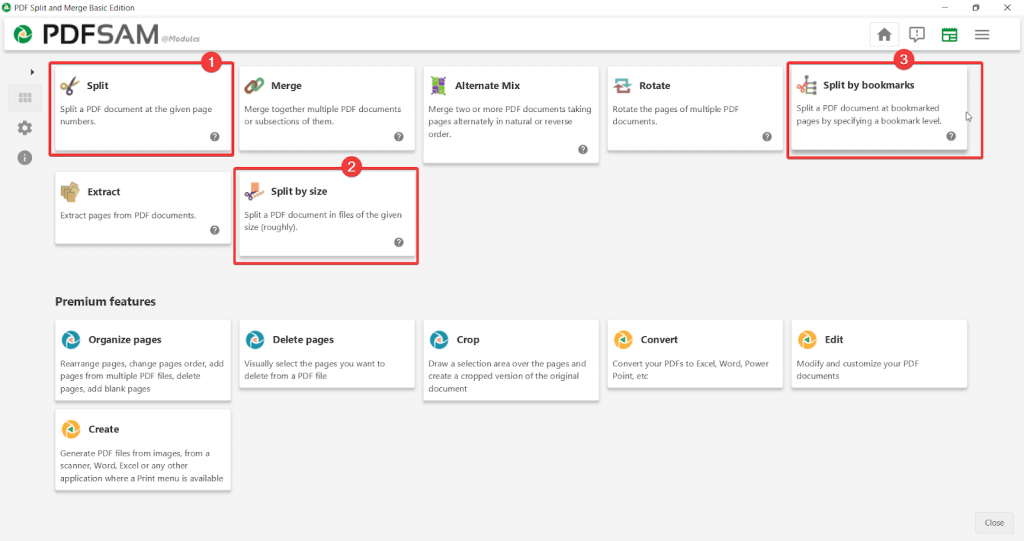 PDFsam Basic lets you divide your PDF documents into individual pages with utmost ease. You can divide pages based on page numbers, into files of a specified size or even at bookmark level.
For instance, as you can see from the screenshot below you can split after even pages or after a specified number of pages.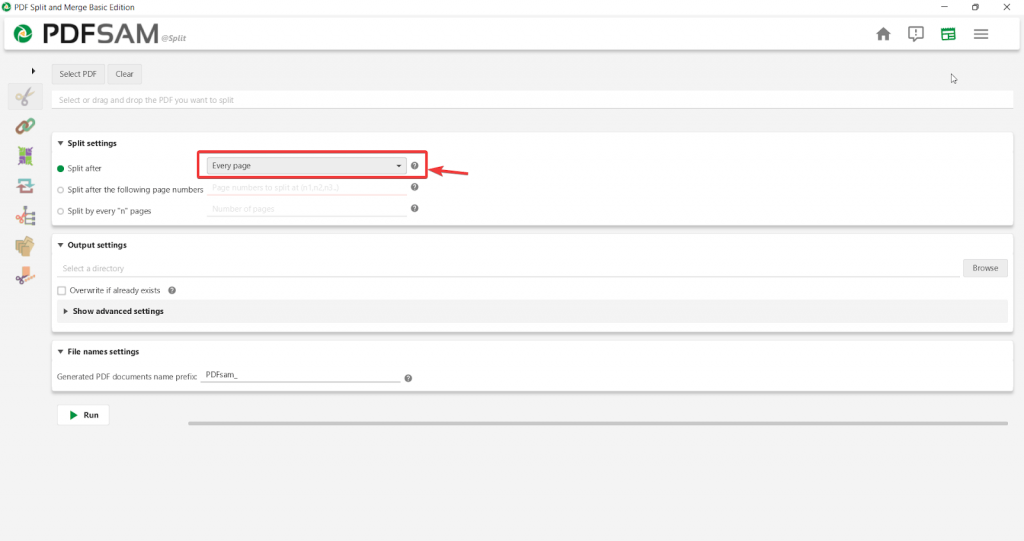 2. Merge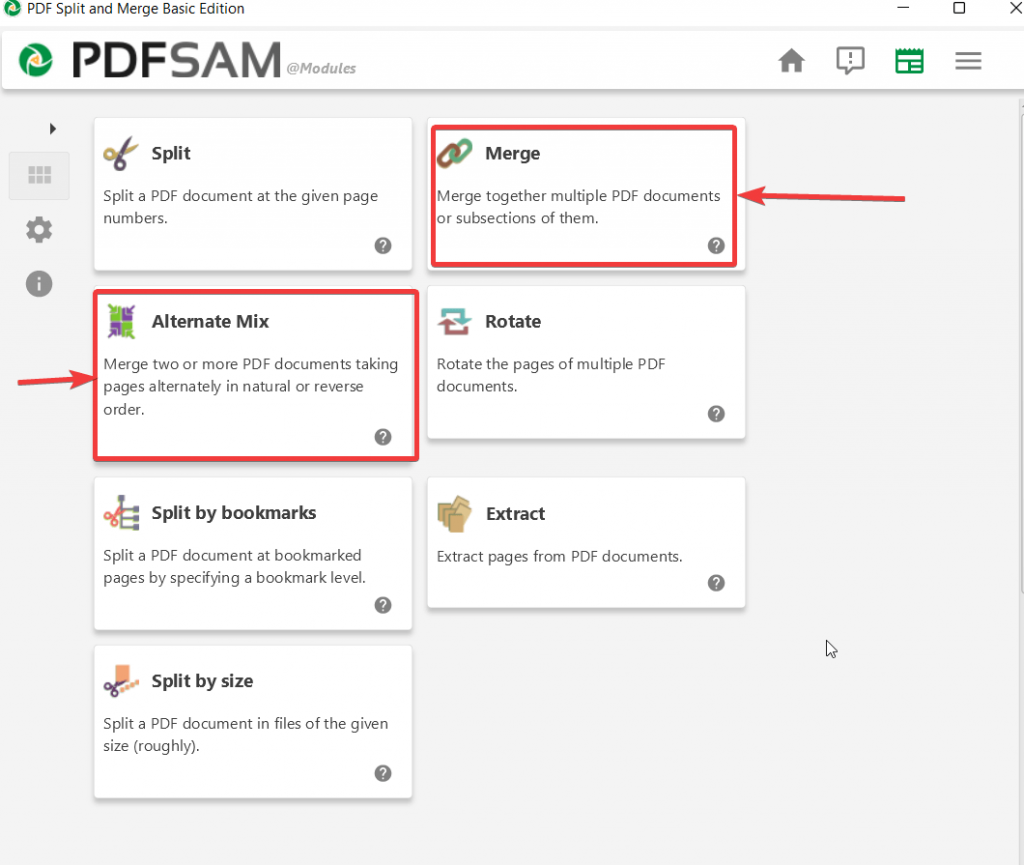 After PDF split, comes merge that PDFsam Basic offers. This function allows you to drag and drop PDF files and merge them. You can even choose to merge parts of PDF as well. You can even rearrange the PDF files as per the order you want. You can merge all the PDFs in the list or you can select individual PDF files, assign page ranges and merge them. You can  even choose to merge two or more PDFsalternately while gaining absolute control on their order as well.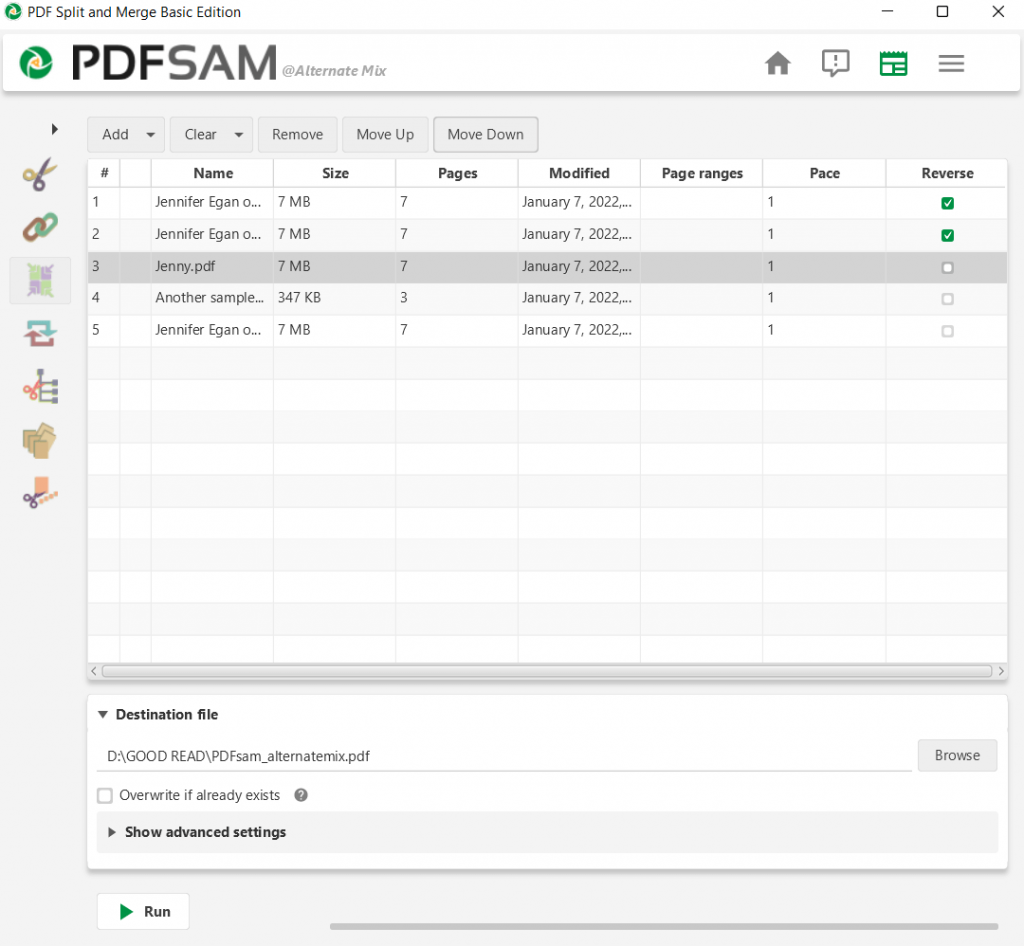 3. Rotate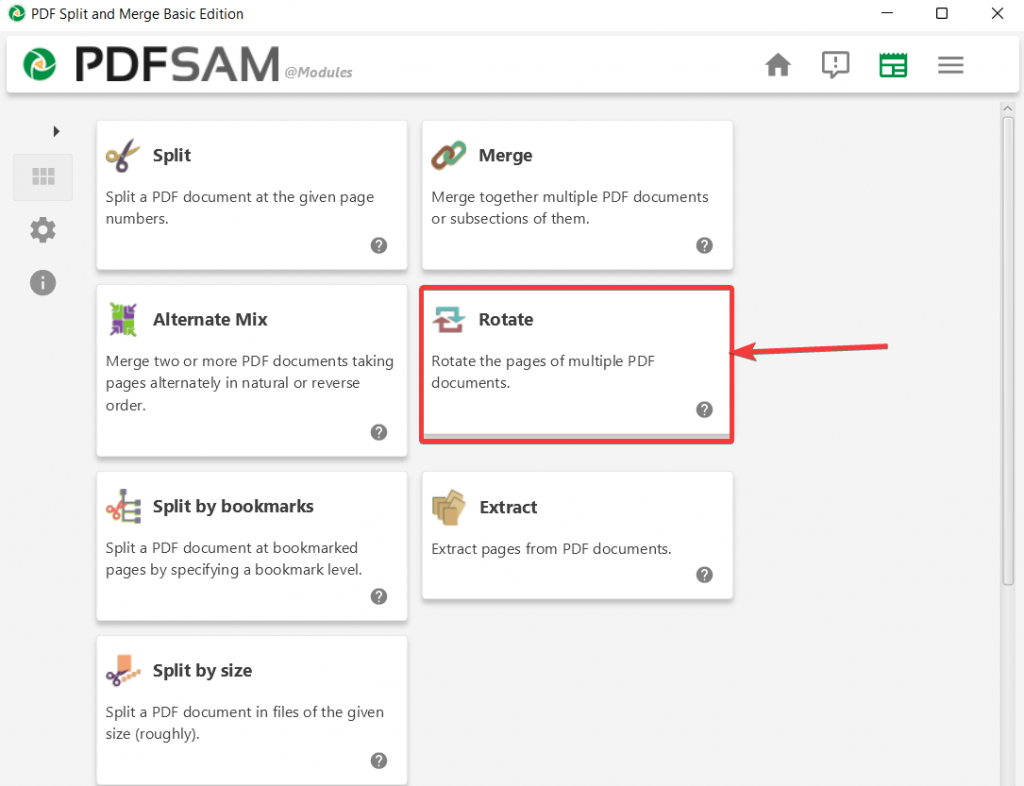 With PDFsam's split and merge basic edition you can rotate the pages of as many PDF documents you want. In a way, here you are even getting batch rotating capabilities as well. But, how exactly can you do that?  You can rotate the pages, clockwise or counterclockwise. More specifically and as you can see from the screenshot below you can rotate the pages 90°  clockwise, 90°  clockwise and 180° counterclockwise.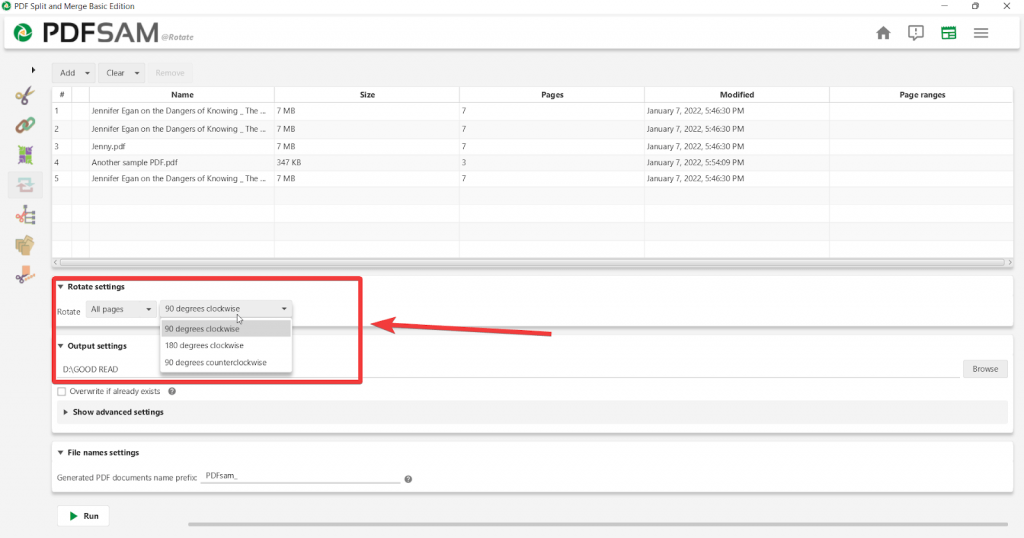 4. Extract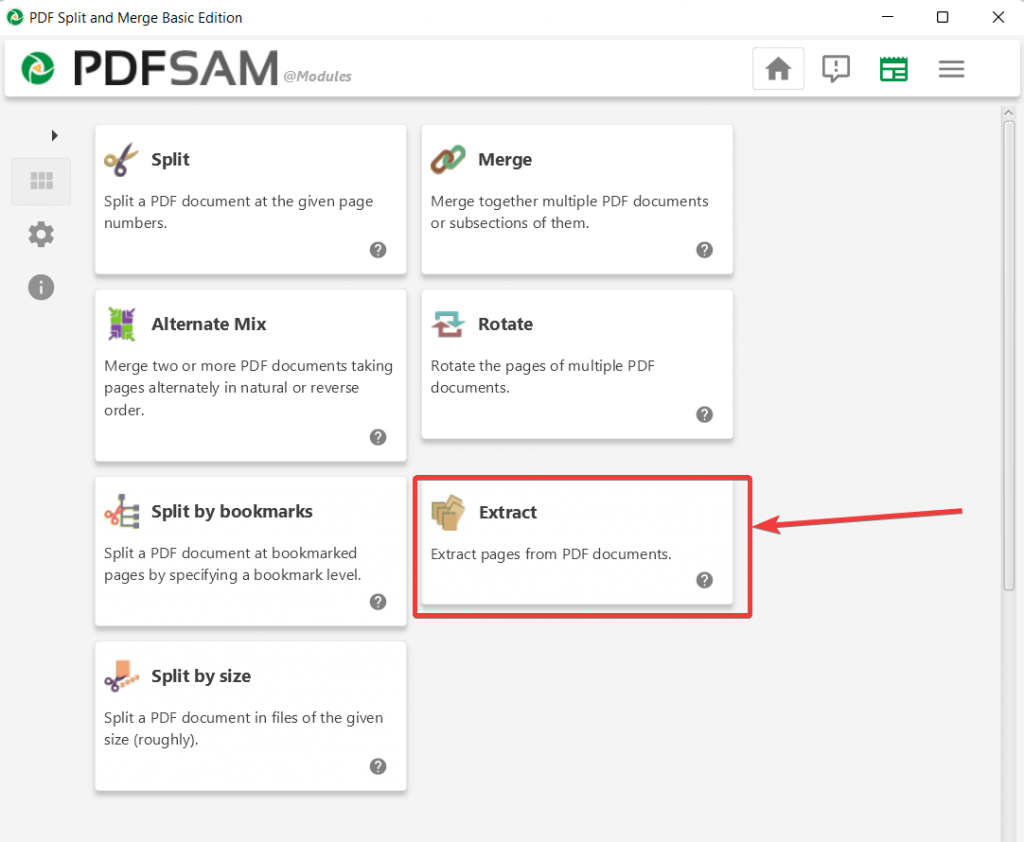 There are times when you want to take out specific pages from a PDF file. PDFsam software helps you extract only pages that you want. You can perform this task onto a single PDF document or multiple documents. Now, this means, when you extract pages from PDF files with PDFsam Basic and as is evident from the screenshot below, you can assign specific page ranges or perform more advanced functions such as discarding any bookmarks or even compressing the output files.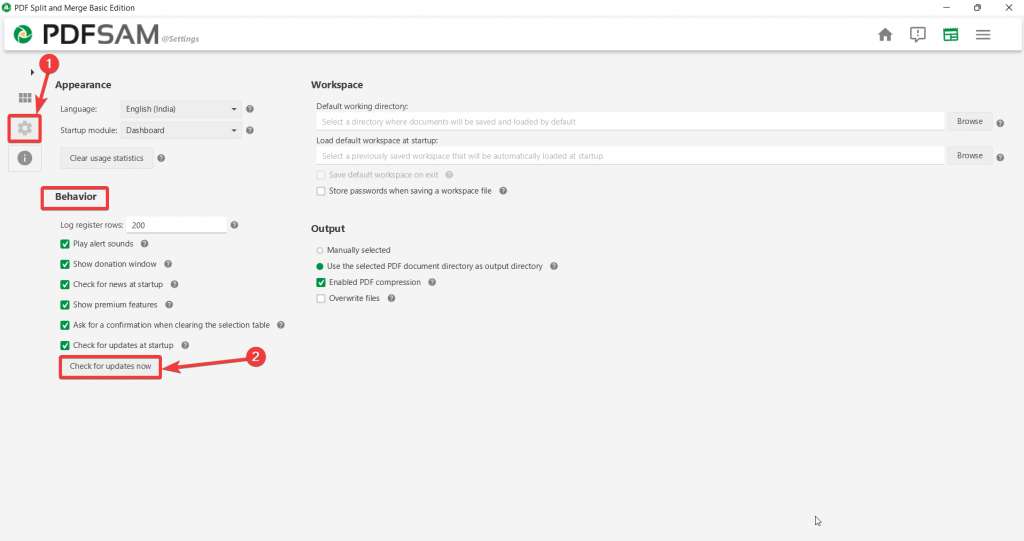 PDFsam for Windows 11/10 receives regular updates which are very important from the overall functionality and features. You are regularly notified of any updates that are rolled out. In case, if you want to fetch updates manually, you can click on the gear icon from the left-hand side and then click on the Check for updates now button.
Once you have tried and tested PDFsam's free version and if you would like to get access to premium features you can choose from two paid variants namely – PDFsam Enhanced and PDFsam Visual. Let's discuss each of these variants a little briefly.
At the time of writing this post, PDFsam Enhanced is available in three variants as shown in the screenshot below. The paid features include unlimited support, conversion capabilities, OCR functionality, and many others.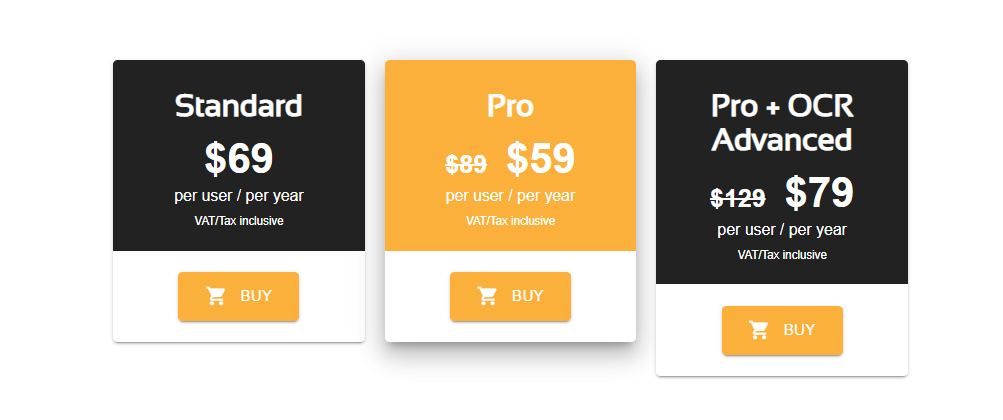 As with PDFsam Visual, you can opt for a trial for 14 days and then you can sign up for premium variants. The pricing starts at US$ 34.90 and then get access to features like extract or delete pages, rearrange pages, decrypt files, resize pages of your PDF documents, and much more.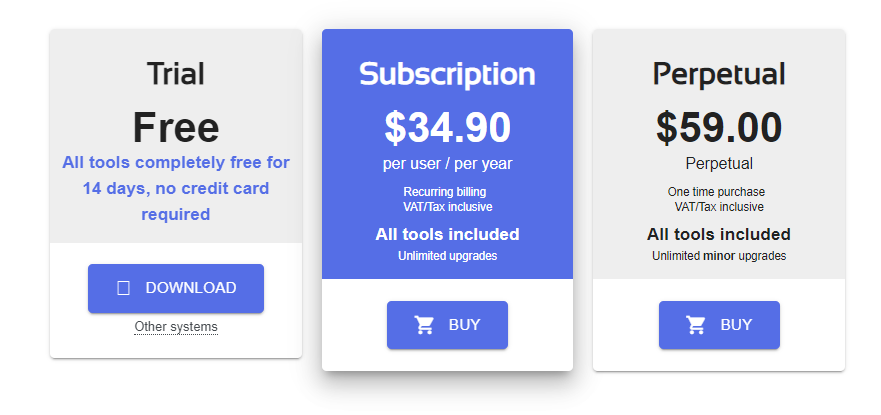 The PDFsam free version delivers a decent speed across all its modules. Whether you are splitting, merging, or extracting PDFs, the time in which a task is accomplished is impressive. However, it further depends on the criteria you have set or for that matter, the size of the PDF document at hand.
Just because PDFsam Basic is free doesn't mean that the makers don't backup users when they are stuck. If you ever get stuck, you have multiple channels to seek support from. You can always mail in your query to the PDFsam support team, who reply promptly and address your issue.

Next, PDFsam Basic provides exhaustive guides for each of its functionalities. So, even before you get in touch with the support team via email, you can always refer to this documentation.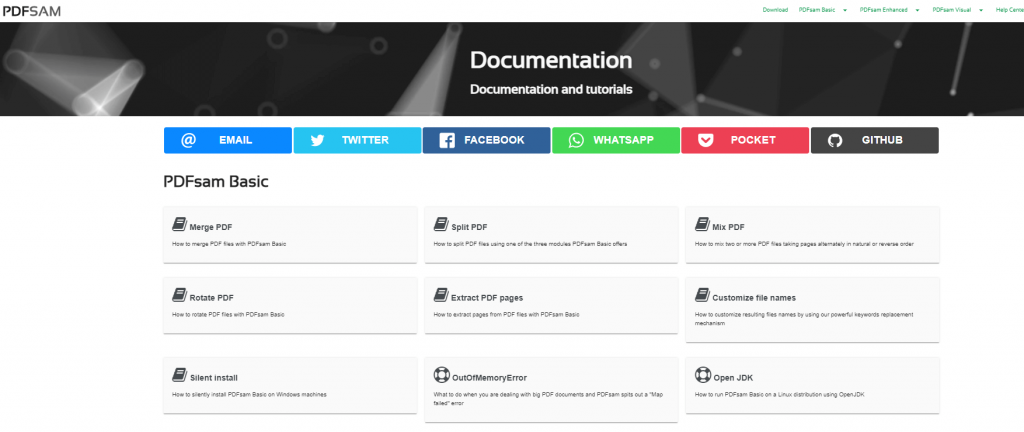 Last but not the least, PDFsam offers frequently asked questions that would help quench your queries or even help you with what variant you should opt for.
Frequently Asked Questions
Q1. Is PDFsam safe?
After having downloaded the PDFsam Basic installer it was found that it doesn't contain any malware, worms, trojans, or any other kind of malicious threats.
Q2. Is PDFsam free?
The PDFsam Basic is a free-of-cost, open-source PDF editor and Manager for Windows with the help of which you can easily split, extract, merge and rotate PDFs.
Q3. Does PDFsam work offline?
Yes, PDFsam works offline as a standalone PDf editor with the help of which you can split, merge, extract and rotate your PDF documents. You can also compress the PDF documents as well.
Q4. How do I reduce the size of a PDF with PDFsam?
After having performed a task on your PDF, you can further head to the advanced settings and then choose to Compress output file/ files. You will be able to find this option under all its features namely split, merge, alternate mix, rotate, split by bookmarks, extract and split by size.
Verdict
Despite PDFsam Basic offering mostly split, merge, extract and rotate functionalities, it still offers a lot of control on those functions via the settings it provides. Especially because you don't have to spend a penny, PDFsam Basic is software worth giving a try and if you like using it, you can always sign up for its premium variants that we have discussed in the pricing section above. In case you are looking for a full-fledged PDF editor for Windows, you can try Adobe Acrobat DC. For more such reviews where we cover some of the best software for Windows, keep reading Top10PCSoftware. You can also find us on Twitter, Facebook, Pinterest, and Flipboard.